Choosing a kitchen colour scheme can be daunting, after all there are so many choices out there! How do you find the best colour scheme that will look as good in 10 years as it does right now? Trends will come and go, so it's important to choose a kitchen colour combination that will stand the test of time. To help, we take you through 20 of the most popular and timeless kitchen colour schemes to help you find the right colour combination for you! Here are our Best Kitchen Colour Combinations for the modern kitchen. 
1. White on White
Minimalism at its best, it's hard to go wrong with white on white. An all white kitchen will appear light and large. If you want to add a feature, try a warm metallic such as gold or bronze for an elegant look. Or introduce black accents for a cool, sharp contrast.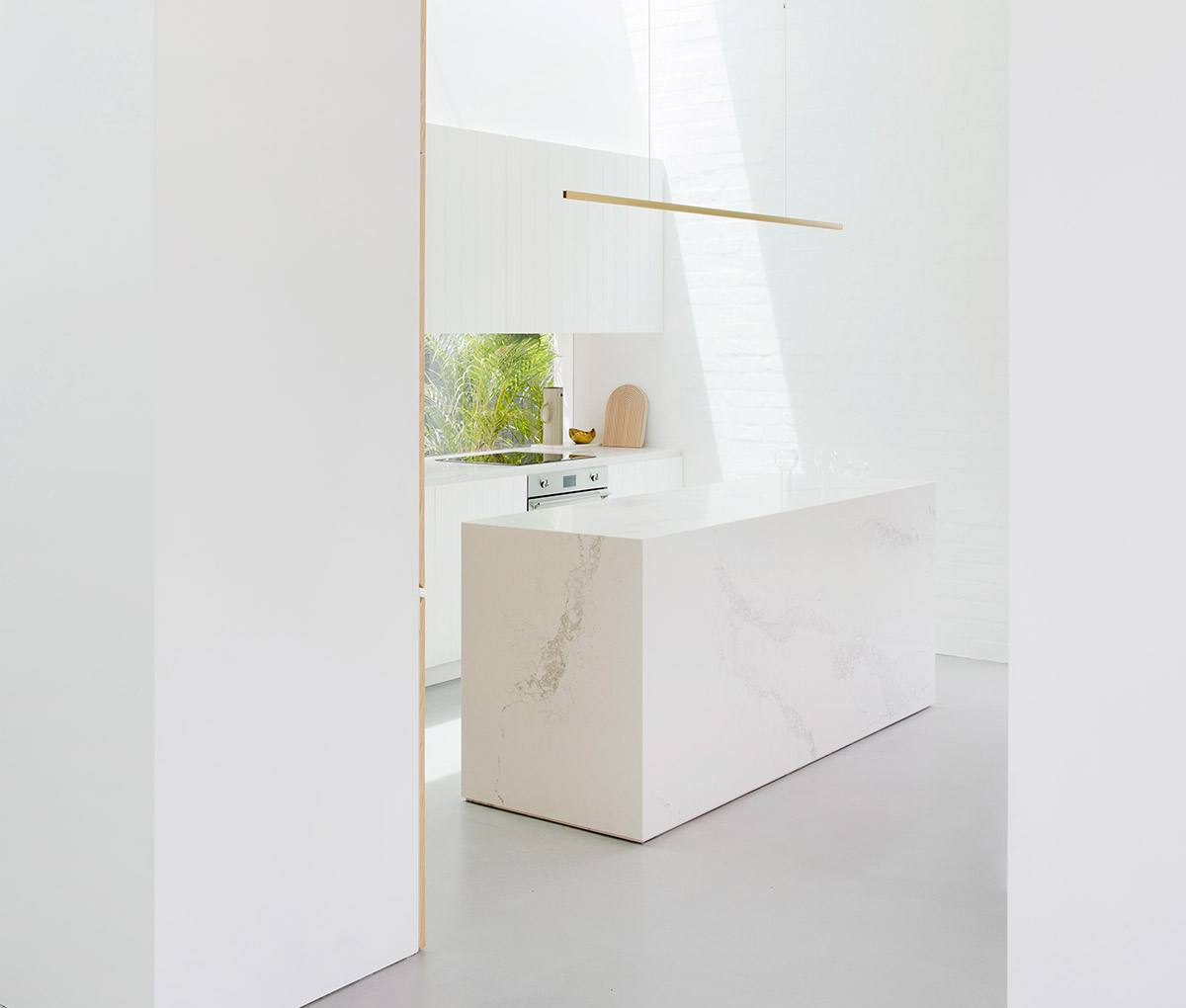 2. Plywood | Timber on Timber
The use of natural timbers such as plywood and victorian ash are becoming increasingly popular in kitchens. The all over timber look works especially well in smaller homes where the kitchen is open plan and fluidly integrates with the rest of the interiors. Be careful though as timber everywhere in a small closed off room will make the space feel small, so try to combine with other light colours and textures to help lighten the space.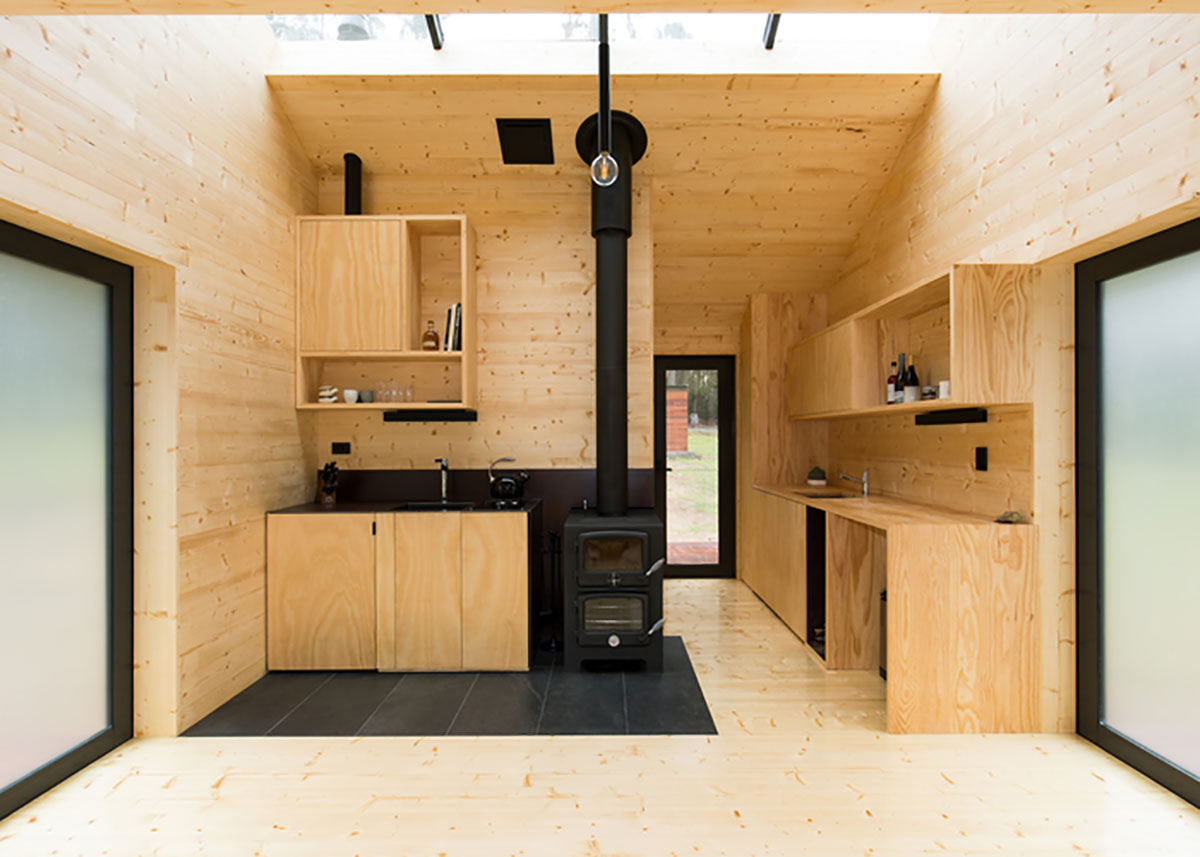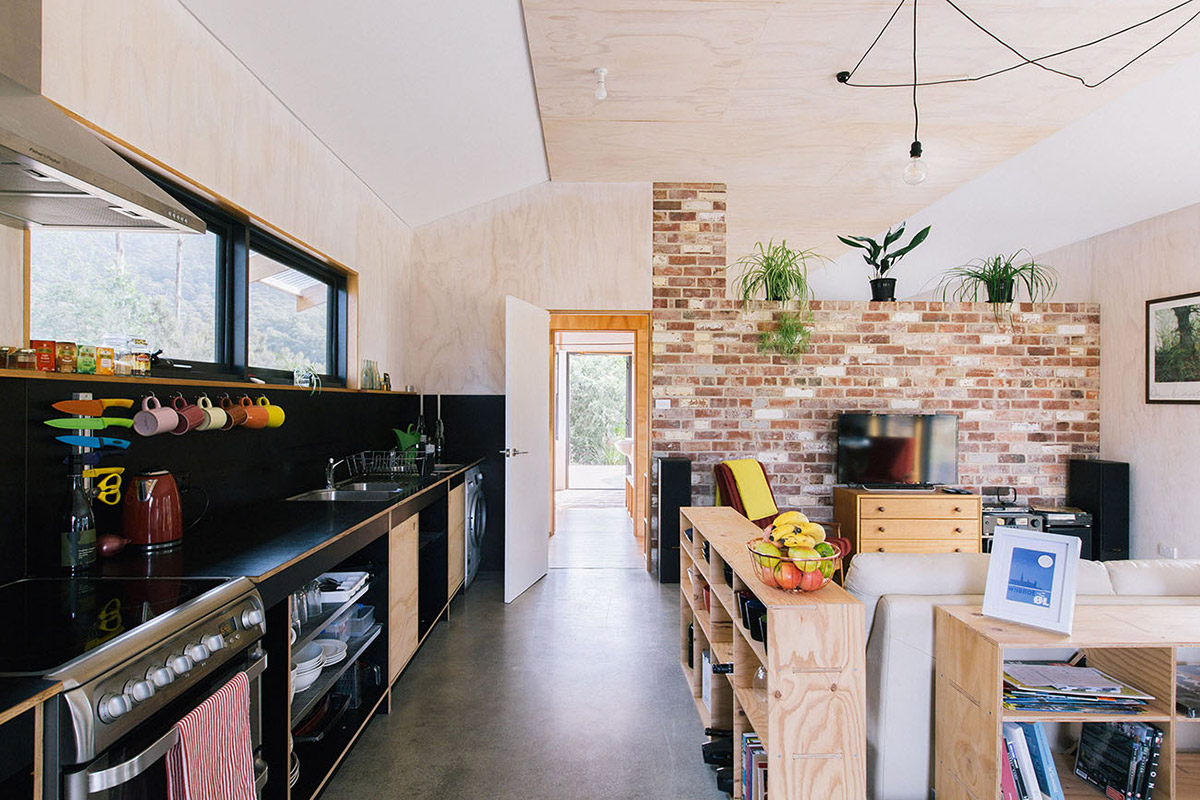 3. Black & Metallic
There is something pretty epic about an all black kitchen and I've definitely seen a lot of black on black kitchens recently. Black creates a sense of glamour and grandeur, so choosing to pair it with a metallic such as gold, bronze or brass is a great way to elevate this even further.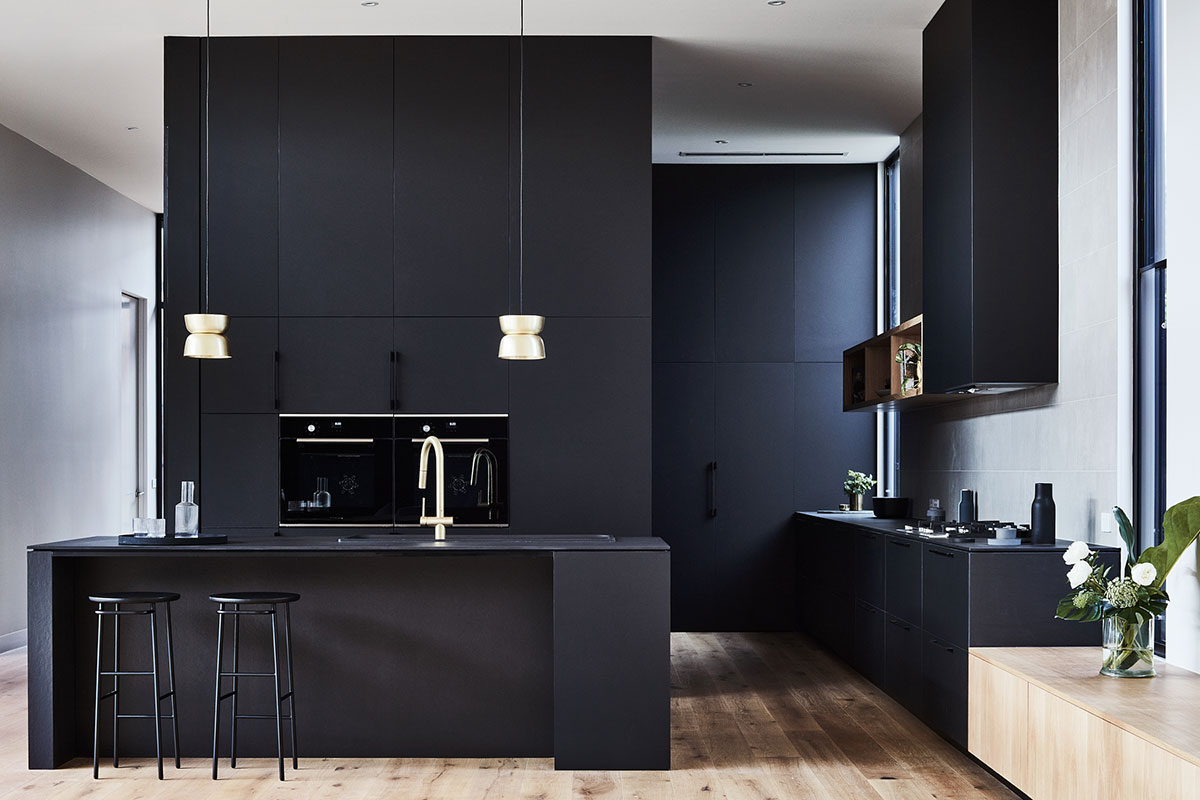 4. White & Marble
A very classic, minimal and elegant approach to a kitchen colour scheme. Very timeless, the simplicity of the white will never date and the natural element of marble helps to soften the look.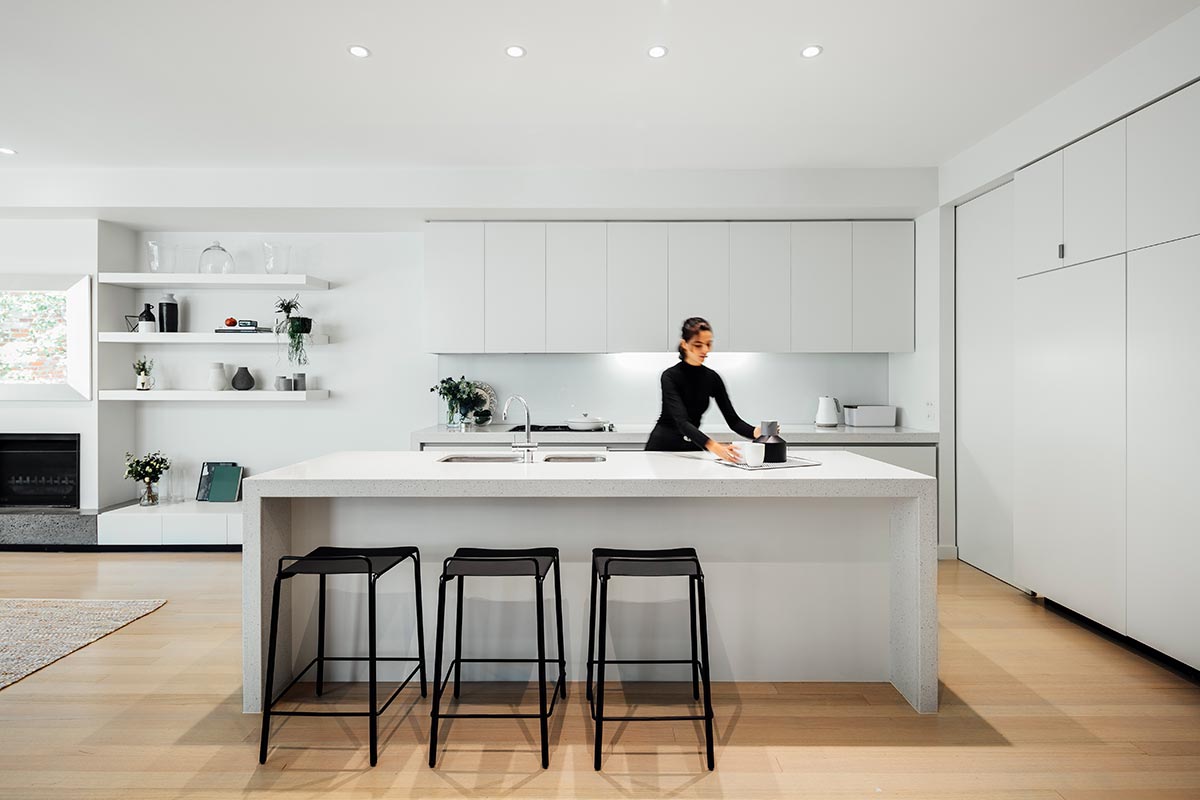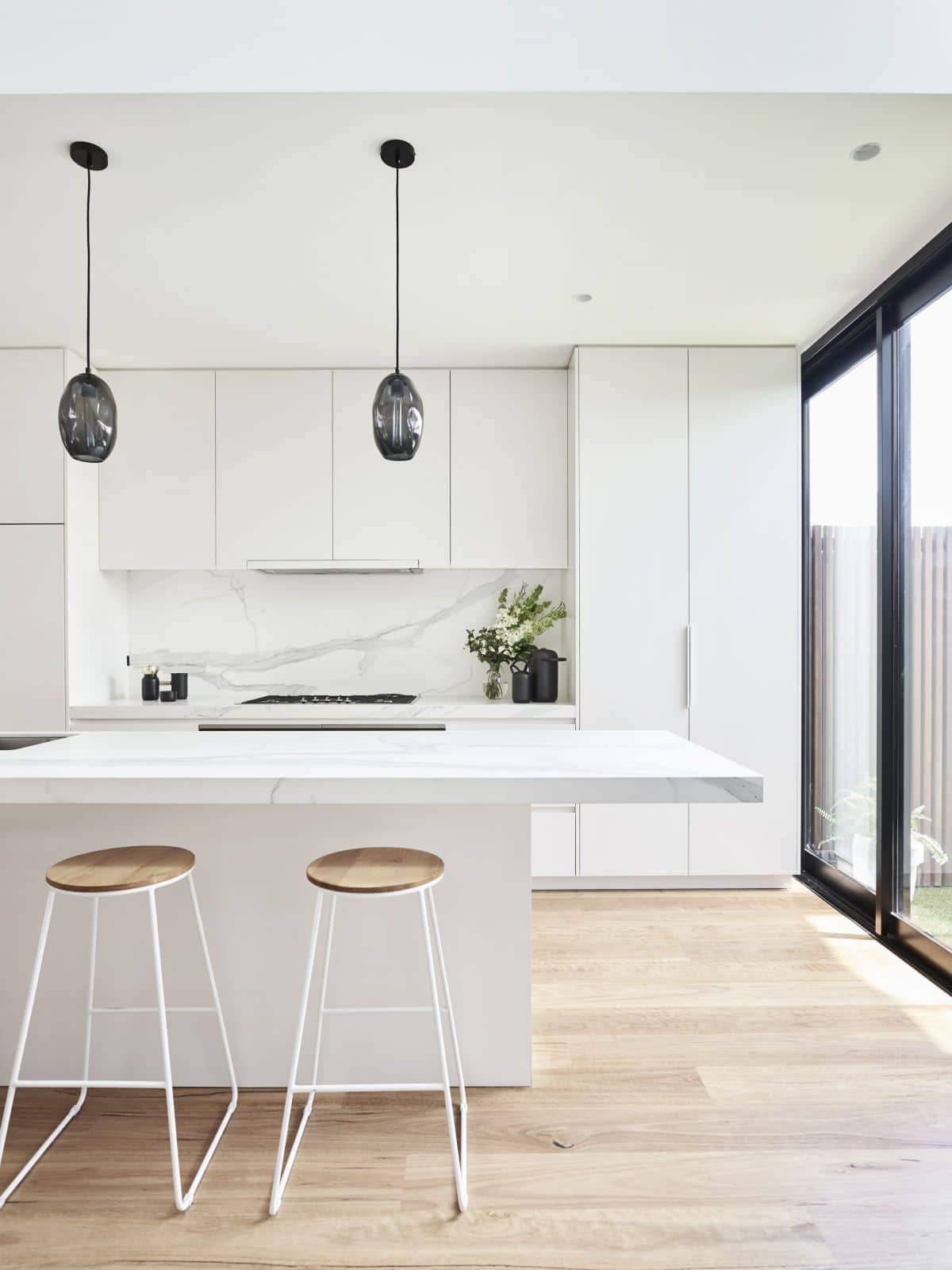 5. Cool Grey Tones
I love the simplicity of light cool grey cupboards, they are not as sharp as bright white but still neutral enough to create an overall sense of space. Cool greys are very easy to combine with other tones as well. Try pairing with marble, white and light timber to keep a light and airy aesthetic.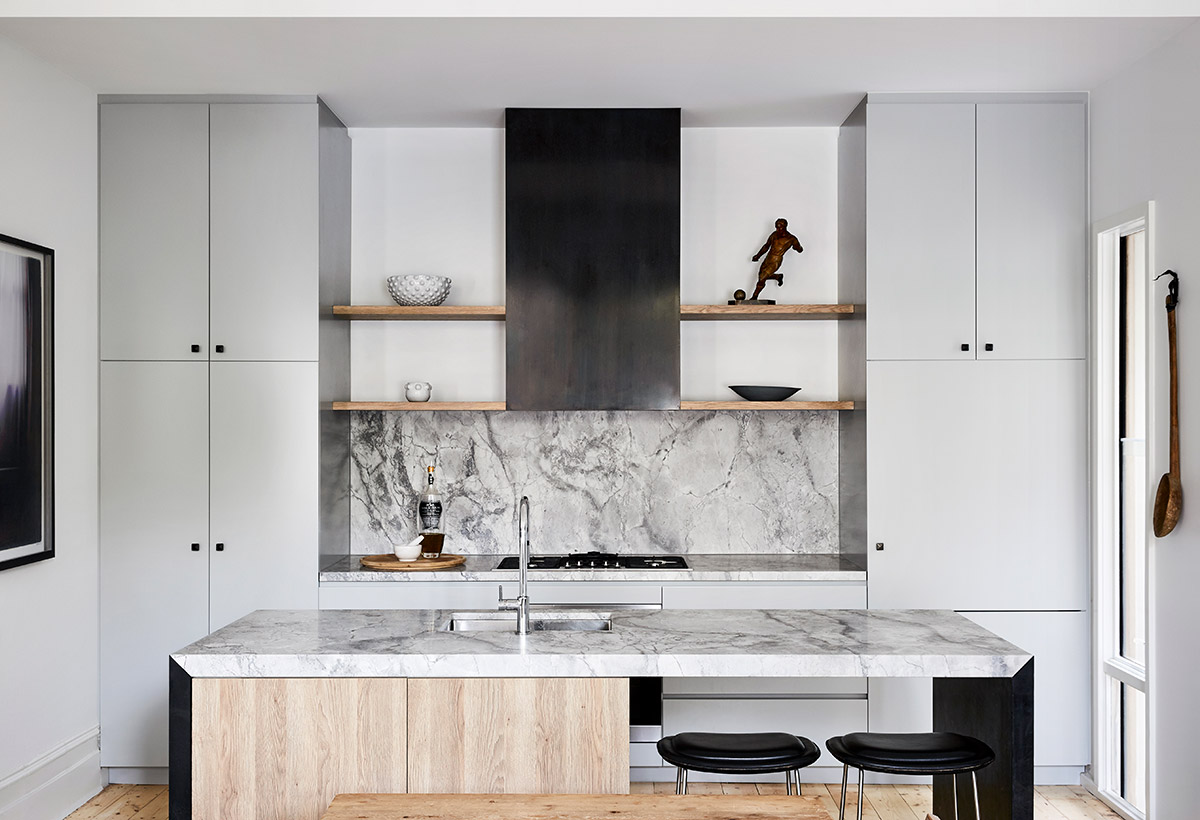 6. Off White & Warm Neutrals
An off white and warm neutral tone colour scheme is a great option for older period homes or kitchens that are not brand new. Sometimes the introduction of a modern, bright white is too harsh for some homes. If this is the case, opt for off white or warmer whites. This will create an overall light white look that still complements your home.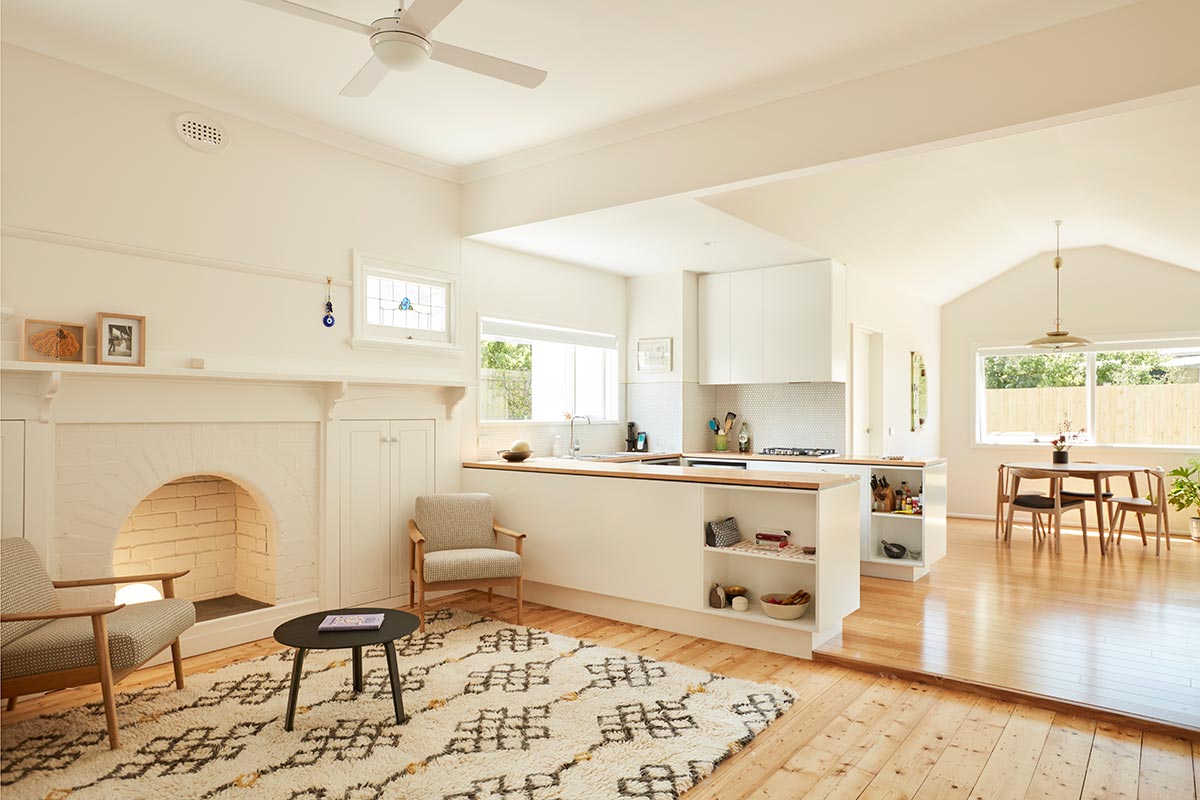 7. Timber & Marble
Another timeless classic is the pairing of two natural materials, timber and marble. This is a sophisticated colour scheme and will create a rich sense of warmth in the kitchen. Your choice of timber and marble will change the tone significantly. Either stay light and calm, or bring more energy with a richer texture.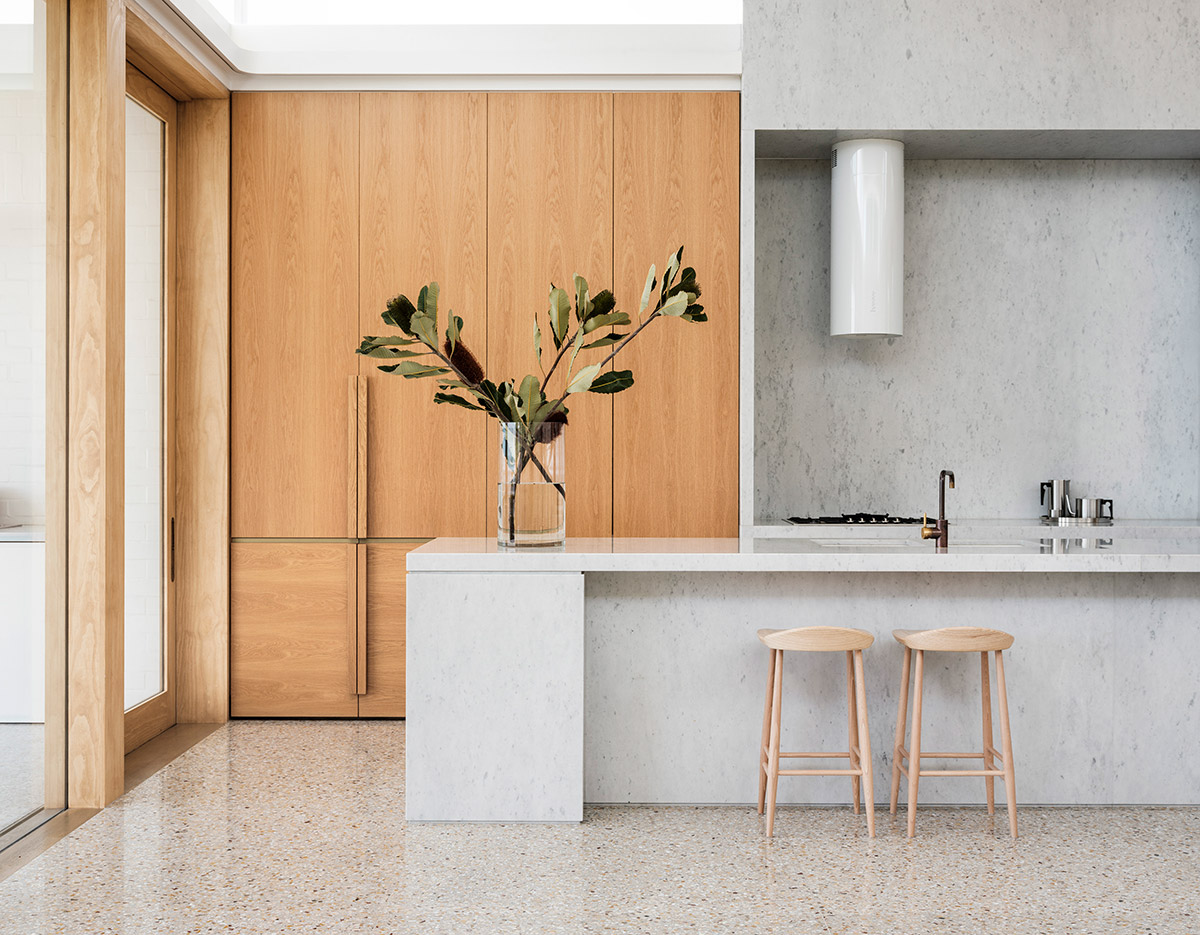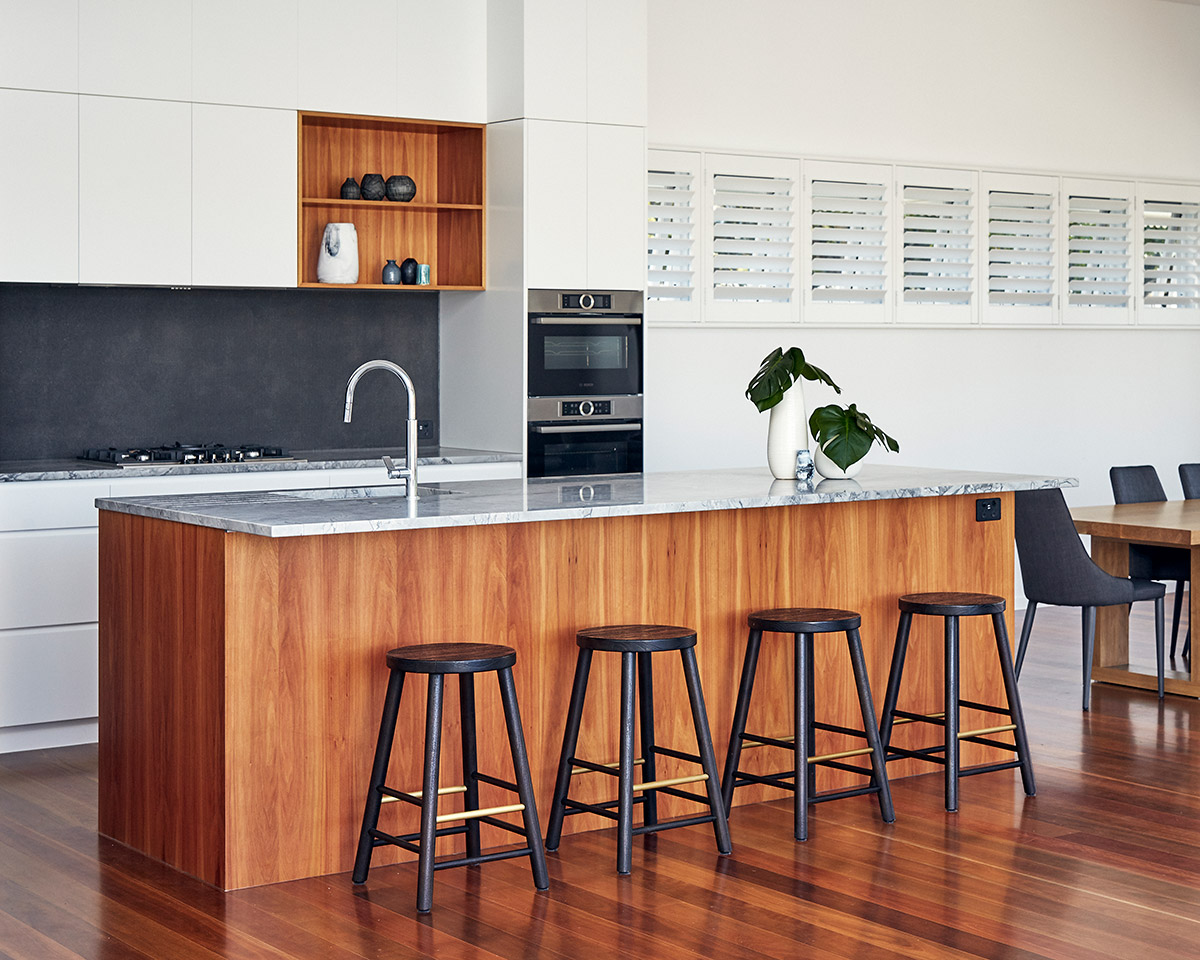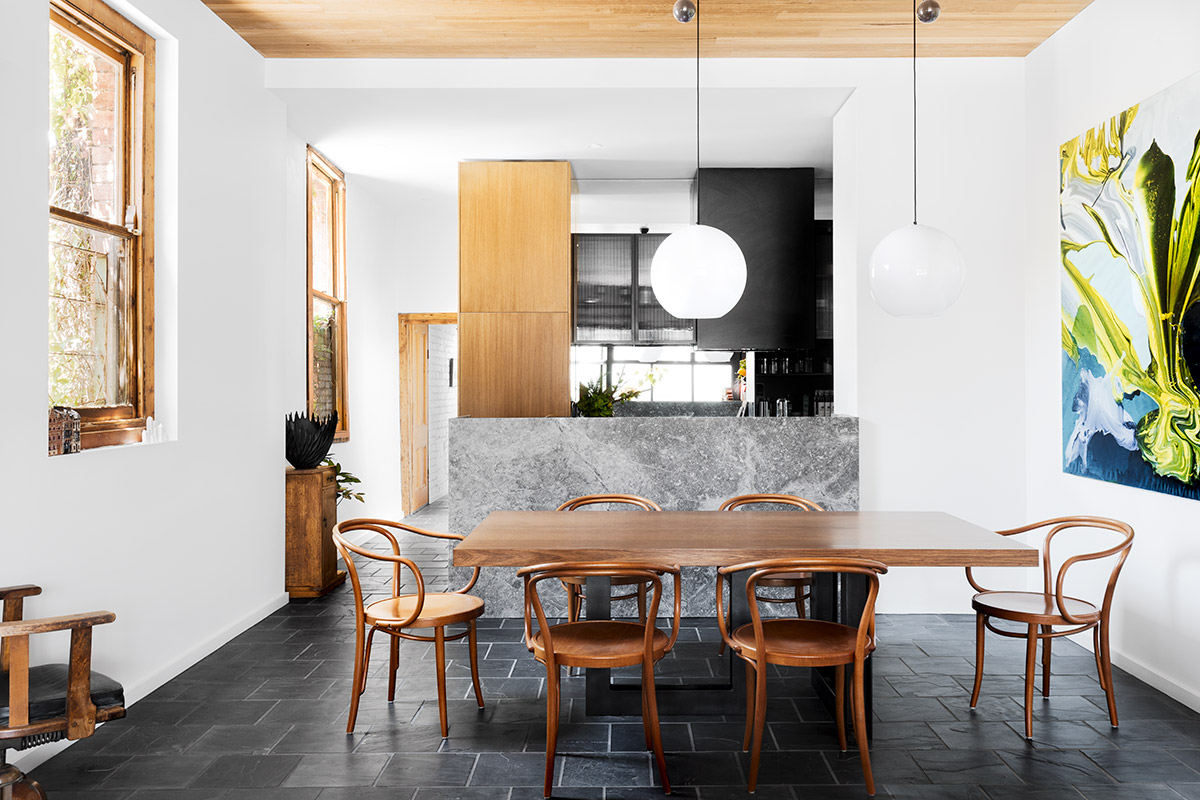 8. Black & Marble
Bringing two sophisticated colour schemes together will only help to make a truly luxurious kitchen. Black with marble creates a very dramatic feeling and often the pair do not need much else to complete the look. Keep it simple with the additional styling and fixtures. 
9. Light Timber & White Tones
One of the most popular kitchen colour schemes. I love this combination of materials, as it pairs different textures all within a similar tone. Light timber works especially well with light grey. If you choose white for the higher elements in the design (such as wall cabinets) this will also help to make the kitchen appear bigger.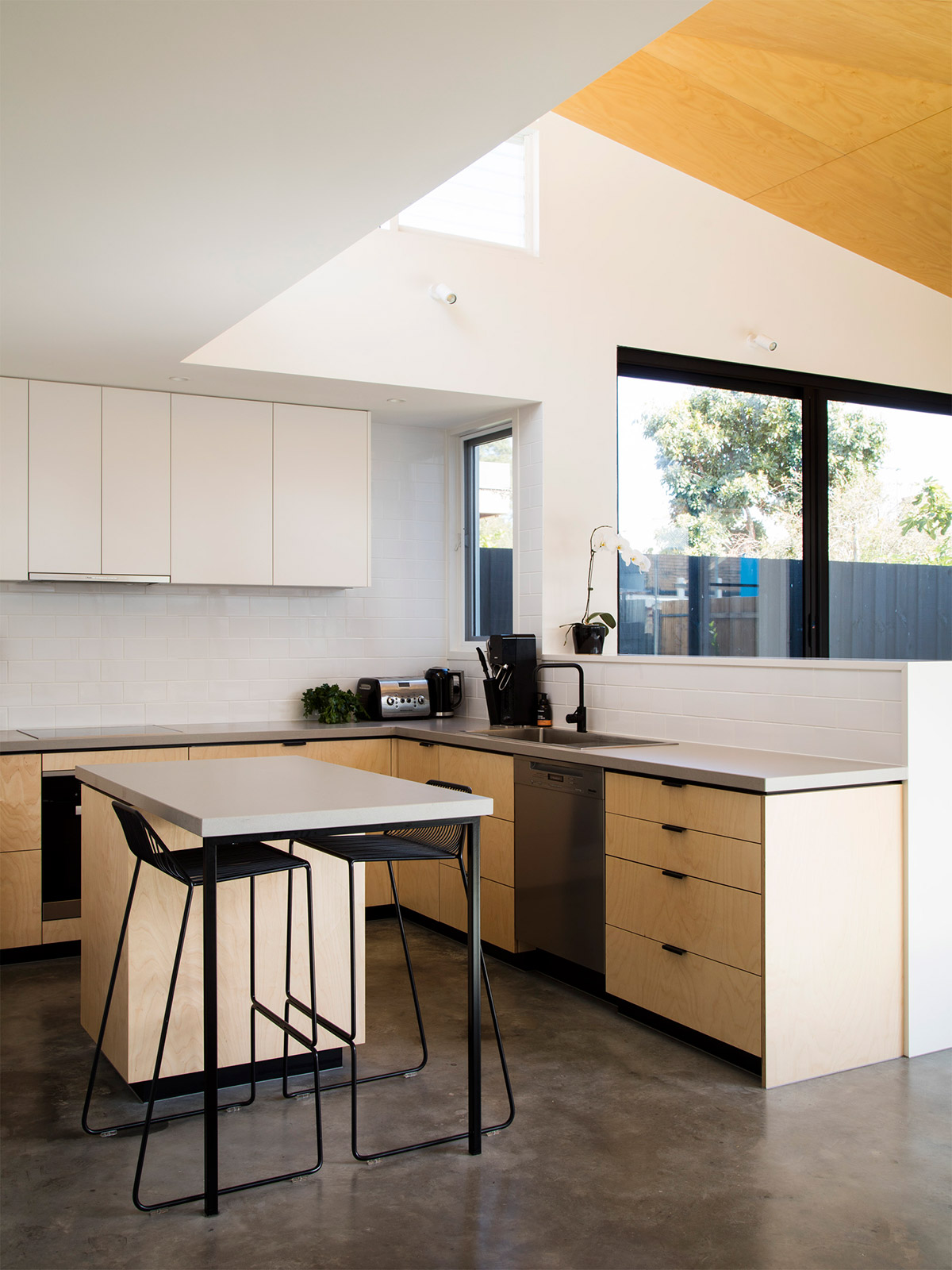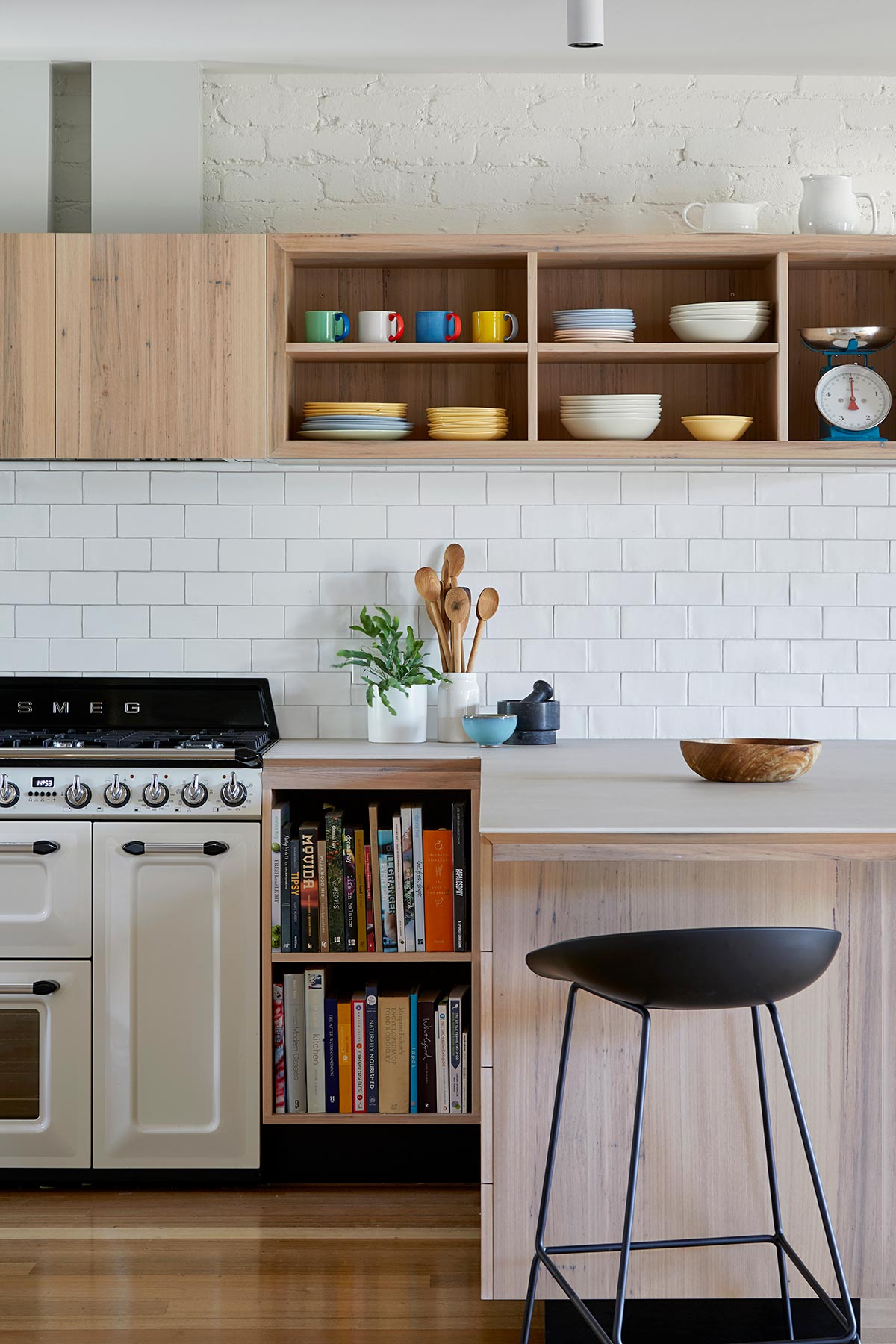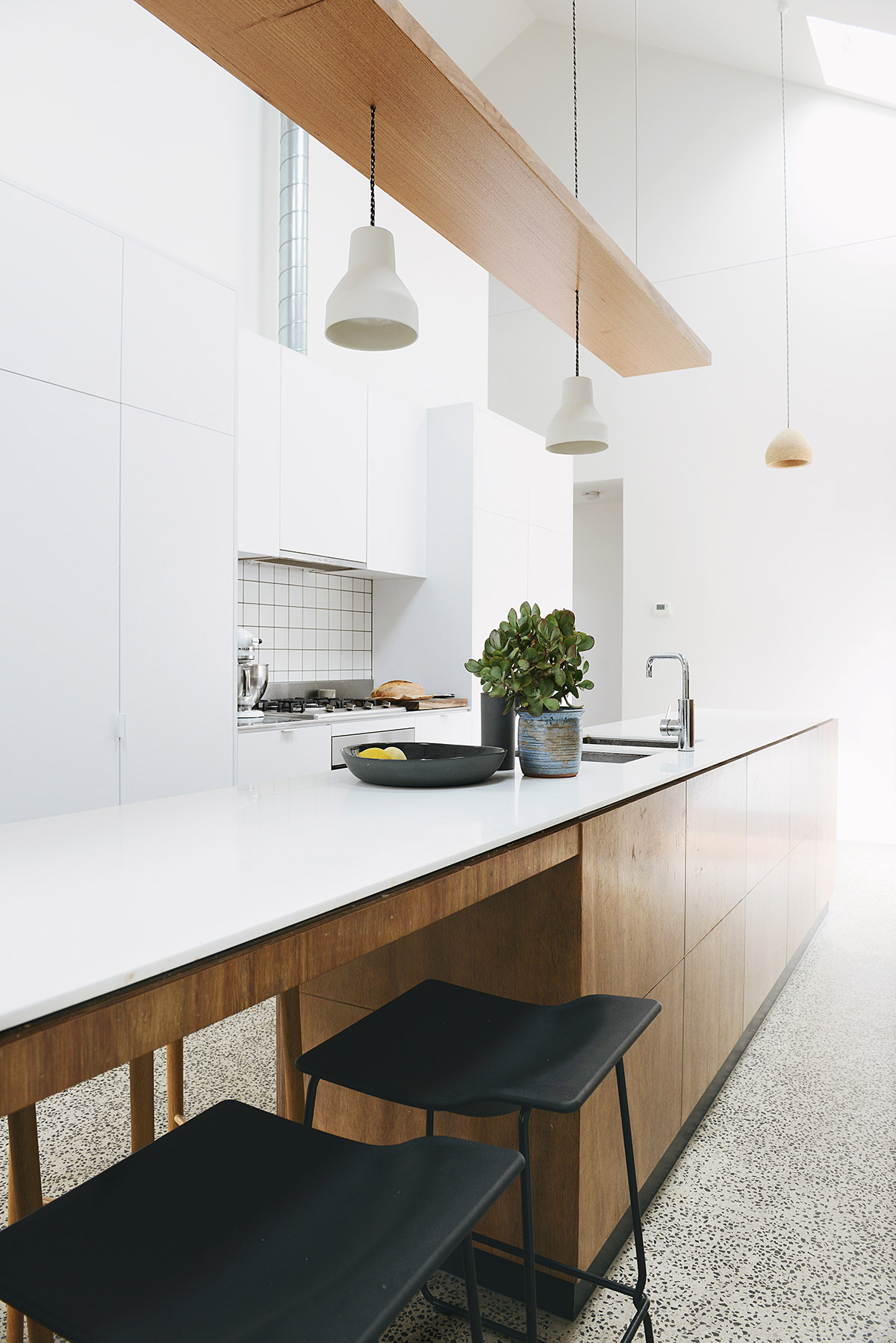 10. Blush & Grey
It's a hard task to find the perfect pink, but a soft dusty pink hue goes exceptionally well with grey and blue tones. It creates a nice contrast between warm and cool, and the addition of a third feature colour such as a metallic or white, will tie it all together.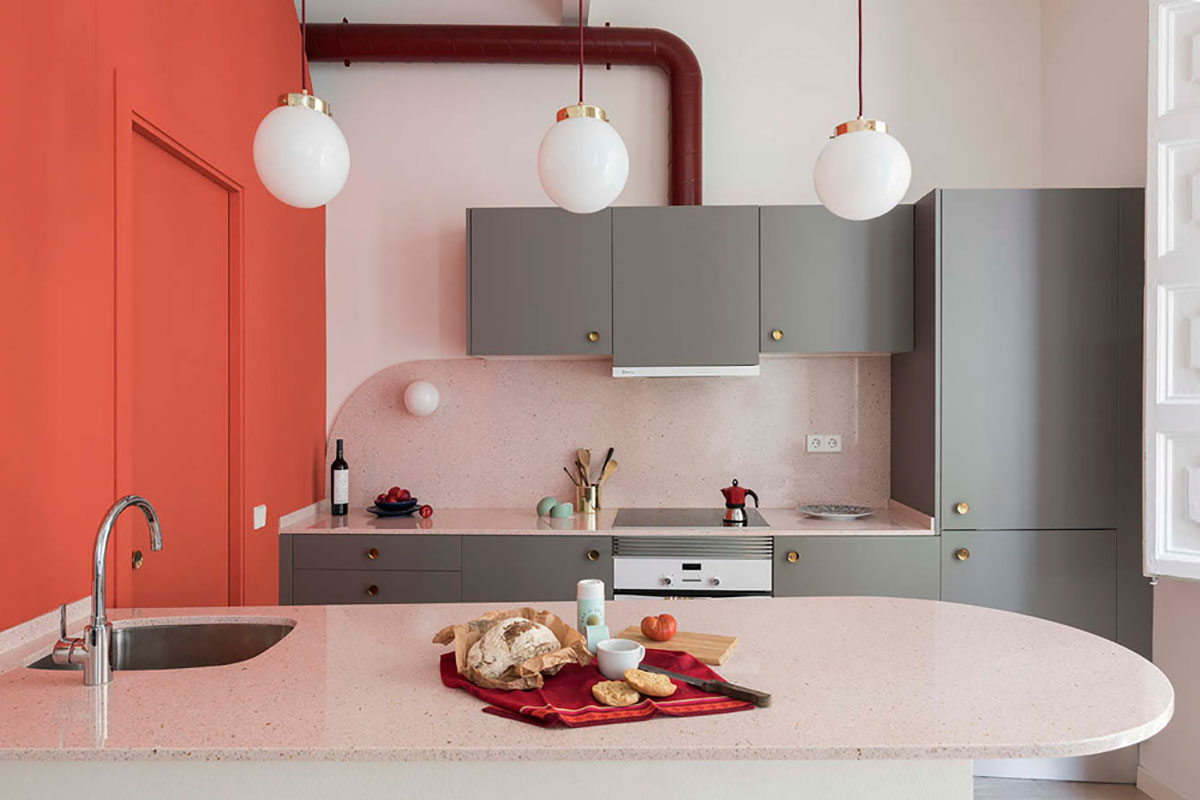 11. Black on Black
When you mean business, this is the colour scheme for you. This is a serious statement and works best for large kitchens in generous open spaces. Think about your flooring with an all black kitchen as you may want to lighten the space with natural fibres.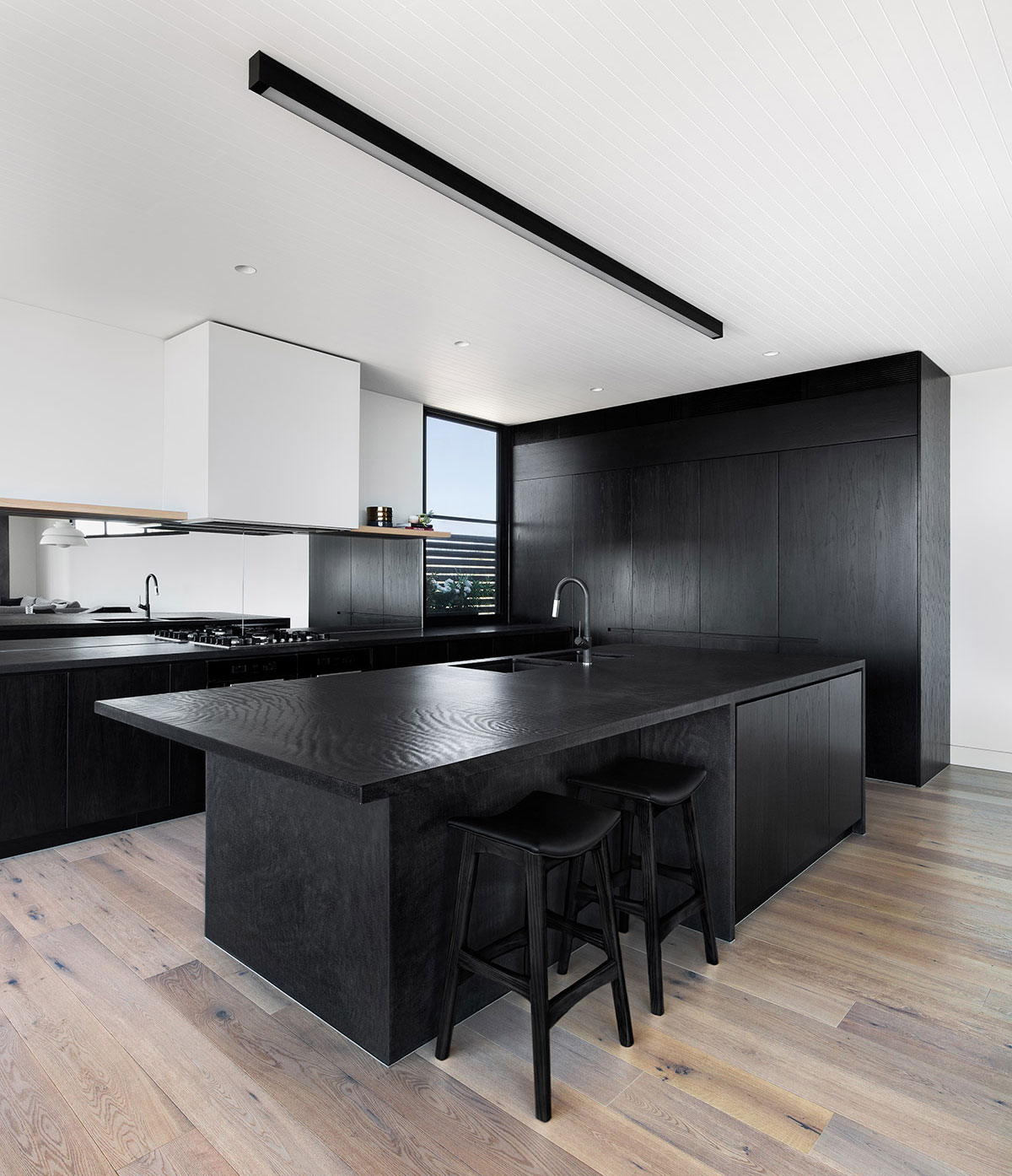 12. Concrete
The use of concrete for benchtops is a great option. A serious material, concrete can be poured on site or concrete sheeting can used to create a feature wall. Either way concrete creates an industrial, cool vibe and works especially well with white, black and timber. It's not for everyone, but there is no denying that concrete makes a statement.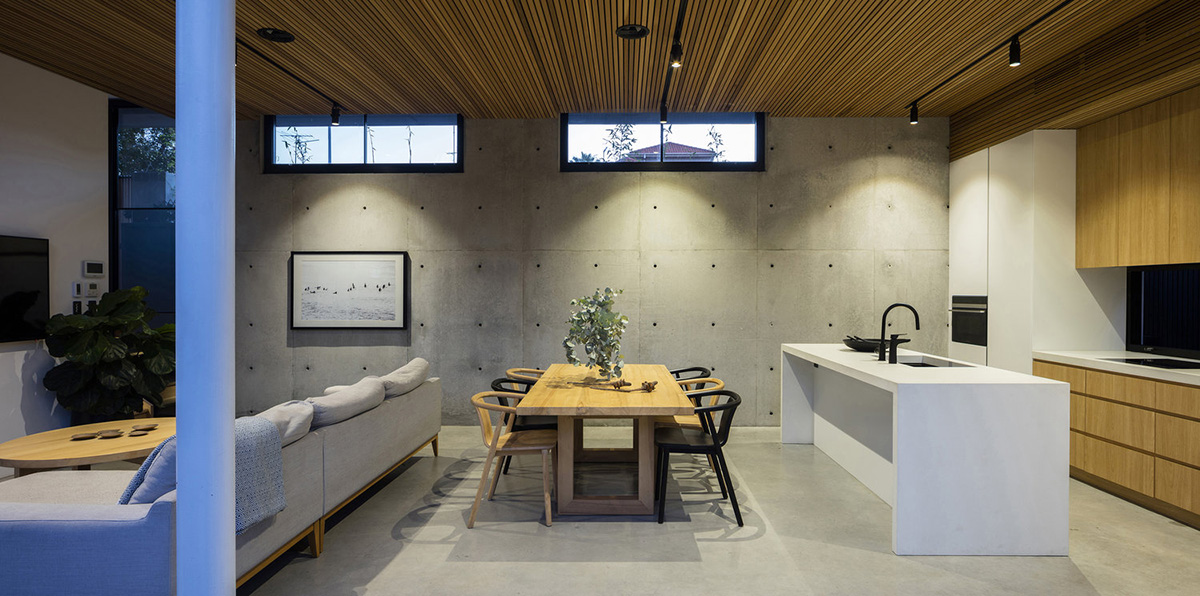 13. Feature Grout
An interesting feature for you kitchen may not be the colour of your tiles but instead the colour of the grout! A spot of advice if you do opt for a feature grout wall, make sure you use a professional tiler as you do not want to be looking at wonky grid lines day in, day out! Black grout with white tiles creates a very strong, designer vibe. Whilst a colour grout could bring just the right amount of pop that you need.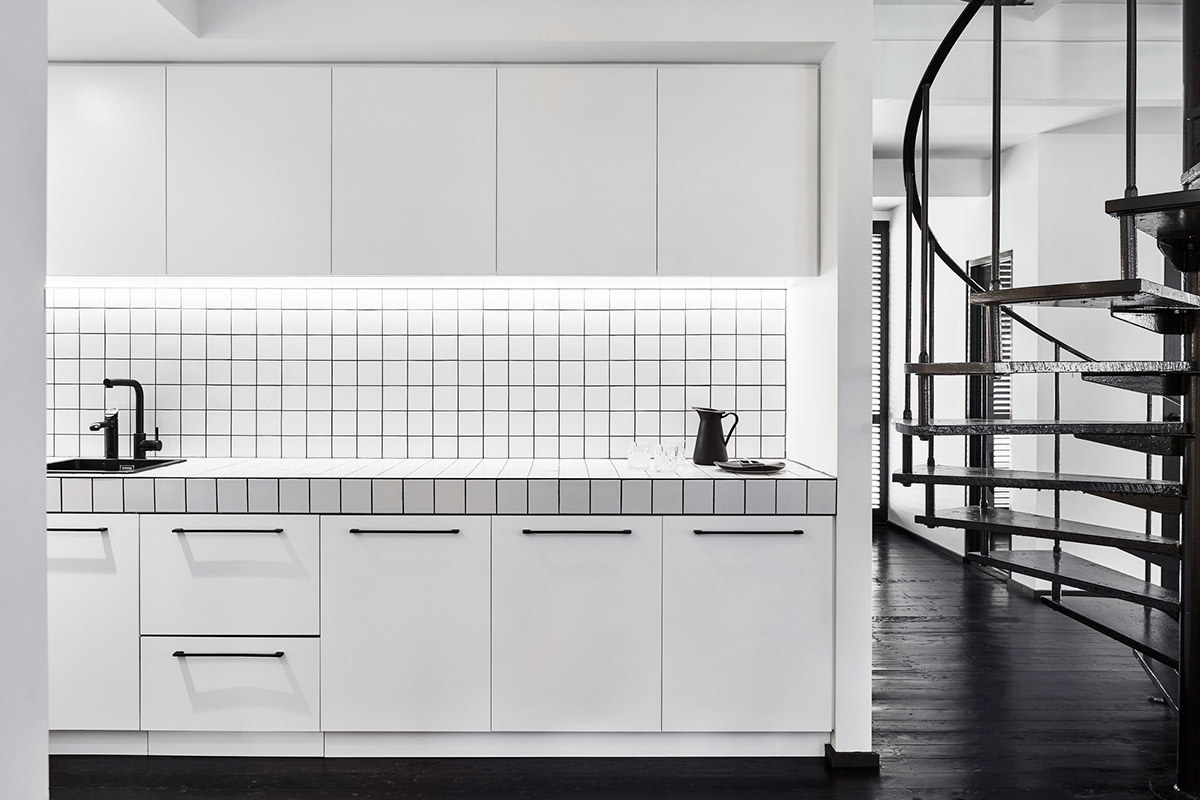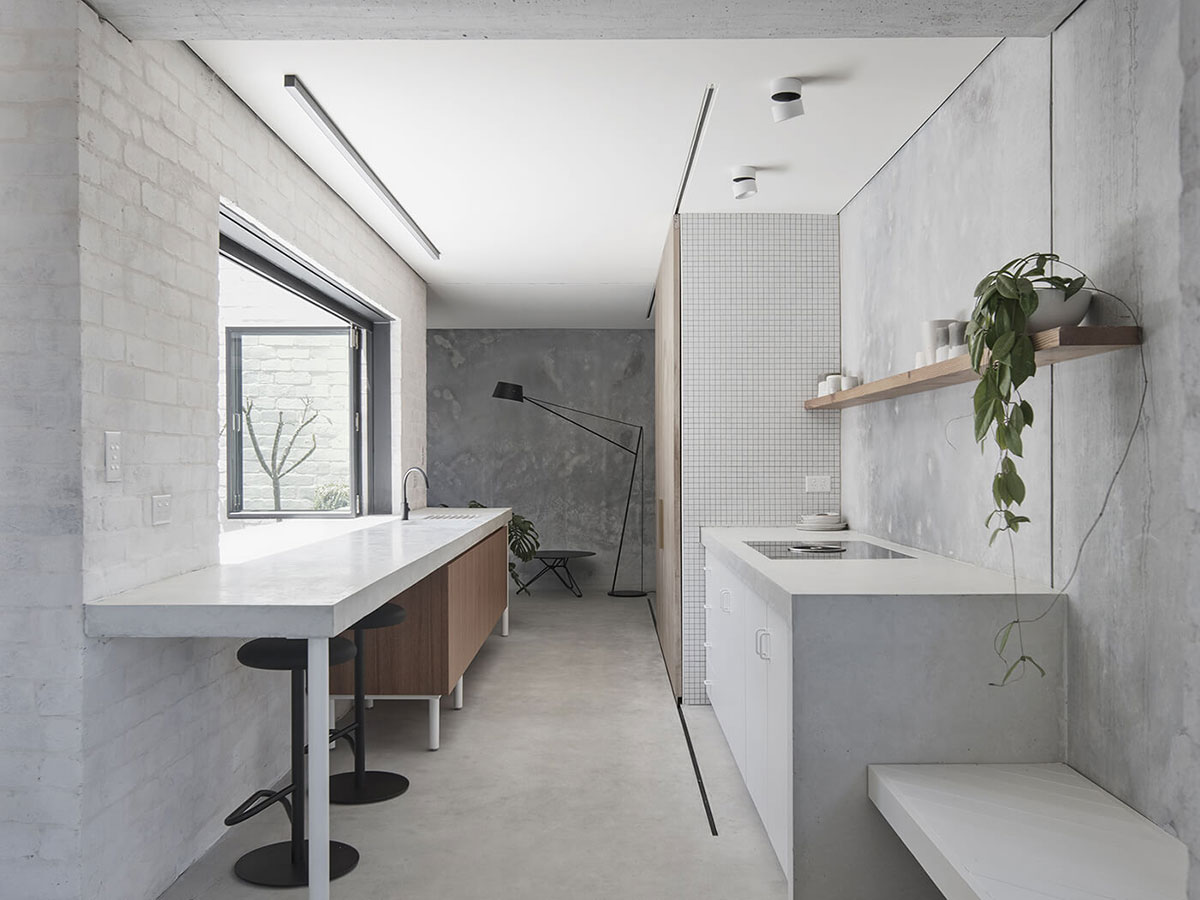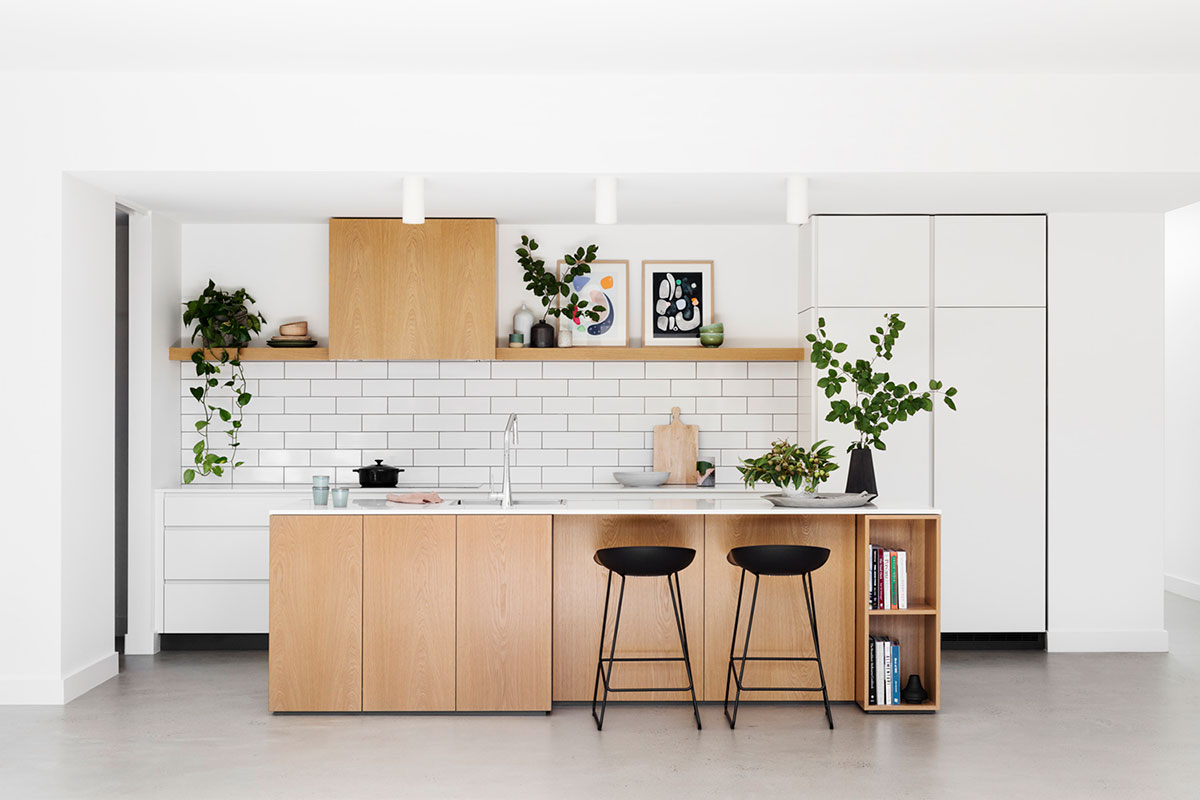 14. Nature
Not every kitchen has this luxury but I love making nature and gardens part of the kitchen colour scheme. A window splashback or feature window is a beautiful way to allow the outdoors in and it will also help to make your kitchen seem larger.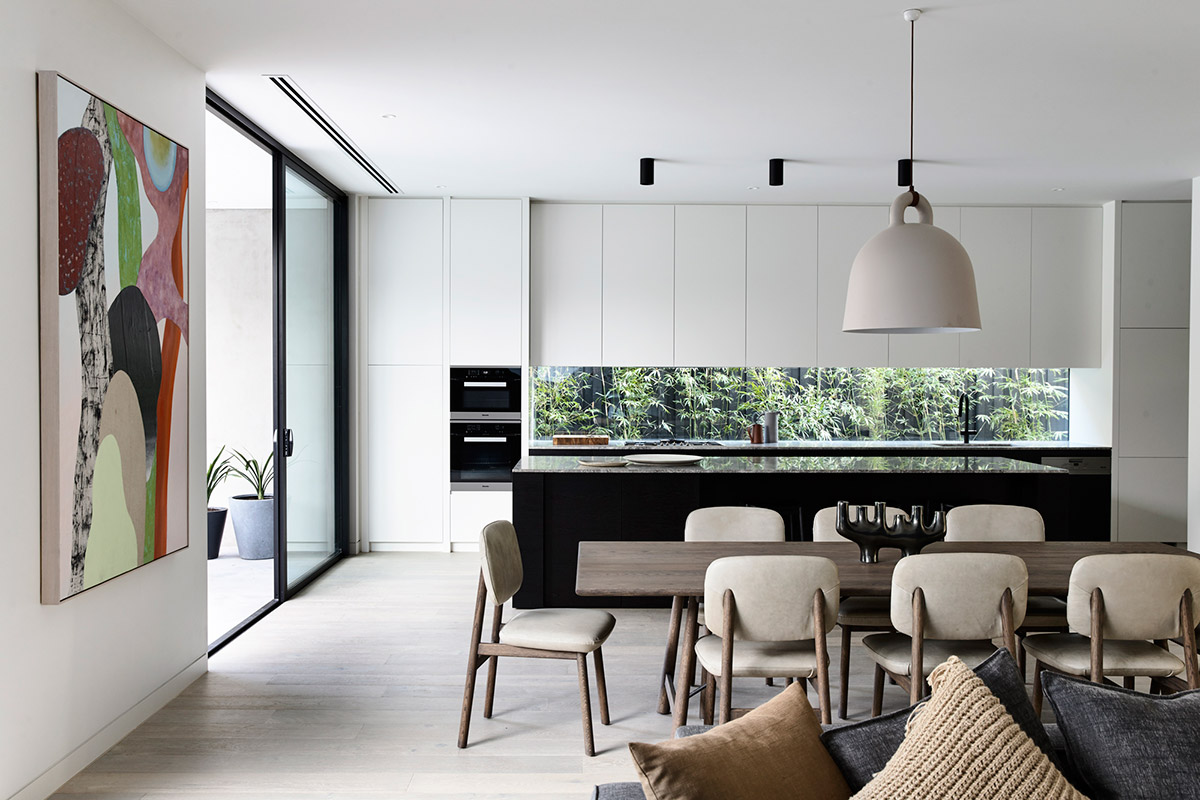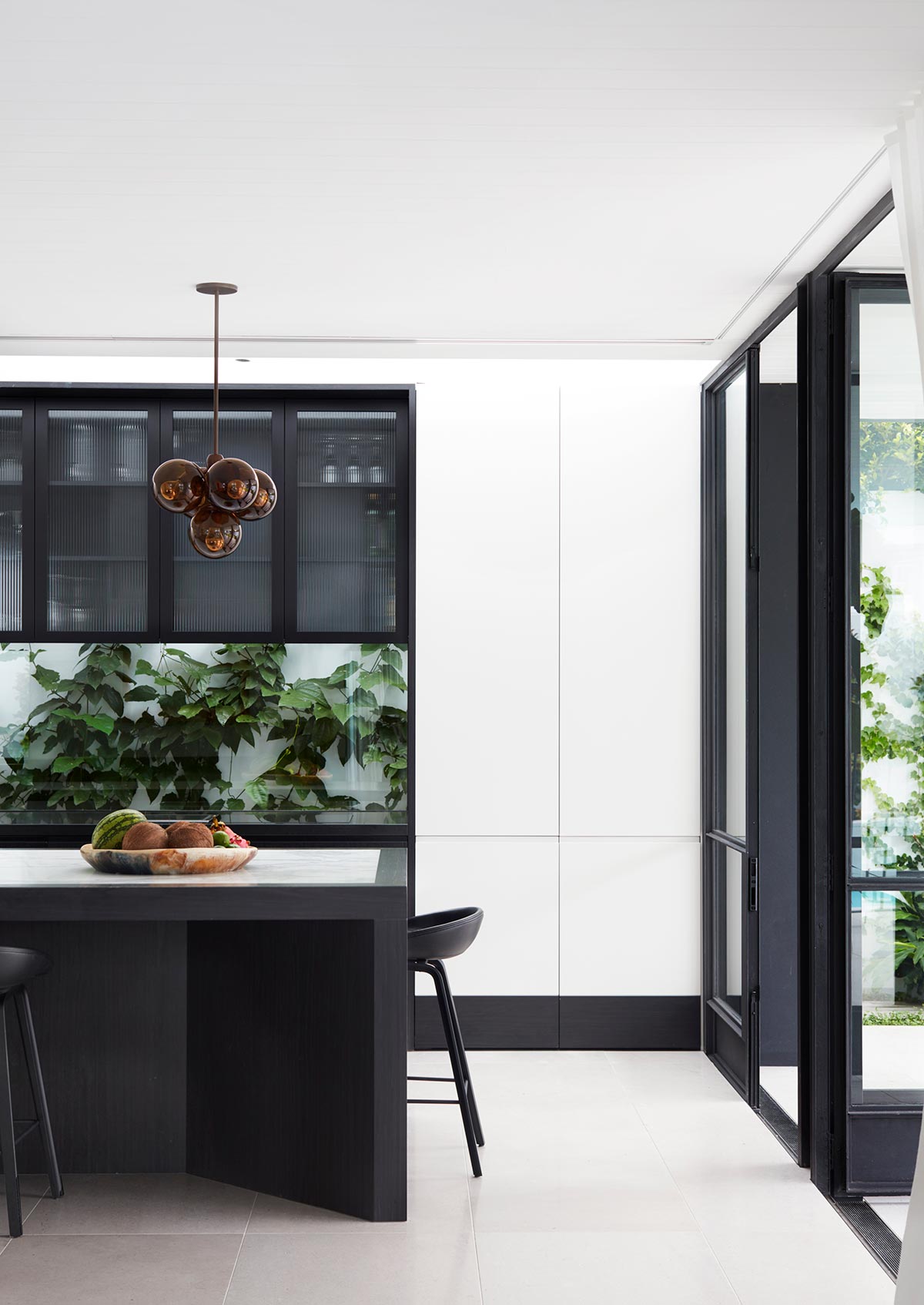 15. Black and White
To be honest you can't really go wrong with black and white. It is however very bold in its contrast and makes a statement. You may want to 'warm' up the black and white colour scheme with some clever furniture choices and textures… perhaps leather, tan or bronze.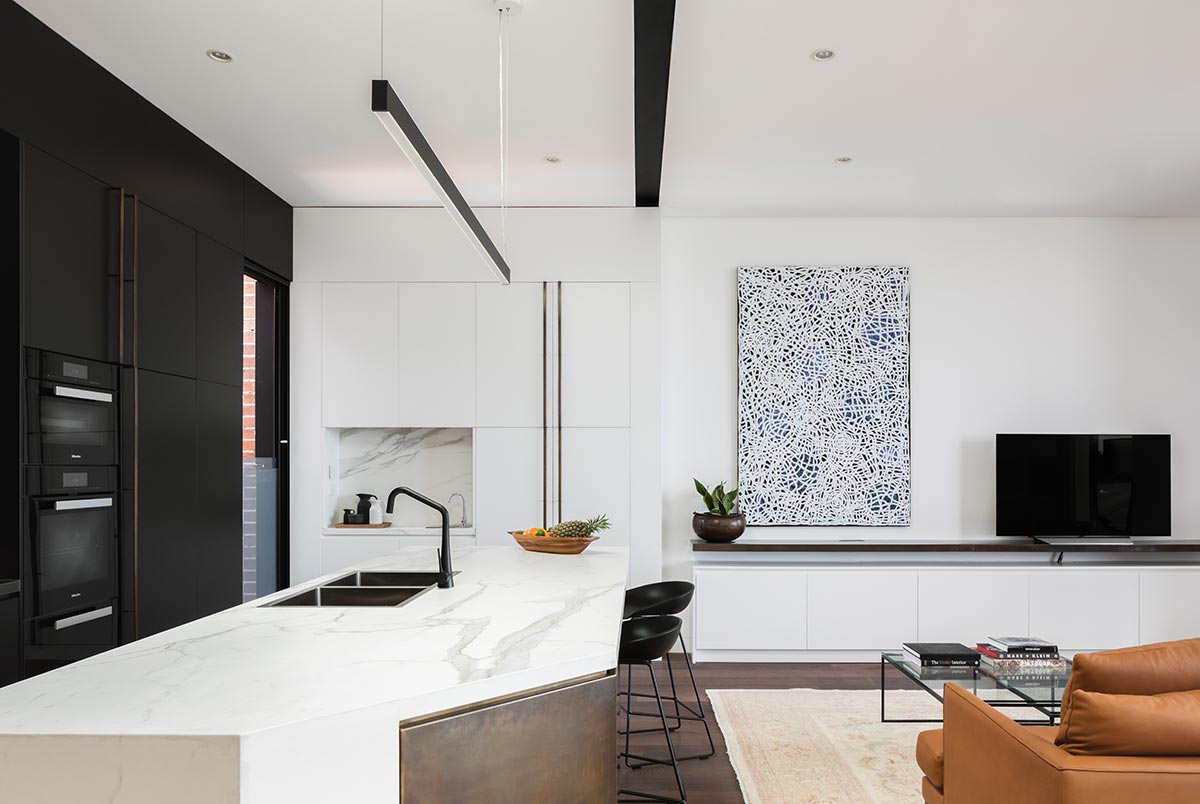 16. Rustic, Natural Timber & Stone
Ok not everyone has a farm house but you may be able to make your kitchen look the part. Natural stone such as sandstone, blue stone, exposed brick, concrete… all create a raw and rustic appearance. These elements can be quite brutal, soften them with warm timber for the perfect combination.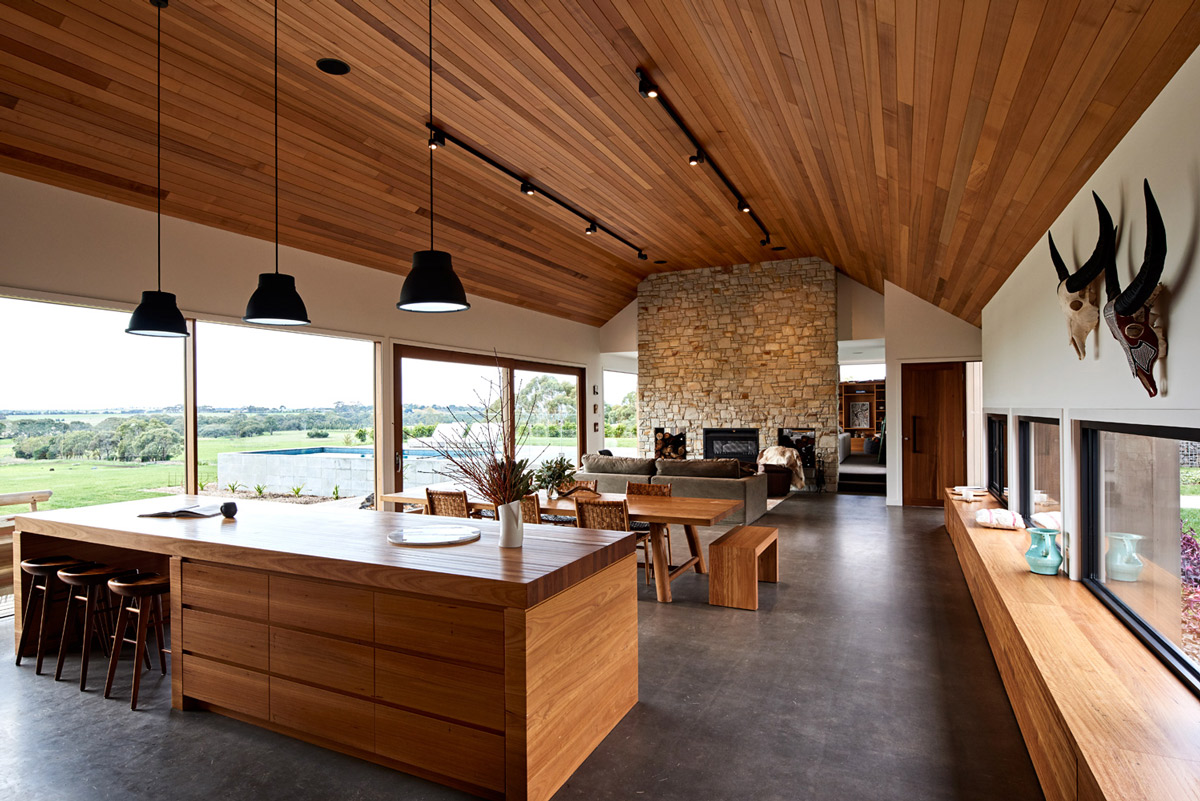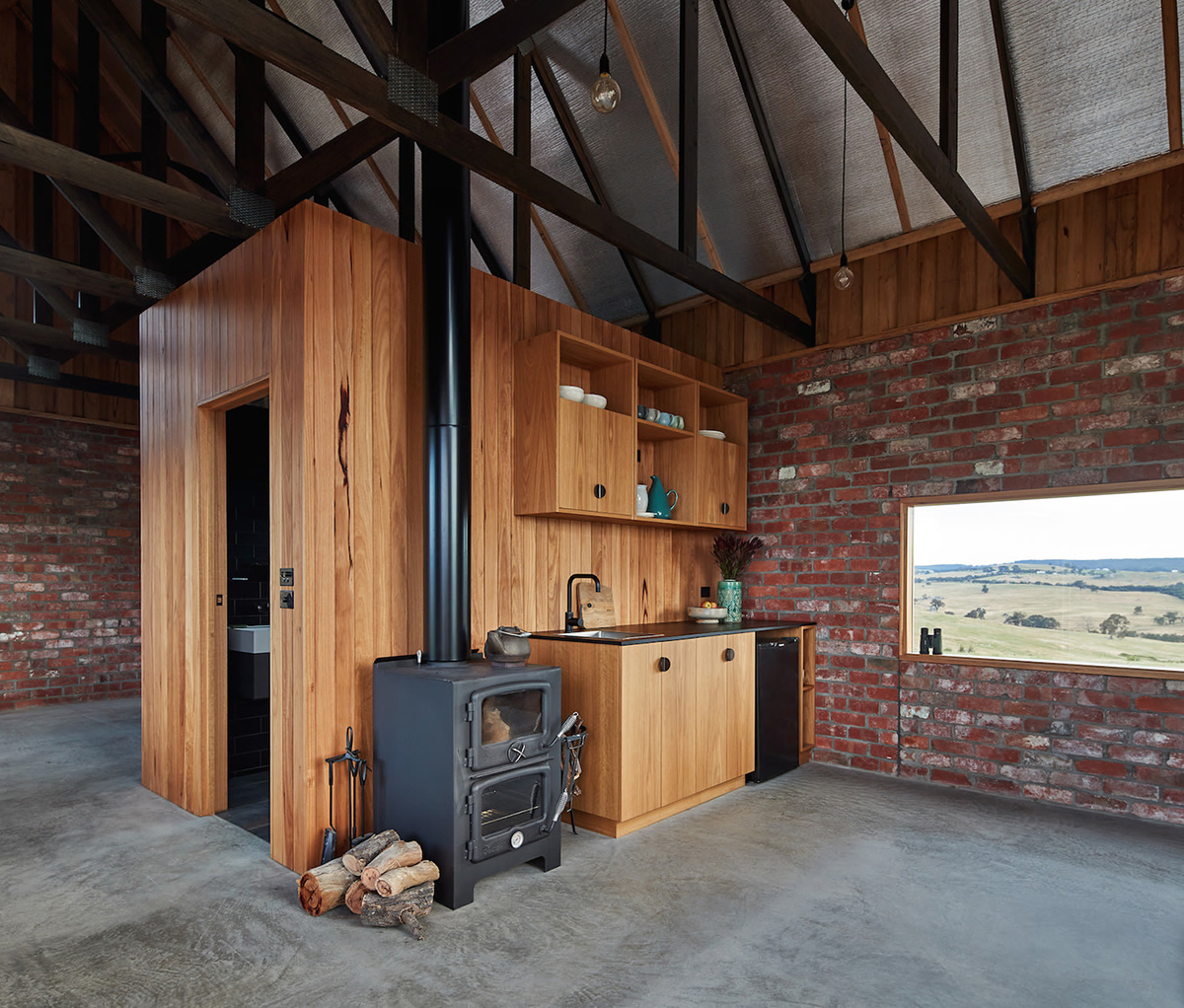 17. Cool Blue and White
Introducing colour into a kitchen creates energy and a cool blue with white creates a very calm and peaceful environment. I think the introduction of gold or timber combines really well with these tones, depending on what overall aesthetic you're after.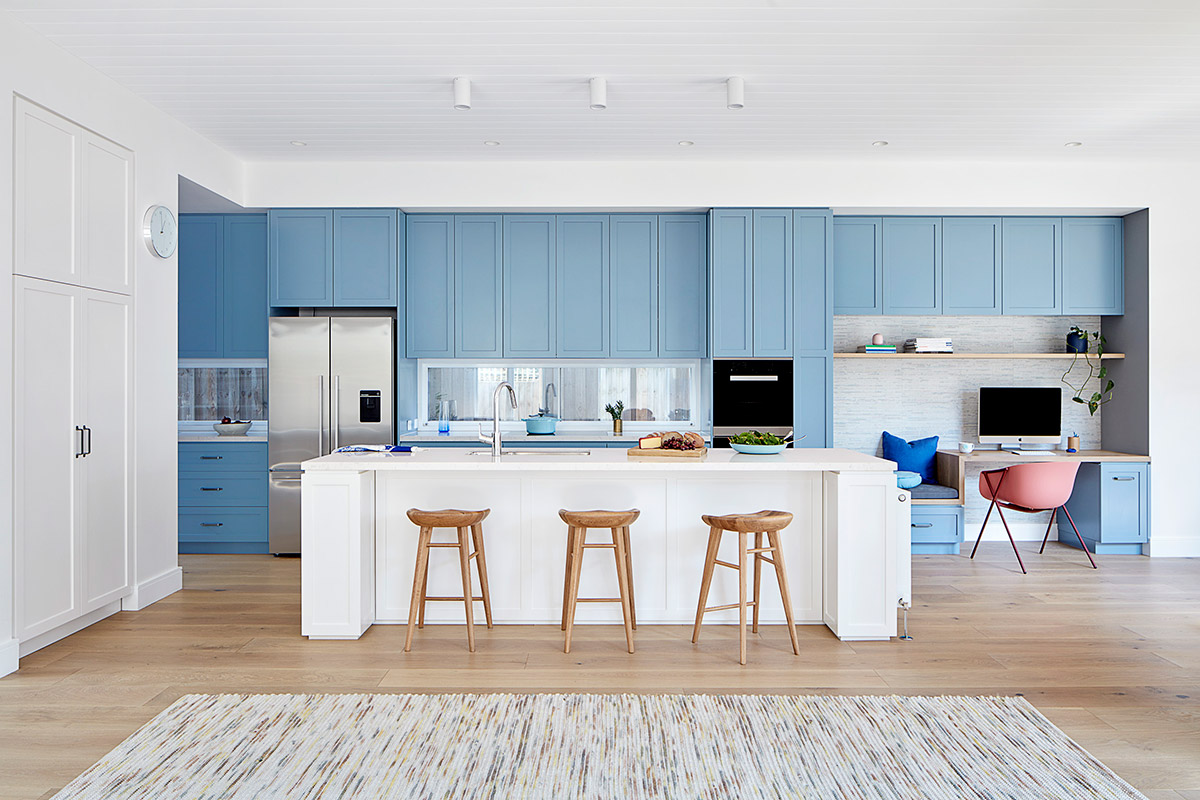 18. Soft Green
Green is a rich, natural colour to apply to the kitchen and in particular a dusty, soft eucalyptus green makes a very inviting backdrop for your home. Green works well with soft greys and white, when choosing metals opt for silver to keep it neutral, or gold if you want to have some fun.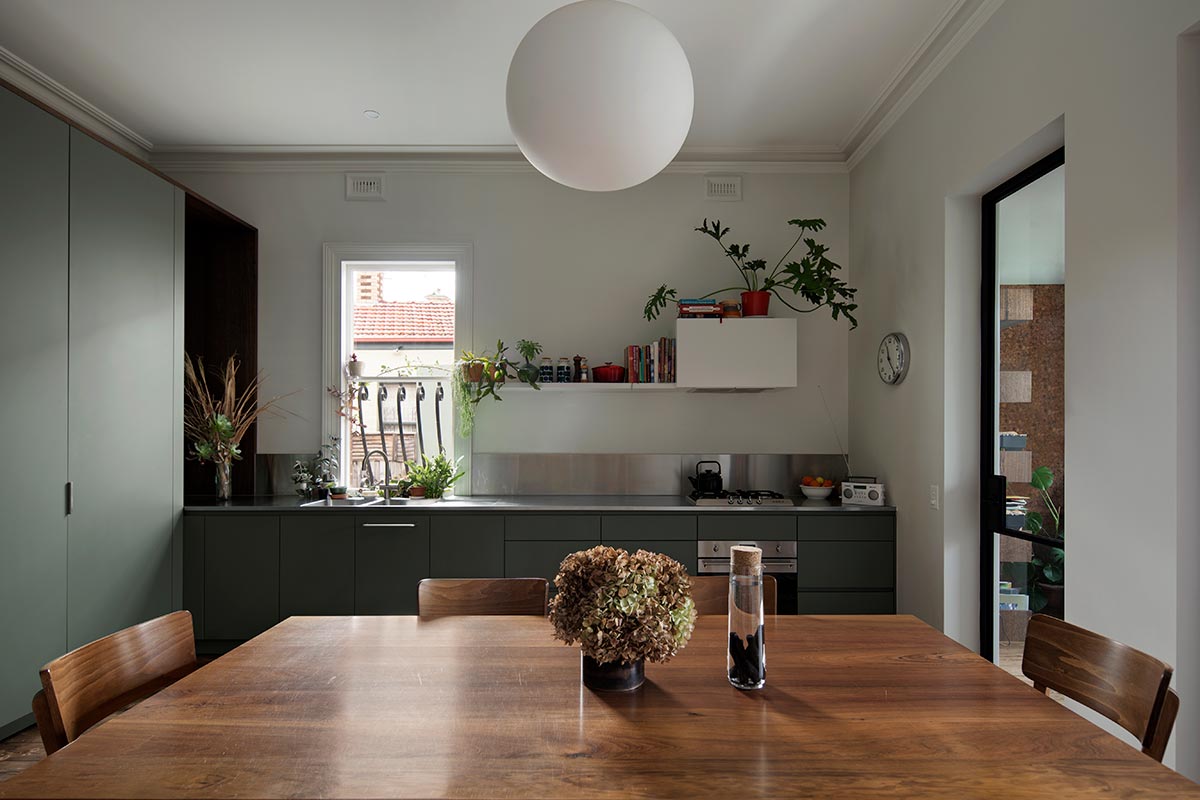 19. Black & Timber
Be still my beating heart, bold yet inviting this combination is a very elevated colour scheme. Introduce white or chrome to break the contrast, or embrace the strength of black and integrate strong materials such as steel to highlight. This is a very industrial aesthetic and one of my personal favourites.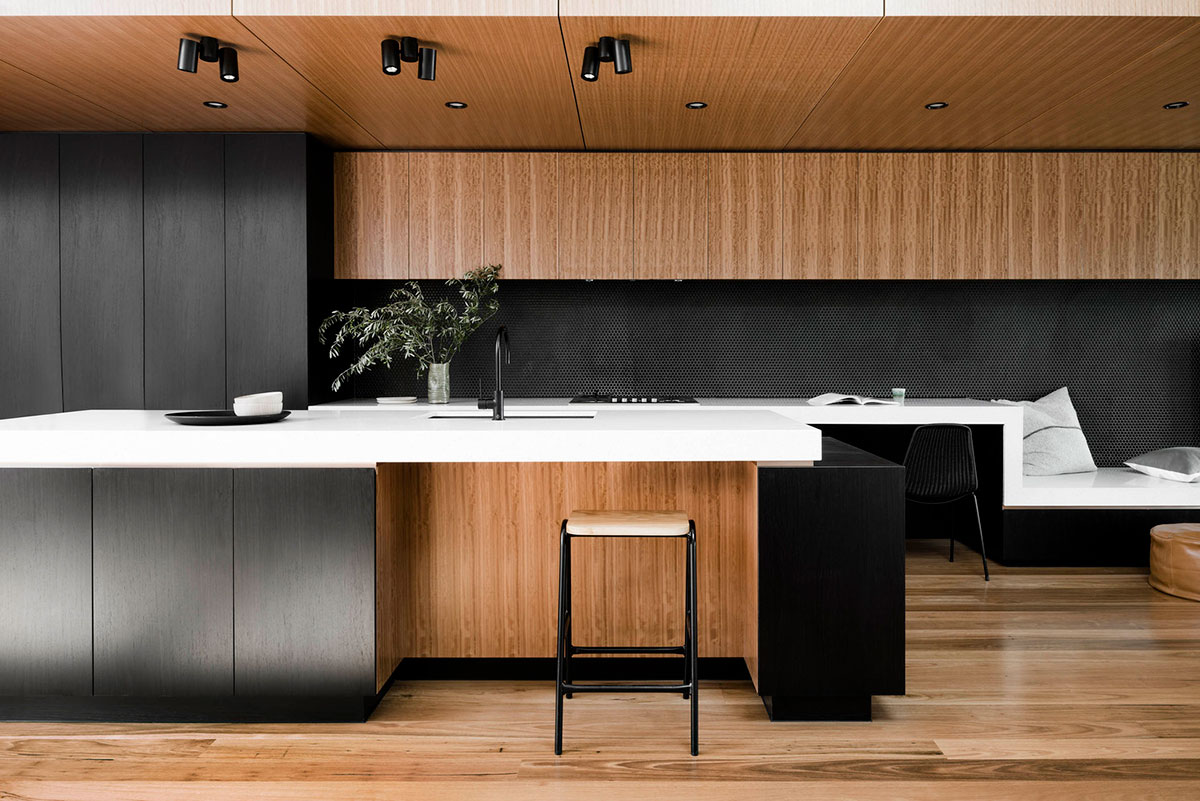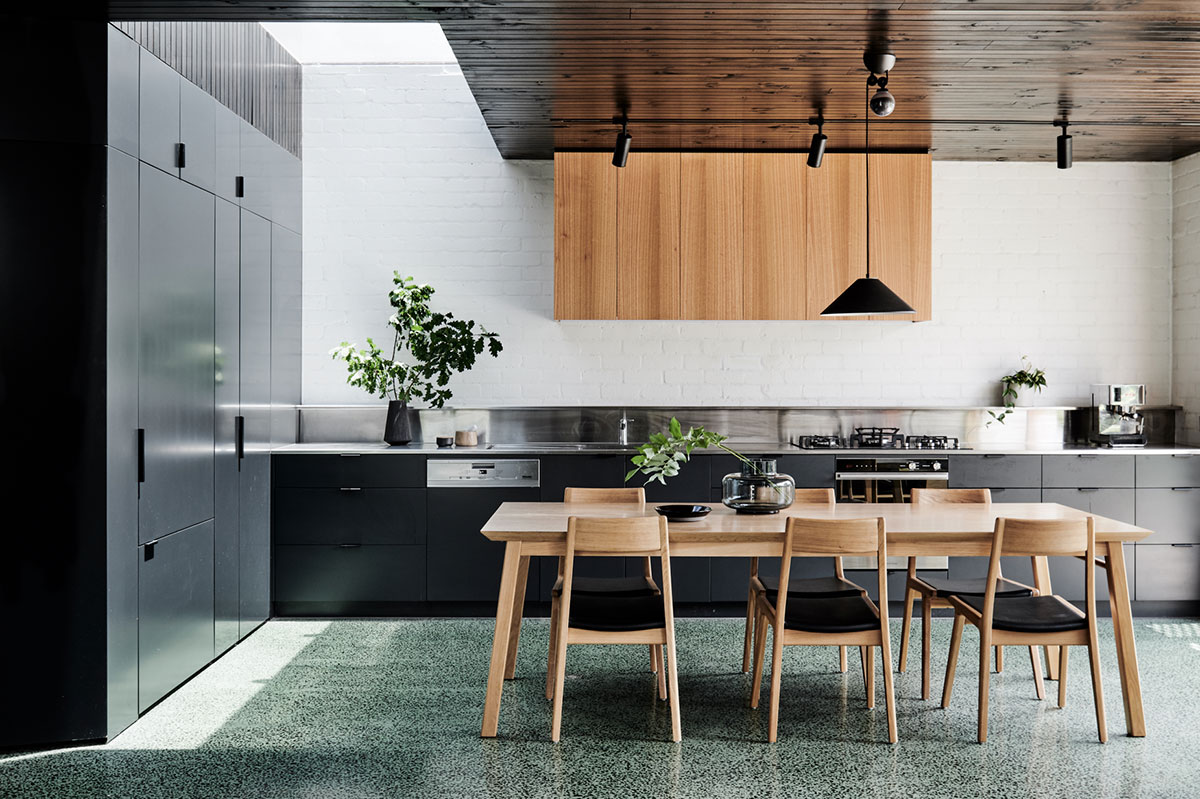 20. Accent Pop Colours
If you're going to explore with colour, a great way is to create accents. For example, a cupboard interior, cabinet handles or even a colourful fridge… can be an interesting way to bring colour to your kitchen without going overboard.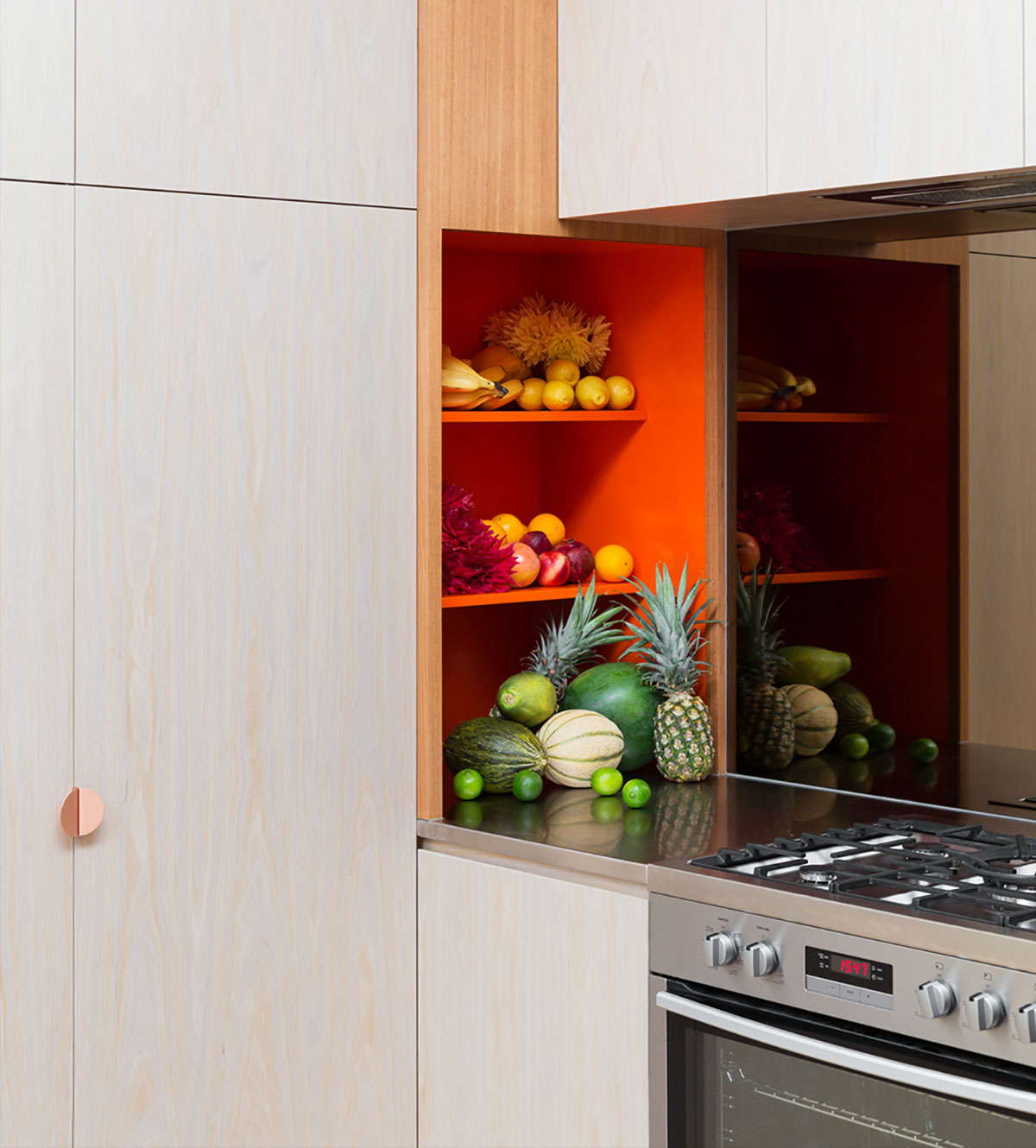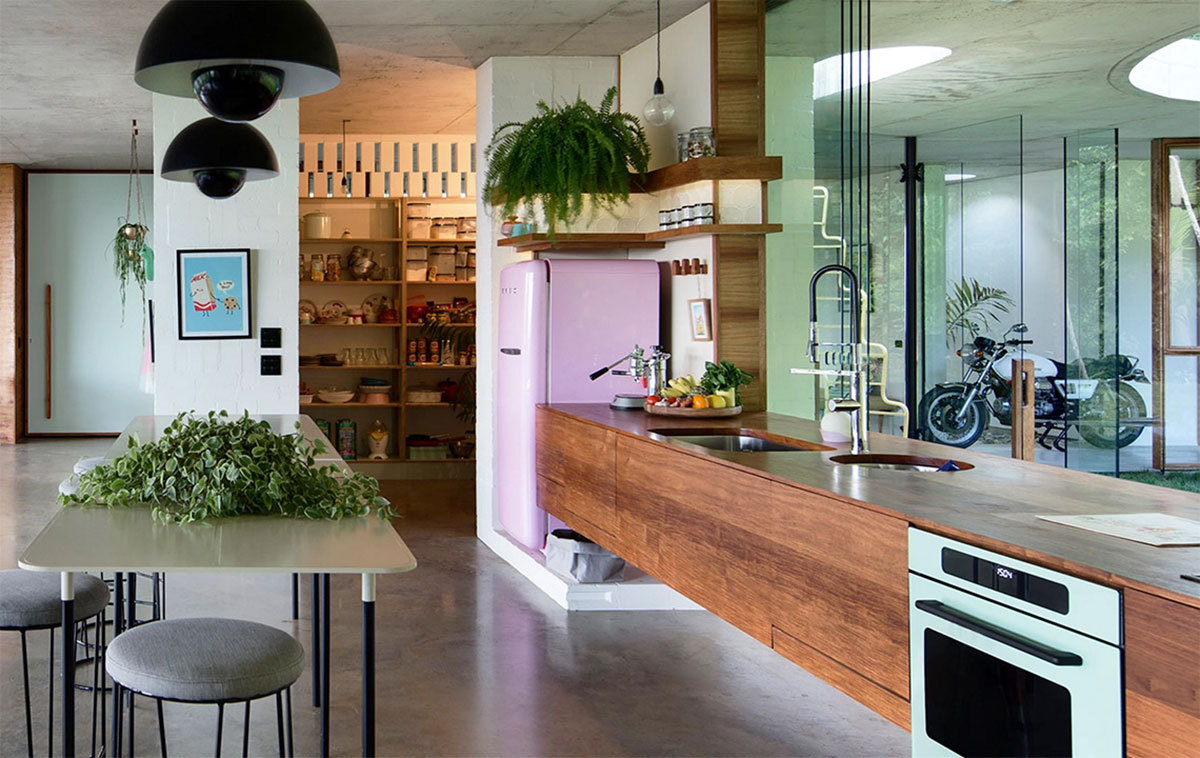 If you found this article helpful then we have some more great advice for you! Be sure to read our Kitchen Advice 101: What to consider BEFORE starting a renovation and What you need to know and avoid when designing a kitchen. Good luck with your new kitchen design or makeover. We hope you're now inspired to create the kitchen of your dreams!!