King & Sobey is the production company of Melbourne photography and art direction team (and yes, they're a couple), Gareth Sobey and Melinda King. Their shared dynamism, laser focus and creative wizardry has graced advertising campaigns, product launches amd editorial features for Australian and international brands, advertising agencies and publications. Their work ranges from hyper-real set design to directing talent for billboard campaigns; pop-art inspired food photography to quirky and narrative-driven product launches.
They've just recently launched their new production company to represent the shared work and make it a space that blurs the lines between the traditional roles of art director, photographer, producer and stylist and more about supporting the concept that being creative collaborators creates better results.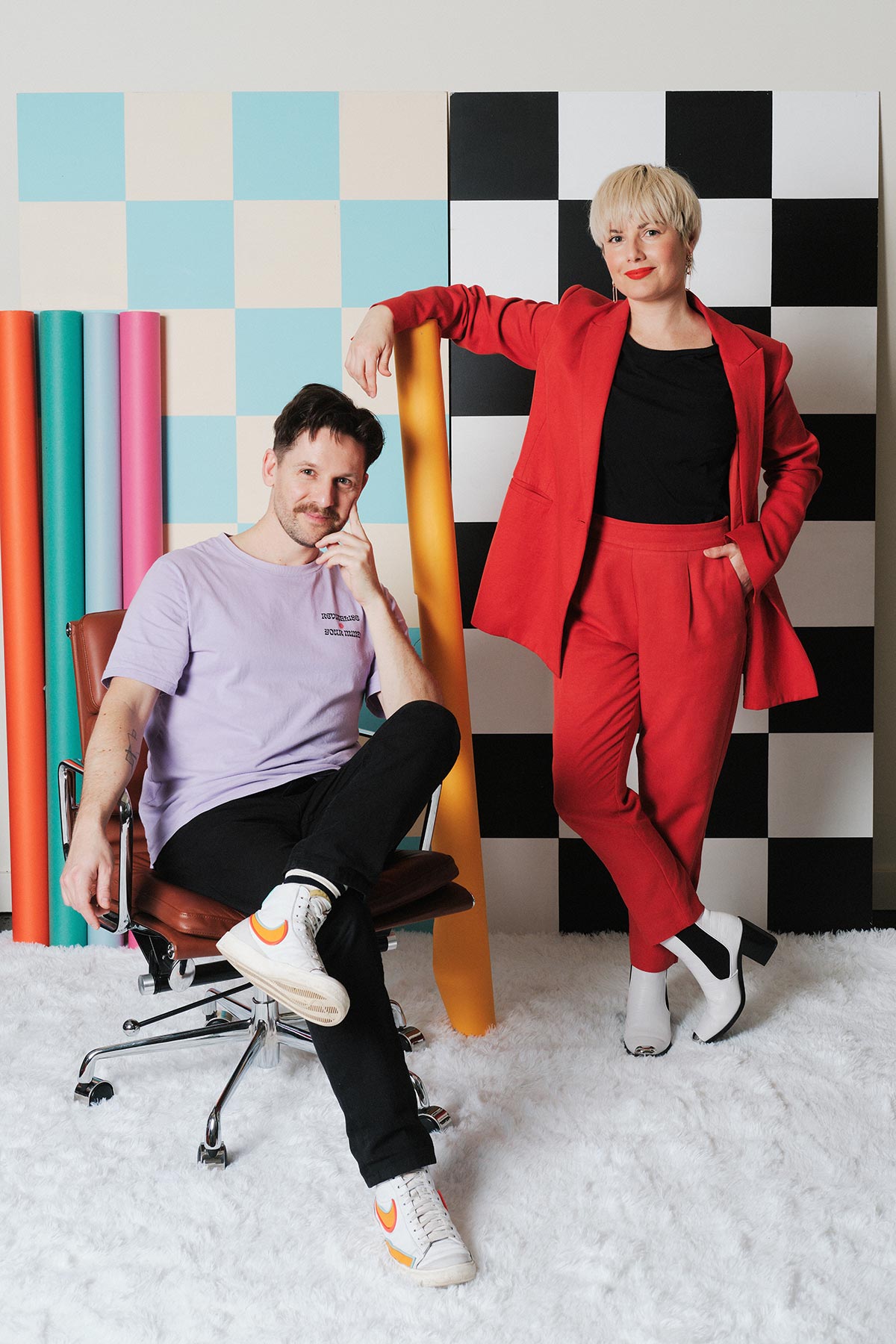 George Takes Twelve
1. Pleasantries first… Tell us about who you are and what you do?
We're Mel and Gareth, a couple based in inner-city Melbourne who create hyper-real, pop-art inspired commercial photography. Together we run King & Sobey, a production company that works with a wide variety of agencies and brands on photography for quirky, narrative-driven advertising campaigns. There's usually lots of vibrancy and bold colours – we're certainly not afraid of colour.
2. What's something you do every day?
Fresh brews on the La Marzocco Linea mini – a beautiful little coffee machine and a new addition to the studio.
3. What's been your favourite moment so far in your career?
Earlier this year we were flown to the Gold Coast and Sydney to collaborate with QT Hotels on their recent "Q the Unexpected" campaign. Their team is wonderful to work with and gave us a lot of creative autonomy to steer the art direction.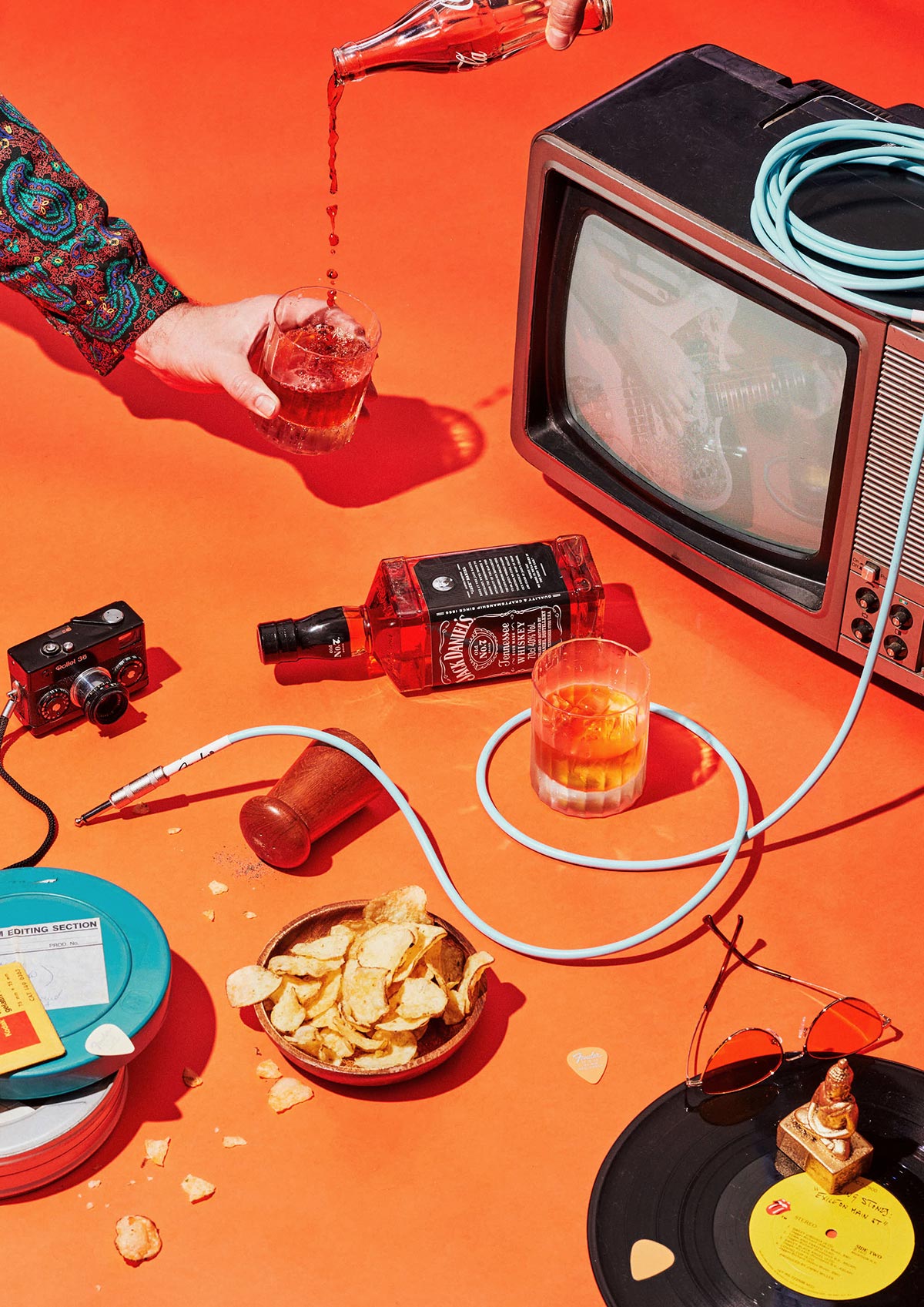 4. What's the most treasured belonging/item in your own home?
Whilst we really appreciate beautiful things – and in particular how considered design can make life more enjoyable and productive – from a philosophical and spiritual perspective we really try to stay fairly unattached to things. If we had to choose, it'd be our indoor jungle. We have about 50 plant babies, all with names, that brings a lot of life to our home.
5. What does your average work day look like?
Mel: We both start with the movement. Gareth will flick the coffee machine on, do a quick workout and I'll do an online yoga class and meditation. Then it's coffee, a hearty cooked breakfast, then a morning meeting with our studio manager to go over what's needed for the day.
Depending on what phase of a product we're in there's always lots happening. During pre-production we'll be focused on finalising art direction, jumping on zoom meetings, running around prop sourcing, picking up surfaces, casting talent and painting sets. On photoshoots in the studio, we'll be on set for around 9-10 hours which can be quite intense.
Then there's post-production and Gareth takes the lead on editing, retouching and final production handover. Over the years we've become very good at setting strict boundaries when it comes to our personal time, especially working from home, so very rarely will we work super late and you'll more than likely find us in the late afternoons cooking something delicious (we love food), almost always with a glass (or 2) of red wine.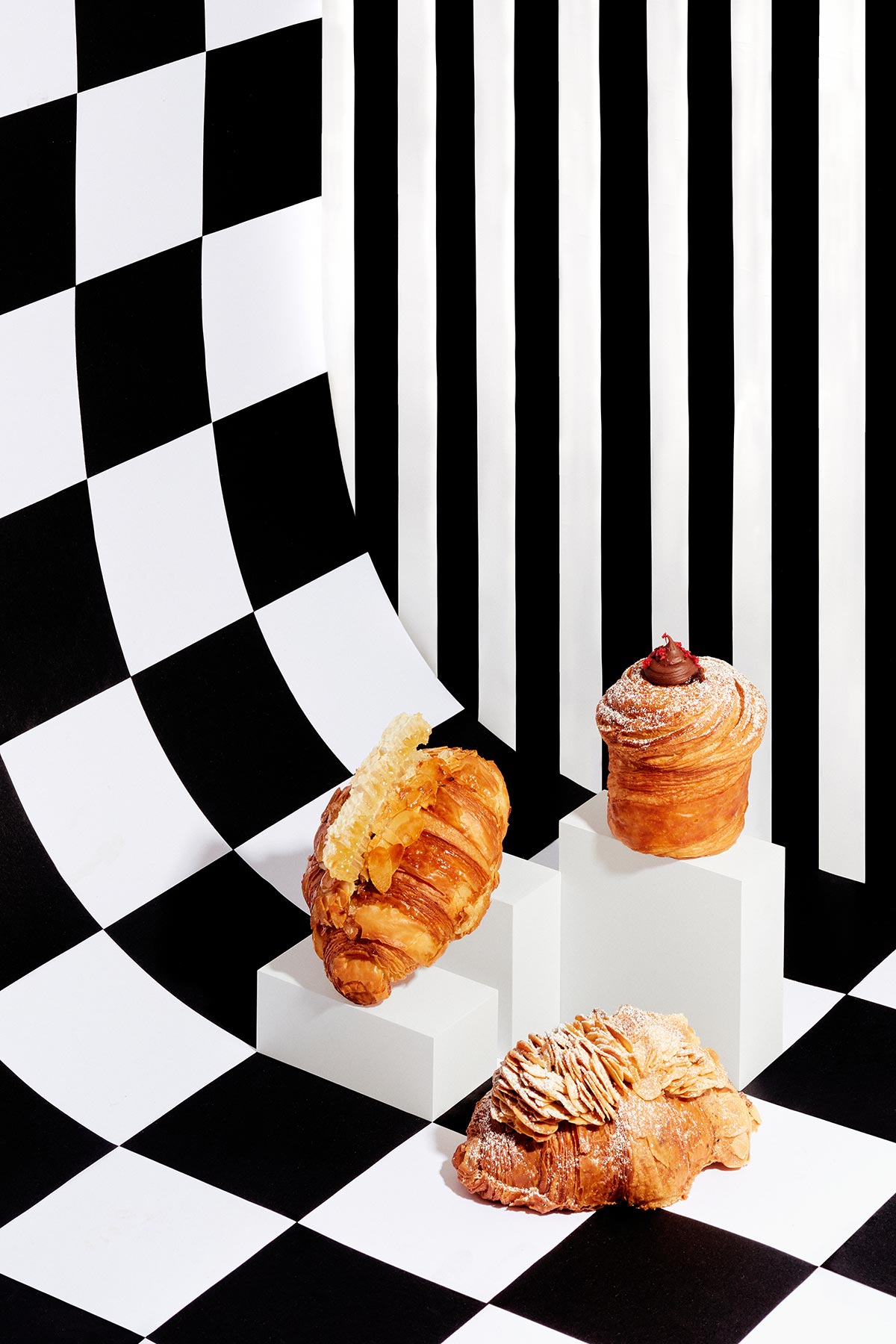 6. Can you pinpoint the moment what you do turn into a profession for you?
Gareth: I'd really encourage everyone to have an open mind about what's possible for their future. I'd been working on some postgrad studies, floating around working as a barista, making some music with some bands and discovered photography as a profession almost by accident. A coffee roastery I was working at needed someone to take photos for this "new thing" that had just launched called Instagram. I discovered I loved it and jumped into it full time, probably before I was ready. Initially, I survived doing some editorial work and the odd job here and there. Eventually, I made connections with some agencies and found myself working on real campaigns. It was thrilling.
Mel: My previous career as a naturopath had me creating recipes for patients and I really enjoyed the creative aspect to food photography. I assisted Gareth for years on some shoots in between consulting and really fell in love with the process. On one particular shoot, I assisted, I saw behind the scenes how the food stylist on set worked and I could see myself working in that space. It all unfolded organically and intuitively from there.
7. What's a skill you want to accomplish in 2021?
Delegation. For both of us, we've worn many hats for too long and are in the habit of doing everything ourselves. So it's been an absolute dream to have our first team member who has helped us with many of the ongoing business operations and management. But, we're still learning the art of delegation!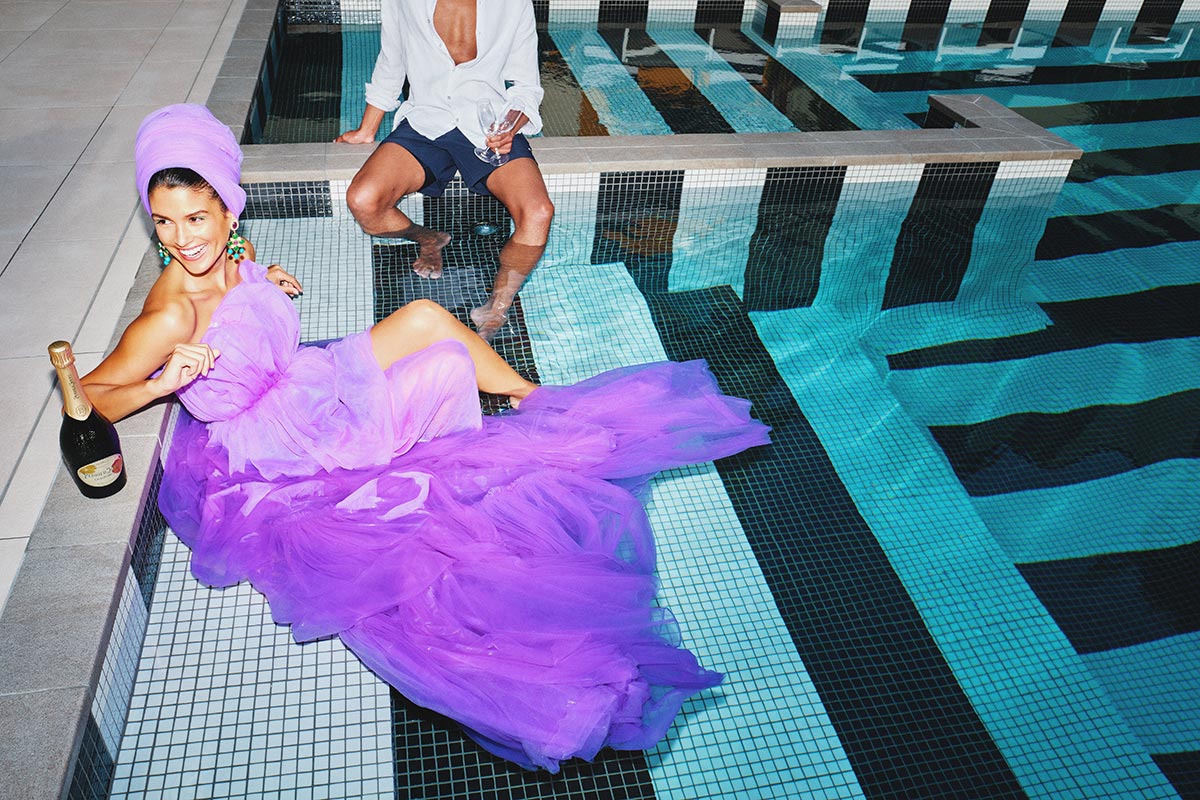 8. If you could collaborate with anyone (brand or individual) who would it be?
Honestly, we love collaborating with anyone who shares our values. If there are individuals, creative agencies and brands out there who are progressive, joyful, open-minded, collaborative and genuinely want to work with us, then we'd be all in. There's something really special when there's creative synergy and everyone's really open to possibilities.
9. If you could see your work displayed absolutely anywhere, where would it be?
We have some conceptual ideas in the back of our minds that we'd love to see on an album cover by one of our favourite artists. Check out our playlist below, you'll get the vibe.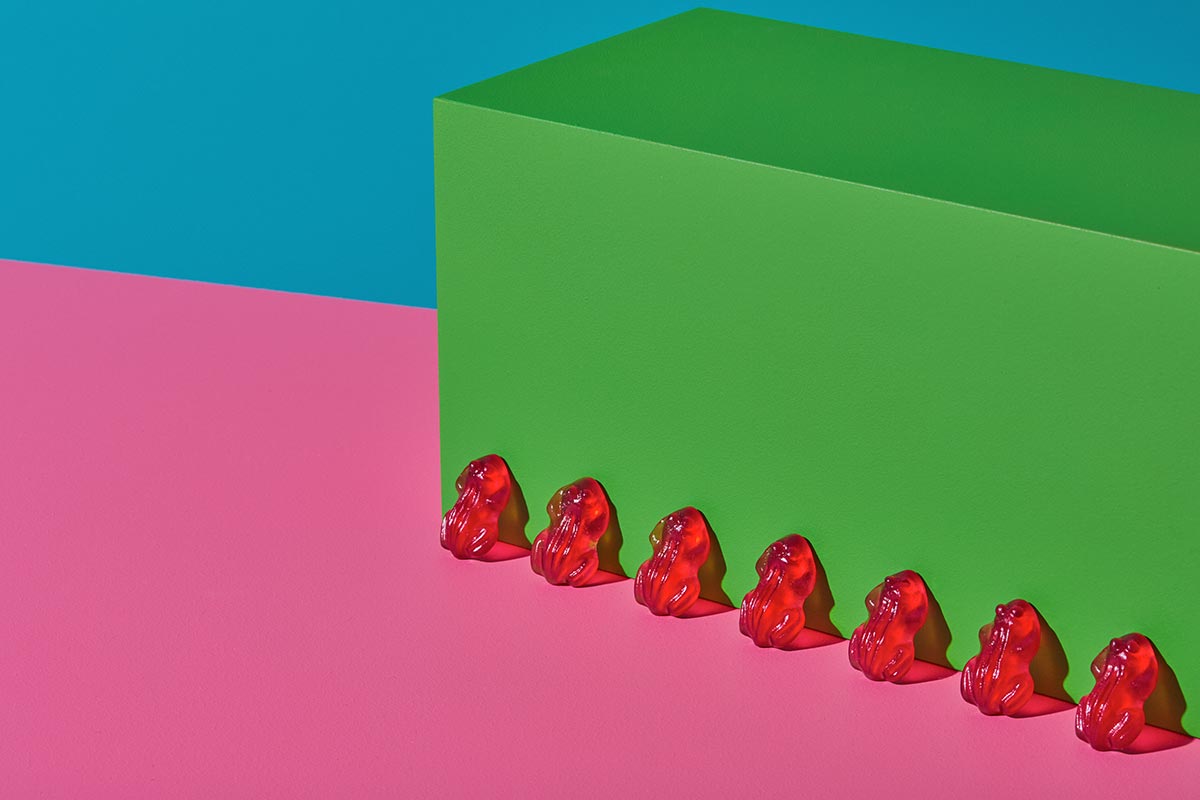 10. You've got a week off… where are you headed?
As much as we love living the inner-city life, we need regular breaks for the soul. Give us a fantastic kitchen to cook in, a good playlist, a bath, and away from the crowds.
11. What's your favourite project/design so far and why?
We created a series for the Italian coffee machine brand La Marzocco. We took inspiration from the shapes, colours and sculptural motifs of Italian modernism and futurism, whilst still keeping it minimal. It was fun bringing it all together and involving other creatives in the project, something we're excited to do more of.
12. What's next for you? Any exciting new projects in the pipeline…
Mel: We always have a few projects on the go, both personal and work-related. For the last few years, we've been recording music together and would love to record an album. I also have plans to launch an online health program for creatives, but this is brewing in the background as we grow our company and develop our photography skills further.
Gareth: I've recently launched my online print store at garethsobey.com and am looking forward to spending more time developing this. But as Mel said, we've also been working on some music for an art project we're hoping to record in the near future. Either way, I think we'll always have fun projects happening. We can't help ourselves!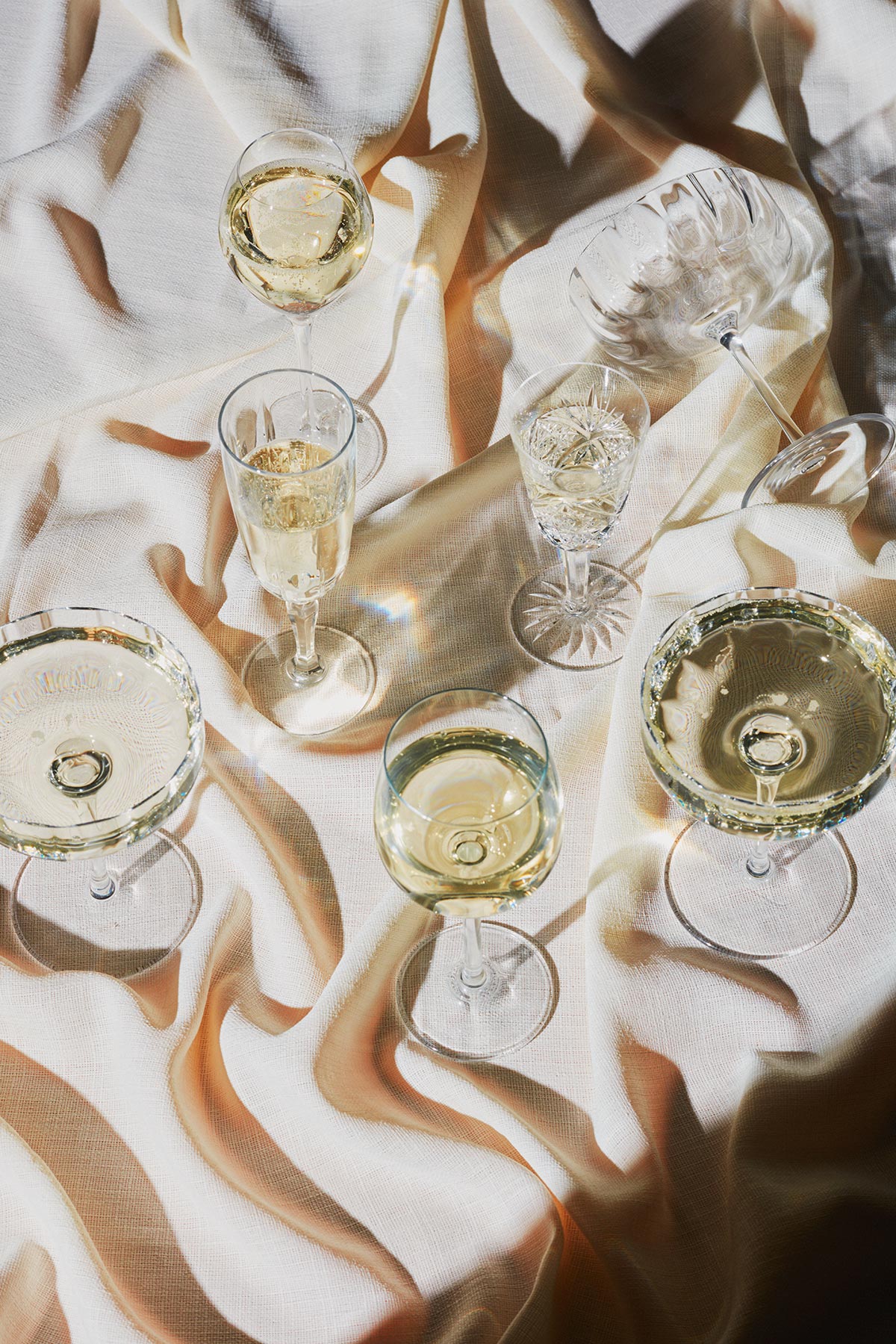 Meet the Maker Radio
"Studio Jams"
"We have a bunch of epic playlists we listen to in the studio that we curate for a few different moods. Here's a sample collection of some of our fave tracks from the last few years." – Mel & Gareth
Where to find them
Name: Melinda King & Gareth Sobey
Business Name: King & Sobey
Job Title: Stylist/Art Director & Photographer
Website: www.kingandsobey.com, www.melindakingstylist.com, www.garethsobey.com
Instagram: @kingandsobey
Photography by King & Sobey