We love a good collab, especially when it involves art and homewares. So this latest collection from Adairs, which is a celebration of homegrown talent, definitely made us smile. Adairs has partnered with Geelong based artist and graphic designer, Kimmy Hogan, for a limited-edition collection. Inspired by nature this new edit is floral, feminine and warm. Neutral tones with subtle moments of colour invite a relaxed and uplifting aesthetic with a touch of whimsy. Kimmy Hogan's signature designs feature across a range of Adairs bedlinen, wall art, cushions, homewares including children's bedlinen and nursery items. We take a closer look at this new home collection and get to know more about Kimmy's creative style and inspiration.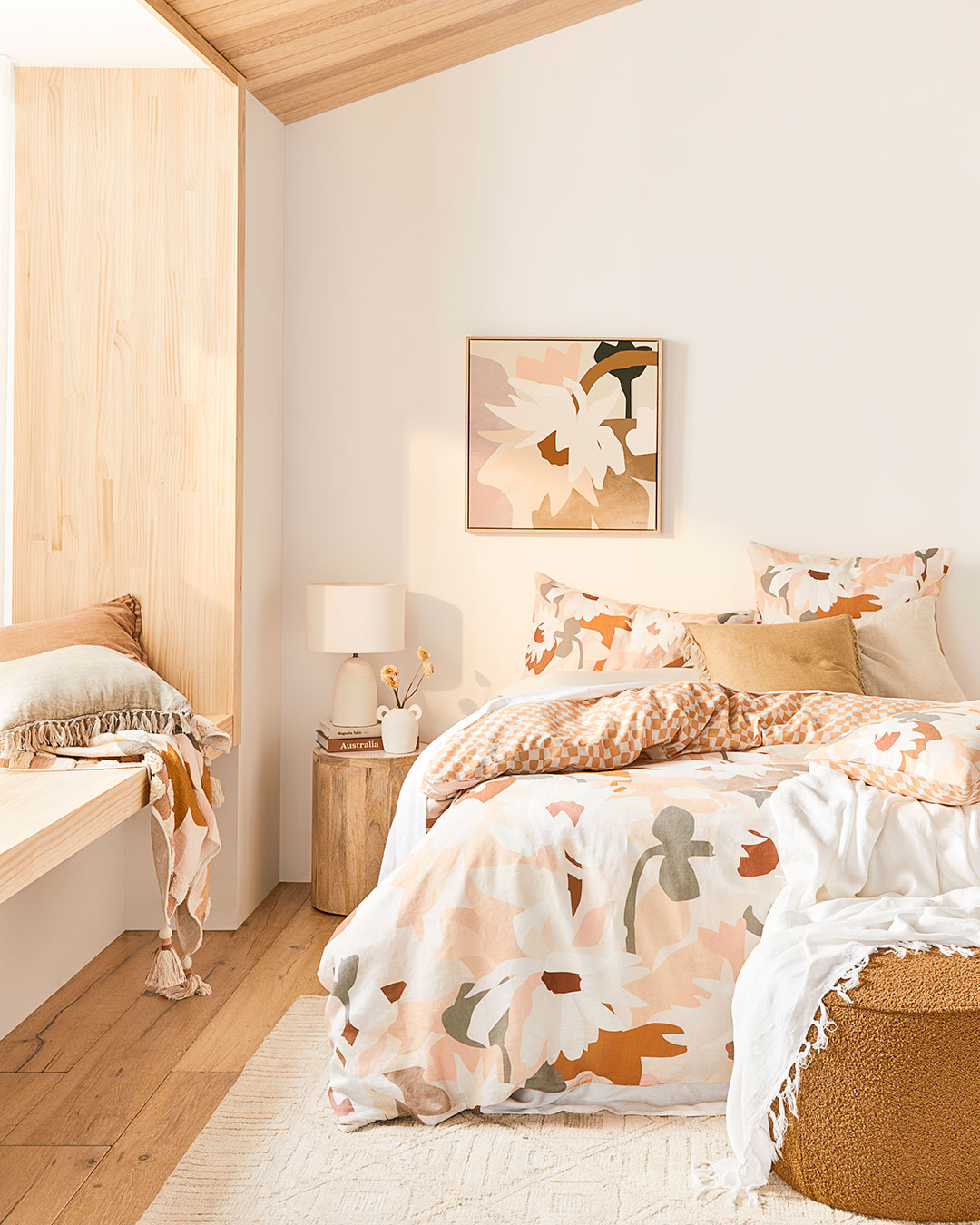 Mirroring Kimmy's physical artwork, the Adairs x Kimmy Hogan collection is crafted with botanic landscapes and florals. The designs start with a neutral base before being layered with pops of colour. Carefully translated yet imperfect, Hogan explains, 'I'm getting better at following my heart rather than overthinking what people might be wanting or expecting. All of my artworks hold special meaning to me; they are created with huge consideration, thought and feel'.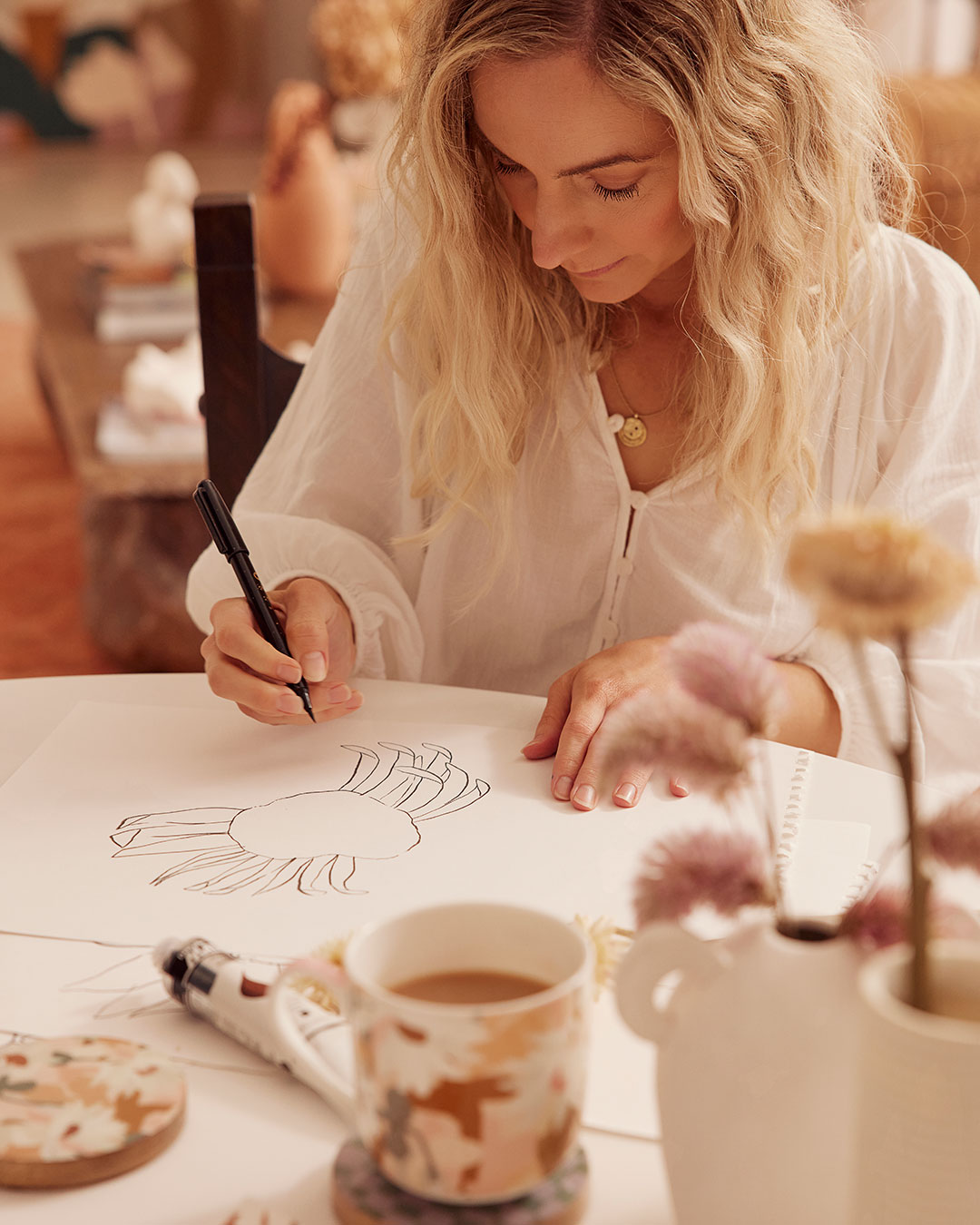 Kimmy's designs apply beautifully across Adairs' 100% linen with reversible patterns that invite a touch of whimsy and everyday luxury into the bedroom. As well as signature bedlinen, the collection also adapts Hogan's artwork to cushions, blankets, tableware, towels and personal accessories.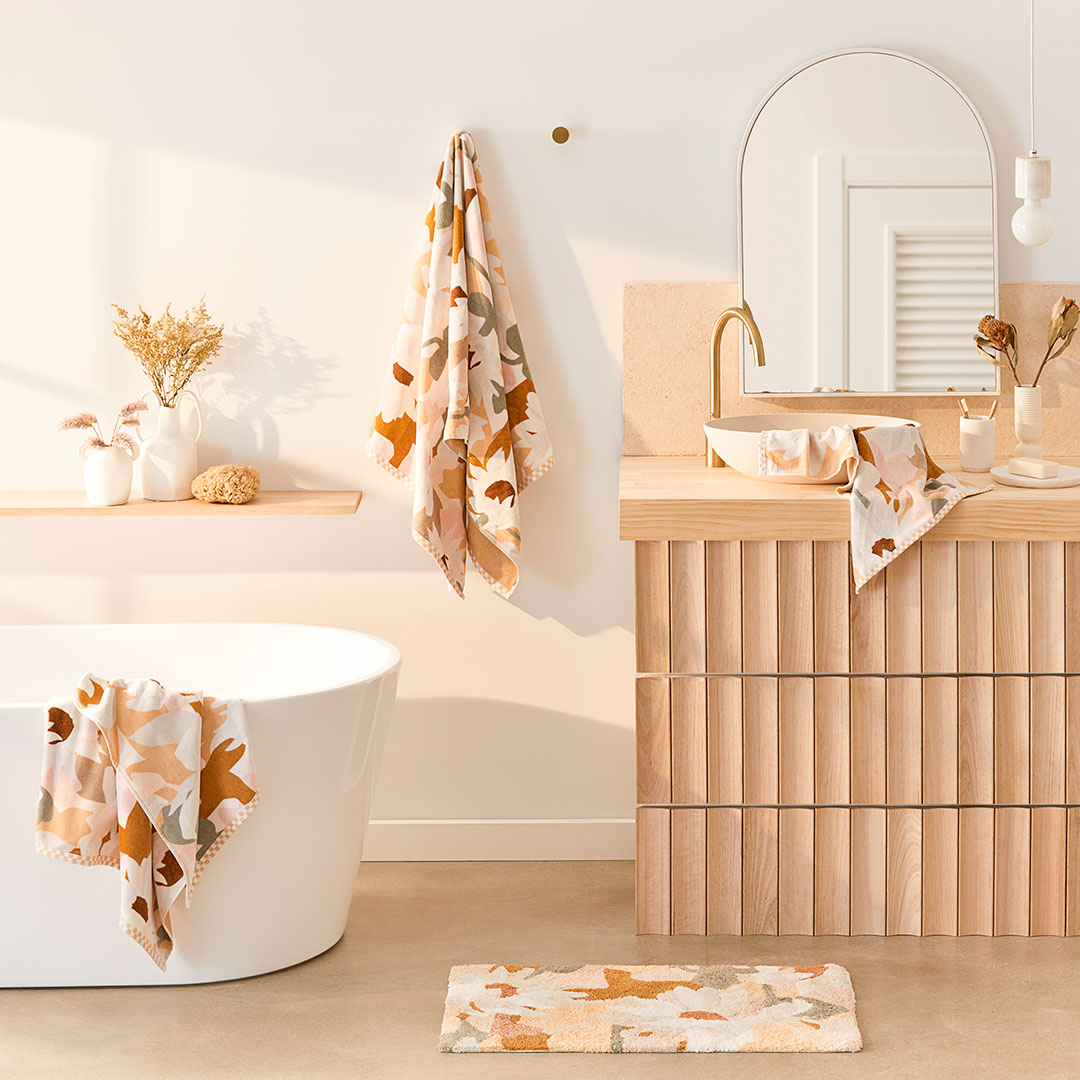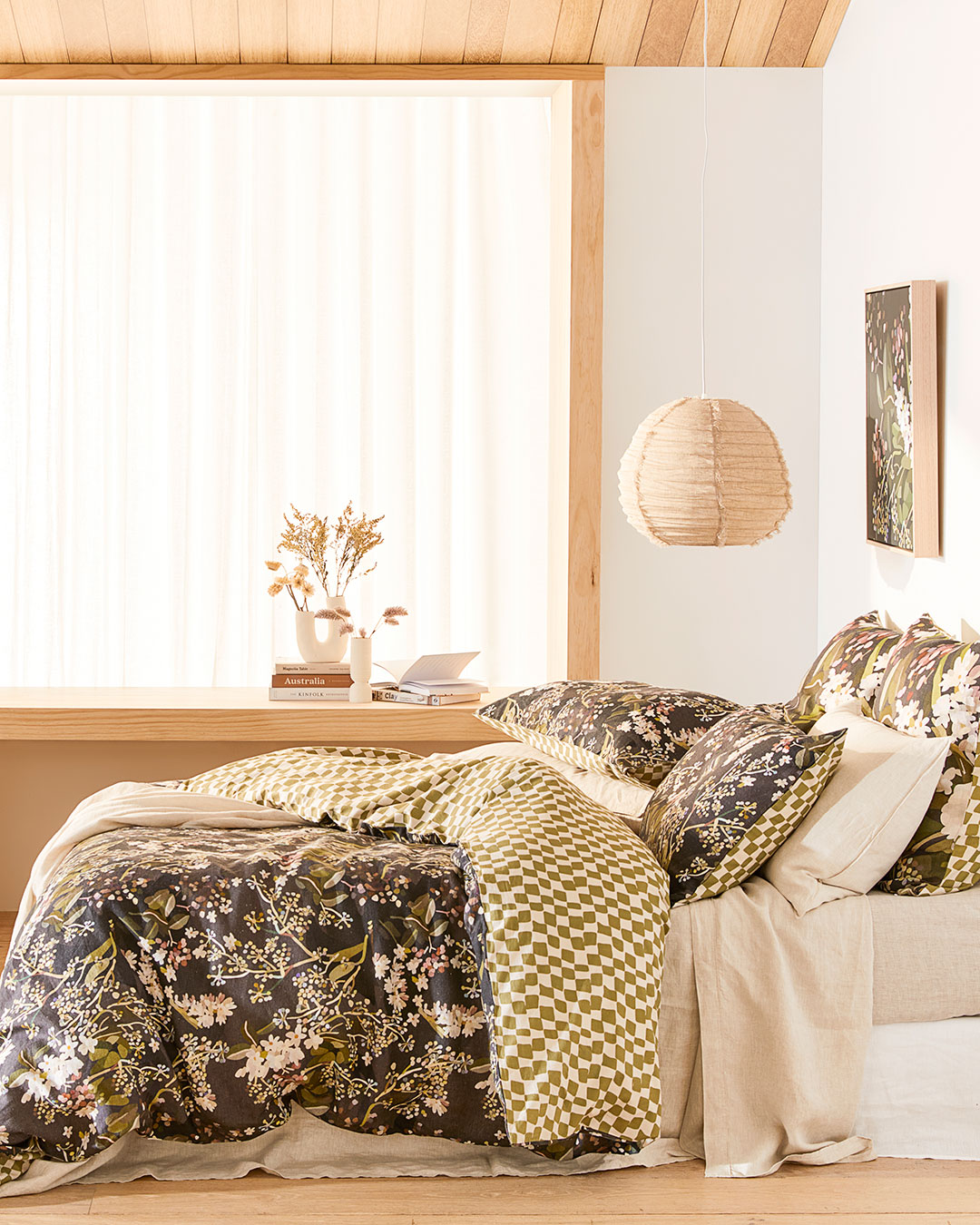 "This has been a real collaboration where I have been a part of the design process right down to the fabric selection. I'm excited to be the first collaborating artist to use Adairs' glorious 100% linen for the quilts and I think my artwork translates so well on this fabrication. I am so happy with the products – I want all of them in my house!" Kimmy Hogan.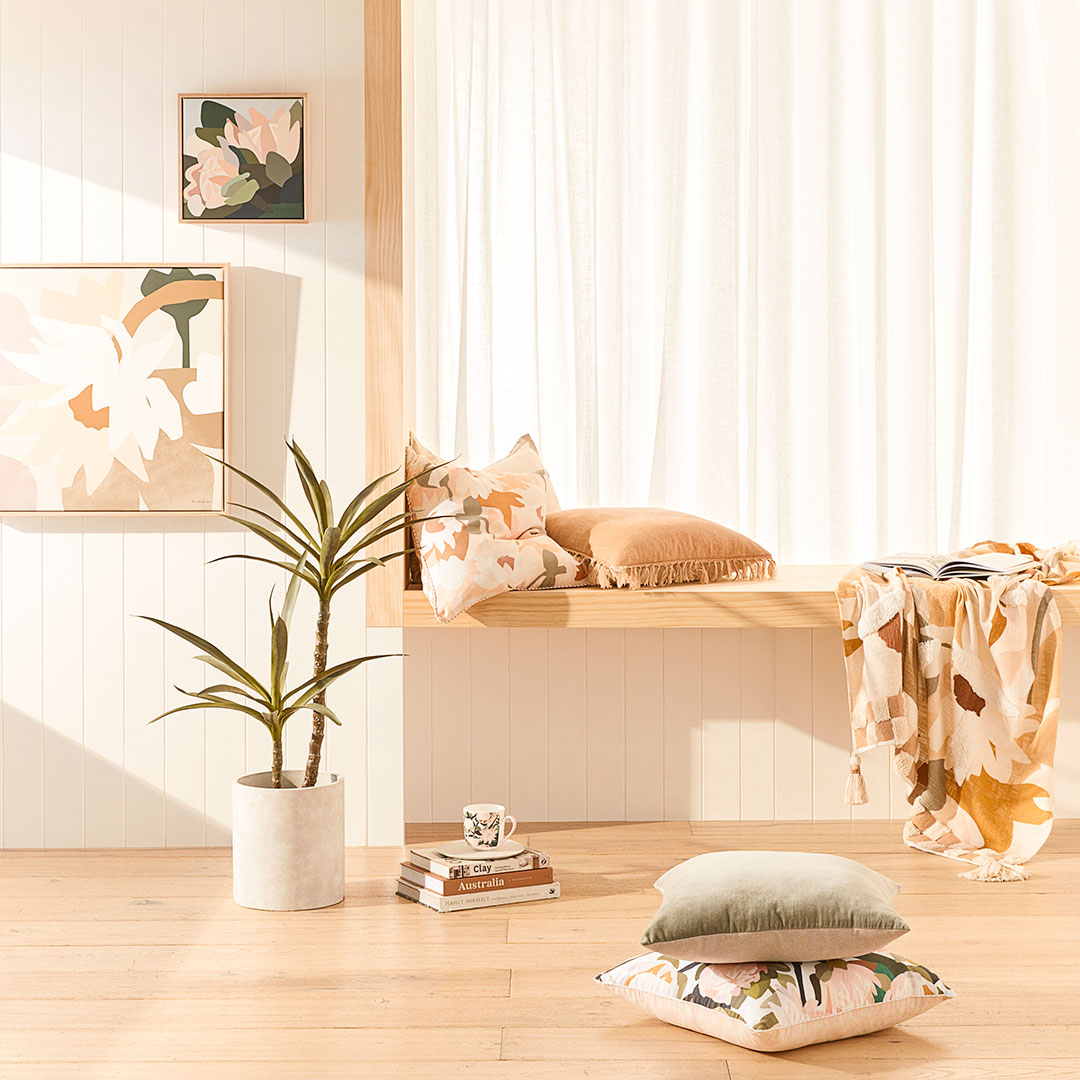 Behind the Artist
Kimmy Hogan is a Geelong-based artist with a love of illustration, art, and interiors. Working with illustrations and sketches to create the initial composition before it is redrawn by 'hand' with the use of digital tools, her designs lend themselves to homewares with the dreamy palettes and use of florals that give a feeling of home.
How would you describe your style?
Floral, feminine, warm and romantic. I like my artworks to give soul to a space the moment it's hung on the wall. 
Do you have any advice for pairing colours together?
Personally I like to start with a neutral base then hero a pop of colour. Don't flood the eye with the brightest colour as it can be more effective in smaller moments. 
You have a very distinctive floral and colour style, where does this come from?
My work is born from an original concept, and my medium being digital is quite unique so I guess that combination makes for a distinct style that is very much my own. I adore colour and am addicted to all the creamy, pinky, peachy tones with bolts of mustard, terracotta and deep cool greens. Maybe being a north Queensland girl has inspired my warm palette! 
Can you describe your night-time routine?
We like to keep night-time as cruisy as possible with getting in pjs early, hanging out with the kids and reading books. We also play 'suck and sweet' at the dinner table where everyone gets a turn saying what their best and worst moment of the day was. It's a good way to get conversation out of boys! 
Describe your ultimate bed – are you a one pillow or four pillow kind of person? A big quilt or just a blanket?
I am a three-pillow girl and I love a big snuggly doona – it's fair to say 'cloud-like' would be a way to describe my ideal sleep conditions. We have our ducted heating on day and night so we can simulate our natural Queensland habitat.
What are some of your favourite pieces in the collection?
It would be hard to choose! But the Paper Daisies quilt and Gathered cushions are an absolute must on my list. And those mango wood bowls and platters are so beautiful and fun.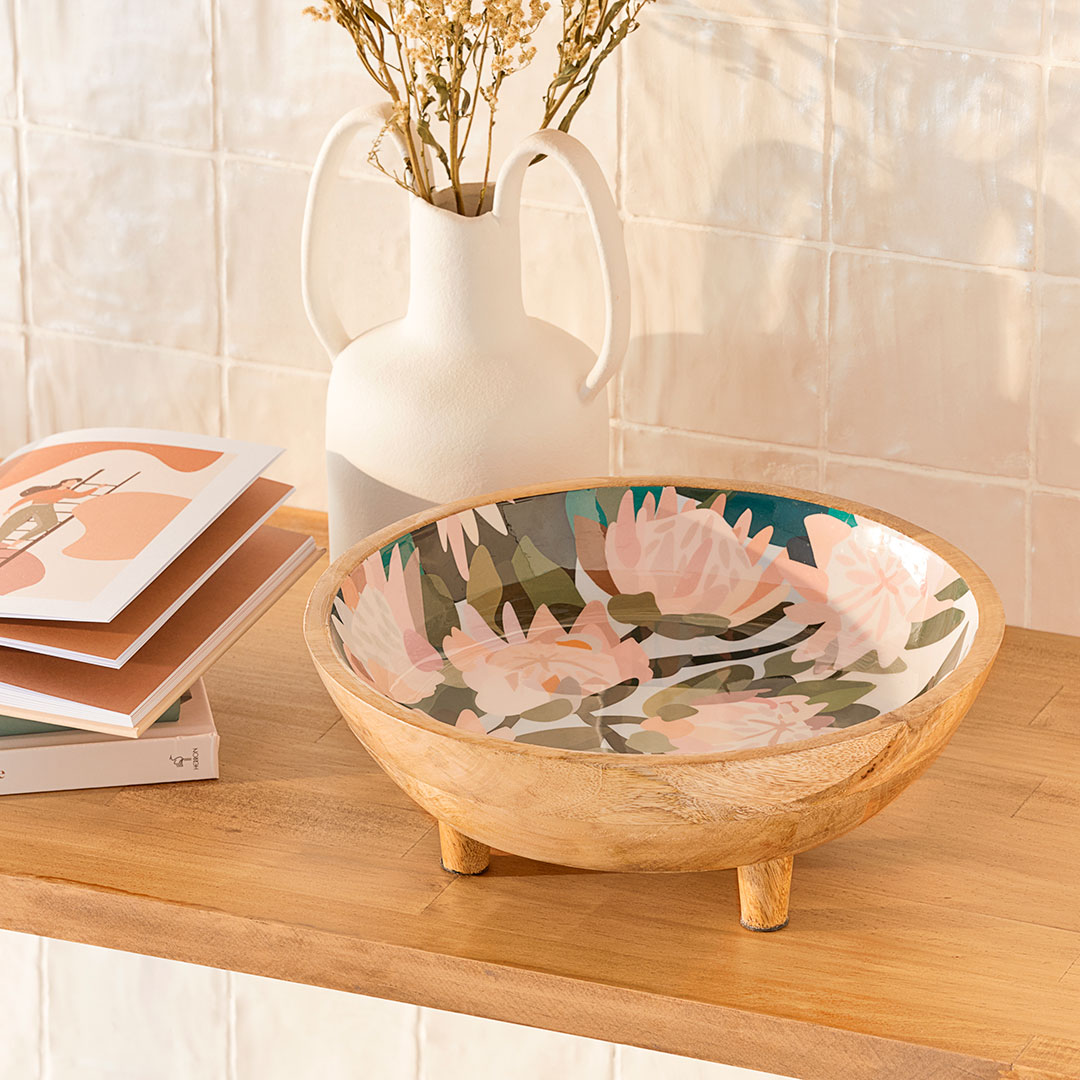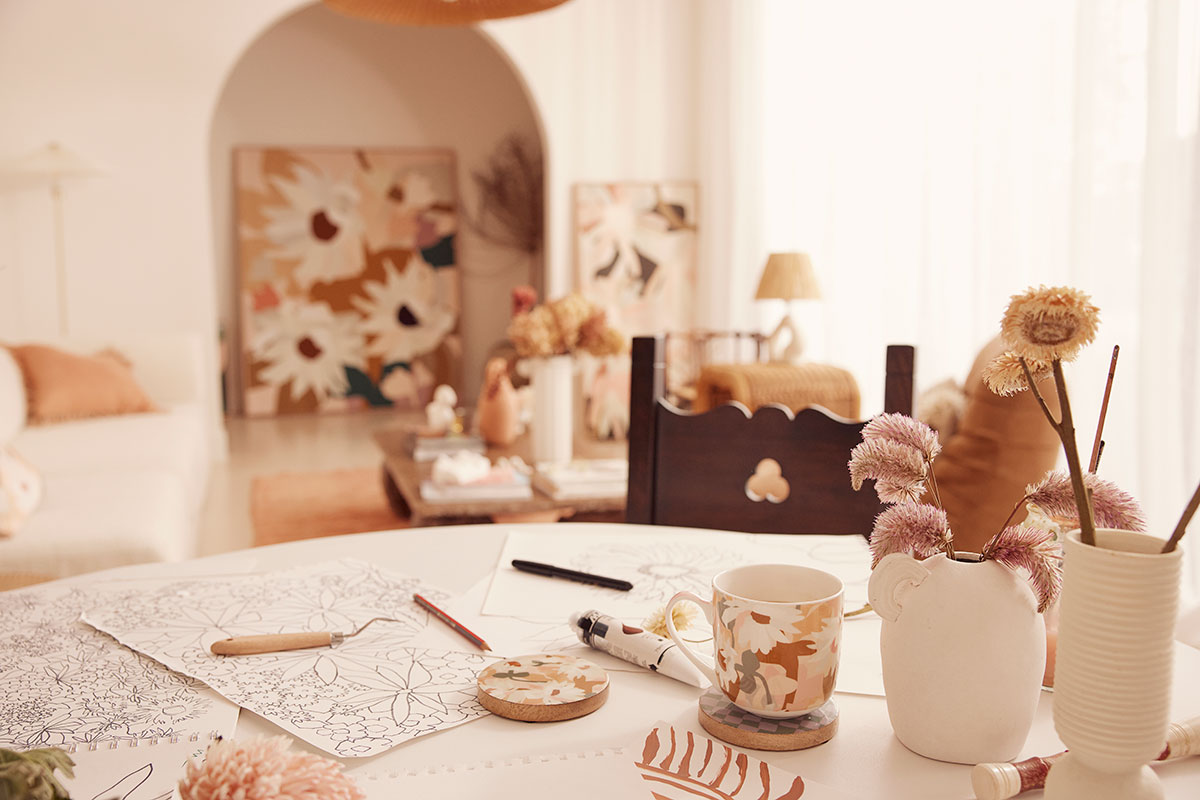 The new Kimmy Hogan for Adairs and Adairs Kids collection is available from September 1st exclusively at Adairs stores and online.