Welcome friend, to the wonderful world of Four Pillars Gin, 18+ eyes only please… If you're anything like us, then gin (not the gym) holds a very special place in your heart. If you haven't heard about this distinctly Australian craft gin brand, then listen carefully because their sell-out bottles of gin are seriously hot property.
Shaking up the craft spirits industry, mates Cameron, Stu and Matt are on to something pretty special if you ask us (and every other Tom Dick and Harry). These guys LOVE gin and we love that they love gin… almost as much as we love their gin. We were thrilled to have them on board to create the perfect G&T's for our guests at the 2017 Hunting Collective launch event for our exclusive Rowena Martinich Exhibition. Read on to find out how their world famous gin distillery in Healesville came to be!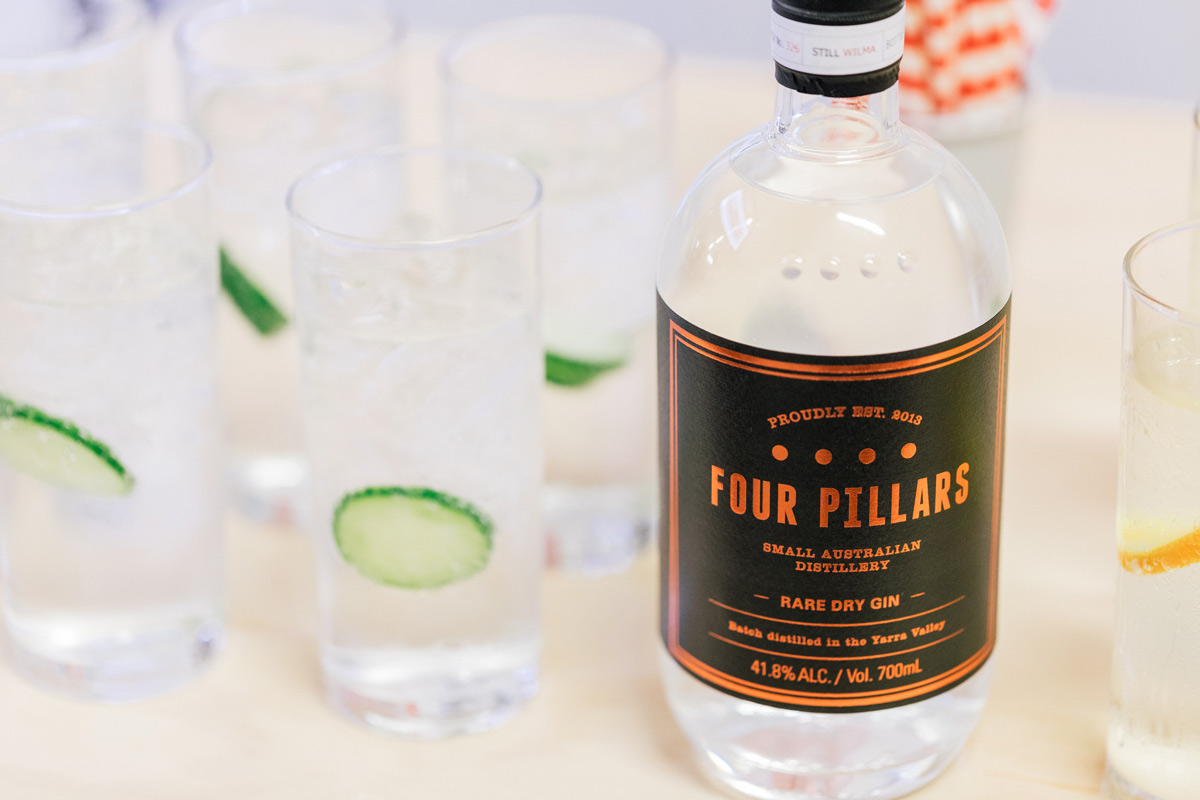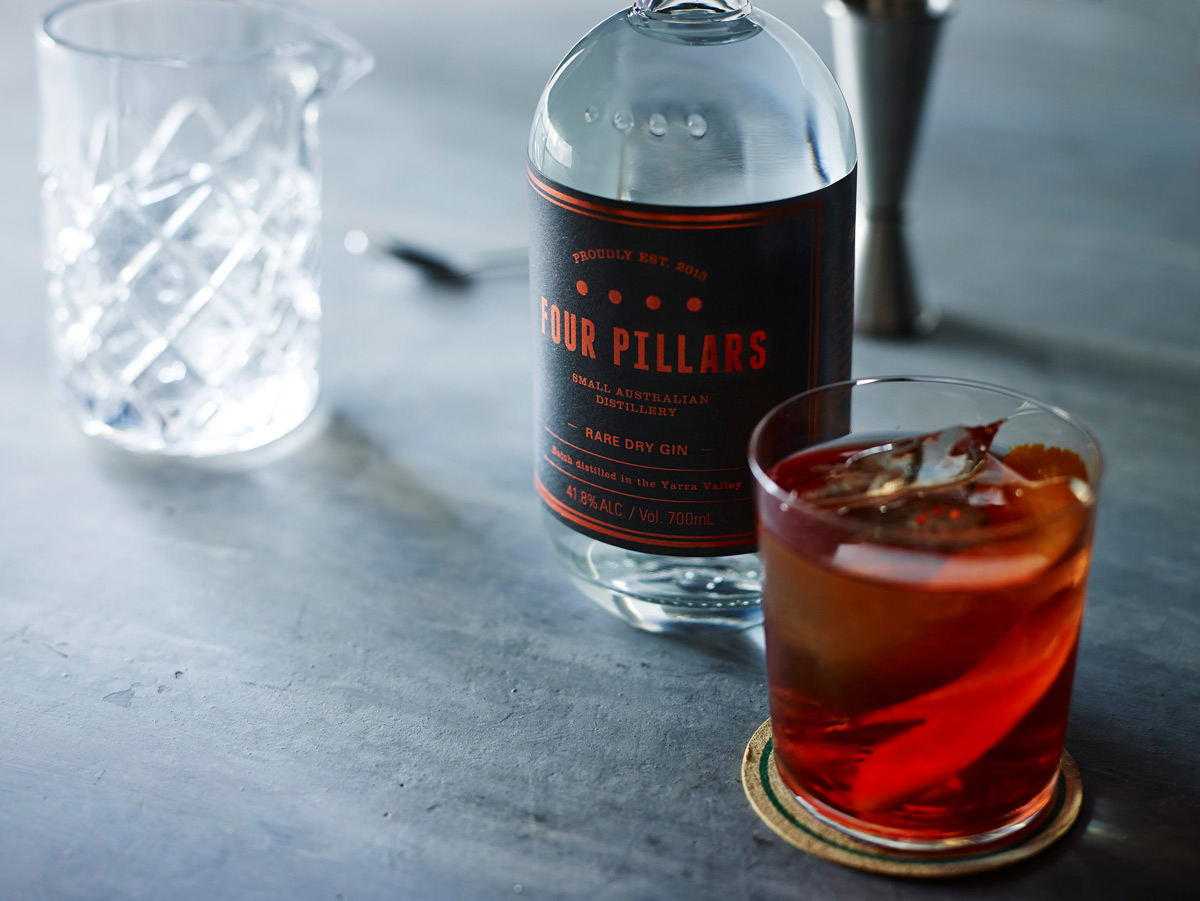 WHO
We're Four Pillars Gin, a craft gin brand from the Yarra Valley co-founded by mates Cameron MacKenzie, Stu Gregor and Matt Jones. Cam is our gin distiller, with a penchant for a good Southside. Stu heads up our gin relationships, who is mildly obsessed with Negronis. And Matt manages the brand side of things and loves a wet Martini.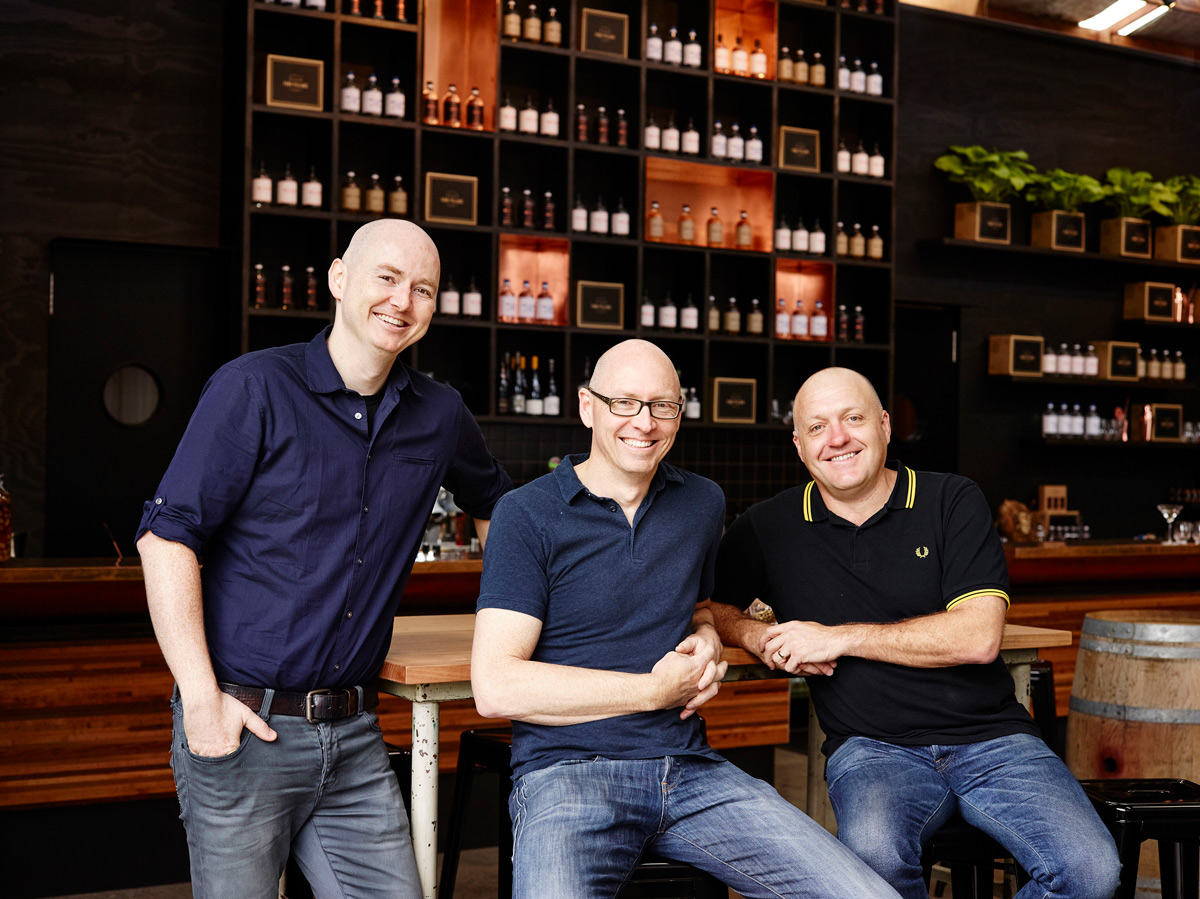 WHAT
Simply put, we make gin. Delicious gin, at our amazing distillery in Healesville. Different, in that it is always made in a contemporary, modern Australian style. We were never compelled to make a London Dry style of gin, and likely we never will. Not because we don't like it, but because there are so many brilliant distilleries already doing it so well!
So to achieve this unique style, we use nine signature botanicals – some quite universal to the "gin recipe", and others a bit more unique and native to Australia, like lemon myrtle and Tasmanian pepperberry. And, being one of the few countries in the world to have them available all year 'round, we use fresh oranges in our distillations (rather than lemon or dried lemon peel). This creates a gorgeous and distinctive warm Mediterranean citrus character in the final product.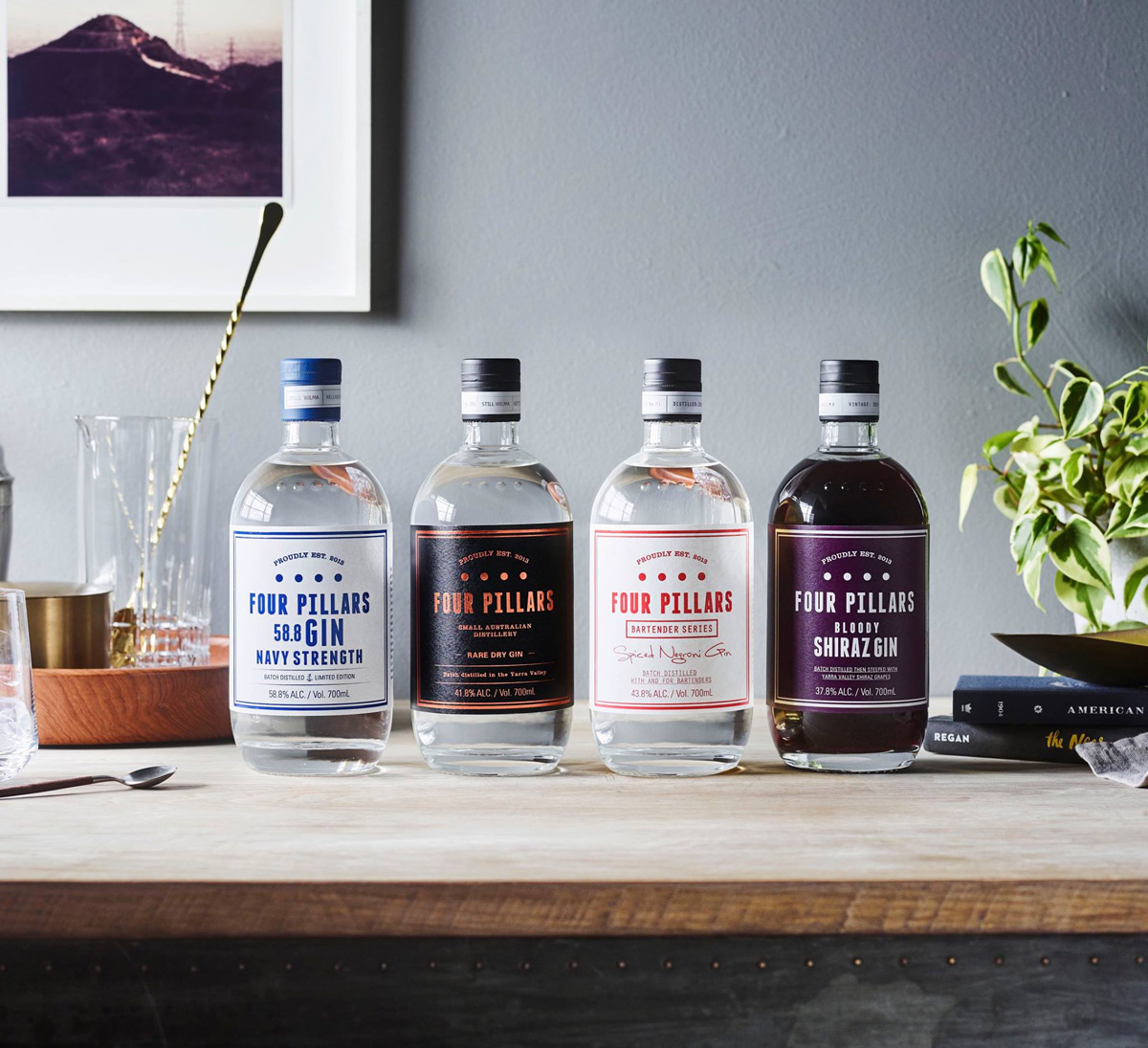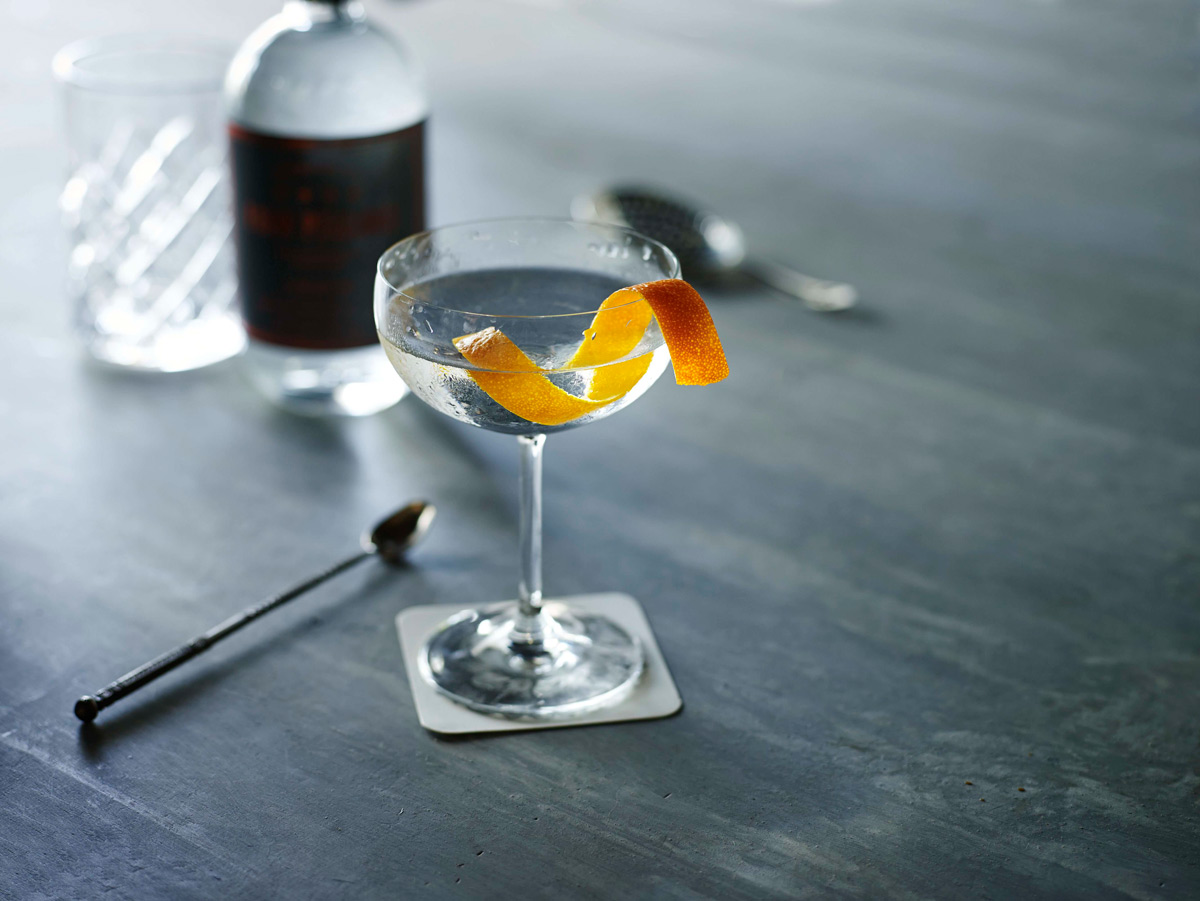 WHEN
Four Pillars Gin launched in 2013, but it took about three years prior to that to get things up and going. That included a US road trip to see what the guys at the forefront of this gin-renaissance were doing right (and wrong, but mostly right!), and what we like to refer to as our "Breaking Bad Phase" where Cam relentlessly distilled and distilled and distilled and distilled some more. And with the determination of a former Olympian (true story) and the fine-tuned nose and palate of 15 years in the wine industry, he landed on the Rare Dry Gin recipe that we use today.
When did we realize we were doing something right? Probably when we crowdfunded our first batch of gin and managed to sell every bottle before it had even been made. That said, we never thought it would blow up like it has. And here we are, close to four years and ten gins later!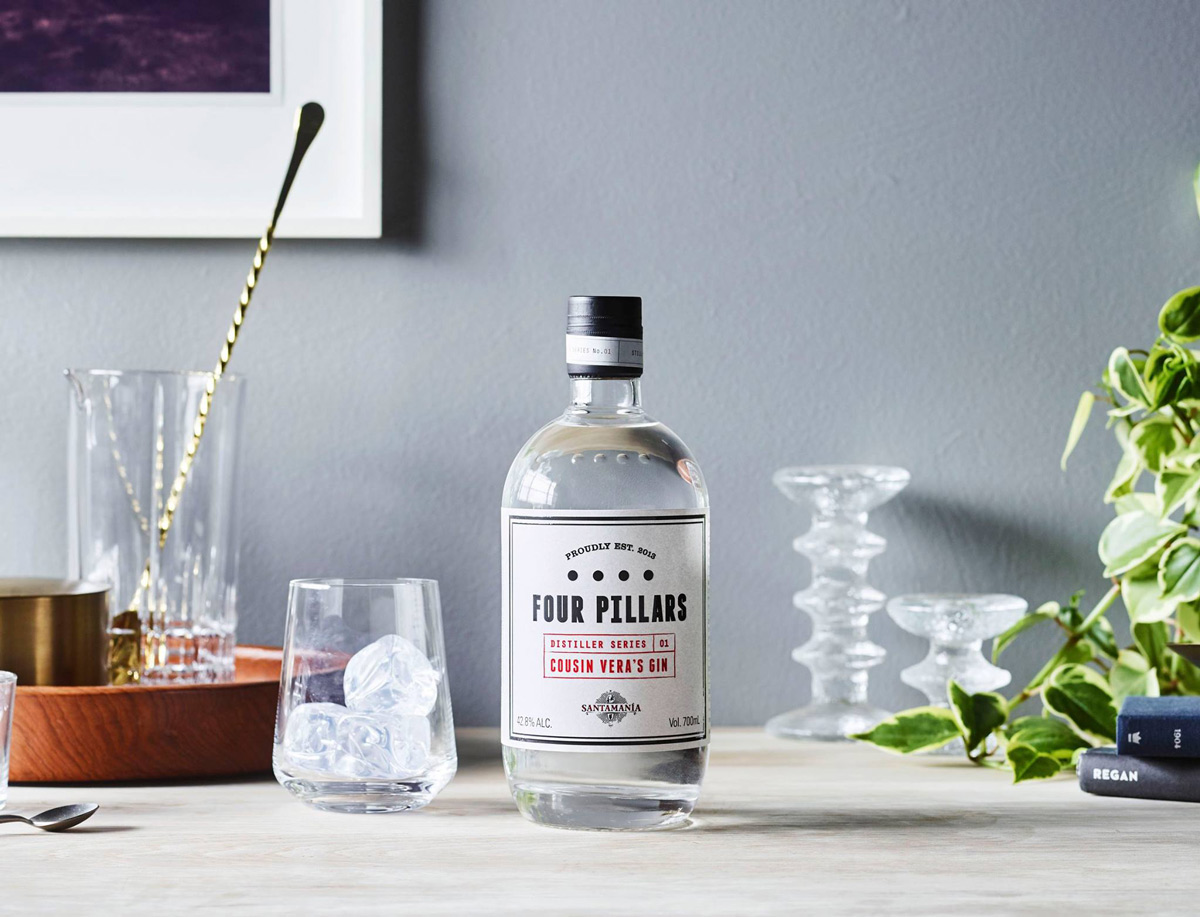 WHERE
We're based in lovely Healesville, in the Yarra Valley, which is only an hour drive from the CBD of Melbourne. Our gin is available in great bars, restaurants and retailers around Australia, as well as a growing number of countries around the world, such as New Zealand, the UK, parts of the US, Denmark, the Netherlands, Singapore, Hong Kong, Vietnam and Thailand. But for the full Four Pillars Gin experience, we highly recommend a trip out to the distillery for a tasting and a G&T paddle. Seriously, it's a lot of fun out here…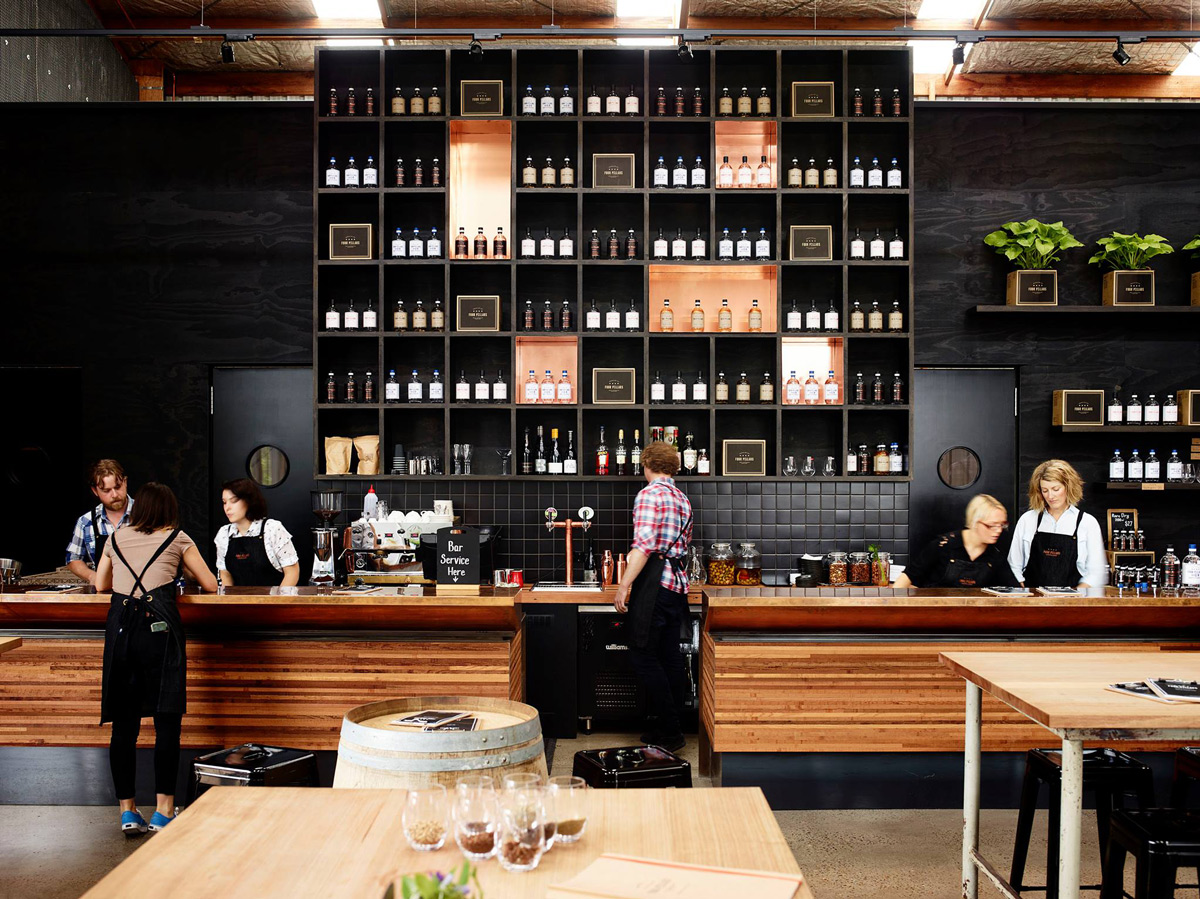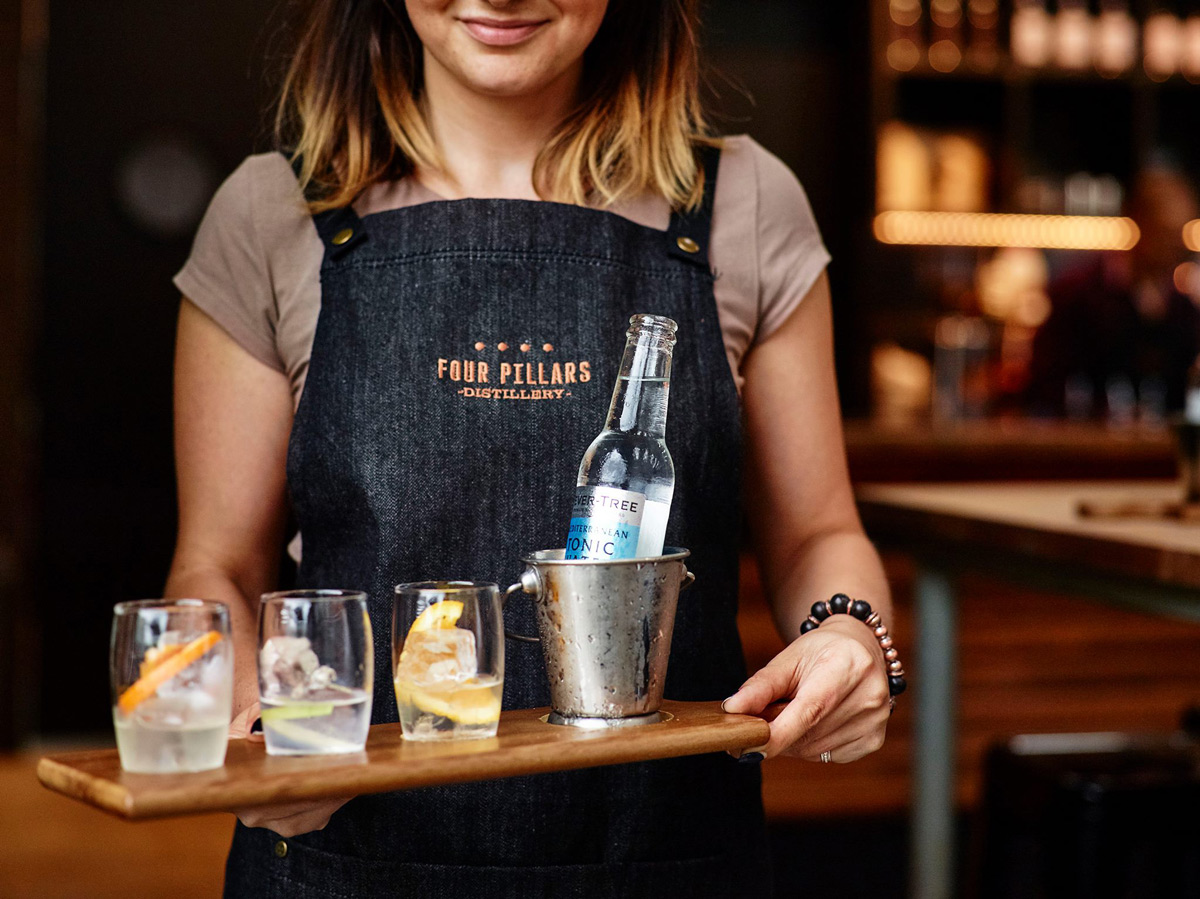 WHY
We do what we do because of love; a love of all things craft, namely of the distilling variety; a love of great cocktails and the bartenders who make them; a love of Modern Australia – an amazing contemporary culture. But most importantly (and rather obviously) a love of awesome gin!
We said yes working with Hunting for George because of that shared love for crafted things of great quality and style – and anyone who's part of that community is ultimately helping us do what we love doing every day.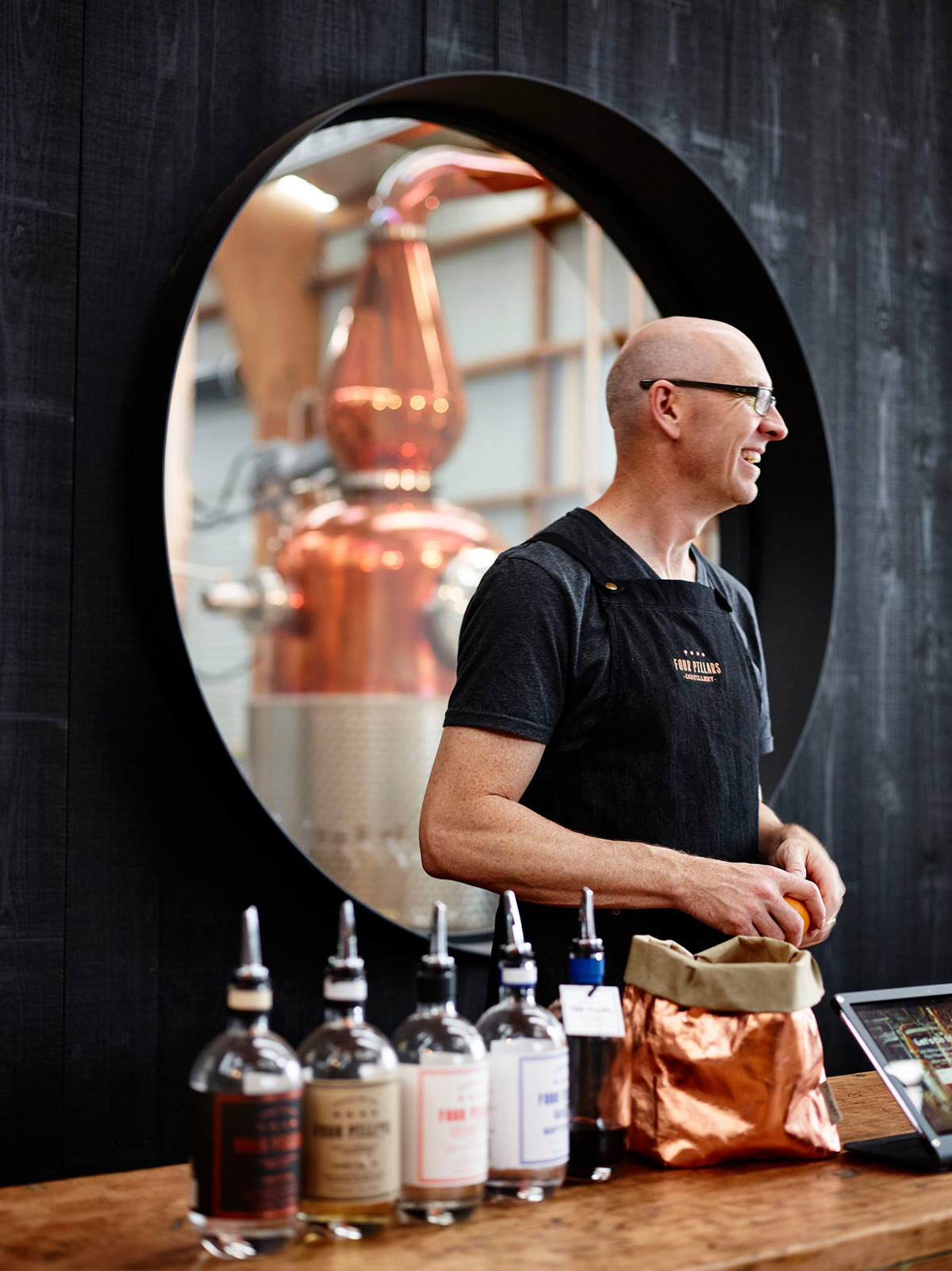 If you're planning your next road trip to the Yarra Valley, don't make it all about wine! Learn how to taste gin like a pro, try a gin & tonic flight or go backstage and see where the magic happens in a Distillers Masterclass. Trust us, it's 100% worth the trip.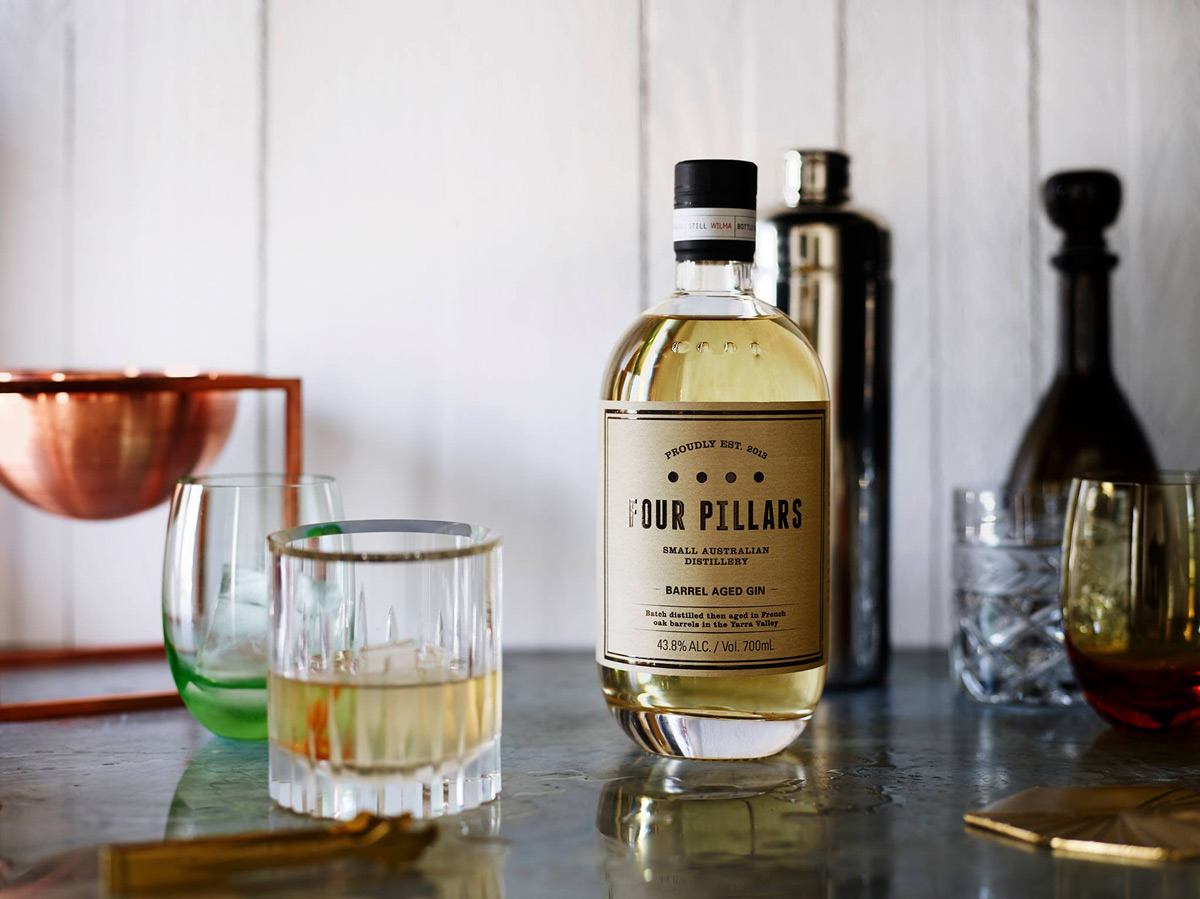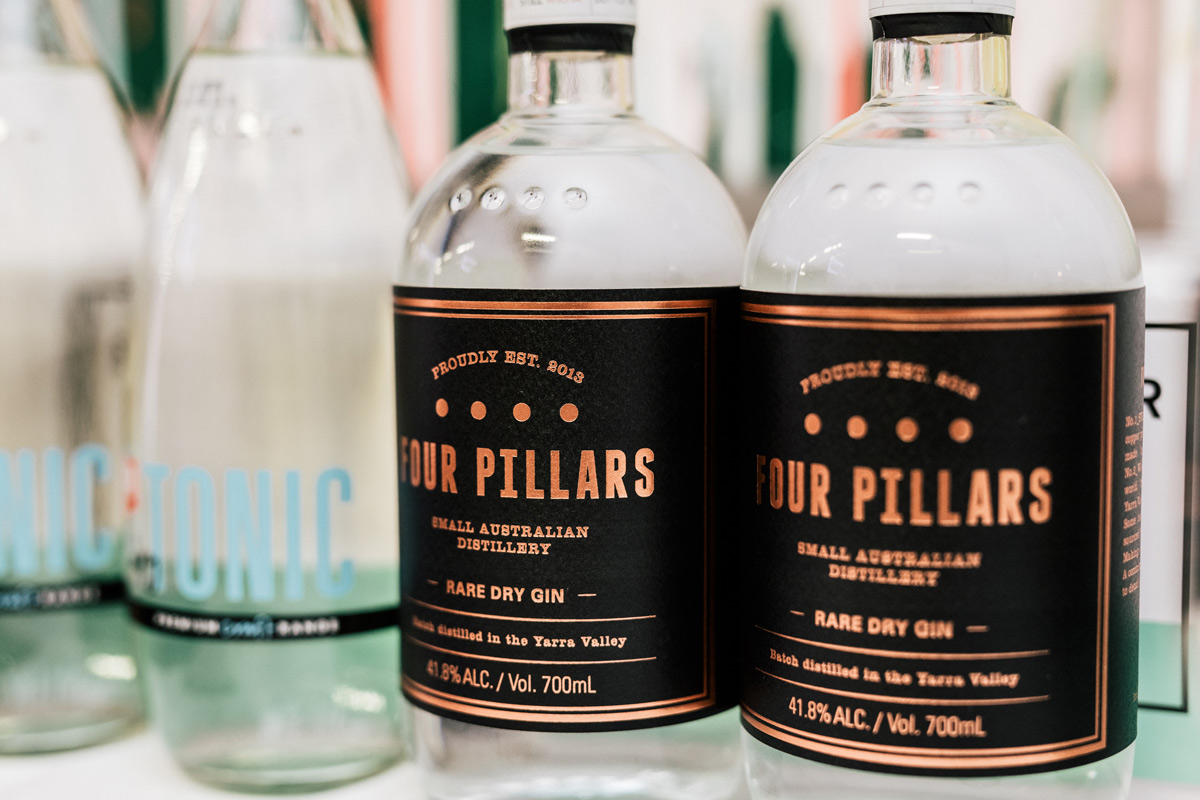 Images supplied by Four Pillars Gin and Griffin Simm.