Started by John Liu in 2012, Inbetween Architecture is a Melbourne-based studio that specialises in residential architecture. They offer renovations, extensions, refurbishments and new builds as well as an intensive hands-on approach to work closely with clients to create bespoke designs that meet briefs and respect budgets.
Invoking Debussy's idea about music as the space between notes, their approach to architecture is to create immersive spaces, between walls, floors, and ceilings. Their vision is to create calm, accessible spaces that provide a respite from our increasingly busy lives. Their architecture is beautiful to look at but also, and more importantly, it is a joy to inhabit; to live inbetween.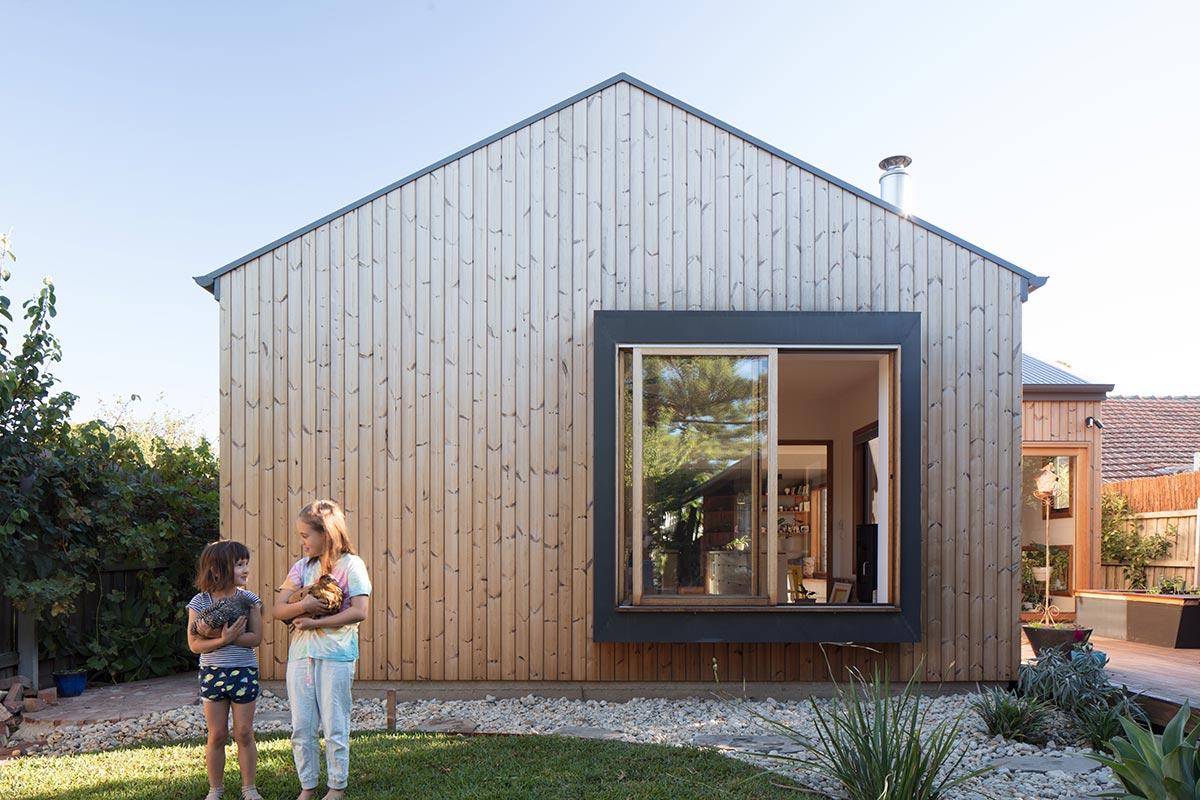 George Takes Twelve
1. Pleasantries first… Tell us about who you are and what you do?
John: I am an architect and the director of Inbetween Architecture.
Steph: I am an architect and work closely with John across all aspects of the practice at Inbetween Architecture.
2. When I was growing up I wanted to be….
John: There is a joke about career options for people with Chinese background: a doctor or a lawyer, anything else is a family disgrace. When I was growing up I wanted to be a cartoon artist.
Steph: I never had a strong feeling for what profession I wanted to pursue – different things appealed at different times. I was never actively encouraged to think about what job I would do but was always supported to pursue what I loved and what interested me.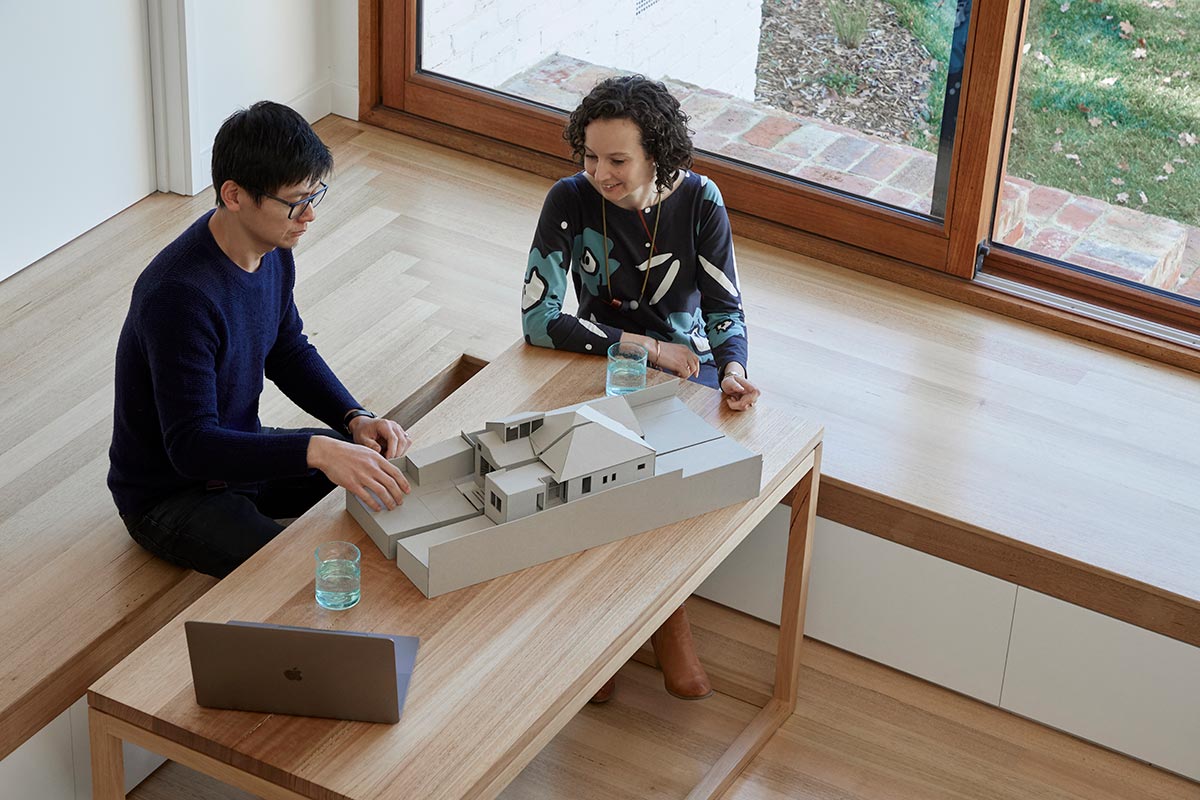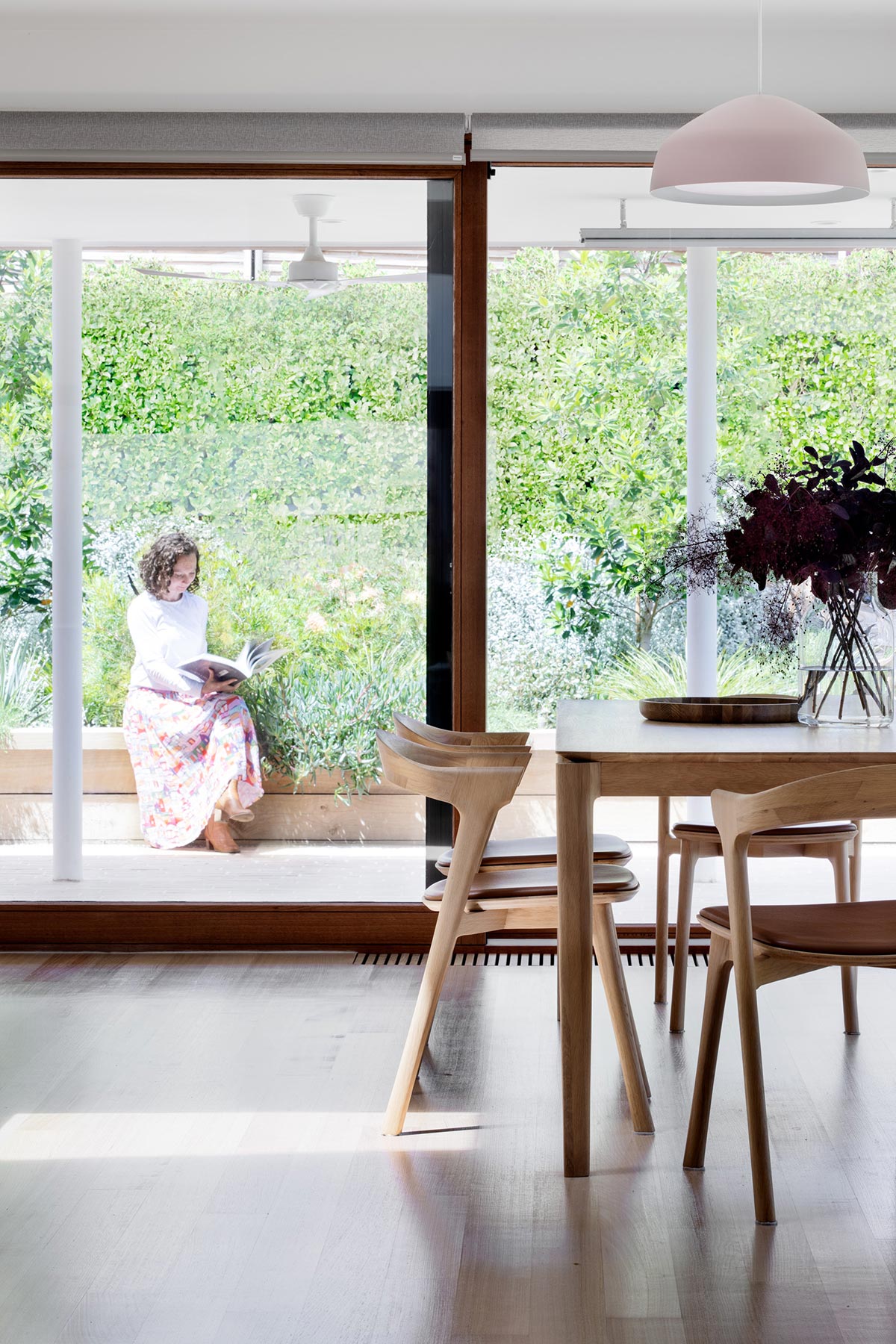 3. What is the best piece of advice you've ever received?
John: "Sleep over it." Too often the 'light bulb' moment comes when I leave my thinking to settle overnight.
Steph: "Own it." In life and in work. There is always a multitude of options, especially for us creatives, and there can be pressure to choose the 'right thing". I think being informed is important and knowing the 'why', but make your decision with confidence and go forth!
4. What's been your favourite project so far?
John: No two projects are the same and all our projects are unique in their own way. Our most recently completed project, the Escher House, has been an incredible outcome thanks to the client who had shown complete respect and trust in our vision, a team of like-minded consultants and builders.
Steph: As proud parents, we don't have favourites – I love all my archi-children!! My favourite aspect of a project is working closely with clients to realise their wants and needs in ways they didn't expect. When that comes together and we see the joy it can bring, that's very special.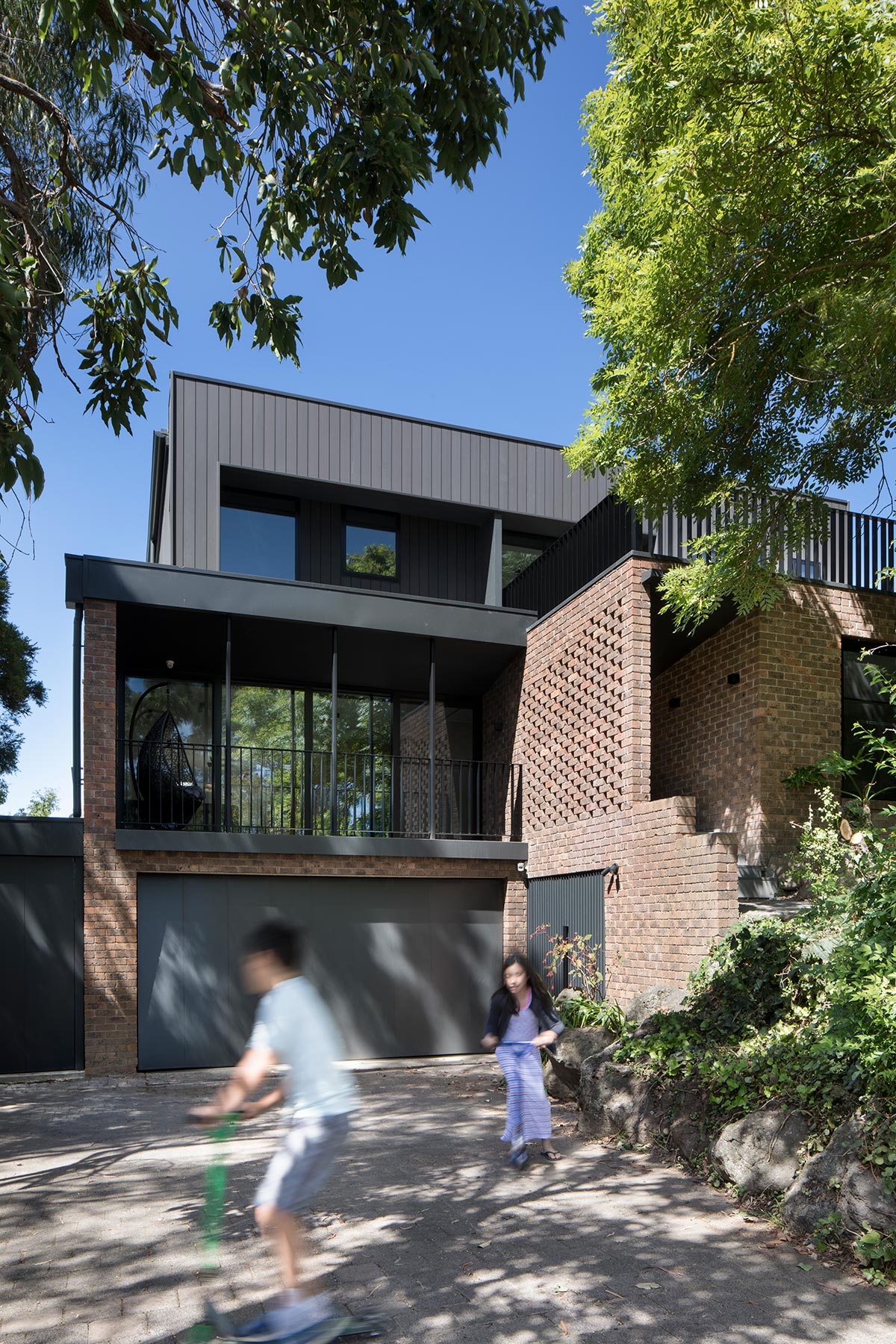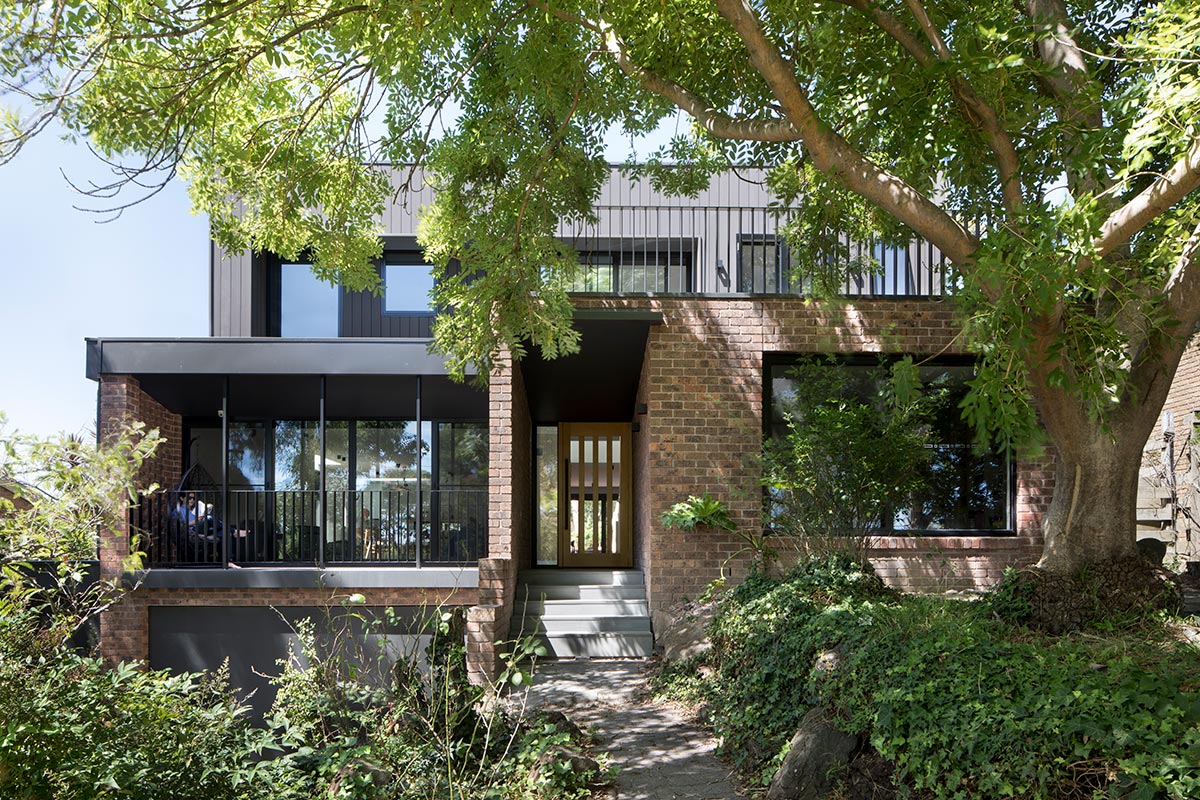 5. What's the most treasured belonging/item in your own home?
John: My collection of ceramic teacups from Taiwan. I always try to bring back a couple whenever I have a chance to visit. For me, they are the perfect coming together of function and aesthetics.
Steph: A stuffed toy sheep, known affectionately as 'Sheepie', and a Hot Wheels Ultimate Garage. I cannot separate my role as Mum from the rest of me. Sheepie was actually a souvenir my husband brought me back from a work trip to New Zealand long before we had kids, but is now my daughter's most special thing. The Ultimate Garage was requested by my son some years ago and was denied, due to its giant size and so. much. plastic., but I capitulated, and the joy has been worth it.
6. What's the most impressive party trick you can muster?
John: Disappearing into the corner (I am an introvert)
Steph: Karaoke until dawn… Impressive? Probably not for the neighbours.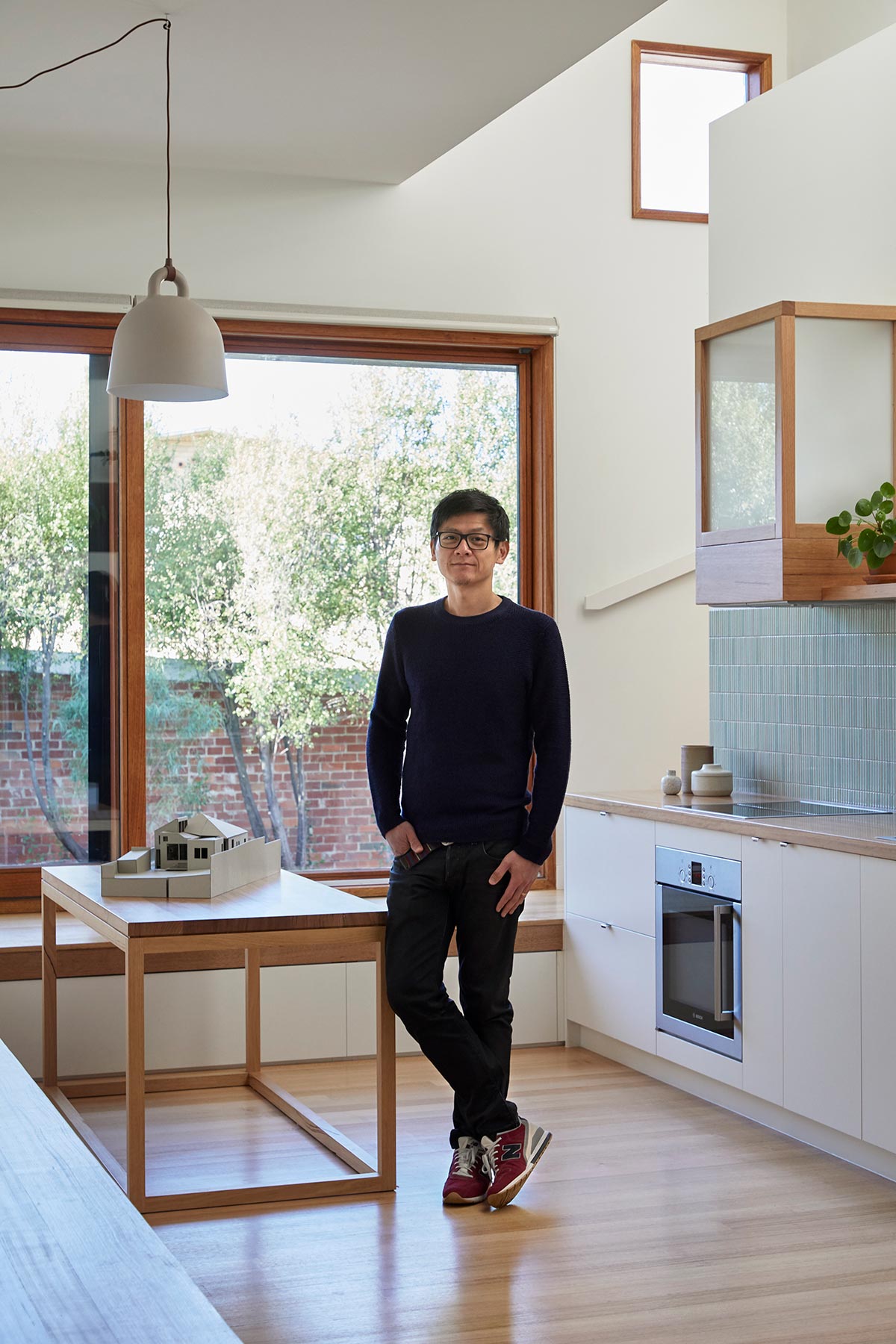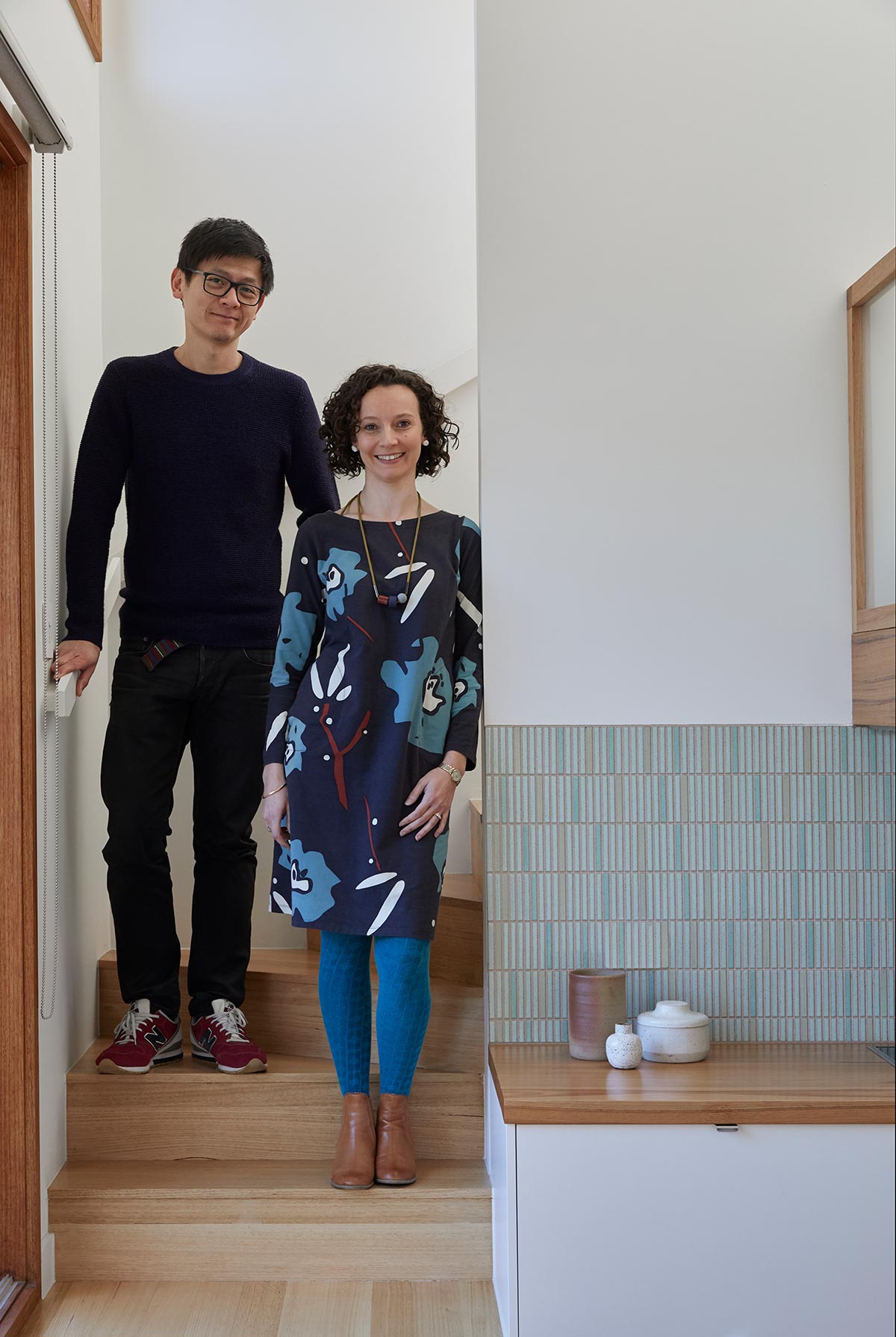 7. Are there any architectural trends you are excited about?
John: Love the 70's revival. Brings back wonderful childhood memories.
Steph: Like John, I'm loving nostalgia, I guess that's why trends come back around. I'm a child of the fabulous 80s and am loving the return of bold colour and pattern and the playfulness that the conservative 90s and noughties forgot!
8. What advice would you give to someone wanting to become an architect?
John: Get a life! You need to be able to enjoy life in order to design a home that is enjoyable to live in.
Steph: Similar to John, I think keeping your eyes open and allowing your other interests to permeate what you do is key. It's a pretty special profession where there is room for all the parts of your life to intersect and enrich.
9. What's one thing people may not know about you?
John: I once got a job as a photographer at the Australian Open with full access to all courts and every game (and daily meals allowance!)
Steph: In a previous life I was a singer – performing my VCE repertoire as 1 of 2 vocal students selected for the Top CATS exhibition concert and as a chorister whose voice and sweetly smiling face was part of the inaugural 'I Still Call Australia Home' QANTAS campaign. I still sing, in a wonderful community choir but also in a crazy little trio, mostly of my own making!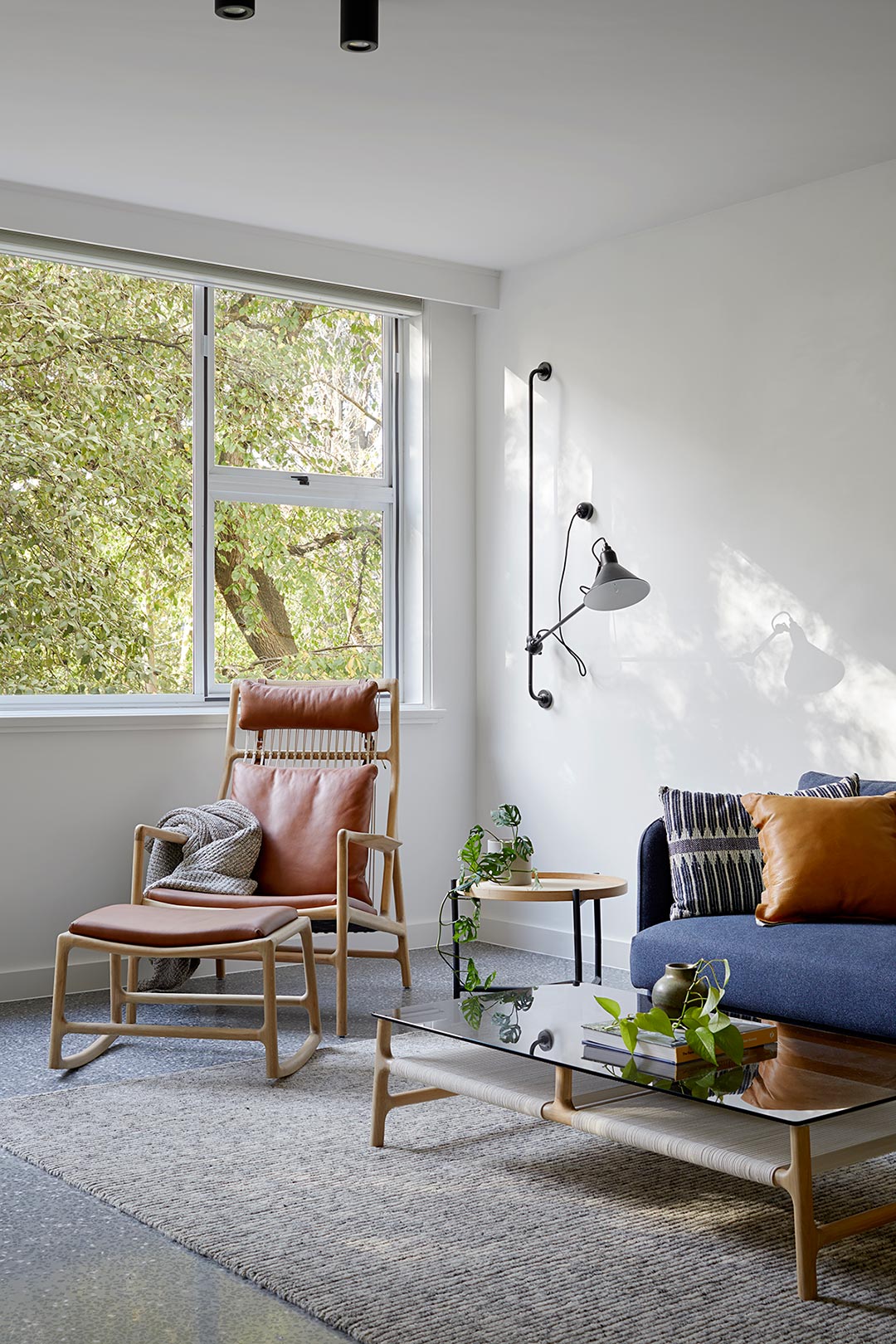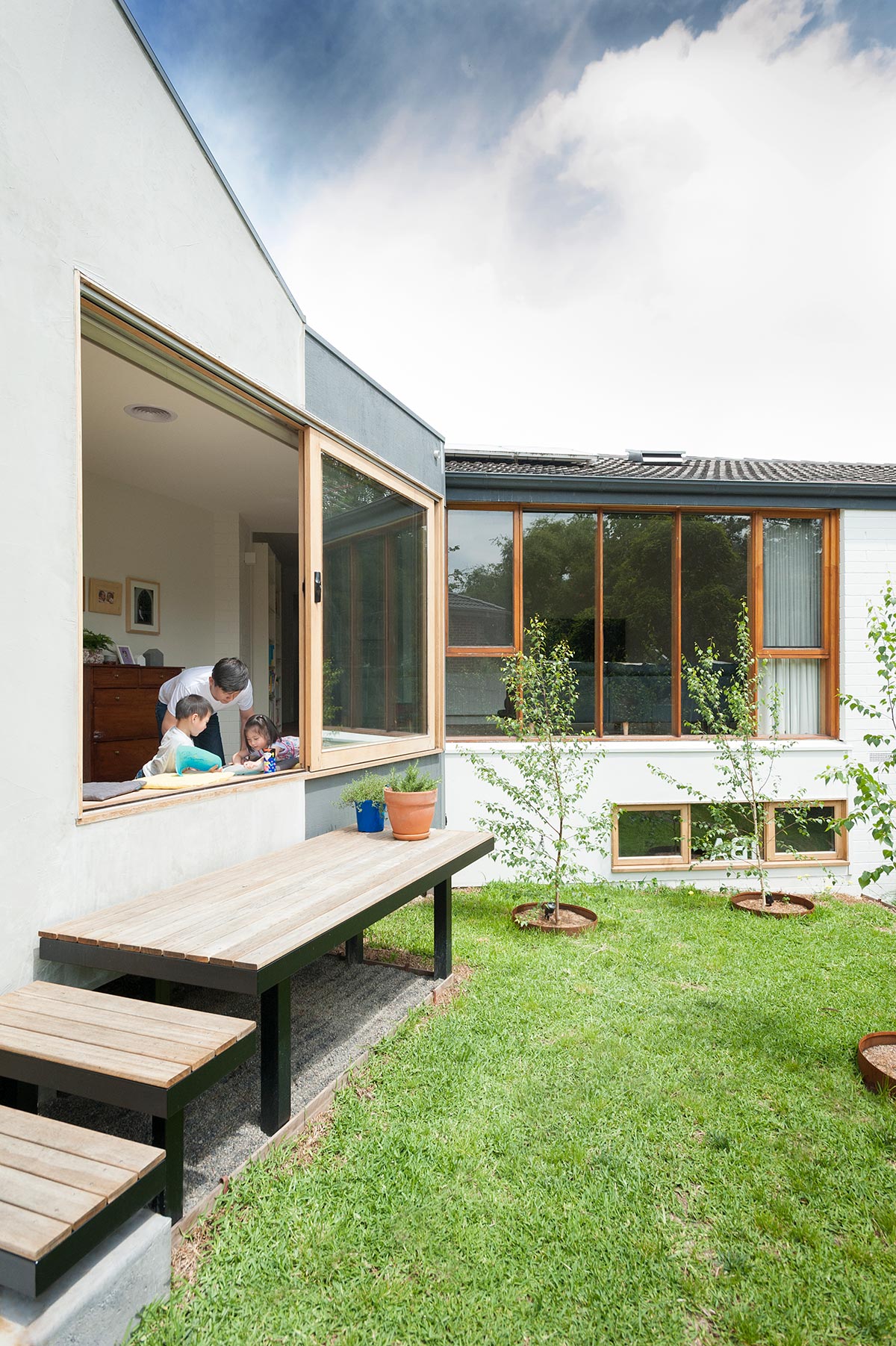 10. You've got a week off, where are you going?
John: Love a road trip around Tasmania
Steph: A gorgeous cabin in the high country with a view of rolling hills and Australian bush. Preferably a short drive from great restaurants serving sumptuous dishes inspired by local produce and with a knock-out dessert menu.
11. What is your favourite way to get the creative juices flowing?
John: For me, creativity is an attitude and it can be found in all aspects of work and everyday life. It can be as complex as resolving the layout of a double-storey house with a basement garage or as simple as what to cook with the 3 ingredients left in the fridge. Different challenges, equally satisfying.
Steph: Being in the garden. For me, there is nothing like the utter chaotic perfection of a wild garden. At once beautiful on the grand and minute scale. It's a place I can instantly clear my head and imagination takes over.
12. Favourite architectural style from a bygone era?
John: I love Victorian terrace houses. Always dreaming of owning and renovating one!
Steph: The hopeless romantic in me (a very big part of me!) loves the Second Empire architecture of Paris. The sweeping boulevards, the smartly coordinated approach and the opulently adorned Paris Opera, cementing the status of high art at the top of the civic hierarchy. Agh, stop it! I can't handle the drama!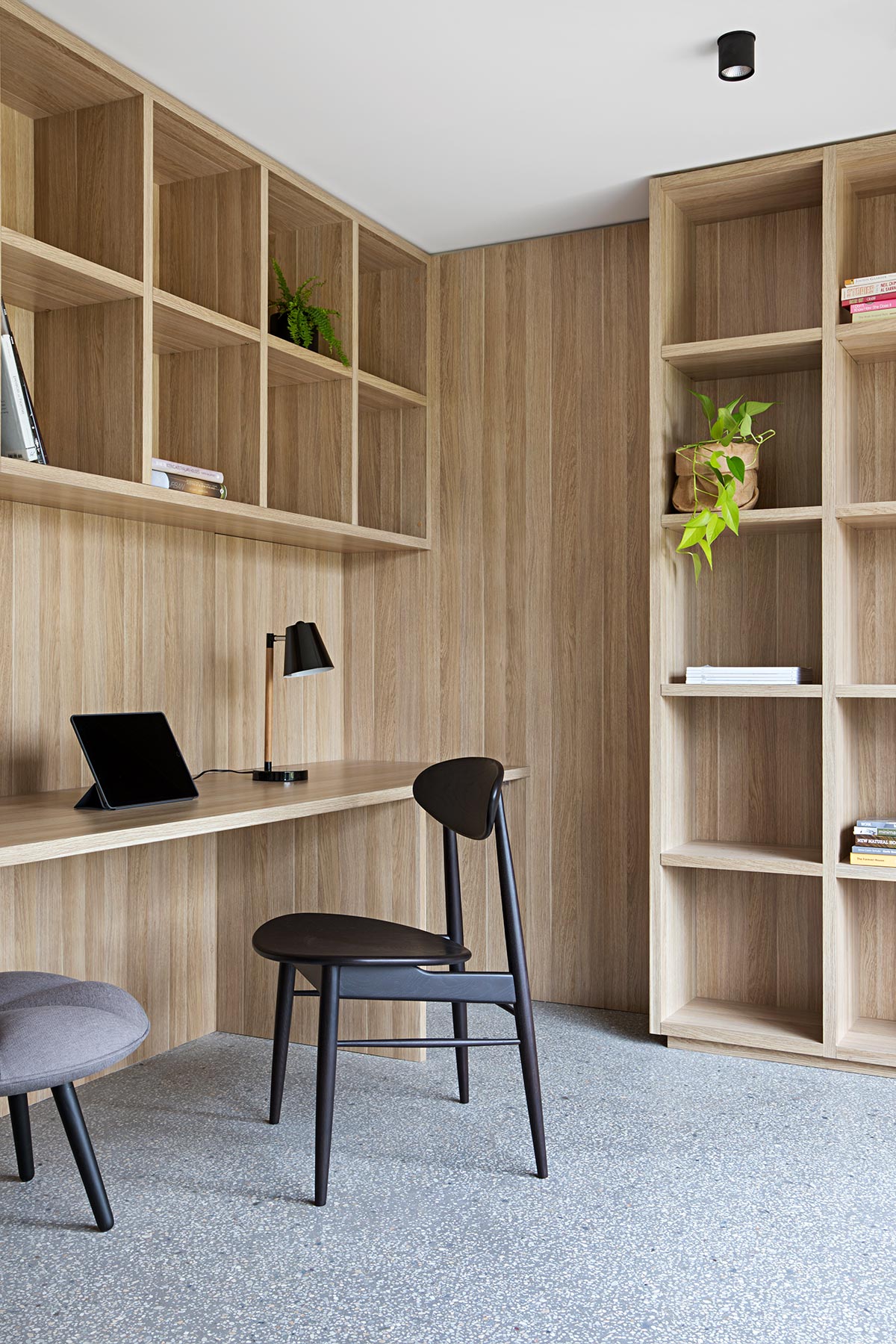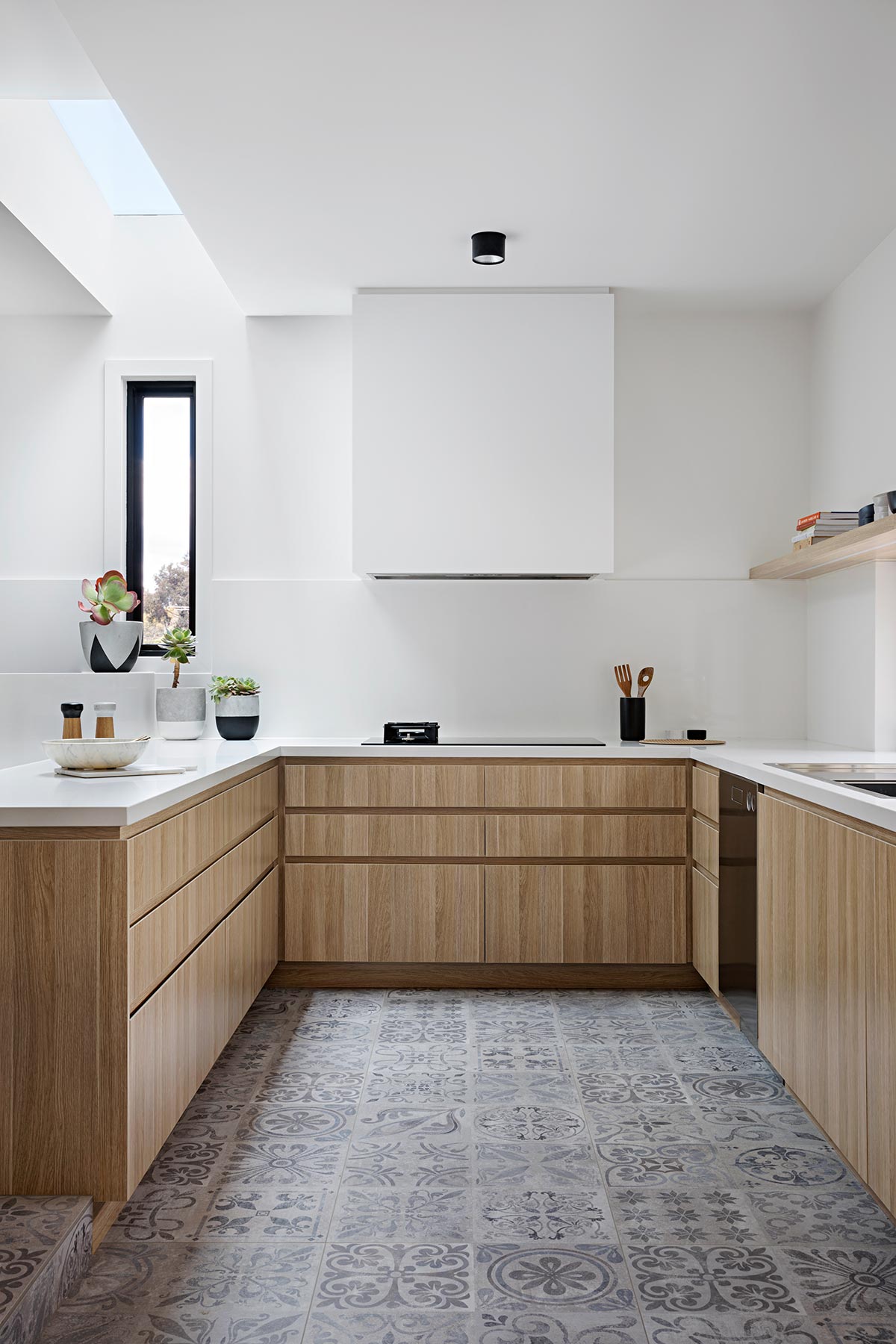 Meet the Architect Radio
"Music is the Space Between the Notes"
"A selection from my Spotify library. Tunes that explore space, rhythm and evoke emotions and memories." – John
Where to find them
Name: John Liu / Steph Richardson
Business Name: Inbetween Architecture
Job Title: Director / Senior Project Architect
Website: www.inbetweenarchitecture.com.au
Instagram: @inbetweenarchitecture
Facebook: @inbetweenarchitecture
Photography by Tatjana Plitt, Nick Stephenson