We've been talking about things Home Renovation this month with the help of Suncorp and their Budget Planner and Renovation Calculator. Today we're talking about all things dining… Dining Rooms can vary from home to home, sometimes they are small, large or non-existent. Regardless, we've put together these home styling ideas that can apply to any room in your home to get you thinking about how you can update your interiors on a budget. We break down our top tips on how you can make change for less when renovating and styling your dining room.
Save on Furniture

Furniture in the dining room can add significant costs depending on the table size and number of dining chairs you might need. We decided to bring in a new dining table and chairs, however previously we found our dining chairs at an opportunity shop and they only cost $120 for 8. Second Hand furniture stores are a great place to look, often you may need to give pieces a little TLC but it's worth it for the low price tag. We up-cycled our dining chairs by sanding and sealing them with a clear coat finish.

Another way to save money on your dining setting is to use what you've got and mix around different styles of chairs. You don't have to perfectly match your setting and often mismatched chairs bring a fun eclectic energy to interiors. Benches are also another option to add more seating for less.

Let there be light

Think about creative ways you can improve your lighting without having to do a lot of work. Improving the light in your dining room is as effective as a fresh coat of paint! Switch out old pendant lights for new for an instant transformation. And don't forget about natural lighting, this means paying attention to your windows. Update window furnishings that allow a good amount of light whilst also updating your interiors. Mirrors are always a great addition as they help to reflect light around the room, enhancing the overall scale of your dining space.

Choose Everlasting
I love styling with flowers but they can be expensive and you need to continue to buy them if you want your room always looking fresh. Instead of fresh flowers, think about integrating everlasting florals into your interiors such as dried flowers, branches, cottons and grasses. You only need to buy them once, they will last forever and always look great.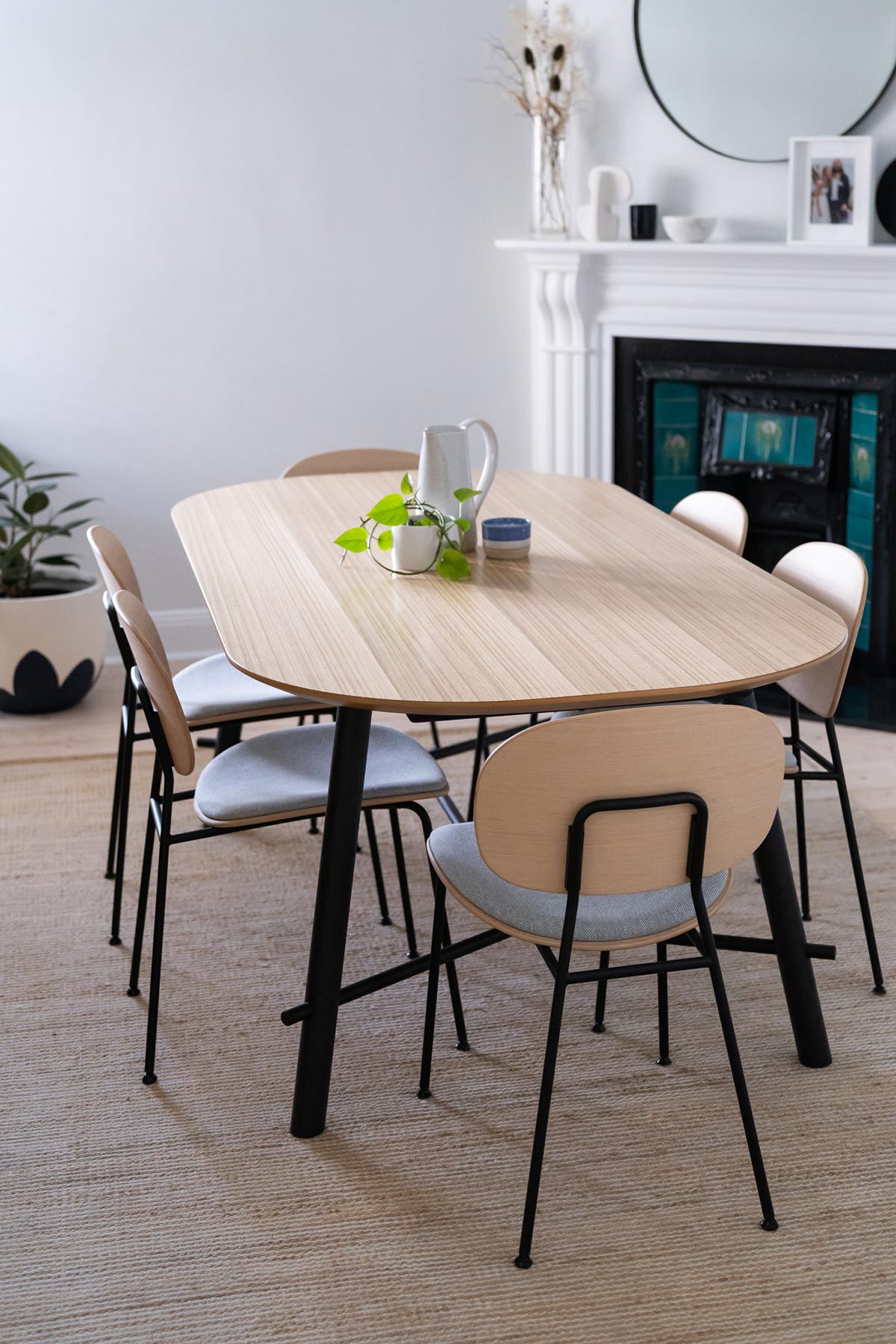 Dining Table Styling Tip
How do you style a dining table when it's not being used? I have some styling golden rules to follow:
Stick to an odd number of items either 1, 3 or 5. Depending on how big your dining table is I'd recommend stopping at 5 items, my favourite sweet spot is three.
Add practical items, choosing functional pieces like bowls or jugs mean they will not appear 'empty' when they are not in use, therefore will always look good.
Pop of green, styling low maintenance indoor plant clippings is a great way to bring energy to your table. I love Devils Ivy, it's very hardy. Simply pop it into a small vase with water and it will live happily on your table with minimal fuss.
I hope this article gave you a few ideas on how you can make change for less! If you want more financial guidance on how to save money check out the Suncorp Renovation Calculator and Budget Planner to help you get started.