This week we get to know more about handmade ceramist Gretel Corrie. Gretel studied ceramics at university where she discovered a passion for handbuilding with clay. She is a ceramicist based on Darkinjung land who creates objects that inhabit a space between the functional, the imperfect and hand-made. We ask Gretel what shapes her day, makes her heart sing and get her toes tapping!
1. Pleasantries first… Tell us about who you are and what you do?
Hi I'm Gretel, a ceramicist working on Darkinjung land. I handbuild ceramics and value functionality, sustainability and creativity through my practice.
2. What's something you do every day?
I take my dog Chippies for a beach walk every morning and then always enjoy a cup of tea (or 3).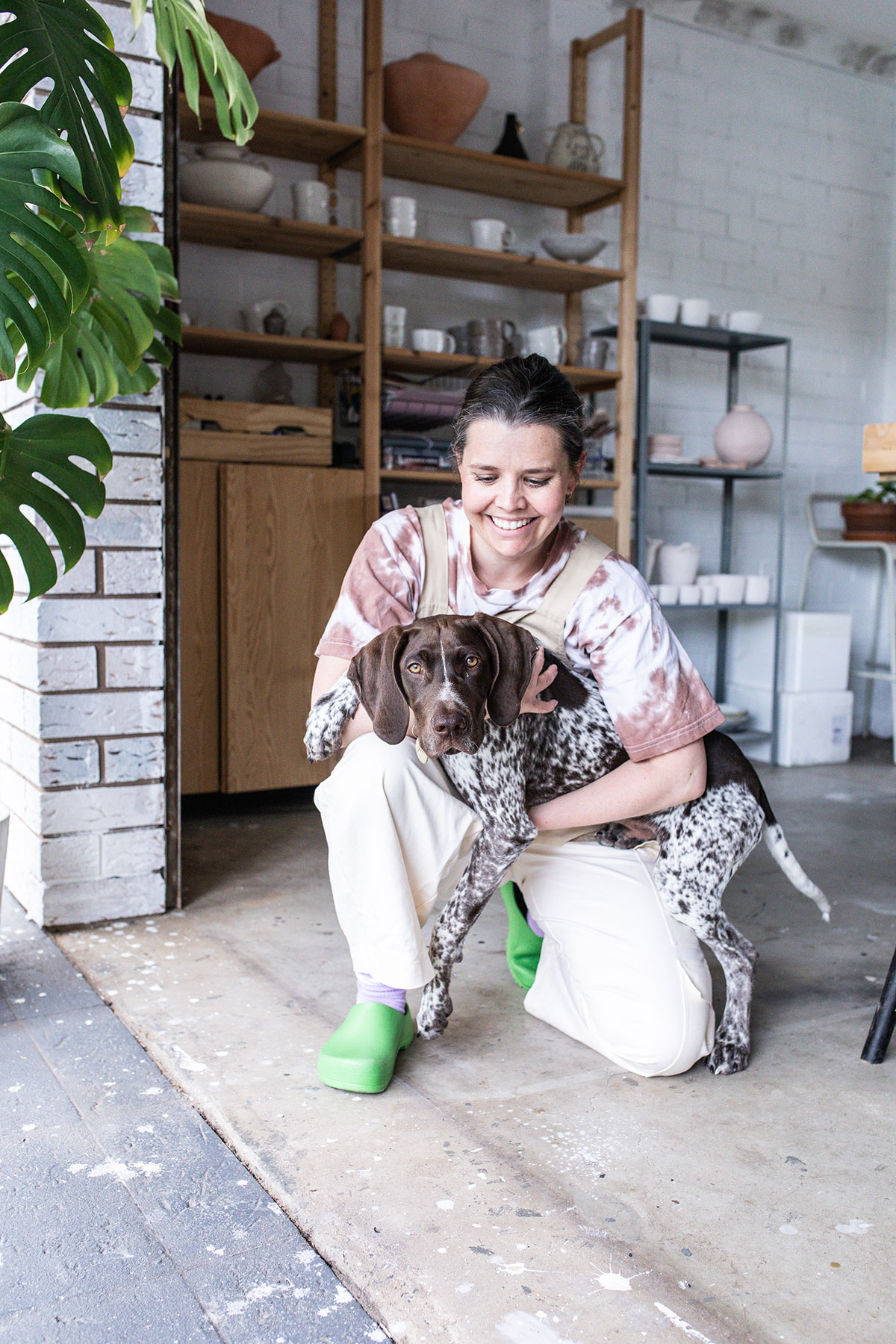 3. What's been your favourite moment so far in your career?
Stocking my work at Modern Times in Melbourne and exhibiting at Saint Cloche gallery in Paddington. I've also loved setting up a home studio recently.
4. What's the most treasured belonging/item in your own home?
I treasure a Reg Mombassa print, a painting by Claudia Carroll and my ever expanding mug collection equally!
5. What does your average work day look like?
I still split my time between ceramics and other work so my days are very varied and I tend to try and squeeze 3 days work into 1… When I am in my studio, my day is a combination of replying to emails, organising orders, tea breaks, handbuilding and glazing ceramics, playing with my dog/studio assistant Chippies and loading and unloading my kiln. Because all my work is handbuilt by me, I've learned to embrace the slow-made life.
6. Can you pinpoint the moment what you do turned into a profession for you?
Less a moment and more a series of increasing ceramics orders! After studying ceramics at uni I was really excited to find a space and set up a studio and I also learnt a lot working from my good friend Milly Dent. Once I started selling and exhibiting work it definitely felt more like more of a profession than a hobby.
7. What's a skill you want to accomplish in 2021?
It might not happen by the end of the year but I'm always trying to stand up on my surfboard more than I fall off it.
8. If you could collaborate with anyone (brand or individual) who would it be?
A brand I'd love to work with is BAINA – their mindful celebration of everyday rituals really resonates with me… but collaborating with a painter would also be amazing, I love the work of Minna Leunig!
9. If you could see your work displayed absolutely anywhere, where would it be?
Somewhere that serves delicious food would be a dream – Sean's Panorama or Rae's.
10. You've got a week off… where are you headed?
The next place I'd love to visit is the Territory.
11. What's your favourite project/design so far and why?
I handbuilt some large scale amphoras for Modern Times, they were challenging but super satisfying to create. I've also loved working with The Provider Store, My Flower Man, Pip Stent and Aggy's.
12. What's next for you? Any exciting new projects in the pipeline…
I'm currently working on a range of pieces that will be available through Not Wasted which I'm excited about. I also have a sketchbook full of ideas I'm keen to try make a reality.
Meet the Maker Radio
Gretel's Grooves
"My slow-made ceramics style means a good playlist is crucial! These tunes are a mixed bag with a healthy sprinkling of my favourite local artists. My husband works in radio so I'm lucky to have someone always suggesting new songs, but I still need a few classics to sing along to."
Where to find Gretel
Website: www.gretelcorrie.com
Instagram: @gretelcorrieceramics
Facebook: gretel corrie ceramics
Photography: Pip Danieletto
Location: Killcare / Darkinjung land