We recently chatted to Colleen Southwell, the incredibly talented maker and artist behind The Garden Curator.
The Garden Curator is a creative celebration of all things found, inspired by, and cultivated in the garden. It brings together Colleen's current practice as a full-time artist, with the story of her own garden making, connection to the land, and background in horticulture. They are tightly woven together, and each informs and inspires the other. Both Colleen's work as an artist and the sharing of her garden came about through a desire to encourage others to engage with nature and the cycle of life around us. We seek perfection and contentment in crazy places, but often it's under our feet and around us if we take a moment to pause and connect!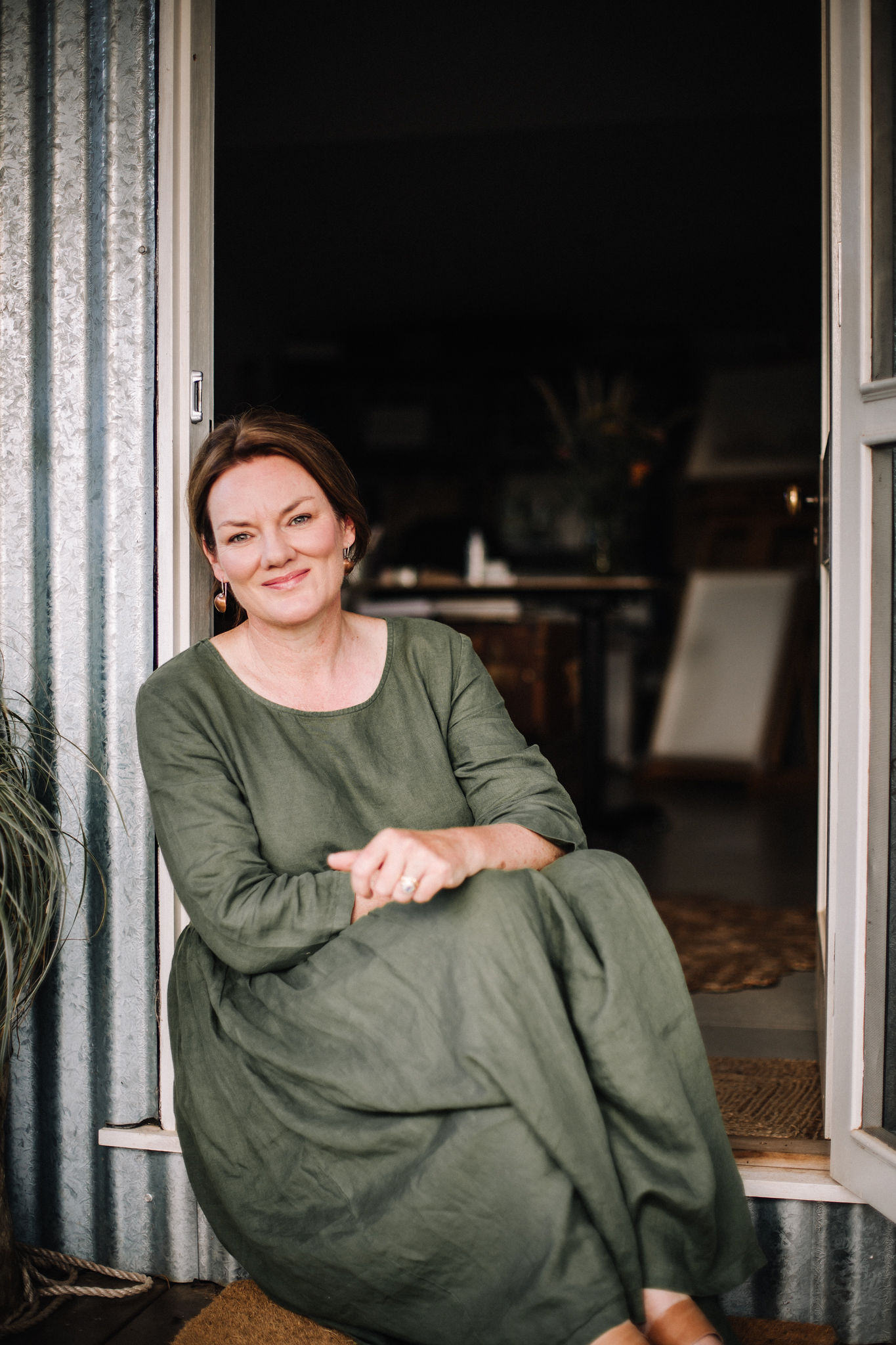 George Takes Twelve
1. Pleasantries first… Tell us about who you are and what you do?
I'm a wearer of many hats; full-time artist, former landscape designer, mum to two gorgeous teen boys, wife to a fabulous farmer, and a passionate garden maker. I work from a tin cottage studio in my country garden, surrounded by our beautiful rolling hills near Orange in regional NSW.
I create finely detailed paper sculpture works representative of botanical and entomology specimens. Each piece comprises hundreds of elements – leaves, petals, wings – finely drawn and painted, cut, shaped, assembled (often with tweezers in both hands), and pinned with entomology pins. In a way, the works allude to scientific specimens, and my intention is certainly to encourage the onlooker to pause and look closely, then hopefully take that attention into a greater connection with the natural world.
2. What's something you do every day?
Wander the garden and paddocks for inspiration – often early morning in my pj's and farm boots, camera in hand, four dogs in tow, donkeys Olive and Pearl over the fence.
3. What's been your favourite moment so far in your career?
At the moment I'm working on a big commissioned piece for an iconic address in New York City, and my work is held in some wonderful private collections. Crazy, I have to pinch myself every day and feel incredibly lucky!
I think the greatest pleasure though is seeing how people respond to my work. So many artworks require the onlooker to stand back to see the big picture – mine draws the viewer in to study the detail; I love watching this interaction. It really is such a privilege to be able to connect with people in this way, to share a love for the beauty that surrounds us in the little things that are too often passed by.
4. What's the most treasured belonging/item in your own home?
I come from a family of artists and makers, so my home is filled with pieces from them, each telling a story and inspiring my own path. Outside it's our garden, much of it grown from plants shared with family and friends, and so filled with memories, special people, and places.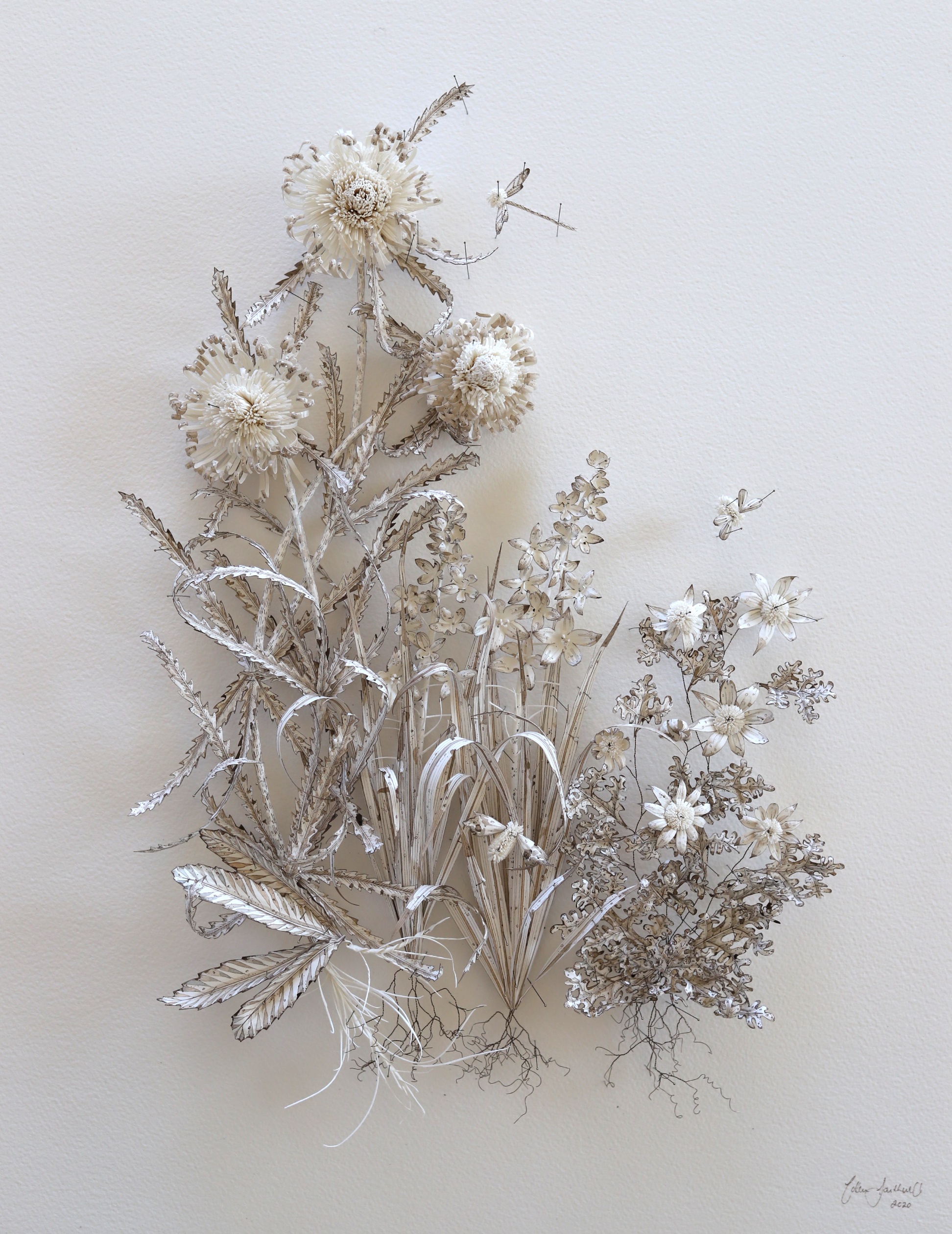 5. What does your average work day look like?
If the light is beautiful it's an early morning garden wander. Always coffee. Check emails and Instagram messages, the usual domestics (washing etc), farewell the boys off to school, then the short walk across the garden to the studio by 8 am. My work is quite intense and requires me to be bent over like a question mark for most of the day, so I try to break it with a few minutes in the garden here and there watering veggies etc, treating donkeys Olive and Pearl with an over-ripe banana (they love them), or taking a moment on the verandah in the sun. Perhaps a trip to town for whatever is needed – it could be anything from a visit to my brilliant framer, or buying milk powder to feed poddy lambs! I try to finish by 4 or 5 in time to check in with the rest of the family, a glass of wine, and if the water tanks are full, a bath with a good book!
6. Can you pinpoint the moment what you do turned into a profession for you?
My first exhibition three years ago at the fabulous Corner Store Gallery in Orange was such a great feeling – I signed up for that duo show with my great friend, sculptor Peter Worsley, with just an idea though without having completed even one full piece. I'm a cautious person by nature, so must have been having a moment of madness, but it paid off with every artwork selling on day one. I've been full-time ever since with more sellout shows, some wonderful collectors, and amazing commissions.
7. What's a skill you want to accomplish in 2021?
To master my new Nikon DSLR and take control of my website – to say I'm tech challenged is an understatement!
8. If you could collaborate with anyone (brand or individual) who would it be?
Wow, what a difficult question! I admire the work of US-based photographer Ngoc Minh Ngo, so working with her would be a dream. I'd love to create an exhibition in collaboration with my friend Sarah Ryan from the spectacular Hillandale Garden, one of Australia's best. My garden and studio are now on the tour itinerary of Graham and Sandra Ross, they have been so supportive and it's a great pleasure to work with them. I'd also love to write …..it's always on my mind.
There are so many more!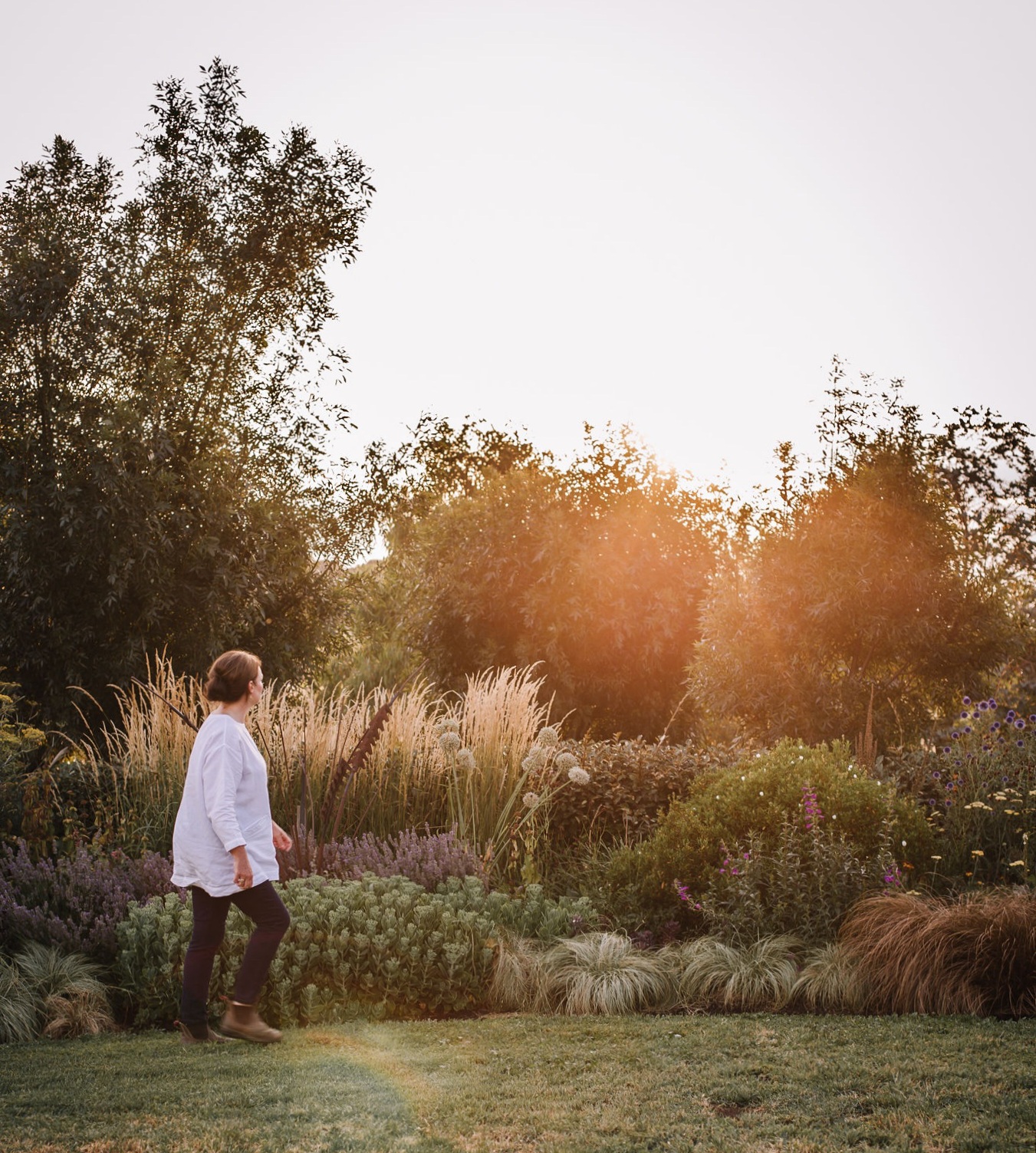 9. If you could see your work displayed absolutely anywhere, where would it be?
Kew Gardens and Hauser and Wirth in the UK.
10. You've got a week off… where are you headed?
Being self-employed, my husband too, we are terrible at taking time off. For a quick escape – anywhere with no TV, great food and wine, beautiful landscapes, a good bookshop, and the opportunity to discover local makers.
11. What's your favourite project/design so far and why?
My first solo show Into the Wilder at the Corner Store Gallery remains a favourite body of work. The pieces depicted a walk through the landscape and life underfoot. My current New York commission is incredibly exciting, and a five-piece commission celebrating Australian plants for a collector last year was also a highlight.
12. What's next for you? Any exciting new projects in the pipeline…
The calendar is full! I'm exhibiting in the Artisans show at the Royal Botanic Gardens Sydney in October, then a solo show back at the Corner Store Gallery in Orange later in the year. In 2022 a group show in New Zealand, the Beautiful Bizarre Magazine Australian exhibition, a Sydney collaboration with four other artists, and another solo at the wonderful Suki and Hugh Gallery in Bungendore. I've just written an article for a brilliant new magazine which will be coming out soon, new garden tours are booked, and there are plans to share my gardening path with beginner gardeners in new ways. Life is busy, but I'm determined to keep carving out those moments every day to be still, to notice, and appreciate.

Meet the Maker Radio
Songs to be still with
" Winter fireside or summer on the verandah. A bit melancholy, a bit folsky, old, new, whatever." – Colleen Southwell
Where to find Colleen
Name: Colleen Southwell
Business Name: The Garden Curator
Job Title: Artist and Garden Maker
Website: thegardencurator.com.au
Instagram: @thegardencurator
Photography by Em Wollen and Colleen Southwell