I have long admired the work of Becki Peckham, better known in the YouTube universe as Becki and Chris. As a designer and storyteller, Becki has a way with the camera  – not just skilled behind the lens but demanding in front of it as well. Having watched Becki and Chris' journey for a while now, I've enjoyed following their own experience with home renovation. Much like our own recent Reno Goals, Becki together with her husband Chris are not afraid to get their hands dirty to pull together inspirational spaces all with Becki's signature monochromatic flair. I took ten with Becki to get her thoughts on all things interior design and home renovation.
1. You and Chris bought your own home knowing that you would need to do your own renovations. What were some of the key factors you had to consider when looking at potential new homes? 
We were basically open for anything we could turn into a modern home, whether it was a full blown tear it back to the studs renovation, building additions on to existing structures, or just a home that only needed cosmetic updates. We tried to look for a home built after the 1980's to try and avoid any chances of having to get lead and asbestos abatement since that can eat up budget quick. Chris was really bent on having enough room to land his helicopter (The Millennial Falcon) on the property which cut out a lot of options for us. So we were looking for any type of project with a large lot size which was a bit challenging given the market in Western New York. 
2. What advice would you give to newbie home renovators? 
I'd say make sure you do your research before tackling any demo projects inside the home. For example, making sure your walls, ceilings, and floor don't contain anything harmful (like lead or asbestos), and talk to an engineer before removing any walls incase they are structural. Oh, and maybe don't mess with electrical and plumbing unless you have someone trained you can consult with! Getting those two wrong can mess your house up! Otherwise YouTube is your best friend, the best way to learn is to try but when in doubt, hire a pro! 
3. Describe your creative process when deciding on an interior design concept for a home/room? How do you decide on colours, furniture and finishes to create your vision? 
I love a neutral palette, so typically I'm gravitating towards whites, soft greys, charcoal, and mixing that with warmer wood tones like oak or walnut. Chris and I are a fan of Mid Century Modern and Scandinavian design, so we tend to mix elements from both. When it comes to designing a room, we usually analyze the size of the space to see how it's going to be used, how much light it gets, and then decide if we want to keep it bright or go a little darker. We also try and pin point a feature, whether that's a fireplace, a bed and rug combo, or a piece of art. From there I'll take to Pinterest, dive into The Local Project or come here to Hunting For George and look for photos for inspiration. Then I'll develop a moodboard around the chosen room feature, then source the rest of the furniture pieces to make sure everything works together before making any purchases. 
4. How would you describe your interior style?
I think our style has morphed since our first renovation; the stone and ceiling details in our new place have given us an appreciation for different architectural features other than just "modern," which is how I'd describe our style before. Now I'd say a mash up of Mid Century Modern and Scandinavian meets cozy cabin vibes.
5. What are some of your favourite key pieces in your home? 
We've only tackled a couple of rooms in our home so far, but I think our first favorite piece is the Mix Modular sectional by Gus Modern in our living room. It's a structured, low back couch that looks sleek but is also huge and incredibly comfortable to lounge on. The second would be our Wooden Quilt made by Newfoundland textile artist and carpenter Jessica Waterman. Chris and I are both from the island of Newfoundland in Canada so this piece is a slice of home for us. It's made from locally grown wood which is milled on the island and painted rough to represent the harshness and beauty of our home province. Third (and this one hasn't been revealed yet because of glass install delays but I'll share a sneak peek with your readers) is our patterned tile on the floor of our small bathroom. I've always been a play it safe person with permanent installations like tile, but decided to choose something that makes a statement for this small bathroom and have been really enjoying the fun pattern!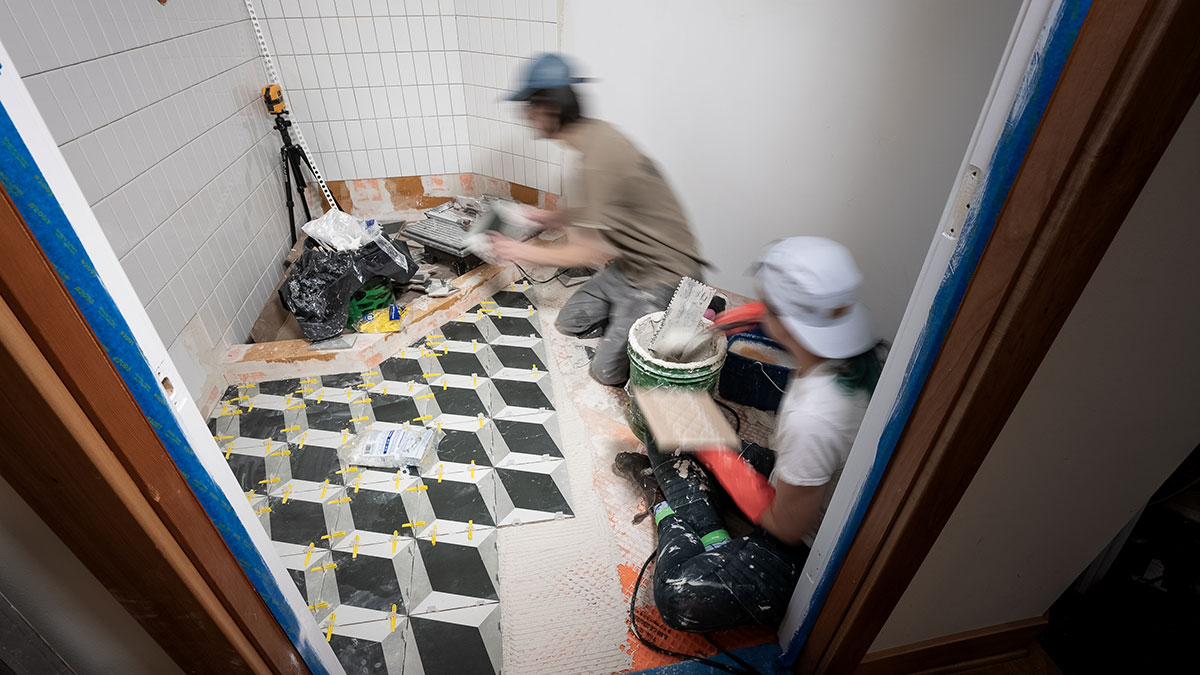 Editor's Note: This DIY bathroom transformation is now live, click here to see the final result!
6. You love all things monochromatic, what is it about a minimalist palette that you love so much?
I love it SOO much! It's funny, growing up I loved wearing black, all my clothes were black. My mom would always try and push me to wear colors but every time I'd put something other than a neutral pallet on my body I didn't feel like me. When we renovated our first home back in 2011 and I was trying to figure out what my style was, I decided to paint our foyer red. I spent $50 on a quart of paint, painted the thing red, and HATED it! Chris made me live with it for 6 months because the paint was so expensive LOL. In the end I ended up painting it over white. I think I'm the kind of person who LOVES and appreciates color in others' homes, but prefers to live in a monochromatic palette. It's where I feel myself. Monochrome can tend to feel a bit boring though so I try my best to bring in lots of textures and patterns and warm it up with wood! 

7. Your living and dining room is the stuff of dreams – hello lofty ceilings – what was the biggest design challenge for you when transforming that space? 
Thank you! We love this space so much. There were two big challenges in that room, the first was trying to minimize the amount of orange wood while maintaining the intended style of the space. There was a lot of heavy wood cabinetry that matched both the ceiling and floor and it was essentially an orange box. There was also a lot of stone as well, which we love but it was a bit much. Removing some of the heavy old cabinetry and painting it out white, covering some of the stone for our media wall, and having the floor refinished in a lighter color really helped brighten the space and make it feel less dated. The second challenge was the lighting. There were a ton of can lights in the ceiling, which is great for general illumination, but not so great when you're eating dinner. It created harsh, unflattering shadows which didn't compliment the dining area. We added a Nelson Bubble light over the table which gave us a nice bright but diffuse light over the table. The tough part here was adding the junction box for the light since the attic space was extremely tight because of the vaulted ceiling. Chris is a champ and got it done, but it definitely look longer that he would have liked! 
8. So far you've renovated your guest bedroom, living and dining room. What room makeovers can we expect to see next? 
We're almost finished our small bathroom with the patterned tiles but we've been getting delayed with our shower glass install. Hoping to release that one in the coming weeks. We just ripped out our primary suite, so we'll be sharing that bathroom, bedroom, and closet makeover later this year or early next. We're also hoping to tackle our kitchen in the fall as well as a large outdoor project which may or may not include some kind of water feature but time till tell on that one! Water features are Chris' latest obsession.
9. What room in your home are you most excited about renovating and why?
I think I'm most excited about the primary suite, mostly because our current bathroom has three sinks (?), two toilets, and no tub! I can't wait to have a bathtub again. But also we've never had a proper kitted out primary bedroom. Between our first budget renovation and living in apartments, this will be the first time we will get to build out whatever we want just for us!
10. Best thing and worst thing about doing your own home renovation?
The worst is that everything takes sooooooo looong. If you aren't working on it, progress isn't getting made. I'm not sure if you feel this too but there's so much start and stop, googling and researching to make sure things are being done properly. Or stopping and running to the hardware store three times per day because you forgot to get something really specific to your project. The best is that you are doing the work, and no one is going to ever care as much about this project as you. Therefore you can be as anal as you want on the finishings to make it perfect. Full control over what's happening means less disappointment if something gets messed up!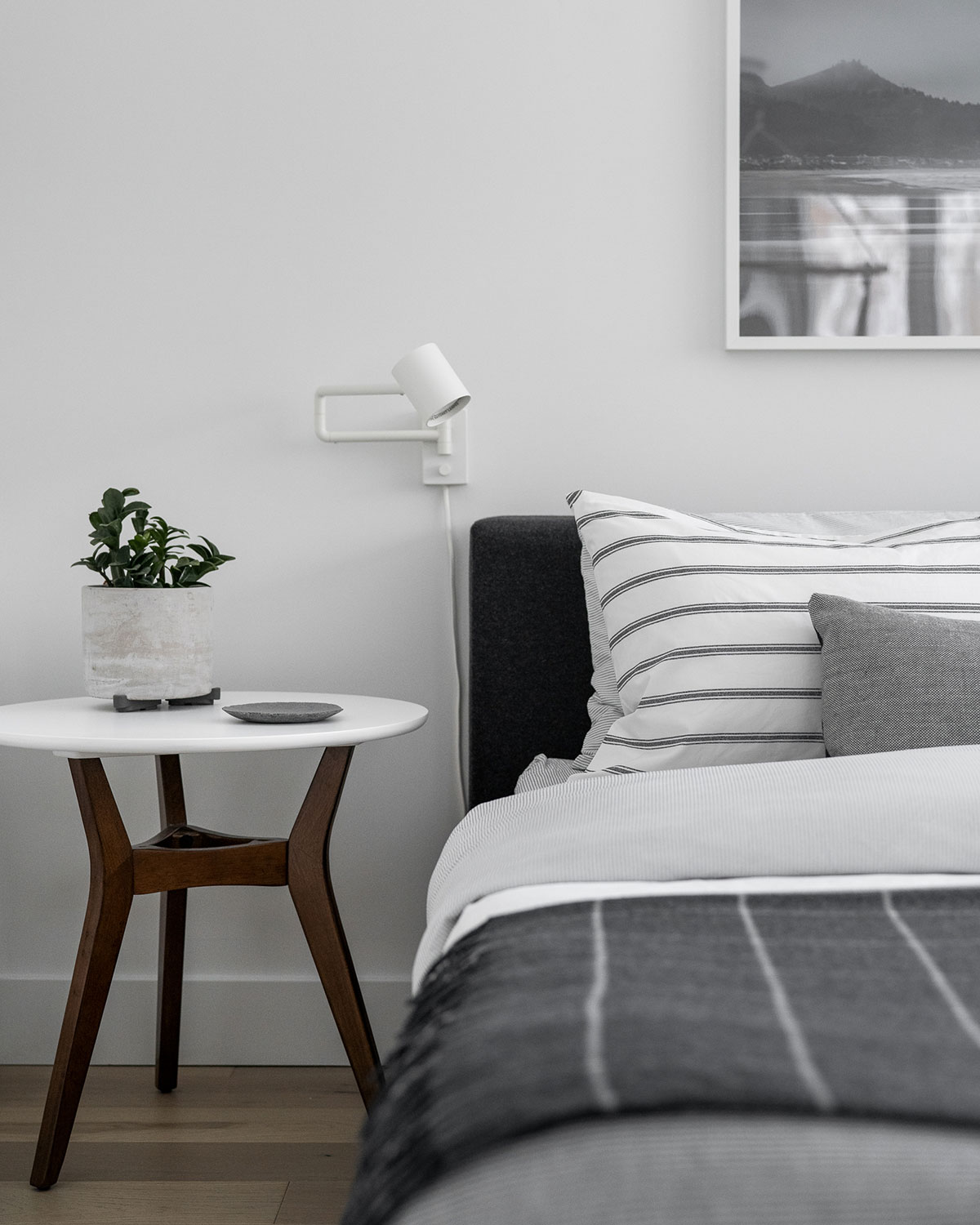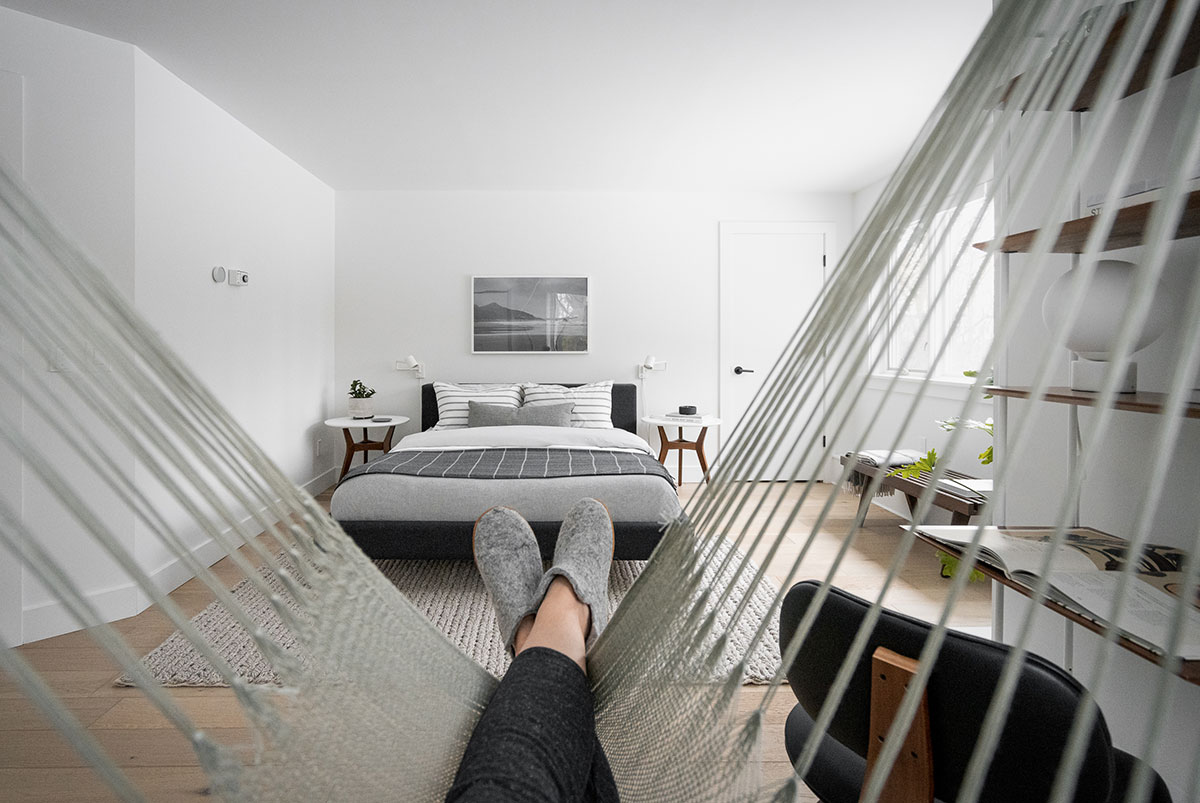 Interior Design & Styling: Becki Peckham
Photographer: Becki Peckham
Location: Buffalo, New York, USA