We recently went for a sticky beak at a Skyhome in Rise, a soaring 29 storey tower in Caydon's Mason Square precinct, Moonee Ponds. Basically, the really luxe apartments in the top few floors.
A mere stone's throw from Melbourne's CBD, Rise enjoys some spectacular views across the city and to the north. On a clear day, you can see all the way from the Dandenongs to Port Phillip Bay. *Slow whistles*
The views have been maximised with floor to ceiling windows, which also treats the apartments to an abundance of natural light.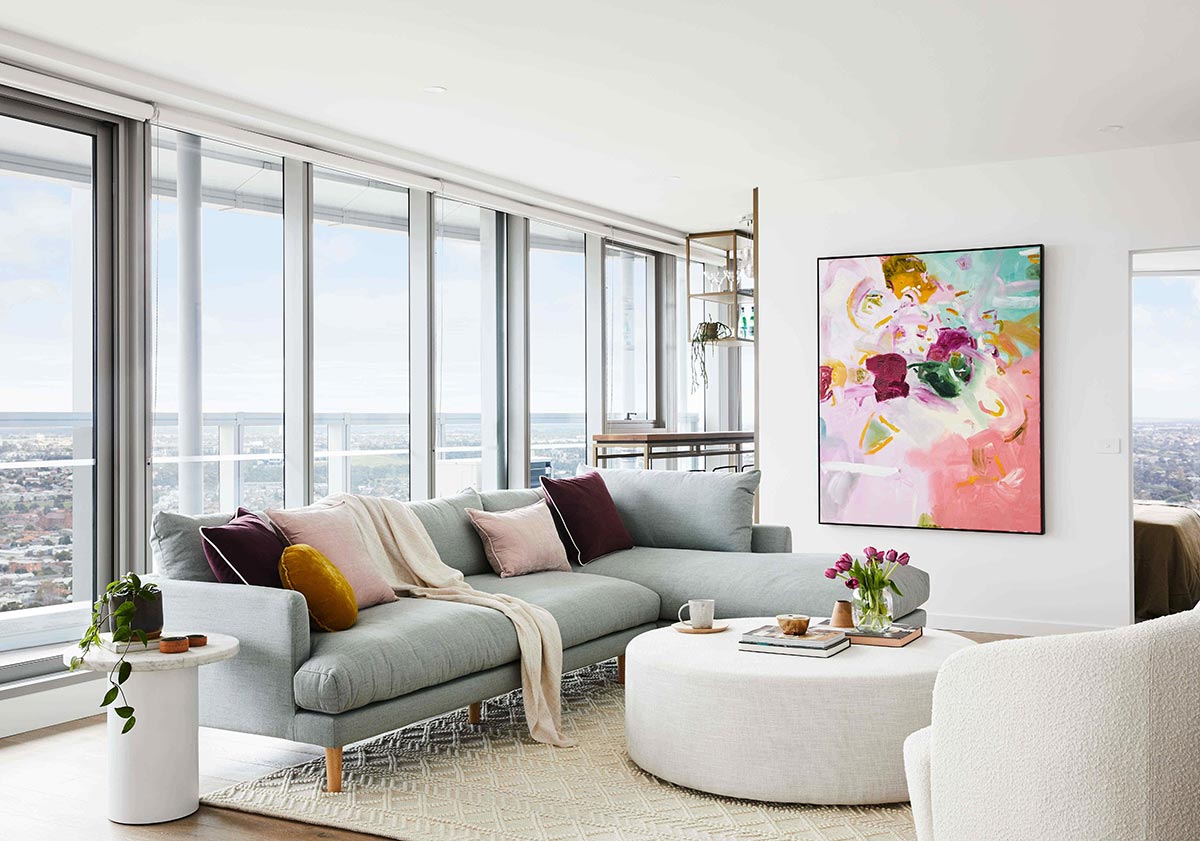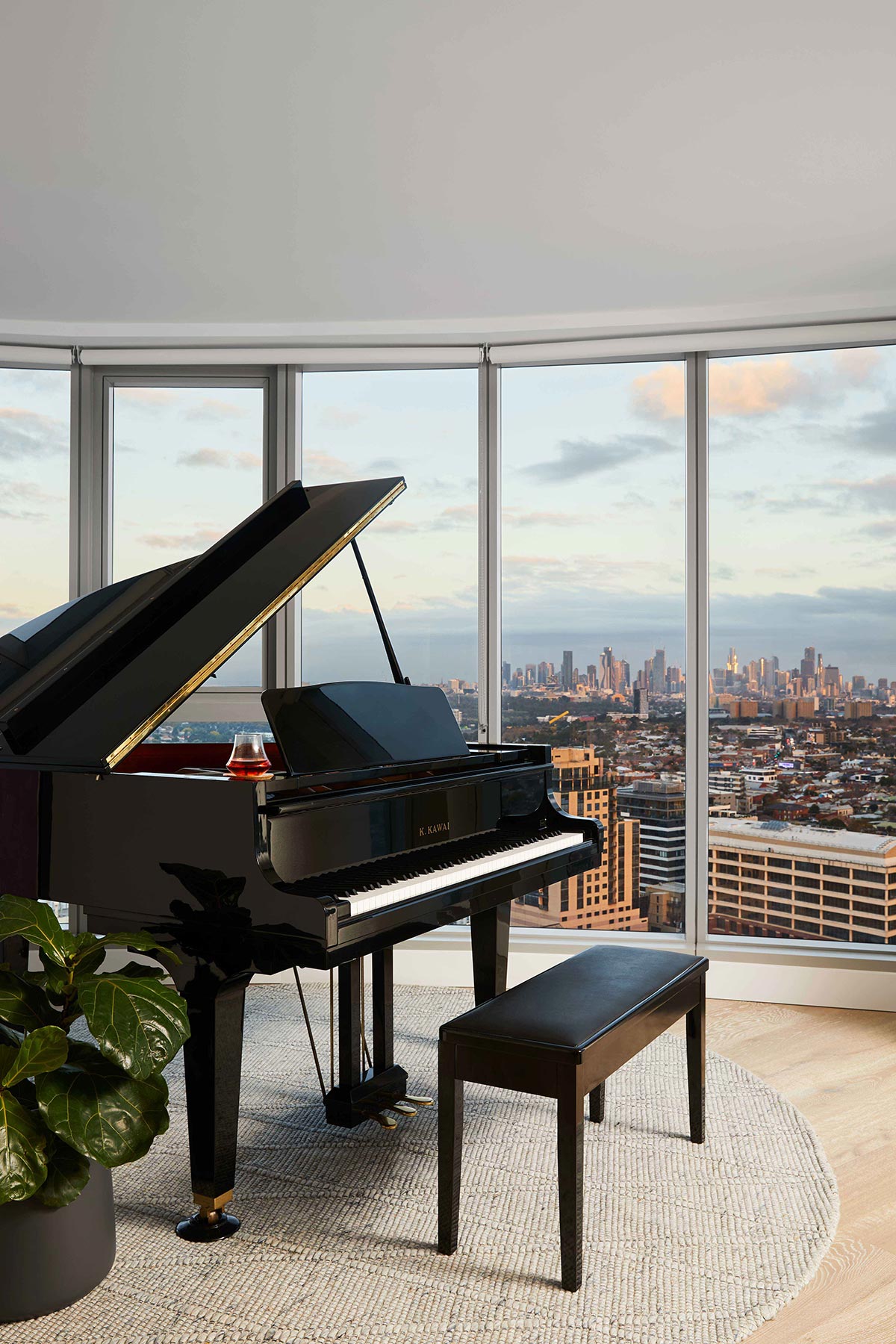 While the views were next-level, we got distracted by the detail of the apartment. Engineered timber oak flooring throughout provides a luxury look, longevity and easy maintenance. Block-out blinds offer full privacy and pitch-black sleeping experience, just the way we like it.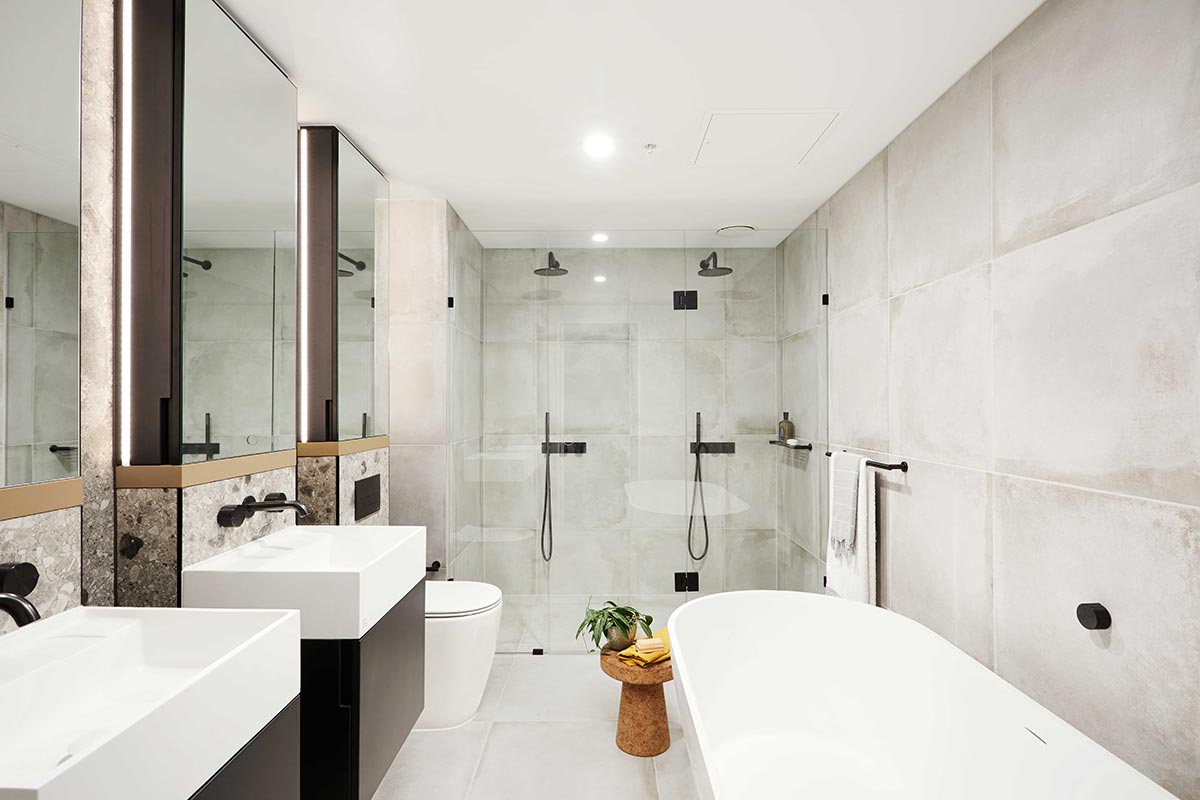 As for the layout, three queen size carpeted bedrooms, two glorious bathrooms and a powder room mean no one's going to be fighting for bathroom time. And while we're on bathrooms, they've been finished to perfection – porcelain tiles in neutral tones throughout, and the master has a double shower and a bath that is, in the words of Lucy Glade-Wright, "stupid big. You could fit a family of four in here." 
"The lighting, the tapware, all of the fixtures and finishings, everything has been chosen beautifuly, and it really did have a very lush, very penthouse feel." – Lucy Glade-Wright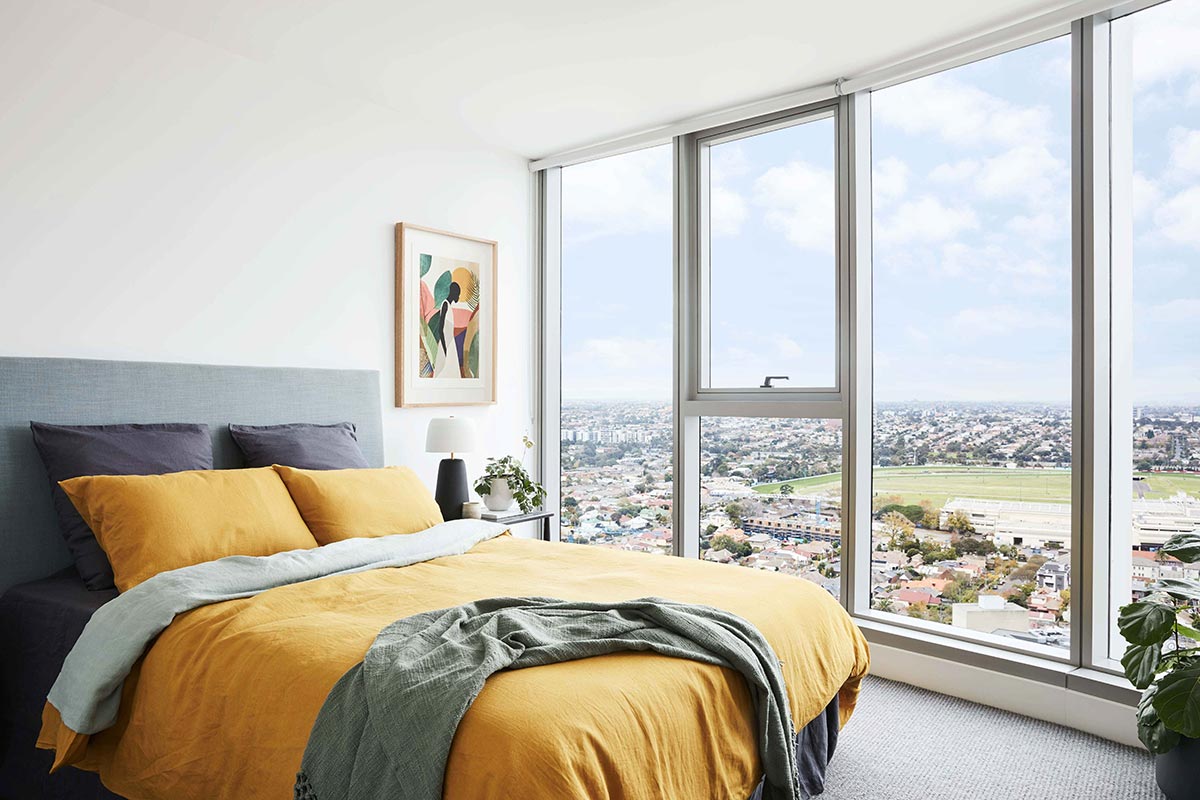 In the kitchen, it's everything you'd expect to see in an apartment of this quality, but then they've upped the luxe-factor. Think Matt Graphite Tapware, a gold feature rangehood, European appliances and an eyecatching bench of reconstituted stone and timber, which compliment each other well.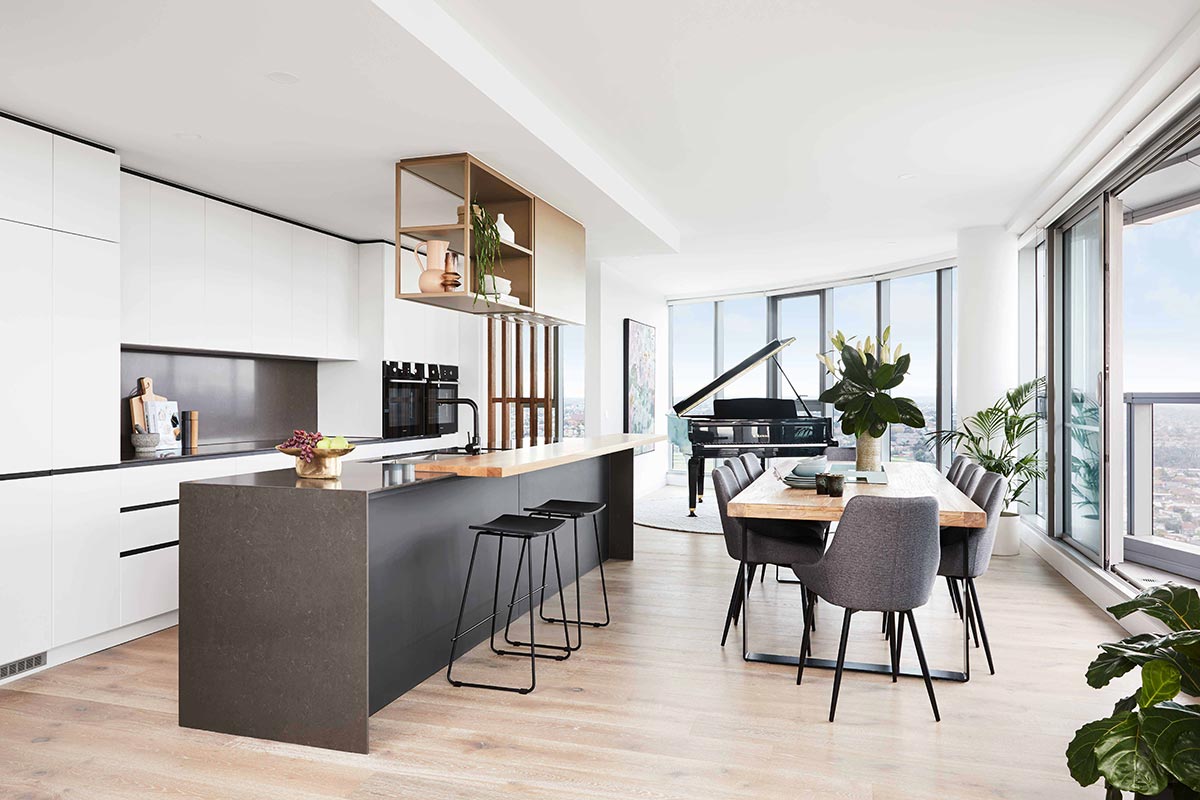 You know what suckers we are for decent storage and Rise Skyhomes have storage, plus plus. We don't mean a cute walk-in that'll fit all your coats and call it a day, we mean they've really thought about storage and made it a priority. It made our hearts do a little happy-dance.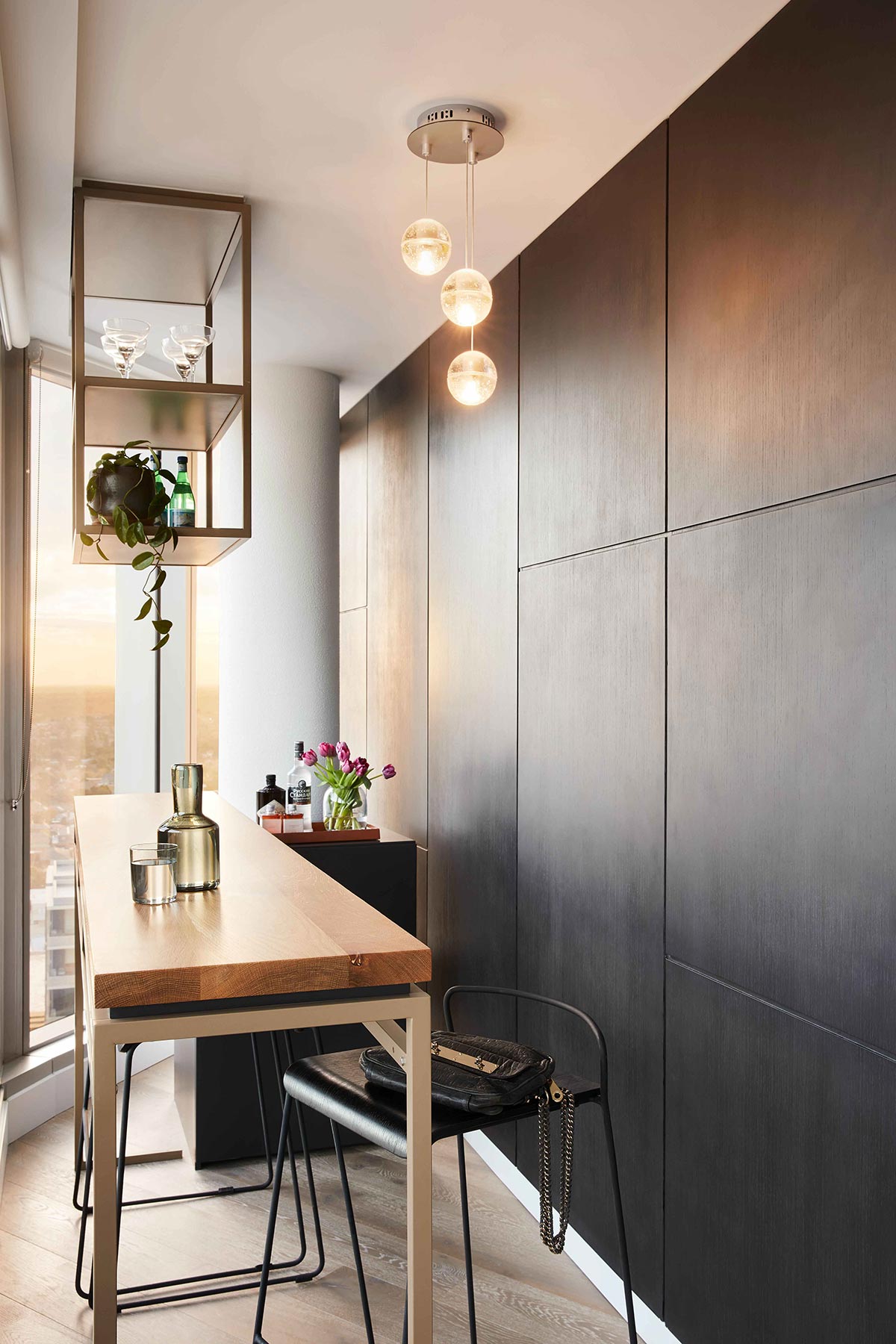 We felt like all our bar loving dreams had been met when realised the apartment has its very own bar. Who needs to go to a public establishment when you have your very own bar right. There. In your apartment? The raised bench and seating have been positioned to fully enjoy the view, or night lights of the city, and a bar fridge and accessories are within reach. You know where to find us.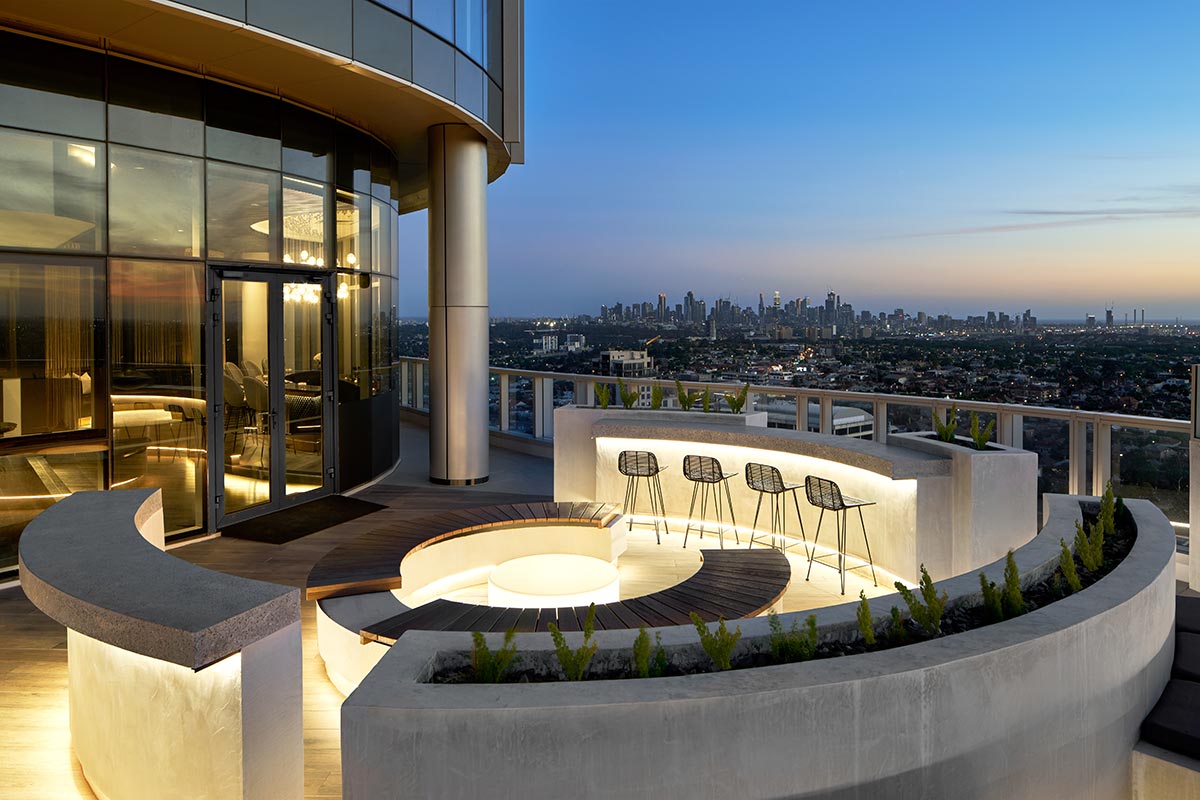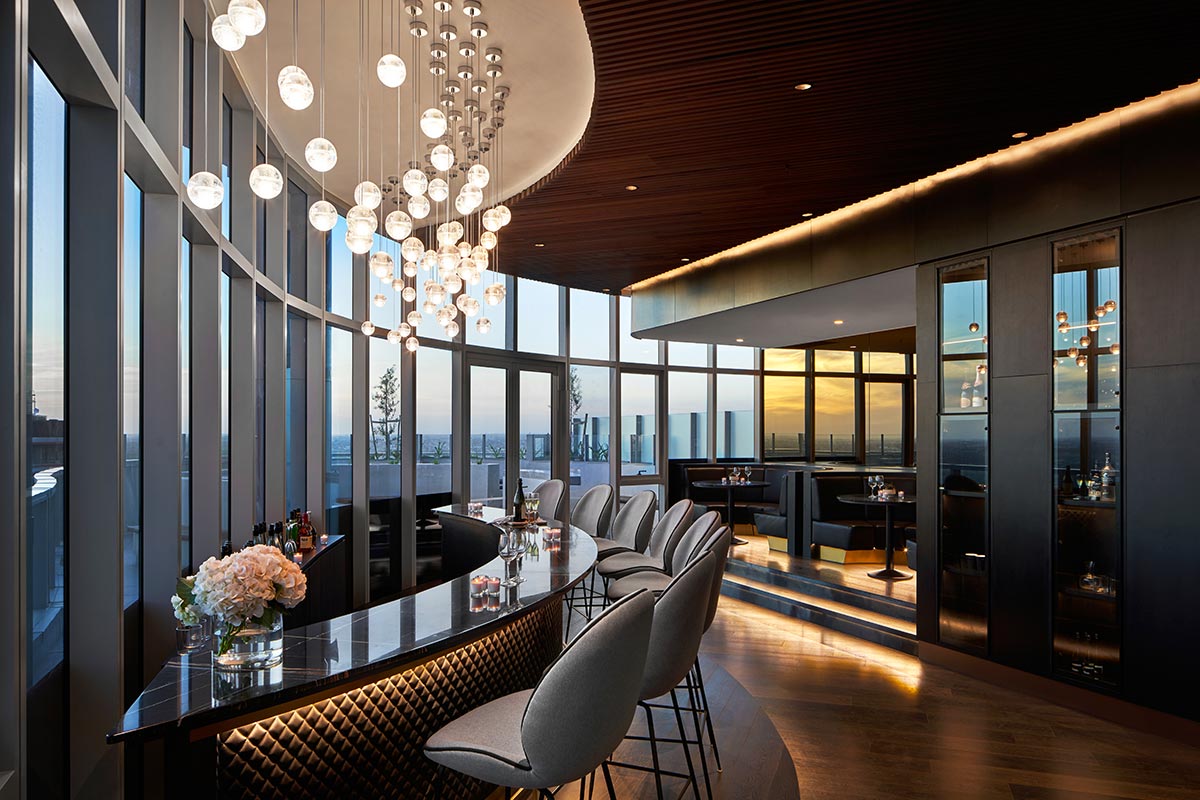 Residents of Rise Skyhomes have exclusive access to The Conservatory. An additional space that includes an indoor bar, fireside lounge, banquet dining area and outdoor terrace that can be booked by residents for private use.
So what about the surroundings? Beautiful Queens park is a five-minute walk and offers plenty of green space and leafy lounging opportunities. 
The 59 and 82 trams are a short walk away, as is the Moonee Ponds train station. Puckle Street with boutique shopping and eateries is nearby and the CBD is 6 kilometres. Very bikeable. 
As for nearby food, Moonee Ponds has embraced what Melbourne does best. Holmes Hall, a 400 seat mega craft beer hall has 25 beers on tap and with a hearty menu to match, you can't go too far wrong. Chiba is directly across the road and serves up top-notch Japanese fare. On the caffeine front, it just so happens one of our favourite Melbourne cafes, Darling Street Espresso, is in the neighbourhood. 
For more information or to enquire about Skyhomes (and lower-level apartments) in Rise, visit Caydon.
 We've teamed up with Caydon to bring you this home tour. If you'd like to experience more home tours, can you find them all here.