If "subtlety" isn't your thing… you've come to the right place. Kip&Co, the cult-favourite apparel and homewares brand known for their fun, colourful, and stylish aesthetic announced the launch of their latest collection, 'Magic Happens'. The line is an ode to those moments of beauty in the middle of the chaos: the rainbow's wonder, the twinkle of the stars, the laughter of your best friend. The collection includes an all-new home and bedding range, kitchen, kids, and a special range for the little bubs that will surely create a mystical ambience in every home. Let's get to know more about their latest collection as we chat with co-founders Alex McCabe, Hayley Pannekoecke, and Kate Heppell.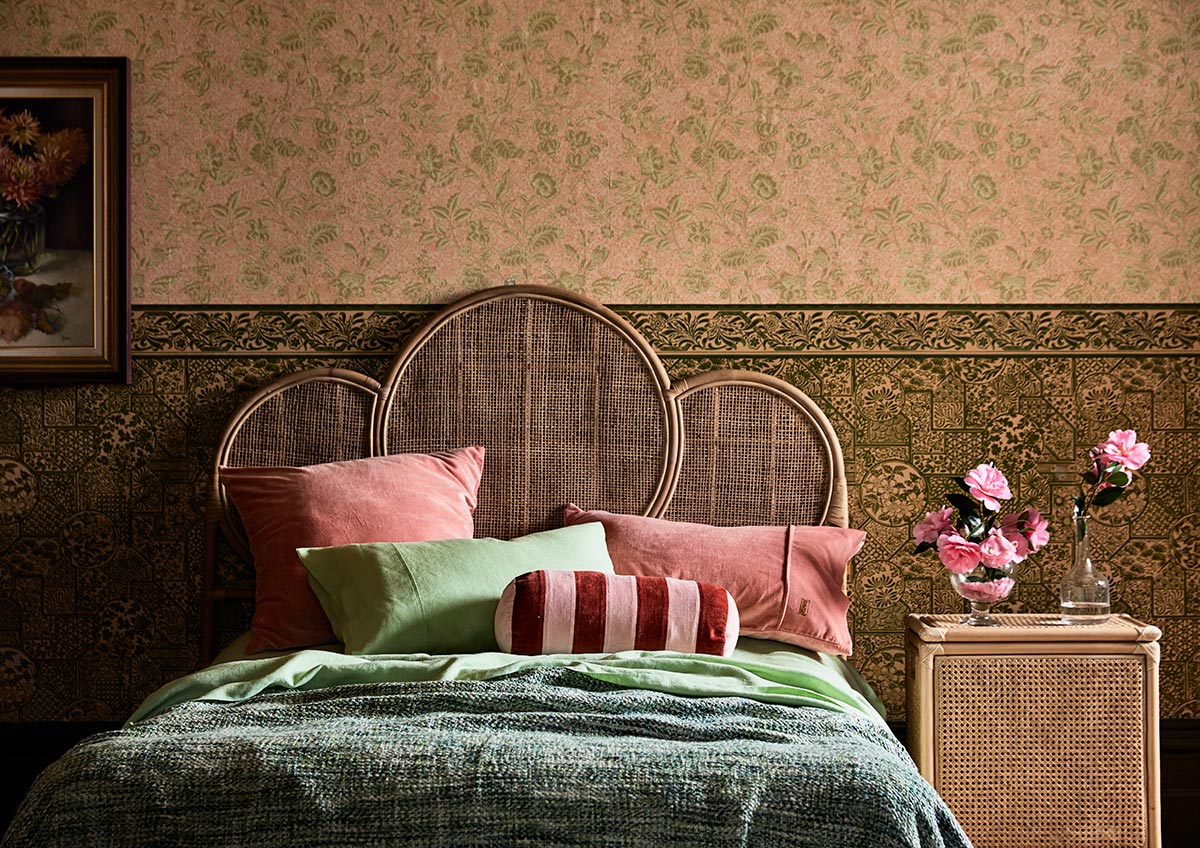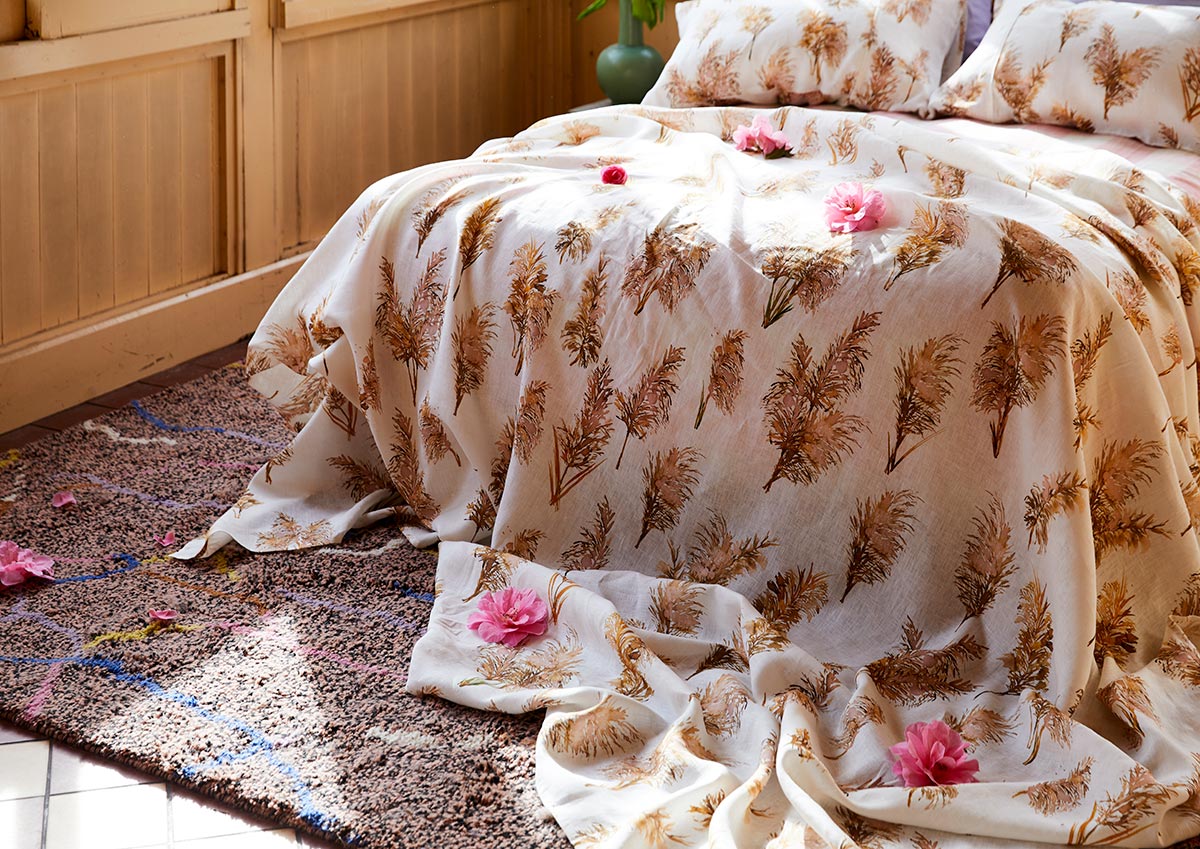 Kip&Co has been designing collections since 2012. They described their latest offering as "Dose of sparkle." When asked about their secret in maintaining inspiration and coming up with fresh ideas, Alex says, "We really love what we do and we're still endlessly energised with new ideas and a passion for interiors. Hopefully that shows in the products we create – I think when the passion is gone, it's time to move on."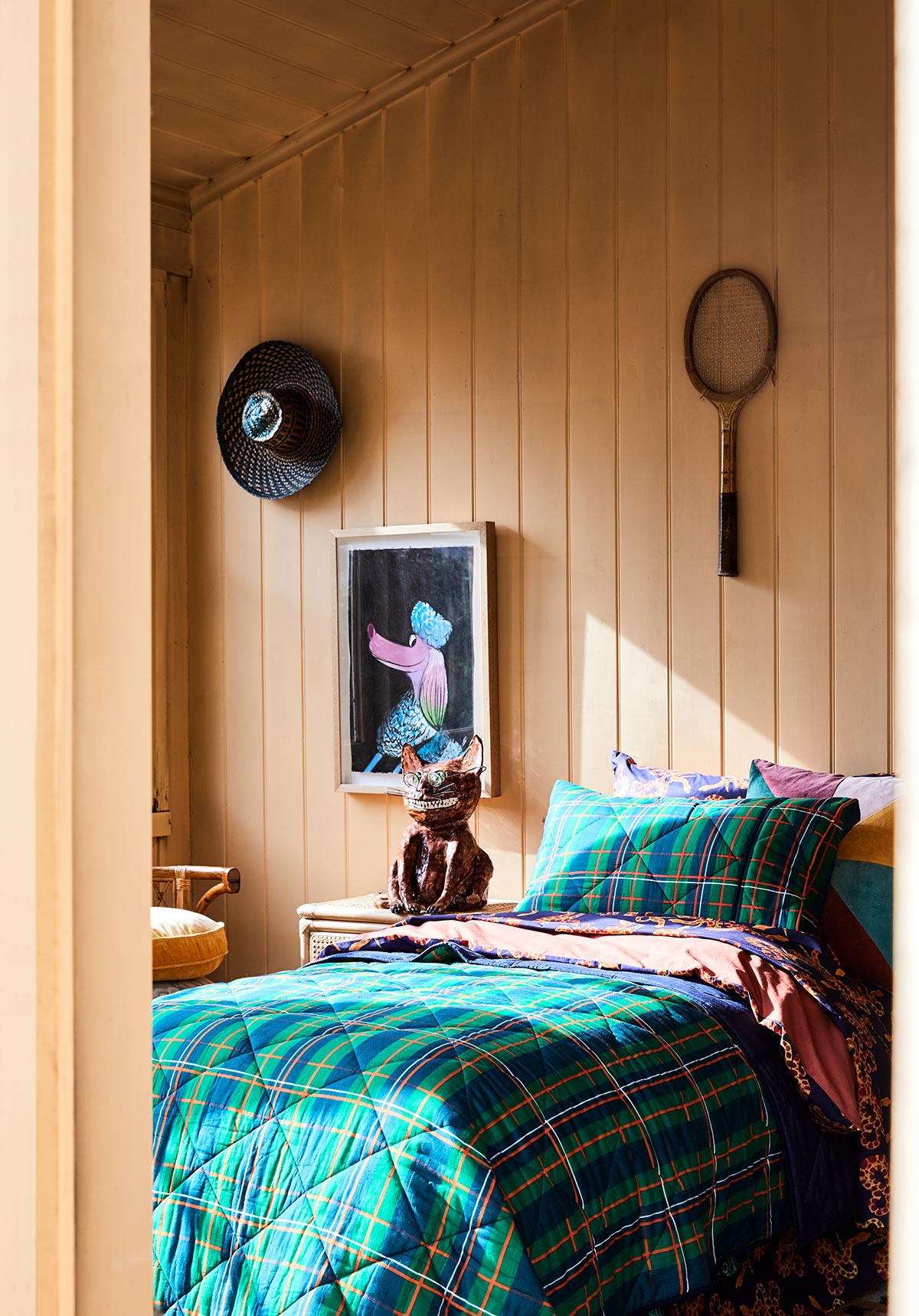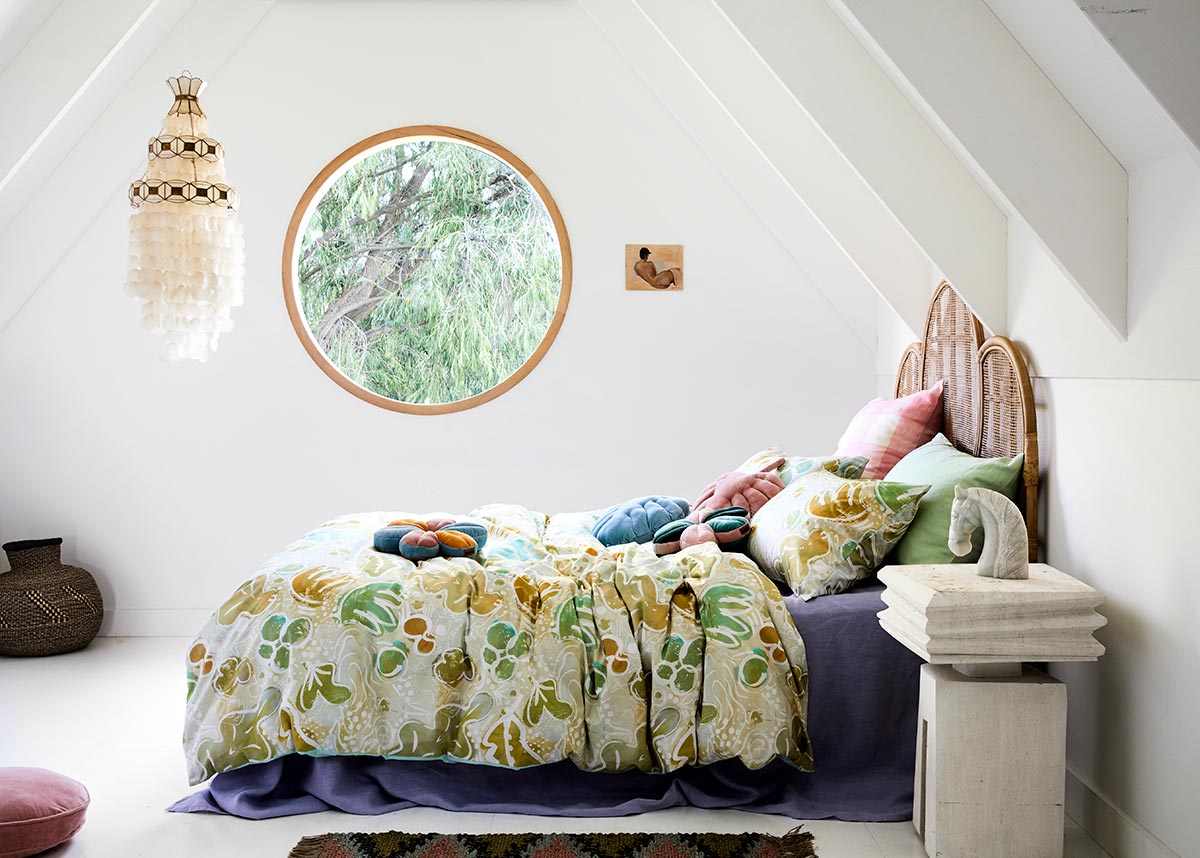 There are delicate whimsical florals and foliage in the home and bedding selection, blended with hues of butterscotch, lavender, blush and quince. The range is a reminder of the value of touch, and the elegance of slowing things down via the use of tactile fabrics like cotton velvet, French linen, comfortable cotton, chunky blanket knits, and waffle. Just look at those colours!
The brand has never been shy when experimenting with colour, pattern and materials. But we were curious if there has ever been a moment when their grand plans went horribly wrong. "Ha! It's all subjective right?" Hayley says. "We make products that we would honestly want in our own homes, but of course, we can't always predict what the rest of the world will think!"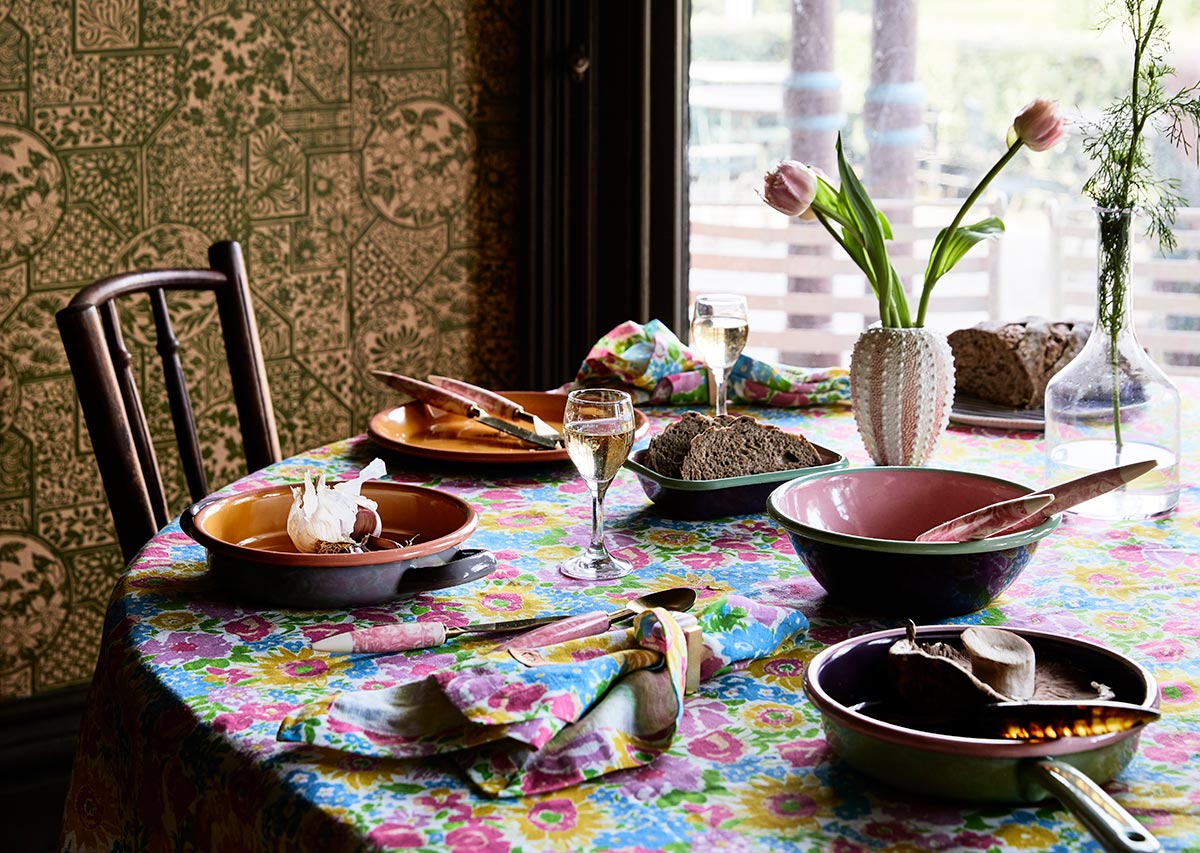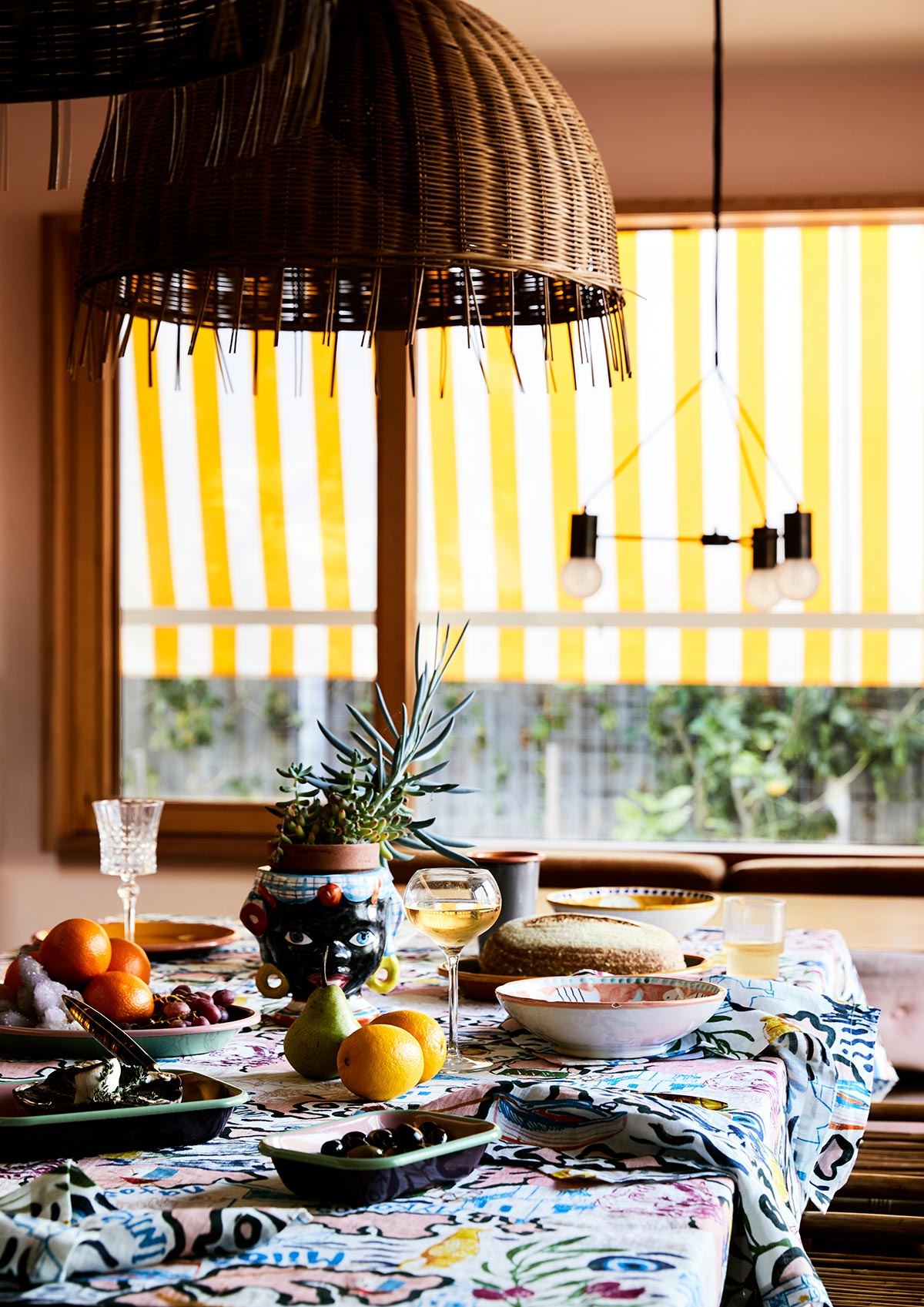 Time to add some much needed spice to your life! Kip&Co are welcoming the golden age of dining in the kitchen. Their beautiful collection of tableware and cutlery celebrates the pleasure of a home-cooked meal, with a feeling of celebration and fun.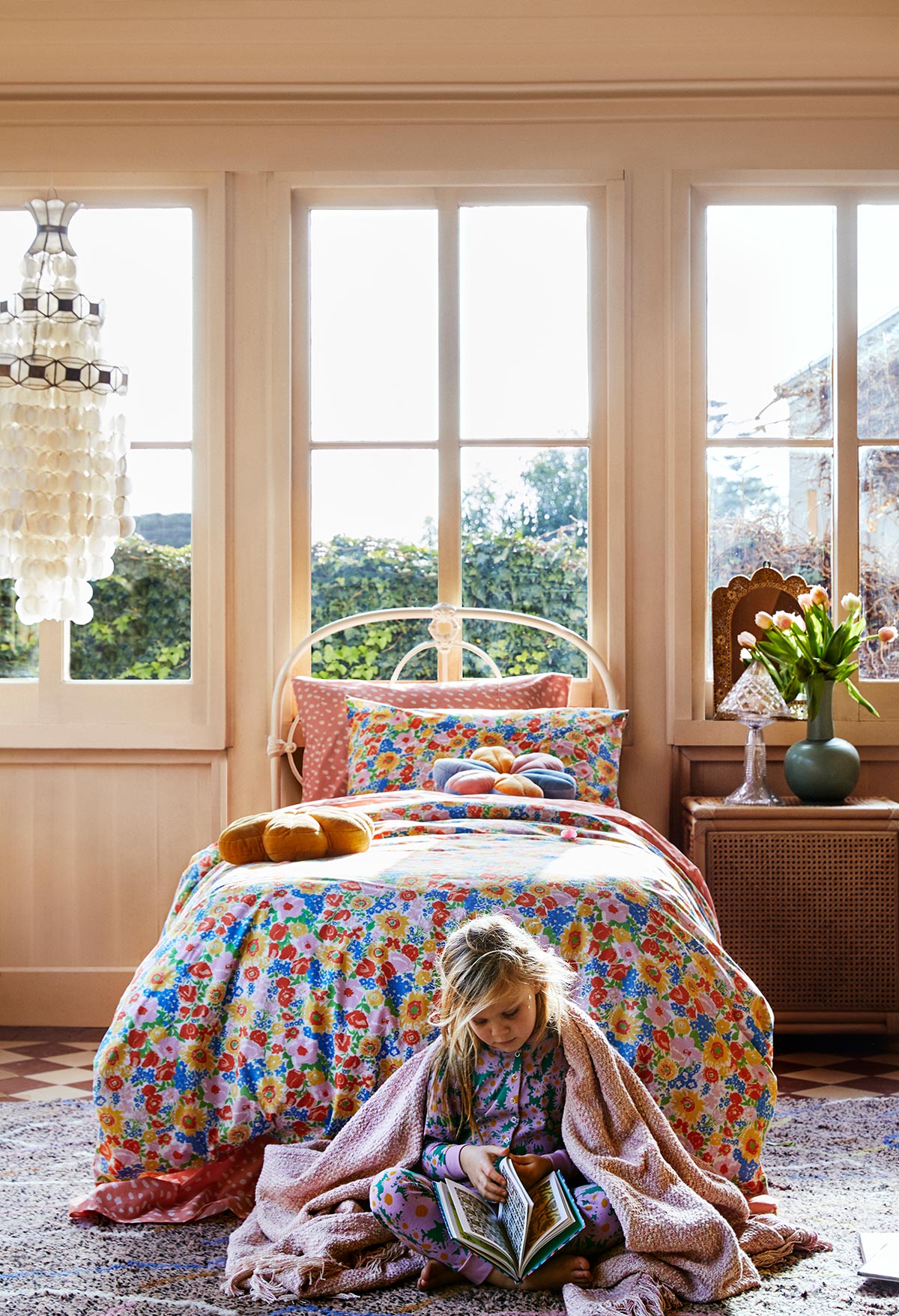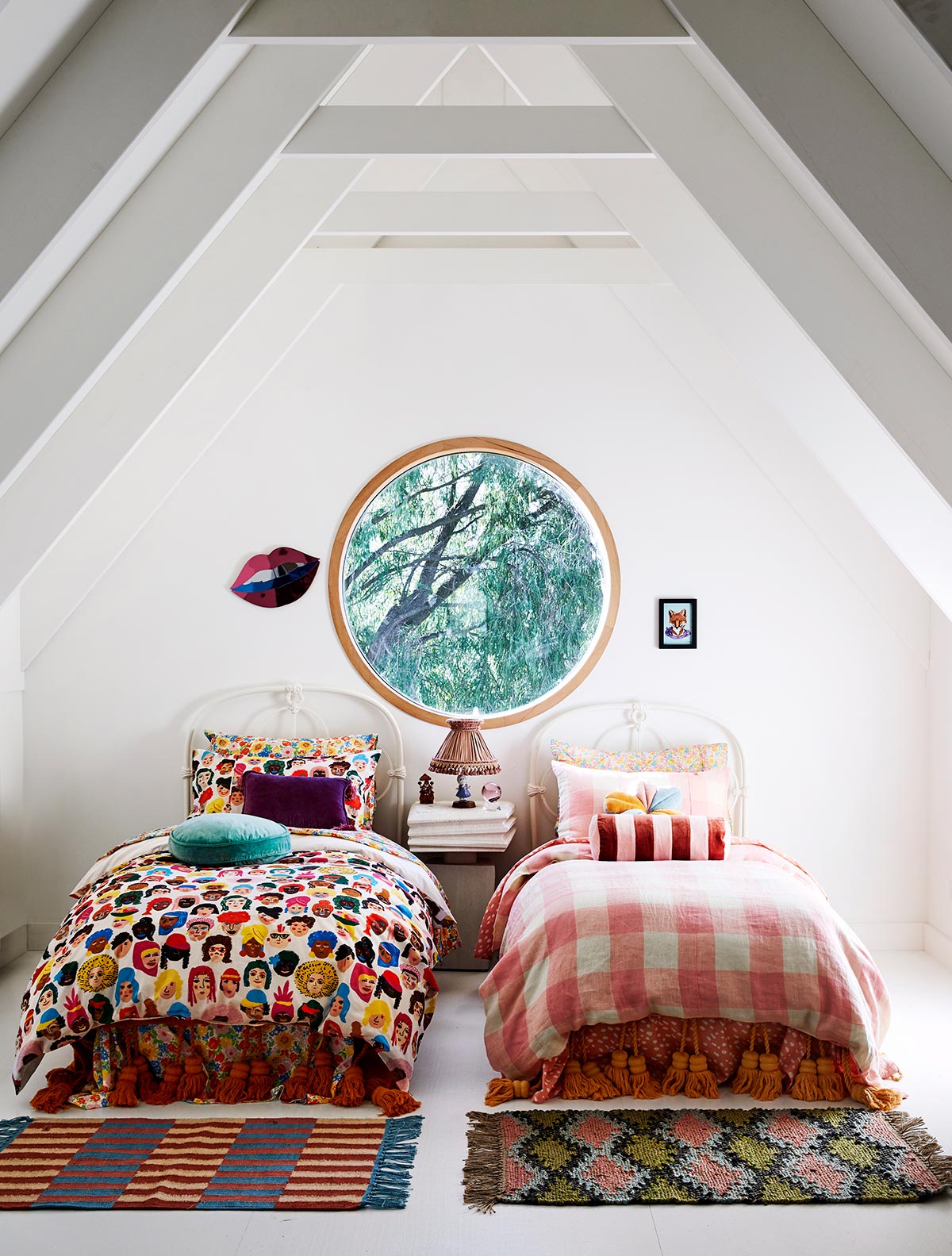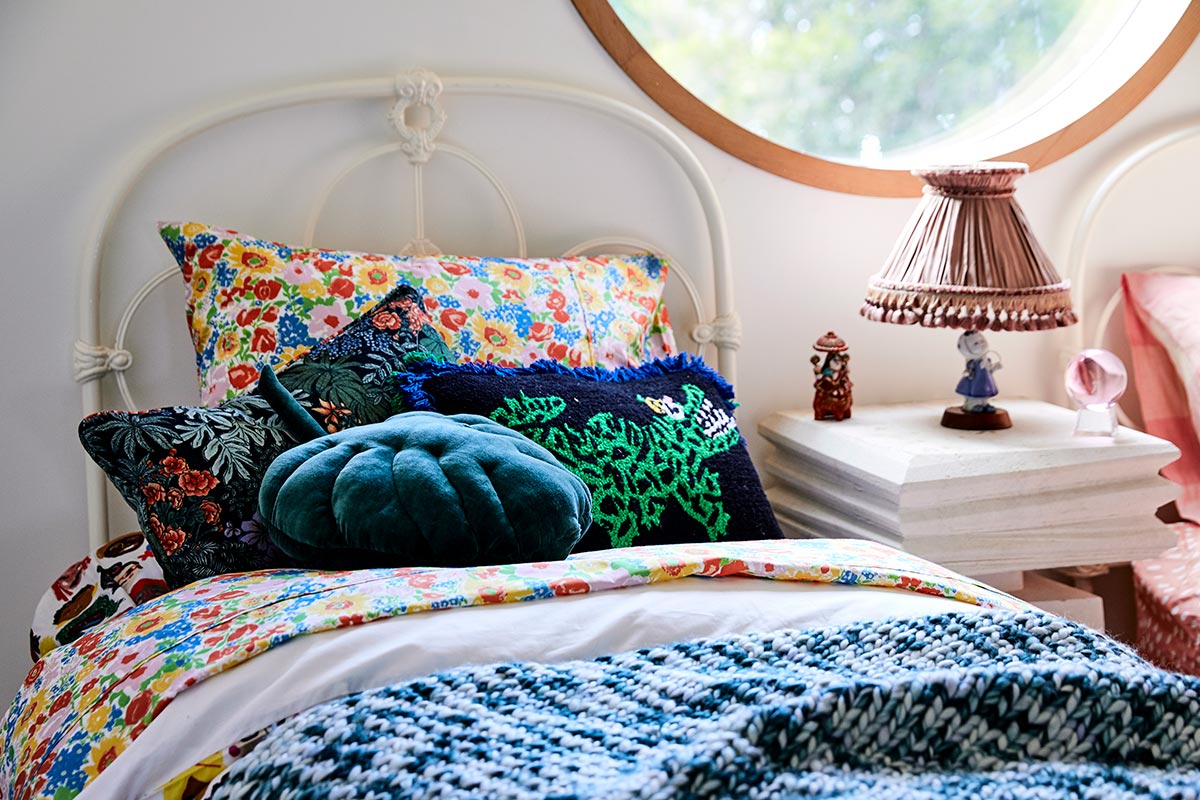 Kip&Co has also been channeling the kind of excitement the kids have that gets them somersaulting, cartwheeling, and back flipping. For free spirited kids, the bedding is ideal for mashing prints such as snakes, mushrooms, lips, fruit, and happy cupcakes. Your favourite prints are also available on leggings, tees and sweaters that are easy to wear and this season they also introduced their new hero, the big knitted cardigan that is essential for a must-have wardrobe.
Your designs go further than textiles for the home but also include childrens apparel. What inspired you to design kids clothing and how does the creative process differ to designing homewares?
"We've been doing kids sleepwear for a long time now, and apparel really felt like a natural extension to that. We all love kids apparel that has bold, fun prints, and given that's kind of our go-to vibe for bedding, it made sense to translate those prints onto apparel. Plus with eight kids between us, we are never short of inspiration for what kids want! The design process is pretty similar, in that we always lead with the print, that comes first every time. Then we think about building out the range, what product will that print work on best. We can then sit back and identify where the gaps are and round out the range. That sounds quite structured, but it's all very fluid around Kip&Co HQ!" Kate Heppell replied.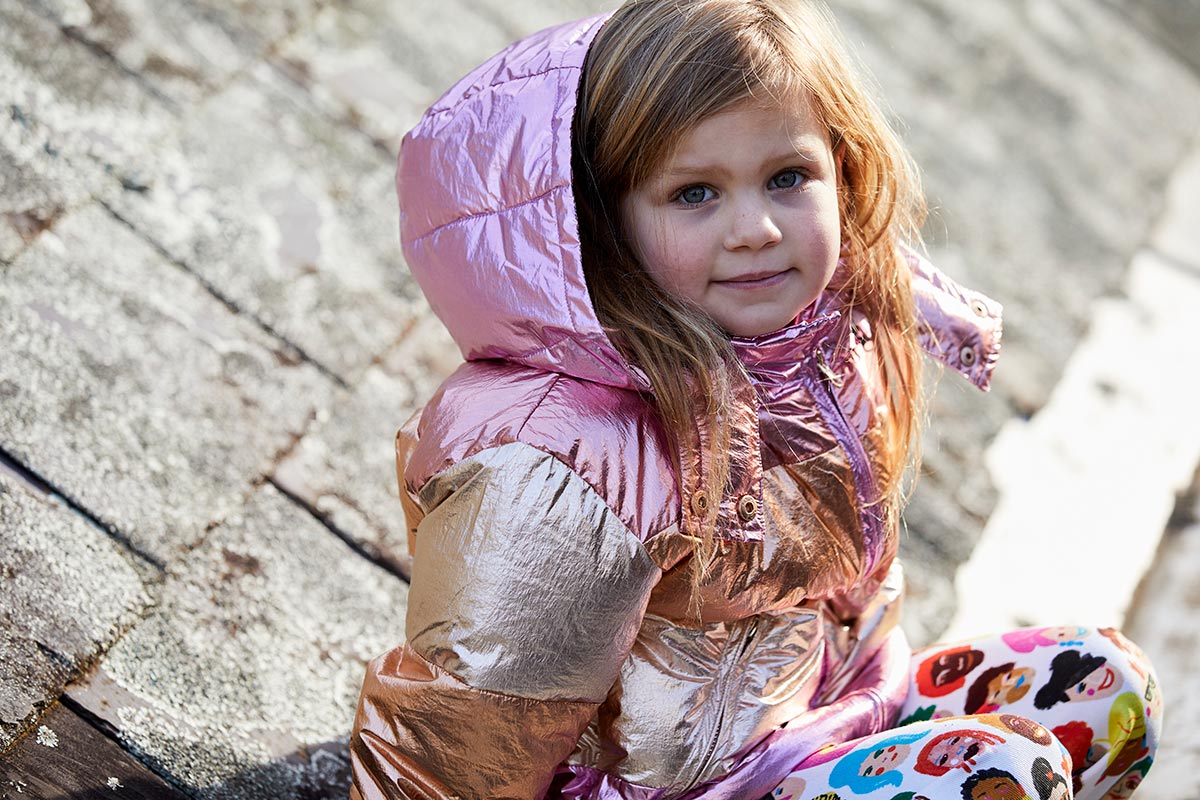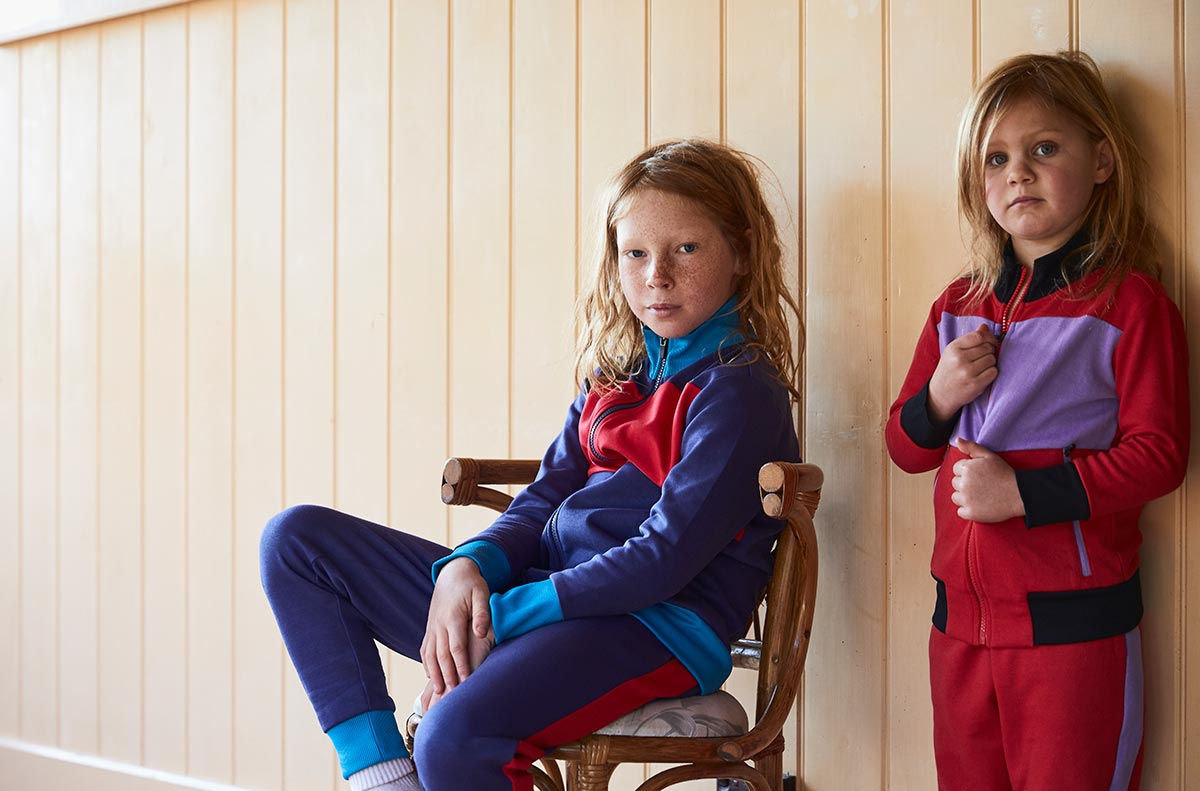 They also have an extensive range of happy-go-lucky rompers, sleep bags, swaddles, booties and knitwear for the little bubs, because age is no obstacle to cool. These make the perfect gift for a loved one too with thoughtful packaging details.
We know you love the whole range but what is your favourite piece from the collection?
Kate: Swamp bedding, in a house full of little dudes, this one has been a clear favourite!
Hayley: Greek Gods bedding, if we can't get there in person, we can dream about it!
Alex: Atrium tableware, cause Bobby is an awesome chef and my favourite thing is dining at home with the family… but make it fancy with some linen!
You can shop the entire range of Kip&Co products online at kipandco.com.au