The last time I let you guys inside my home it was last year when it was all styled up and looking glam to grace the pages of Real Living Mag. I spoke about how I decorated a rental and how I ignored most of the things that you're not meant to do when you're a tenant. Those were good times. As it is with most rentals, you move on and after six years living in my art deco apartment that was called Miami but planted firmly in Elwood, I've now moved to a different home. This home doesn't have an incredible arch window, nor is it five minutes walk to the beach, but it has something much much better – it's mine! I am now the proud homeowner of a real live house. It's a fixer-upper, but it's got great bones and is in great condition for a 1911 Edwardian. Whilst most of the rooms are in good nick, it does have an awkward layout as do most older period homes. I'll get around to putting together some more shots of the home so you can see what I'm talking about, as we'll be undertaking renovation works soon! But for now, here are some happy snaps that were taken in between shots from our latest Classics Bedlinen campaign.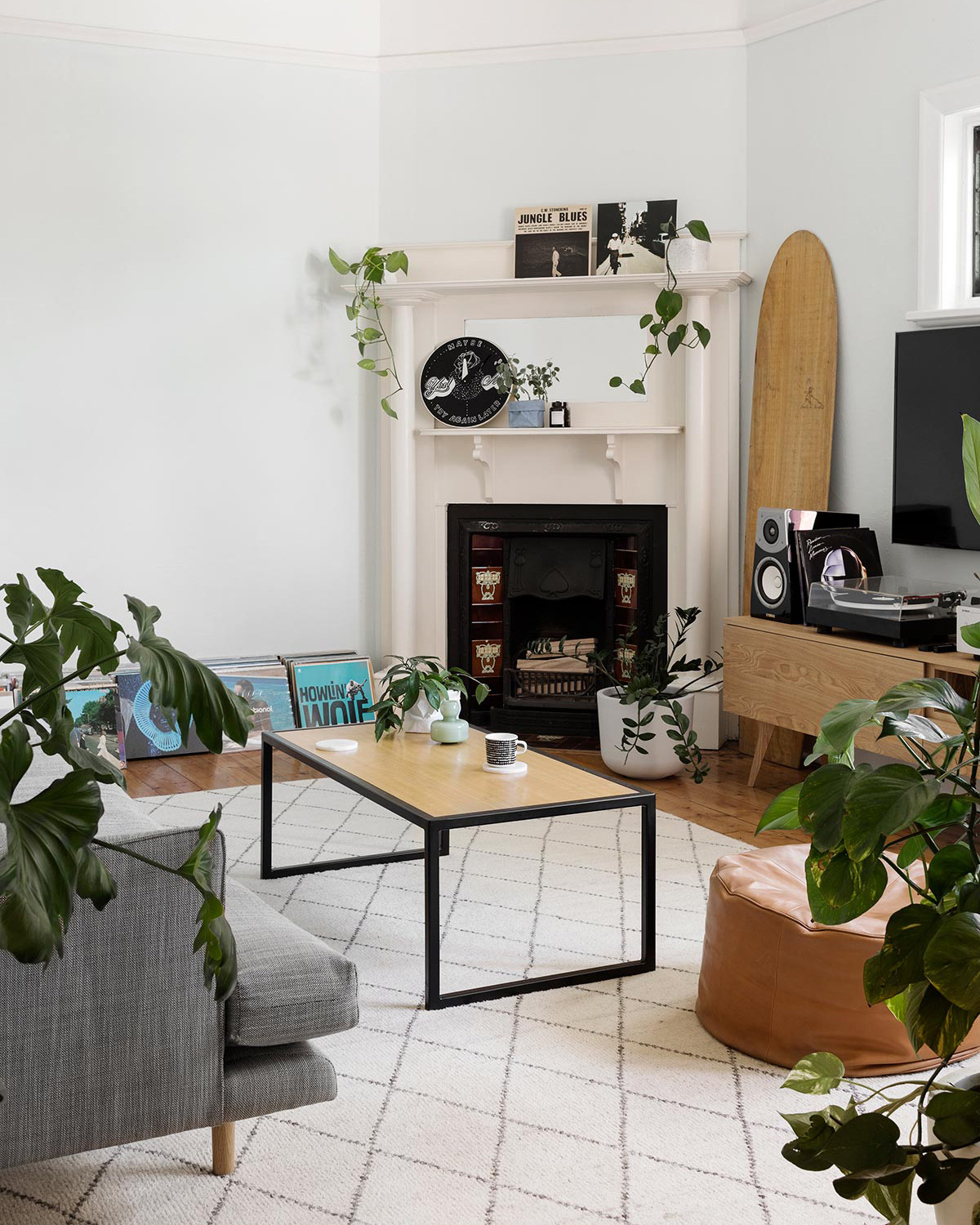 I was very lucky that all of my furniture fit into our new rooms. The rooms are smaller and busier, most with very intense fireplaces and small stained glass windows dotted awkwardly here and there. When I moved all my plants in they kind of took over, but I'm kind of enjoy living in a jungle. The living room has developed a slightly masculine tone thanks to heavier accents of black, from both the fireplace and my sound system. I've played on this and brought in further black elements including my limited edition Leona Fietz clock that I bought during our Hunting Collective exhibition.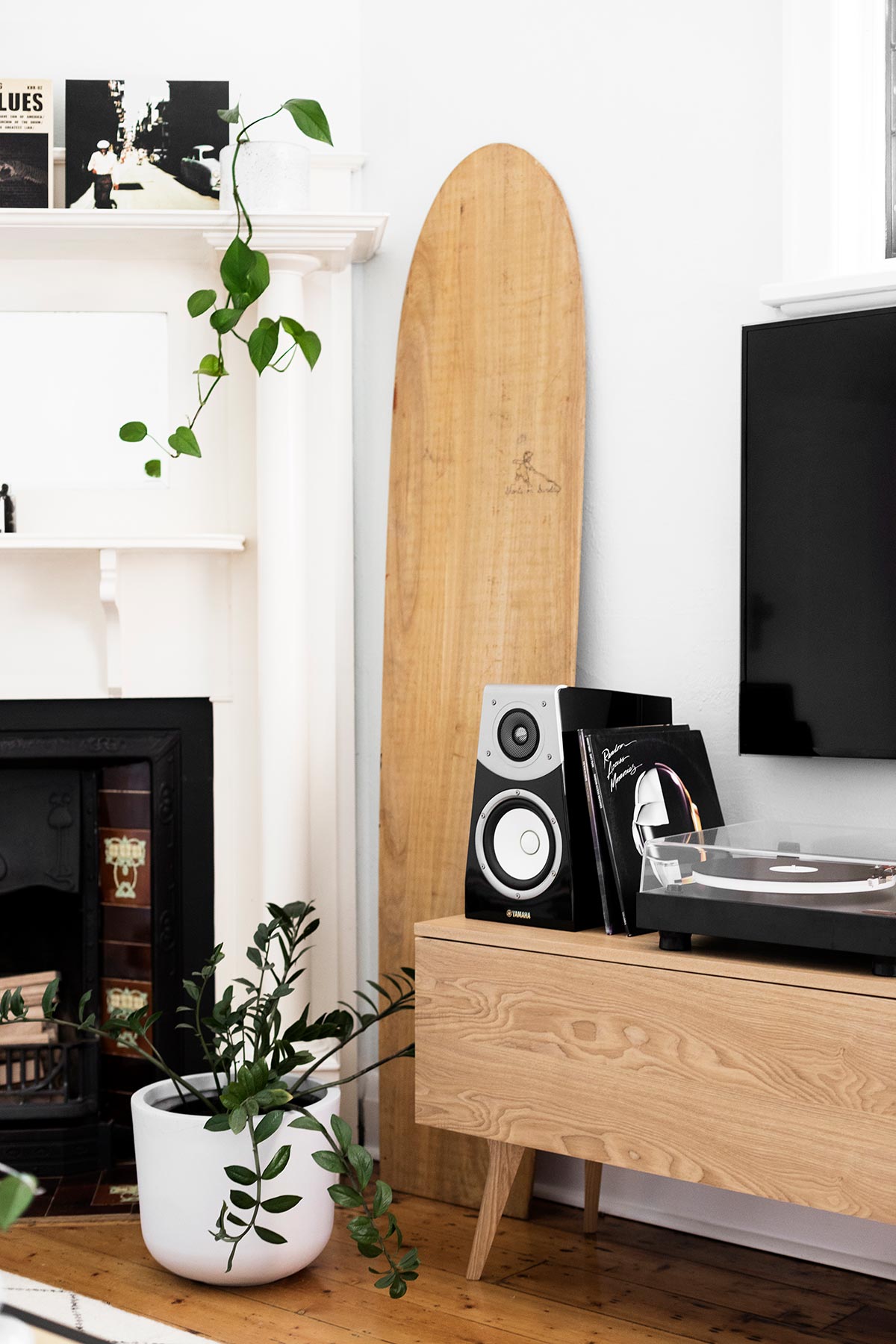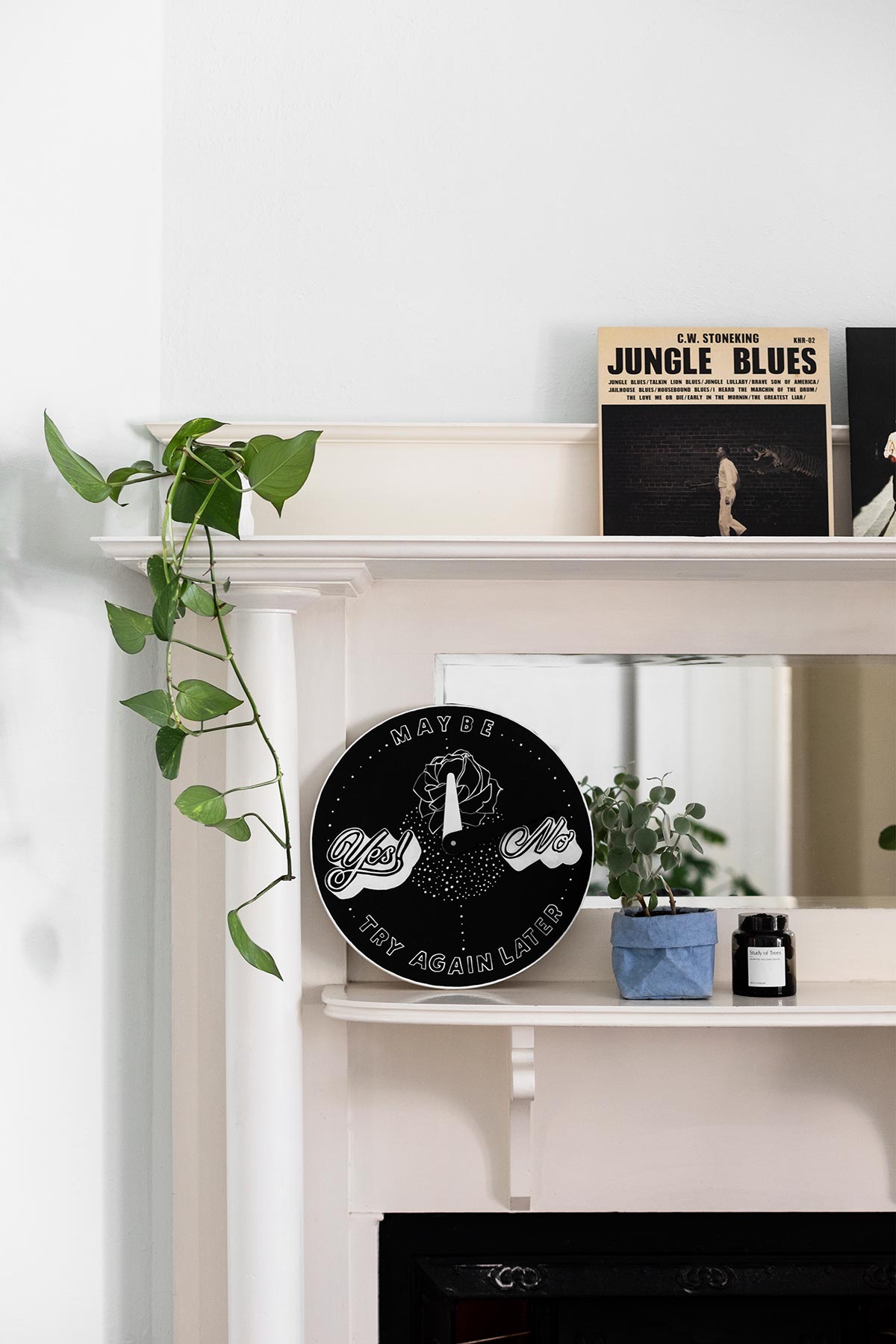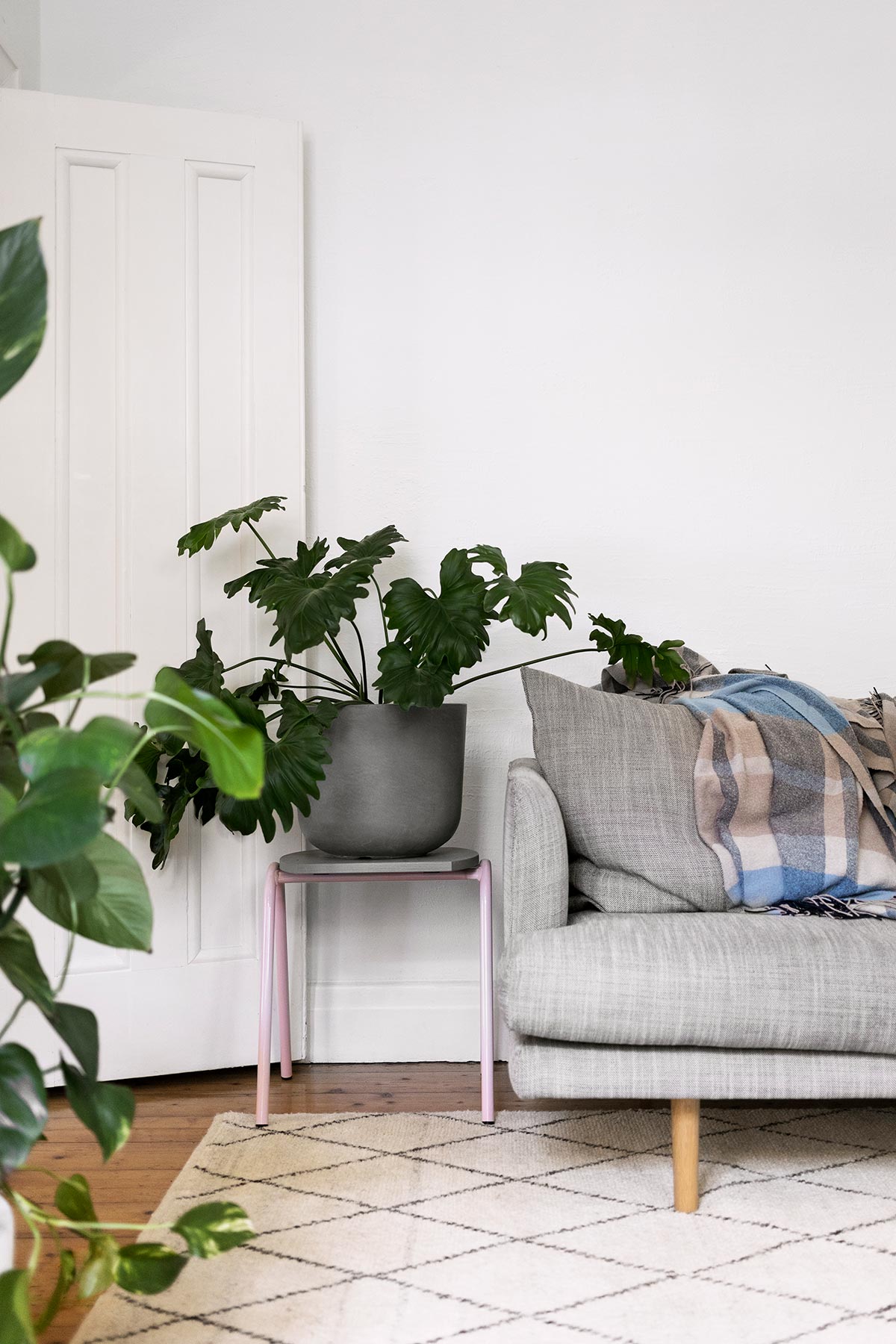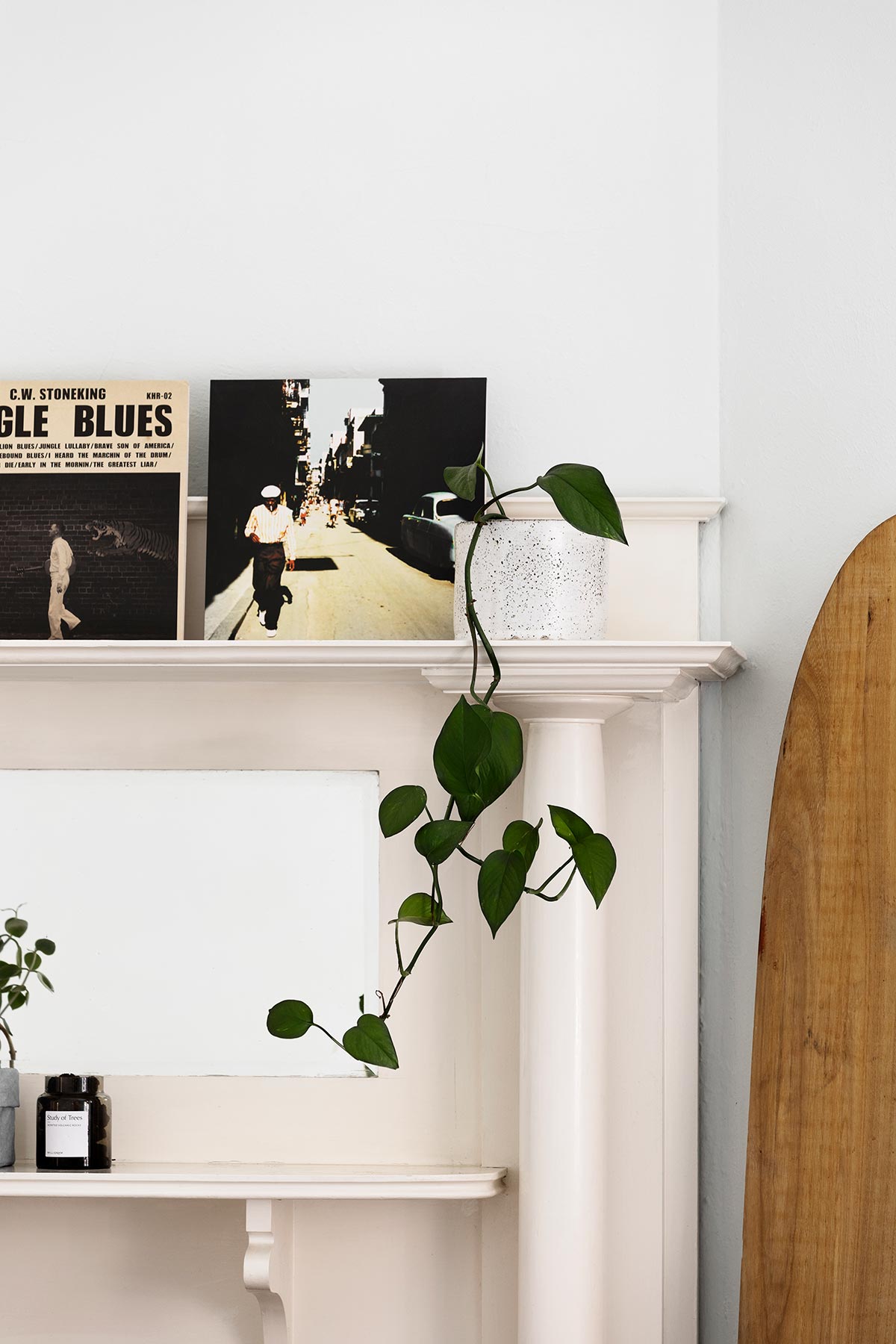 Our dining room in our previous home was massive! We were very spoilt and had a custom dining table crafted by Cenzo. This is a beast of a table, seats 8 comfortably and weighs a ton. Let's just say it was a challenge bringing it into the home. It only just fits into our new dining room, it is more snug than before so I've kept the decor to a minimum (well almost). To be fair, there were a few extra pot plants in the dining room when these shots were taken, thanks to the photoshoot going on in the bedroom, however I've grown fond of the green room. I don't have many decor items, just a simple vignette on the sideboard and Jonno's surfboard.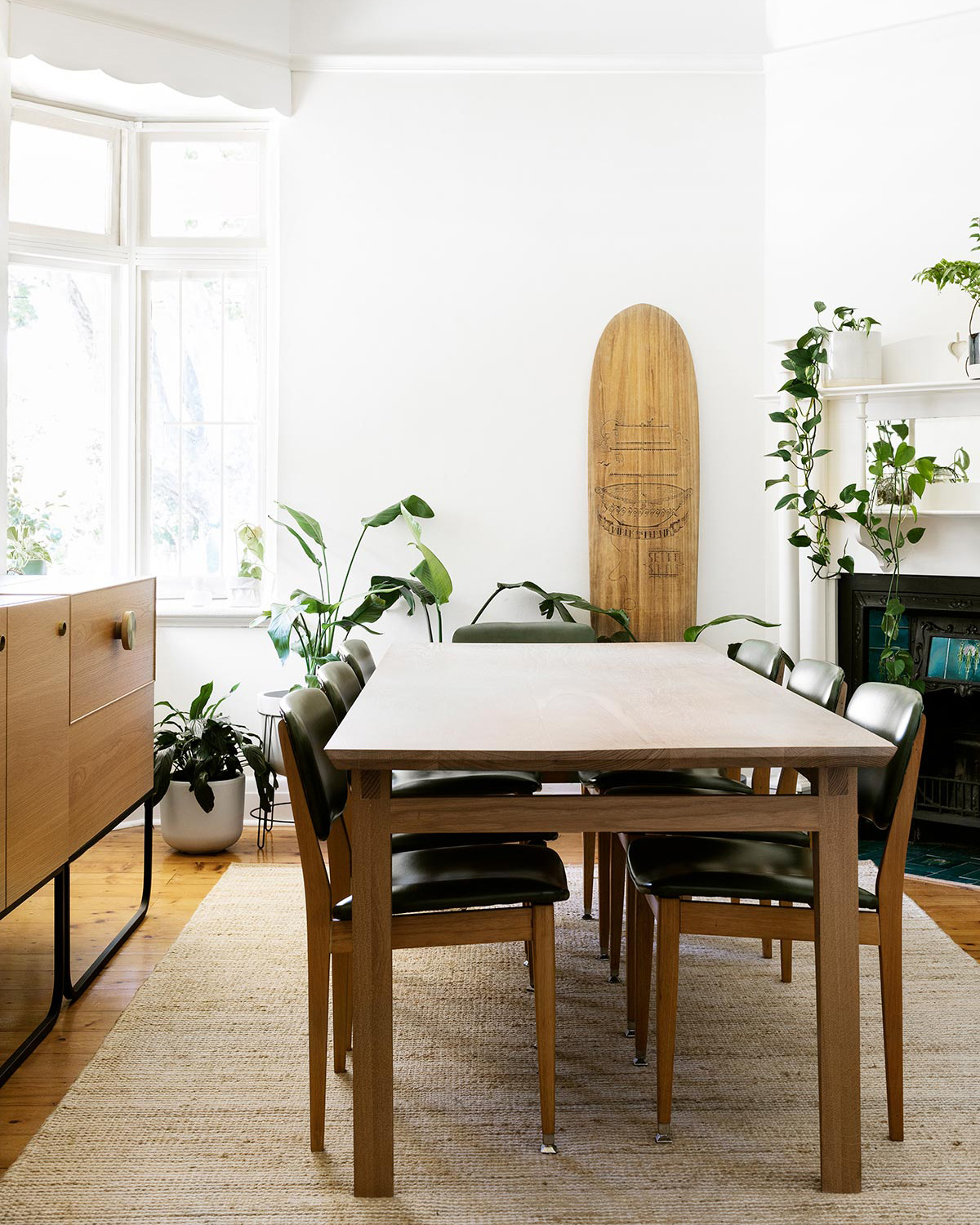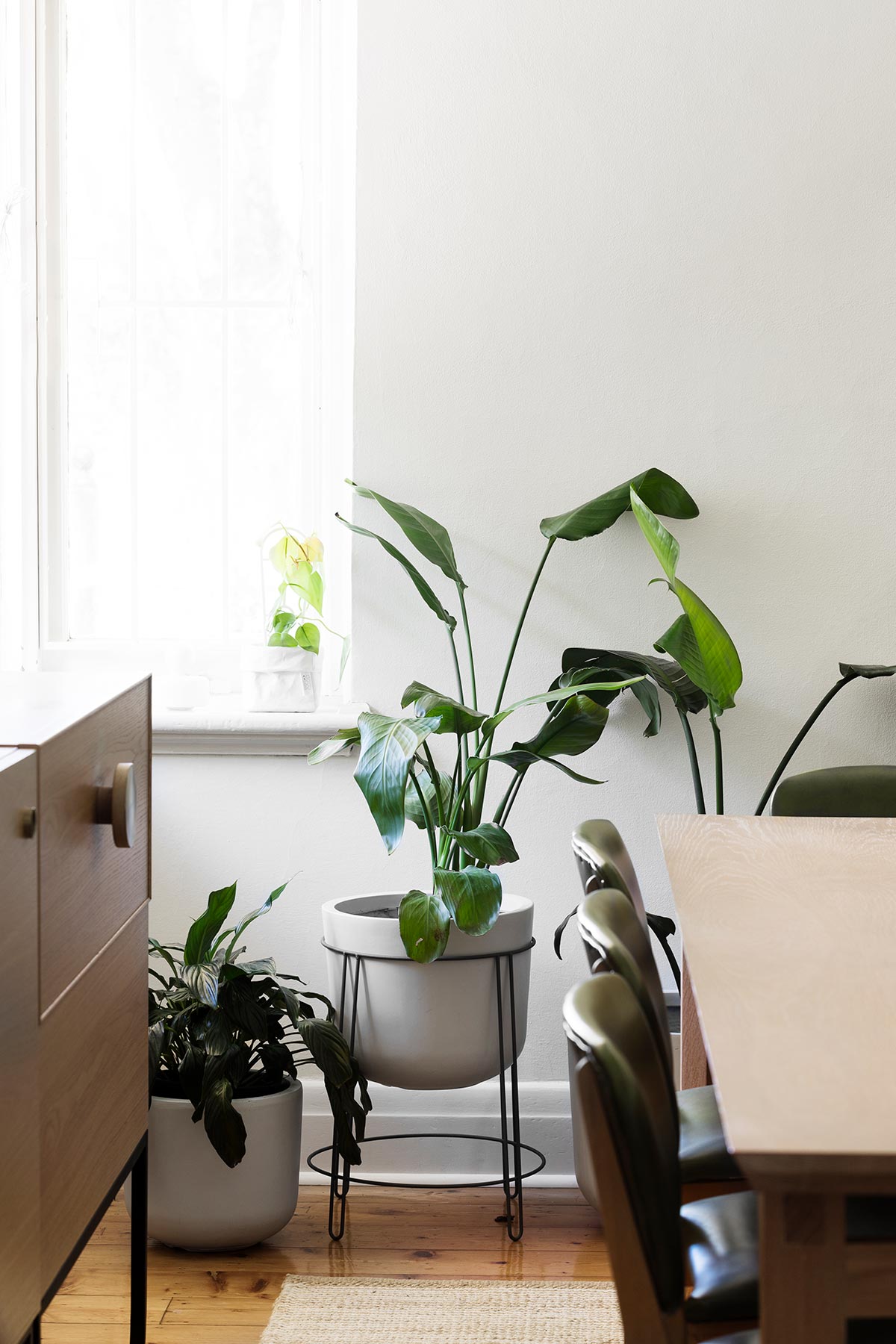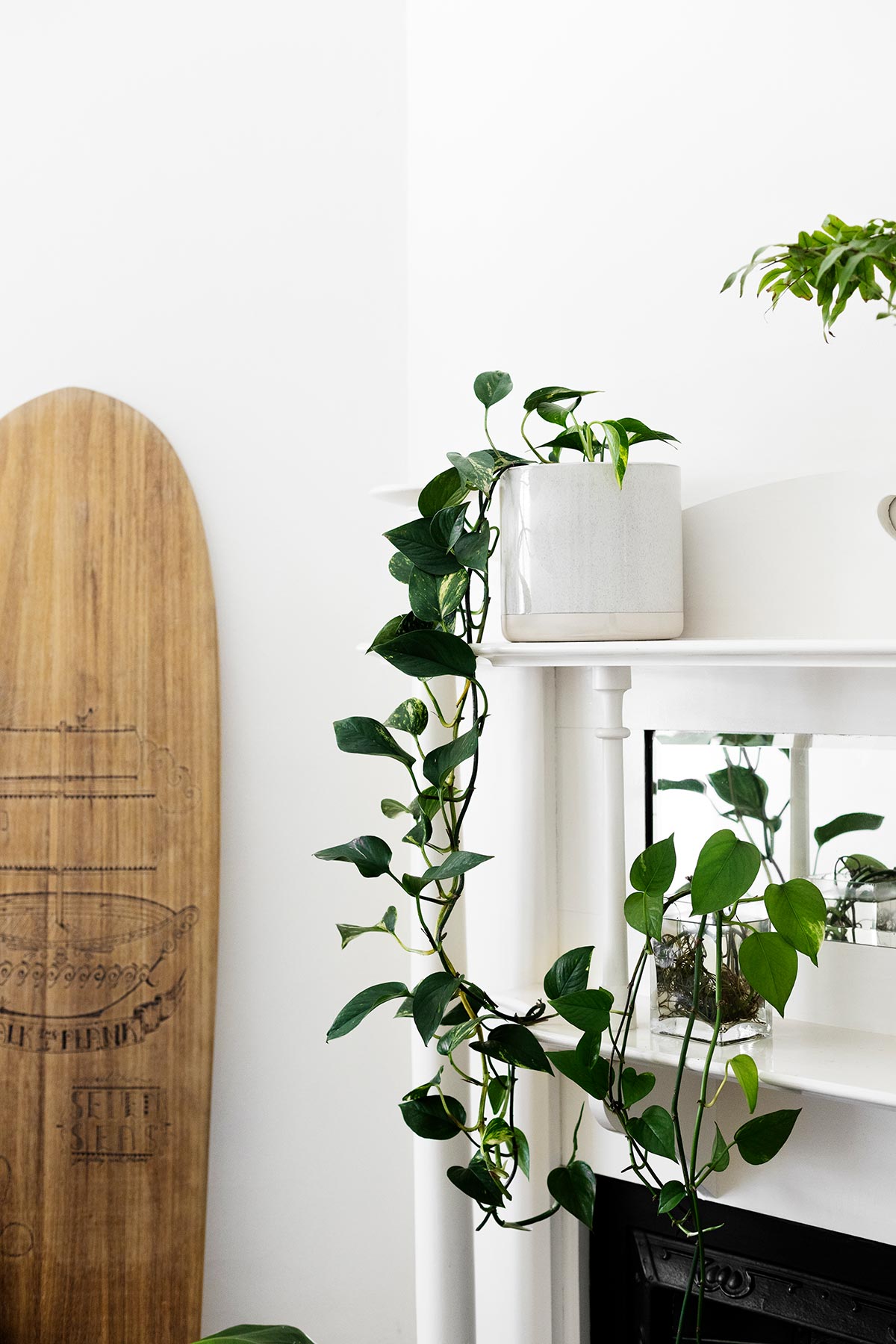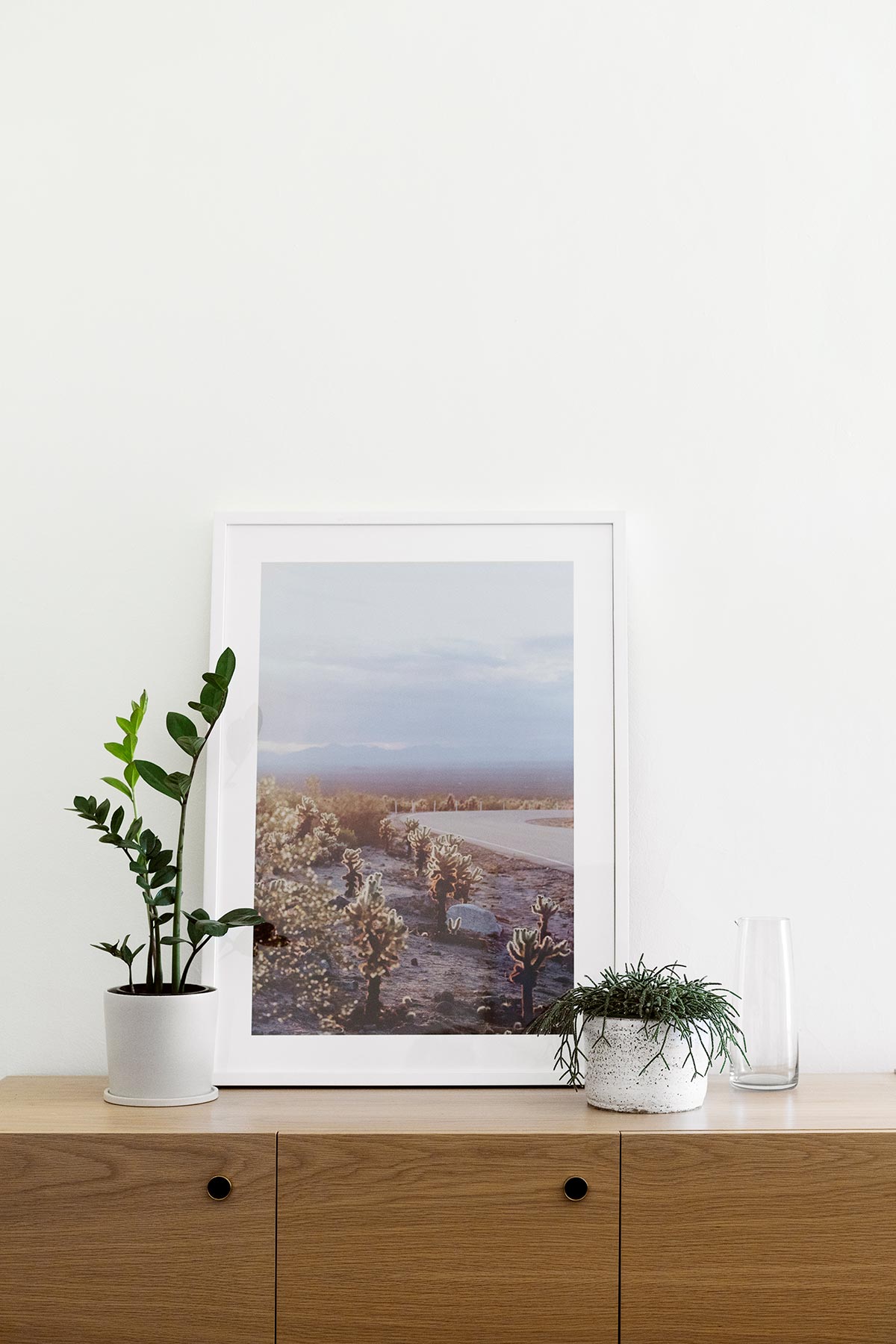 The simple styling on the sideboard features the Digby Pot, Road to Palm Springs Art Print, Jimmy Planter and Wylie Carafe. Opposite is a large statement artwork by artist Rowena Martinich from our 2017 Hunting Collective exhibition.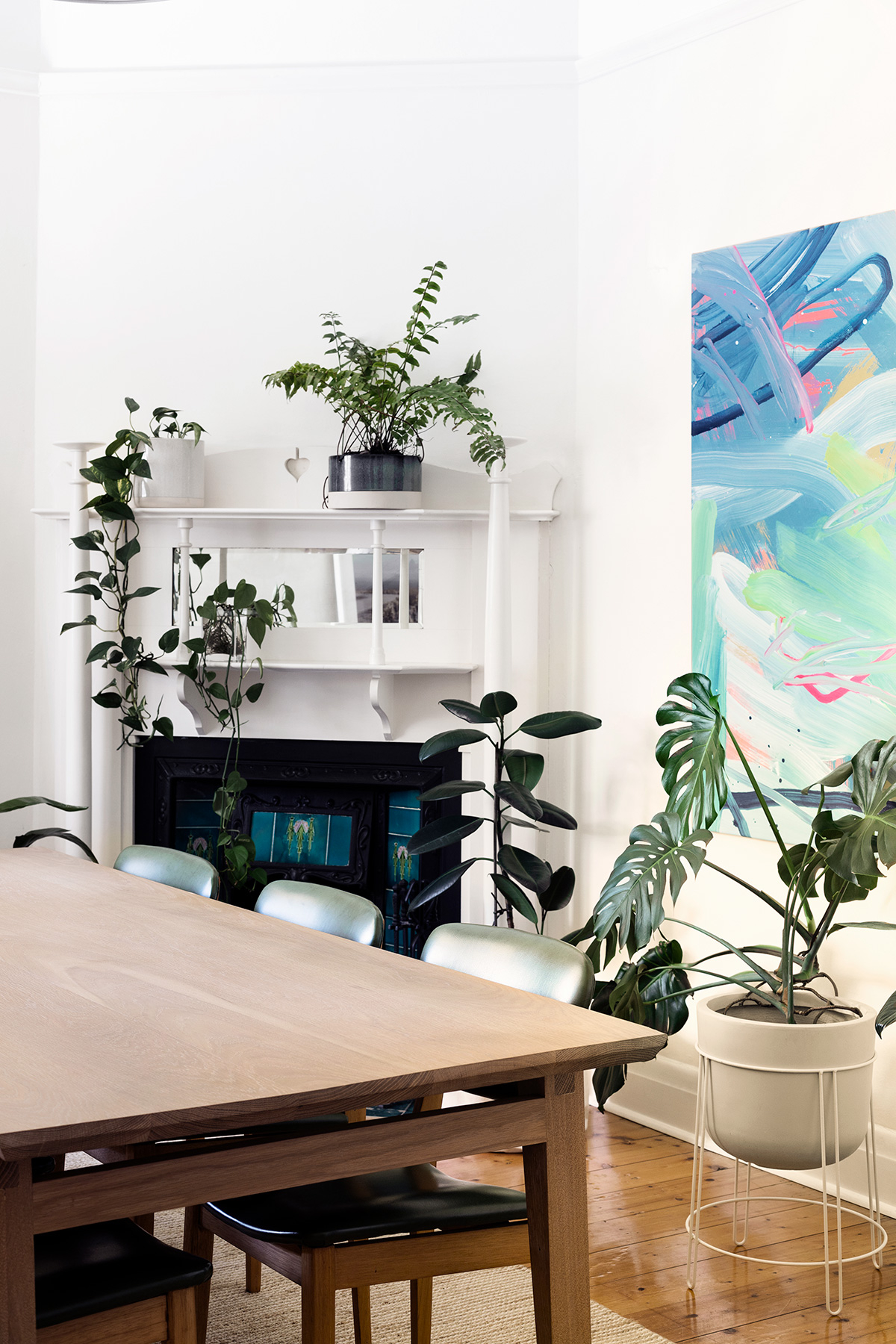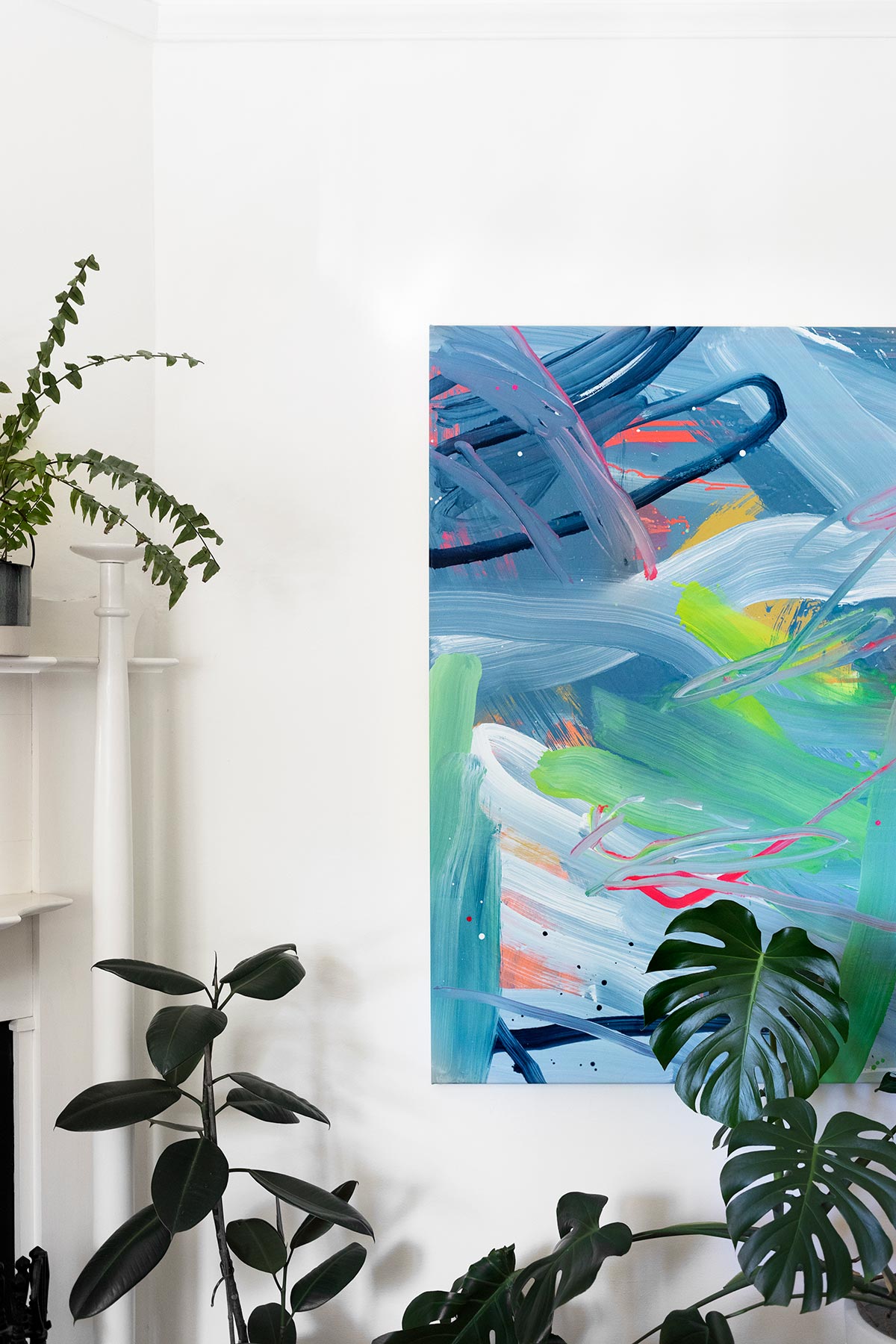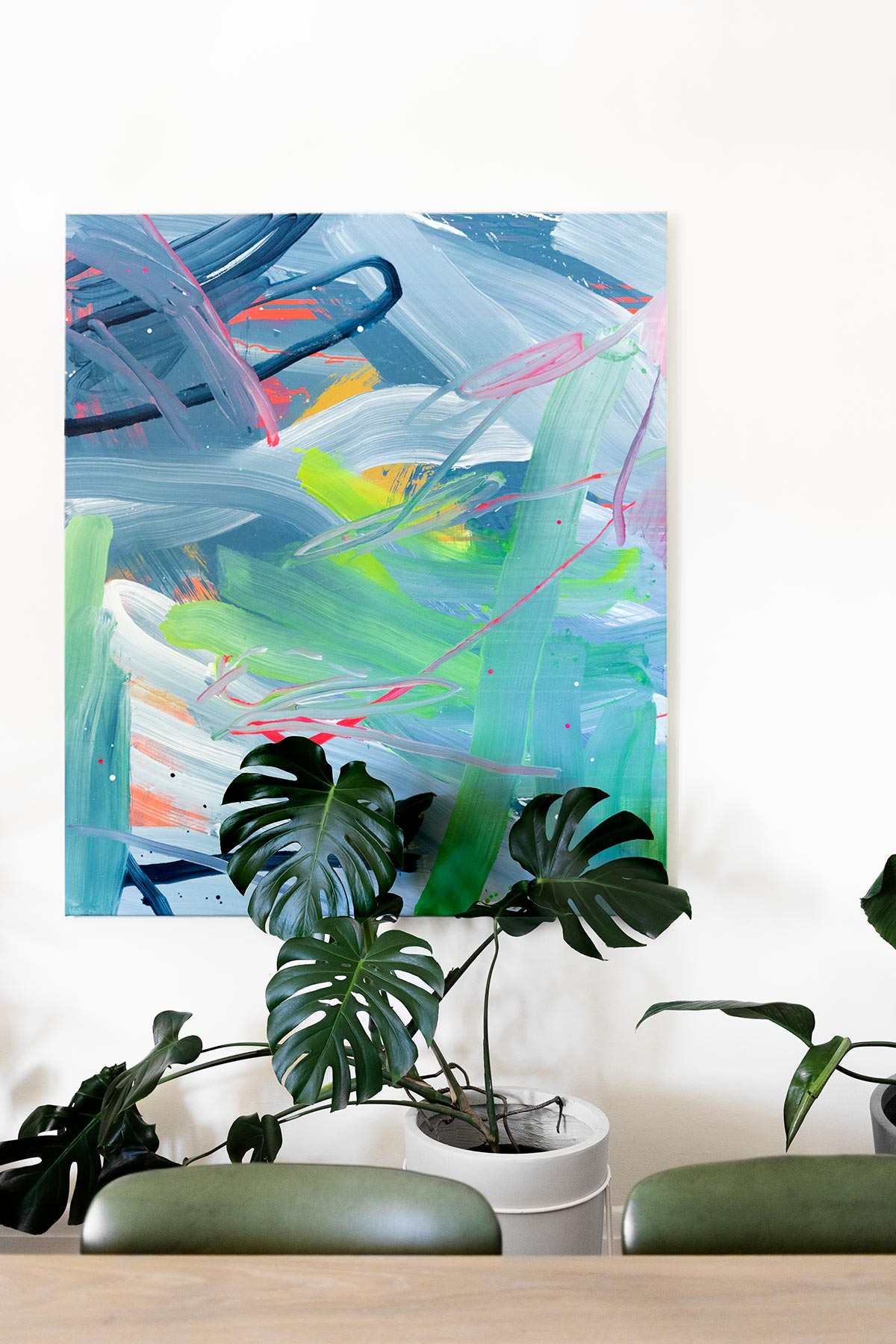 And then that leaves us with the master bedroom… well there's more rooms in the house but those are a work in progress, I promise to share with you soon. The master bedroom has a beautiful bay window overlooking the front garden. It is large, really large and only needs minor improvement, such as a new ensuite and double glazed windows (we're on a busy road!)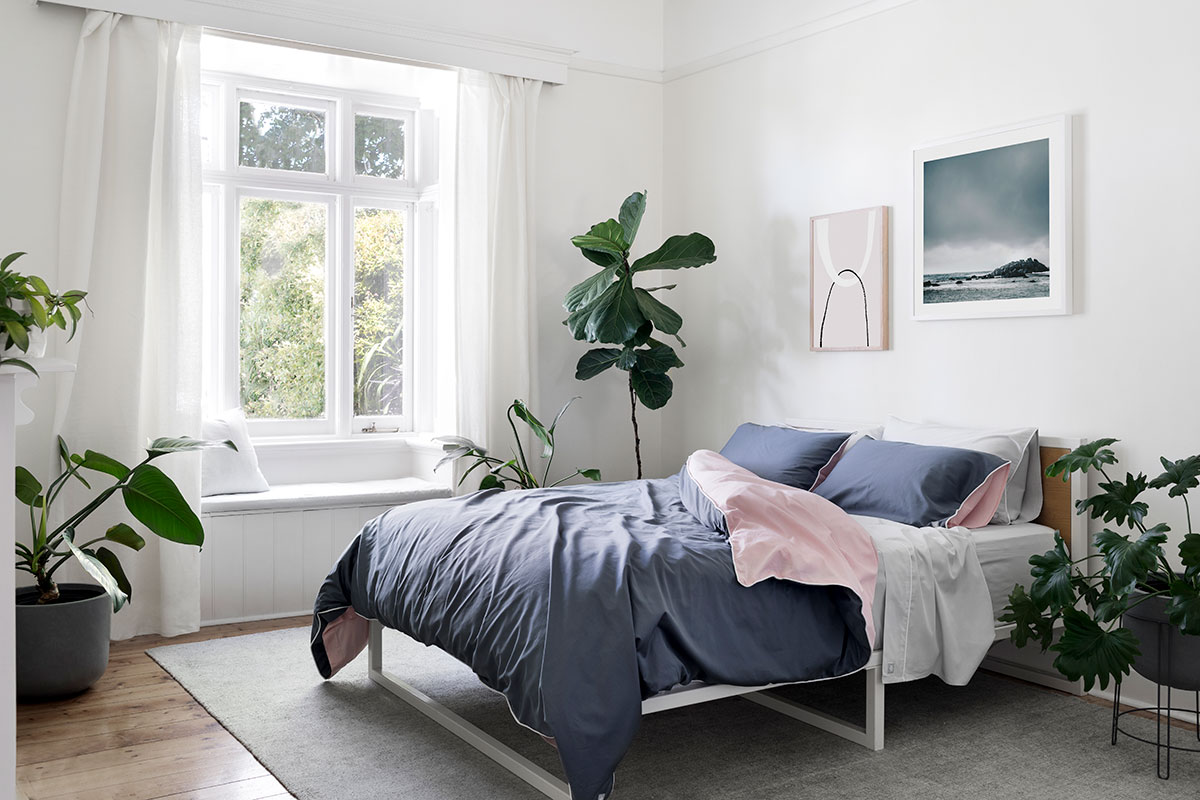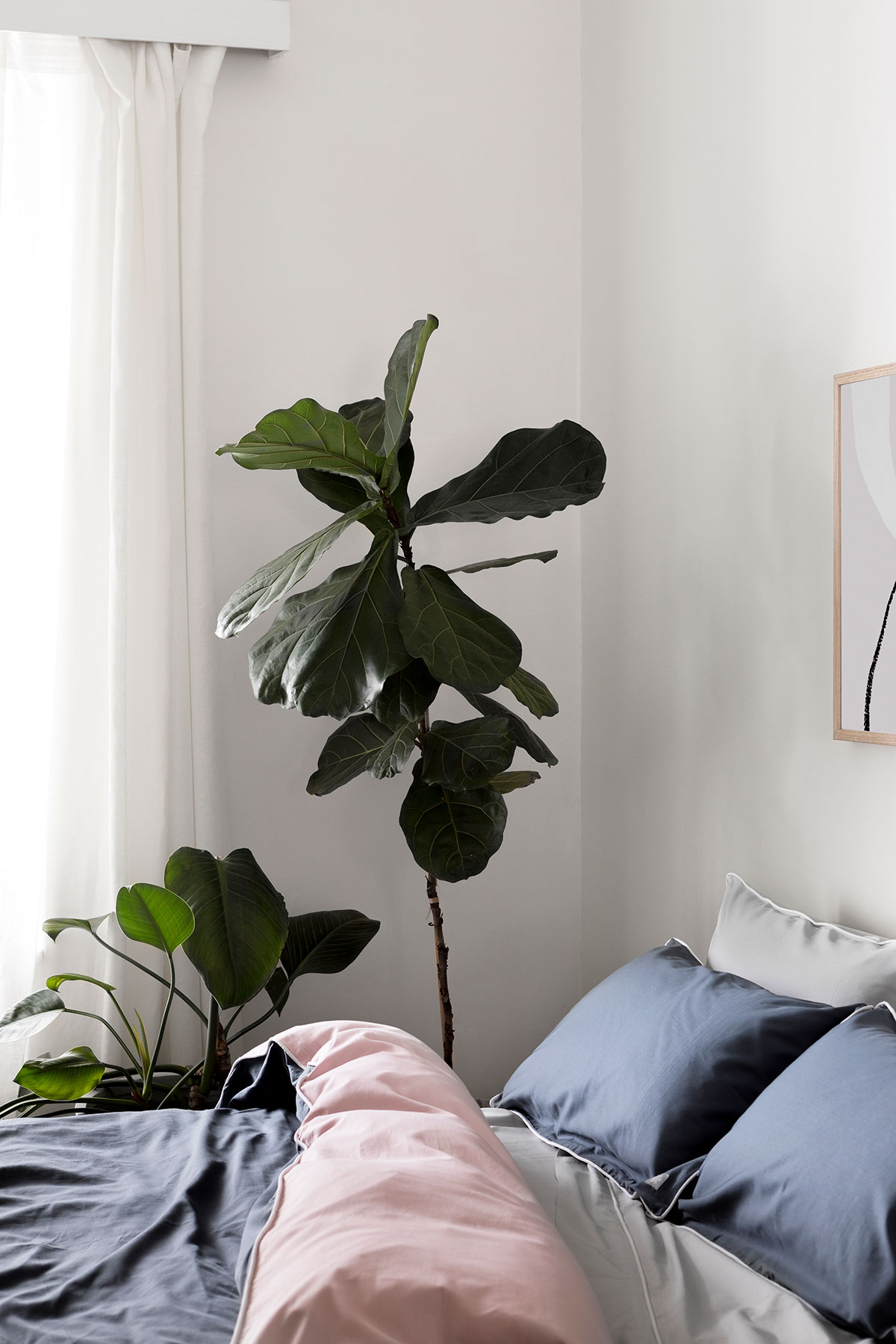 The bedroom was the first room in the home that I spent time on, I wanted to make sure that it was a relaxing space for us. We were so busy moving and so much of the house was in chaos and we were surrounded by boxes, but I made sure the bedroom was calm and peaceful. I special shout out goes to Fred my fiddle, who if you follow my instagram account, know that he's been through quite a journey. I straight up nearly killed him, I took him right to the edge and I have been slowly bringing him back to life ever since. Now he's getting so tall I don't know how to keep him standing, but I guess that's a good challenge to have. He was very happy to get a significant feature in the latest campaign, he's quite a show pony these days.
I hope you've enjoyed this mini house tour. I'll share with you all our progress on the renovation. If there is anything in particular that you're interested in, let me know!
If you want to know where any of the pieces were from, here are some of the Hunting for George items I have in my home: