Designing a dining room isn't always the easiest thing. But fret not, we're here to help you decide on and ultimately create the dining room of your dreams! The dining room is the heart of the home, so its design definitely matters. Today we've rounded up 13 of our favourite dining room designs and we hope these will get you excited about hosting soon!
1. Contemporary Elegance
A beautiful, dark, and moody palette combined with warm timber accents hits that perfect balance of cosiness and sophistication in this gracefully designed dining room in Bentleigh, Melbourne. Resembling luxury in its simplest means.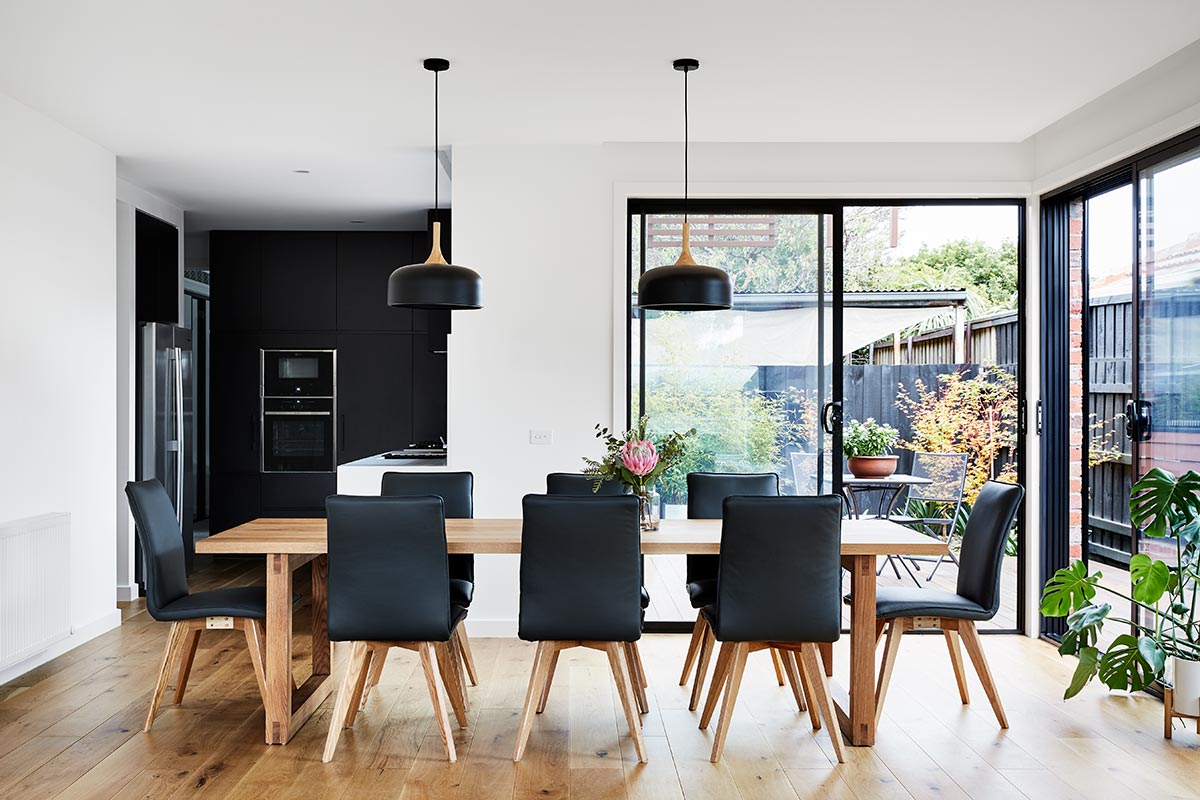 2. Modern Farmhouse
The raw concrete block walls and burnished concrete floor, warming timber finishes, copper detailing, and a predominantly neutral colour palette creates a fluid ambience that evokes a calm and homey experience in this holiday house in Torquay.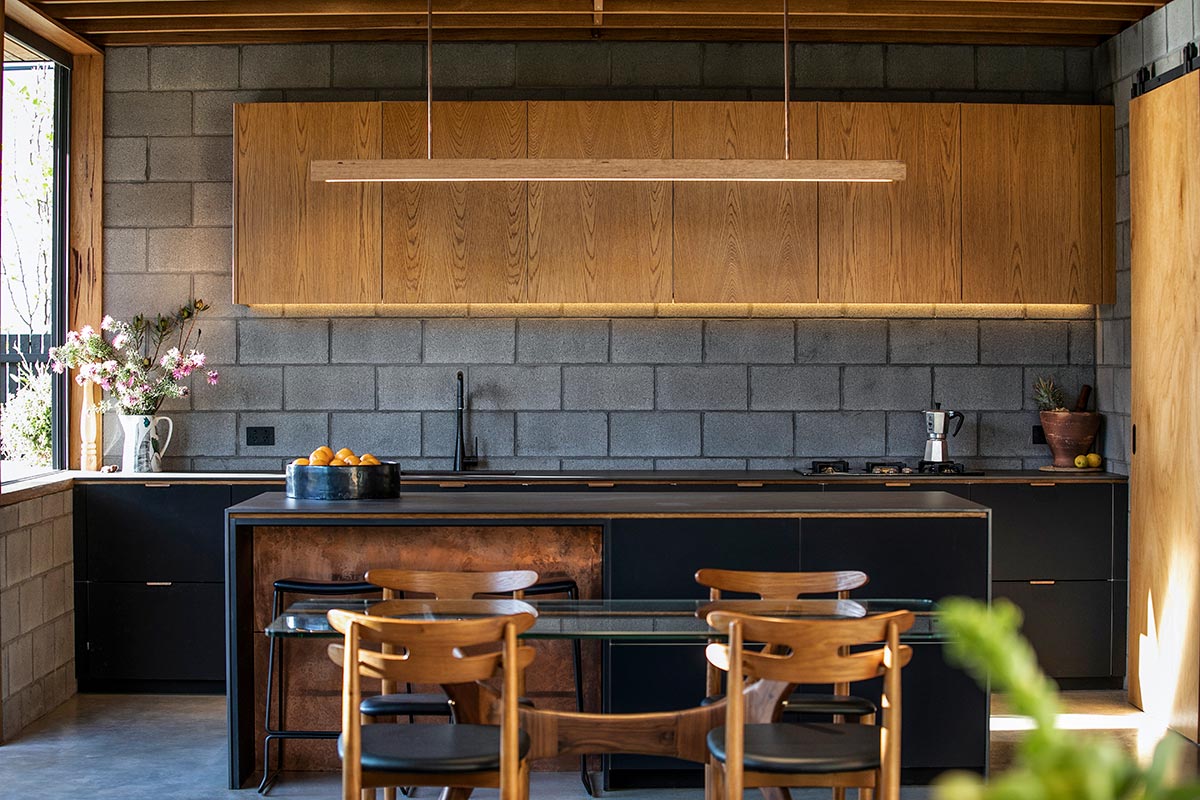 3. Around the Art
A massive art piece oversees the dining room of Charred Wood House in Camberwell, Melbourne. The restrained internal finishes that utilized cost-effective matte and timber laminates allowed the art to pop and dictate the mood in the space.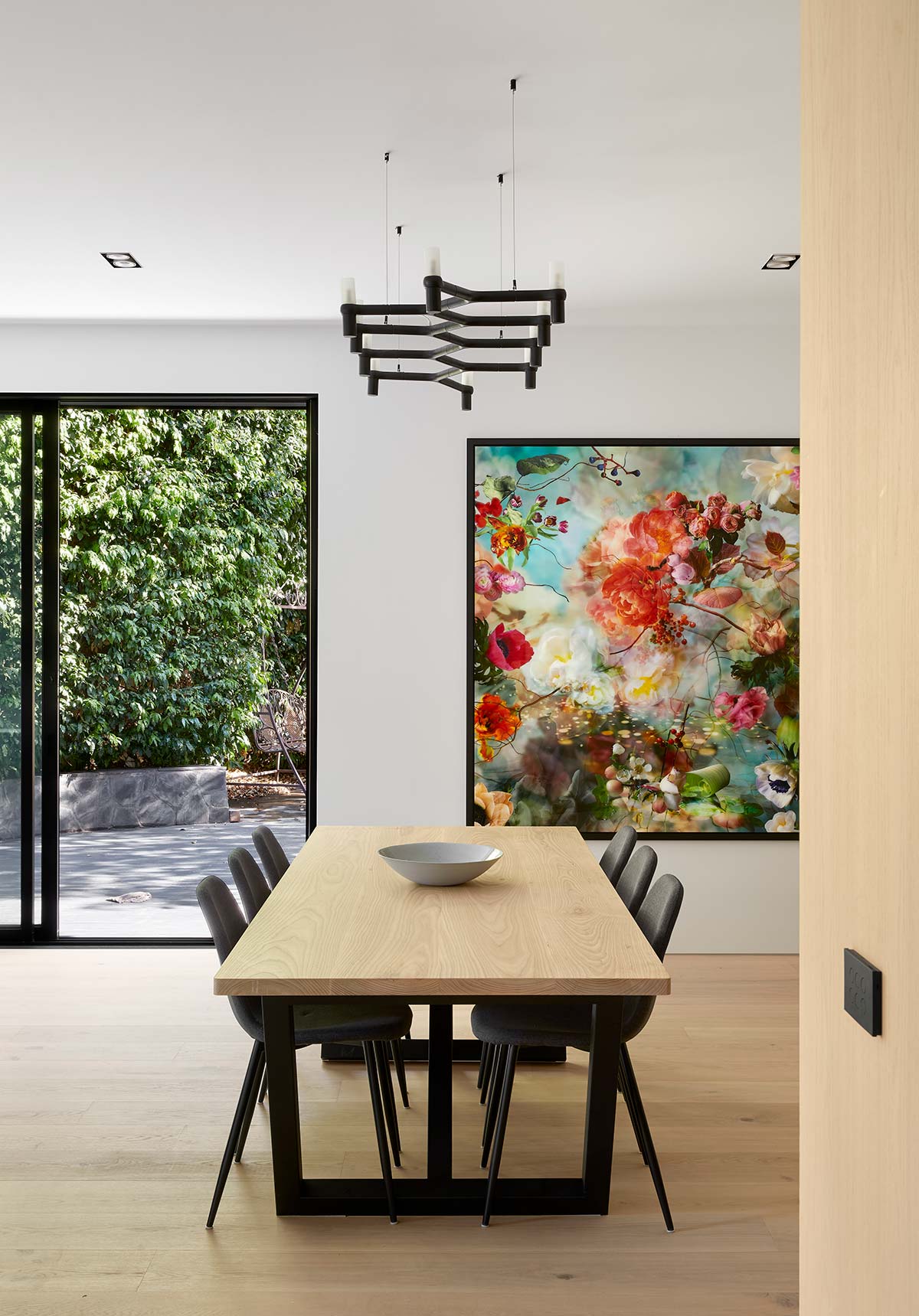 4. Statement Lighting
An elegant 'Kepler' pendant lamp by Ariho Miyake positioned in the void above the dining table in this magnificent Melbourne home becomes an extra-special feature for the home. The double-height dining space and double-glazed windows further accentuate its design and functionality.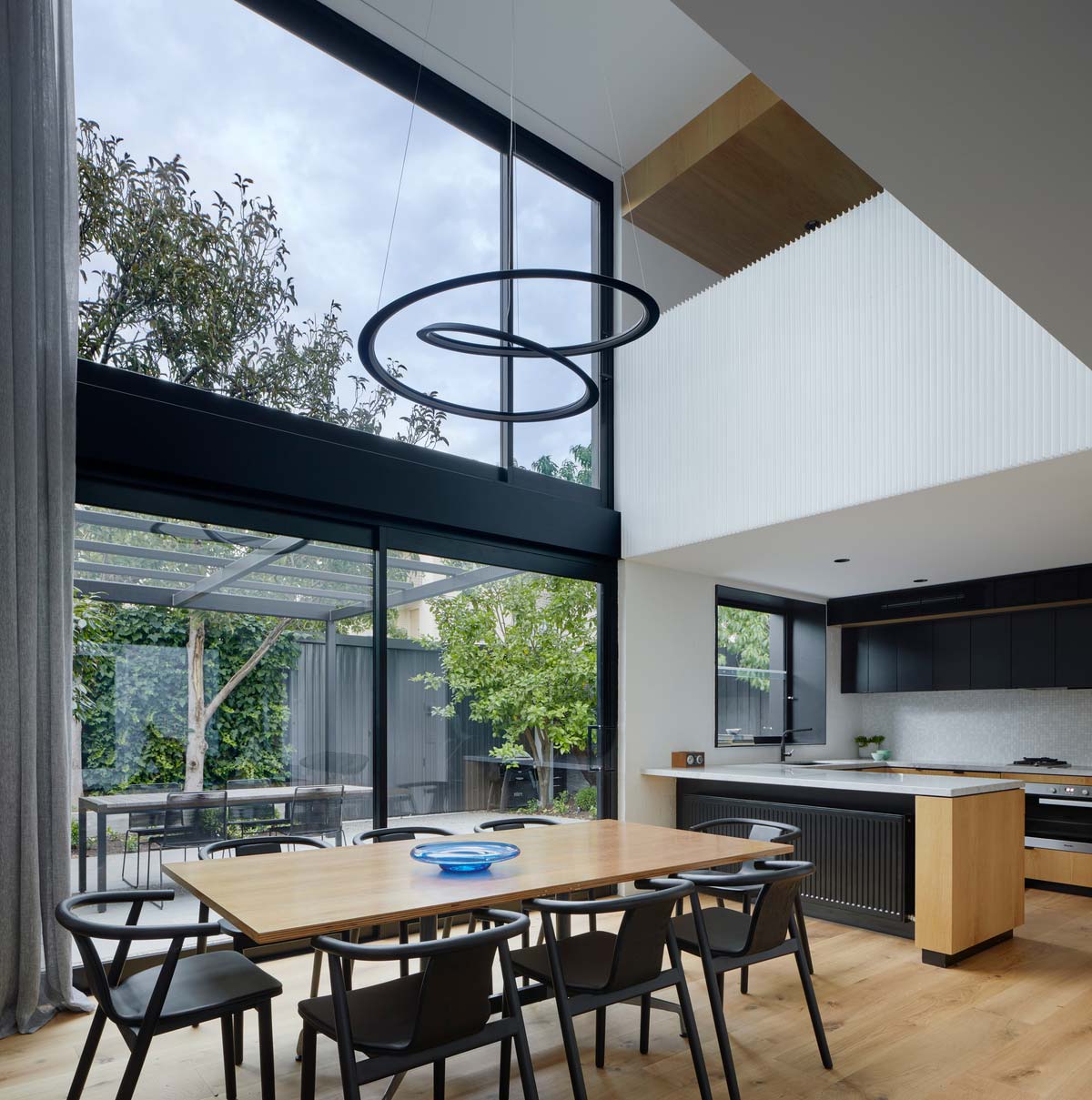 5. Casual Sunroom
The louvre windows and large sliding doors utilised in this home nestled in the coastal township of Barwon Heads not only encourage cross-ventilation but also allows a filtered stream of natural light in the dining area. Gotta love the awesome sun and fresh coastal breezes!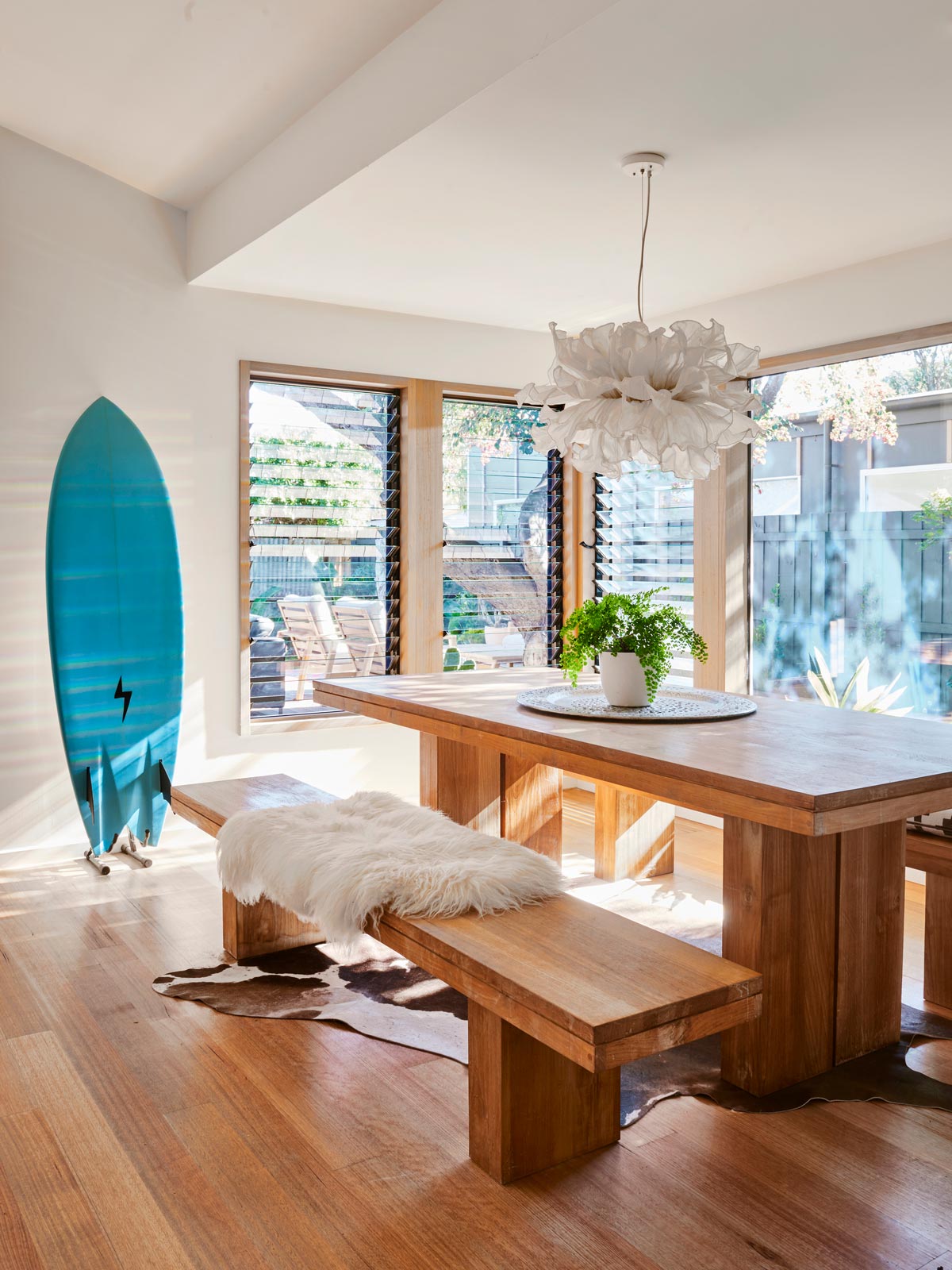 6. Open Air
This casual holiday home in New South Wales was designed to take advantage of its orientation and bush setting with sunlight, views, and privacy. The living spaces including the dining room open up to showcase a more expansive look utilising a soft assembly of hardwood floors and white walls that receive daylight openly through cleverly situated windows, timber screen walls, and vertical posts.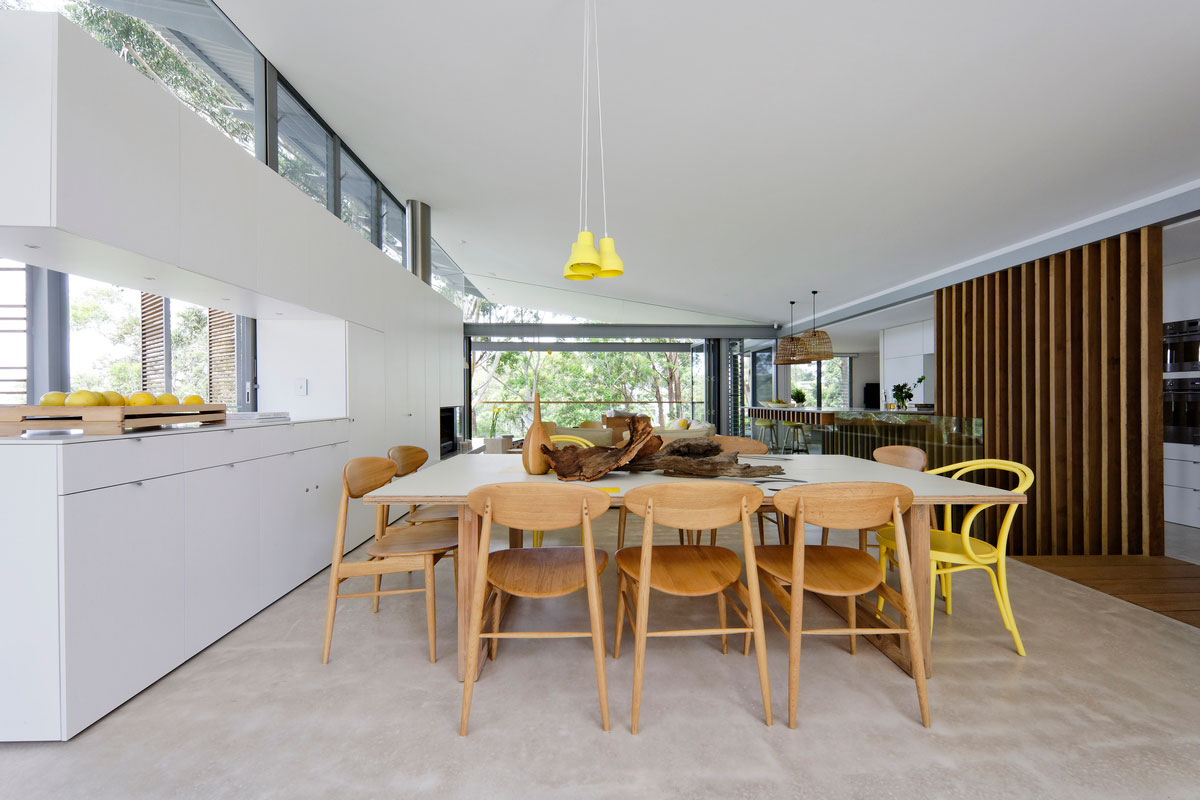 7. Garden Views
This beautiful home nestled in the leafy suburban paradise of Glen Iris features an extraordinary dining space that is completely open and is connected with an internal garden. The design placed as much significance on the landscape and outdoor spaces as to any of the internal living spaces for a soothing and seamless connection between the two.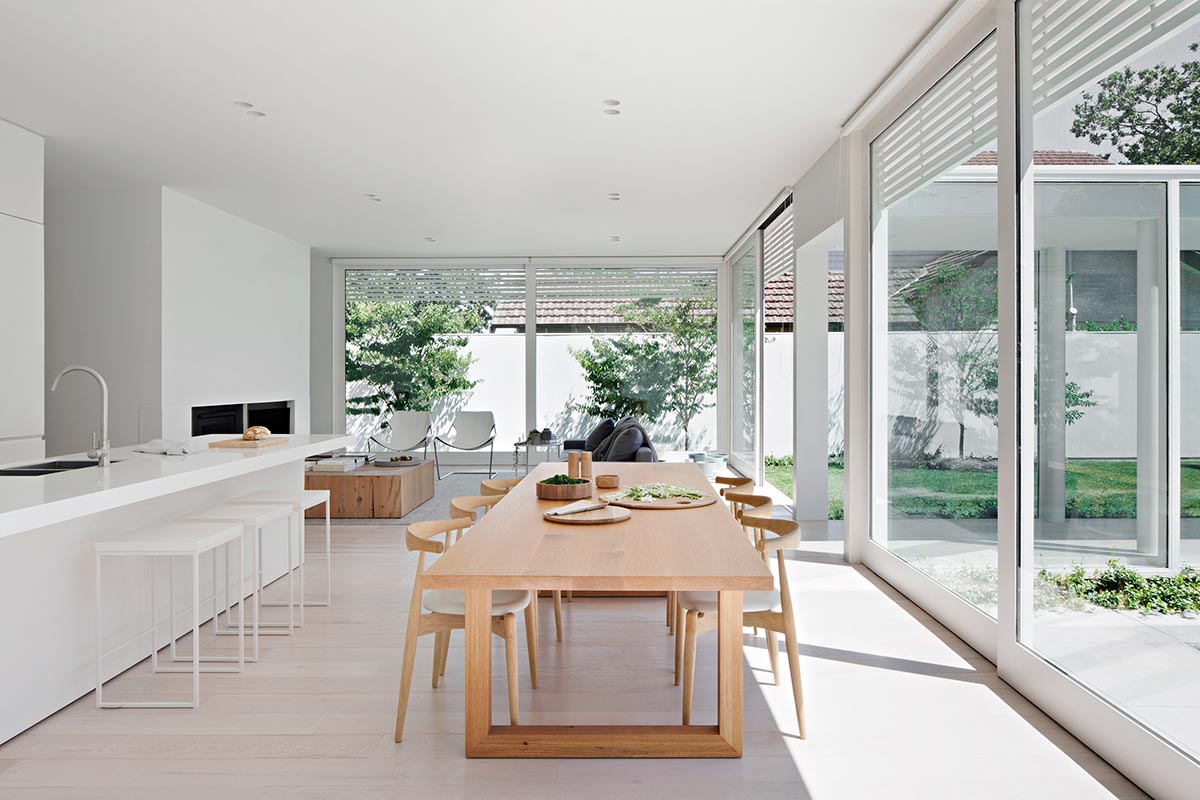 8. Monochromatic Digs
A timeless combination of white and grey accents has given a quintessential yet contemporary personality to the interior spaces of this renovated Edwardian-style beauty. The restricted colour palette creates a consistent visual experience that blurs out the difference between the old and new internal spaces.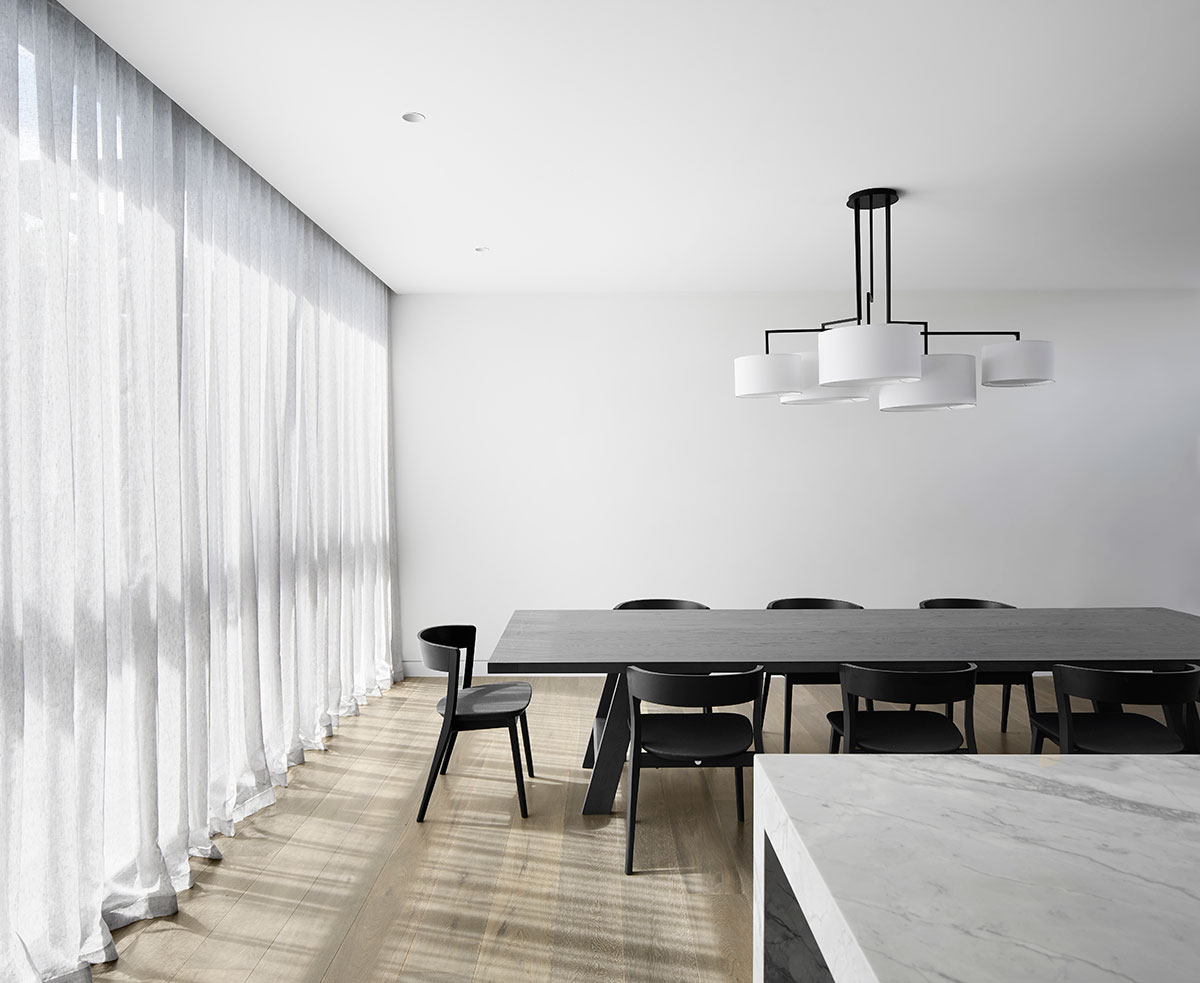 9. Refined Rustic
Being situated in the half-rural, half-suburban area of Berwick in Melbourne, the design of this home revolves around the idea of a contemporary and robust Australian home with strong visual references to a country farmhouse. The interior uses mainly natural and soft palettes that exude a cosy and relaxed atmosphere, perfectly blending with the surrounding views.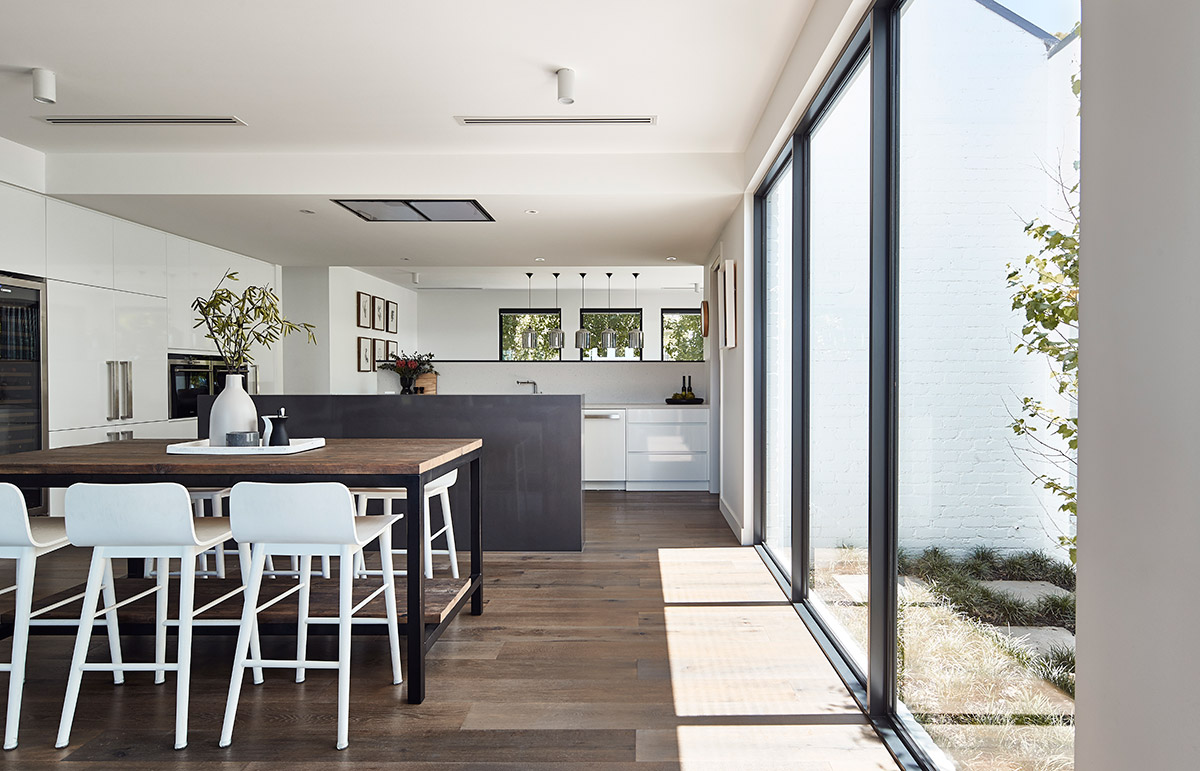 10. Bright and Airy
Bringing the energy of the surrounding area into the home, the interior finishes of Dot's House were meticulously selected to suit its location. The character of the urban fabric is brought via the introduction of the concrete tiles, these are then contrasted and softened with the abundance of light timber on the floor and joinery.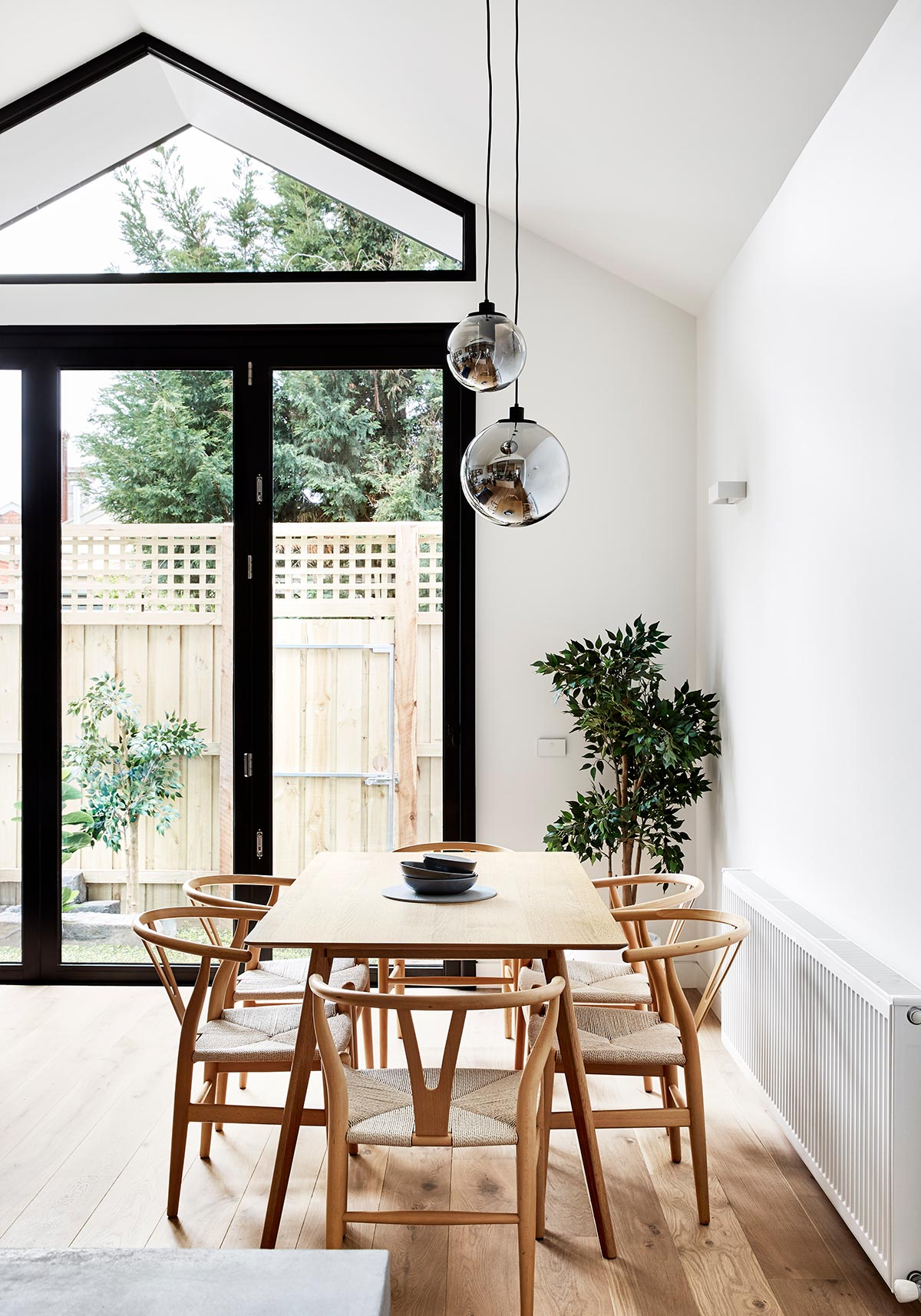 11. Mid-century Modern
The mid-century modern style has an undeniably timeless appeal and often an understated classic. The Sand Dune Sanctuary in Melbourne features a dining area that is defined by organic forms, minimal ornamentation, clean lines, and high functionality. The result was a beautiful home that is sophisticated, yet relaxed and exudes a laid-back coastal vibe.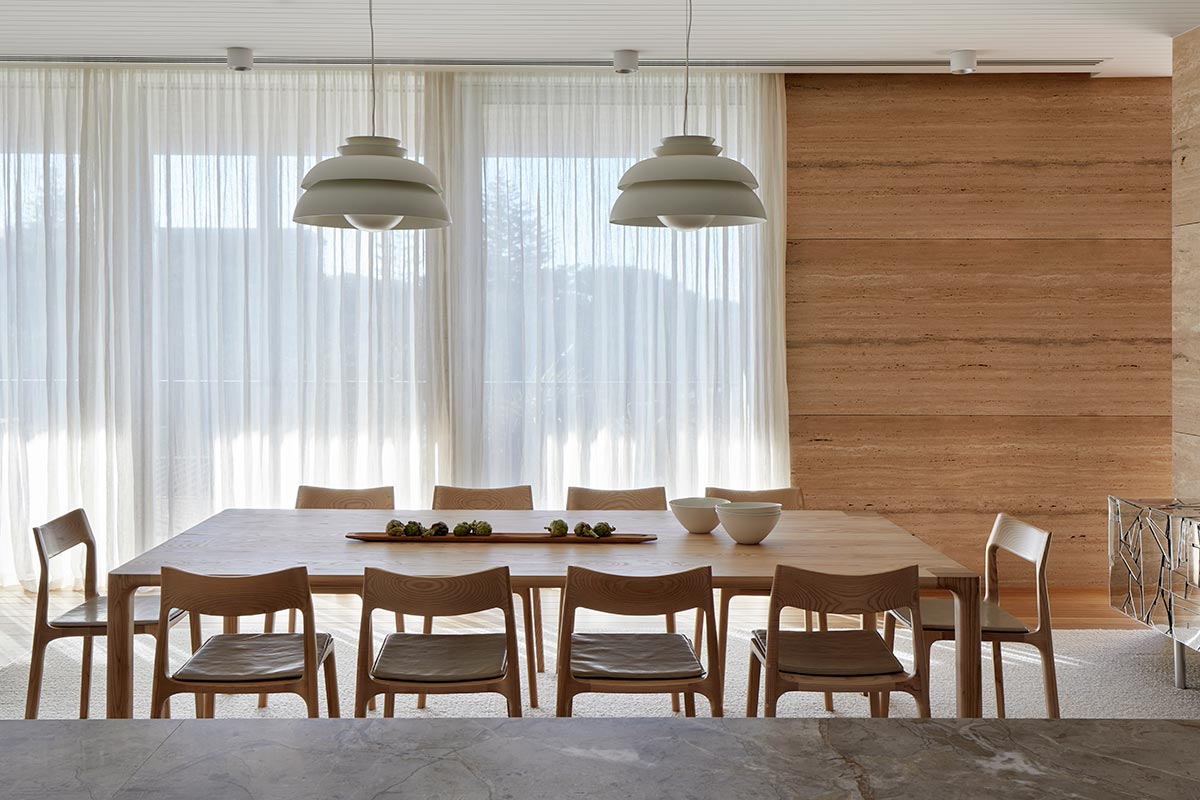 12. Timber Heaven
The dining room of Barton House in Melbourne offers a fine clash of Australian hardwood, ground concrete, and garden views that don't only provide visually pleasing aesthetics but also allow the home to be light and thermally efficient.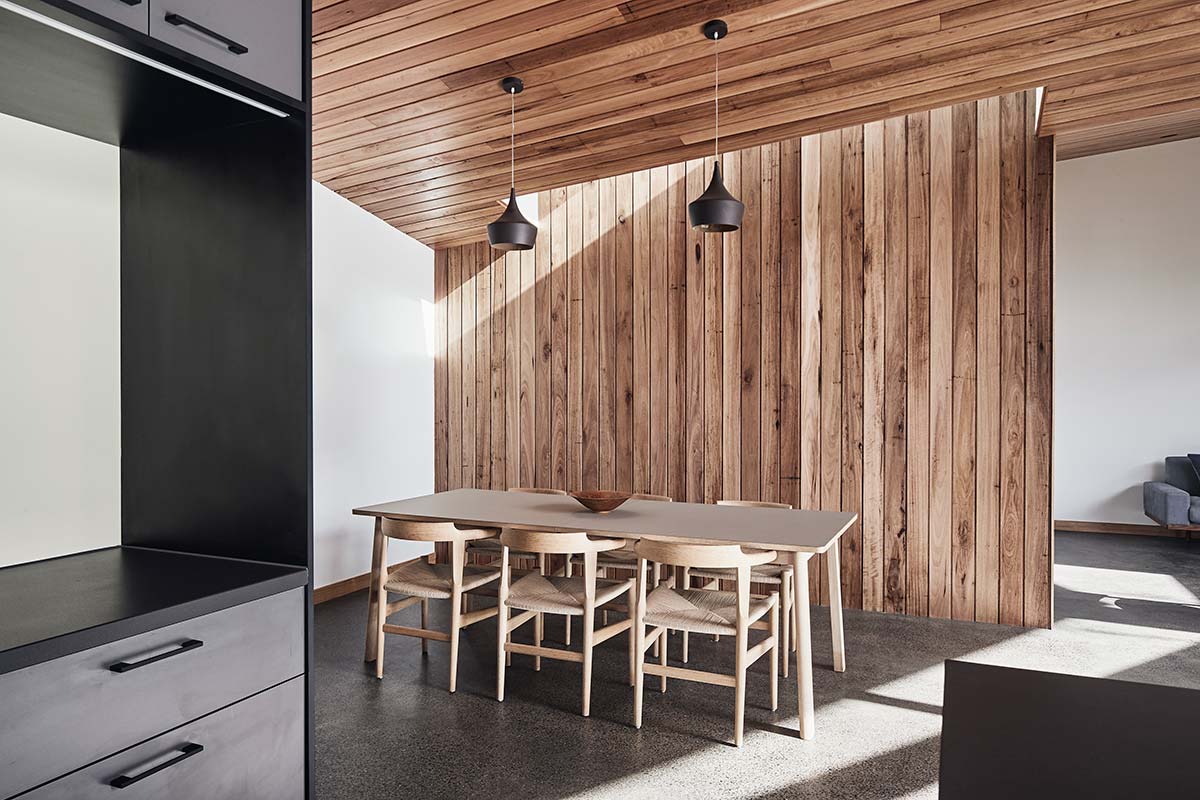 13. Poolside Dining
The Living Screen House in North Bondi is absolutely jaw-dropping and one of a kind. This stunning home is built for entertaining, featuring a unique lap-pool abutting a double-height social space that spills out to the rear BBQ area. This has gotta be the best spot to dine in!