Situated on a very steep slope, Lansdowne Residence is an existing Queenslander that had undergone an extensive renovation to accommodate a growing family. The scheme proposed to move the kitchen and living space to the upper level with the main bedroom and locate all children's bedrooms, bathroom, laundry and children's communal space in the Queenslander. With site restrictions and a modest budget, let's take a closer look and see how this project was approached by Cox Architecture.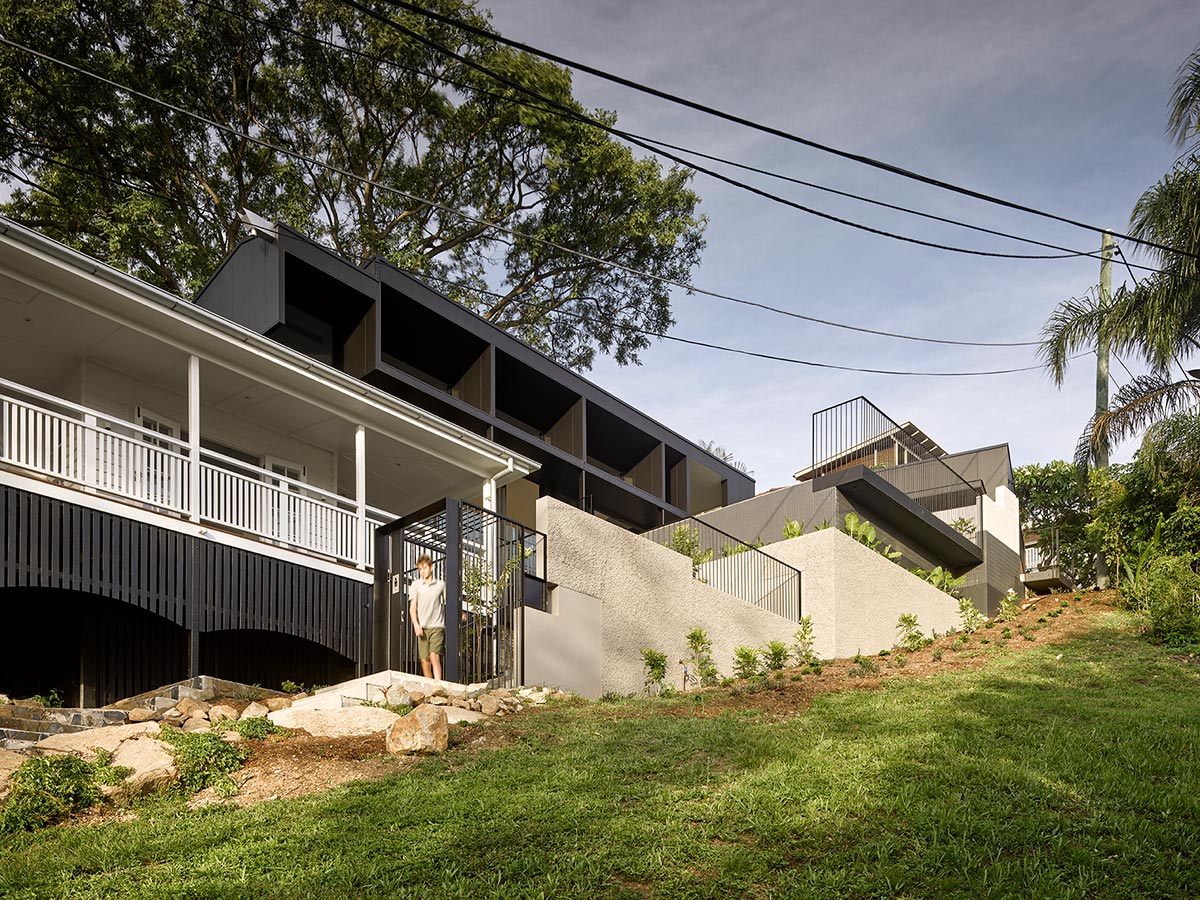 "The family had lived on site for ten years and started a family that now included four children. The house was an assemblage of the highset Queenslander on the low side of the site, meshed with a very ordinary box-like addition on the high side of the site, a full level above the Queenslander. The kitchen and living were located in the Queenslander. There was no clear hierarchy of space nor generous gathering space for the family. However staying and renovating was not a clear choice." – Cox Architecture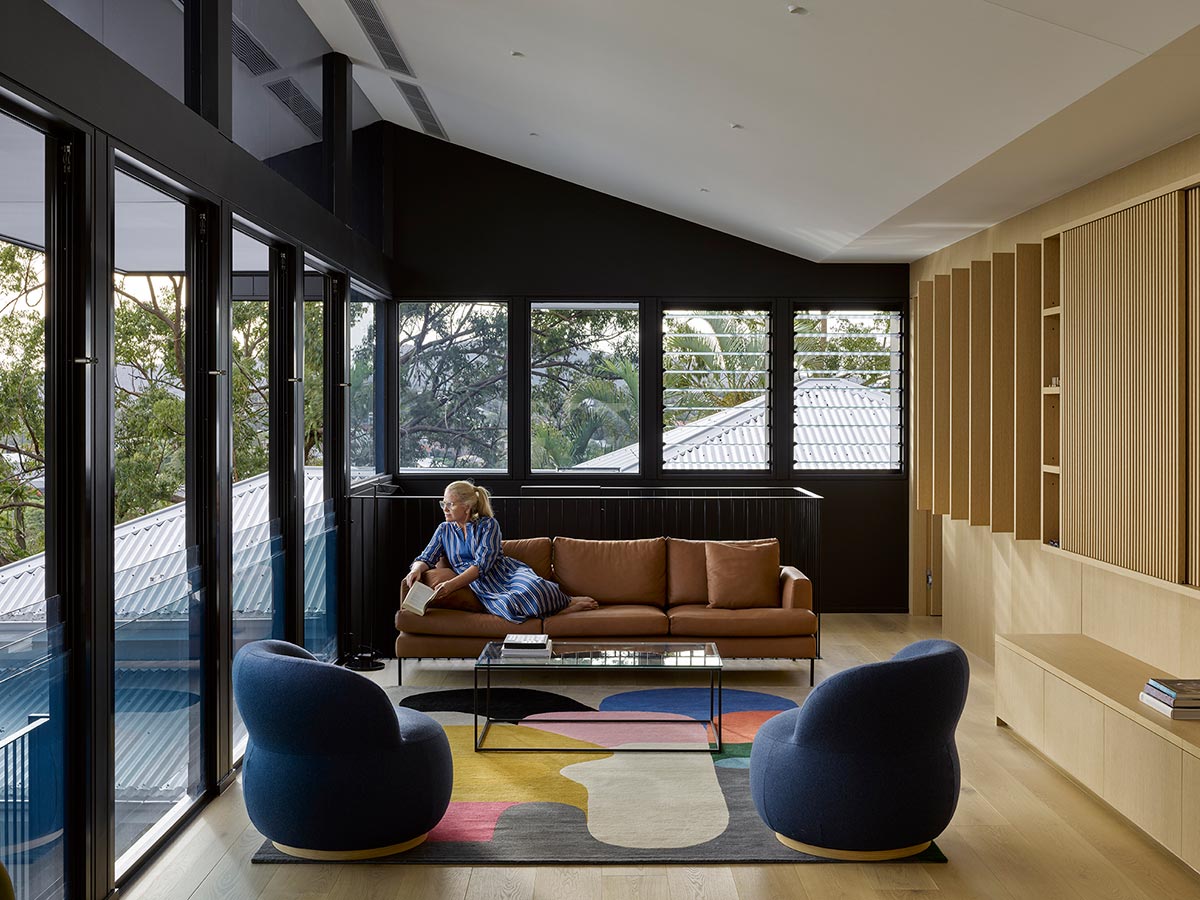 The plausible opportunity was the elevated location facing south to the town around Mt Coot-tha and beyond to the southern ranges of the area. As a linear living/dining room extending into a garden courtyard looking south to the area, the upper level was built. The kitchen was located to survey these spaces. With a series of strong pivoting panels, the main bedroom was situated directly adjacent to the living space, allowing a direct connection between the bedroom and the views outside the living space to the south.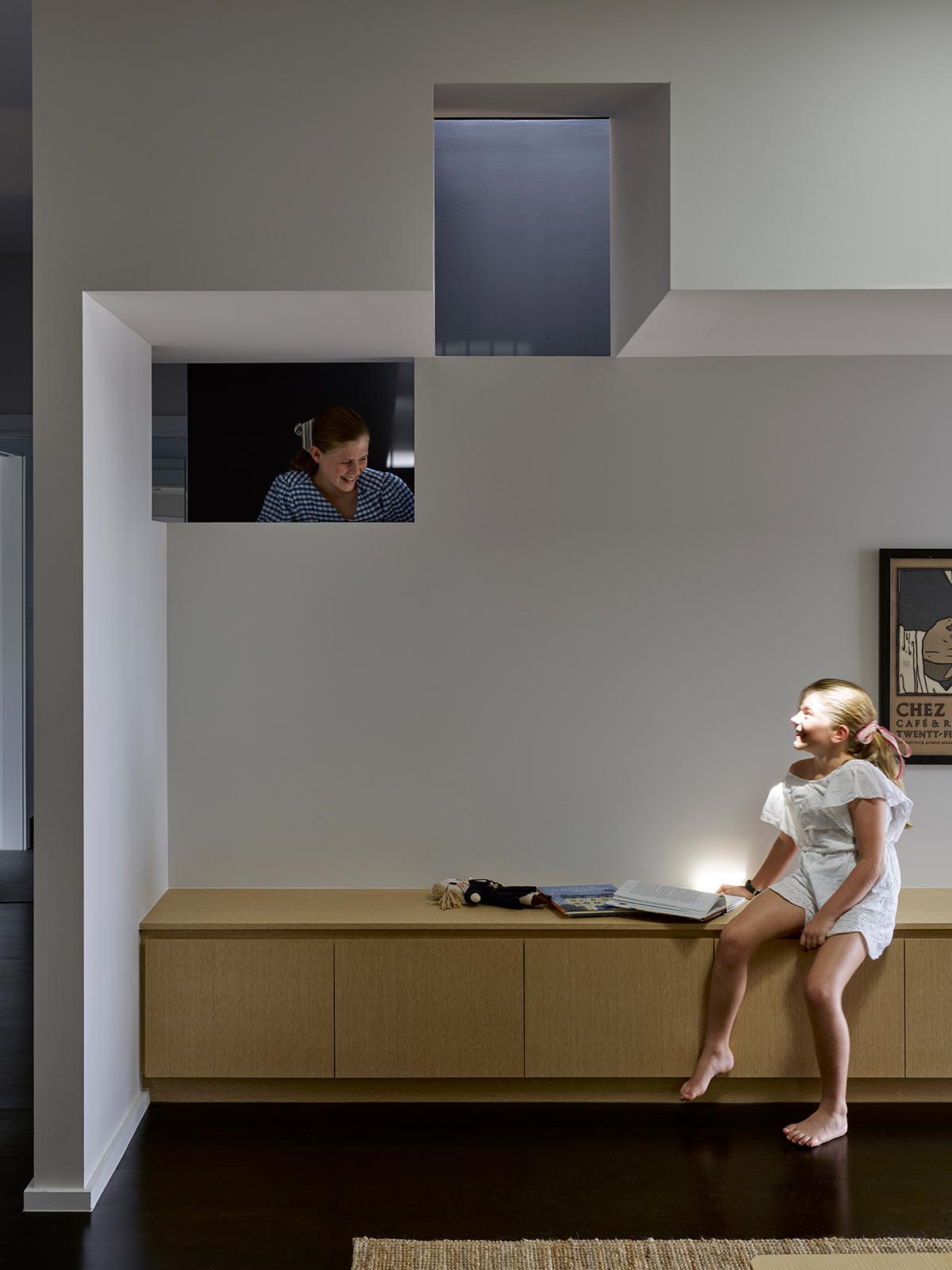 "The extruded section of the upper level was arranged with an inverted roof truss to provide a sloping soffit for the living space rising and opening up to the south. The southern face used frameless sash double hung windows to provide a combined balustrade and natural ventilation solution that maximises the view and effectively make the room a securable "verandah" for the house. Projecting gables and windowheads combined to provide protection from the western sun and were the key elements in the building identity. These projections provided a zone for external movement between the two levels." – Cox Architecture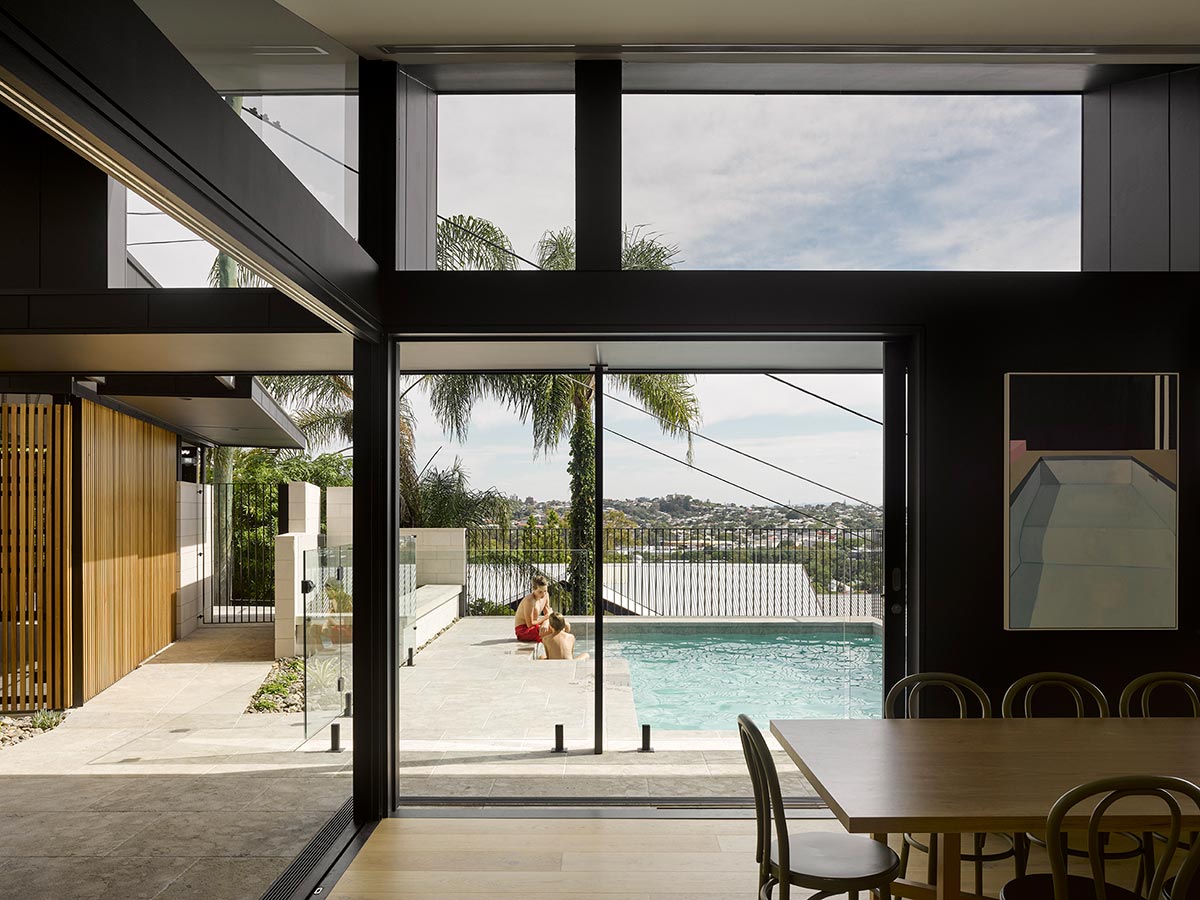 As a double-height outdoor room next to the garden courtyard, the end of the living space is resolved. To extend a flat meeting space, the courtyard is further cut into the hill and the retaining walls provide seating opportunities. An external fireplace provides the courtyard with an emphasis and a device to distinguish the overscaled and dominant neighbouring dwelling on the northern boundary.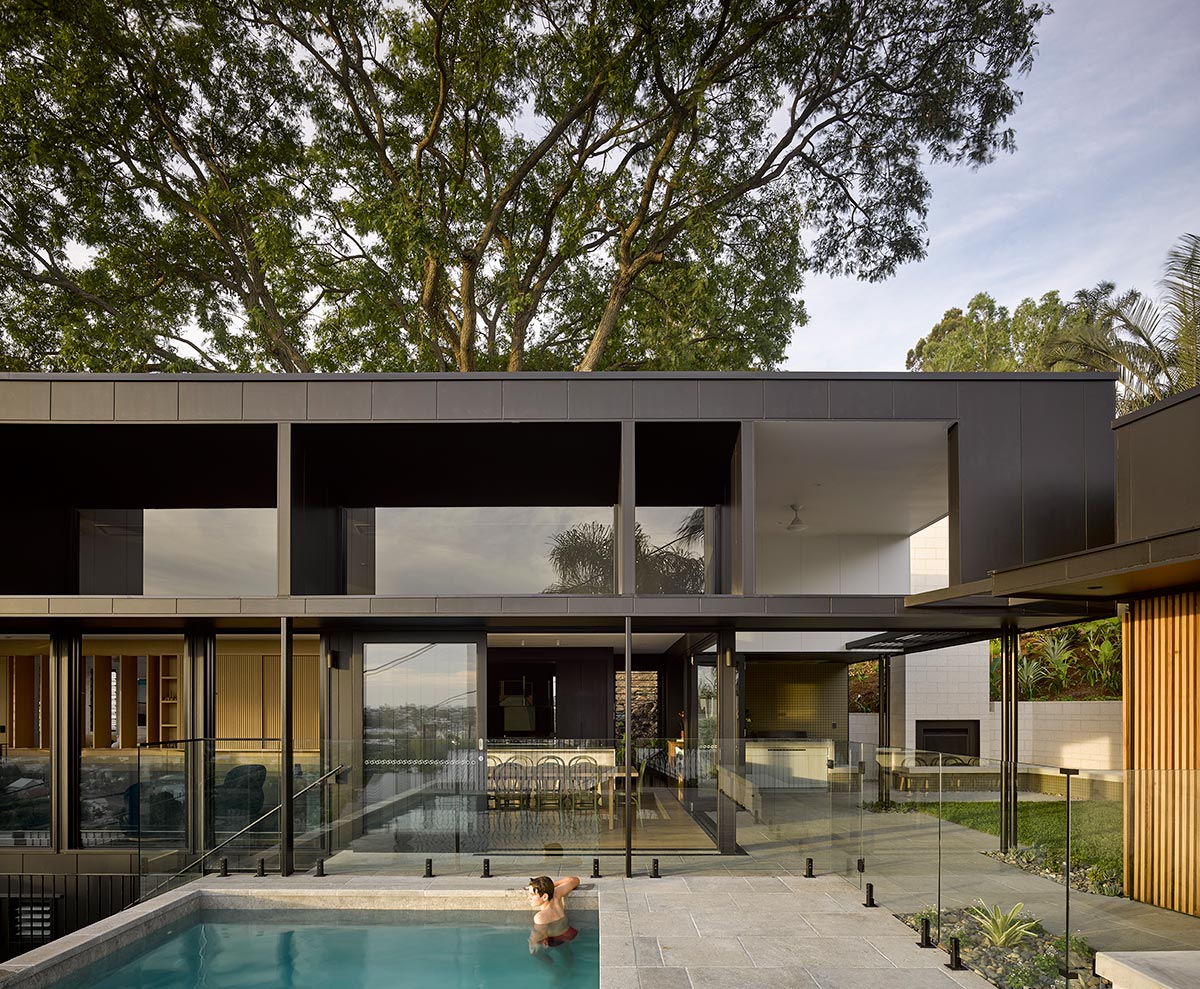 The house benefits from being directly adjacent to an unformed street. A few of the planning steps, and the pool, in particular, were facilitated by this feature. It is a new essential element at the level of the living space and elevated above the adjacent falling ground. The relation of the house to the pool and the views beyond is a perfect reminder of what makes the popular modernist arrangements of mid-century California effective.
Project: Lansdowne Residence
Architect: Cox Architecture
Location: Brisbane, Australia
Type: Renovation
Photography: Christopher Frederick Jones