Don't let Santa take all the credit this Christmas. Finding presents for your little men can prove to be quite the challenge. Worry no more, HFG has the gifts you wish you'd thought of yourself, that will instantly make you the coolest parents at school pick-up. Whether he wants a special place to store all his pirate booty, he's into things with wheels or perhaps he needs a new overnight bag for those big kid sleepovers, we've got whatcha need. Here are a few of out chosen favourites from our Christmas gift guide. Whether you're buying for your son, nephew or brother, he'll be sure to love it!
The Bendo paper clip coat hook is the perfect addition to any boys room. If you thought paperclips were just for paper, think again. This design piece can be used to hold coats, magazines, homework, old footy socks anything that he chooses to sling over it. At the end of the day it's a super useful giant paper clip that looks awesome on the bedroom or study wall, what more could you need?
Our friends at Uashmama have done it again with this ever so funky Perforated Backpack. Made in Italy, it is lined with a stone washed cotton and has gorgeous leather finishes for a stylish touch. Lucky for us, being chucked in the boot of the car or squashed into a footy locker is a piece of cake for this little guy. Not to mention the distinct style of perforation is the perfect balance of casual sophistication that will make him the envy of his buddies.
For the boys who are into moving parts, the Bicycle Artisans Book by Will Jones is for him. A celebration of the creativity and craftsmanship behind the world's most inventive makers of bicycles and their components. Today's cyclists are seeking increasingly custom-made bicycles as reflections of their personalities – whether a Danish-style cargo bike, a recumbent, a cyclocross trainer or a randonneur. Often working in tiny studios and workshops in hidden parts of our cities, the master craftsmen featured in these pages produce pieces that are highly personal and sought after and rarely seen.
Last but certainly not least, the General Bucket by Good Thing NY. Despite it's name there ain't nothing general about this bucket. It will carry whatever you want and do it with serious style. A great way to hold stationery, desk accessories, buried treasure. You name it, it'll hold it.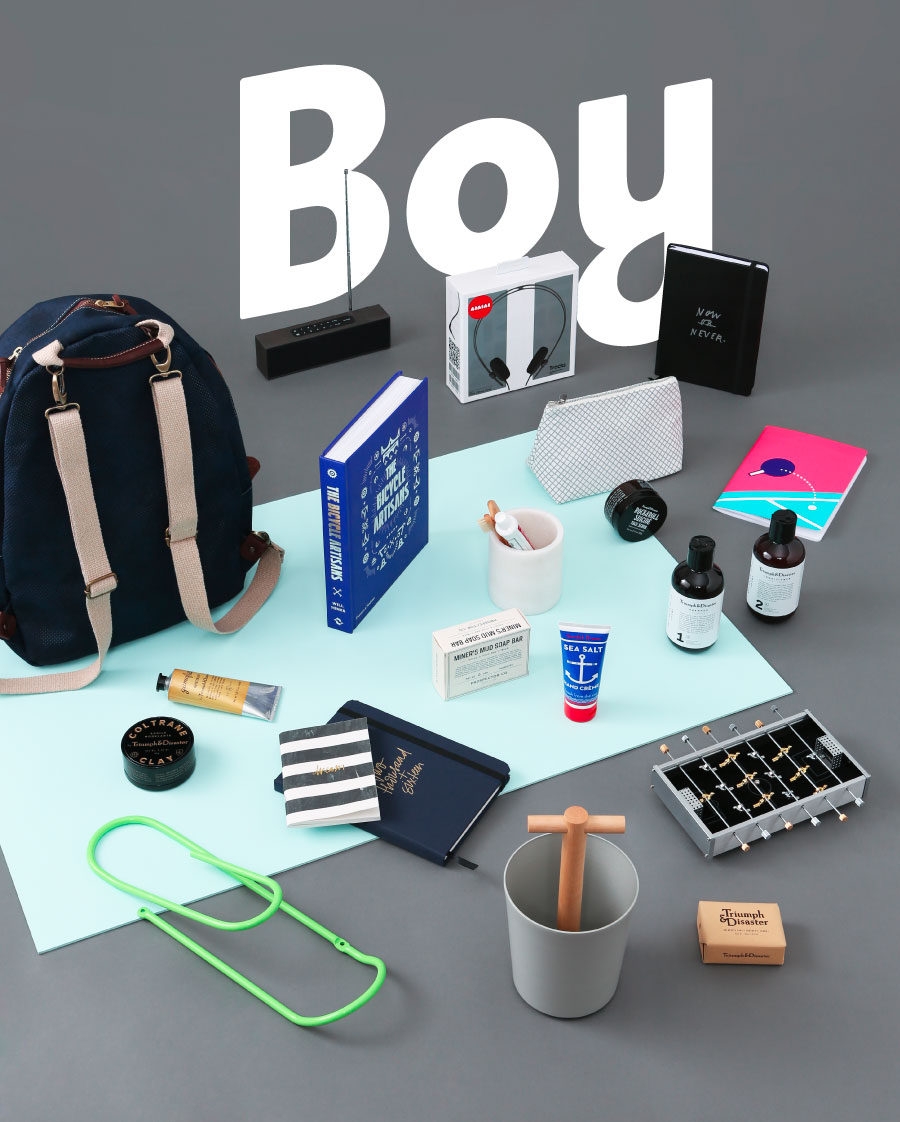 Featured: Perforated Backpack, Coltrane Clay, Gameface Moisturiser, Paperclip Clothes Hanger, Dream Pocket Notebook, 2016 Diary, The Bicycle Artisans book, Titanium Clock radio, Tracks headphones, Diagonal Check Washbag, Rock and Roll Suicide face scrub, Marble canister, Miner's mud soap bar, Sea Salt hand cream, General bucket, Shearer's Soap, Mini Foosball table game, Shampoo and Conditioner, Be Awesome sketch book, Now or Never Notebook