It can be tricky to keep up with what's totally hot and what's totally not amongst young girls and teens, which is why HFG is at your service. We have every gift a gal could dream of on her birthday or Christmas morning. This gift selection will be sure to keep you in your daughter's, sister's or niece's good books (for the time being anyway).
First Cab off the rank is the Geometric Cosmetic Bag by Milk and Sugar. The perfect gift for a girl that likes to keep her toiletries, toothbrush, and lip glosses looking tip top. It also includes an internal zipper pocket to keep smaller items safe, can you say practical?
The Grace and James tea light tube is the perfect gift option when you can't decide what scent to choose! This super cute tube includes six signature Grace and James scents in a 9 hour tea light size. Reuse the gorgeous tube as a vase or to hold your pencils once you're done! The perfect gift for teens, because who doesn't love a good candle?
Usually getting a Clothes Hanger as a gift wouldn't be terribly exciting, but this ain't no ordinary coat hanger. The perfect gift for a girl who wants to give their wardrobe a vibrant makeover with a burst of colour hidden behind closed doors. Who knew a coat hanger could be so cool?
Lastly, the Yield Design and Co Geo Stands are a cute and clever way to display your summer Polaroid's and birthday cards. They come as a set of three solid brass paperweights and look perfect clustered together on your desk, mantel piece of bed side table.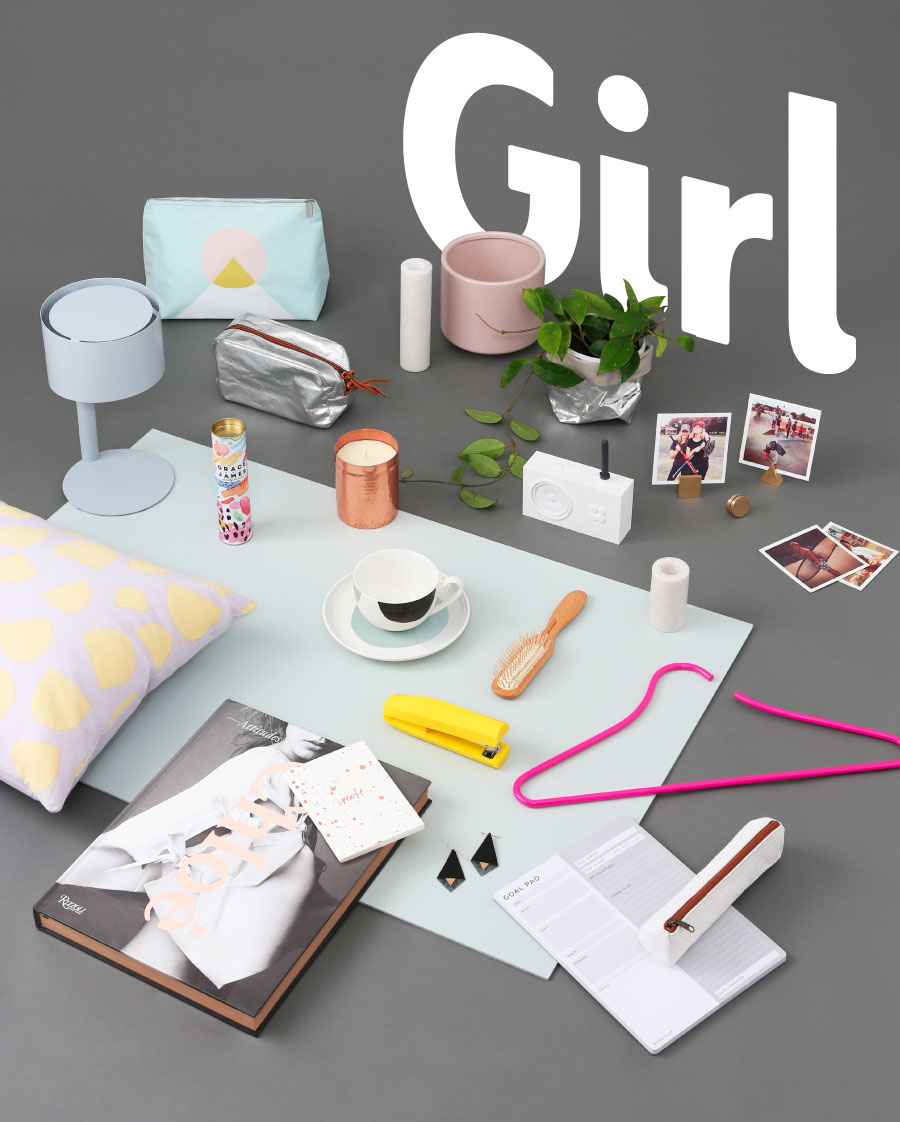 Featured: Terry Toucan cushion, Piccolo table lamp, Geometric washbag, Metallic silver cosmetic bag, Tea light tube, Chloe book, Create Pocket Notebook, Diamond earrings, Yellow Stapler, Clover Teacup, Copper Candle, Angus Marble Candle Stick, Fredrik Pot, Silver Paper bag, Tykho radio, Geo stands, Timber Hairbrush, Angus Marble Candle Stick, Pink Clothes Hanger, Goal pad, Slim pencil case.