Men are known for being notoriously difficult to buy gifts for however, us girls ain't so easy either. Whether you're buying a gift for your Mum, daughter, niece, sister or your best friend of ten years, Hunting for George has the ultimate gift guide to help you navigate through the picky-ness. Think of it as the gift giving bible/gospel, if you will. With a carefully curated selection of gifts for women of all tastes and types, you simply can't go wrong. We have put together a short list of our favourites.
First up is the ever so practical yet stylish, Uashmama Shopper Tote. This funky bag is made from a combination of paper, cotton and leather so it's sturdy enough for a busy mum under the pump but, stylish enough for the fashionista in us all making it the perfect gift for a woman on the go. It's the perfect size to fit everything you could possibly need day to day, including all those old gum rappers and bobby pins that somehow always end up in the black hole that is the bottom of your bag.
Next, the beautiful Ceramic Pitcher from Yield Design Co. This 1 litre pitcher with it's stunning matte finish and glossy insides, will be a distinctive and minimal addition to the lucky recipients home or kitchen. It is the perfect gift for someone who loves entertaining or takes pride in their home whether it be your Mum, Mother-in-law or friend they're bound to love it.
If you've been hunting high and low for a gift for a foodie woman, look no further we've got you covered. Cairo Kitchen, by Suzanne Zeidy is a gorgeous collection of Middle Eastern Recipes, including the classics that ignited her love for food, as well as her more modern Middle Eastern inspired dishes. Middle Eastern food is made for sharing, and Cairo Kitchen is filled with standout recipes, perfect for any gathering. Illustrated throughout with stunning pictures by award-winning photographer Jonathan Gregson, this stylish cookbook is a celebration of Cairo and its wonderful food and makes the perfect gift that will get a work out and won't collect dust on a shelf.
Last but not least, these jaw dropping beautiful earrings by Peaches and Keen, that we quite literally cannot take off! They are lightweight and are the perfect everyday accessory, but can also be used to dress up an outfit at night. These earrings are a thoughtful, affordable and gorgeous gift for any woman, take it from us she'll love them!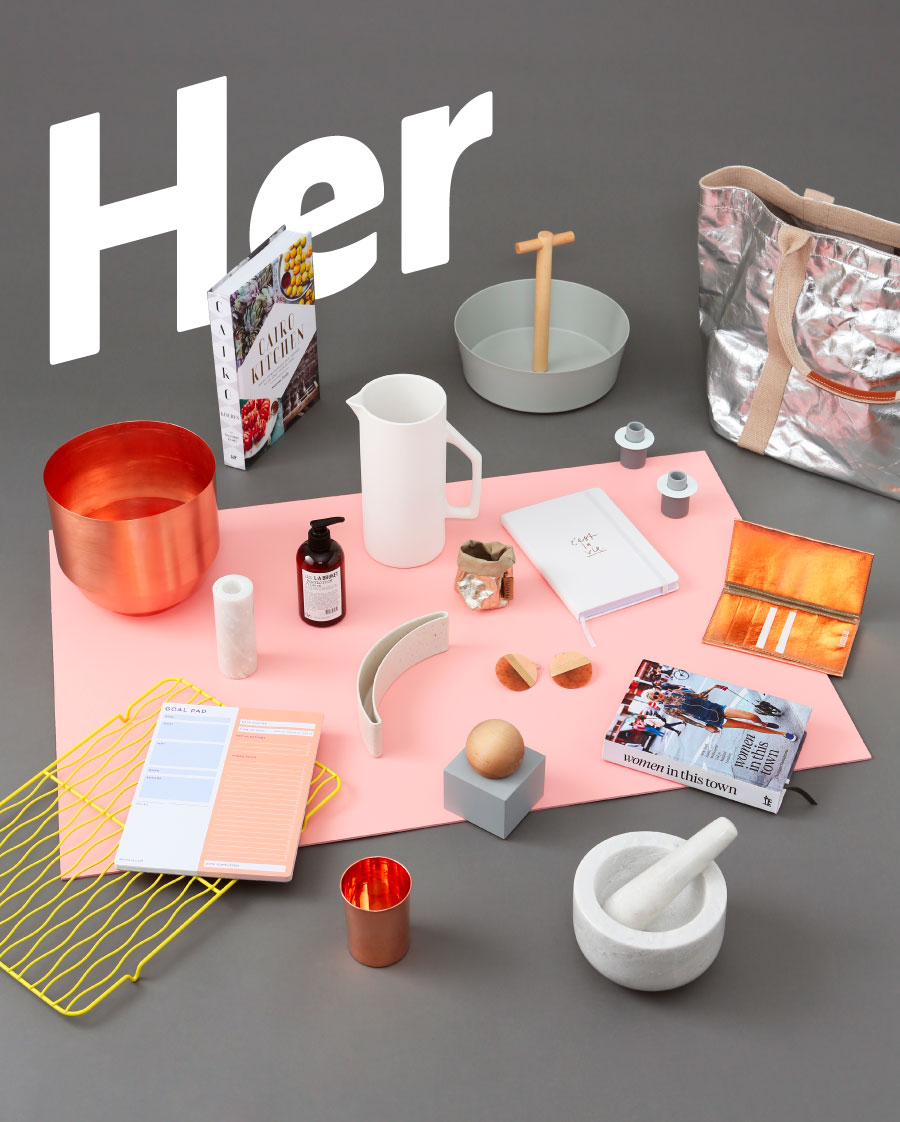 Featured: Spun copper planter, Cake cooling rack, Desk pad, Angus marble candle stick, Cairo Kitchen cookbook, Wild Rose body lotion, Copper cup, Paper display, Ceramic pitcher, Piccolo platinum paper bag, Mini container, Large circle earrings, C'est la vie notebook, General bowl, Angus marble mortar and pestle, Women in this town book, Field candlesticks, Metallic rose gold wallet, Metallic silver shopper tote.