A contemporary re-interpretation of a weathered workers cottage bridges the gap between its historical contexts with that of modern living. Located in the area of Port Melbourne, House 184 by Blank Canvas Architects sits upon a compact parcel of land and the client's brief was to maximise the internal living areas without compromising the external space. Let's have a look at how the team transformed this archetypal Victorian suburban home to a fine modern abode.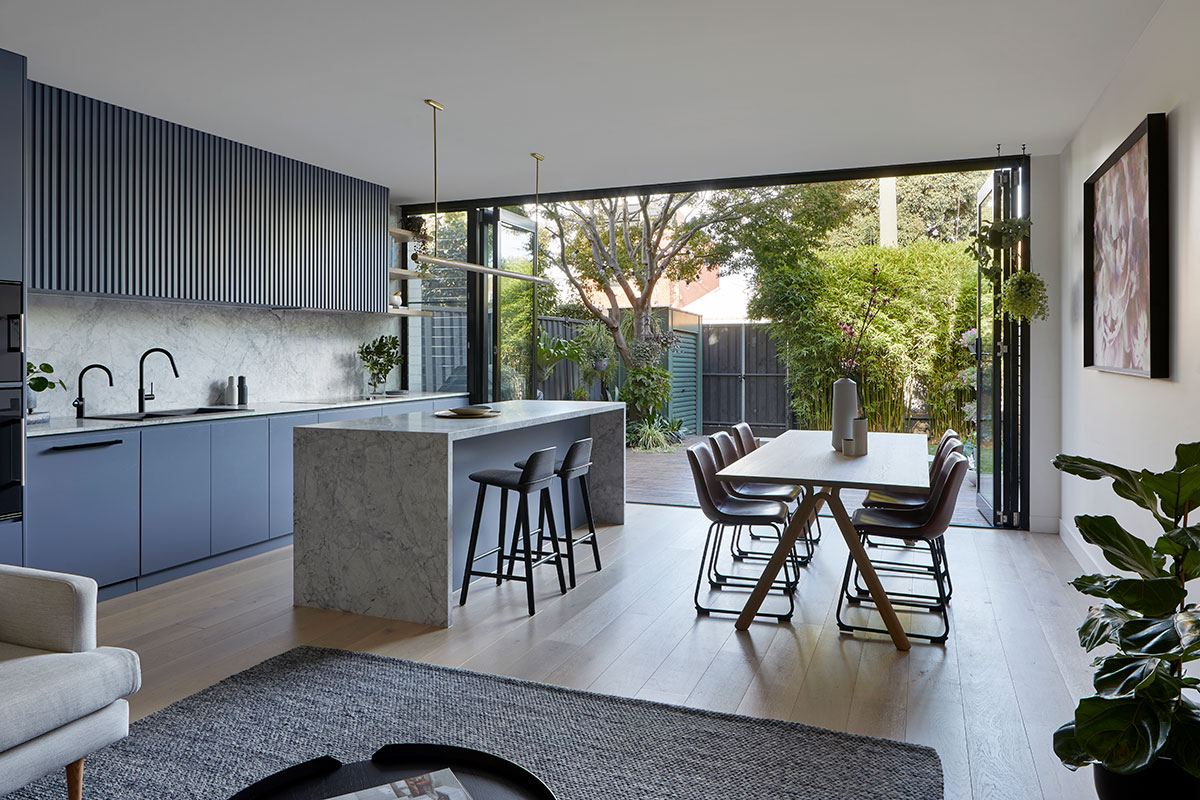 The original Victorian details and concepts were kept on the facade, while the contemporary reinterpretation was built at the rear which contains the open-plan living spaces that introduced a new home scheme which revolves around the idea of maximising internal space, introducing additional light and air to the home, and creating a seamless connection between inside and out.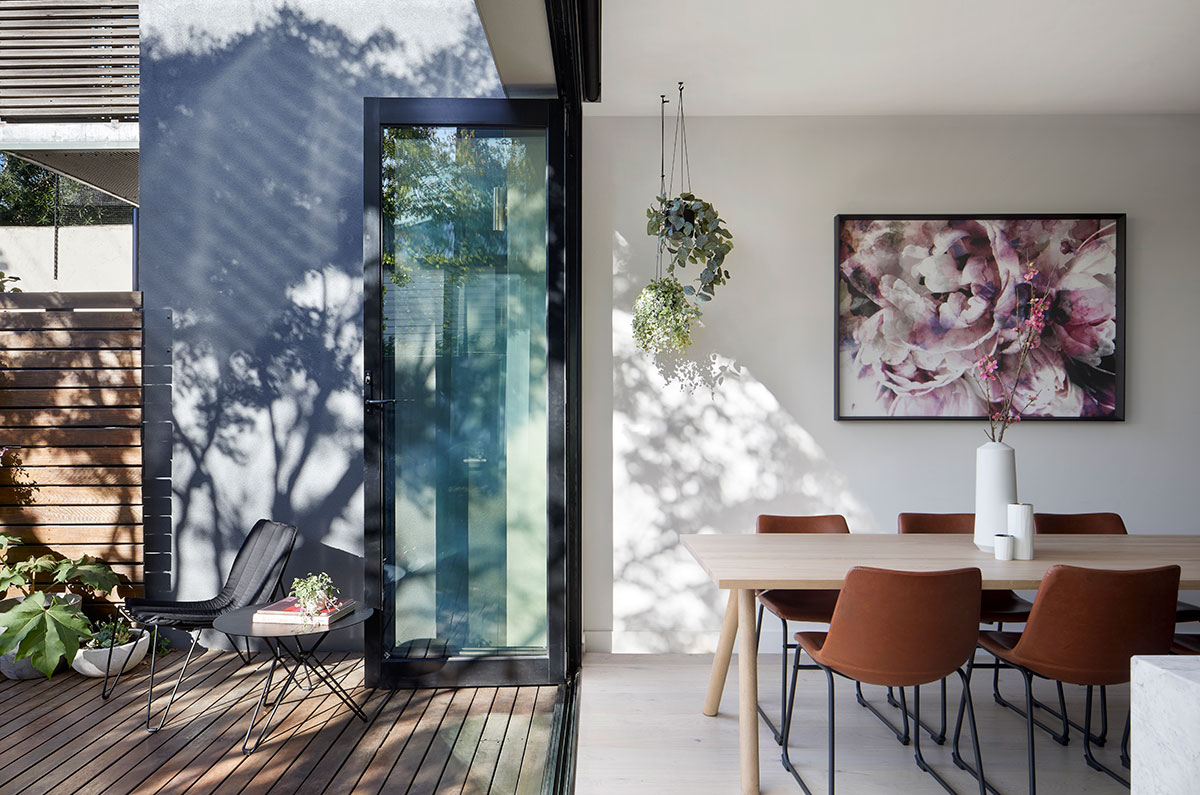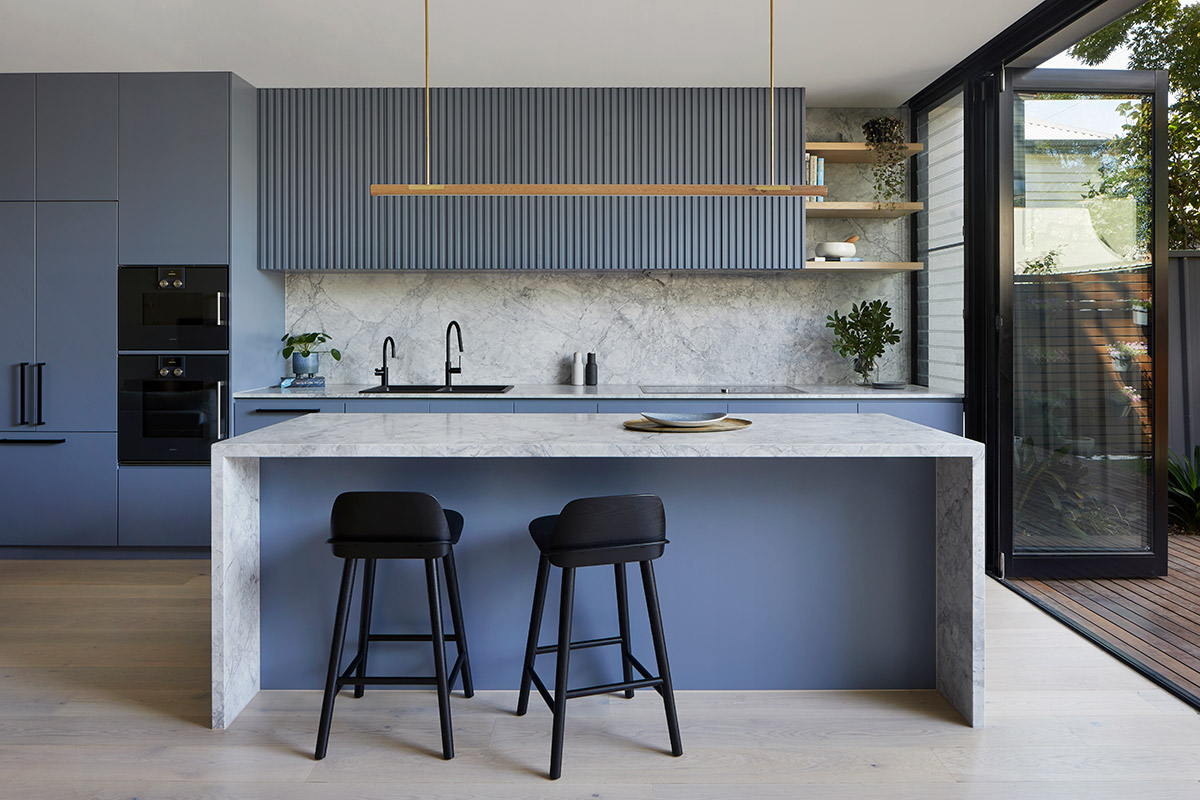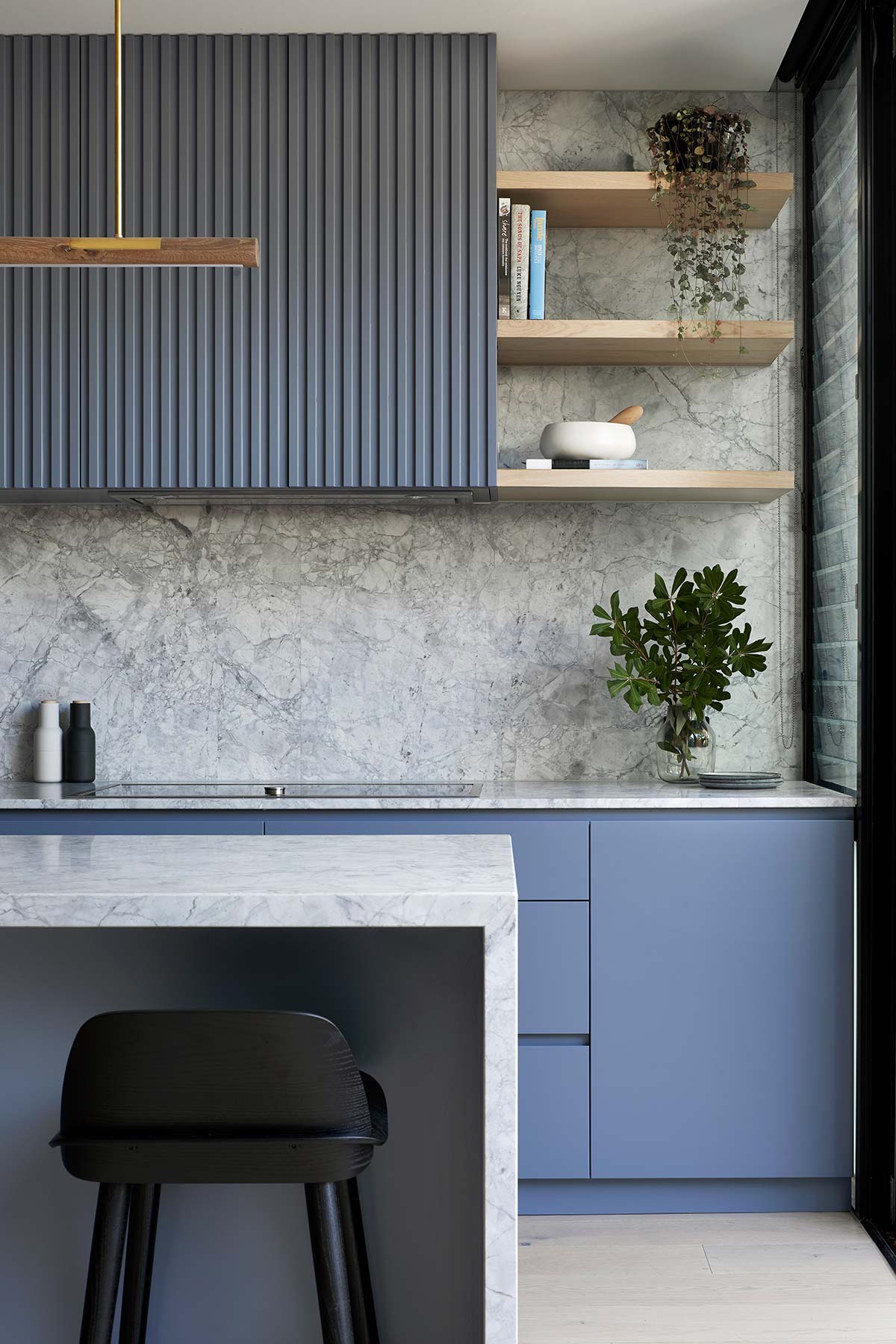 This concept took shape by utilising louvered screens and full height bi-fold doors in the open-plan living area that extends the home's footprint and connecting the interior to the external environment. This space also houses the kitchen, dining, and lounge flawlessly. A concealed pantry and integrated fridge also sit behind the joinery which runs along the length of the room without creating visual clutter and retaining the seamless aesthetic of the space.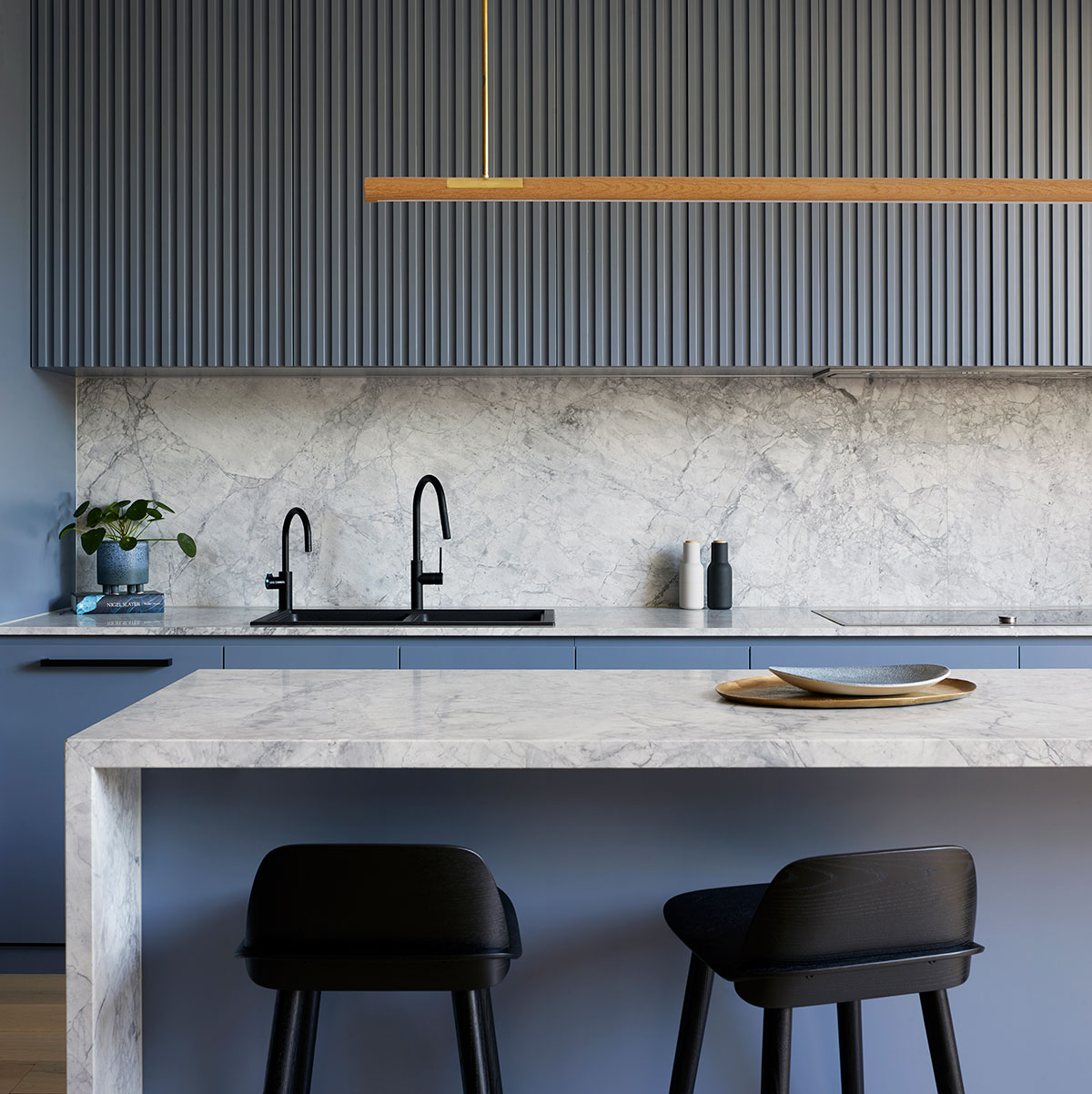 "This allows space for a generous kitchen benchtop and island which is finished in beautifully textured superwhite marble which stands out as a feature against the soft blue joinery. The joinery has been left deliberately restrained, accented only by the different use of texture in the overhead cupboards, simple black handles and tapware, and a simple oak light fitting which links materially to the floorboards below. This timeless material palette echoes the sophisticated elegance of its past, present, and future." – Blank Canvas Architects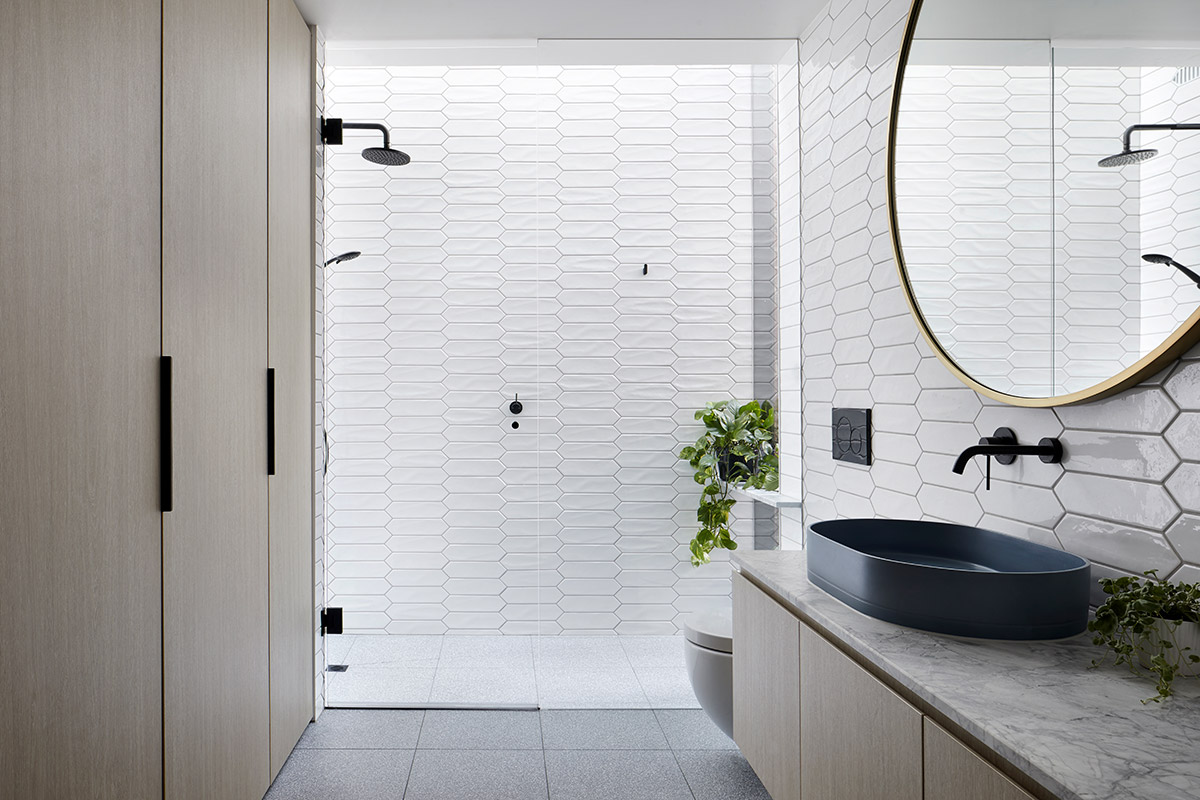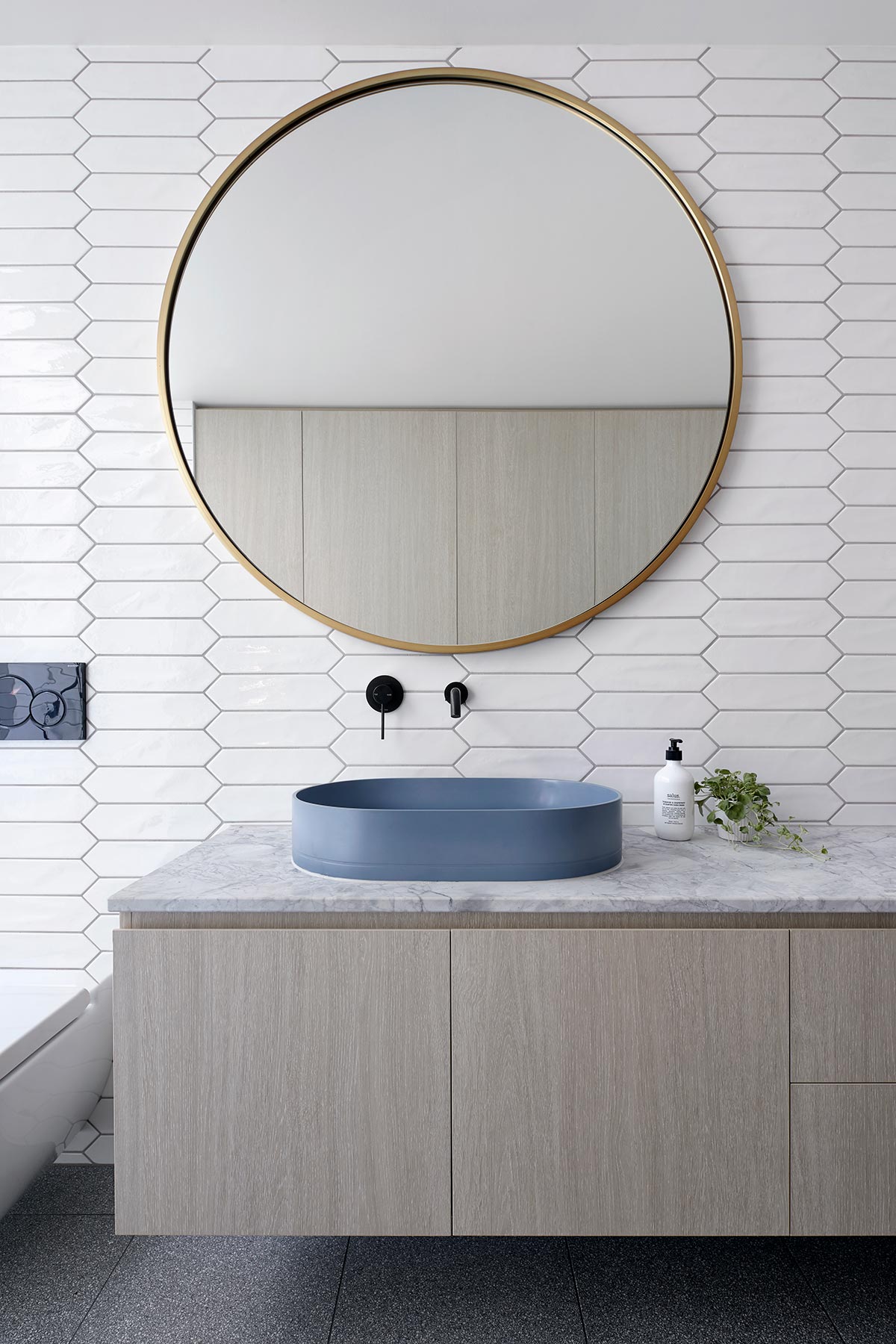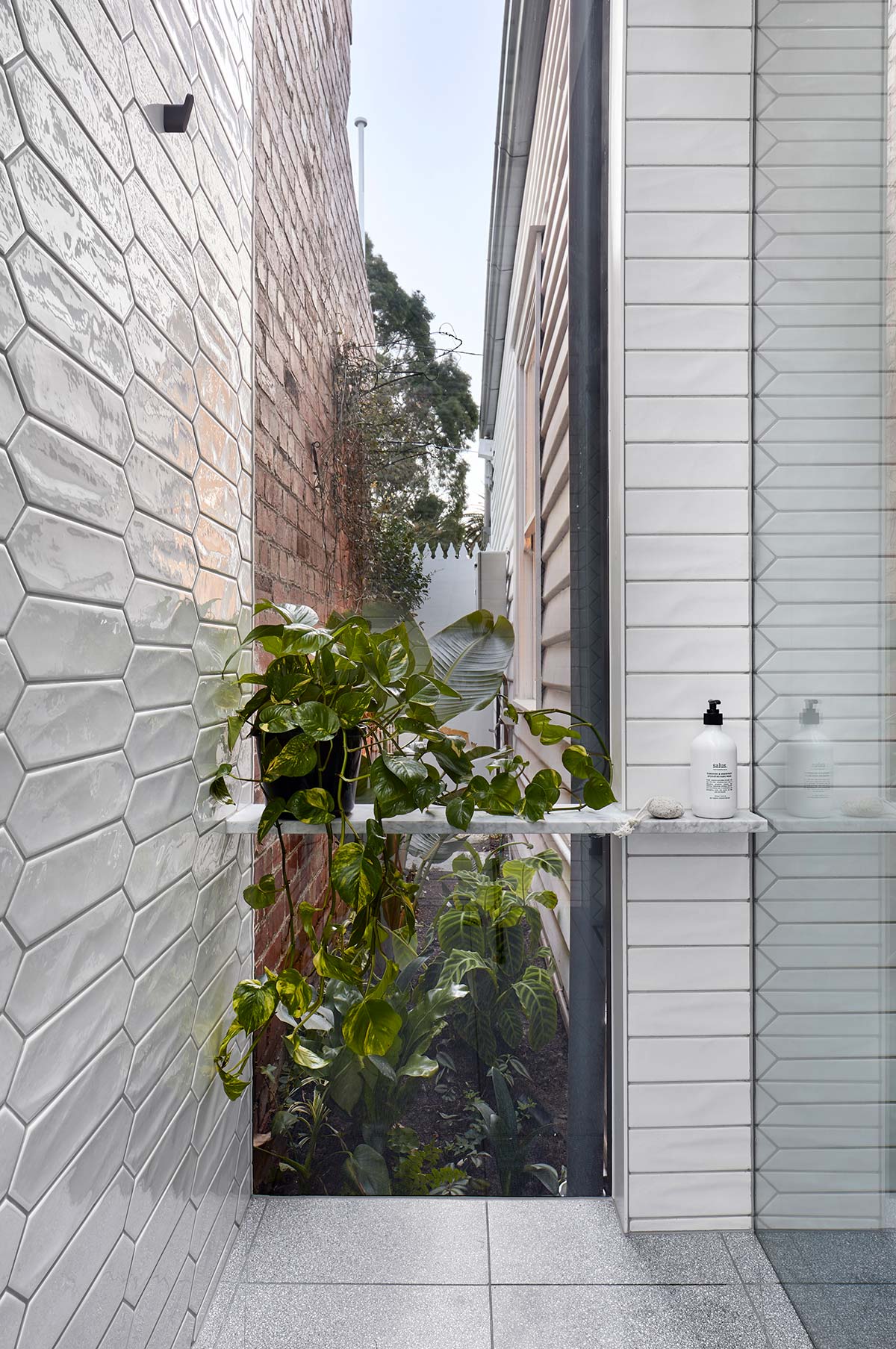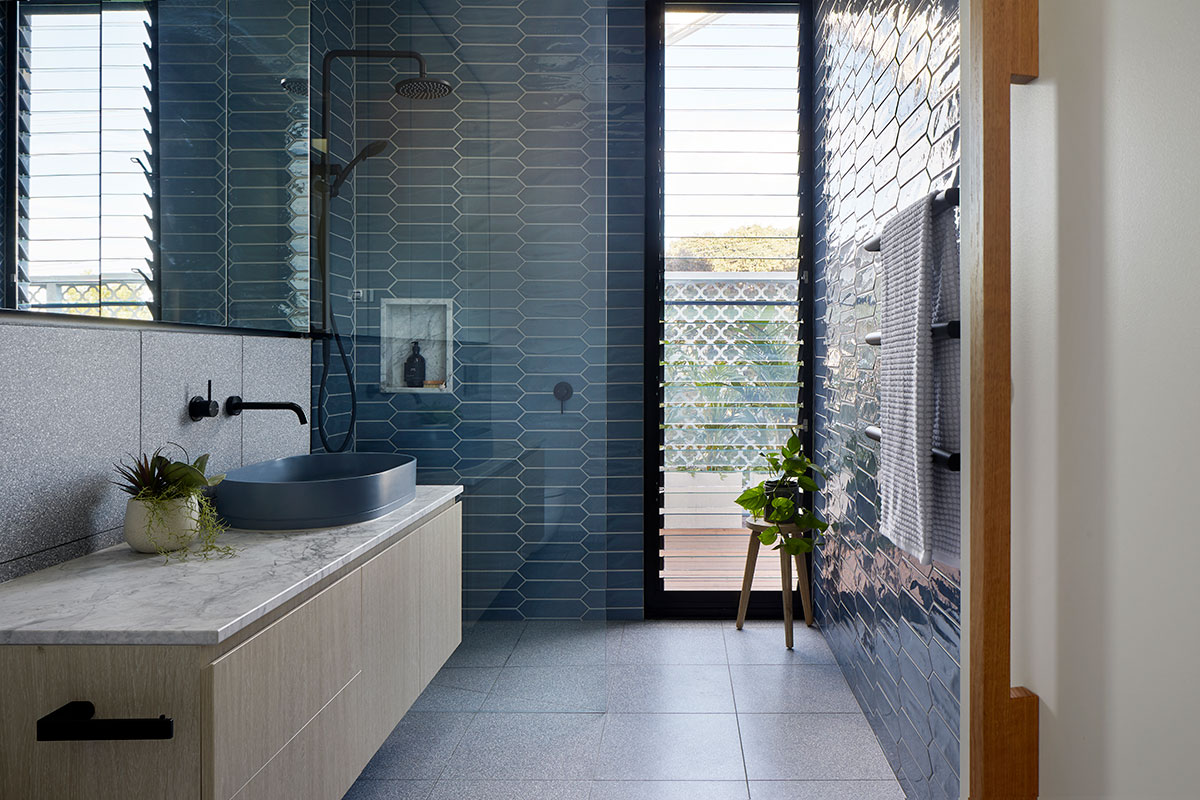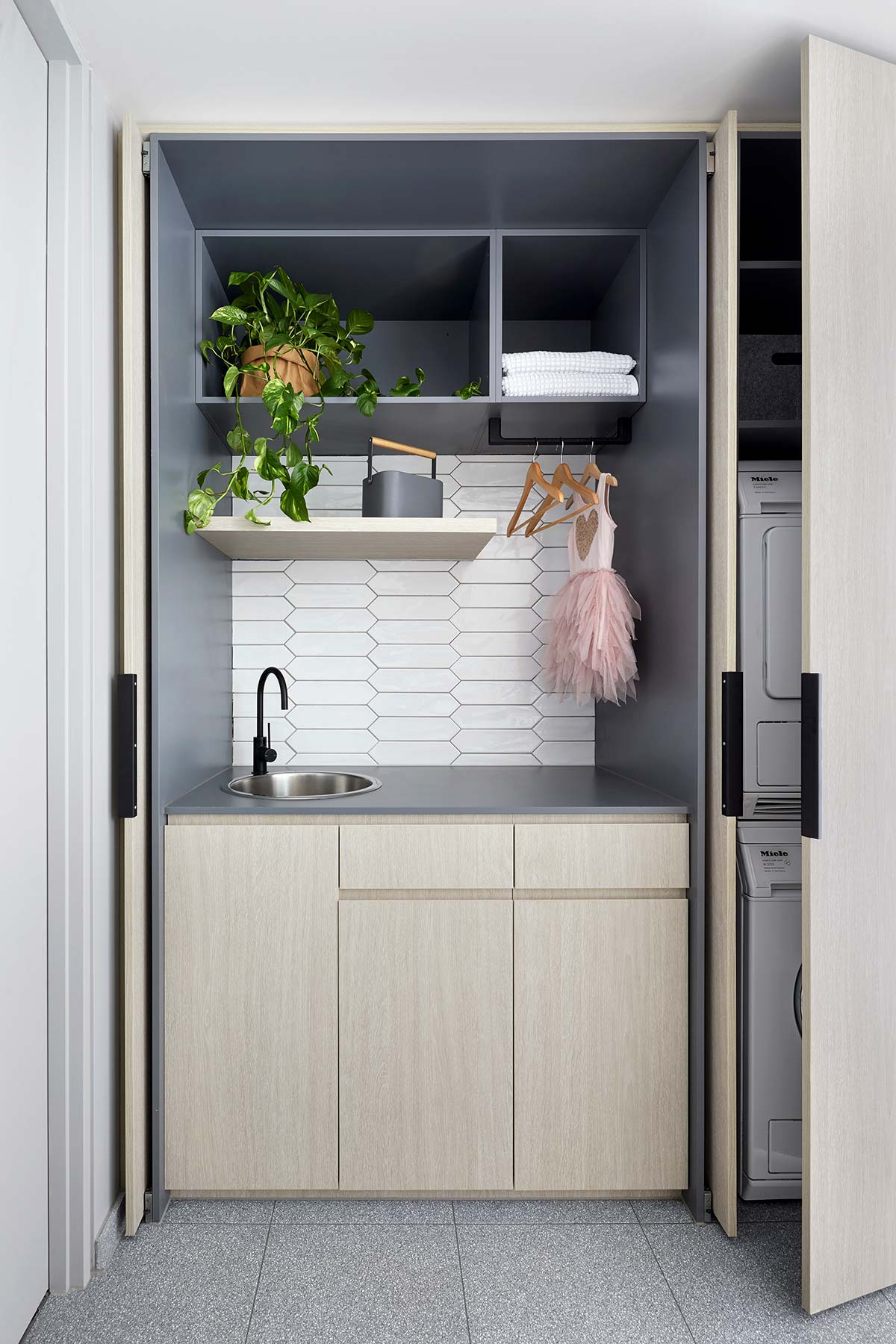 Taking full advantage of its location, natural sunlight floods the bathroom through a frameless glass skylight above the shower which returns down looking into a tiny side garden giving the illusion of showering in the open. A good majority of this bathroom's wall is done in glossy white tiles with a large circular brass mirror which certainly added more brightness to the space. Also one of the key features of the bathroom is the hidden laundry concealed behind large sliding pivot panels.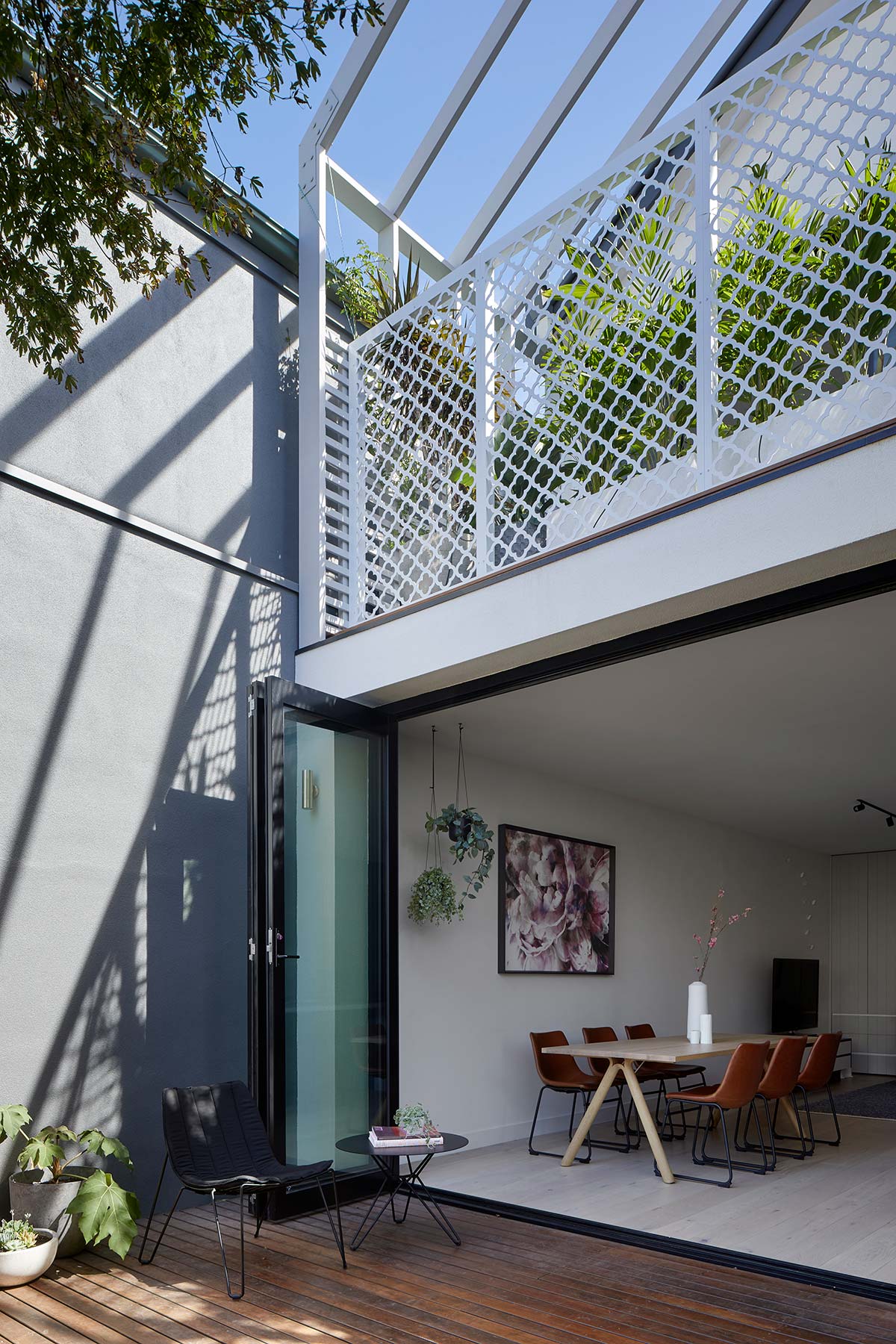 At the second level, the leftover gabled roof form from a previous renovation in the '90s was retained and has been extended to be utilized as a 'pergola' to allow plants to eventually grow over and soften the facade. The clover patterned balustrade under it is a contemporary expression of the original iron laceworks on the front facade connecting the modern rear facade to the heritage front.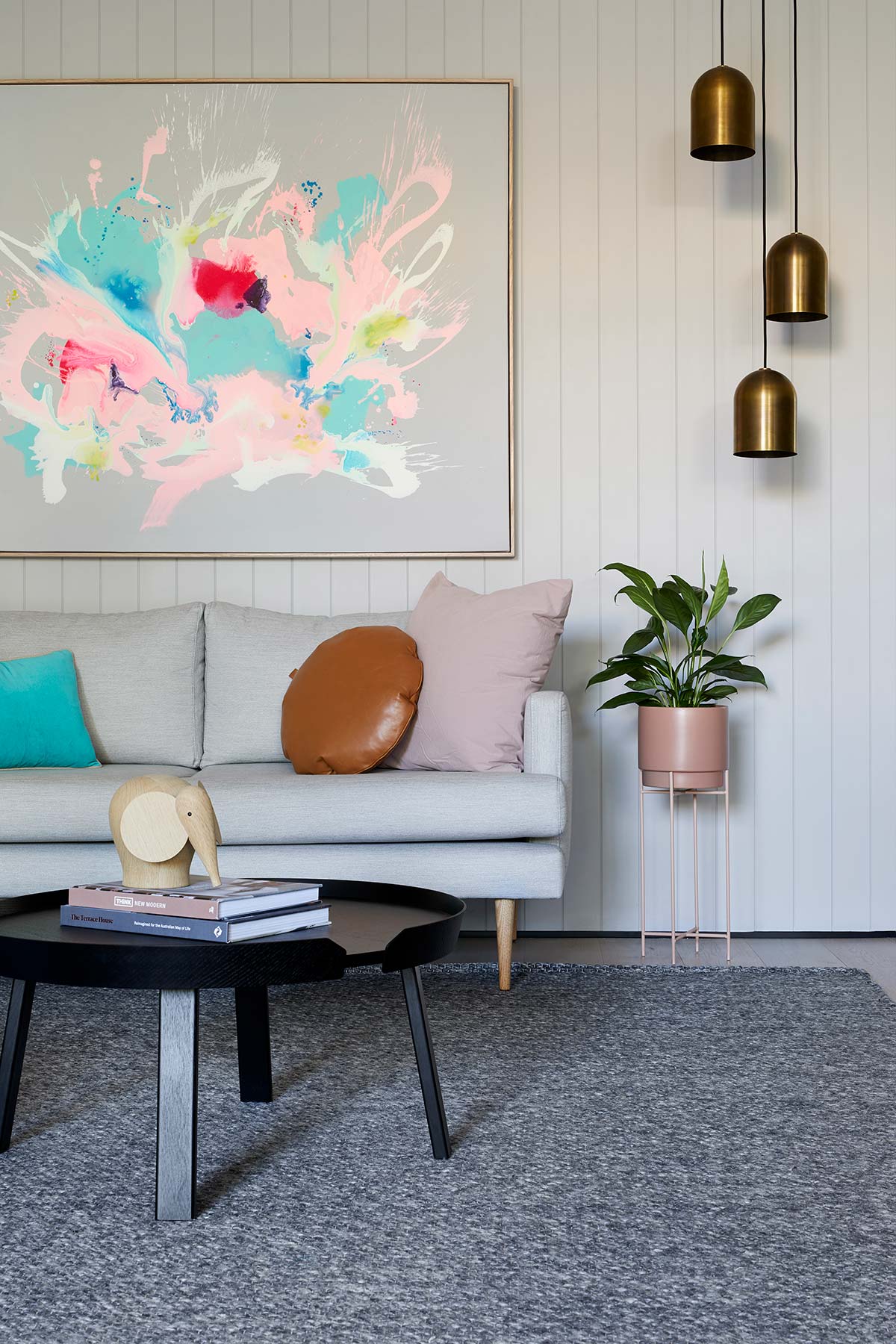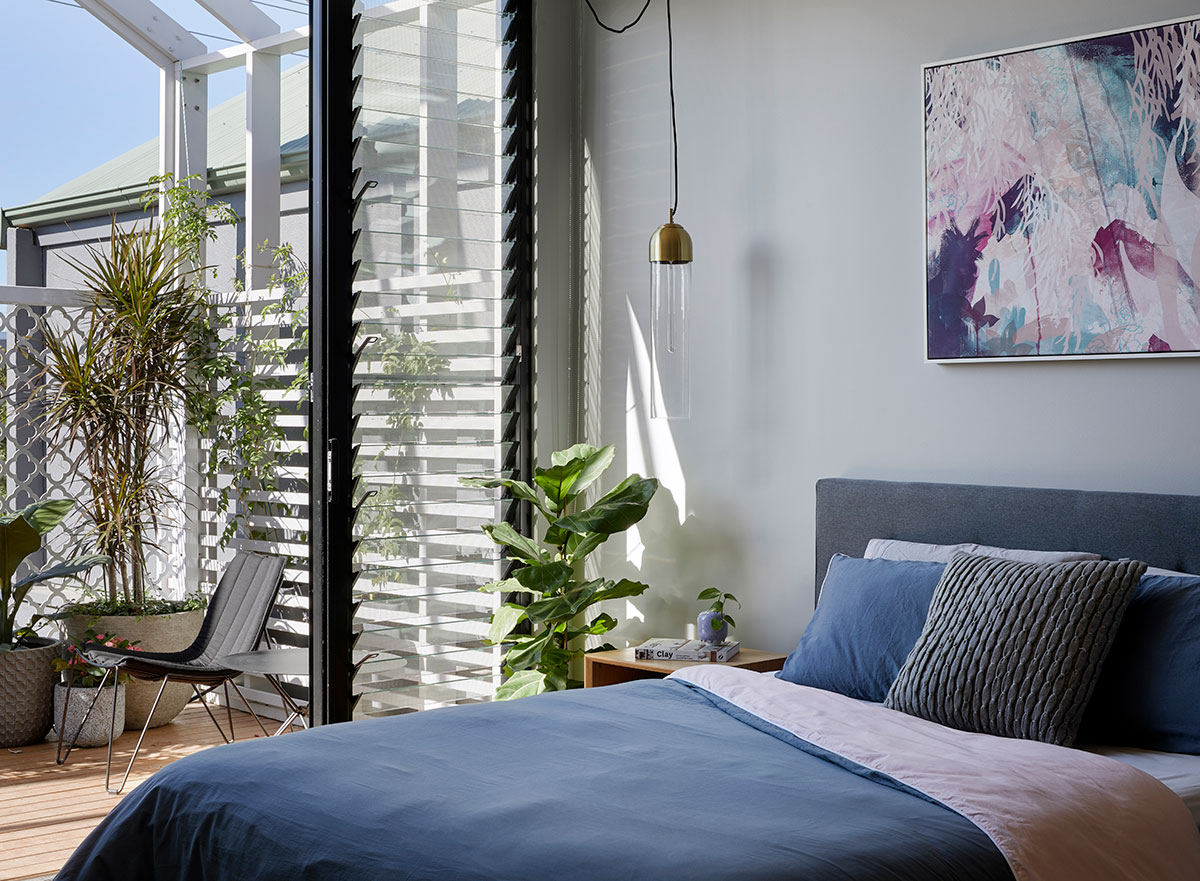 The restrained colour scheme of warm oak finishes with shades of greys is used throughout the house, framing and pulling all the interior elements together to create a consistent visual experience which blurs out the difference between the old and new spaces. Awesome project by Blank Canvas Architects!
House Project: House 184
Architect: Blank Canvas Architects
Builder: Matherson Construction Group
Location: Port Melbourne, Australia
Type: Renovation
Photography: Tatjana Plitt