This week we revealed our DIY Guest Bedroom Makeover and we've received a lot of questions about the decor we chose to style in the space. So here it is, your Complete Complete Style Guide to our Guest Bedroom so now you can get the same look at your place! Ready? Let's go shopping…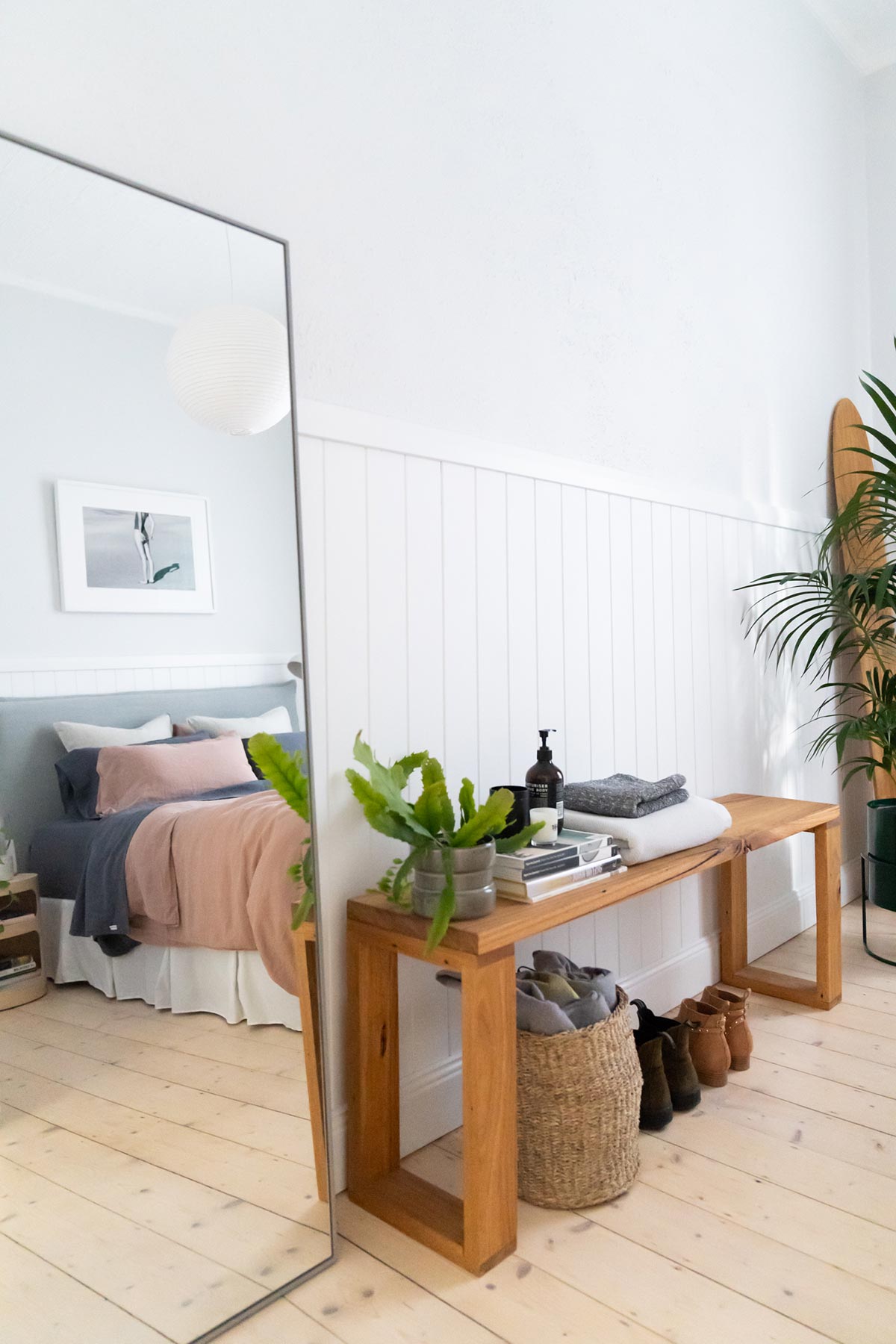 Paint
Our Guest Bedroom does not get a ton of light, whilst I wanted to continue to use Dieskau as per the rest of the home, it just didn't look right in this room. When choosing a wall colour I recommend always painting a test swatch in every room beforehand because the light can change everything! I opted for Terrace White (½ strength) Dulux Wash & Wear with Lexicon Quarter Dulux Wash & Wear from Dulux. We also installed Easycraft panels which we painted with Lexicon Quarter, then the trims with Aqua Enamel, also from Dulux. The overall paint scheme gave a major cosmetic change that sets the tone for this room.
Floor
The floors in this room got the same treatment with the rest of the house. We hired a floor sander and edger from Bunnings to strip back the existing stain. Then we applied three coats of Liming White Floor Finish for a white wash effect.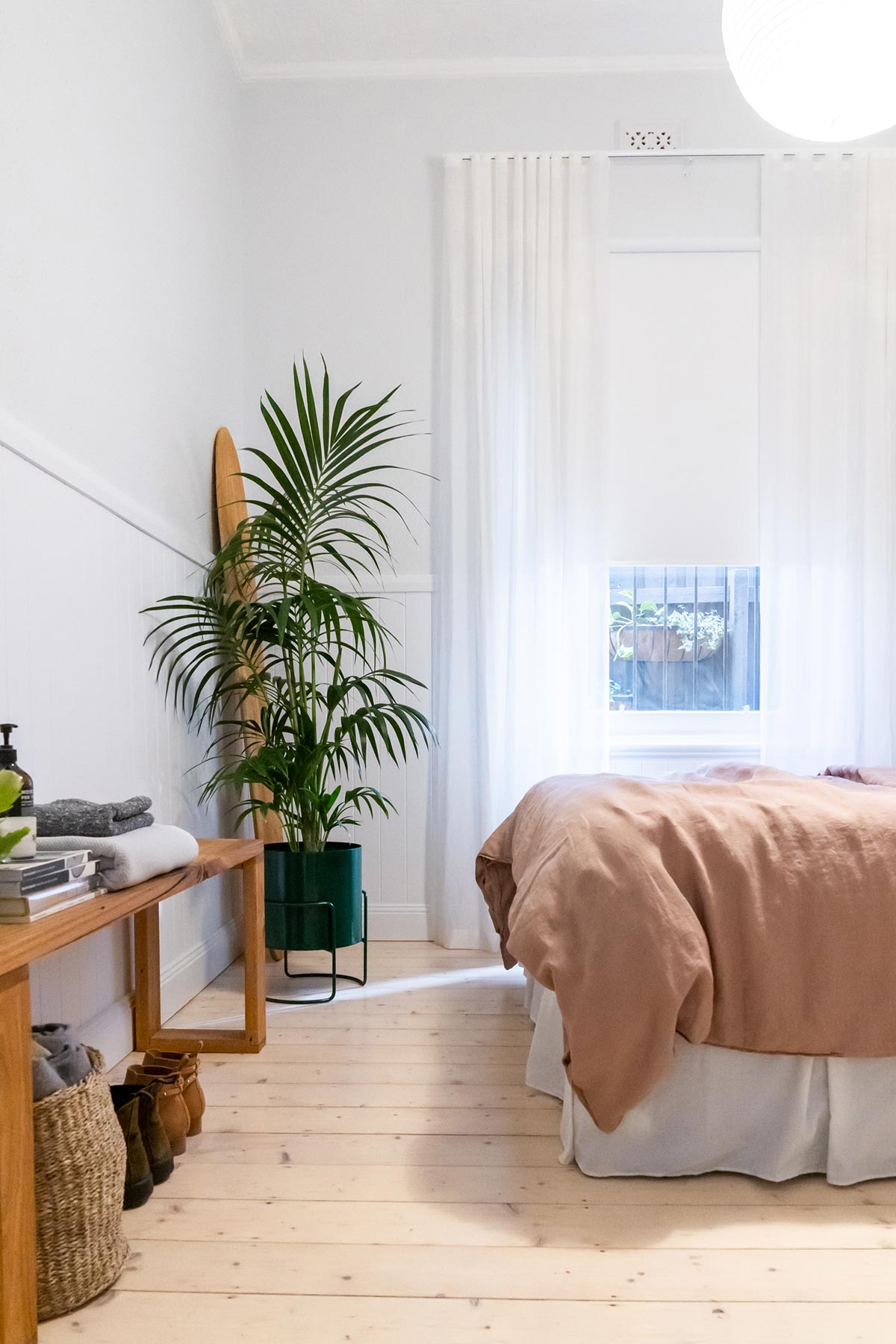 Fixtures & Materials
I knew from the start that I wanted to add texture to the room through panelling, so I continue the Easycraft EasyVJ Panels that we have used in the laundry and bathroom so far and chose to apply to the lower third of the walls.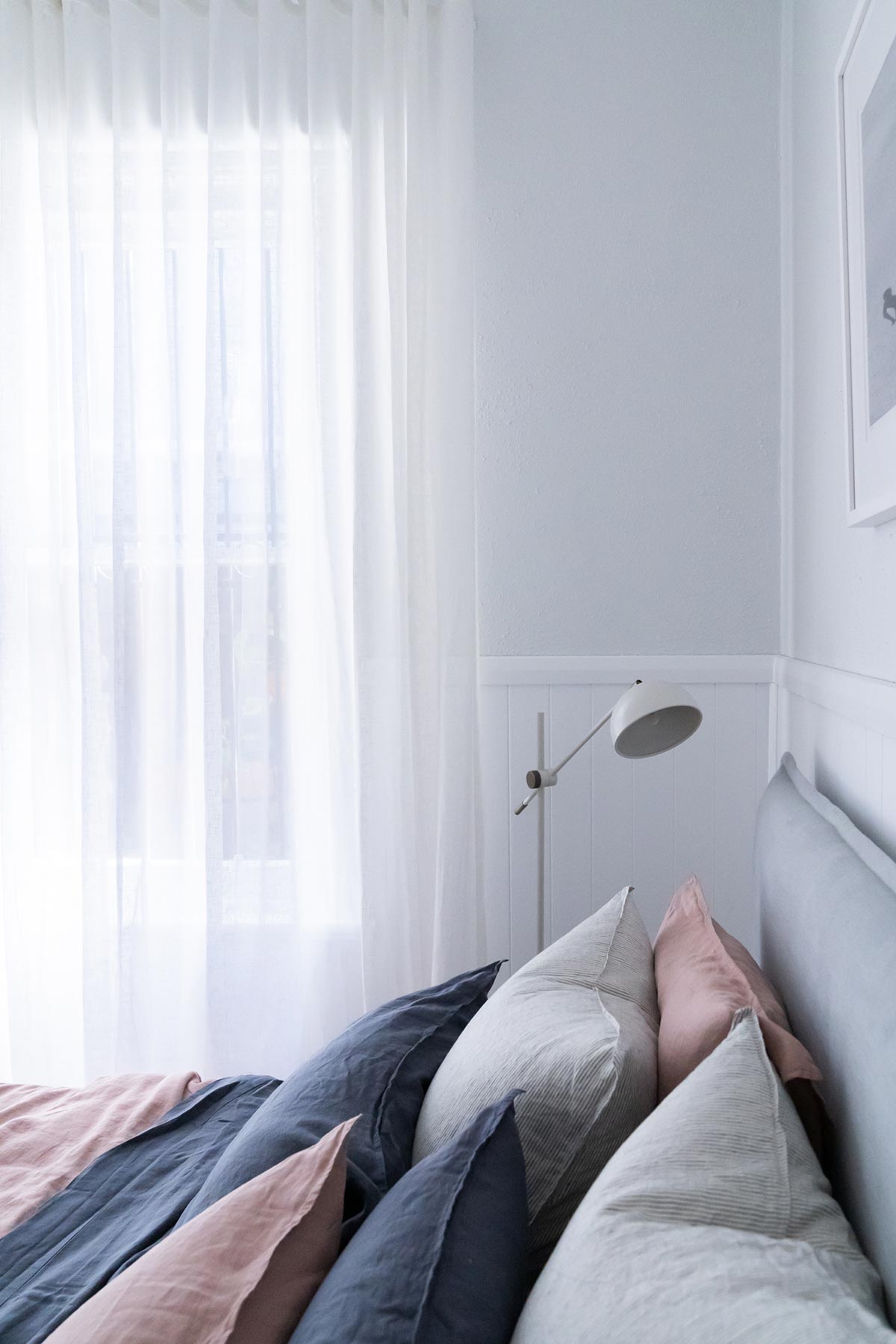 Window Furnishings
My biggest tip when choosing curtains is to go wider and taller than your actual window frame. This will help to enhance the overall scale of the room and make your interiors more impressive. I opted for motorised block out roller blinds and sheer curtains from DIY Blinds, using Snow in the Allusion fabric range.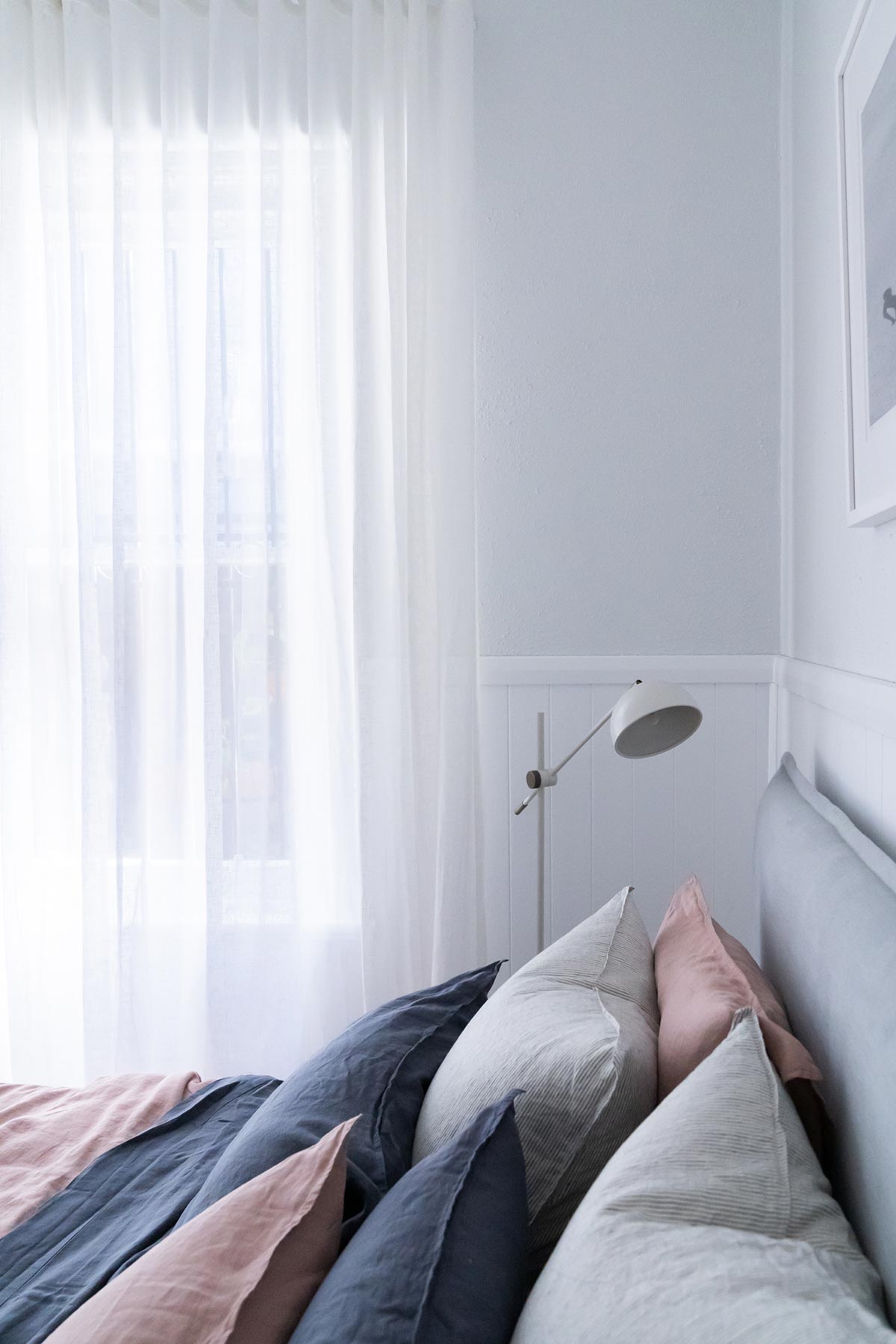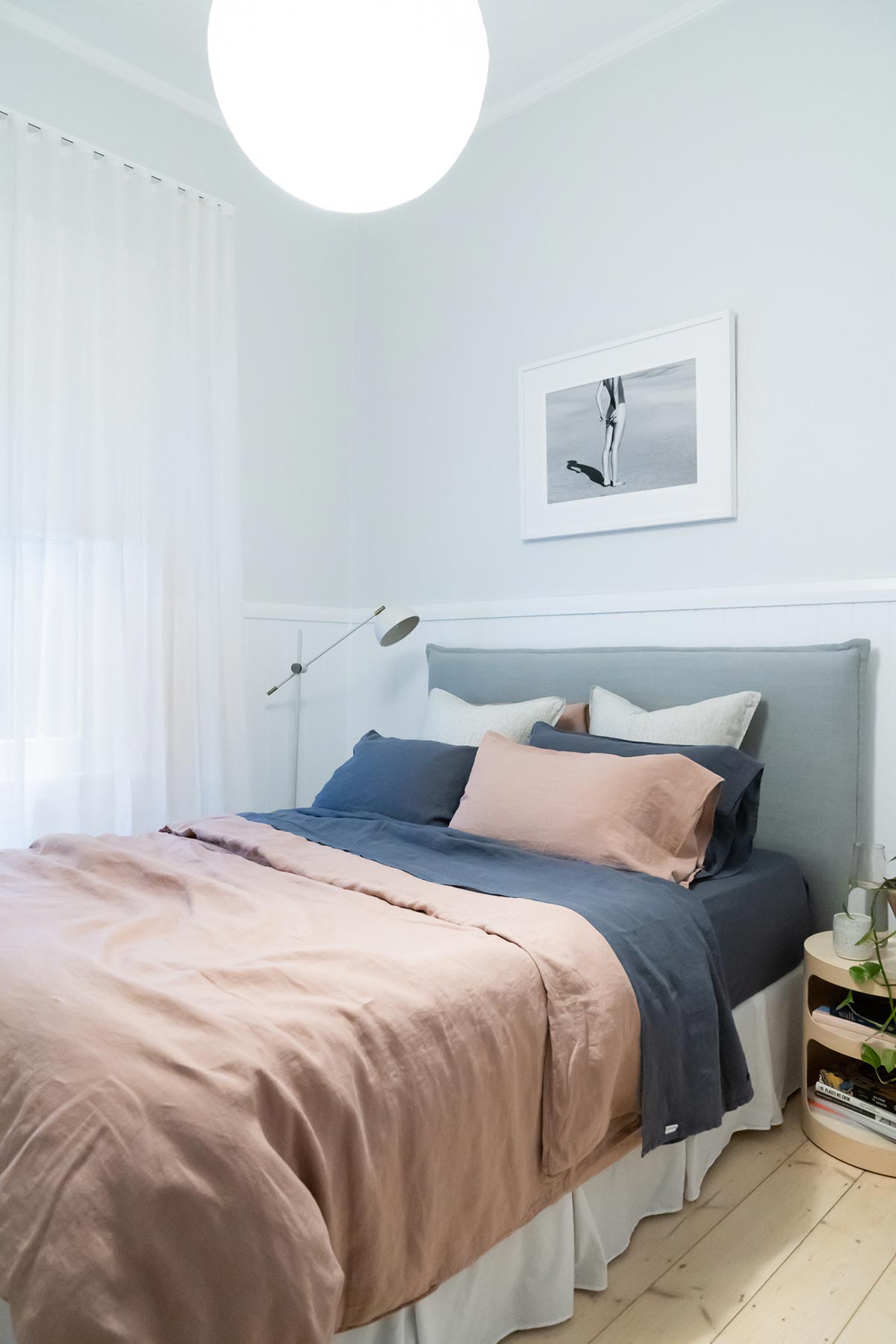 Bed
Our new Rufus bed head from Harbro goes really well with the room's paint scheme and at the same time, it creates a nice focal point. We also got new sets of lush and cosy quilt covers, sheet sets, and pillowcases from Milk and Sugar to complete and style the bed. Watch this space as we're going to give you some pointers on How To Style the Perfect Bed soon!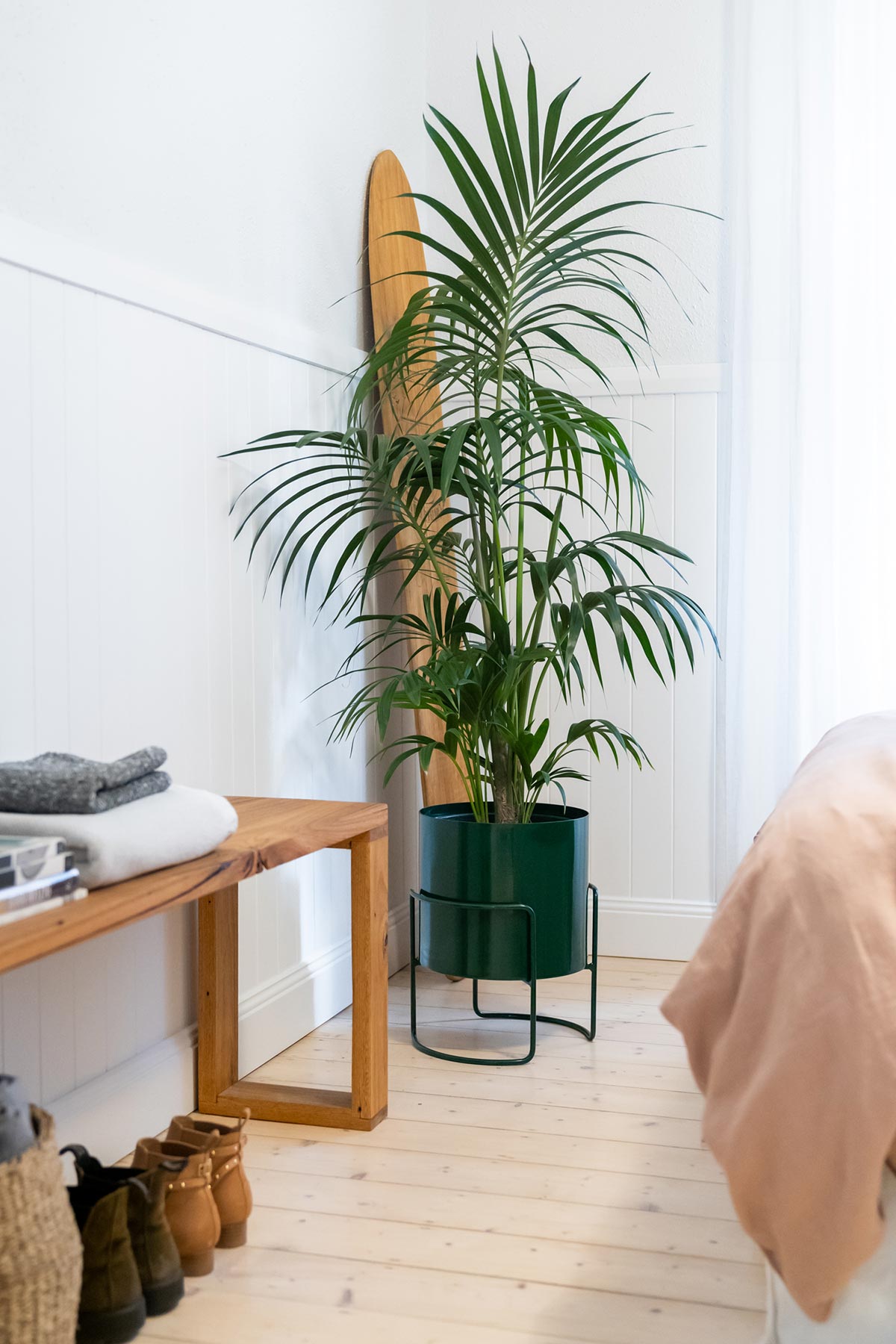 Decor
Overall I kept the styling simple and inviting. The artwork and panels inspired a coastal theme, whilst the introduction of timber accents was important to add warmth to the interiors.
Tool Essentials
These were the tools that we had at the ready for this makeover. Jonno has collected a great selection over time, but these were the ones that we relied on the most for the Guest Bedroom.
I hope you found this cheat sheet helpful! We'll be continuing our Home Makeover series, coming up next will be our Dining Room! Subscribe to our YouTube channel and hit notifications so you don't miss a beat!