We're finally back! You've been loving our previous room makeovers and we have new room transformations coming in hot! First up we tackle our Guest Bedroom which had slowly turned itself into the 'junk room'. You know the one, the room that becomes a black hole for anything you don't know what to do with… just pop it in 'that room' and shut the door. Well we decided it was time to open the door and sort it out.
This simple room got a simple but clever DIY cosmetic makeover to take it from nightmare chaos to a relaxing retreat. Come with us and follow our DIY home renovation journey, for a real and unfiltered view into what it takes to makeover your home.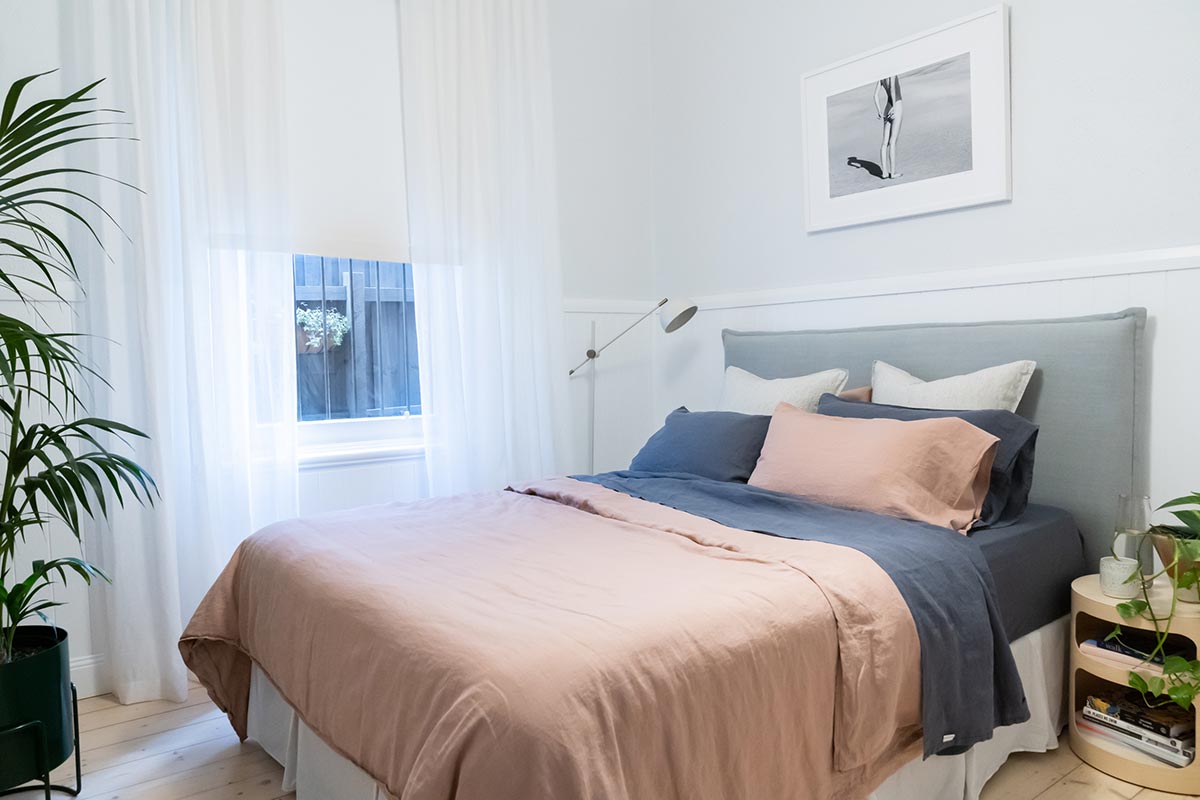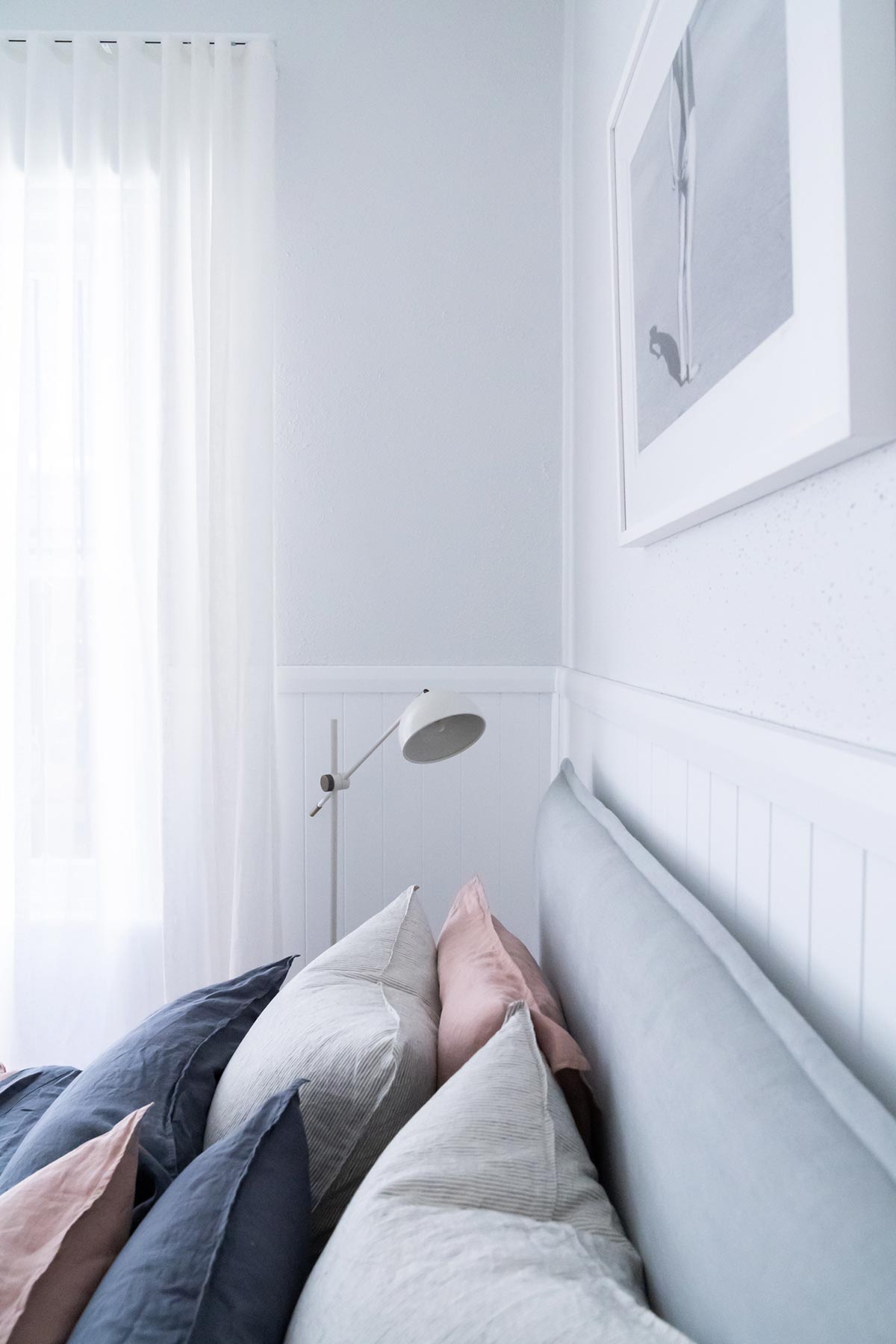 The main idea for this room was to keep it simple yet functional. After decluttering and moving things out, the first thing we did was paint! We prepped and painted with ceiling white, then after much deliberation we painted Terrace White (½ strength) Dulux Wash & Wear on the walls. In order to bring a bit more texture into the room I chose to create a panel feature across the lower third of the room. For this I used Easycraft Easy VJ panels with Vogue Dado moulding, these were used in both our bathroom and laundry, so I wanted to create consistency. The panels were then painted with Lexicon Quarter Dulux Wash & Wear to match the rest of the white throughout the home. The floors, just like the rest of the home, were sanded back and stained with 3 coats of the Liming White Floor Finish from Feast & Watson.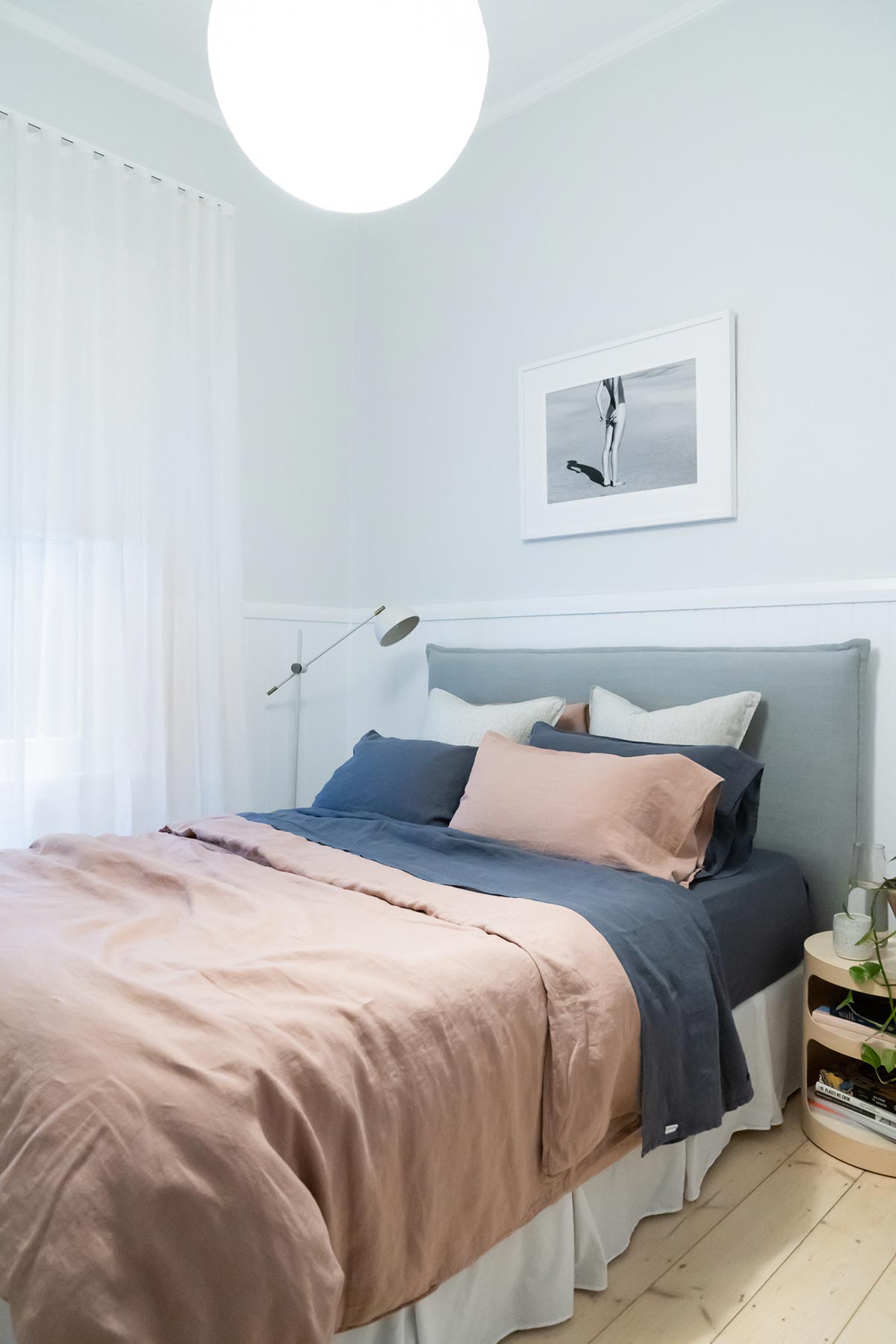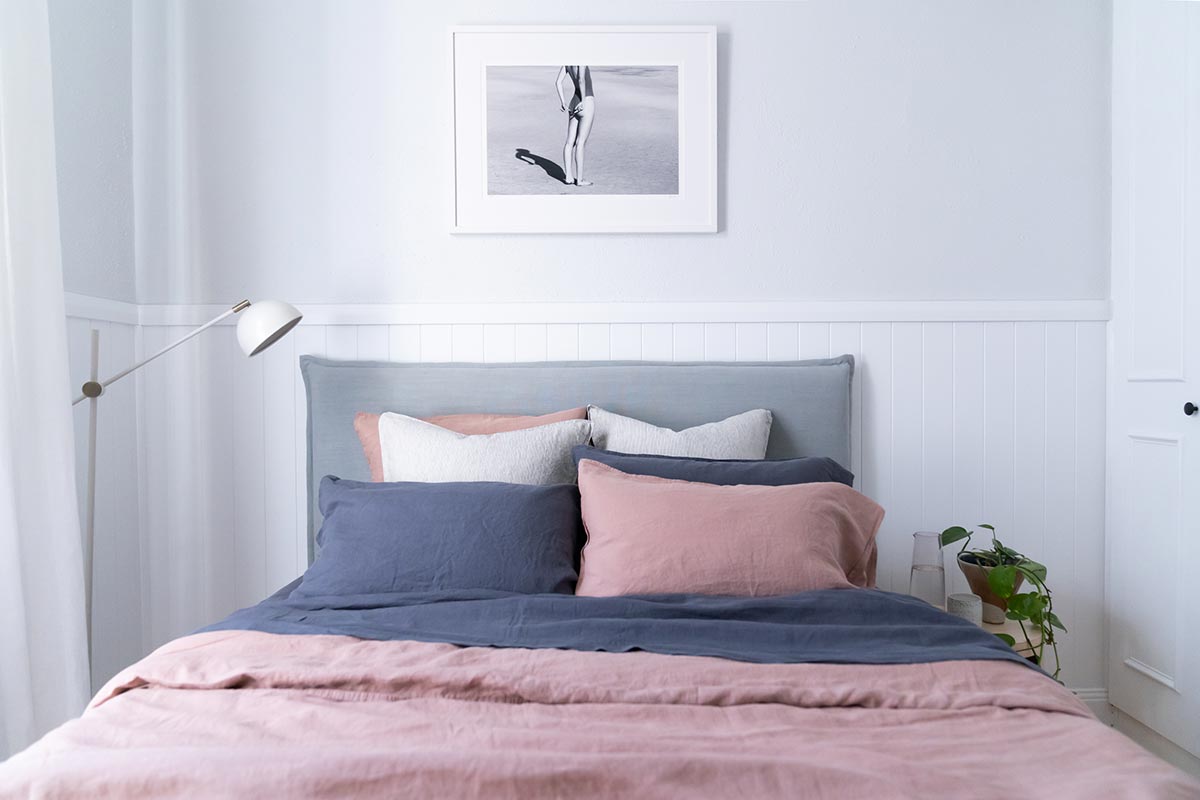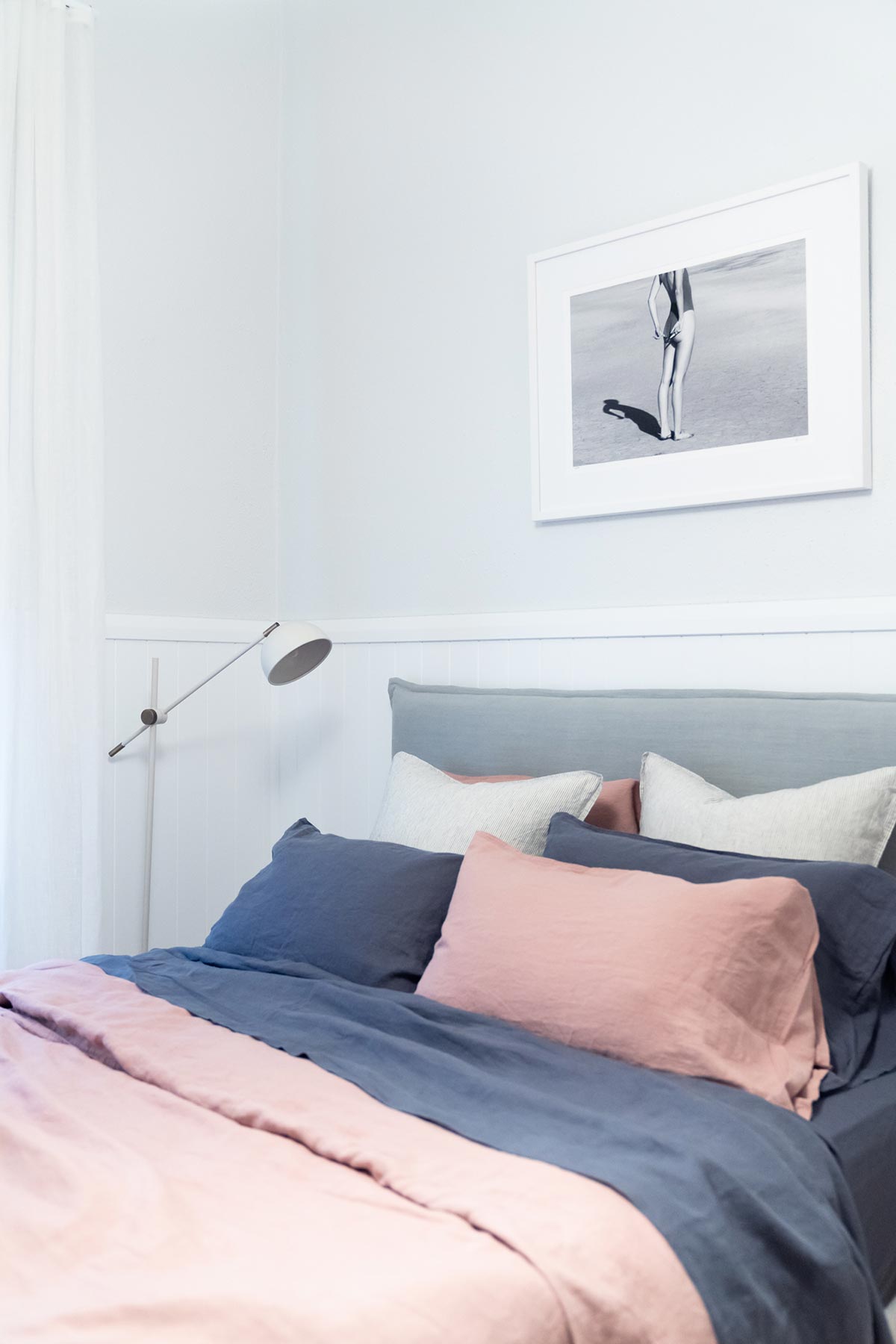 I already had a mattress and bed base that I wanted to keep however I was keen to create more of a focal point, so I chose to bring in a bed head to centre your attention. I selected the Rufus bed head from Harbro upholstered with 'Pebble' from the Mokum Eternal range.
On the bed I opted with linen from Milk & Sugar, I wanted to bring some warmth into the space so I chose a dusty rose tone combined with deeper charcoals. Specifically the Rose Linen Quilt Cover with Slate Sheets and Charcoal Pinstripe Linen Euro Pillowcase Set. To complement the bed I styled the Blair Floor Lamp Warm Grey from Milk & Sugar for an ambient light source.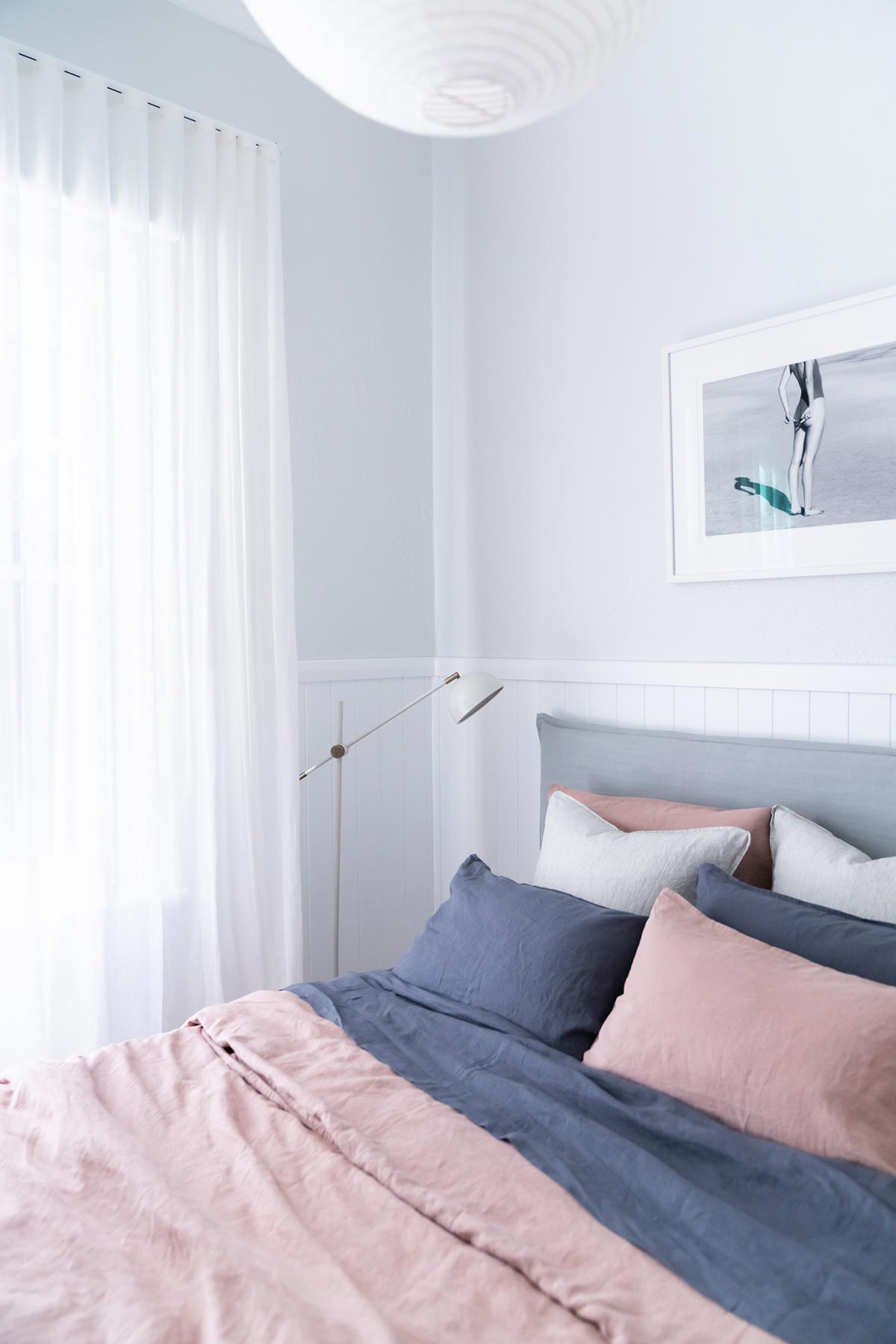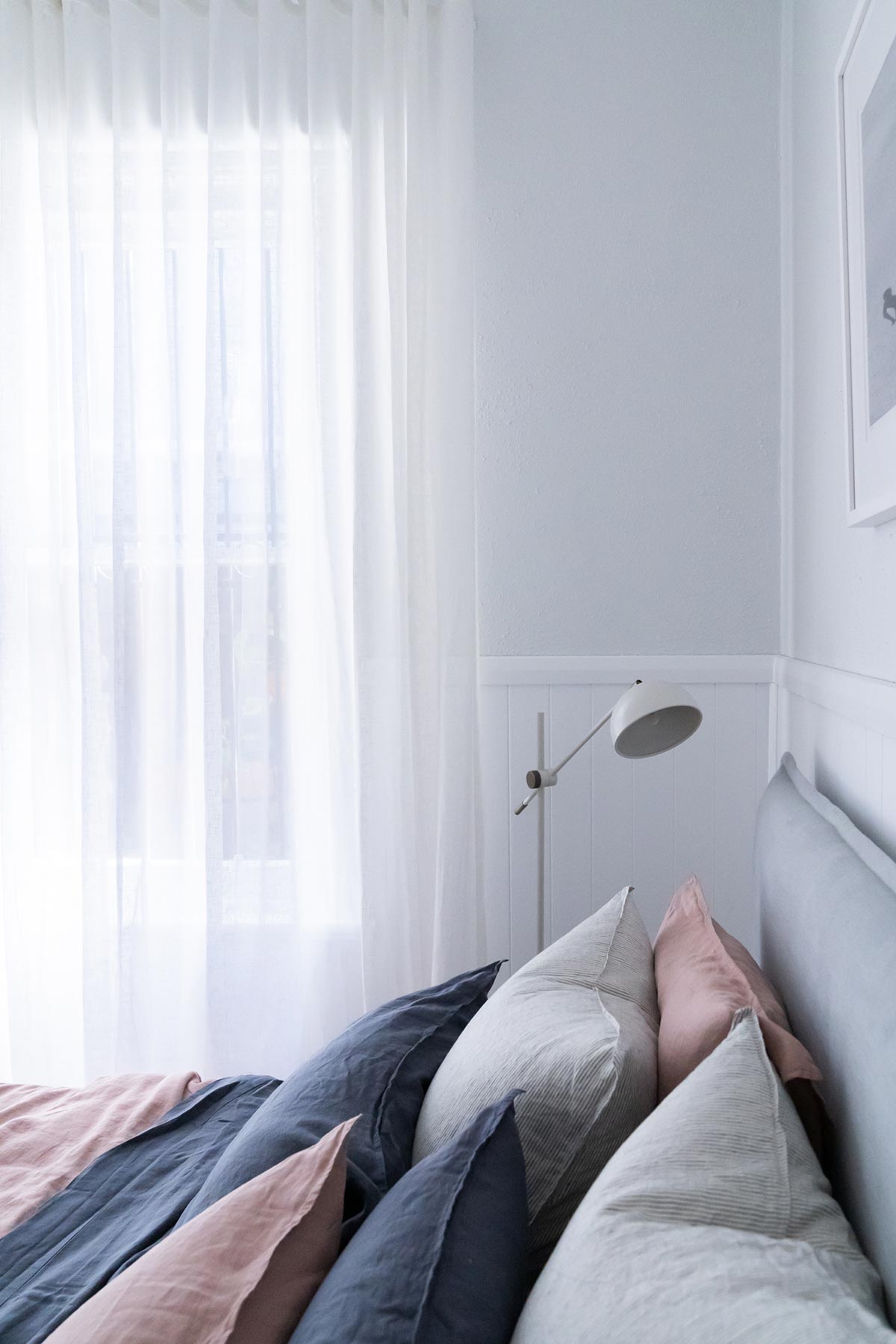 Our window was a nightmare!! We did a lot of prep work to repair the window frame before fitting the new window furnishings. We opted for motorised block out roller blinds from DIY Blinds together with sheer curtains, using 'Snow' from the Allusion fabric range. When specifying the size of the sheer curtains I decided to extend the width and height of our actual window frame. This really helped to enhance the overall scale of the room as well as create added drama.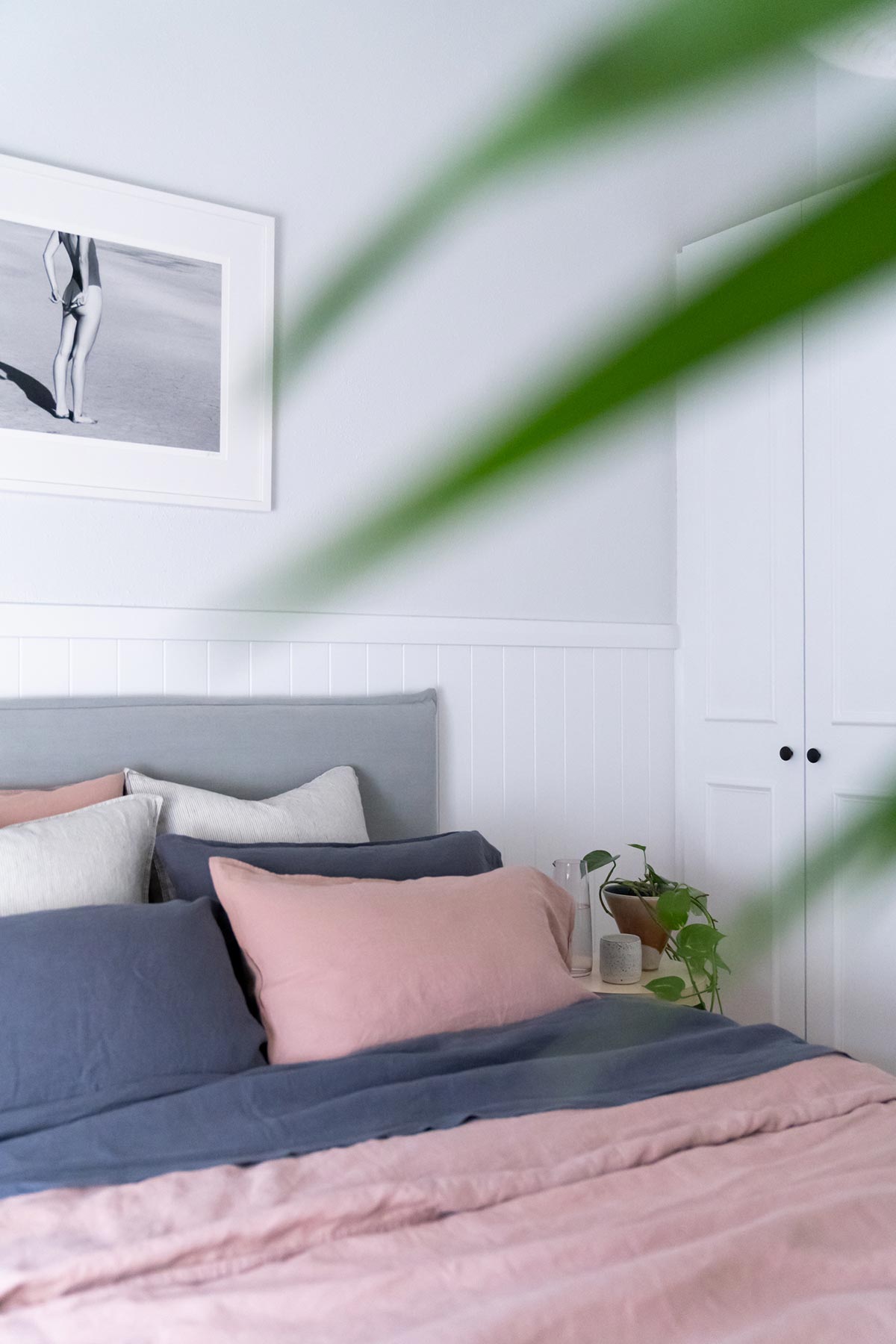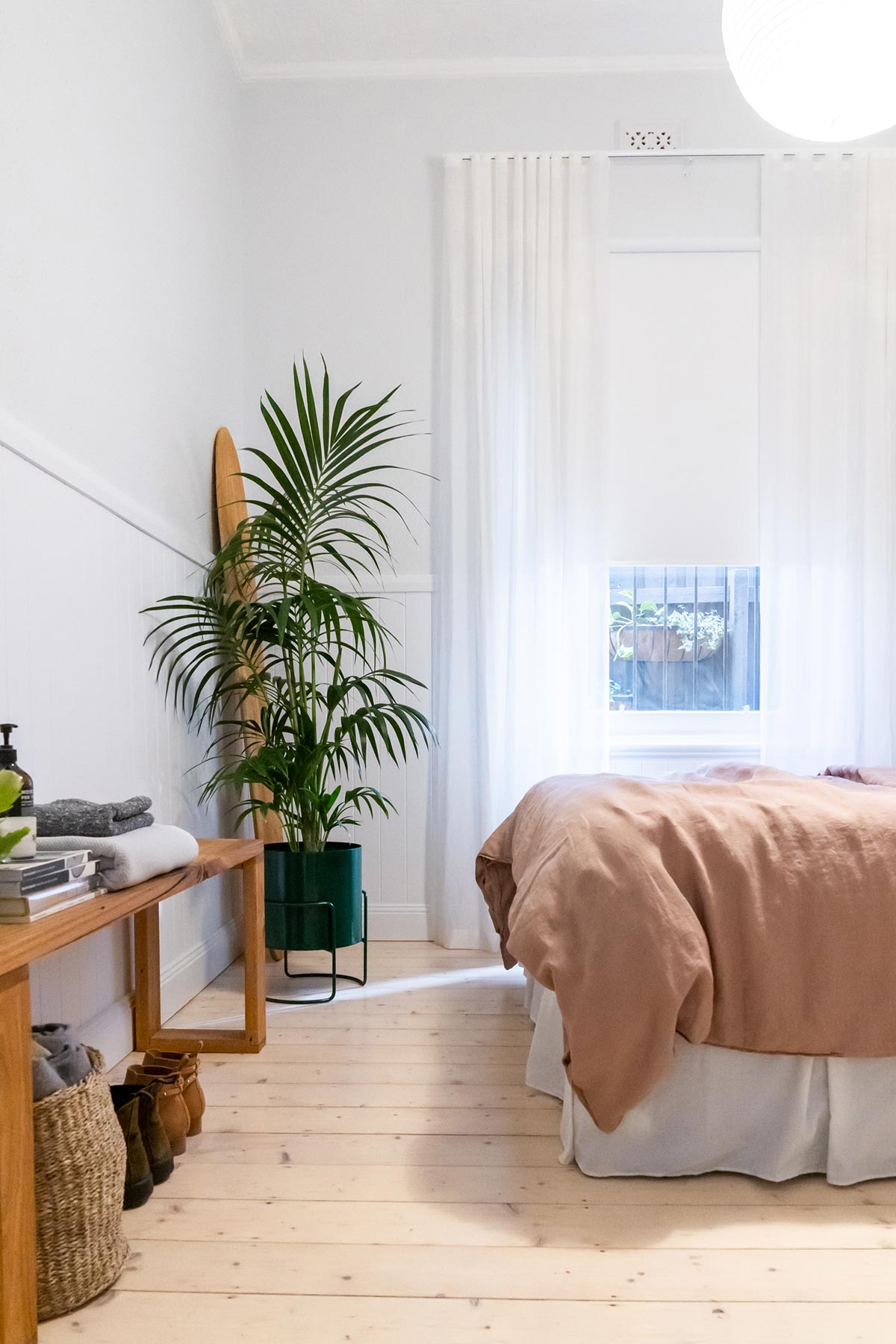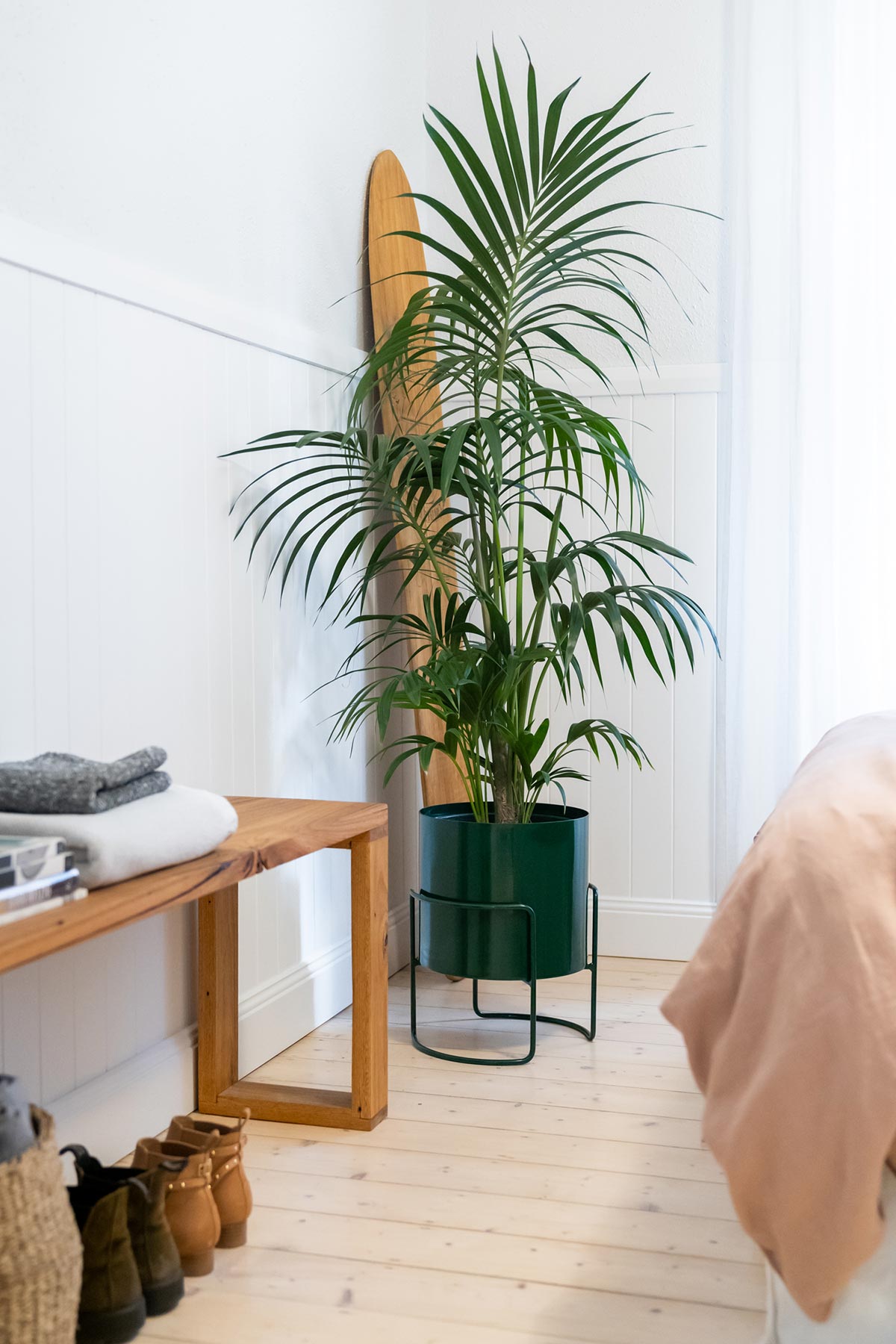 The feature artwork I chose was from Melbourne Photographer Ren Pidgeon and I had it expertly framed by Kath at Framing To A T. The piece is called Summer Juliette and it has cool grey tones and a cheeky personality that inspired the room. The frame was a simple slimline white with an off white mount board that offset beautifully against the piece.
To continue the coastal vibe I brought in a stunning Kentia Palm recommended by Alana from Ivy Muse and teamed it with the Ivy Muse Moss Chubby Spun Metal Pot and matching Chubby Stand.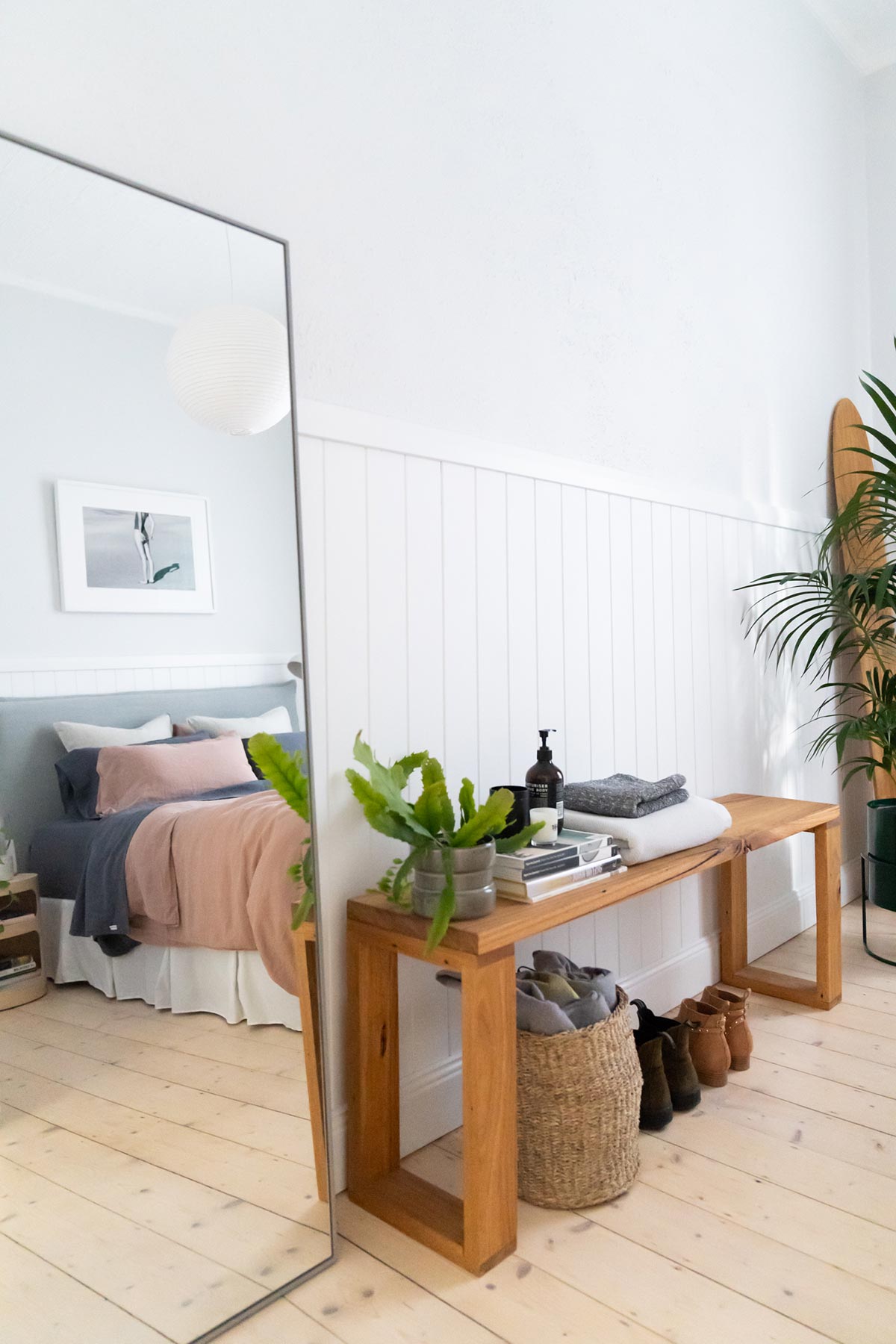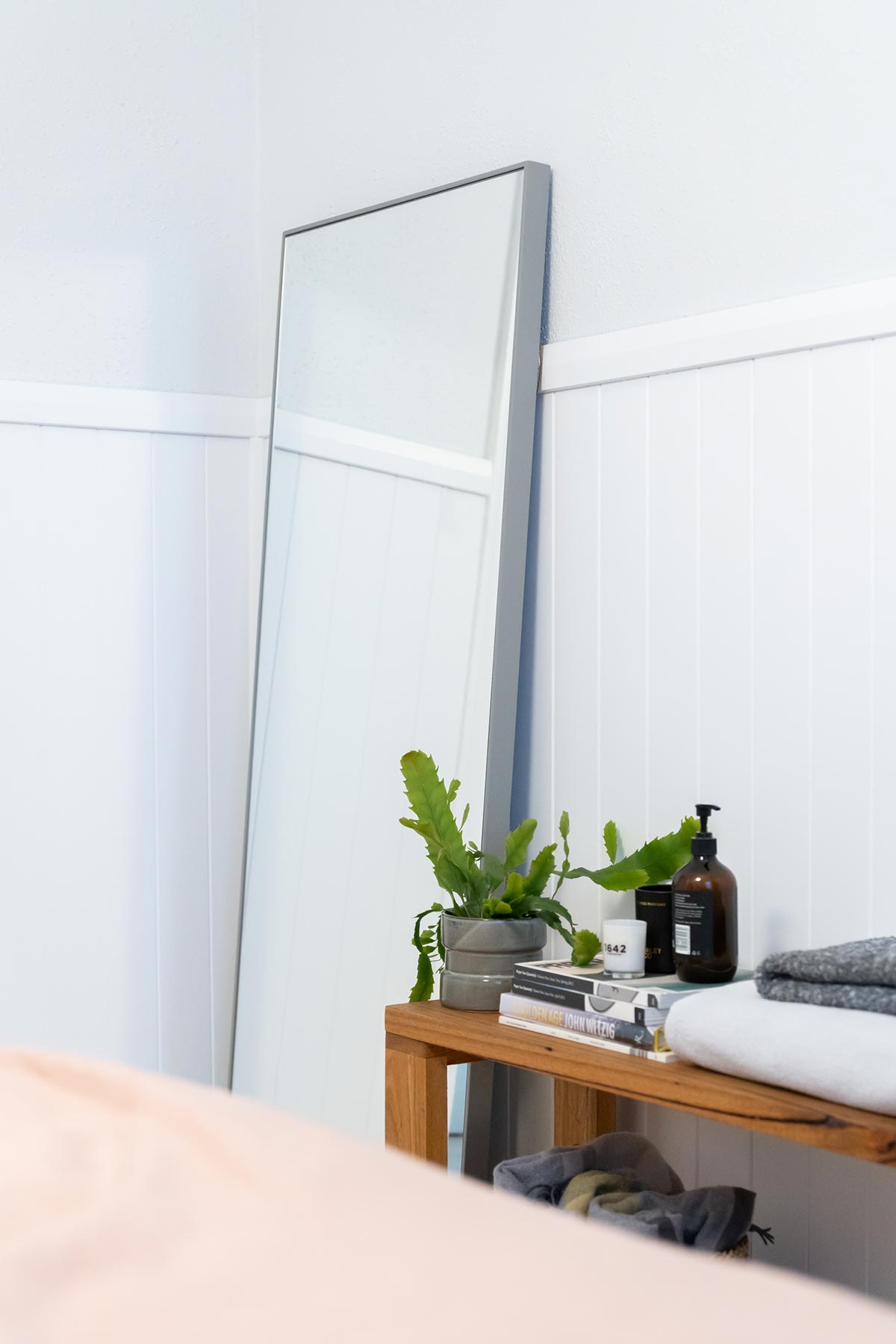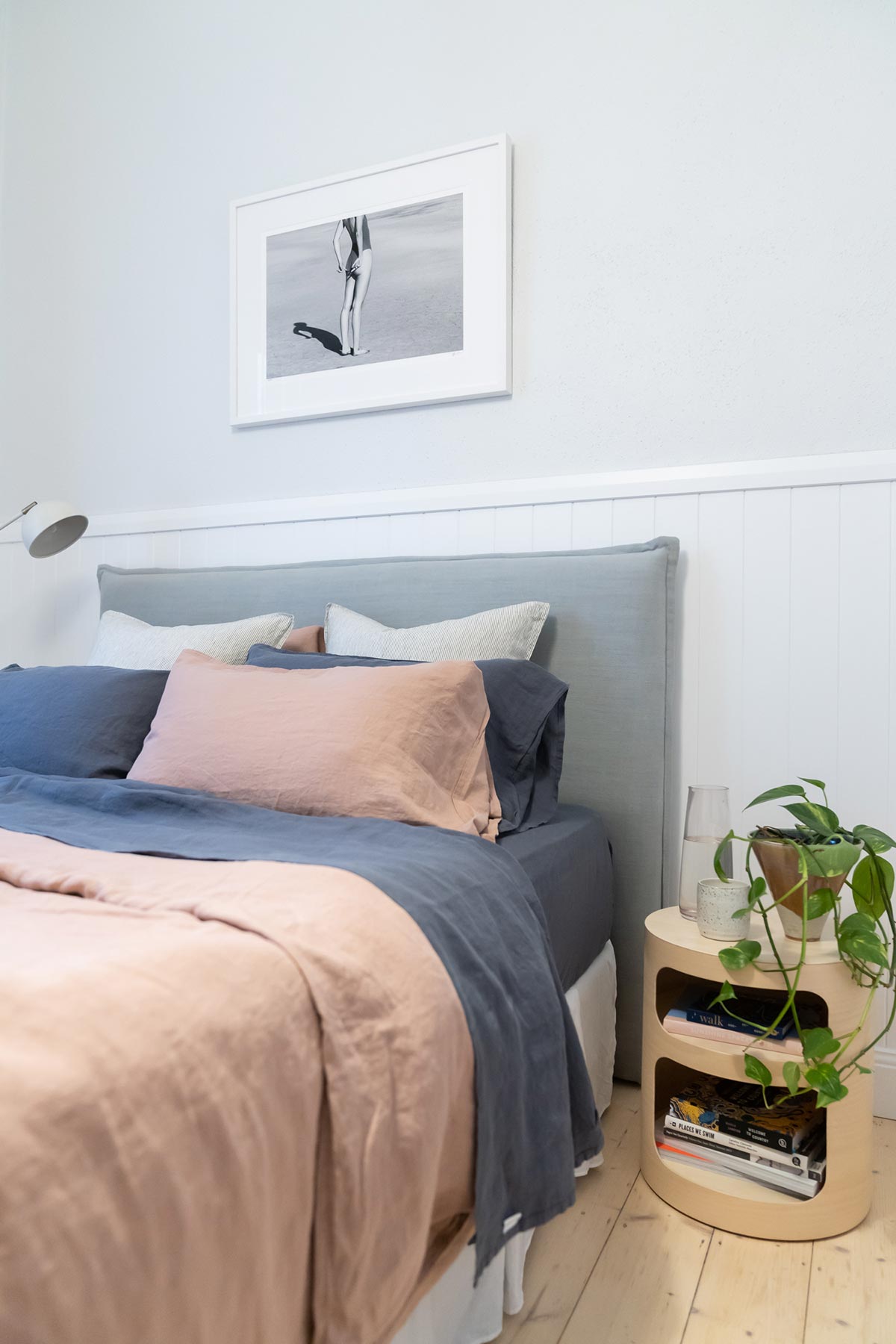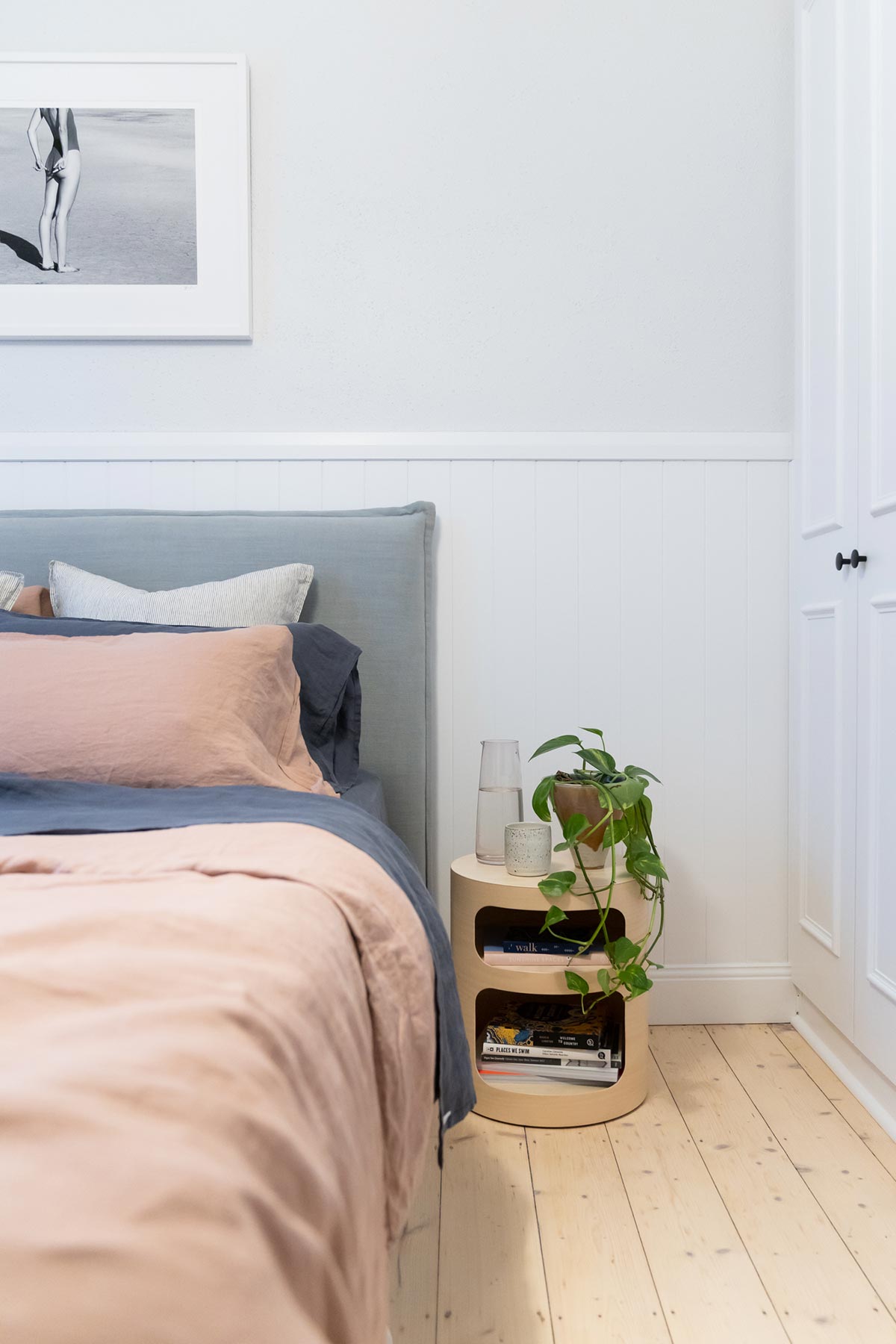 I switched out my old mirror for a modern streamlined design, selecting the Flynn Leaner Mirror in Grey from Middle Of Nowhere. I always love adding mirrors into rooms, especially smaller spaces as it helps to enhance the feeling of scale in the room and bounce lovely light around the interiors. I also styled a bench that Jonno had made (this was actually in the room already… you just couldn't see it under all the junk!). I created a guest bedroom feel with magazines, bath towels and toiletries. Something that I like to do is to bring blankets in with a basket, rather than styling on the bed. This is a great option if you have lots of different blankets that don't necessarily work stylistically with the linen on your bed. For a simple beside I chose the Oh Side Table from Plyroom that brought some added warmth into the space due to its plywood finish and neat storage for personal items as well.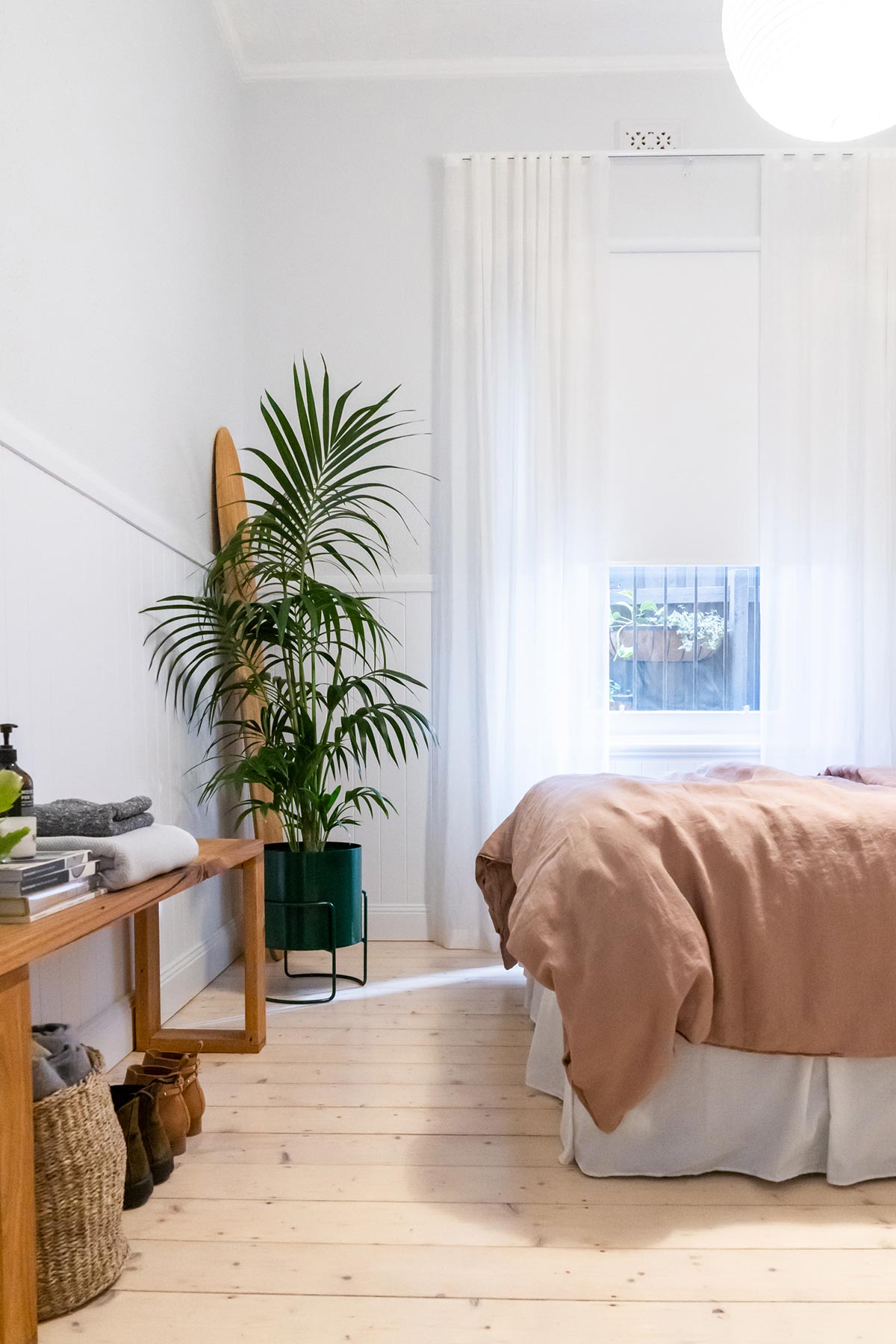 All up this room was all about decluttering, lots of prep work and painting, then simple but clever style choices to lift the overall aesthetic of the room. I love it, hopefully you do too! Next up on the home makeover agenda will be the dining room makeover, but next week we're diving into bed (quite literally) with my top Style Tips for How to Style a Magazine Worthy Bed. This Saturday, we will also be sharing a Complete Style Guide to our Guest Bedroom so you can shop the look.
Huge thank you to our partners Bunnings, DIY Blinds, Dulux, EasyCraft Panels, Harbro, Milk & Sugar, Middle of Nowhere and Ivy Muse. We love the brands we collaborate with and the incredible products they create, they are what help us transform our plain rooms into something magical. Stay tuned for more!
Design & Styling: Lucy Glade-Wright
Photography: Jonno Rodd