Peacefully nestled one block away from the beach in Balnarring, a quiet, coastal village on the Mornington Peninsula is a new family house surrounded by coastal landscape and holiday nature. The Fauconshawe Project by The Little Brick Studio is an evolution of two previous houses that the team had completed for the same couple previously, this time combining elements they loved from those houses and fusing them into their new dream home. Let's go take a look?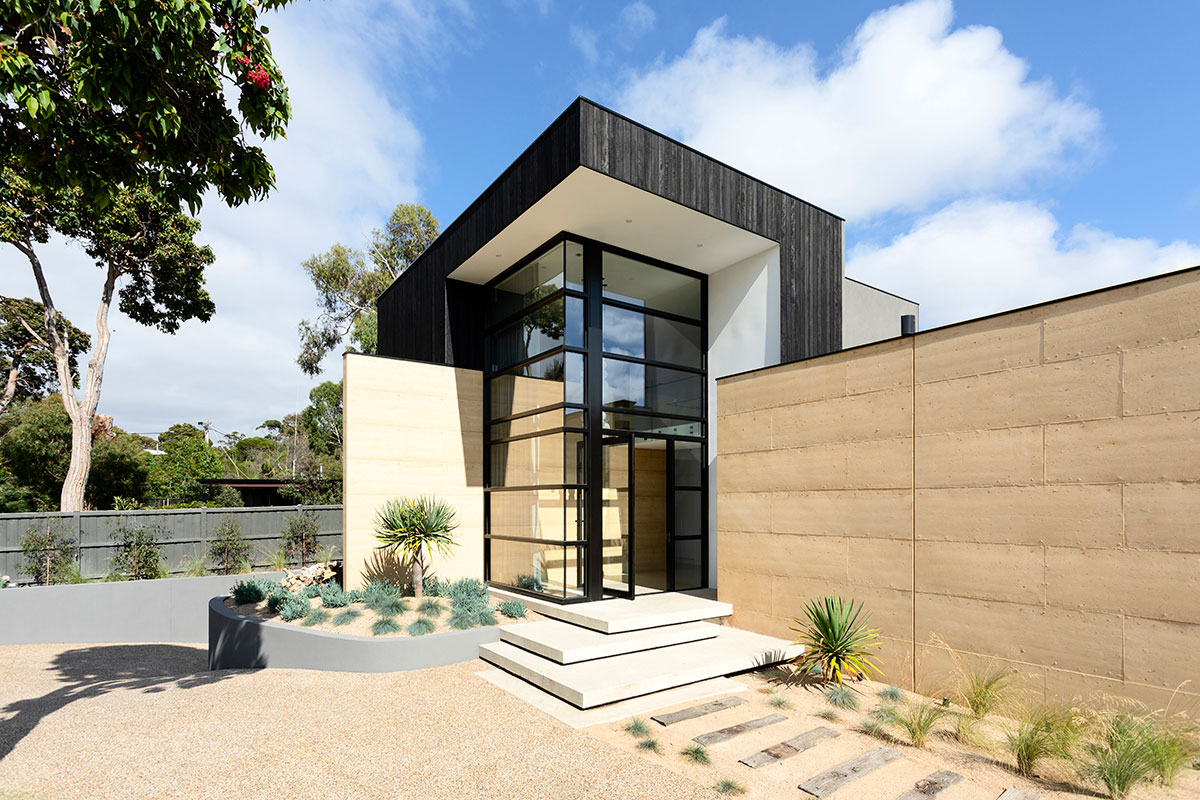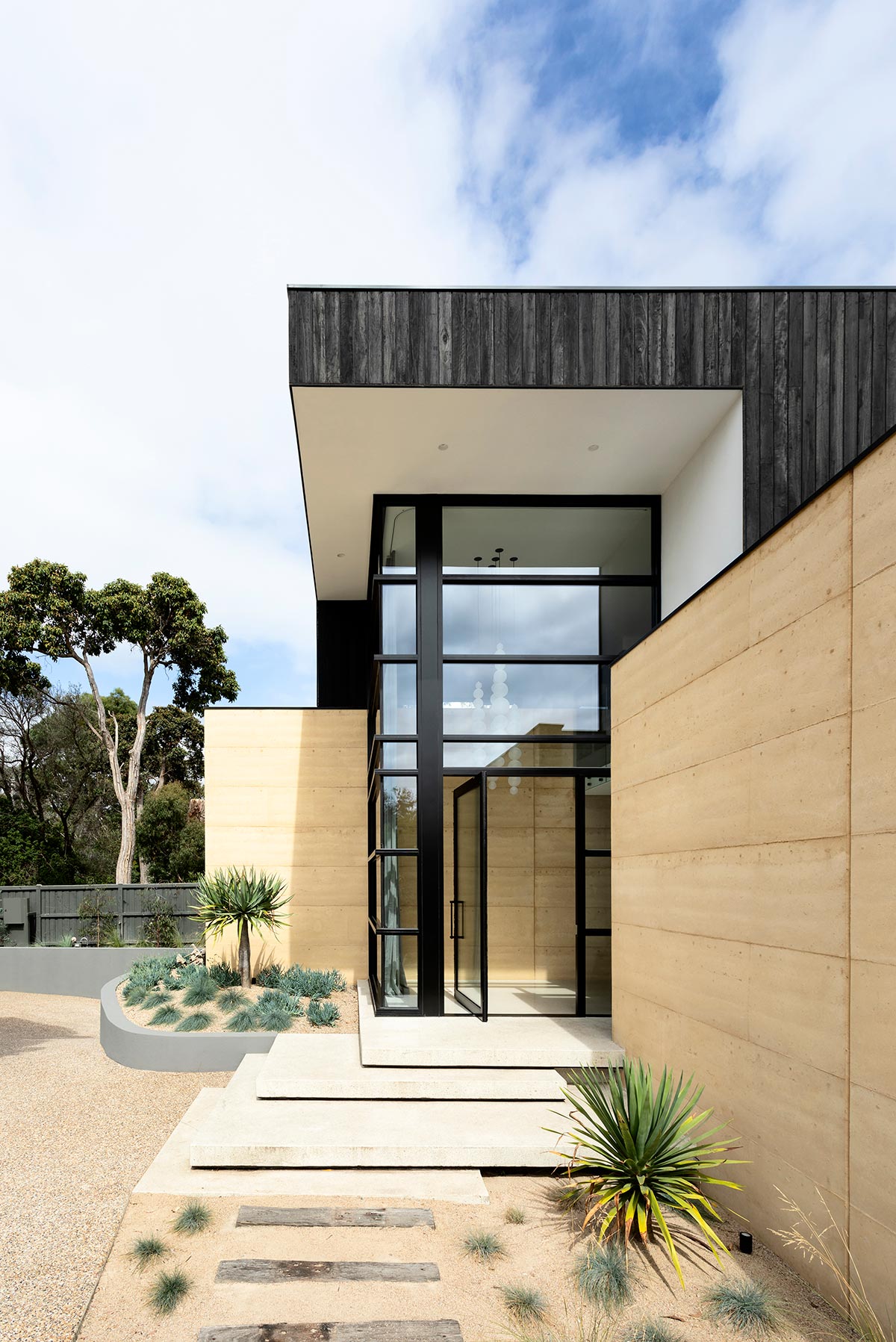 Historically, this quiet coastal village on the Mornington Peninsula was a holiday location, however recent times have brought many more permanent residents, and the newer housing in the area has begun to reflect this with larger often highly architectural housing replacing the older smaller weatherboard and fibre-cement holiday housing. And even though the neighbourhood character of the area was in the process of evolving to allow for modern, larger homes, the immediate streetscape was still small holiday shack type dwellings, so it was important to ensure the design was somewhat sympathetic to this.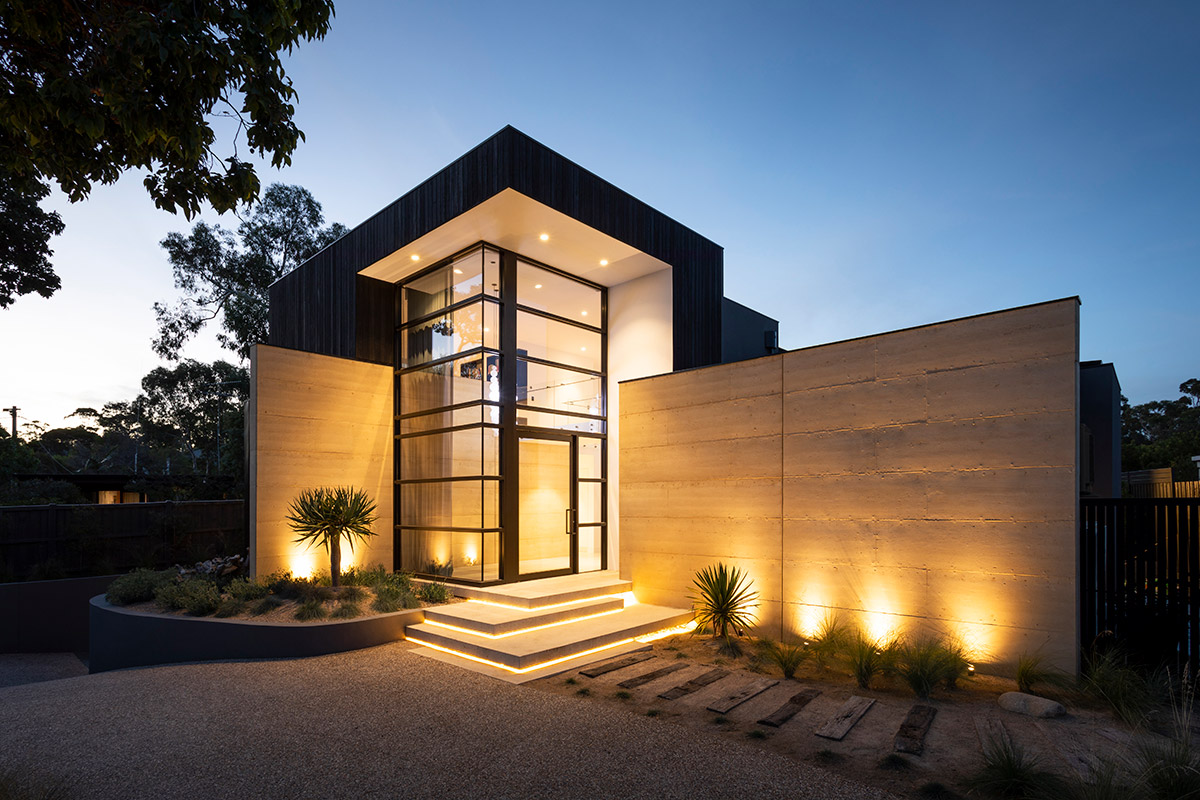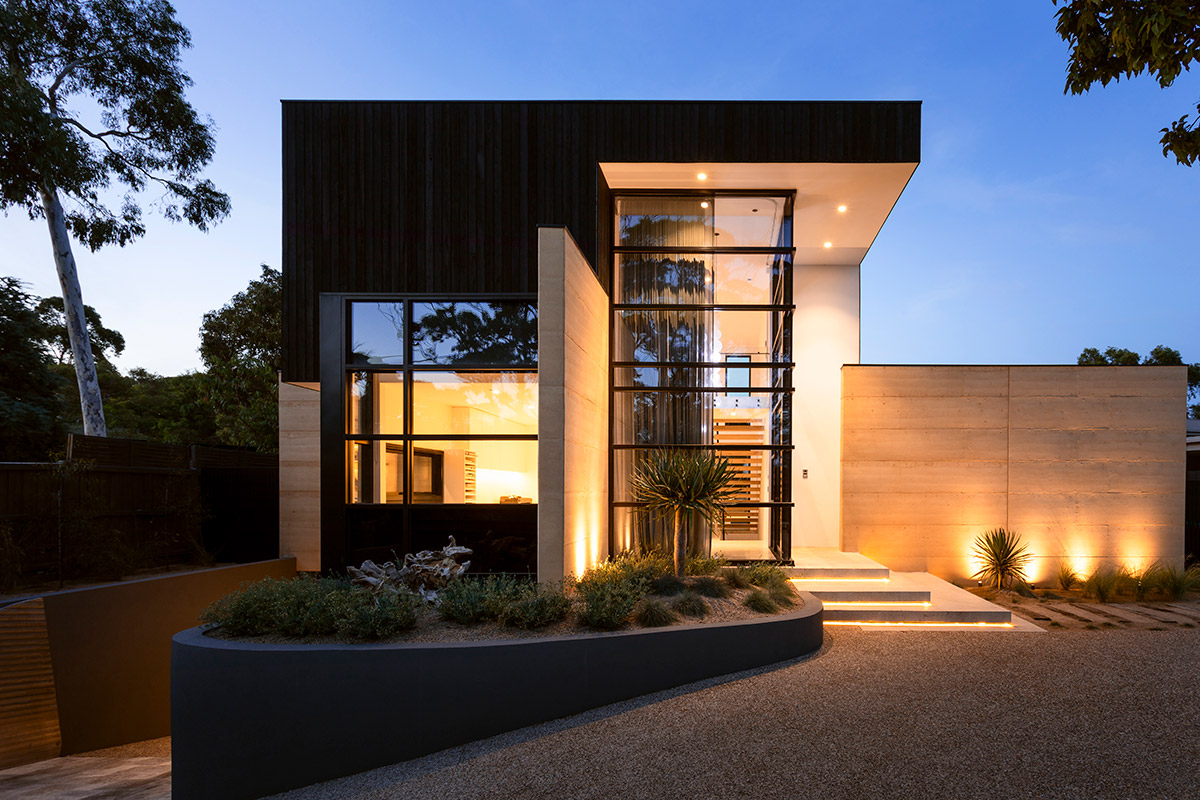 The design response was a simple vertical structure that rises above the coastal landscape with a rawness seen in the area, carried over in the surfaces and materials. The natural, beachside colours and tones of charred timber cladding and a contrast of light and dark were utilized on the facade, replicating the contrasting coastal tones in the surrounding nature. The large double-height expanse of glass to the entry of the dwelling lightens the facade further, and allows the reflection of the surrounding trees, further soften the presence of the building.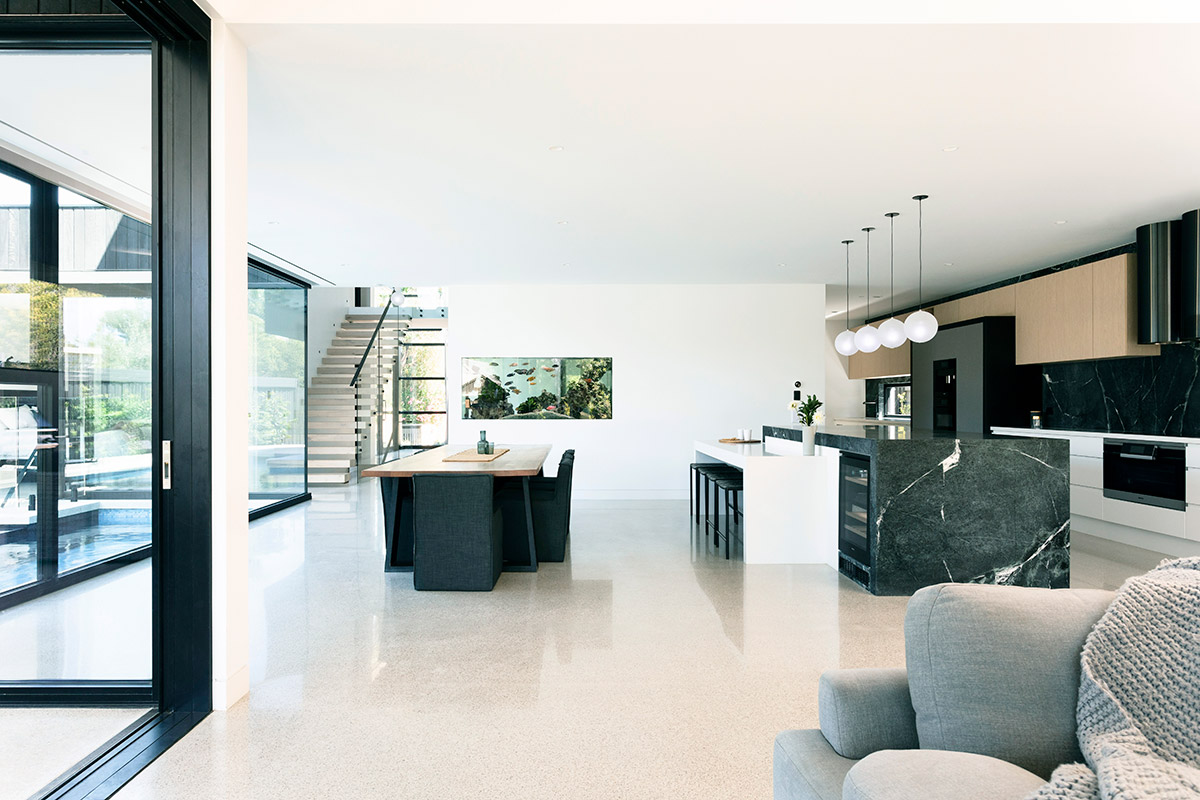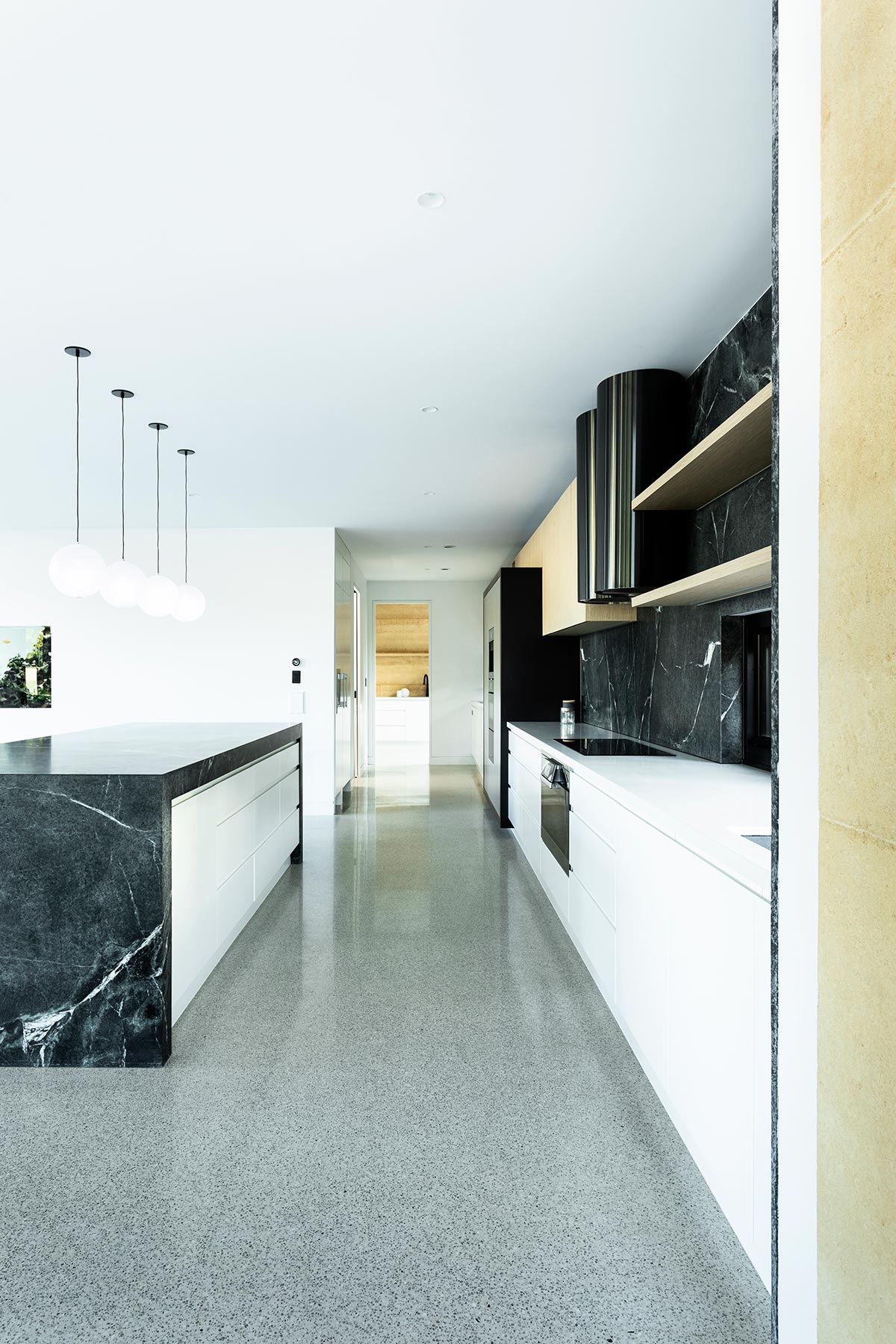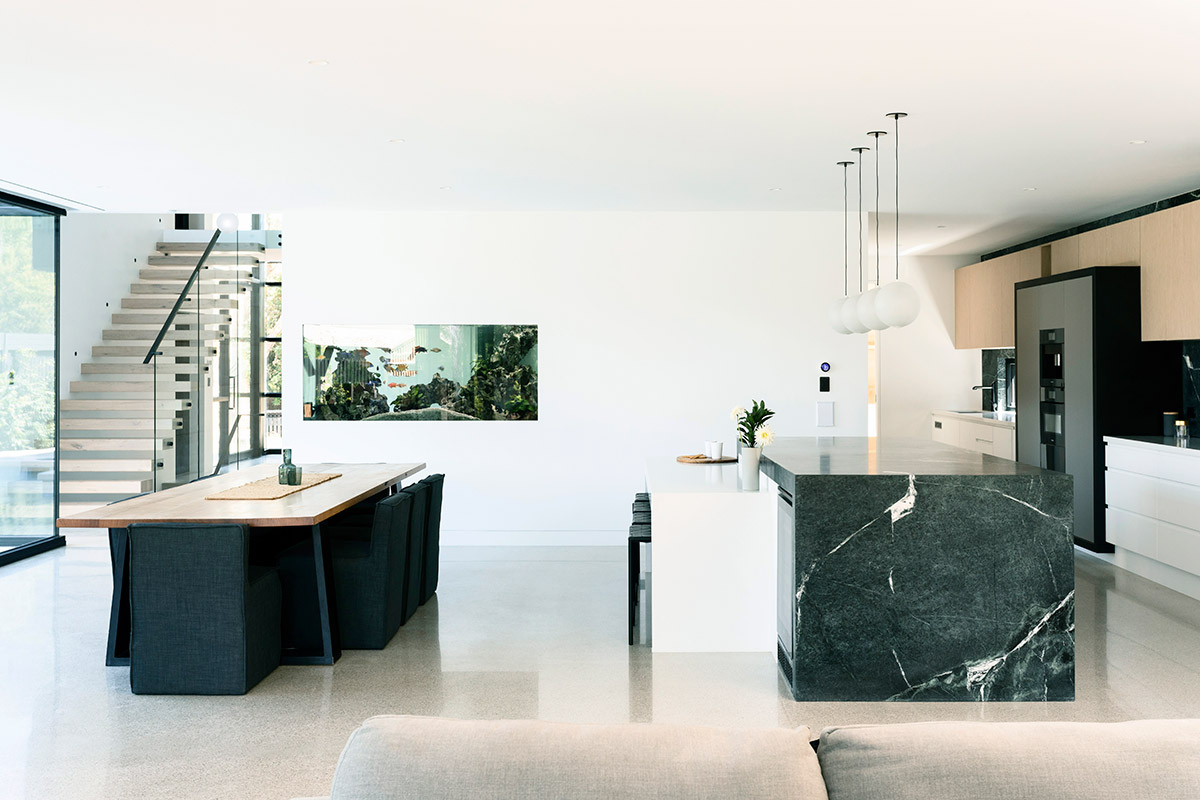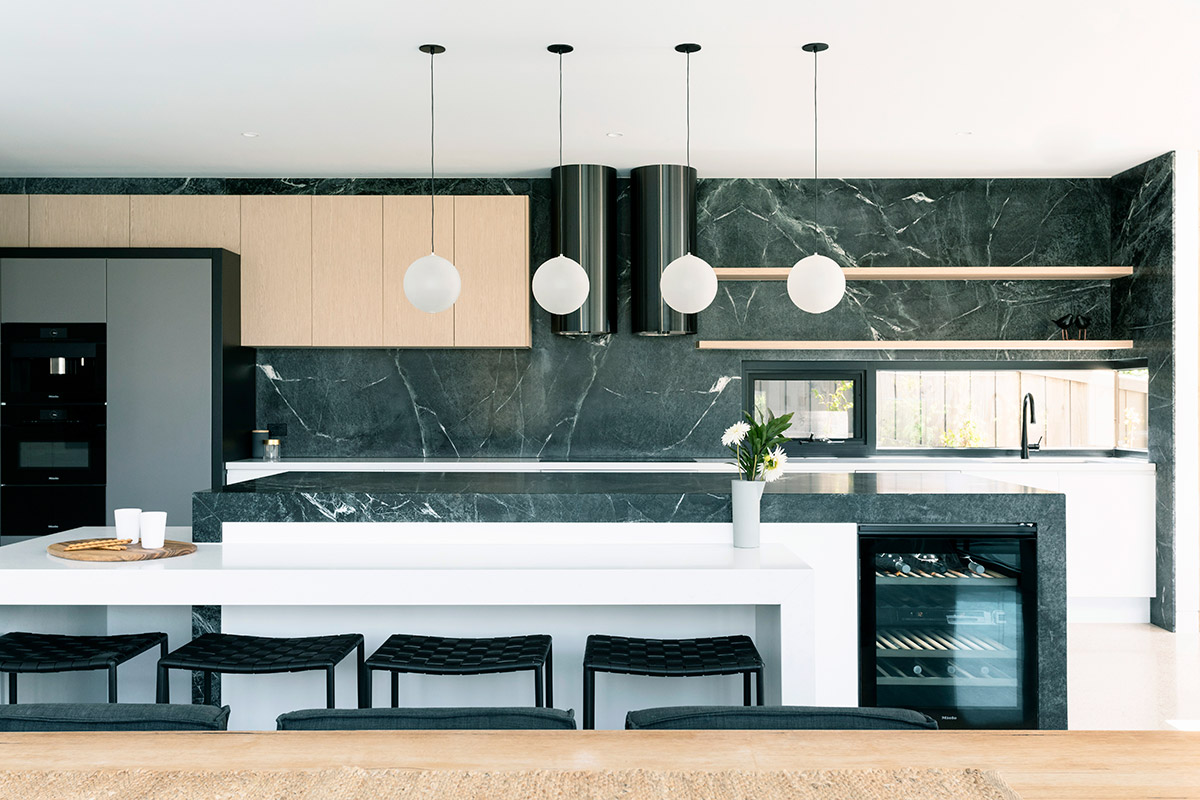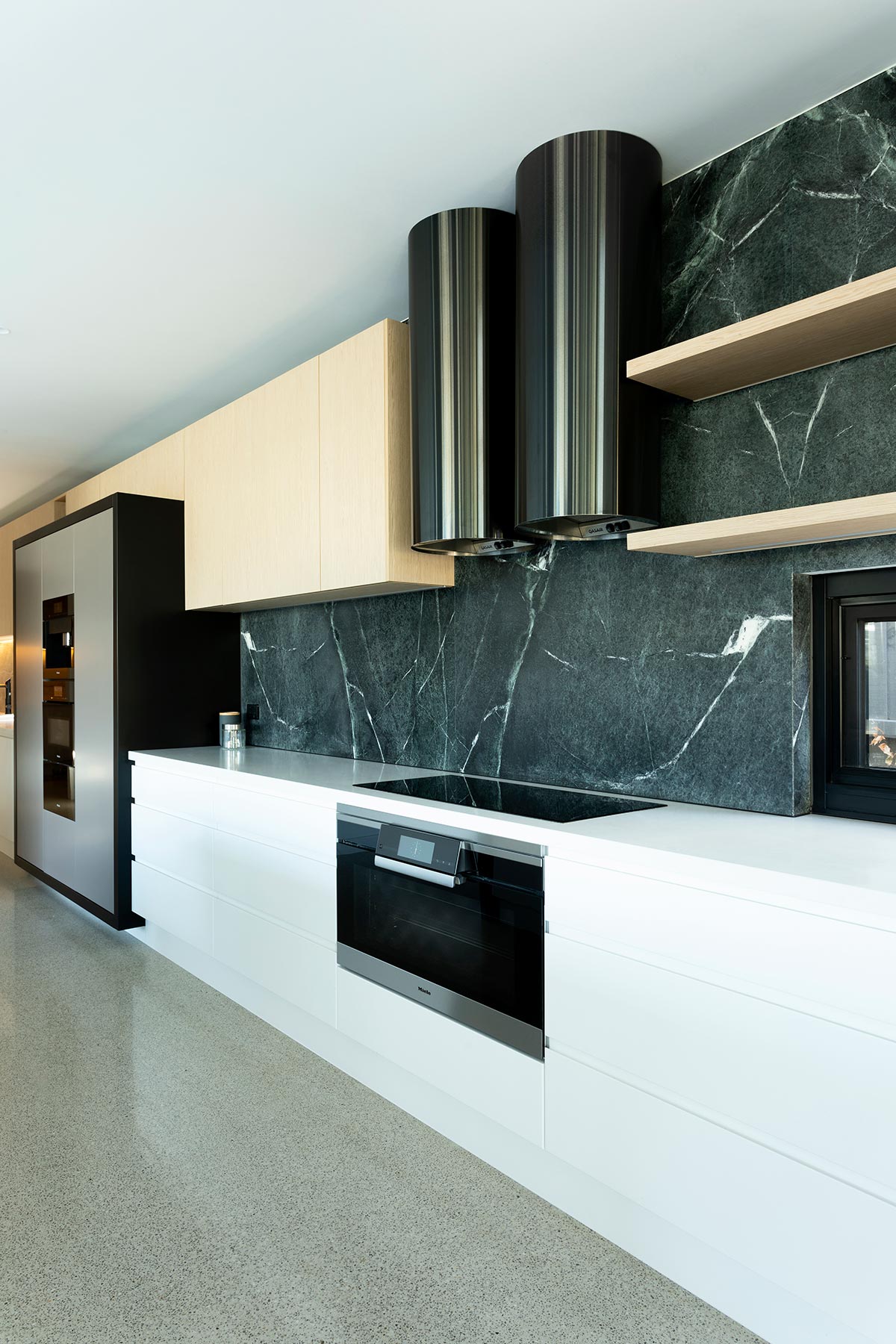 Now parents to two young children and a gorgeous Boston terrier puppy, the clients requested that the new home should be versatile and future proof, and be filled with plenty of natural light, seamless indoor/outdoor transitions, generous open living areas, passive yet effective heating and cooling options, and high-tech automation. Throughout the interiors, a commanding monochromatic vibe of black and white flows through the house, with the dark soapstone benchtops and the glistening blue pool visible from the main living areas delivering a feeling of drama and refinement when moving through each space.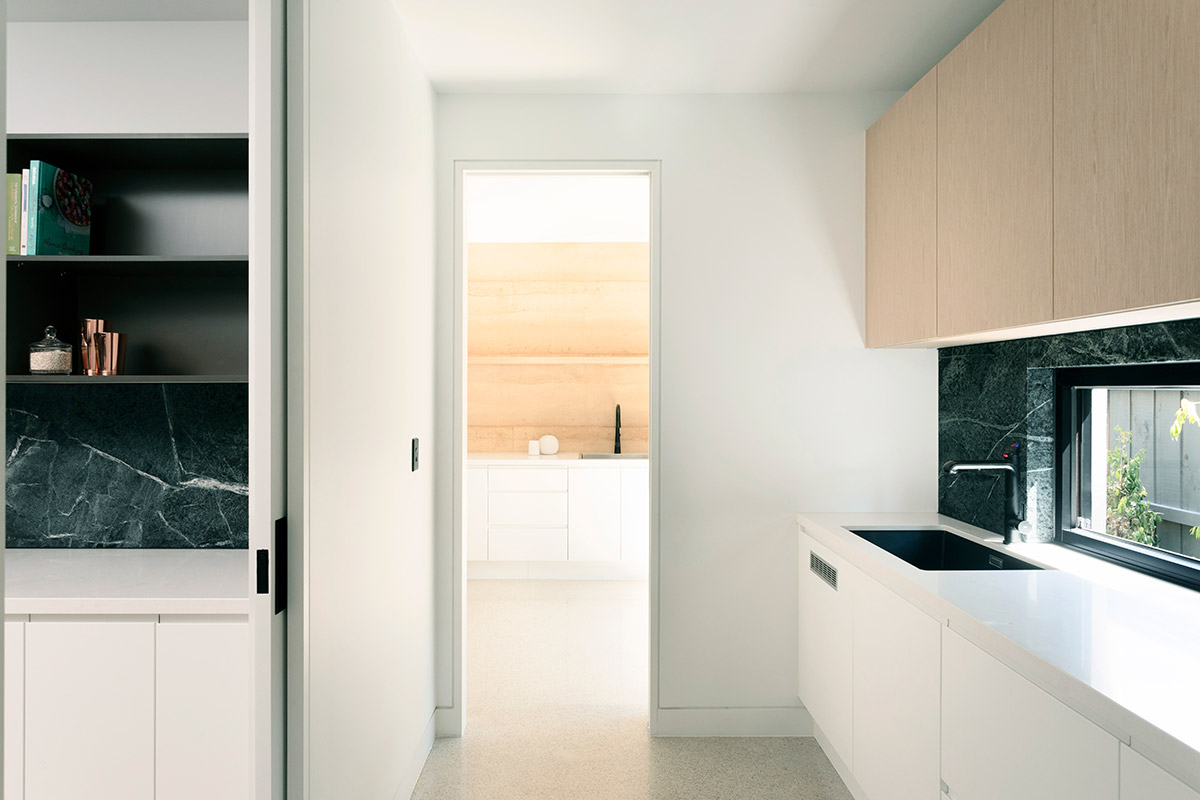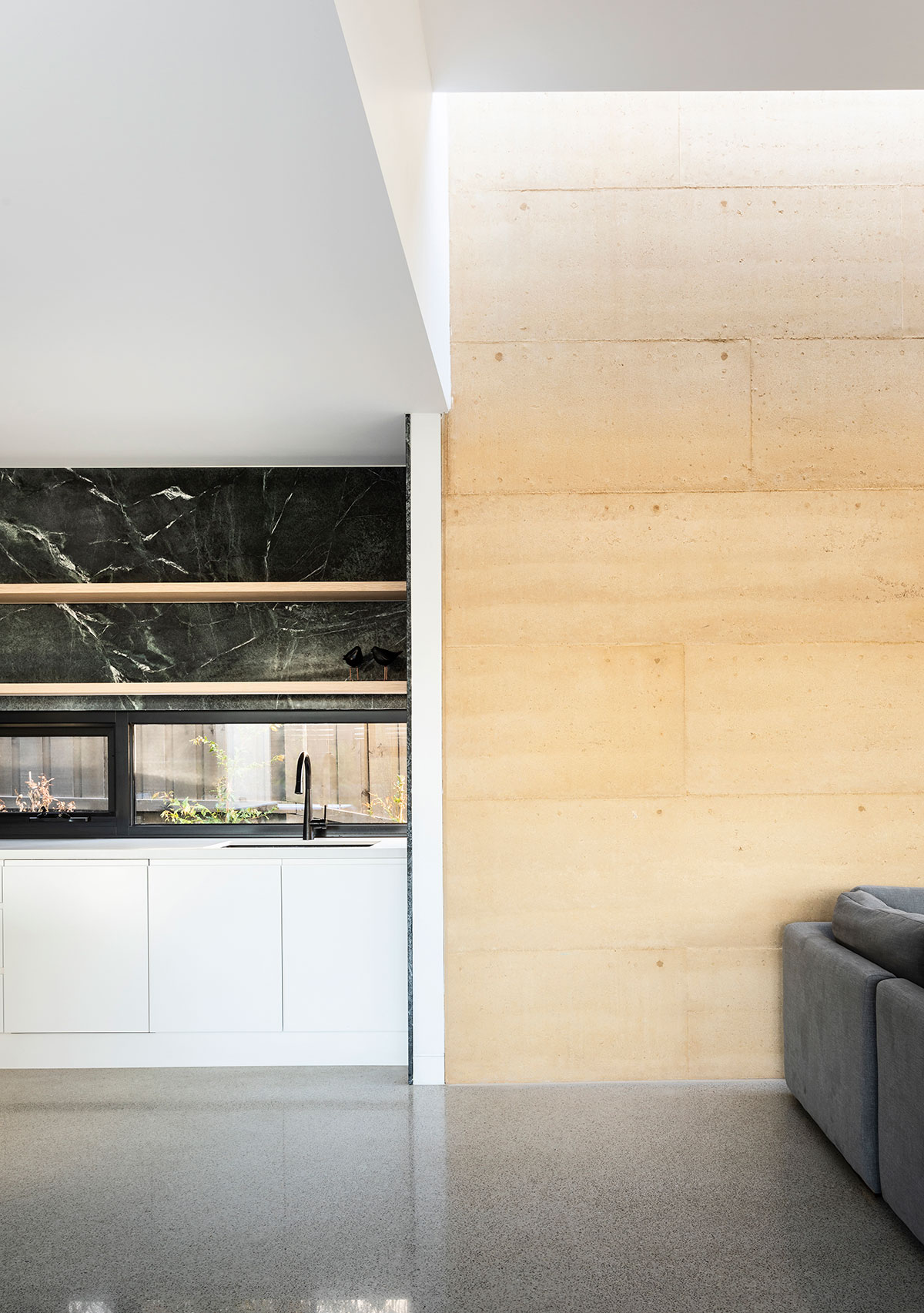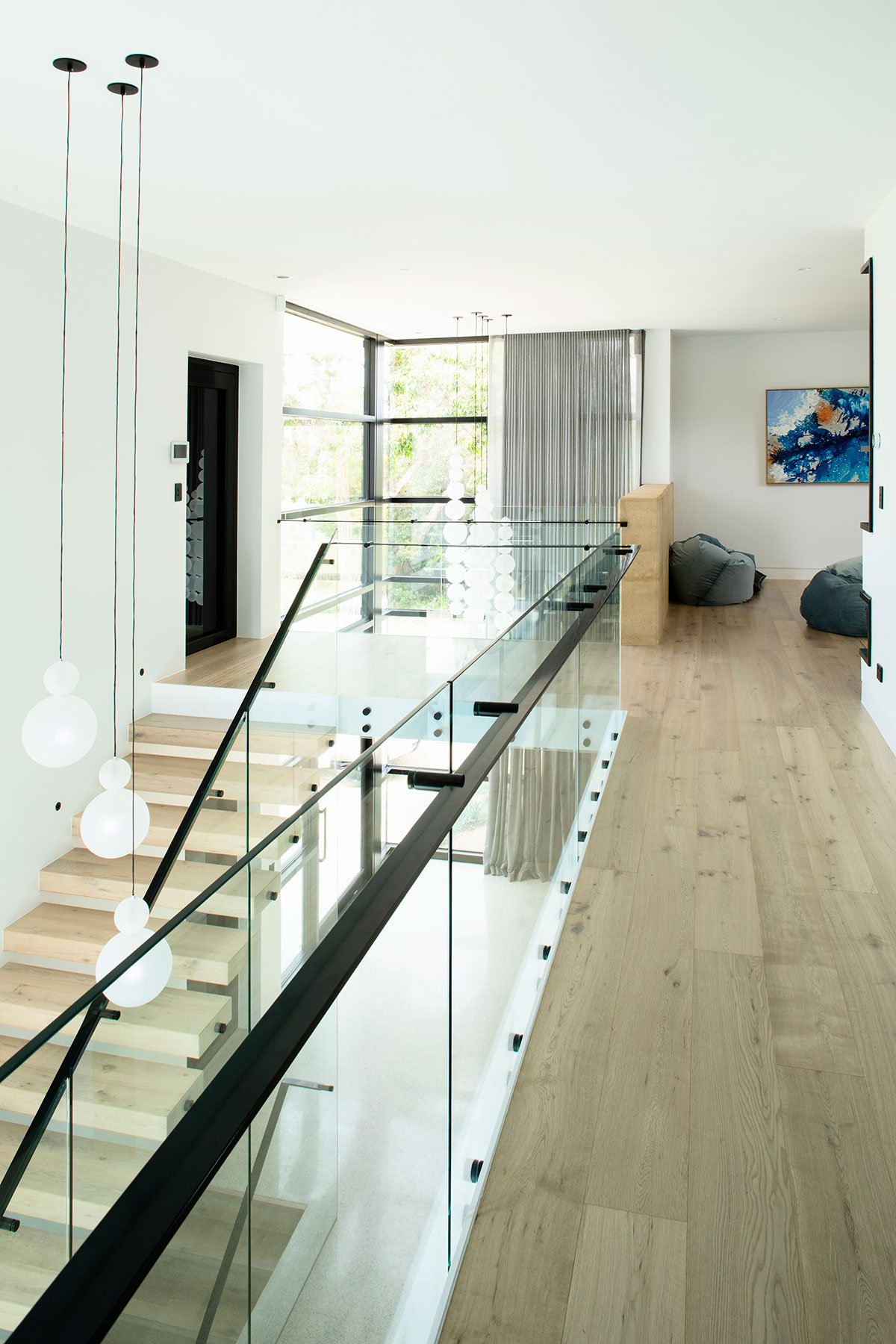 "The designer kept detail to a minimum, utilising open spaces and a simple combination of textured and reflective surfaces so that the pool became the standout feature. The reflections of the water, the shadows and light can be glimpsed throughout the house. Sometimes subtle such as the blue glow flowing into the basement from the underwater window. Sometimes obvious such as the view from alfresco and living area, or the master bedroom decking, floating over the pool where the occupants breakfast each morning, but always providing a hint of the coastal lifestyle the client loves so much."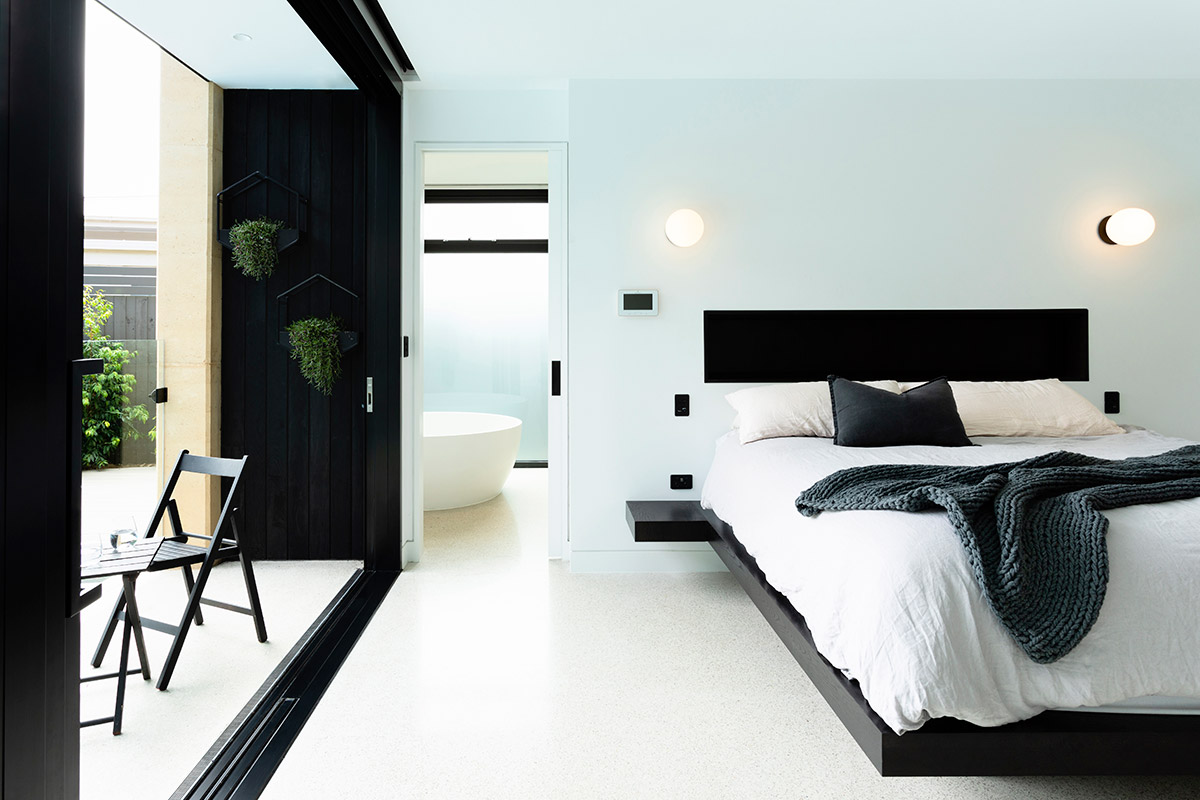 Conceptually, the project was a huge success and the client's goal of having a dream house for their growing family was realized.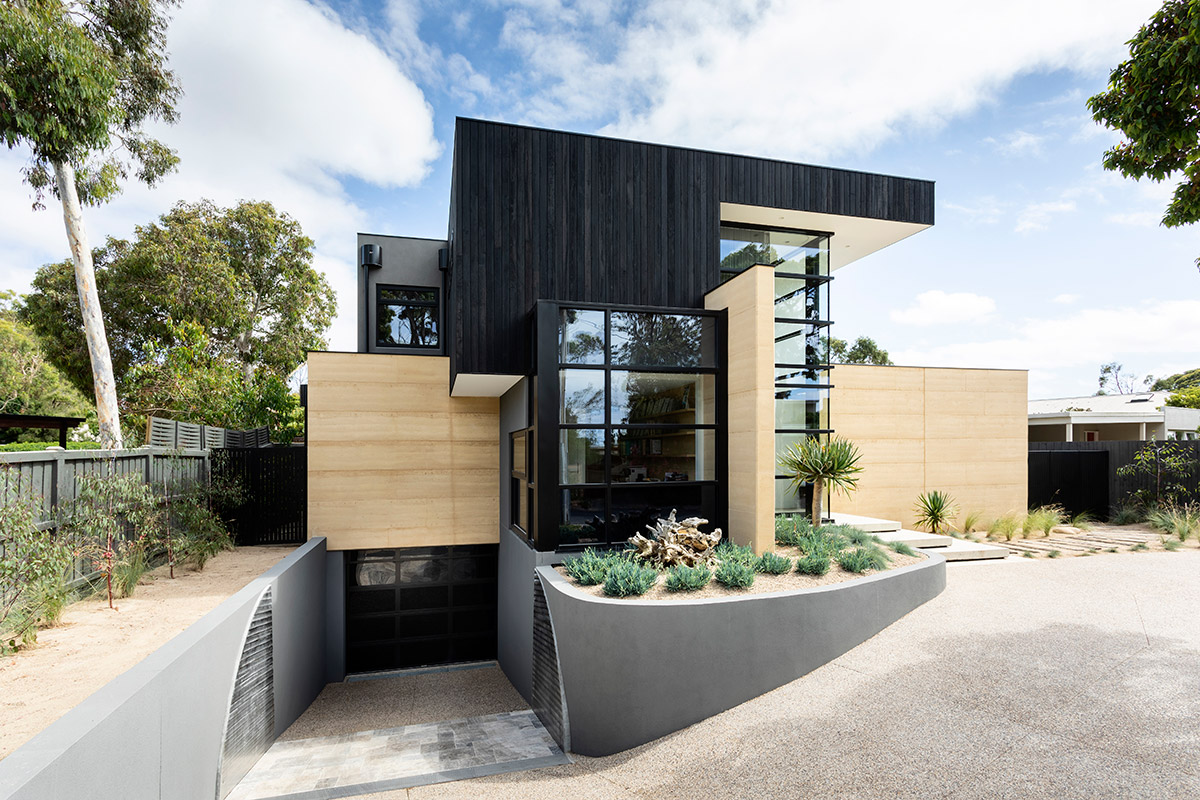 House Project: Fauconshawe Project
Architect: The Little Brick Studio
Location: Balnarring Beach , Australia
Engineer: Vayco Structures
Landscaping: Port Phillip Landscaping
Principle Designers: Ben Mulholland and Amy Hart
Builder: Swell Building Group
Photography: Amorfo Photography