**NOTE: COMPETITION CLOSED**
It's our birthday! ⚡This month Hunting for George turns 8 years young and to celebrate we are giving away 5 BIRTHDAY BOUNTIES valued at over $1000 each. Yes you read that correctly, it's our birthday but you get the presents. Every order placed online at Hunting for George for the month of October is in the running to win 1 of 5 Birthday Bounties. Our incredible community of brands and designers are helping us celebrate 8 years in biz-ness and together we bring you our Biggest Giveaway yet! Here's what you can win. Drumroll please…
The Birthday Bounty includes: Oiva/Rasymatto Mug 400ml from Marimekko RRP $35, Leather Key Organiser from OrbitKey RRP $44.90, Mini Bar Soap RRP 9.95, Lip Punch $14.95, Soothe Tube Hand Cream RRP $29.95 from Ashley and Co, Sensory Volcanic Rock Set RRP $69.95 and 2019 Weekly Agenda RRP $49.95 from Milligram, Huck Low Tumbler Set of 4 RRP $39.95 from Milk & Sugar, Norm Bottle Grinder 2-Pack RRP $139.95 from Menu, Paper Bag Small White RRP $24 from Uashmama, Plant Society by Jason Chongue RRP $29.99 from Hardie Grant, Leather Tombstone Mousepad RRP $48 from Dowel Jones, Solid Cologne RRP $39.95 from Solid State, Little Helper Hand Wash RRP $39 and Playing Cards RRP $19.95 from Triumph & Disaster, Gift Cards Set of 8 RRP $24.95 from Pete Cromer, Woof Dog Bowl Luxe RRP $38 from Bendo, Tiggy Dog Lead RRP $59 from Nice Digs, Roundie Beach Towel RRP $99 from The Beach People, Exfoliating Hand & Body Bar RRP $27 from Hunter Lab, The Wanderer Candle RRP $59, Tote Bag $4.95, Small Monochromatic Totem 1 Art Print RRP $69 and Small White Art Print Frame RRP $89 from Hunting for George.
Total Value: $1,105.34AUD.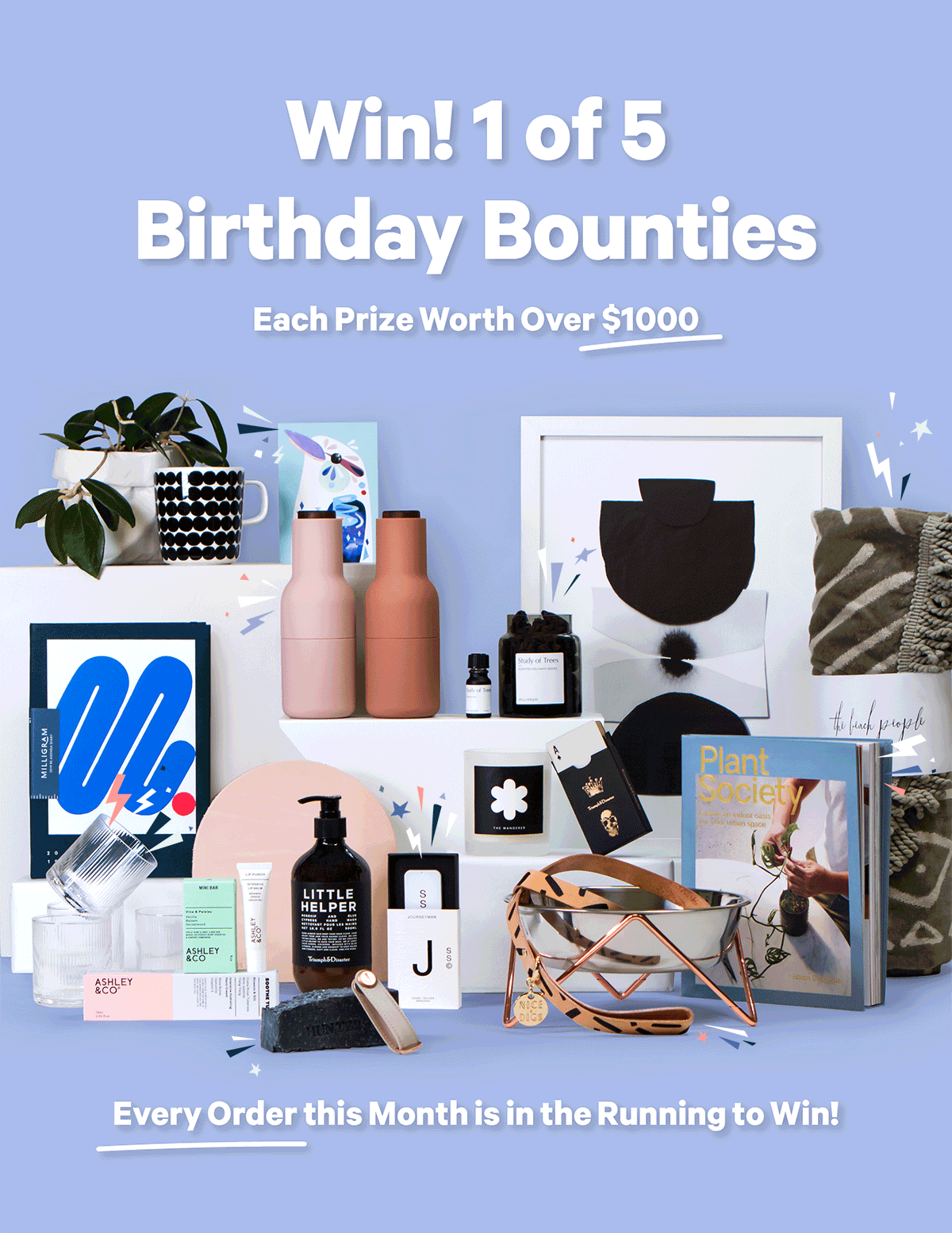 How Can I Win?
Everyone that places an order online with Hunting for George for the month of October will automatically go in the running to win. 5 winners will be drawn at random on Thursday 1st November 2018 and notified via email.
How Many Times Can I Enter?
Every order placed between October 1st and 31st will count as an entry to the competition. If you have already ordered and wish to place another order, you will then have 2 entries in the competition. Entries will be limited to a maximum of 5 per person.
Increase Your Chance to Win
You can increase your chance to win by referring a friend. Once you have placed your order you will receive an order confirmation with more details on how to do this.
What Else Do I Need To Know?
This giveaway is limited to Australian residents only. Each Birthday Bounty is valued at $1,105.34AUD. Some products may vary in colour and/or scent from what is displayed in the promotion photography. No items received in the Birthday Bounty can be returned or redeemed for cash value.

Thank you for all your support these past 8 years!! Best of luck x