This sweet and chewy Ricciarelli recipe from the Ostro cookbook by Julia Busuttil Nishimura is bound to be your favourite cookie recipe yet! These traditional almond biscuits from Siena, Italy are a distant cousin to the French macaron, a hundred percent perfect with tea or coffee. There is just something really luxurious about the Ricciarelli that is so addictive you surely wouldn't want to stop munching on them! Let's have a look at how they're done..
Ingredients:
125g caster sugar
Finely grated zest of 1 lemon or orange
100g icing sugar, plus extra for coating
300g (3 cups) ground almonds
2 egg whites
Sea salt
1/2 teaspoon vanilla extract
1/2 teaspoon almond extract or aroma of bitter almonds (optional)
Method:
Preheat the oven to 160 degrees C. Line a baking tray with baking paper.
Place the caster sugar and zest in a large bowl. Rug the zest together with the sugar until fragrant and the citrus oils have released into the sugar. Sift the icing sugar and add the ground almonds. Mix to combine.
Place the egg whites and a pinch of salt in a mixing bowl and whisk to stiff peaks. Add the egg whites to the almond mixture along with the vanilla and almond extract, if using, and gently fold in until the mixture becomes a firm but moist paste. Tip some extra icing sugar on to a plate or your work surface, then roll the dough into walnut-sized balls and coat in the icing sugar. Flatter the balled ever so slightly to form oval-shaped biscuits, and pinch the ends slightly into points, creating a leaf shape. Place on the prepared tray. Leave the Ricciarelli to sit at room temperature for at least 30 minutes to form a slightly dry exterior.
Bake for approximately 12-15 minutes until only just coloured. The biscuits will still be soft, but they firm up as they cool. It's important not to overcook them, as the chewiness is what makes ricciarelli so special, so be sure to keep on checking the biscuits as they cook. Once cool, dust generously with extra icing sugar. Store in an airtight container for up to a week, although they are usually eaten the same day by family and friends.
*Makes about 20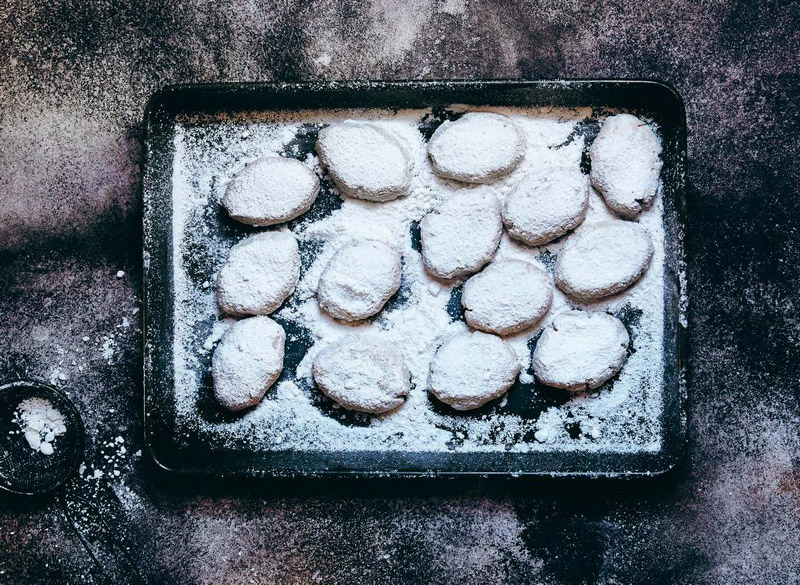 Julia Busuttil Nishimura is a Melbourne-based Italian teacher and food writer, and the creator of Ostro – an online space where she shares her recipes, images and stories. Since launching Ostro in 2014, Julia has gained a strong and loyal following for her generous, uncomplicated, seasonal food.
"My approach to food favours intuition over strict rules and is about using your hands, rushing a little less and savouring the details. It is food that slowly weaves its way into the fabric of your daily life – food for living and sharing." – Julia Busuttil Nishimura
Head over to our recipes section for more of these mouth-watering and tasty recipes including Purple Performance and Creamy Peach Melba recipes from Green Kitchen Smoothies by David Frenkiel & Luise Vindahl, and Soft Polenta with Bitter Greens and Walnuts recipe also from Ostro by Julia Busuttil Nishimura.