Transforming a bathroom or an ensuite can often be an expensive task, especially if you're starting from scratch. In our recent Ensuite Makeover we faced that exact challenge, renovating from the ground up whilst trying to cut costs where we could. Suncorp asked us to share our learnings with you to help make change for less when renovating and styling your bathroom.
Depending on your task at hand and what you're hoping to change the cost of a renovation can vary. To help you budget for your bathroom or ensuite renovation there are some key factors that will affect the costs, enter your goals into the Suncorp Renovation Calculator for an estimate on how much your reno will cost. In the meantime, here are some ideas on how you can make change for less in your ensuite!
DIY What You Can

If you're starting from scratch in a bathroom you will need to hire important trades for plumbing and tiling etc, but you can save money by doing whatever tasks you can yourself. For our ensuite renovation we did our own demolition, cleaning, material removal and waterproofing. This was a lot of hard work, but we saved a full week of trade costs. Whilst hiring trades is important and necessary, if a certain task does not require a skilled hand then DIY to save money.

Save on Lighting

When it came to deciding on lighting for our ensuite I wanted to add in feature wall sconces however our budget simply didn't stretch enough to be able to get the ones I wanted! So we decided to save on lighting costs by opting for well placed down lights instead. If you position your down lights well, they will provide ample lighting for your bathroom. Feature lighting such as wall pendants look great but will add to the cost, down lights are cheaper and easier to install. We used 4 down lights in our ensuite which we picked up from our local hardware store, they cost $35 each so all up our lighting cost $140.

Make a Plan Early
Map out your layout from the start and make sure you know exactly where you want your fixtures and fittings to be. Once you are confident with your layout be sure to communicate clearly with your trades. Trust me, if you don't, they will often just put them wherever they think 'looks good' so be sure to have a plan and share it. Changing your mind can happen but if work is already underway that will cost you more in labour costs.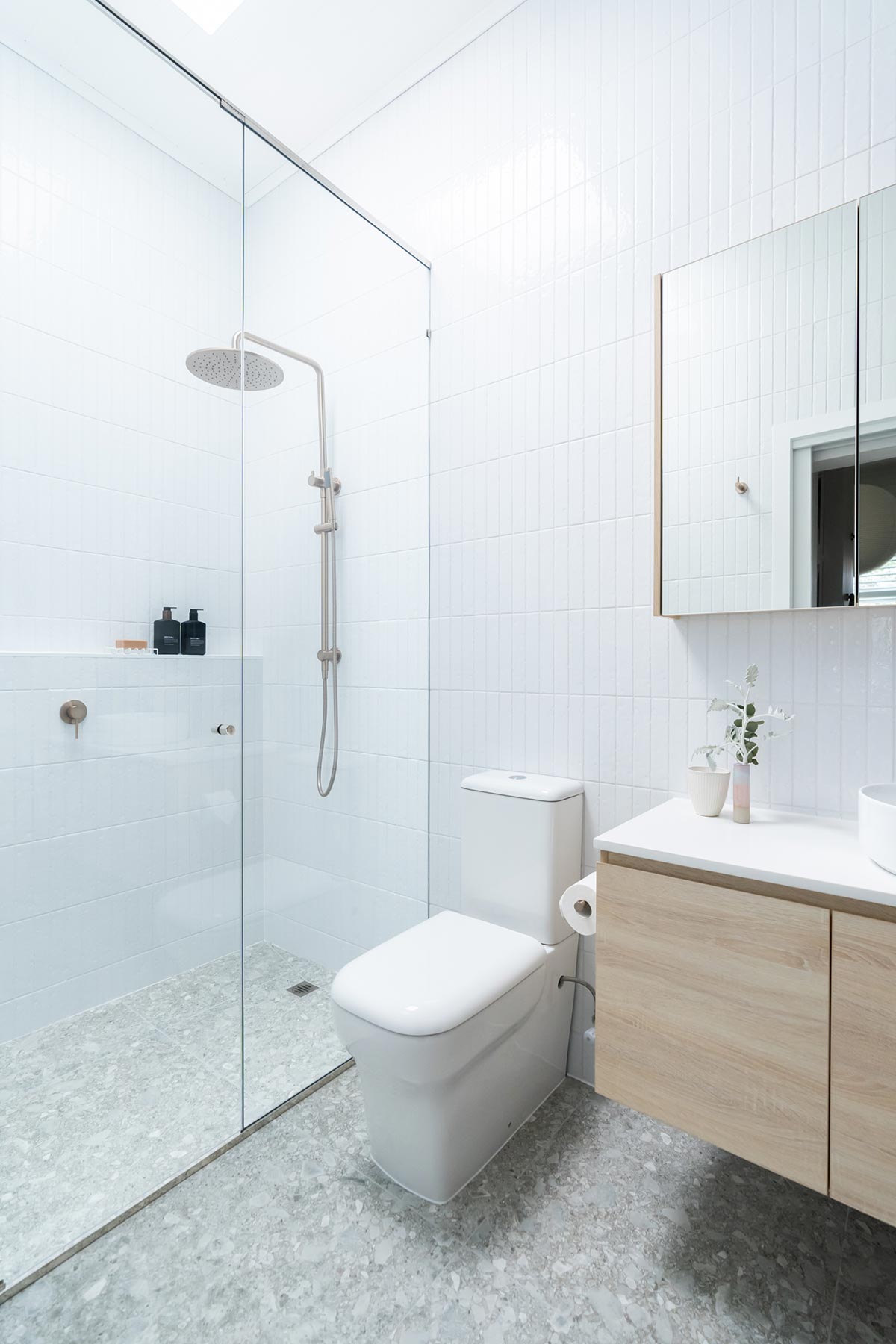 Bathroom Styling Tip
When it comes to the interior design and styling of your bathroom, it's important to decide on a colour and material palette to work from. The best way to do this is to order samples and swatches of the finishes you are interested in. Think tiles, paint, fixtures and finishings… Once you have physical samples you can look at how they all work together and choose the best combination. A good way to start is to create a base first by choosing tiles, then bring in different textures and colours to see what works.
I hope this article has given you a few ideas on how you can make change for less! If you want more financial guidance on how to save money check out the Suncorp Renovation Calculator and Budget Planner to help you get started. Next week, we'll be sharing our top ways to make change for less in your dining room!