Otis Carey is an Indigenous artist from Coffs Harbour. His connection to the ocean is significant, through both his surfing, his painting and his culture. Quietly spoken and incredibly humble, Otis's paintings are reflective and based on his emotions.
When I first emailed Otis to ask him to be involved in our Hunting Collective collaboration I held my breath. For quite a long time. It was silly I guess, but I was excited. I knew of Otis' prominence amongst the surfing elite, but it was his artwork that I was more interested in. He said yes of course, in the coolest and calmest of ways and I was quite taken back by his immediate friendliness and enthusiasm for this project. He has a quiet confidence and is modest with his achievements. 
With a paintbrush in hand, Otis relaxes and focuses solely on the present moment and his calmness quickly spreads across the room.
Otis' clock is available via online auction. To bid, click here.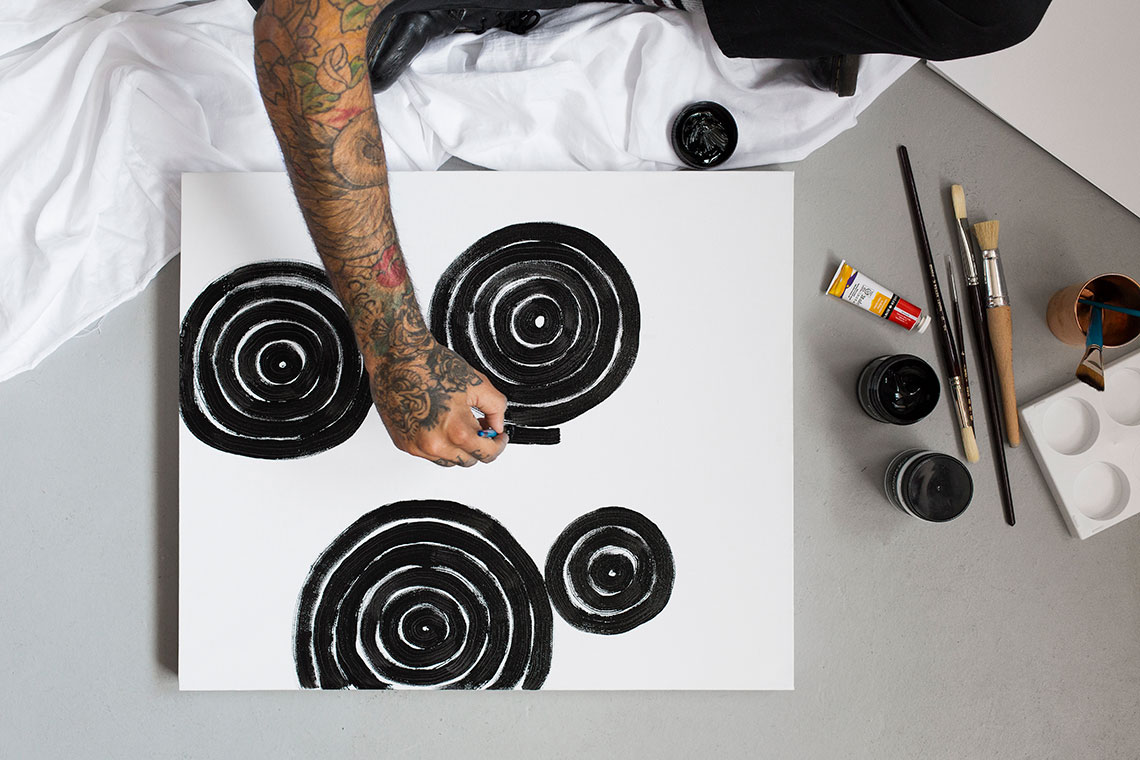 When did you realise you were creative?
I think I realised I was creative when I kind of understood certain emotions in regards to why I surfed in a way. Surfing is a way of life. That is a pretty creative thing. I realised probably when I first had my son, when I was 21.
When did you start surfing?
I get asked that question all the time. I have no idea when I started surfing, but my earliest memories are at the beach with mum and dad. So I don't really know, but definitely from a very young age.
How connected is surfing and the ocean to your painting?
The ocean is actually my people's totem. So it's always been a part of me. I guess with everything I do and the way I present myself, the ocean plays a big role in that.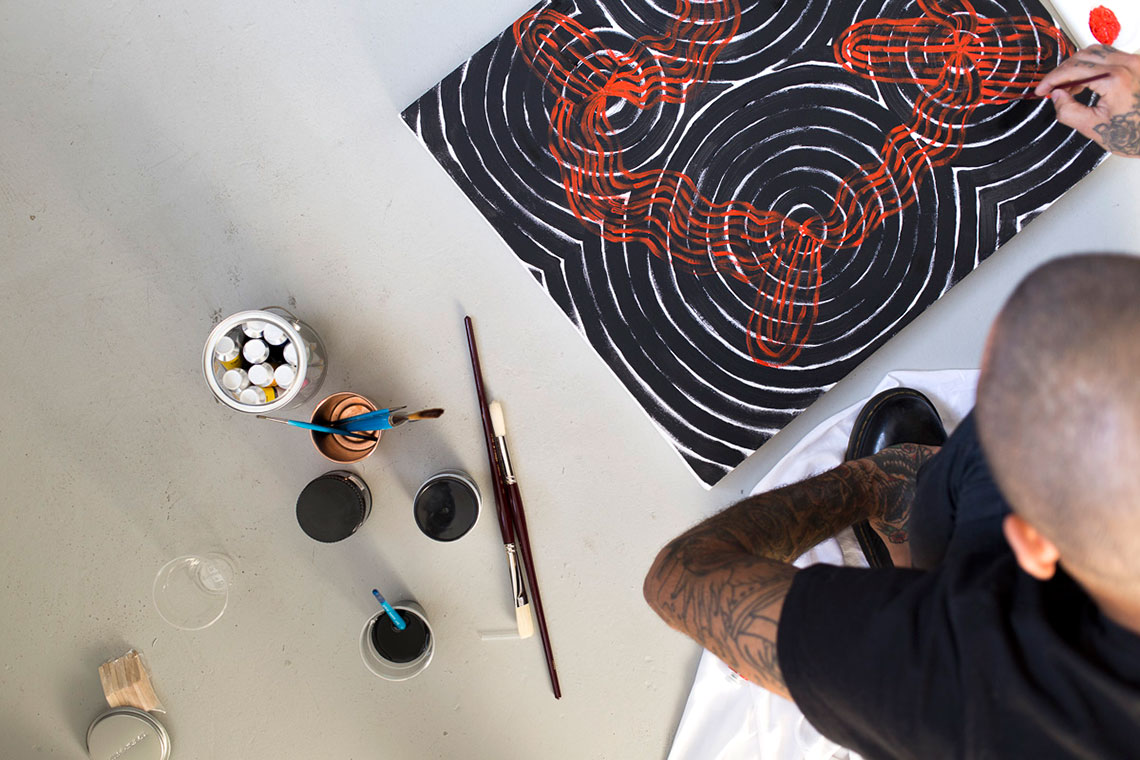 Can you describe the feeling that you get when you're painting?
When I paint it's very relaxing and very therapeutic. I forget about everything else and just focus on the present moment and the story I am trying to tell.
Where do you draw your inspiration from?
It's kind of hard to say, I'm inspired by a lot of things. The wind. The Earth. The water. My culture. My family is a big one. Yeah. I'm just inspired by making my family proud of what I'm doing.
Does anyone else in your family paint?
No, I'm the only one in the family that paints, but I've got a distant relative who is a really amazing ceramic Aboriginal artist. He lives in Grafton but I've never met him.
You've got to meet him!
Yeah. I want to go paint some plates.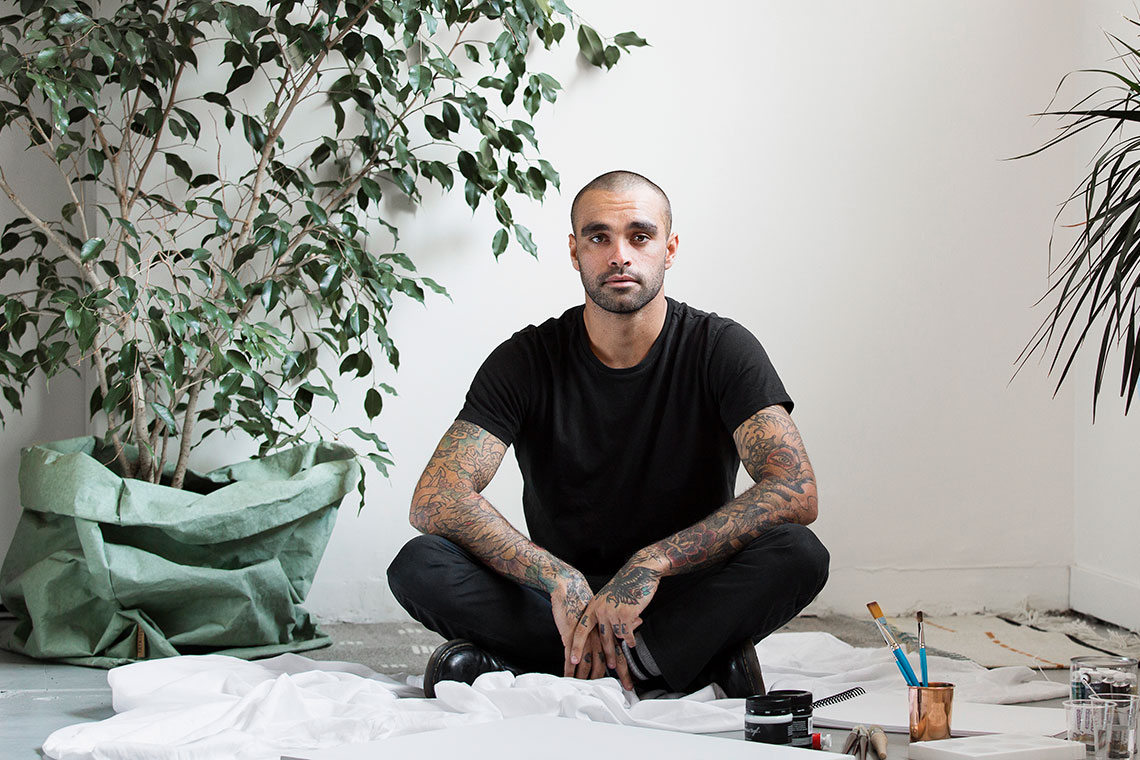 What has been the main influence in your artwork?
In regards to influences in art, I think the main influence has been my emotions. Understanding certain emotions, the cultural side of things. And my other main expression of emotion is my son.
Are these emotions the reason that you started painting in the first place?
Yeah I think sort of growing up you don't really know who you are, or where you want to go, or what you want to be when you grow up. But I had to grow up pretty quick being 21 and having a son. So I guess all those things added up.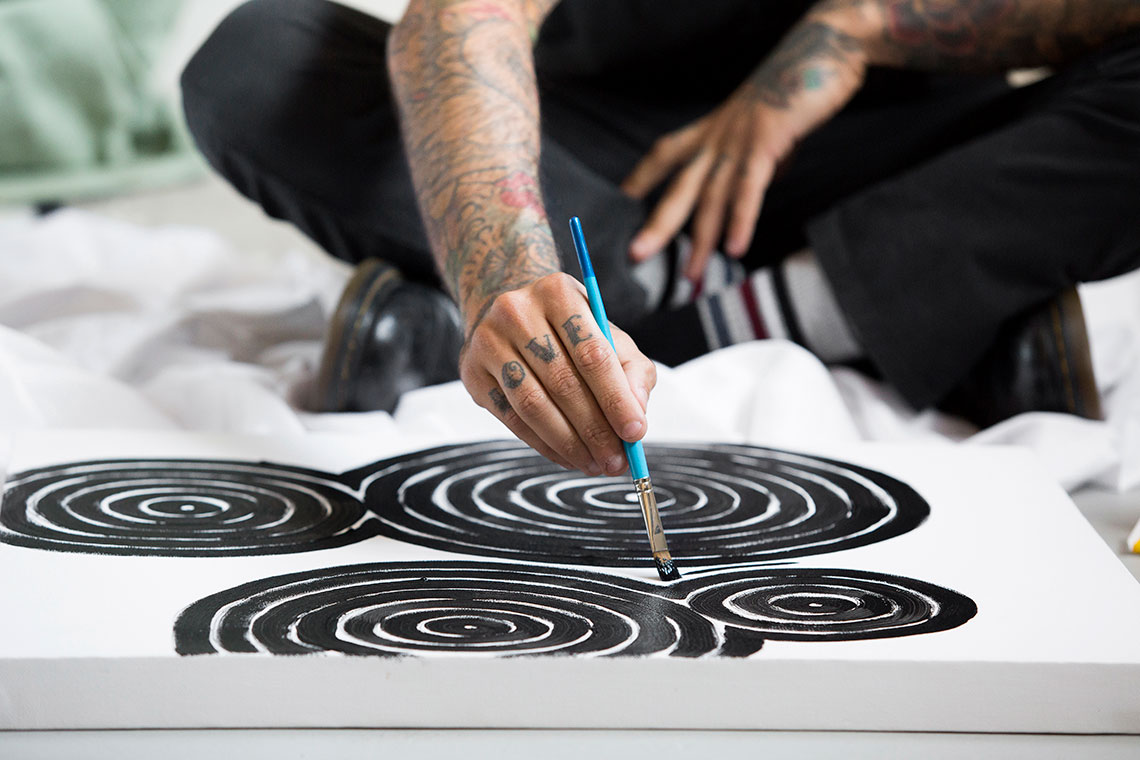 What has your son taught you about yourself?
Having a son at such a young age I realised how impatient I was with everything. Simple things like making cereal or going to the toilet. You've got to be such a patient person when you have a child, but it's nice to know that I have patience now. It's a really nice feeling.
Do you have a lot of patience with your artwork or do you work quite quickly?
Yeah. I mean I don't like to rush things in any aspect of life. I think anything rushed will never be done properly. I kind of take my time with painting.
How do you start a new artwork?
Most of the time my painting represents a feeling, an emotion. This painting here in front of me represents the ocean, so it's kind of like feeling that emotion and trying to put that onto canvas with a paintbrush. Trying to reinvent that emotion for people to look at.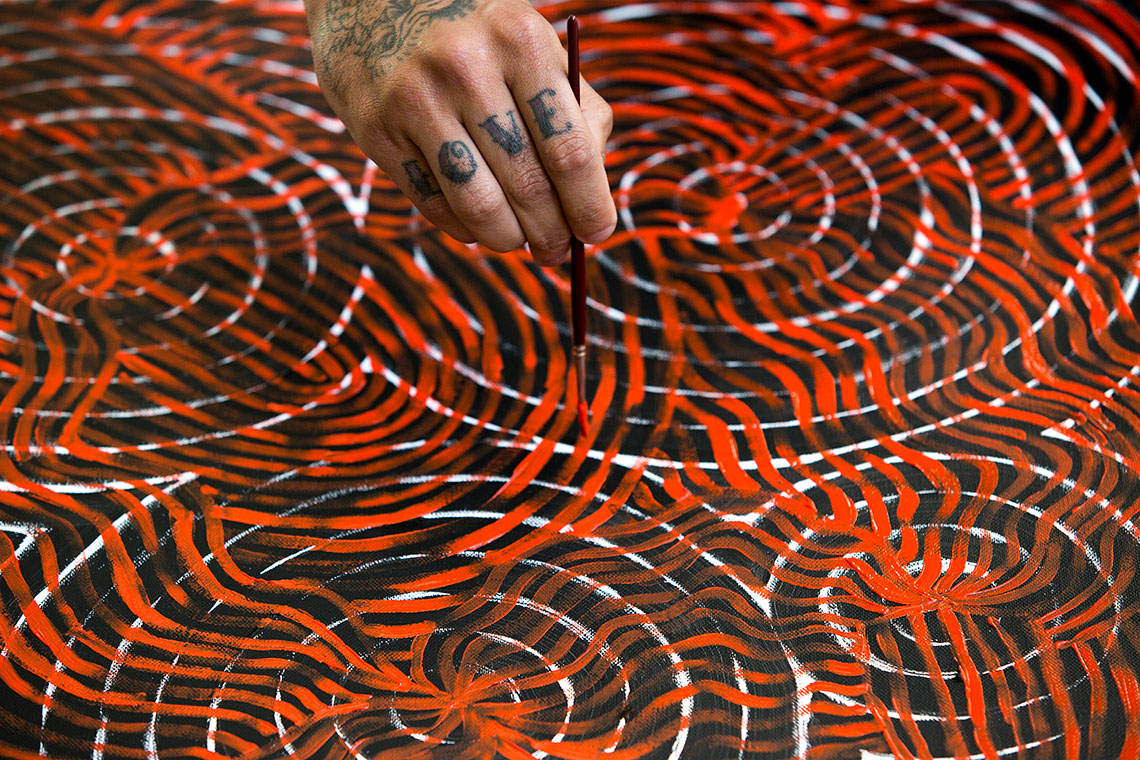 What colours do you often paint with?
I paint on a lot of black back drops for the fact that most of our dream time stories are on the night sky, so it makes sense to paint with a black back drop.
How do you know when a piece is finished?
I guess the easiest way for me to tell when a piece is finished is when I feel like I've let out what I need to let out.
How would you describe your work?
It's so hard to describe my work. I guess I would describe it as being a reflection of who I am.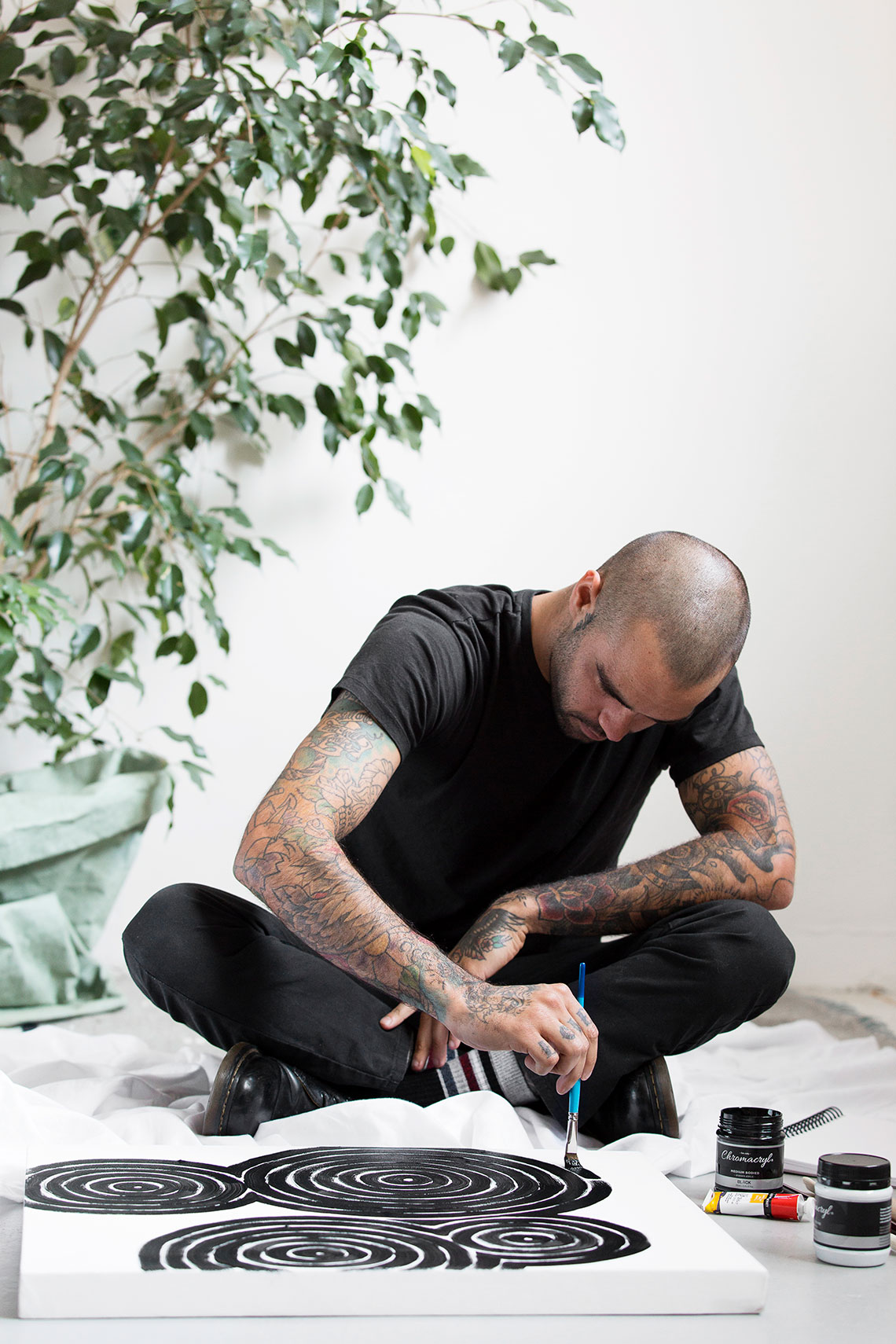 Is there anything that not many people know about you?
I'm sure there's a lot of things people don't know about me. I'm not sure. I'm allergic to chocolate.
What do you think would be one of your greatest achievements in life?
Being happy.
Why did you say yes to this collaboration?
I try to say yes to as many collaborations as I can because I think it's important to meet new people, broaden the horizon and always have something creative to work towards.
What was the inspiration behind your clock?
The artwork I did for the clock, was based on a body of work I recently did for a solo exhibition which was really popular. A lot of people seemed to connect with it. It represents Ngalunggirr Miinggi which means healing spirit. I thought I would put that on the clock seeing as everybody seems to connects to that piece.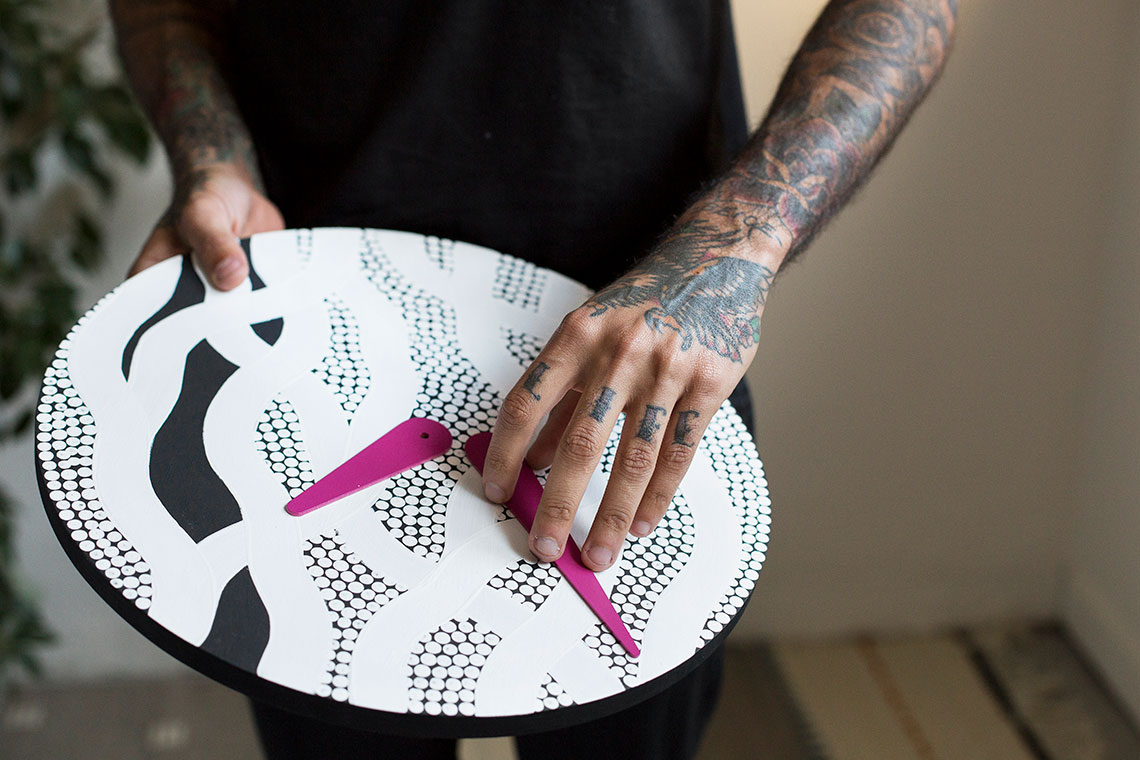 It's great to create something that is popular and connects with a lot people. Do you like hearing what people take away from your artwork? 
Yeah. It's always really interesting what people take away from your art. It's always a nice thing to hear how my artwork makes people feel. Even if they don't like it. It's good to hear those things.
How much of your life is surfing and how much is painting? 
At the moment they both probably go hand in hand, but I think surfing will probably take over the back half of this year.
What type of person do you think will be drawn to your clock?
I reckon the coolest person ever will be drawn to my clock.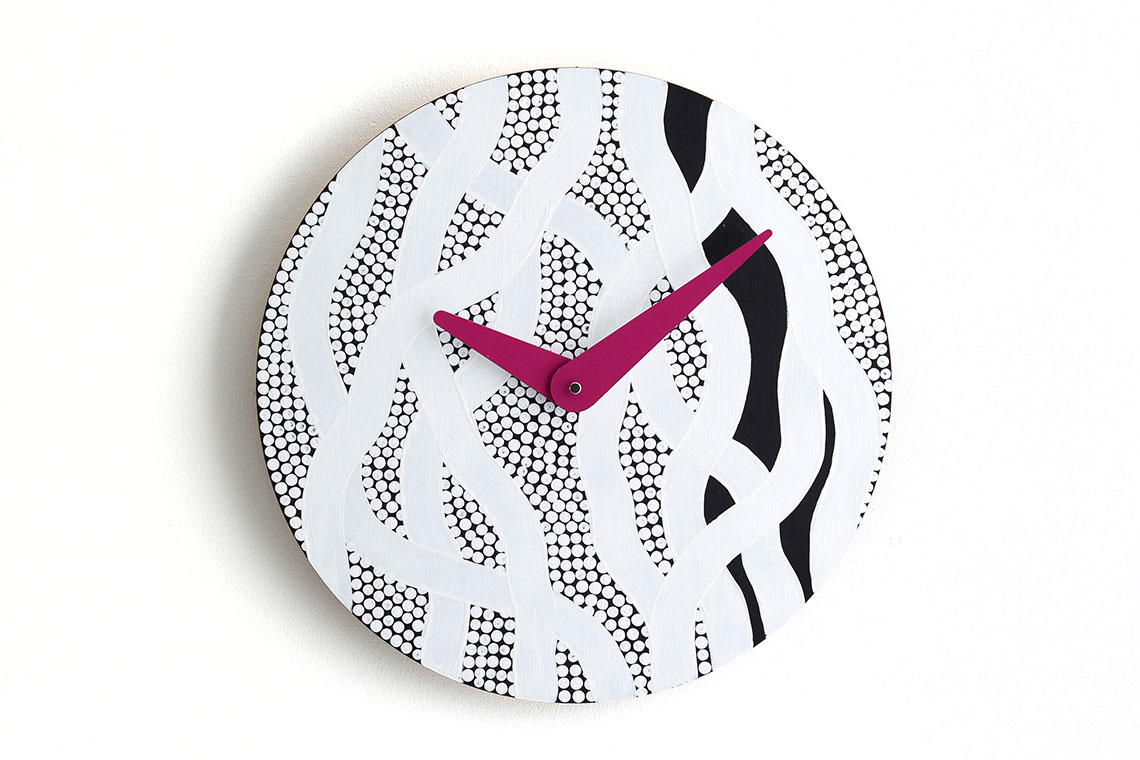 Otis Carey's Clock for the Hunting Collective 2016.
Otis' clock is made with acrylic paint. Otis' clock is available via online auction. To bid, click here. Otis Carey is an Indigenous artist from Coffs Harbour, New South Wales. His connection to the ocean is significant, through both his surfing, his painting and his culture. Otis' clock represents Ngalunggirr Miinggi, Healing Spirit.
All photography by Martina Gemmola for Hunting for George