Another healthy Sunday recipe for you guys! The Kale Bowl with Quinoa, Fermented Vegetables, Wakame and Avocado from The Beauty Chef book by Carla Oates is a fresh and nutritious dish for all those who want to keep their body healthy inside and out. But if you're not already on the health train, don't worry because it's always a good time to get aboard. This recipe is a good place to start. Shall we show you?
Ingredients:
1⁄2 cup (100g) quinoa, rinsed 1 cup (250ml) water
7g wakame
1 tablespoon coconut oil
1 onion, thinly sliced
1 clove garlic, finely chopped
2 bunches (approx. 800g) kale, stemmed and coarsely chopped
2 teaspoons white sesame seeds, plus extra to serve
2 teaspoons black sesame seeds, plus extra to serve
1⁄2 teaspoon chilli flakes
1⁄2 cups (230g) sweet and sour fermented vegetables
1 avocado, halved, stone removed and flesh sliced lengthways
1⁄2 cup (75g) raw cashews, roasted and coarsely chopped
Tahini Sauce:
1⁄4 cup (60ml) freshly squeezed lemon juice 1⁄4 cup (60g) tahini
1 tablespoon extra-virgin olive oil
2cm knob of ginger, peeled and finely grated
3 teaspoons tamari
2 teaspoons of raw honey 1 teaspoon sesame oil
Method:
Place the quinoa and water in a medium saucepan and bring to the boil. Cover and decrease the heat to low and gently simmer for 15 minutes, or until almost all of the water has been absorbed and holes appear on the surface. Keep covered and remove from the heat to finish cooking for a further 5 minutes, or until tails have sprouted and all of the water has been absorbed. Keep warm.
Meanwhile, soak the wakame in cold water for 5 minutes, or until rehydrated. Drain and squeeze out excess water. Slice into strips. Set aside.
To prepare the sauce, place all of the ingredients in a jar and seal with a lid. Shake vigorously to combine.
Heat the coconut oil in a large frying pan or wok over low-medium heat. Cook the onion and garlic, until softened. Add the kale and cook, stirring occasionally, for 4-5 minutes, until wilted. Add the sesame seeds and chilli flakes and toss to combine.
To serve, arrange the kale, quinoa, wakame, fermented vegetables and avocado into serving bowls. Drizzle with tahini sauce and scatter with roasted cashews and extra sesame seeds.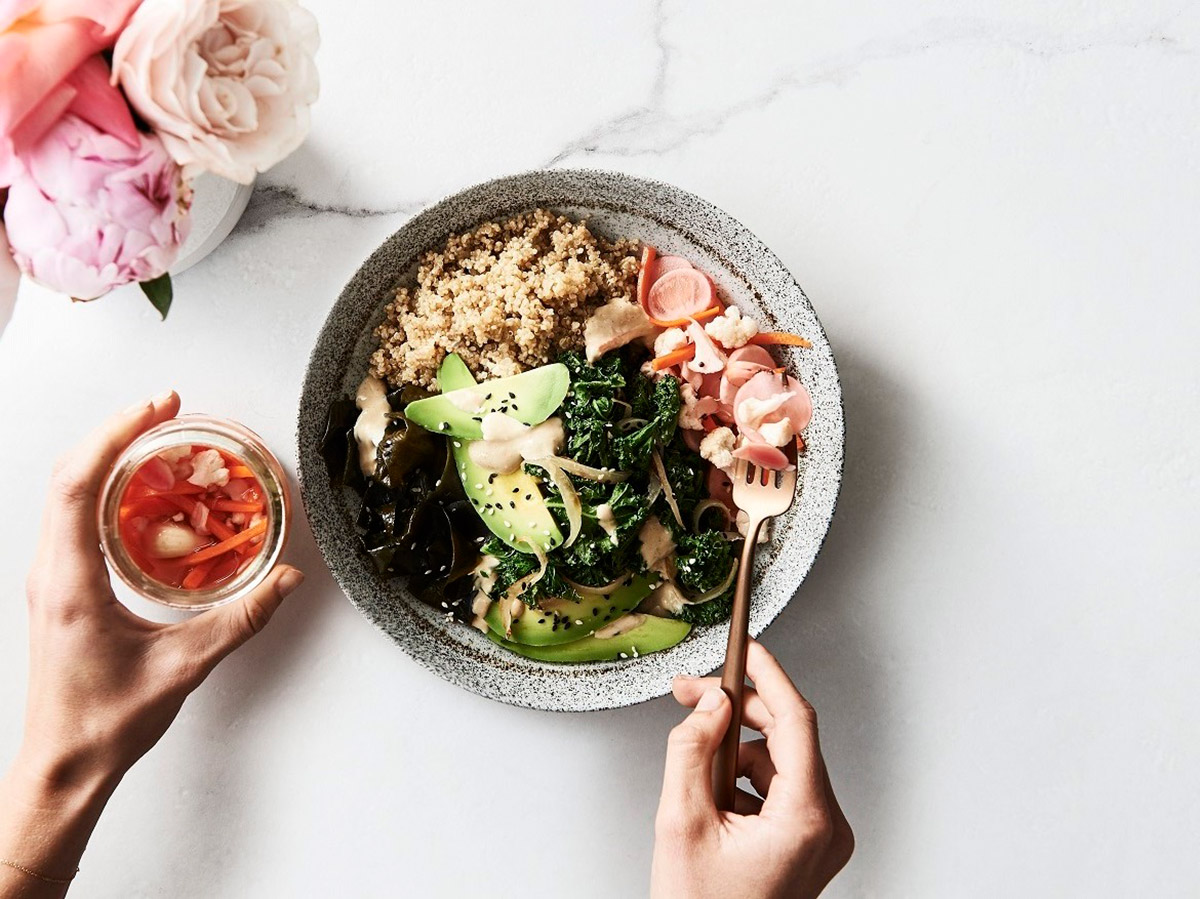 Beauty is more than skin-deep, it comes from within… from the gut, to be precise. In The Beauty Chef Carla Oates, founder of the natural beauty company of the same name, combines the joy of cooking with the science of nutrition, offering you radiant skin and robust health. More than 150 delicious and nutritious recipes that are gluten-free and mostly dairy-free recipes will feed both your skin and your gut. Glamorous it may not be, but a well-balanced gut bacteria can be the answer to glowing health and beauty. With every meal you eat, be it breakfast, dinner or a tempting dessert, you will feel and look better inside and out.
Head over to our recipes section for more of these mouth-watering and tasty recipes, including Fig, Pomegranate, Radicchio, Orange & Feta Salad and Paleo Bread recipes also from The Beauty Chef. Meanwhile, you might want to check out some of our fine kitchenware below:
You can view a wide range of similar products over at Hunting for George.