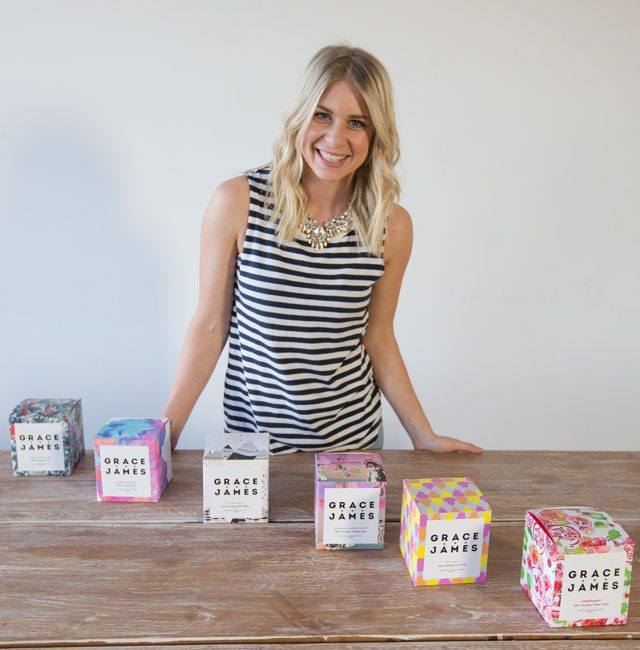 We are really excited to introduce our new brand Grace and James.
Grace and James is a Melbourne based, hand poured candle company founded by the beautiful Emma Davenport. All candles are made from all natural ingredients, including soy and coconut oil blended wax. Featuring a double wick for optimal burning, with a burning time of around 80 hours. Emma drew her inspiration for Grace and James from art, a love of home-wares and of course an obsession with candles. Grace and James has worked endlessly to source and develop a 100% local product using all natural and unique fragrances, but still keeping affordability in mind, this process took over 15 months to develop.
Grace and James have released an Artist Series range, collaborating with some of Australia's favourite artists and designers (including us!). Each contributing their talent to creating bold, fun and inspiring designs to tell a story for each of the scents, allowing them to come to life.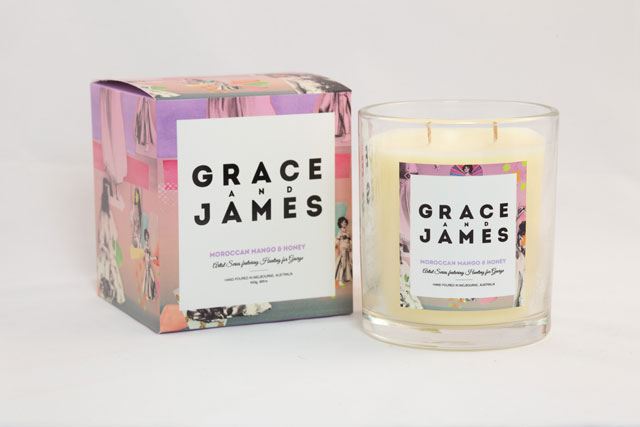 Moroccan Mango and Honey – Striking and indulgent, the moroccan goddess is flirty and mysterious. The mango body seduces you with a light tickle of fresh notes of honey. This bold and fun artwork has been created by yours truly, Hunting for George! Lucy Glade Wright, creative director and Co-founder of Hunting for George. Below is the artwork created by Lucy, for the Moroccan Mango and Honey scent in more detail.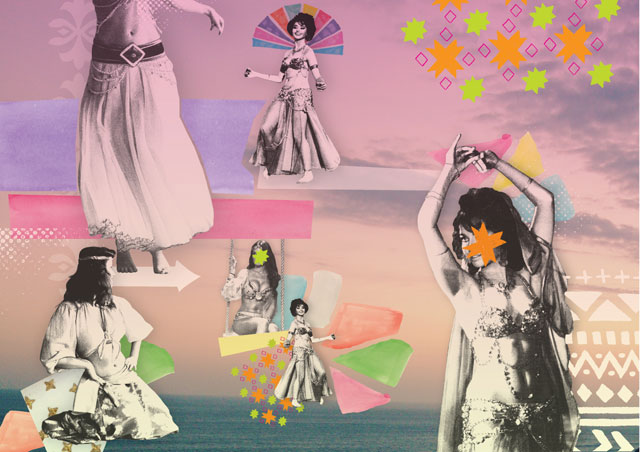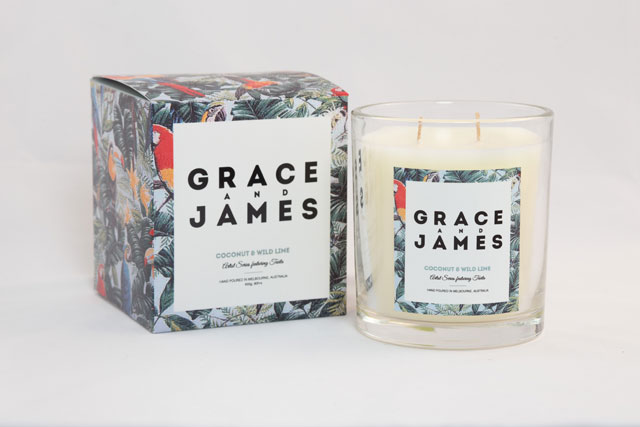 Coconut and Wild Lime -A perfect blend of coconut and a splash of wild lime Artwork by Rhys Uhlich the founder of TEVITA. Tevita is a unique lifestyle brand, with its focus on colour, cut and minimal print. Tevita takes the beach and surfing soul and pairs it with a street smart mind, creating the perfect combination of the two and sets itself from the rest.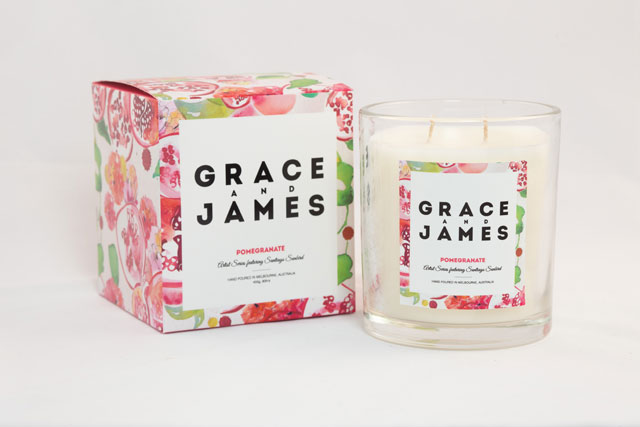 Pomegranate – With plenty of punch, this playful citrus explosion of pomegranate is quirky, fun, addictive and delicious. Illustrative artwork of Santiago Sunbird the sister duo, Bree Hankinson and Sarah Hankinson provide creative services with a handmade, illustrated feel. You might remember when we posted about Sarah a while ago on our meet the maker and prints feature .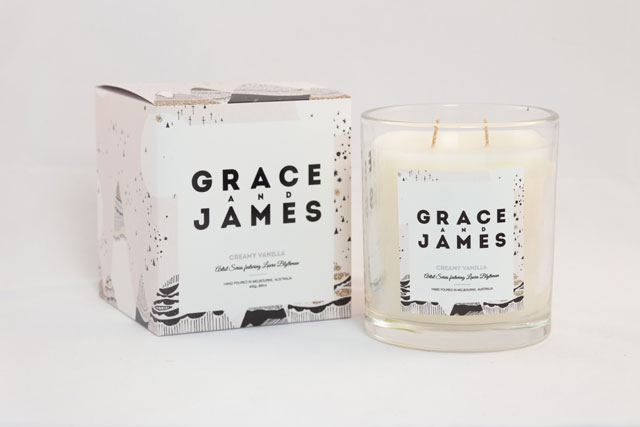 Creamy Vanilla – Escape to the whimsical world of ice-cream topped mountains and gold glittering snow flakes. With it's relaxing Creamy Vanilla tone and subtle coconut hint you will be melting into a state of calm and relaxation before you know it. Magical Artwork by Laura Blythman, Laura is a melbourne based Designer, illustrator and creative director. Her illustrations are vibrate and scream fun, Laura has a gift of finding the fine line between beauty and quirkiness.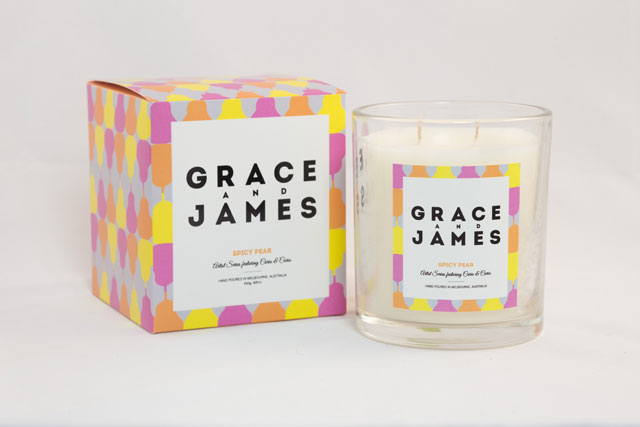 Spicy Pear – With a zen like spice that is proudly masculine and rich in flavour and depth. A perfect addition to any season featuring a spicy pear body, with an undertone of vanilla and cinnamon. Fun pear inspired artwork designed by Curio & Curio.
The husband and wife duo Nick and Clair Wayman. The duo create a range of  colourful, bold hand screen printed homewares in their studio in Melbourne.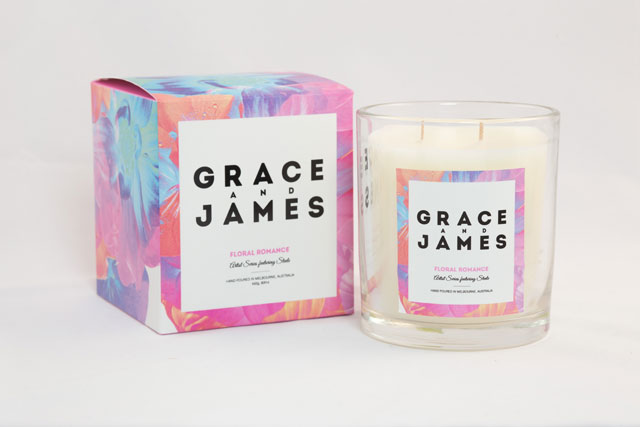 Floral Romance – Feminine and girly, this light, summery tone of tropical flora with soft romantic hints of vanilla.  The gorgeous floral artwork designed by Steele. A unique emerging Melbourne based fashion label, that plays with  glamour and  femininity, combined with contemporary elements and styling. The floral art work that is featured to represent the Floral Romance scent can also be found in Steele's Valencia Collection.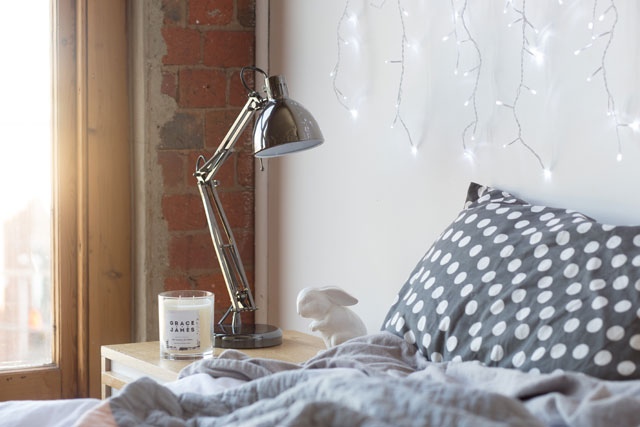 Obviously we are a little bias with Moroccan Mango and Honey being our favourite scent… but which one will be yours? Get your hands on your very own Grace and James candle. Full collection online now!