We'd happily eat fish any day of the year. Not only is it downright delicious, it's darn good for you too (hellooo Omega 3!). There are plenty of mouth-watering fish recipes out there that are both quick and easy to whip up, but we've got our eyes on one in particular…
In lieu of a heavy meat-laden holiday feast, we'll be tucking into this delicious Chermoula-baked Barramundi by The Beauty Chef. Making baked fish is so easy and never fails to impress. Chermoula, a herb, spice and oil marinade, originates from North Africa and there are many different variations, depending on the region.
Serves 4
Ingredients
1 x 2-2.2kg OR 2 x 700-800g whole barramundi
Preserved lemon and herb salad
1 small red onion, thinly sliced
1⁄2 -1 spice preserved lemon, thinly sliced lengthways
3 large handfuls coriander leaves
2 large handfuls flat-leaf parsley
1 large handful mint leaves
2 long red chillies, seeded and thinly sliced lengthways
Juice of  1⁄2  lime
Chermoula paste
1⁄4 cup (60ml) extra-virgin olive oil
2 tablespoons freshly squeezed lemon juice
4cm knob of ginger, peeled and finely chopped
2 cloves garlic, finely chopped
2 teaspoons ground coriander
2 teaspoons ground cumin
1⁄2 teaspoon sweet paprika
1⁄2 teaspoon chilli flakes
1⁄4 teaspoon freshly ground black pepper
Method
To make the chermoula paste, place all of the ingredients in a small bowl and stir to combine.
Rinse the barramundi under cold running water, removing any remaining scales. Pat dry with kitchen paper.
Score the fish twice in the thickest part near the head to ensure even cooking. Place the fish in a large non- reactive dish and coat in chermoula paste, filling the cavity and cuts where it has been scored. Cover and marinate in the refrigerator for at least 4 hours, or overnight.
Preheat the oven to 200°C.
Cut sheets of foil large enough to wrap and enclose your fish. Line the foil with baking paper and lay the fish on top. If cooking two small fish create two separate parcels. Wrap and enclose in foil.
Bake for 25 minutes if cooking 1 large fish or 15 minutes if cooking two smaller fish, or until cooked through and the flesh flakes easily.
Meanwhile to prepare the preserved lemon and herb salad, combine the red onion, preserved lemon, coriander, parsley, mint and chilli in a medium bowl. Squeeze over the lime juice and toss to coat.
To serve, transfer the fish onto large serving plates and scatter with preserved lemon and herb salad.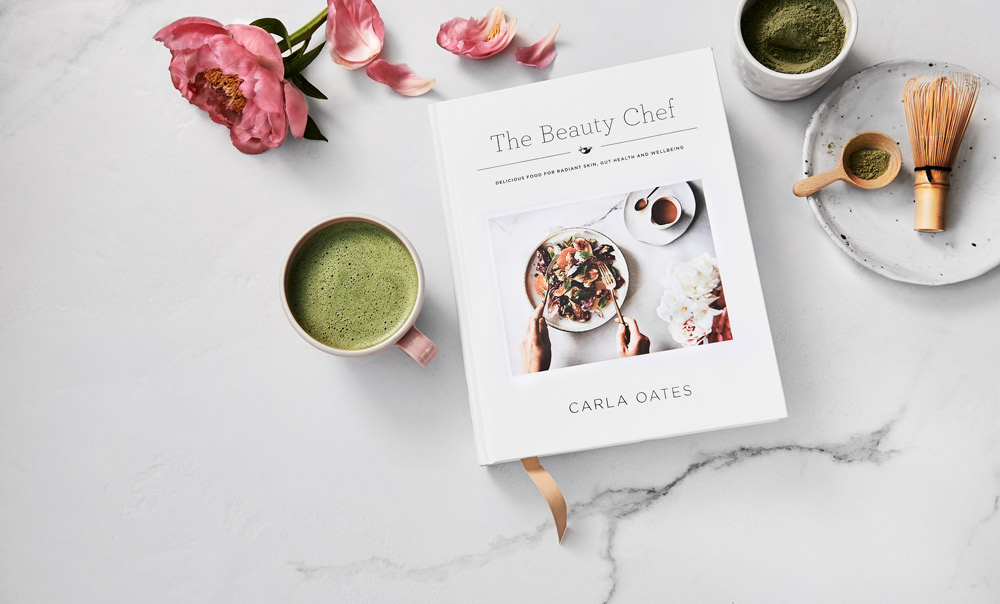 Beauty is more than skin-deep, it comes from within… from the gut, to be precise. In The Beauty Chef book, Carla Oates, founder of the natural beauty company of the same name, combines the joy of cooking with the science of nutrition, offering you radiant skin and robust health. More than 150 delicious and nutritious recipes that are gluten-free and mostly dairy-free recipes will feed both your skin and your gut. Glamorous it may not be, but a well-balanced gut bacteria can be the answer to glowing health and beauty. With every meal you eat, be it breakfast, dinner or a tempting dessert, you will feel and look better inside and out.
Recipe + Images from The Beaty Chef by Carla Oates, available online and instore at Hunting for George.