Prepping for your breakfast or weekend brunch? The Baked Eggs with Hazelnut Dukkah recipe from The Beauty Chef cookbook by Carla Oates is an easy breakfast dish with eggs, tomato, and a unique Egyptian twist! Definitely a recipe worth getting out of bed for. Healthy, hearty and quick!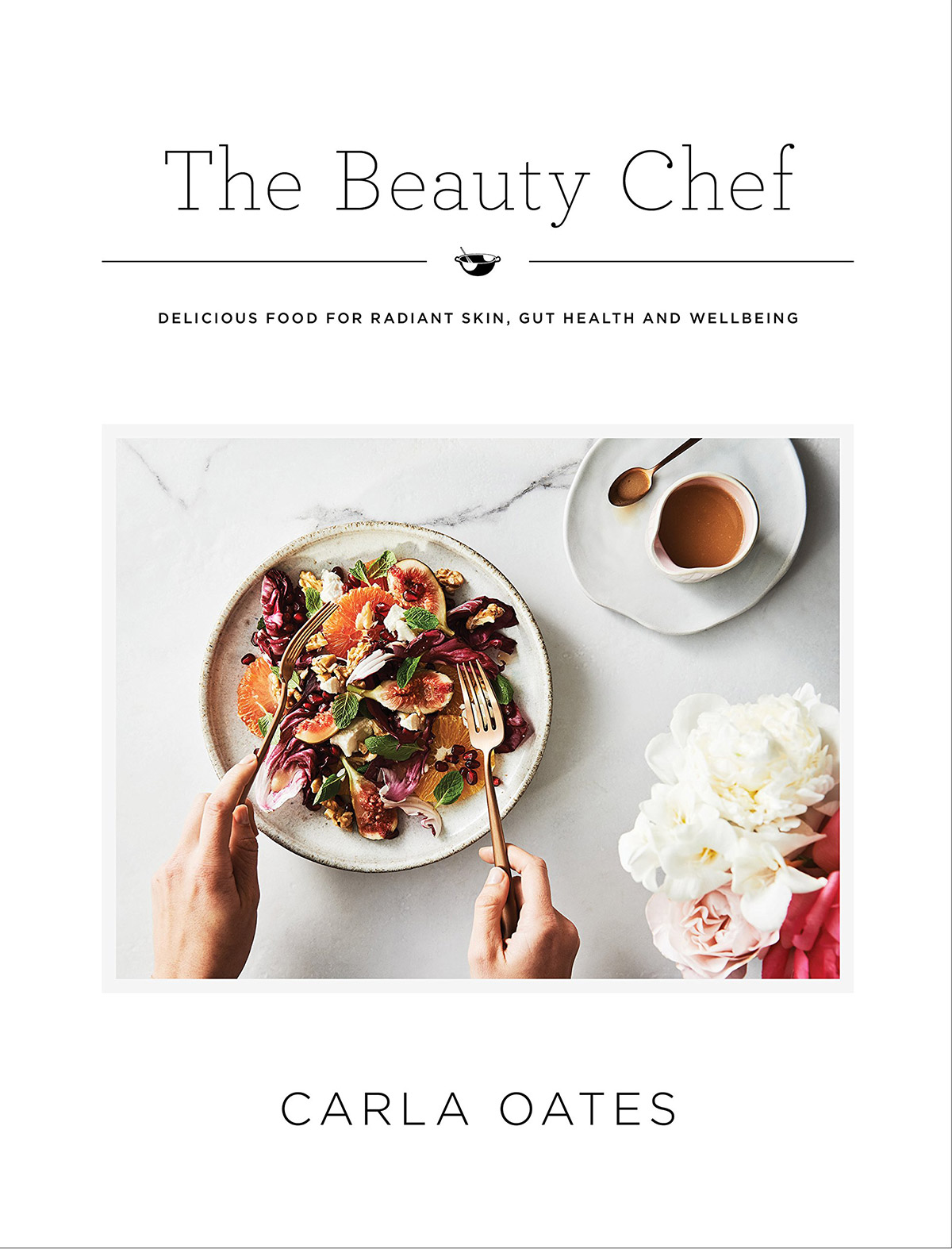 Ingredients:
1 tablespoon olive oil
1/2 red capsicum (bell pepper), seeded and very thinly sliced lengthways
1 small red onion, thinly sliced
1 clove garlic, finely chopped
1/2 teaspoon cumin
1/2 teaspoon sweet paprika
1/4 teaspoon chilli flakes
400g (14 oz) can chopped tomatoes
Himalayan salt and freshly ground black pepper
4 large eggs
100g marinated goat's cheese, crumbled
1 large handful coriander leaves, coarsely chopped
Hazelnut Dukkah:
1 teaspoon sesame seeds
1 teaspoon coriander seeds
1/2 teaspoon cumin seeds
2 tablespoons roasted hazelnuts
Himalayan salt and freshly ground black pepper, to taste
Method:
Preheat the over to 200 C (400 F)
Heat the oil in a medium ovenproof frying pan over low-medium heat. Cook the capsicum, onion and garlic, stirring occasionally, for 10 minutes, or until softened. Add the spices and cook until fragrant. Add the tomato and simmer for 10-15 minutes, until reduced to make a sauce. Season with salt and pepper.
Meanwhile to make the dukkah, dry-fry the sesame, coriander and cumin seeds in a small frying pan over a low heat, until the sesame seeds are lightly toasted and the spices are fragrant. Lightly crush the toasted seeds and hazelnuts together, using a small mortar and pestle or a spice grinder. Season with salt and pepper and set aside.
Make four wells in the cooked tomato sauce and crack and egg inside each one. Bake in the oven for 15 minutes or until the while it just set and the egg yolk is still runny, or until cooked to your liking.
To serve, scatter with goat's cheese, hazelnut dukkah and coriander leaves.
*Note: The eggs can also be bakes and served in individual ramekins. Simply transfer the hot sauce into two approximately 1 1/2 cup (375 ml) capacity ovenproof ramekins. Make two wells in each and crack in the eggs. Bake for 10-15 minutes, until cooked to your liking.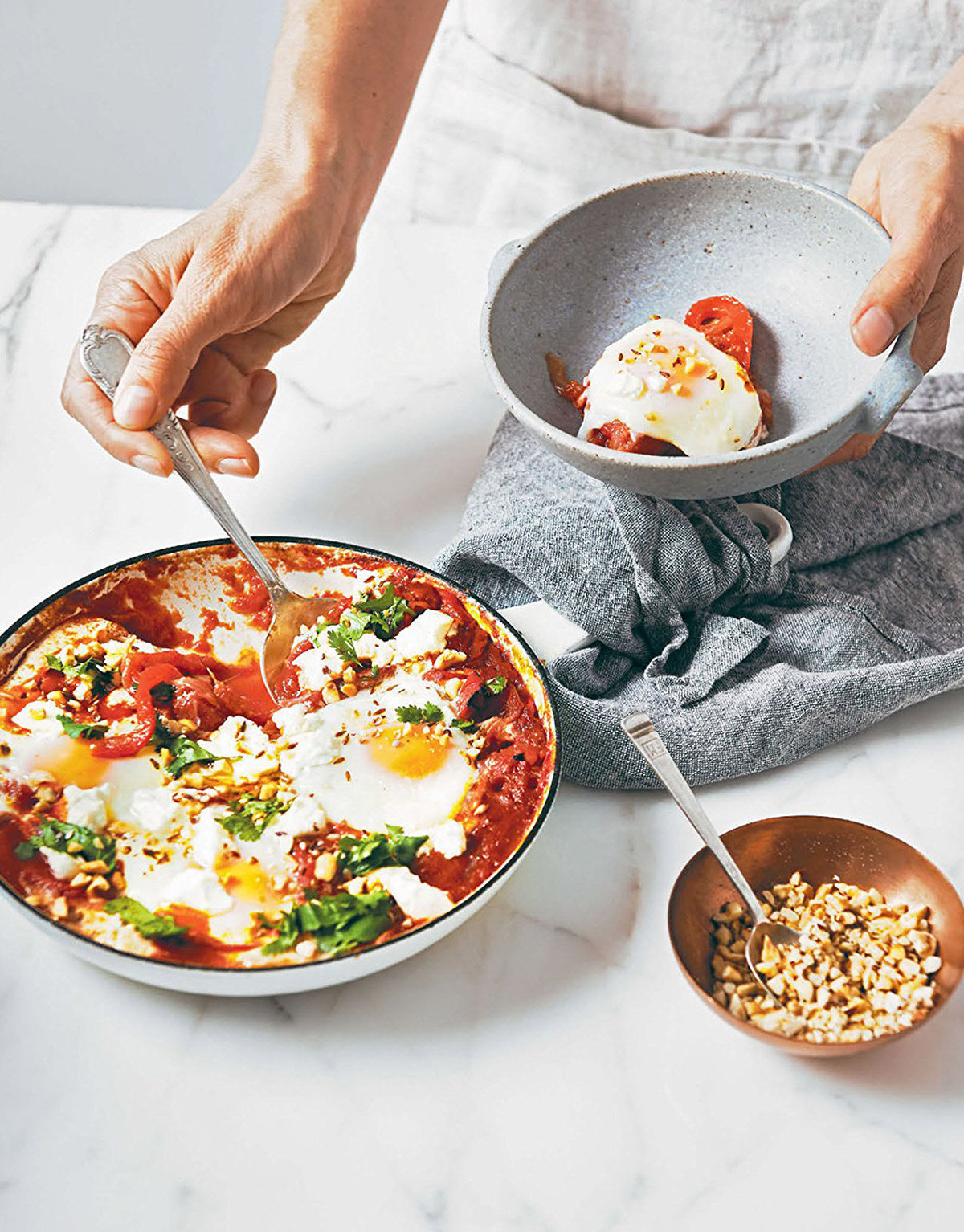 Beauty is more than skin-deep, it comes from within… from the gut, to be precise. In The Beauty Chef Carla Oates, founder of the natural beauty company of the same name, combines the joy of cooking with the science of nutrition, offering you radiant skin and robust health. More than 150 delicious and nutritious recipes that are gluten-free and mostly dairy-free recipes will feed both your skin and your gut. Glamorous it may not be, but a well-balanced gut bacteria can be the answer to glowing health and beauty. With every meal you eat, be it breakfast, dinner or a tempting dessert, you will feel and look better inside and out.
Head over to our recipes section for more of these mouth-watering and tasty recipes including Peach Melba and Coconut Tartlets and Chocolate, Orange and Buckwheat Crunch Balls also from The Beauty Chef.