Whether you love tarts in particular or are just a huge fan of sweets in general, you'll definitely love this delightful Peach Melba and Coconut Tartlets recipe from The Beauty Chef book by Carla Oates. This sweet and fruity treat will take your tart-making skills up a notch and is a perfect addition to any gathering at home or simple afternoon snack. So grab your mitts and don't miss out on this classic tart recipe which is bound to delight everyone!

Ingredients:
Coconut oil, for greasing
2 small-medium peaches, halved and stones removed
1 1/2 cups (375g) natural yogurt
Maple syrup, for glazing
Toasted coconut flakes, to garnish
Edible flowers, to garnish (optional)
Coconut base:
1 large egg
2 tablespoons coconut milk
1 tablespoon coconut oil, warmed
2 teaspoons maple syrup
1/2 teaspoon vanilla bean powder*
1/4 cup (30 g) coconut flour
1/2 teaspoon gluten-free baking powder
Raspberry paste:
1 1/2 cups (225 g) fresh or frozen raspberries
3/4 cup (75 g) almond meal
1 1/2 tablespoons maple syrup
1/2 teaspoon vanilla bean powder*
*Available from health food stores
Method:
Preheat the over to 180 degrees C (350 F). Lightly grease four individual loose-based 8cm tartlet (flan) tins with coconut oil and refrigerate. Line a small baking tray with baking paper.
To prepare the coconut base, whisk the egg, coconut milk, coconut oil, maple syrup and vanilla together in a medium bowl. Add the coconut flour and baking powder and mix together to make a thick batter. Set aside for 10 minutes, for the coconut flour to rehydrate.
Spoon and press the mixture into the prepared tins, covering the base and sides evenly. Refrigerate for 15 minutes, or until firm.
Bake the base for 10-15 minutes, until firm and golden brown. Set aside to cool.
Roast the peaches at the same time, placing them cut side up on the prepared tray. Cook for 10-15 minutes, until tender and beginning to caramelise but still holding their shape. Set aside to cool.
Meanwhile to prepare the raspberry paste, place the raspberries in a small saucepan and gently heat, until they begin to soften and release their juices. Mash with a fork and simmer until all of the liquid has evaporated, leaving a thick puree. Add the almond meal, maple syrup and vanilla and stir to make a thick paste. Transfer into a small bowl and refrigerate.
To assemble, spoon and spread the raspberry paste into the bases. Top with a dollop of yogurt and roasted peach half. Glaze with maple syrup and scatter with toasted coconut. Scatter with edible flowers, if desired.
*Note: Serve Immediately.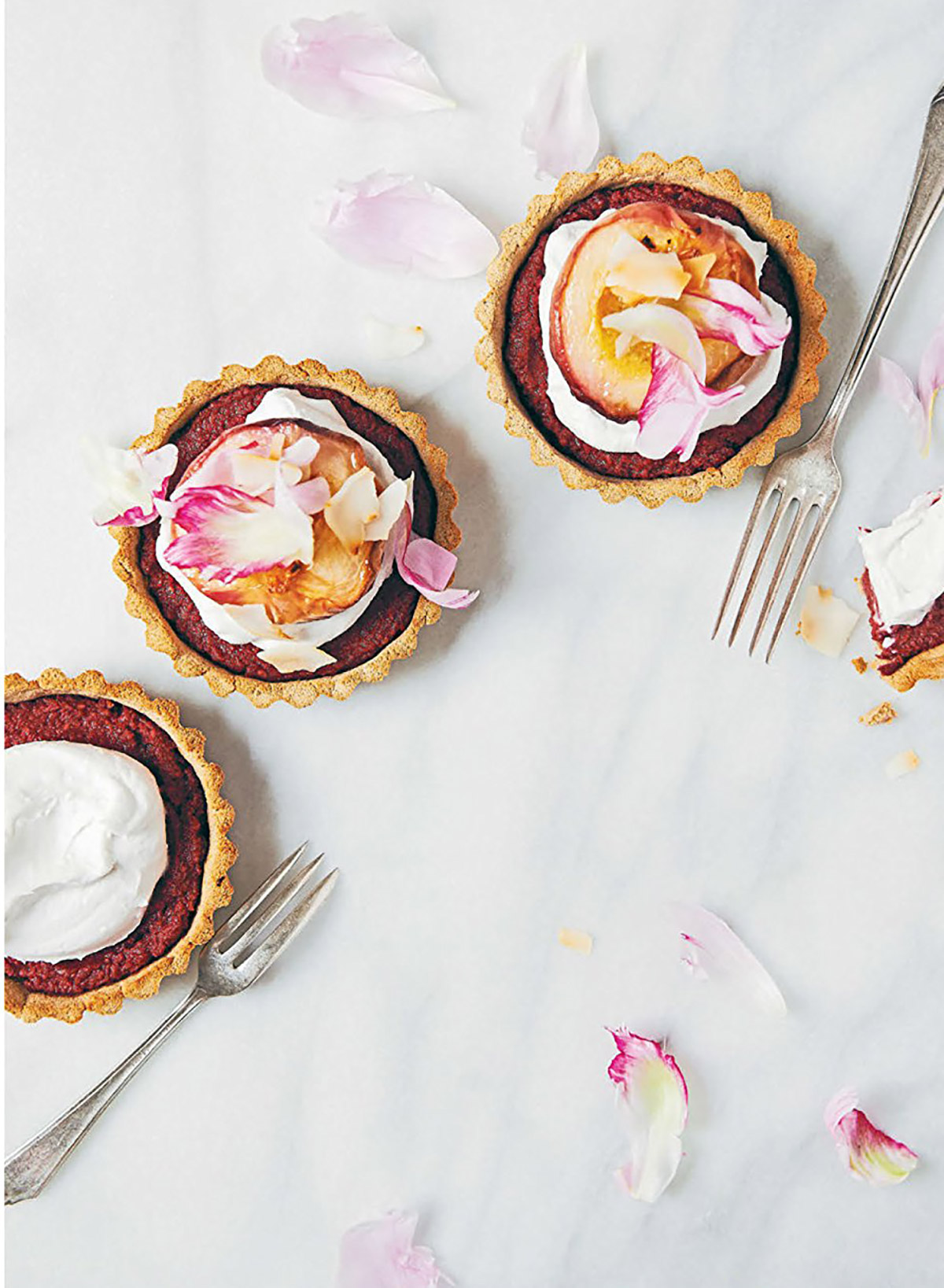 Beauty is more than skin-deep, it comes from within… from the gut, to be precise. In The Beauty Chef Carla Oates, founder of the natural beauty company of the same name, combines the joy of cooking with the science of nutrition, offering you radiant skin and robust health. More than 150 delicious and nutritious recipes that are gluten-free and mostly dairy-free recipes will feed both your skin and your gut. Glamorous it may not be, but a well-balanced gut bacteria can be the answer to glowing health and beauty. With every meal you eat, be it breakfast, dinner or a tempting dessert, you will feel and look better inside and out.
Head over to our recipes section for more of these mouth-watering and tasty recipes including the Mediterranean Cauliflower Pizza and Sweet Potato and Pecan Tart recipe also from The Beauty Chef.