This week we revealed our extreme DIY Kitchen & Pantry makeover and let's just say you guys LOVED IT!!!! We have been asked loads of questions about this kitchen makeover so we put together the ultimate cheat sheet to get the same look at your place. This Complete Style Guide to our Kitchen Makeover breaks down absolutely everything we used in our Kitchen Makeover. Are you ready? Let's go…
Appliances
We started our kitchen design by choosing our appliances first! We needed a complete overhaul with our appliances and in the end we opted for Electrolux. Aside from being clever and functional we loved the seamless design and dark real stainless steel finish. This set the tones for the rest of our decision making in the kitchen, especially our cabinetry finishes.
Cabinetry
Once we had selected our appliances we were then able to work out our cabinets and storage solutions. We chose the Kaboodle Kitchen range from Bunnings, matte black cabinets together with a textured slate benchtop were the hero. We also chose to bring in soft accents of timber details in order to help bring some warmth to the space.
Lighting, Fixtures & Fittings
We continued the monochromatic theme with the fixtures and fittings. Opting for DIY Blinds Plantation Shutters, Kinetic Down Lights from Lights Lights Lights, Matte Black variation of the Billi tap and matte black Mondella sink and tap to match our cabinetry.
Paint
We were in two minds regarding colour given that we had a lot of existing colour and texture in the room. In the end we decided to paint the kitchen white, opting for Lexicon Quarter from Dulux. This created quite a high contrast in the room but helped to make the kitchen feel more spacious and modern.
Floor
We applied the same treatment to the floor, as per our living room makeover. Hiring a floor sander and edger from Bunnings to strip back the existing stain. Then once ready, we applied three coats of Liming White Floor Finish for a white wash effect.
Decor
I kept styling to a minimum and chose to maintain a neutral colour palette with pops of colour coming through in the textiles, cookbooks and indoor plants. Lately I've found myself moving away from excessive styling, I prefer to bring in only what serves a purpose or makes me happy… not a bad styling rule to live by.
My Fave Cookbooks
Whilst we're in the kitchen I thought I'd share some of my favourite cookbooks with you. I love displaying these in the kitchen as they are a great way to bring colour and personality to your kitchen. Plus they show off your personality as well! I use the below cookbooks constantly, so I positioned these to be easily accessible on open shelving.
Storage
Oh my new pantry, or shall I call it the shop? Yes I'm going to call it the shop. I loved clearing out my old disaster of a pantry and introducing storage solutions. I picked up the below items from Bunnings. I used the containers for storing packaged goods and the clear canisters for storing food such as nuts, seeds, muesli, rice and grains. I have never in my life had a pantry this organised and I've got to admit it's kind of changed my life. I am far more aware of what we have now, which makes shopping easier and also means that we cook different things… because now we can actually see them!!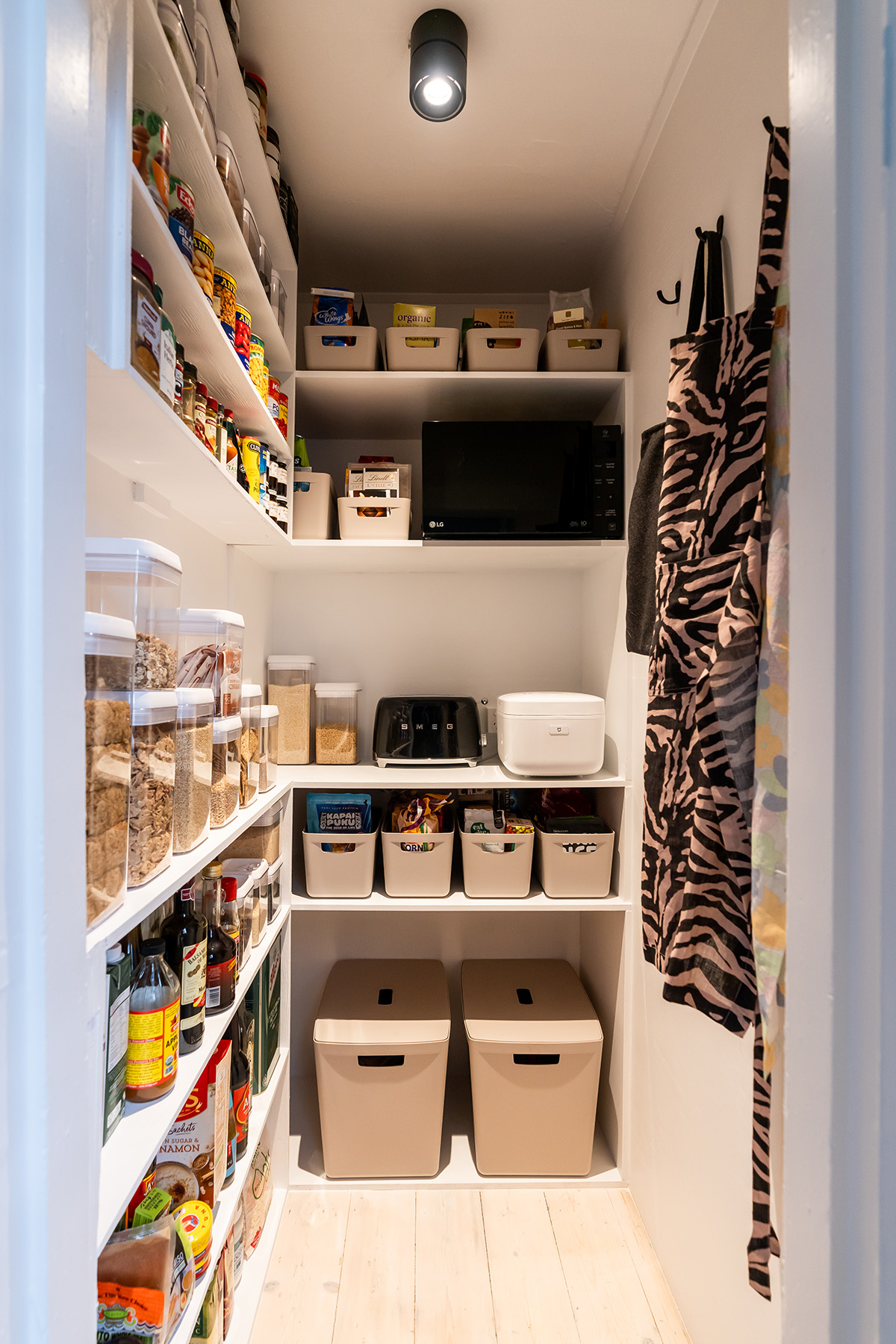 I hope you found this cheat sheet helpful! We'll be continuing our Home Makeover series, coming up next will be our Laundry and Home Office! Subscribe to our YouTube channel and hit notifications so you don't miss a beat!