Need a misery-banishing, mood-boosting snack for these nippy days to keep you warm and full? Say no more! The Mushroom, Cauliflower and Kuzu 'Arancini' Balls from The Beauty Chef by Carla Oates is the perfect winter recipe to prepare and dig into. Definitely not your average 'Arancini' balls! Check the recipe out.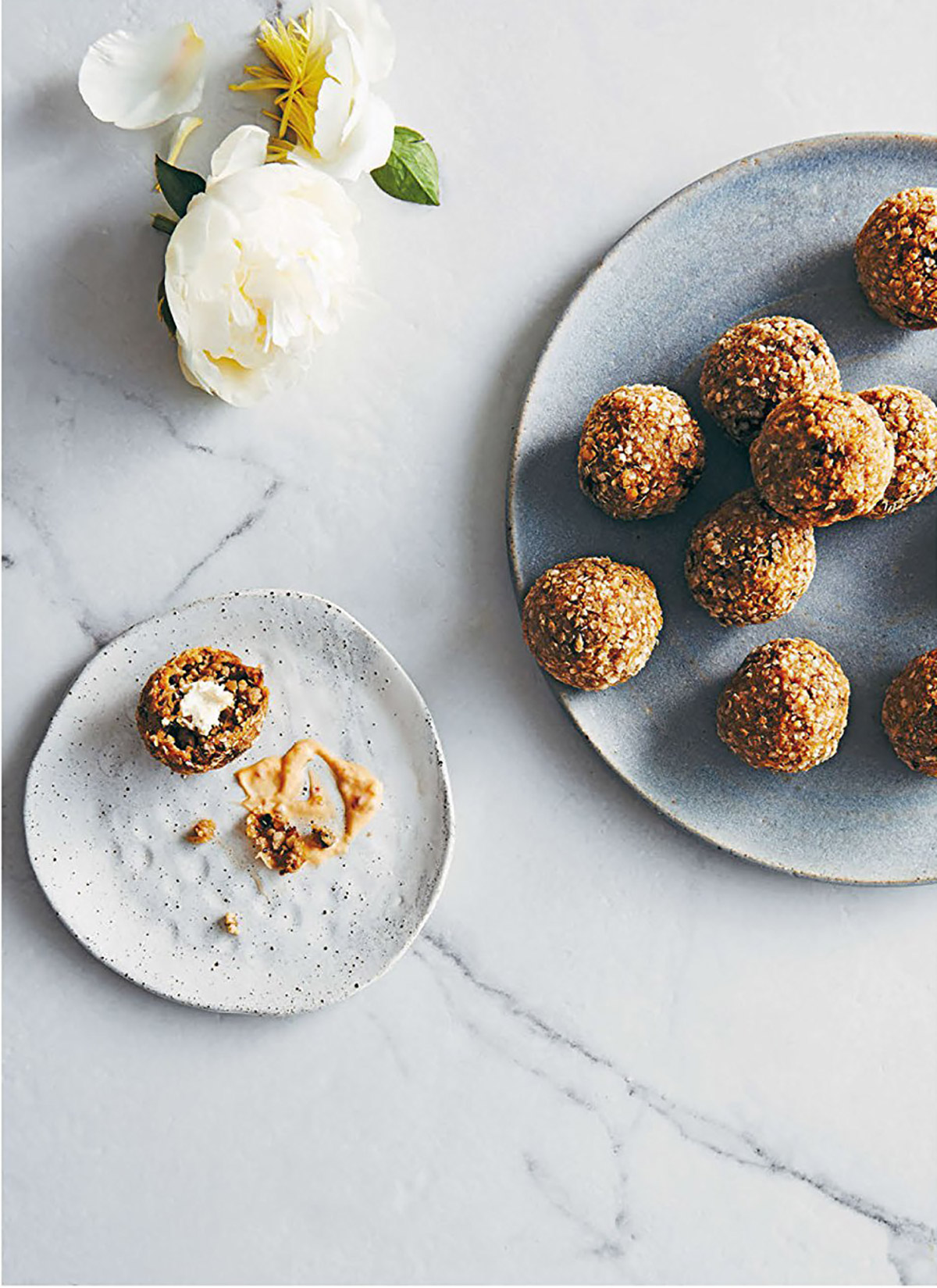 Ingredients:
15g (1/2 ox) dried porcini mushrooms, soaked in 1/2 cup (80 ml) boiling water for 15 minutes
1 (600 g) cauliflower, broken into florets
2 tablespoons ghee
1/2 small brown onion, finely chopped
2 cloves garlic, finely chopped
200 g (7 oz) Swiss brown or button mushrooms, finely chopped
1 tablespoon fresh thyme leaves
Himalayan salt and freshly ground black pepper, to taste
3 teaspoons kuzu (crushed to a powder between two spoons)*
100 g marinated goat's cheese, cut into 18 cubes
Coconut or macadamia oil, for shallow-frying
Lime wedges, to serve
Coating
1/3 cup (30g) arrowroot
1 egg, lightly beaten
Splash nut milk or water
1 cup (100 g) quinoa flakes
Chili Mayo:
2 tablespoons chilli sauce
1/4 cup (60 g) whole egg mayonnaise
Finely grated zest of 1 unwaxed lime
*Available from health food stores.
Method:
Drain the porcini, reserving the liquid, and finely chop. Place the cauliflower in a food processor and blend to chop into rice-sized pieces, or coarsely grate. Heat the ghee in a medium frying pan over low-medium heat. Cook the onion and garlic until softened. Add the porcini and Swiss brown or button mushrooms and thyme, cook until golden brown. Add the cauliflower and cook until just tender. Season.
Heat the reserved porcini liquid in a small saucepan over low heat, until hot. Blend the kuzu powder with a little cold water in a small bowl, until dissolved. Stir kuzu into the hot porcini liquid. Gently simmer for a few minutes until thickened and the kuzu turns clear. Pour into the mushroom mixture and stir to combine. Transfer the mixture to a shallow tray and spread out. Refrigerate for 20 minutes, or until firm enough to roll.
Meanwhile to make the chilli mayo, combine all of the ingredients in a small bowl. Set aside.
Roll the mushroom mixture into 18 walnut sized balls. Press your finger into the centre of each ball and insert a cube of cheese and reshape to cover.
To coat, place the arrowroot, egg whisked with a splash of milk and quinoa flakes in three separate bowls. Roll the balls one or two at a time in the arrowroot to coat, then dip in egg mixture and finally coat in quinoa flakes.
Add oil to a medium frying pan so it is 2cm (3/4 in) deep. Set over medium heat and heat until a quinoa flake can be dropped in and it floats straight to the surface, bubbling and gently browning. Cook the arancini in batches for 6-8 minutes, turning frequently, until golden brown all over. Transfer onto kitchen paper, to drain. Season with salt.
Serve with chilli mayo and lime wedges.
*Note: The arancini can be kept warm in a 150 degrees C ( 300 degrees F) oven prior to serving, if required.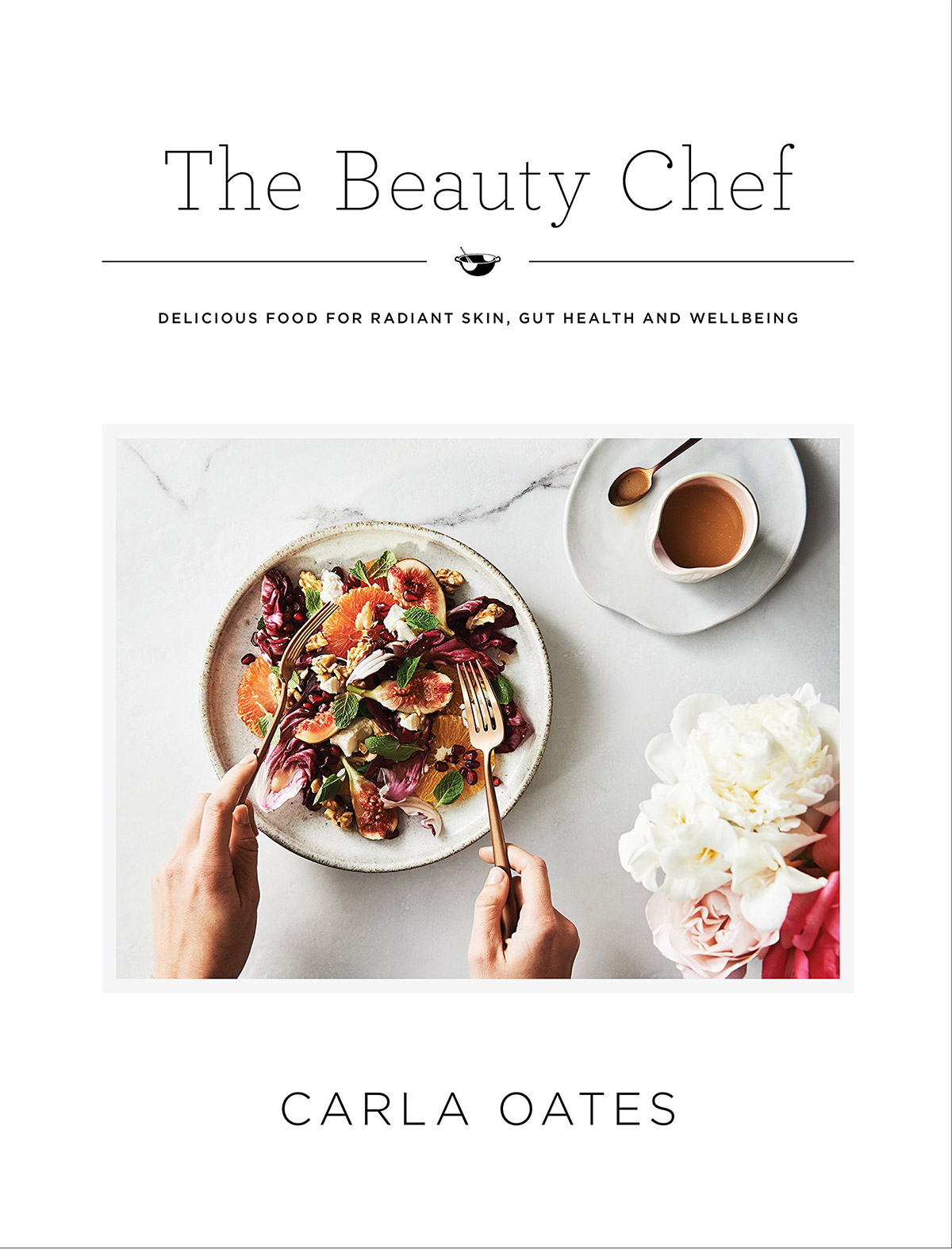 Beauty is more than skin-deep, it comes from within… from the gut, to be precise. In The Beauty Chef Carla Oates, founder of the natural beauty company of the same name, combines the joy of cooking with the science of nutrition, offering you radiant skin and robust health. More than 150 delicious and nutritious recipes that are gluten-free and mostly dairy-free recipes will feed both your skin and your gut. Glamorous it may not be, but a well-balanced gut bacteria can be the answer to glowing health and beauty. With every meal you eat, be it breakfast, dinner or a tempting dessert, you will feel and look better inside and out.
Head over to our recipes section for more of these mouth-watering and tasty recipes including Chocolate, Orange and Buckwheat Crunch Balls and Matcha Latte also from The Beauty Chef.