Perhaps it's just me, but decanting wine seems like a pretty daunting task. Don't get me wrong, I reckon I look about 10 times cooler serving my vino from a swanky glass container, but is it just for show or is there more to it?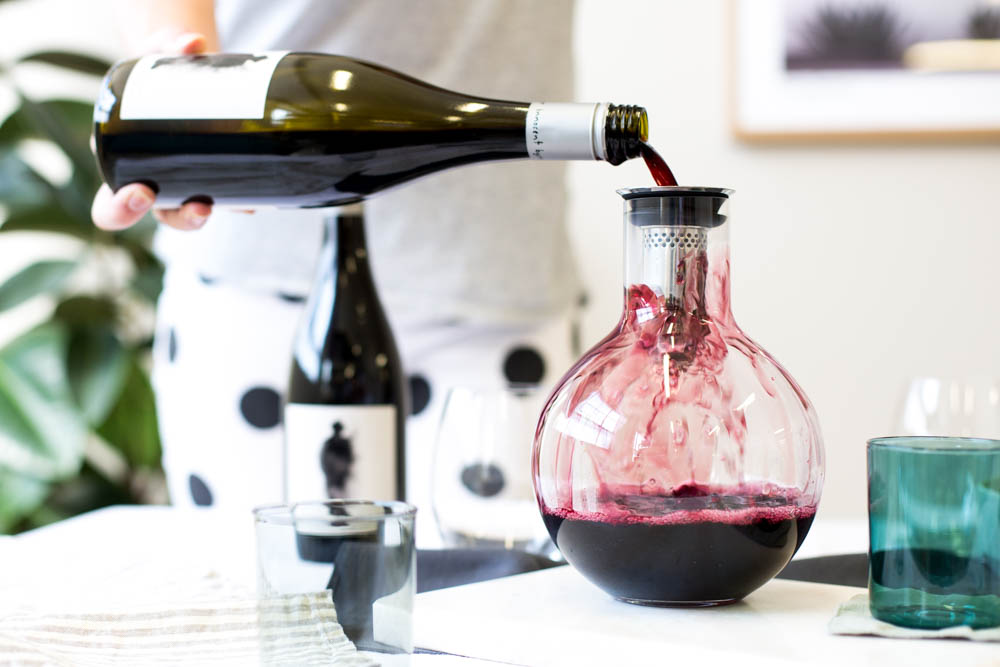 Put simply, decanting is essentially the process of separating a wine from any sediment (the dregs you might find at the bottom of your glass) that may have formed in its lifetime. Decanting also maximises air contact time, helping 'open' up the aromas and flavours of the wine. Or think of it this way… it's like waking a wine from a deep, deep slumber, rubbing the sleep from the eyes and taking it all in for the first time.
So, to decant or not to decant? That is the question we had for the wine gurus at Innocent Bystander. Do you decant everything or just old reds? Angela from Innocent Bystander explains that there are three main reasons you would decant a bottle of vino.
Why Decant?
1. Young red wines 
Some young reds like Shiraz, Durif, Nebbiolo etc. can be a little bit 'tight' and tannic*. By decanting a young wine you increase the surface area of the wine exposed to oxygen. The aeration softens the characters of the wine and makes them more approachable. 
* I bet you were all like, 'Tannic? What on earth is she talking about?!' just then. Don't fret, let me explain. You know those wines that dry out your mouth and make your tongue stick to the roof of your mouth? That's the tannins doing their thang. If you want to get technical at your next dinner party (and run the risk of your mates not talking to you again), tannins are a molecule found in grape skins that result in a rather bitter and astringent tasting wine. It's all to do with grape skin contact with the juice during the wine making process.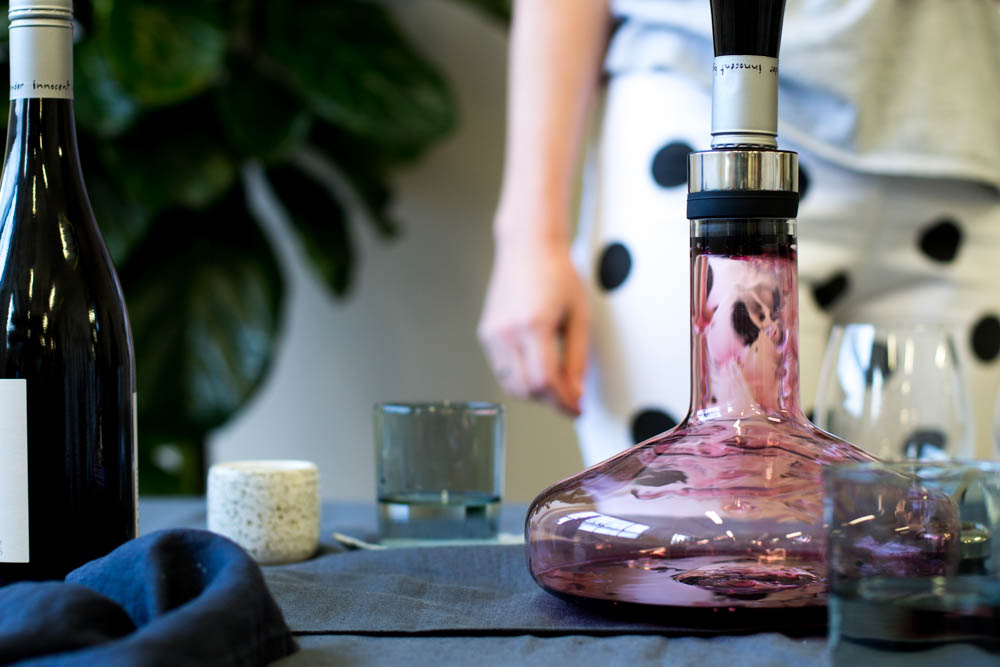 2. Old Red Wines 
Old red wines, particularly those that are unfiltered, like some Innocent Bystander reds, can 'throw' sediment as they age. This is a perfectly normal part of the ageing process as the chemical structure of the wine changes and matures, but the sediment looks and tastes a bit yuck. Careful decanting allows you to separate the wine in the decanter from the sediments which you leave in the bottle.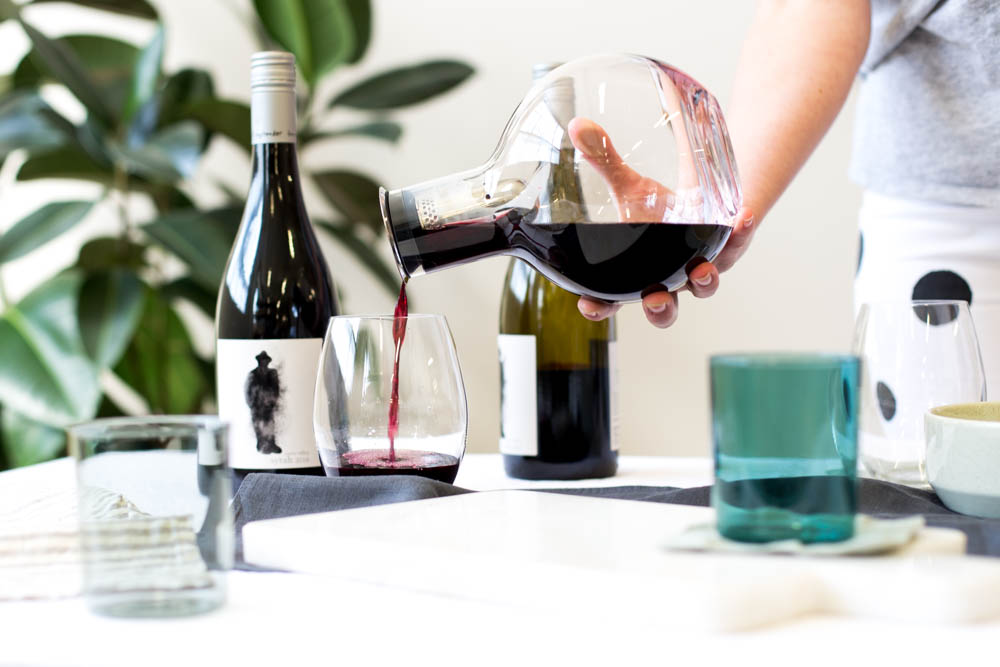 3. Because it looks really cool
Decanters are a beautiful way to spice up a dinner party, any wine looks a bit sexier when served from a decanter. But don't ruin the look by putting dodgy wine in it, pick a wine that tastes as good as your decanter looks. This is the category that suits Innocent Bystander Syrah, our wine of choice!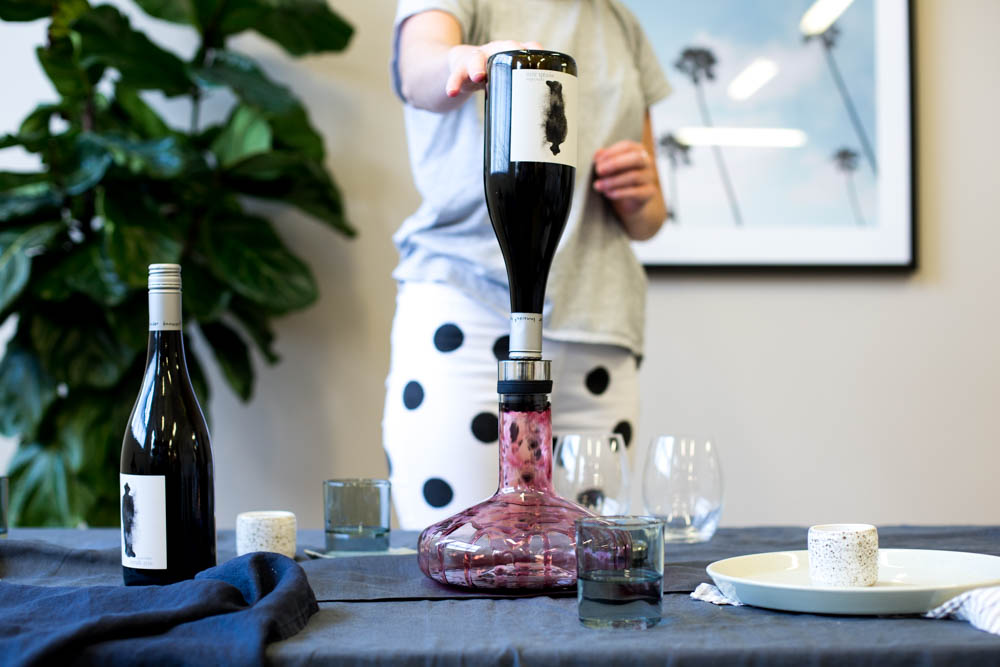 What to decant? 
Full bodied red wines benefit the most from decanting. Think big, bold reds like Cabernet Sauvignon, Shiraz etc. –  these are the guys that really need a chance to breathe in order to reach their true potential. Medium to light bodied reds like Pinot Noir and Sangiovese look good but don't see as much benefit as their big brothers.
We had a crack at decanting Innocent Bystander's Syrah in the Hunting for George office with some of our nifty new wine decanters, breathers and pourers. Yep, Syrah. And yes, that's French for Shiraz. After a cheeky little decanting session, this guy tasted vibrant, smooth and sophisticated. Angela tells us the Innocent Bystander Syrah goes oh so well with a spicy pork pizza, rib roast, hard cheeses and good food, good friends and dinners that go late into the night. 
The Tools of the Trade
Now you know why you're decanting, you need the tools of the trade to bring out the best in your wine. If like us, you enjoy a bottle of red from time to time, then using a decanter is a sure fire way to impress your mates. When searching for the right decanter, the most important criteria is to choose something you love. With that in mind, seek out one that's easy to fill, pour and clean too. You'd be surprised at how many decanters are a pain in the backside to use! There are plenty of sizes and styles of decanters on the market, but here a few (including a neat little aerator) to help you aerate in style.
Eva Solo's Glass Decanter Carafe allows wine to run through small holes in the integrated funnel and down the inside walls of the carafe. This oxygenates the wine gently, effectively – and beautifully.
Or place Menu's Wine Breather Deluxe over the bottleneck, flip it all upside down and the wine will run through the decanting unit and into the large-surfaced carafe for perfect aeration. Flip it all around once more to get the wine back in the original bottle, pour it, and taste the advantages of a wine with 10 times the oxygen.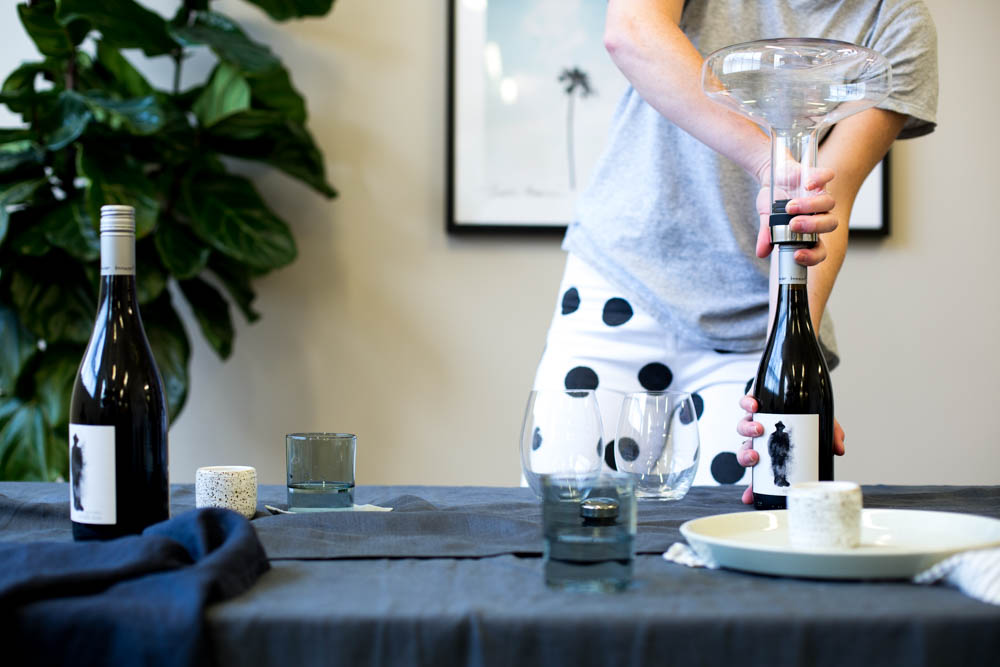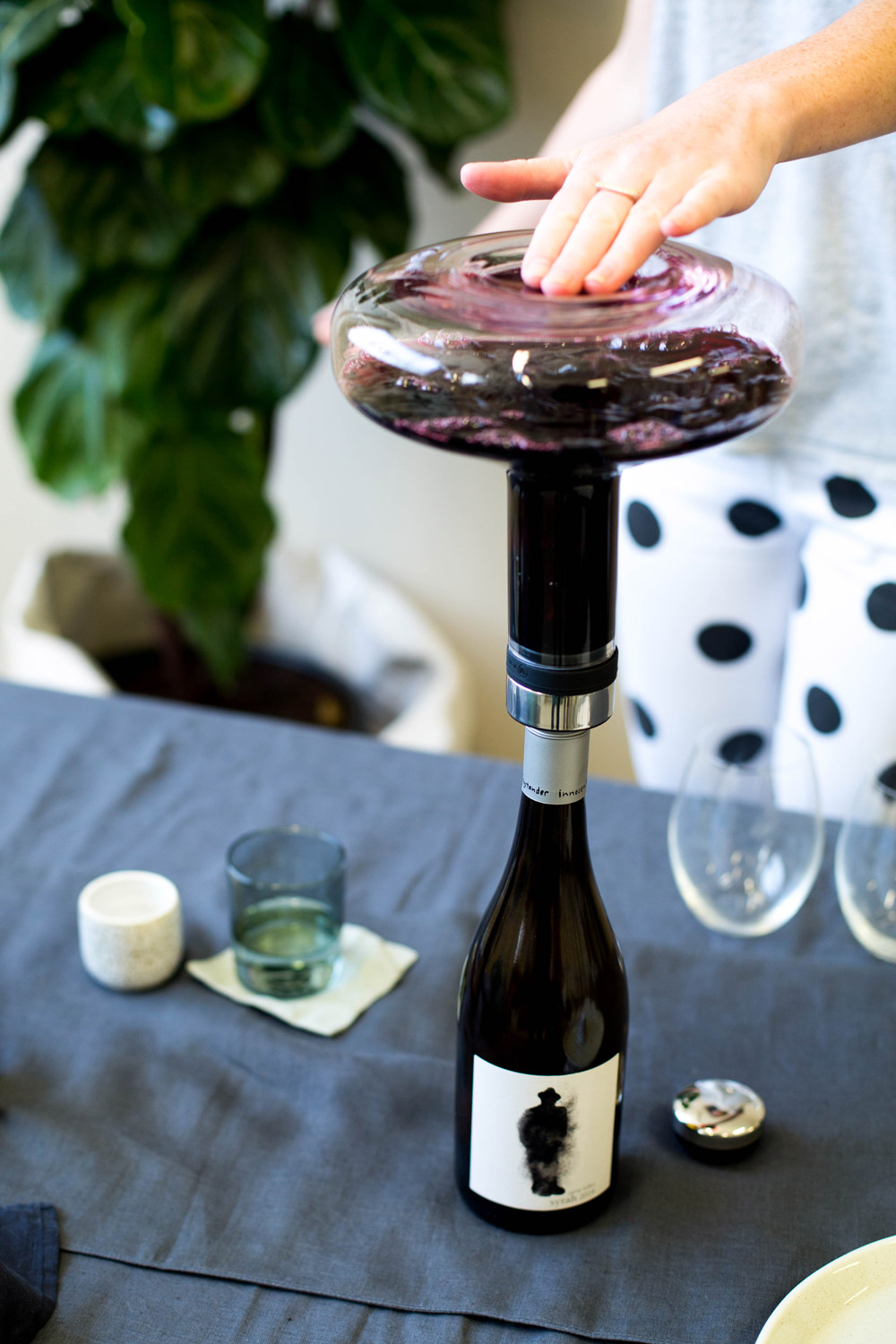 Last but not least, the nifty Blade Decanting Pourer by Menu. The flat front produces a wonderful, broad wine stream with the greatest possible surface area so that the wine is properly aerated.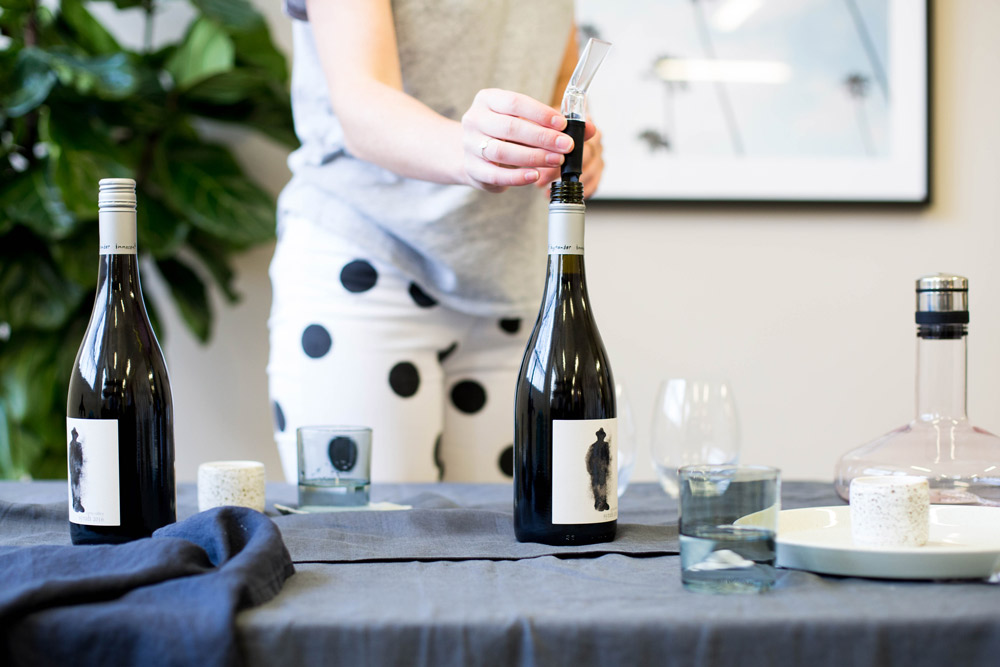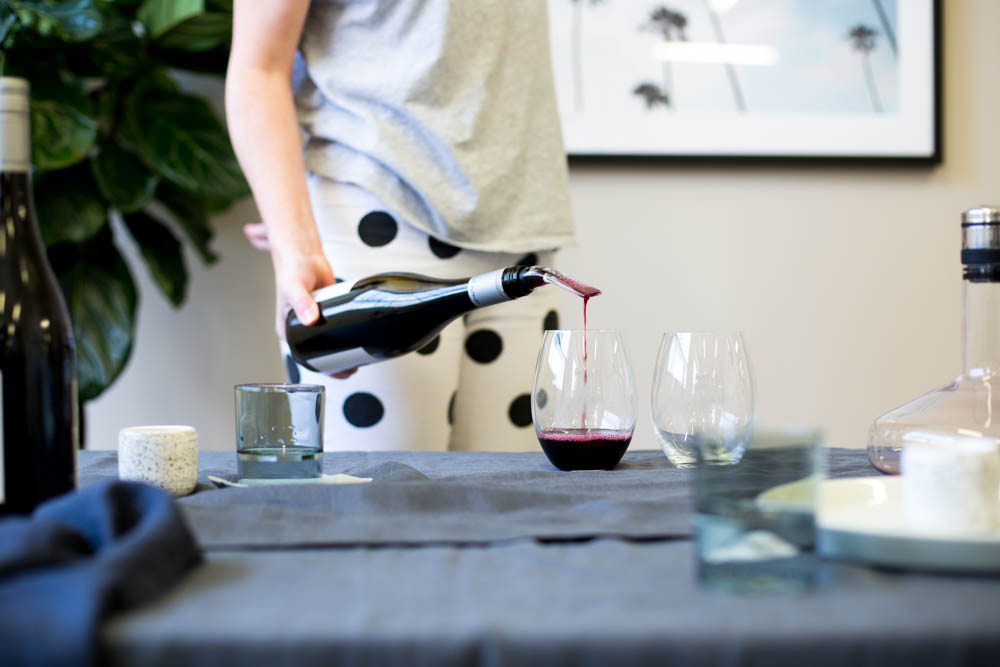 So before you pop the cork on your next bottle of red, remember to aerate, aerate, aerate! Happy drinking my new wine aficionados.
Wine by Innocent Bystander. Stemless Wine Glasses by Plumm Wine Glasses.