We were given the keys to an empty, inner-city apartment and challenged to go big in a small space. There is no DIY involved in this one so we're not painting, sanding floors, or tearing anything down, we're simply going to transform this space with furniture and decor. The challenge was to basically take my style from home and bring it to a smaller, two-bedroom apartment. Did we pull it off? See for yourselves and join us as we take you on the full journey of planning, installing and styling whilst sharing some helpful tips along the way. Let's go!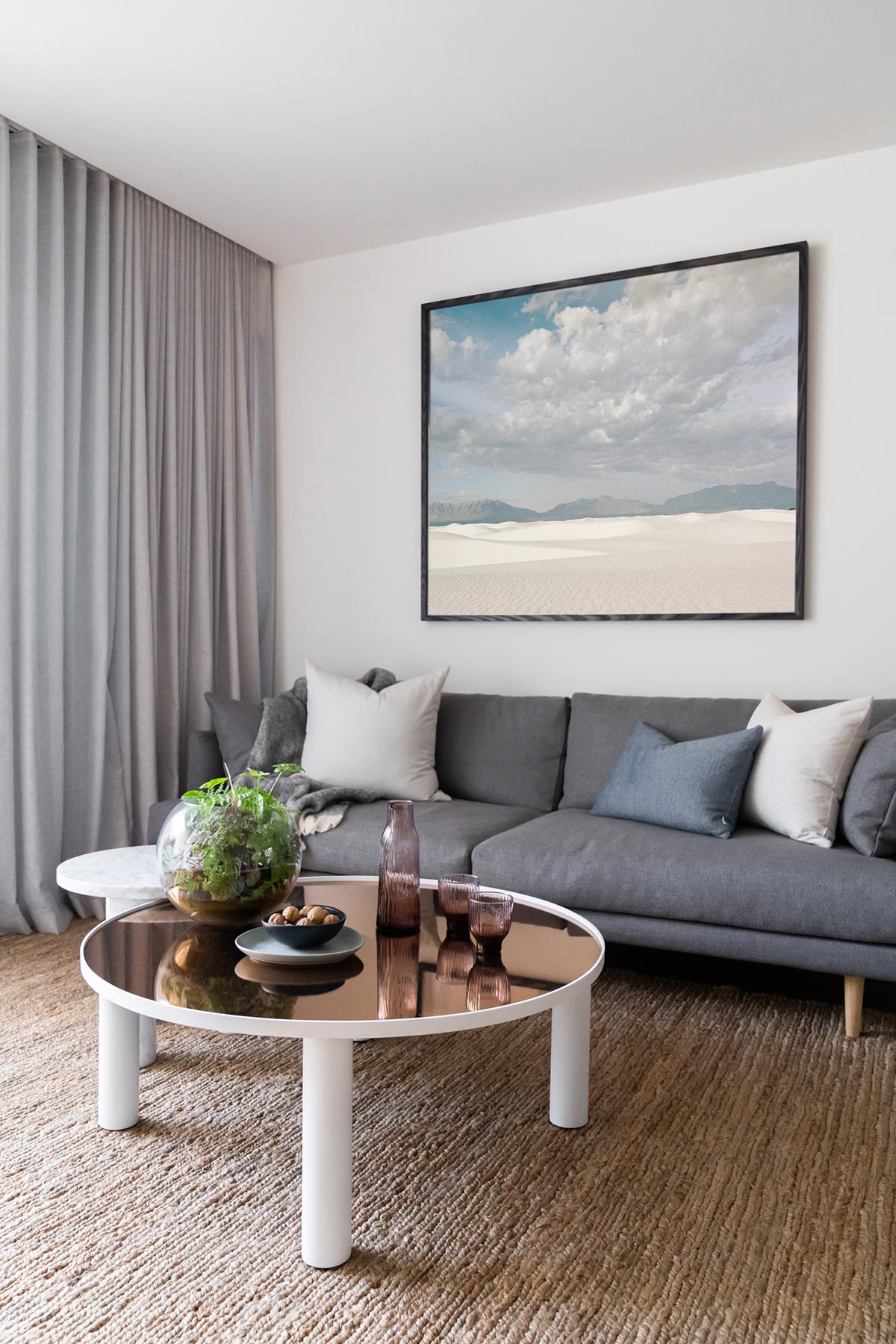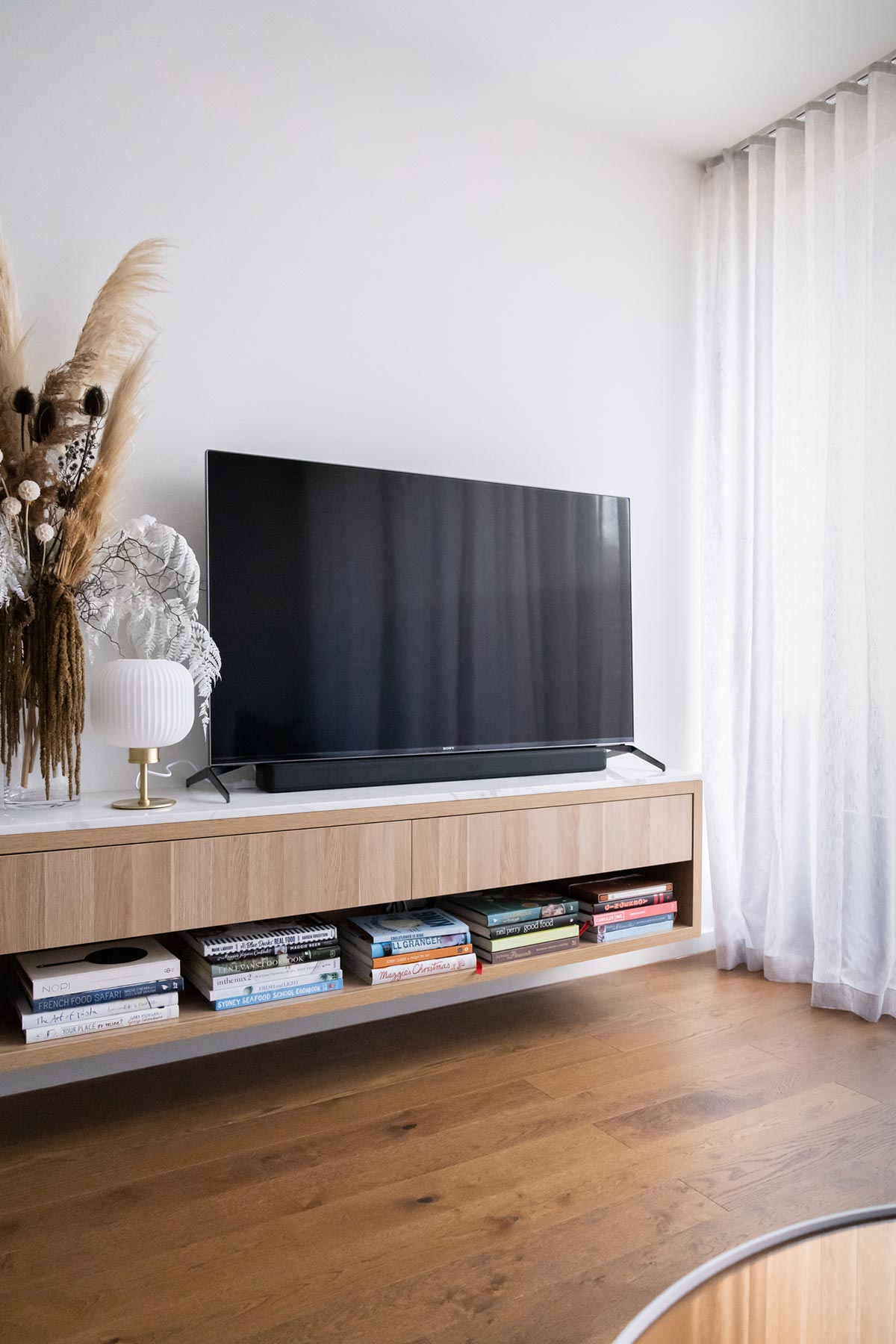 Living Area
It's an open-plan living, dining and kitchen space but we've been able to create a zone through the use of the Vista Weave Rug from Milk & Sugar which has a really nice natural tone that warms up the space. There's also an in-built entertainment unit so we completed the setup with a nice X95H 4K Ultra HD Smart TV and HT-G700 Soundbar from Sony, and I'm also really happy with the size and proportions of the Vittoria Mia 4 Seater Sofa, Amara Disc Mirror Coffee Table and Amara Round Leg Side Table from Globewest that we got for this area. The sliding doors that separate the outdoor area from the living spaces are already tinted but I thought it would be nice to have an additional layer of texture by utilising motorised sheer curtains from DIY Blinds just to add a bit more comfort, texture, and homey feel to the space. We then styled up the area with beautiful pieces from Ivy Muse, Made and More, everlasting florals from Positive Parcels, Cloud Table Lamp Brass from Milk & Sugar, and of course the As Stories End, And Begin artwork from Clare Plueckhahn.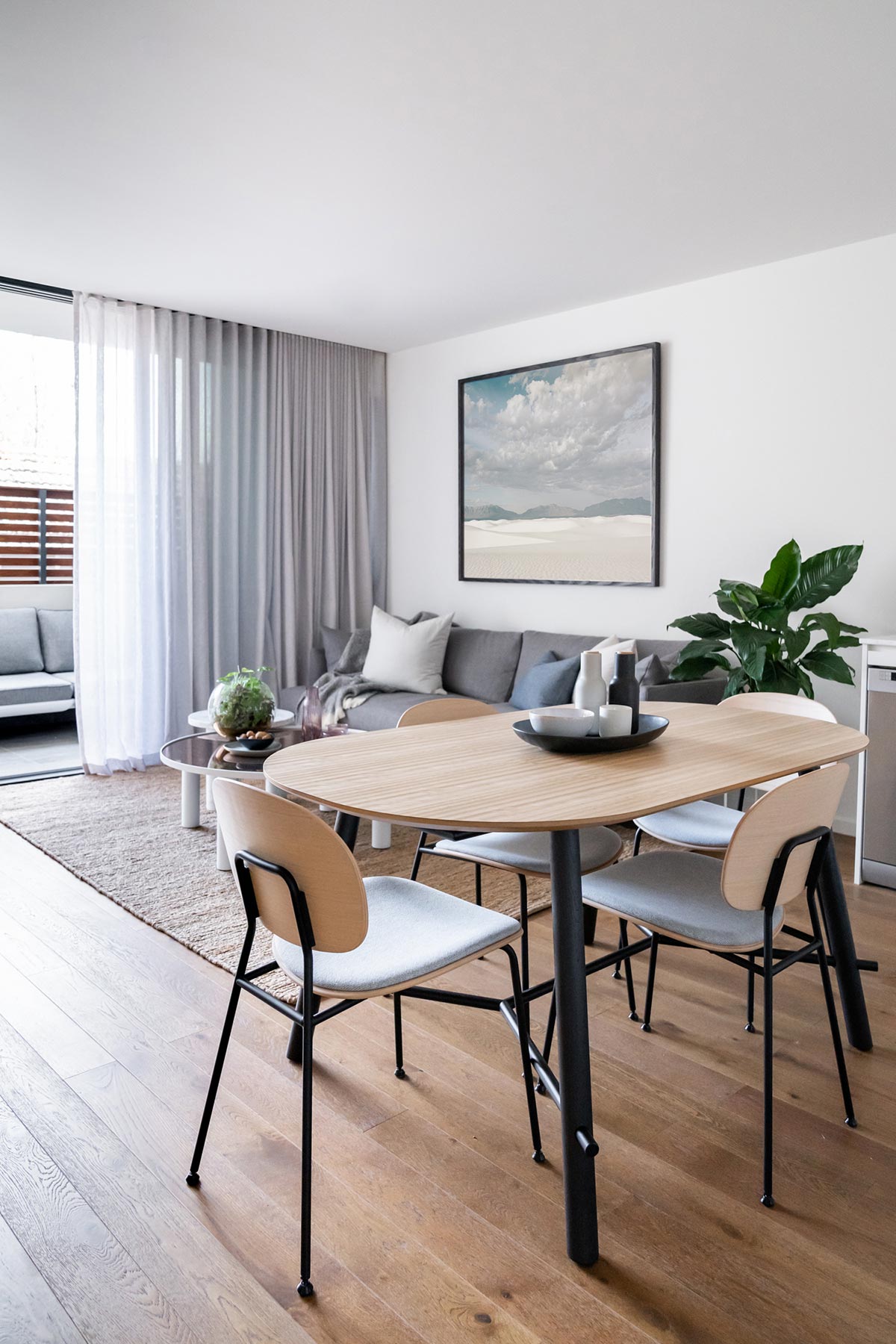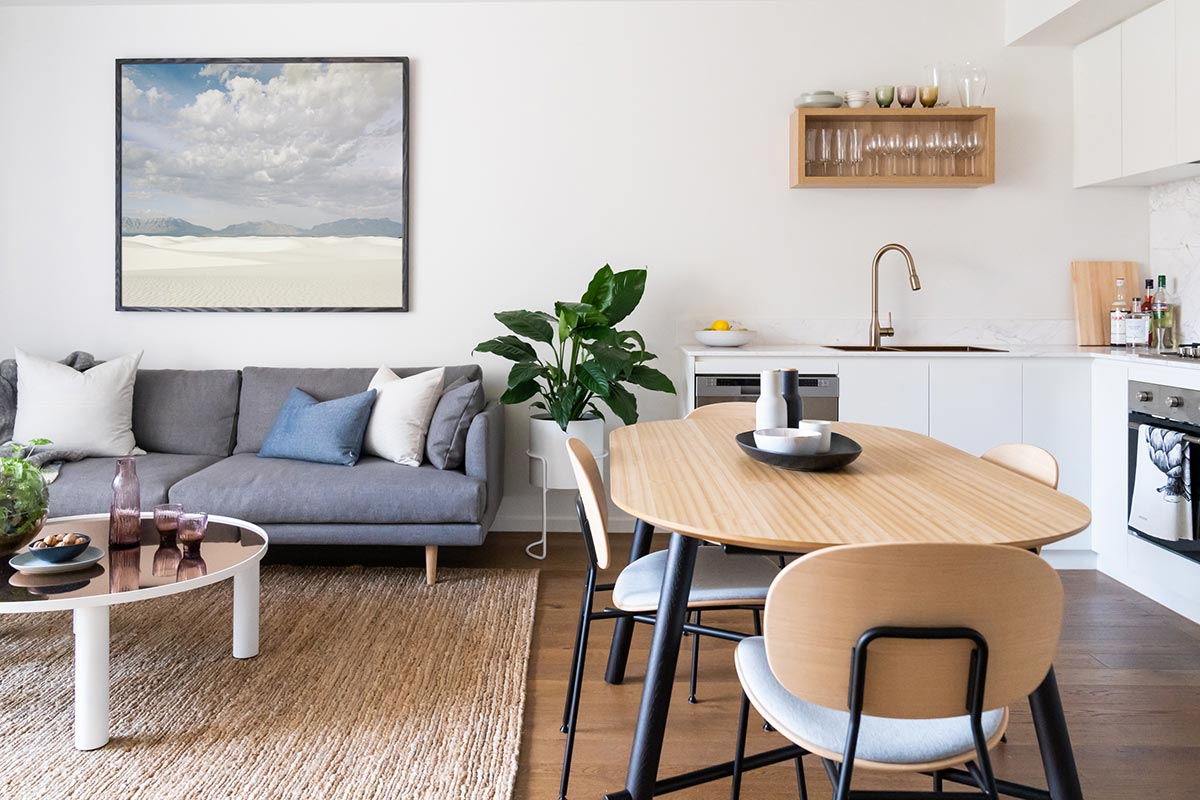 Dining Area
The owners said they really want a proper dining table. Initially, I was very nervous about bringing in a table in this area because I just didn't know if it was big enough. But after checking it was apparent that we could definitely fit a dining table so we got the smallest version of the Record Dining Table from Baseline coupled with their Tondina Chairs, which is just the perfect size for this space. We also got a few appliances including the 453L Bottom Mount Fridge from Electrolux.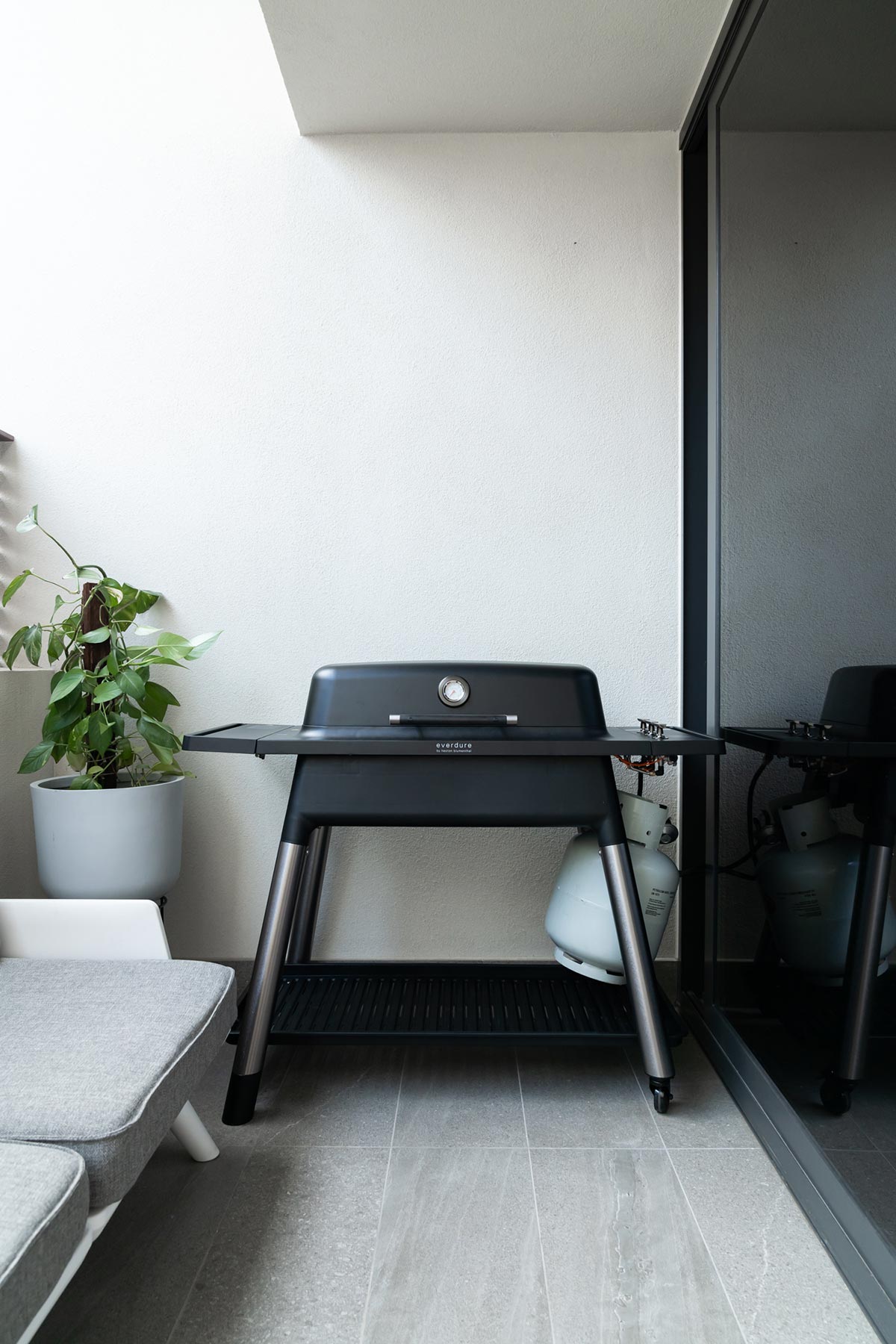 Outdoor Area
We got a really good outdoor space just beside the living space, separated by a sliding door. What we did here is we established a chill out space, basically an extension of the living space but outside. We have put the Samurai Modular Outdoor Sofa from Baseline which serves as a lounge area, the Furnace by Heston Blumenthal grill from Everdure, and some beautiful pots from Ivy Muse for a splash of greenery.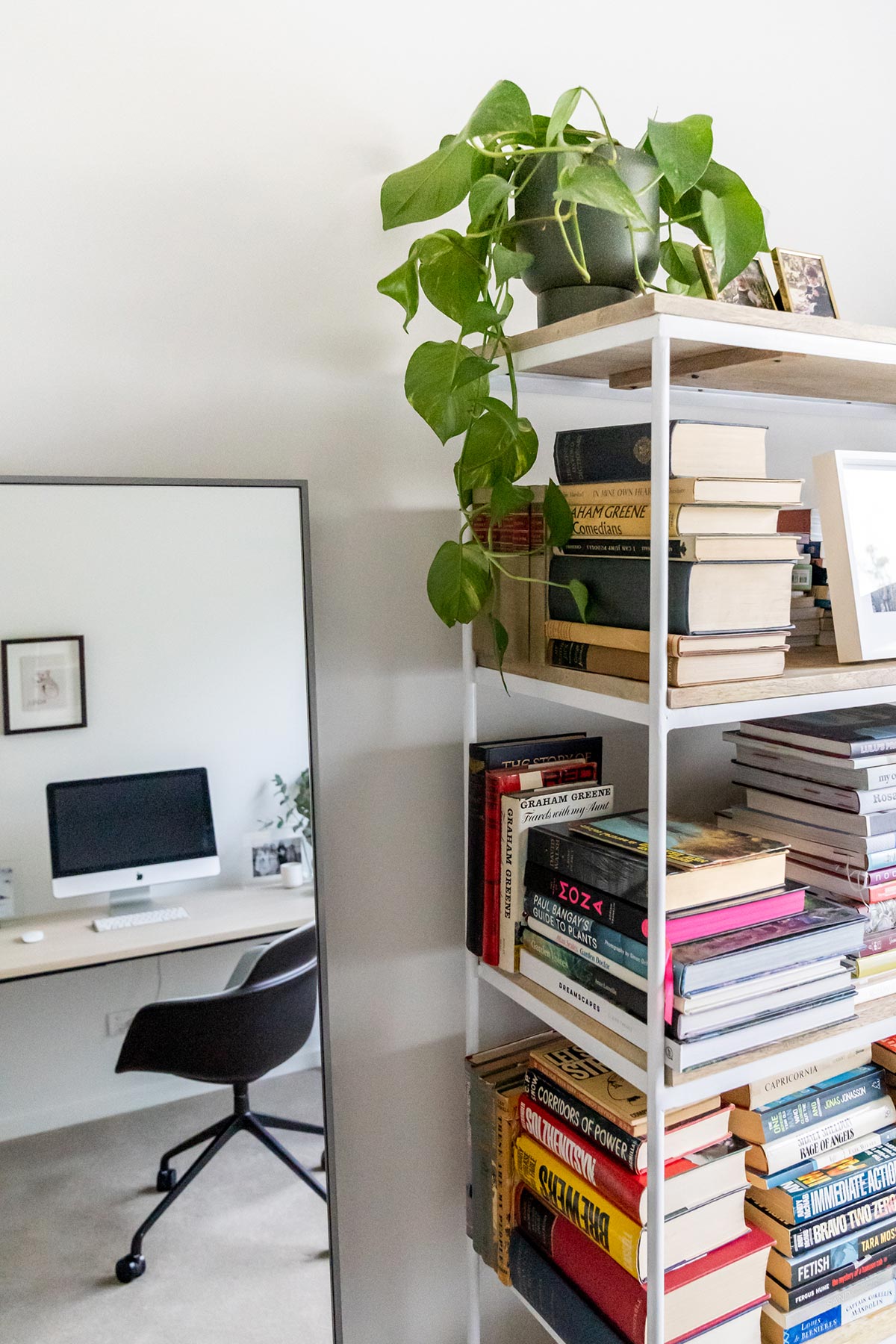 Home Office
This space is intended for a smaller bedroom but was actually assigned to be a dedicated home office. We brought in the beautiful R8 Workstation Table and Sicla Chair from Baseline. I wanted to keep this space very minimal and calm without skimping on personality so I've also added some subtle design elements to keep everything looking fresh and balanced.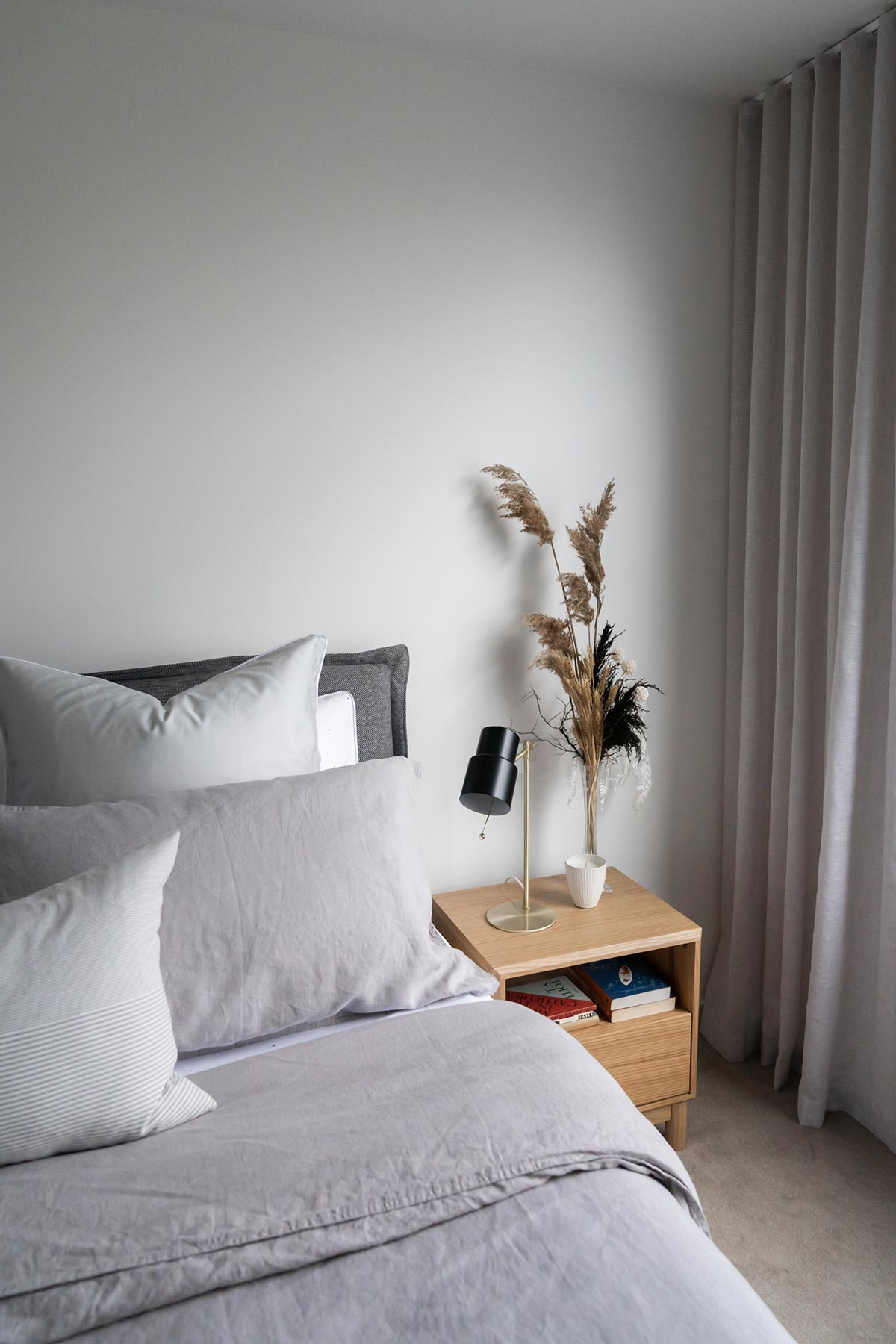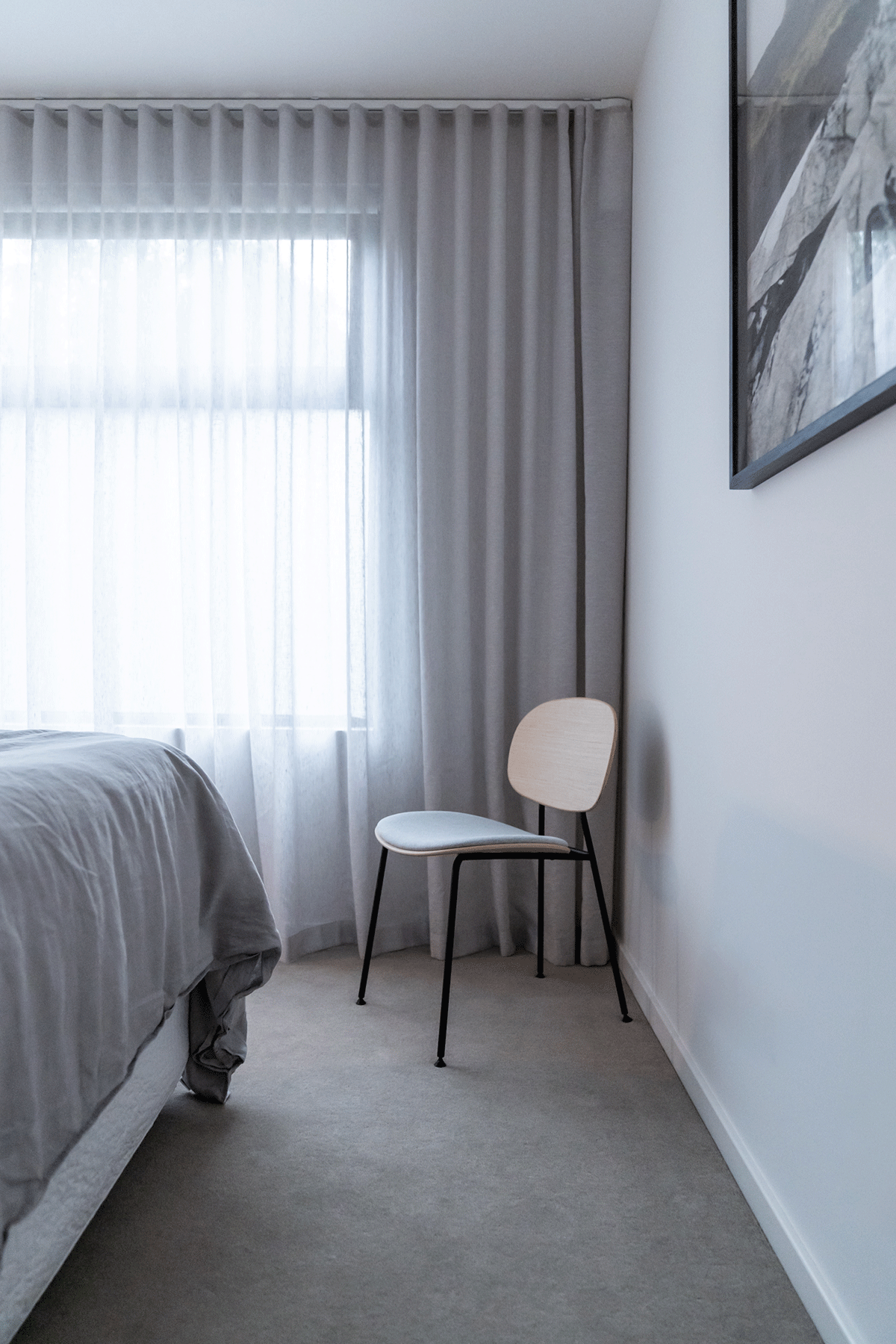 Bedroom
I absolutely love this room! Just like in our own home, I really wanted to create a cosy retreat and I'm really happy with how it turned out. Again like in the other spaces, the sheer curtains from DIY Blinds just help to soften this space while adding a beautiful comfy ambience to the room. On the bed, we got a very comfortable Dove Linen Quilt Cover from Milk & Sugar and a subtly textured Vittoria Flanged Bedhead from Globewest which blends beautifully to create a lush and cosy space. The Cato Bedside Table from Brosa provide ample storage space, a generous surface area to hold a few items, and also a bit of warmth with the timber finish. I then styled it with some everlasting flowers from Positive Parcels just like in the living area, along with the Atticus Table Lamp, also from Milk & Sugar.
We had a lot of fun transforming this space so we hope you enjoyed this Apartment Makeover as much as we did! We have plenty more videos coming your way so please consider subscribing to our YouTube channel and hit notifications so you don't miss a beat.
Styling by Lucy Glade-Wright
Photography by Jonno Rodd