The Balcony designed by Bastian Architecture showcases a contemporary addition and renovation to an existing house in the dynamic and lively suburb of Newtown. The area is historically a working class suburb that had strong community engagement, so the idea is to restore this paradigm by the use of balconies and verandas which serves as a point of engagement for the community. The challenge of the design in this project was in respecting the existing building and conservation area while adding a modern extension to the highly visible second street frontage. Let's take a closer look…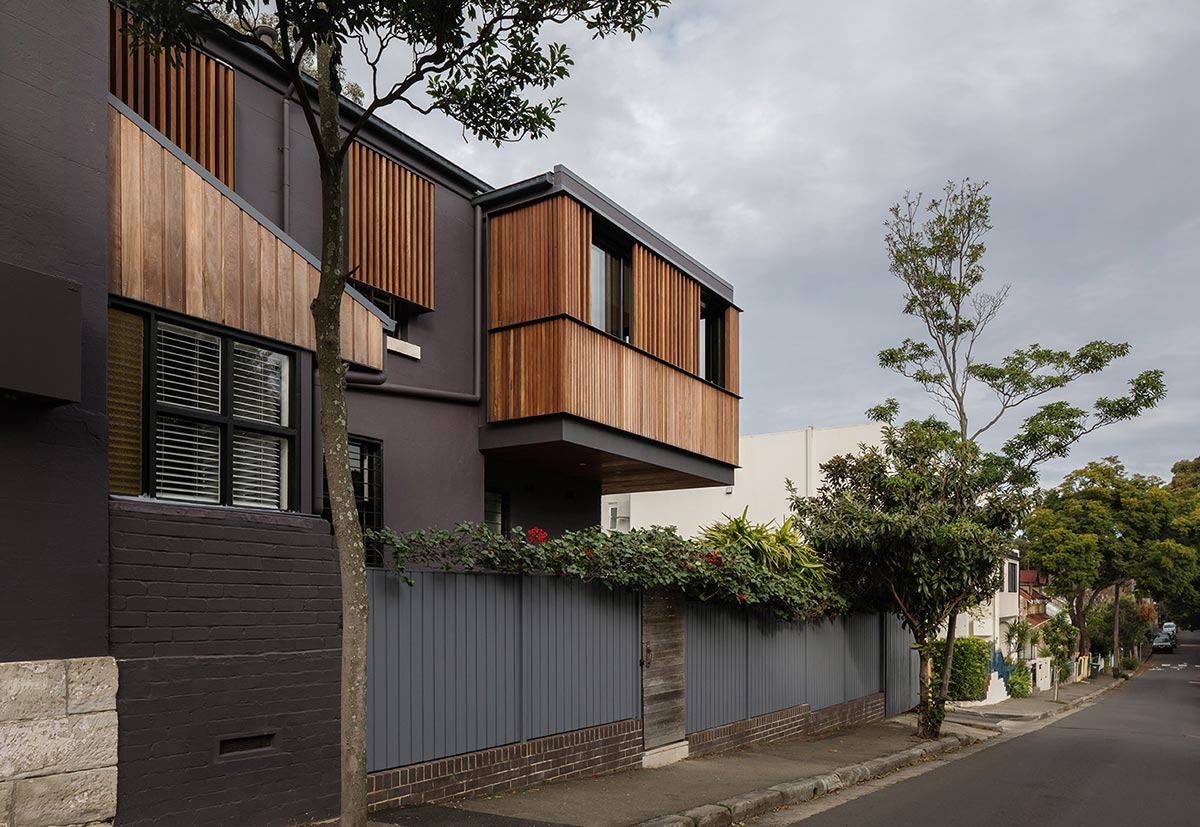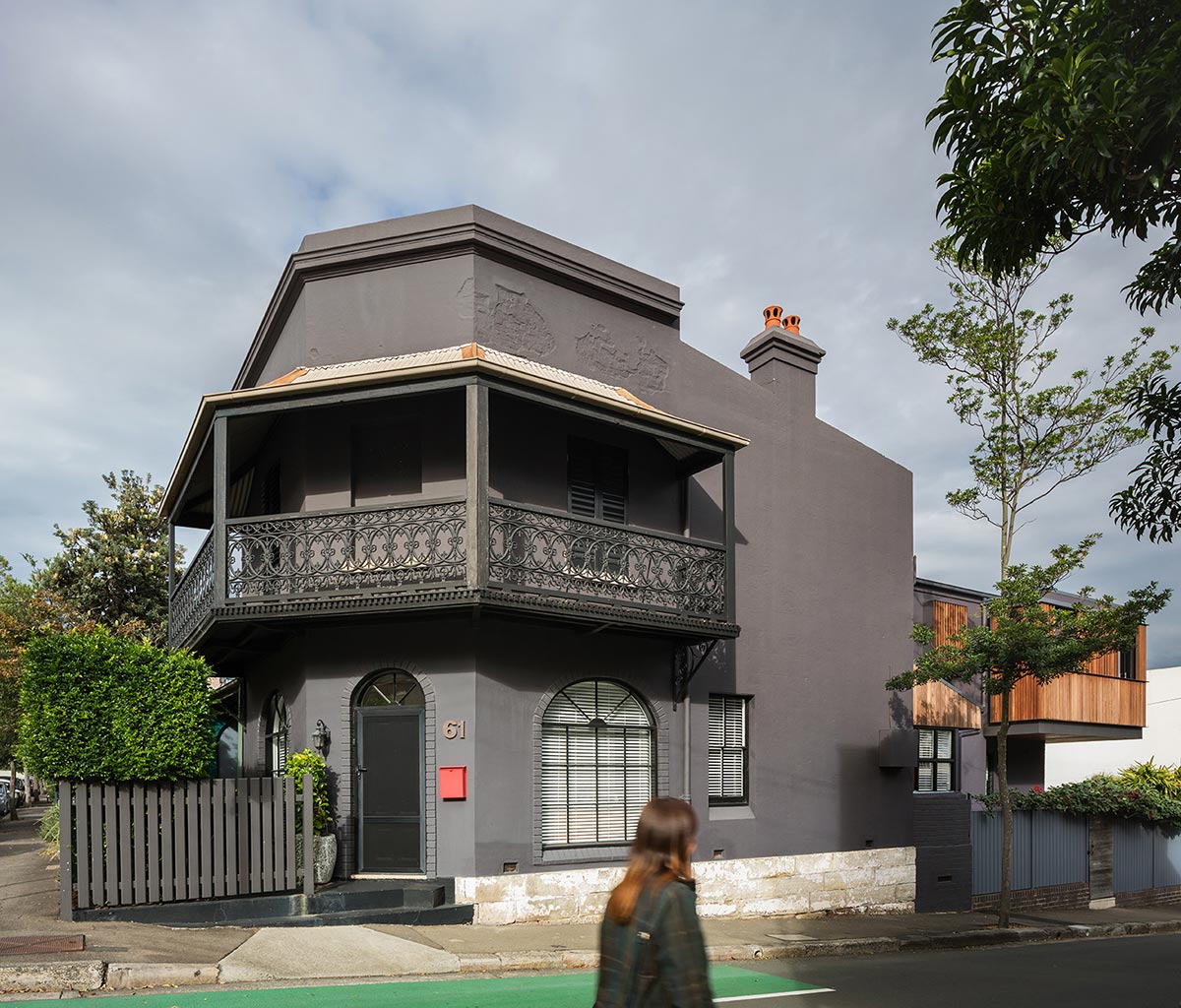 "Decades ago, it was commonplace to use front porches and balconies as interstitial spaces, spaces which connected with and were at the intersection of public and private space. Balconies and verandas were used as places to contemplate and watch the world go by, or chat to the neighbours as they returned from work or shopping. These spaces afforded a means of interacting with neighbours and the neighbourhood in general, a practice which has all but disappeared in today's society. Newtown terrace is a response to this paradigm and looks to reinstate the balcony as a point of engagement, to reinstate the conversation between the residents and the neighbourhood." – Bastian Architecture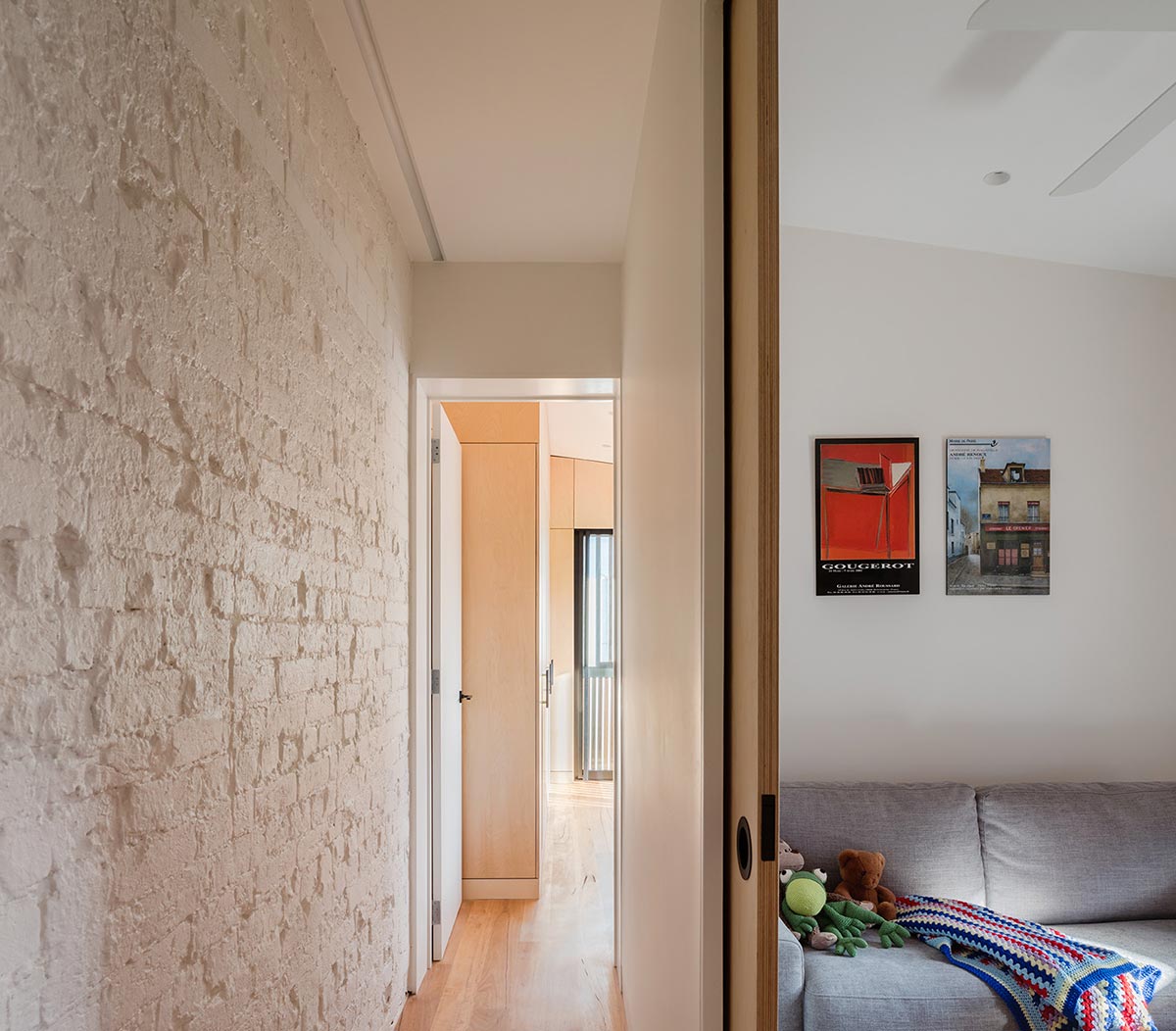 The house is nestled on the corner of two streets which permits the building to be perfectly positioned to speak to and engage with the thoroughfare. When the opportunity came to add a single room to this corner terrace the location informed the framework for the renovation. Being in a heritage conservation area, there were strict, and mostly contradictory, regulations imposed by the council. This confusion of design direction was embraced and used to inform many of the design decisions throughout the process. There is a constant blurring of what is old and new, new plumbing is fixed to the exterior of the terrace while timber and steel screens provide privacy and sun protection to the existing windows of the renovated bathroom and study.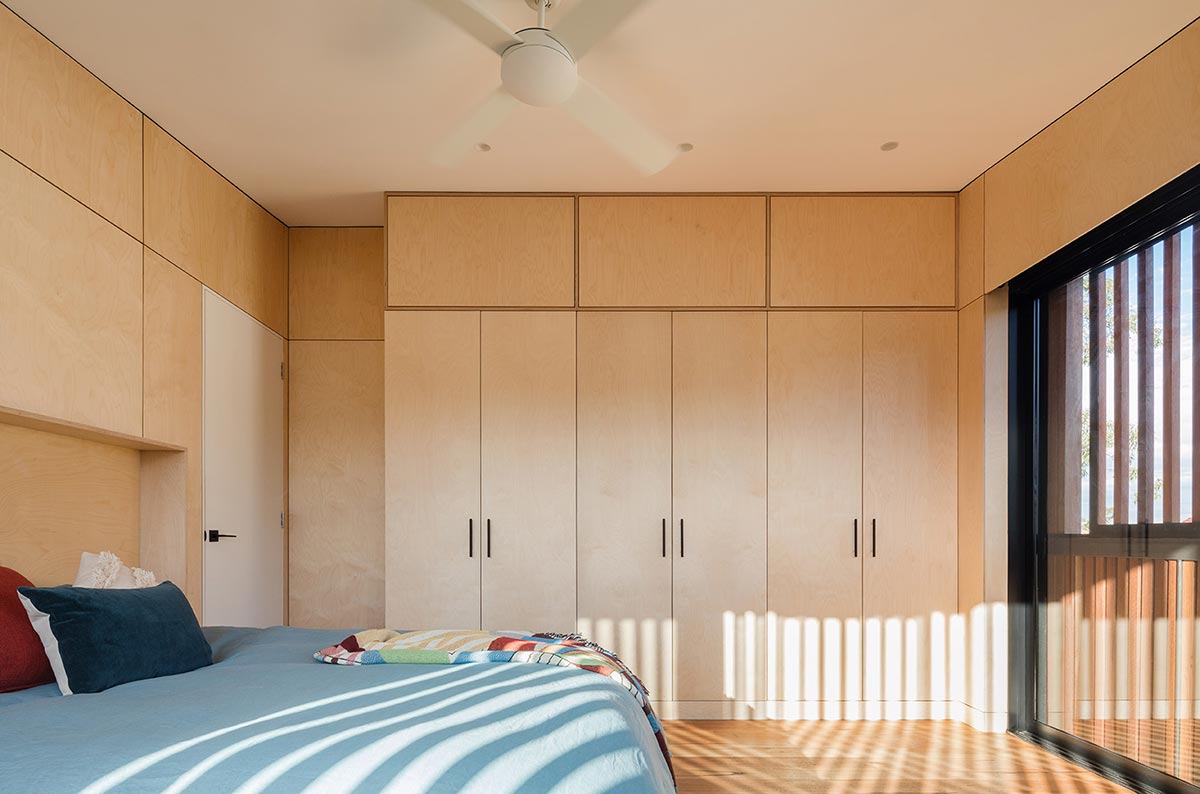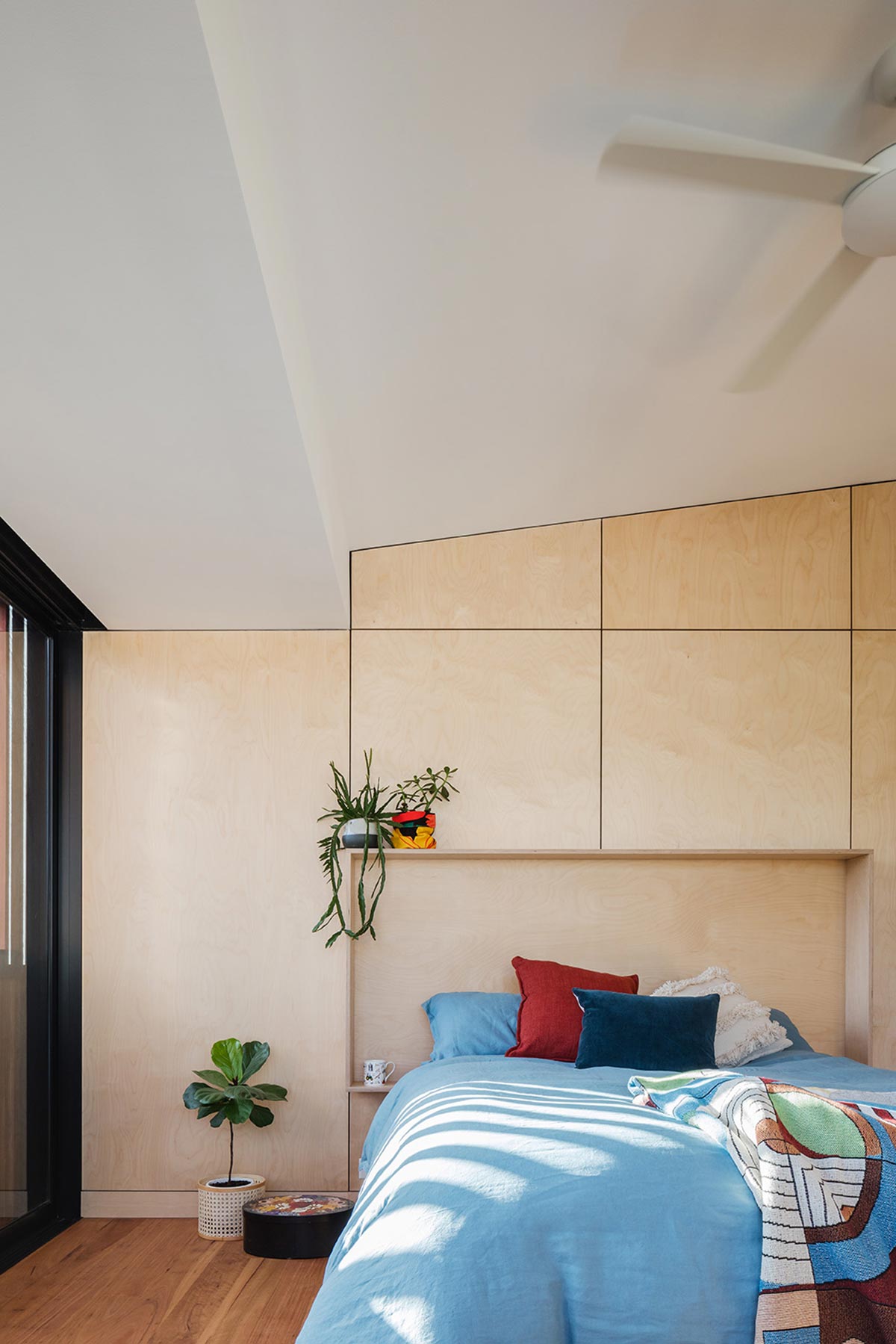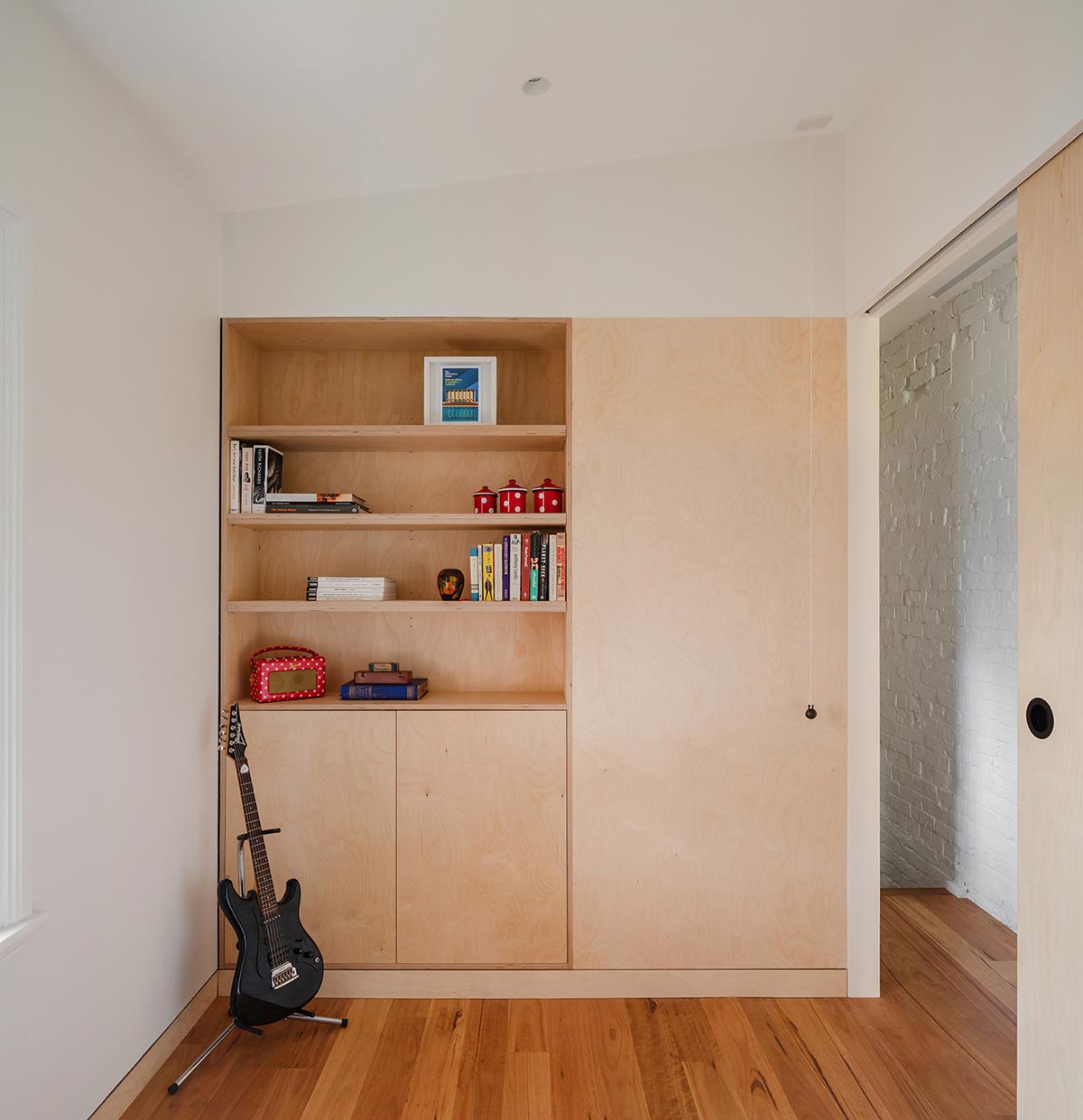 To enhance the balcony character of the internal spaces, the decision was made to choose materials frequently used both internally and externally. Plywood panels line all the walls in the main bedroom, including the cupboards, and blackbutt timber flooring runs throughout the renovation. There is an intentional blending of old and new materials to blur the lines between the existing and new spaces, allowing the structure's unique personality and character to radiate throughout all areas.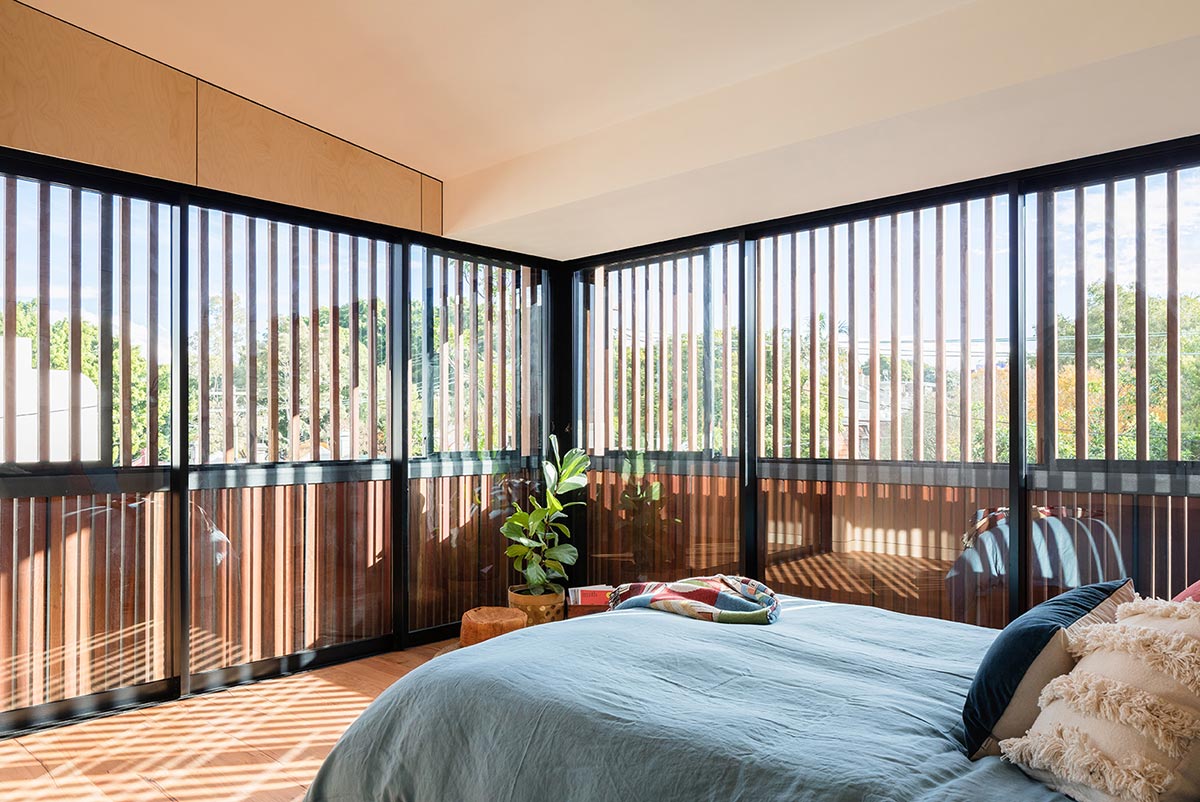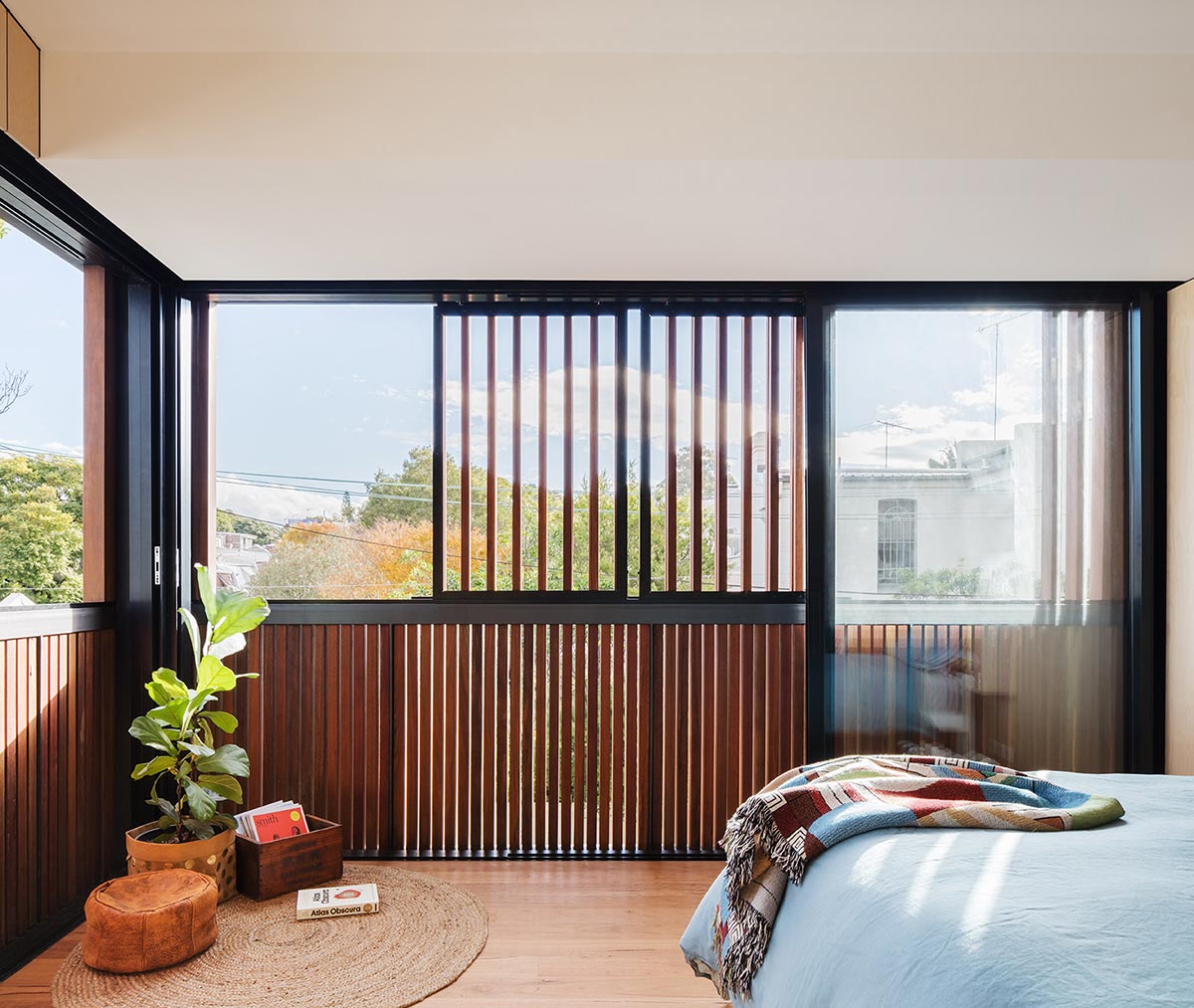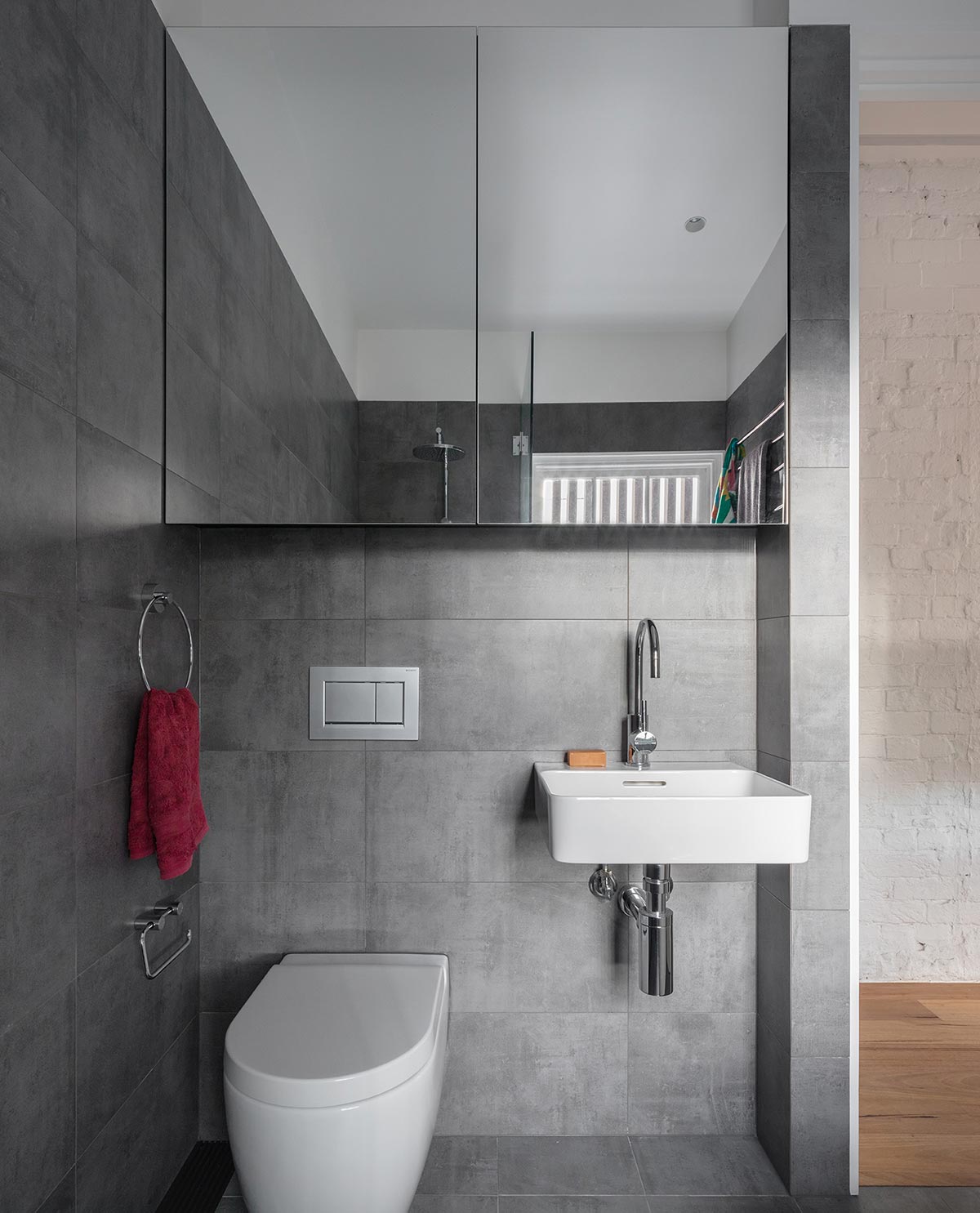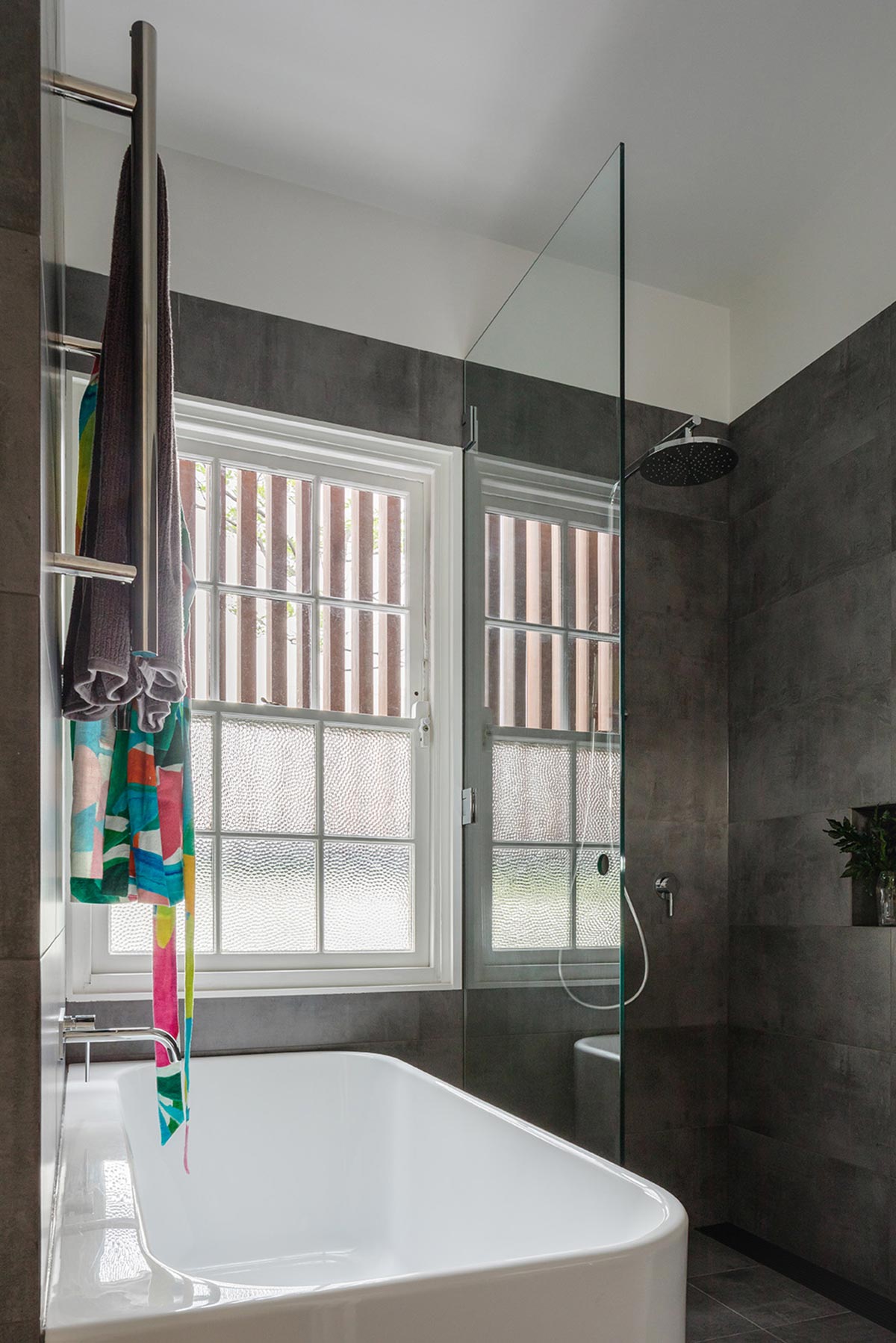 "As is often the case in old terraces storage is limited, so where possible new joinery has been integrated into all of the rooms. The joinery and wall cladding in the study meets a large plywood sliding door which connects the study with the hall, blurring the edge of this compact room. The external timber screens are a consistent element in each room with views obstructed or revealed through the Spotted Gum battens. The timber screens are placed over the existing windows of the study and bathroom to connect these rooms with the new bedroom and much larger sliding timber facade." – Bastian Architecture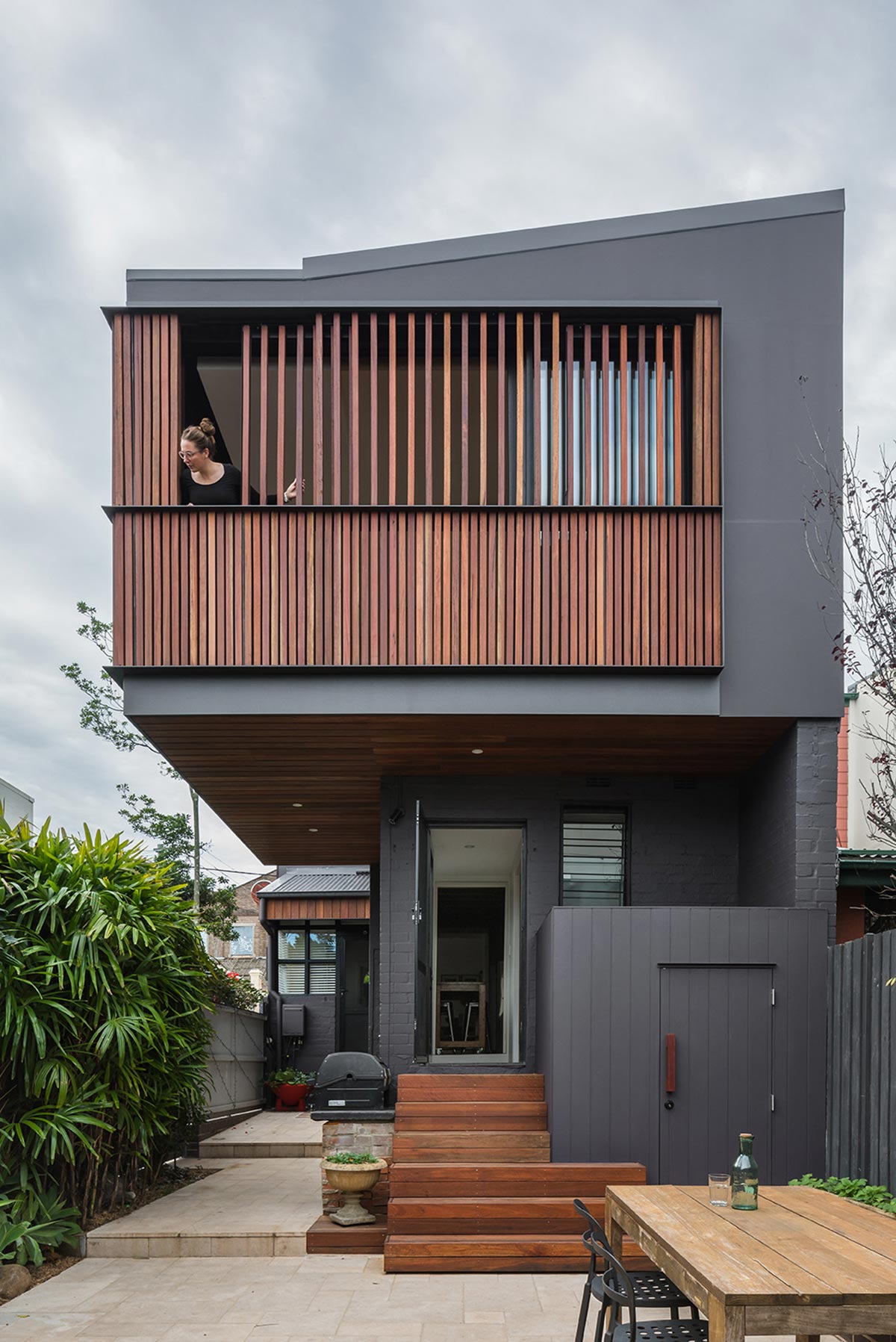 This transformation reinstated the conversation between the neighbourhood and the occupants of the house, enriching the strong community engagement that the suburb was originally known for.
Project: The Balcony
Architect: Bastian Architecture
Location: Sydney, Australia
Type: Renovation
Structural Engineering: Cantilever Consulting Engineers
Builder: Highfield Building Developments
Photography: Katherine Lu