Love baking? Well if you're in need for a delightfully, warm comfort food, this yummy Sweet Potato and Pecan Tart from Carla Oates' The Beauty Chef book might just be the one for you. Not only is it rich in Probiotics, Potassium, Biotin, and many other vitamins, this healthy treat is also surprisingly delectable! This amazing recipe from The Beauty Chef would absolutely impress even the fussiest of the kids. Let us show you how it's done…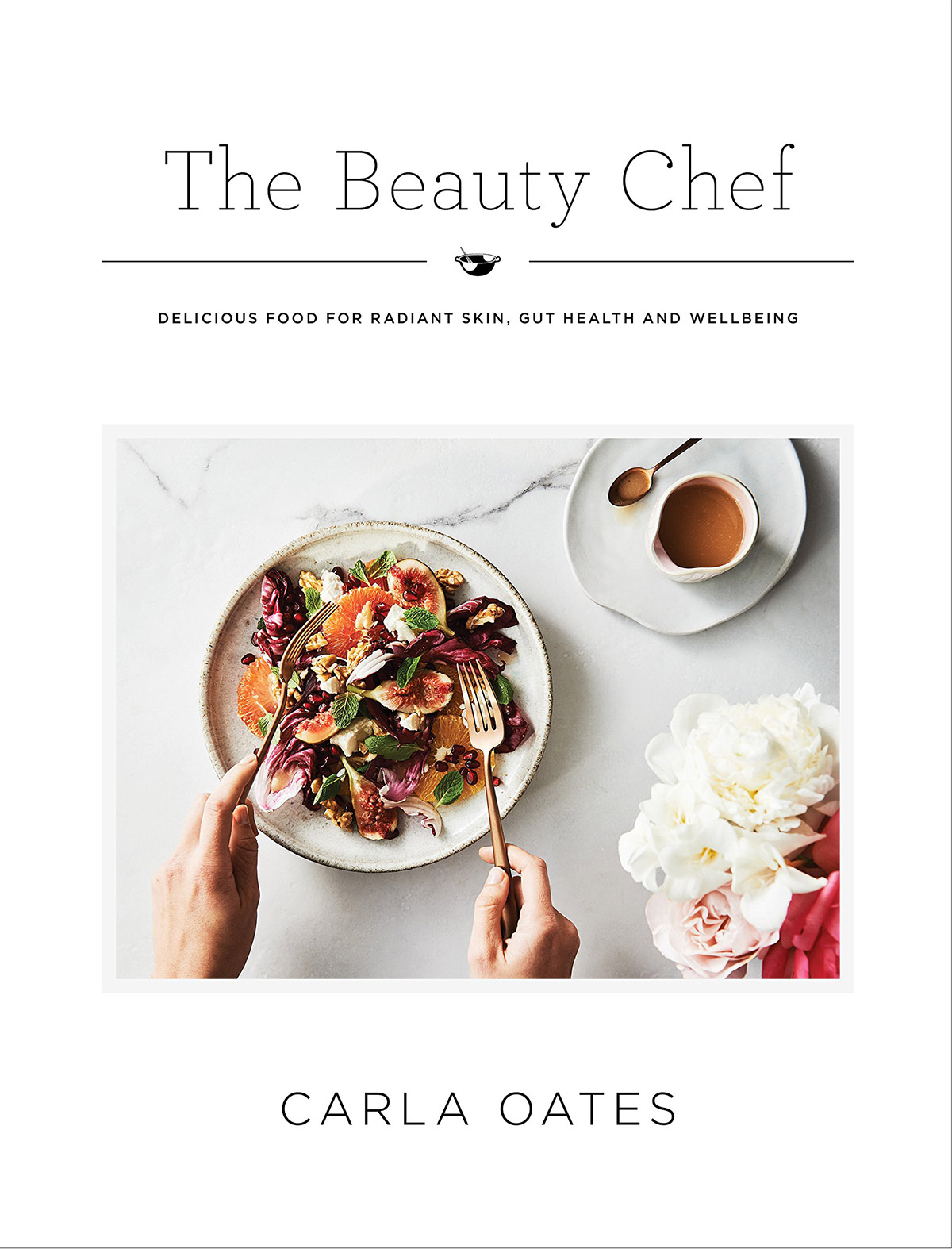 Serves 6 – 8
Ingredients:
1 1/2 cups (375 g / 13 oz) natural yoghurt
Edible flowers, to decorate (optional)
Pastry:
1 1/2 cups (165 g / 6 oz) pecans
1 cup (100 g / 3 1/2 oz) almond meal
2 tbsp arrowroot
1 tsp ground cinnamon
1 large egg, lightly beaten
2 tbsp maple syrup
1 tbsp macadamia oil, plus extra for greasing
Filling:
400 g (14 oz) sweet potato, peeled and cut into chunks
1/2 cup (125 ml / 4 fl oz) almond milk
3 large eggs
1/4 cup (60 ml / 2 fl oz) maple syrup
1 tsp ground cinnamon
1 tsp ground ginger
1/2 tsp vanilla bean powder
1/2 tsp ground nutmeg
1/8 tsp ground cloves
Pinch of Himalayan salt
Glazed salted pecans
1/4 cup (60 ml / 2 fl oz) maple syrup
3/4 cup (100 g / 3 1/2 oz) pecans
1/4 tsp Himalayan salt
Method:
To make the pastry, blend pecans in food processor or high-speed blender, until finely ground. Transfer into a medium bowl. Add almond meal, arrowroot and cinnamon and stir to combine. Add egg, maple syrup and oil and mix until it begins to bind together.
Press the mixture into a 20 cm (8 in) pie dish lightly greased with oil, to make an even layer on the base and sides. Cover and refrigerate for 15 minutes.
Preheat oven to 180ºC (350ºF). Cover the base with a piece of baking paper and fill with baking weights, dry rice or beans. Bake the base for 10 minutes. Remove the baking weights and paper and bake for a further 5 minutes, or until golden brown.
To prepare filling, steam sweet potato for 10–15 minutes, until tender.
Place sweet potato and remaining ingredients in a food processor. Blend until smooth. Pour into prepared base and spread to make a smooth surface.
Bake for 35–40 minutes, until set. Cover pastry edge with foil if it begins to darken too much. Set aside to cool.
Meanwhile, to make salted glazed pecans, line a small baking tray with baking paper. Heat maple syrup in a small saucepan over low heat until simmering. Add pecans and salt and toss to coat. Continue to heat, tossing occasionally, until the syrup is reduced to a thick and sticky coating over nuts. Drop glazed pecans in small clusters on the prepared tray. Set aside to cool and harden.
Spoon the natural yoghurt in the centre of the cooled tart and spread out. Decorate with clusters of the glazed salted pecans, and edible flowers if desired.
Note: The finished tart can be covered and stored in the refrigerator for up to 5 days.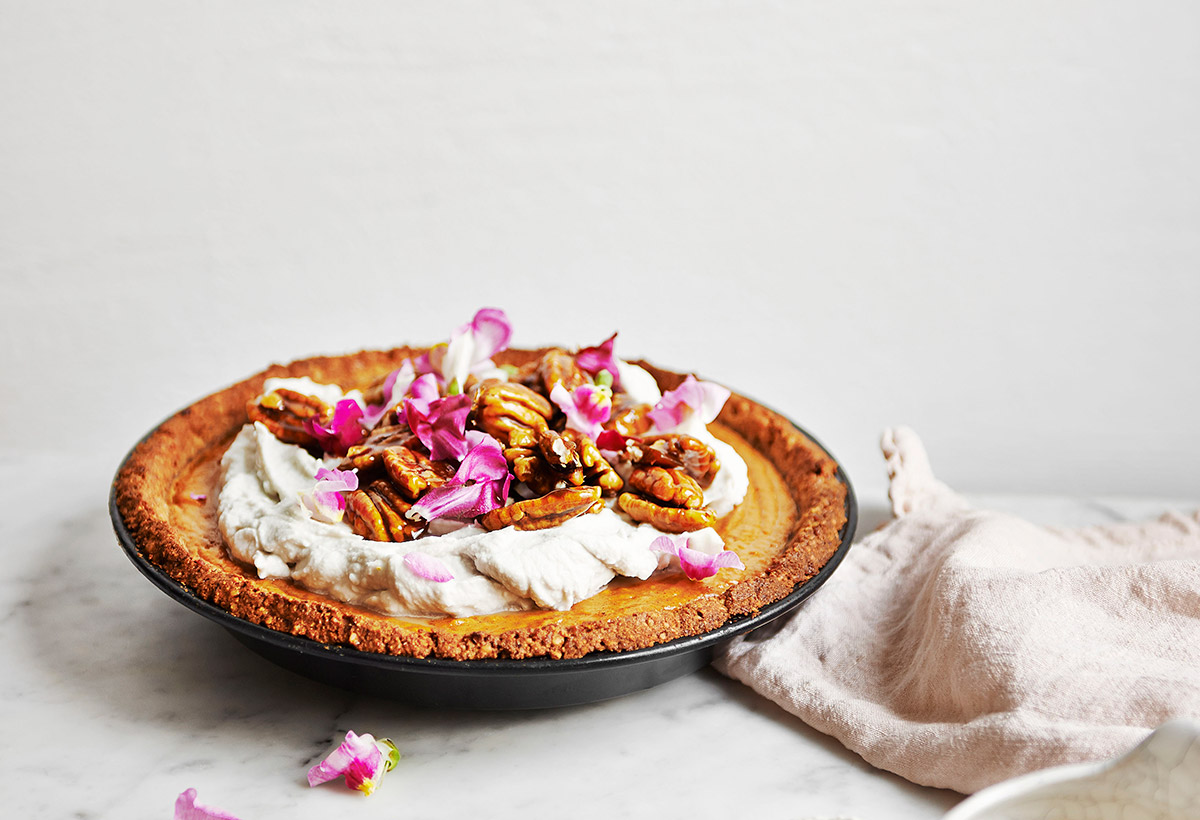 Beauty is more than skin-deep, it comes from within… from the gut, to be precise. In The Beauty Chef by Carla Oates, founder of the natural beauty company of the same name, combines the joy of cooking with the science of nutrition, offering you radiant skin and robust health. More than 150 delicious and nutritious recipes that are gluten-free and mostly dairy-free these will feed both your skin and your gut. Glamorous it may not be, but a well-balanced gut bacteria can be the answer to glowing health and beauty. With every meal you eat, be it breakfast, lunch, dinner or a tempting dessert, you will feel and look better inside and out.
Head over to our recipes section for more of these mouth-watering and tasty recipes. Meanwhile, you might want to check out some of our fine kitchenware below:
You can view a wide range of similar products over at Hunting for George.