I had the pleasure of meeting and working with Ren Pidgeon earlier this year for our Hunting for George Loft collection. I was initially drawn to his photography because of the intimacy and voyeuristic nature of his images. For the 2016 edition of the Hunting Collective I wanted to again feature a photographer and the choice was simple. When I asked Ren to come on board, there was an immediate yes followed by slight hesitation, but when deciding to collaborate with his friend and illustrator Georgia Harvey, it all began to take shape. Interviewing these two was like interviewing one person. Each finishing one another's sentence and their laughter and movements almost identical.
Ren and Georgia's clock is available via online auction. To bid, click here.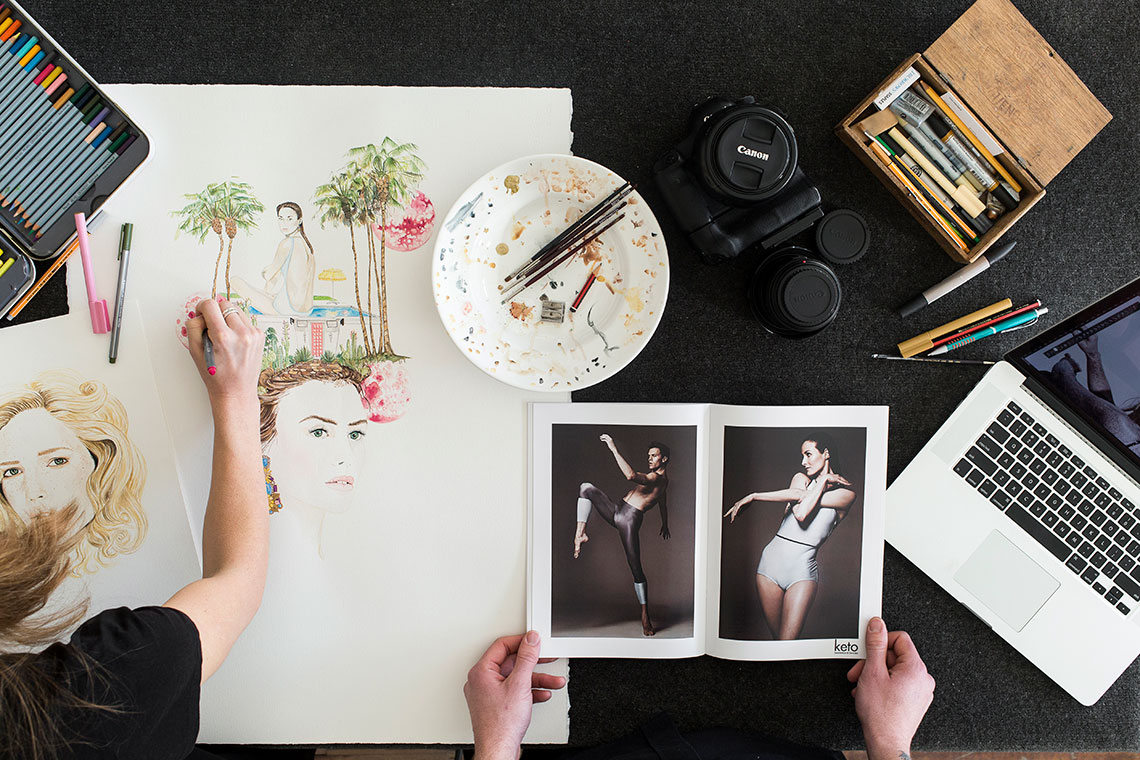 How did you both meet?
Georgia Harvey: Well we sort of met through friends. It was sort of a birthday actually. We hadn't met before. I knew you were a photographer.
Ren Pidgeon: Yeah. Then I came over for dinner one time with my partner and saw heaps of Georgia's work on the wall. I was like, that's incredible. I want that on my wall.
Georgia Harvey: After that we just started talking about art. Ren as a fashion photographer captures a lot of women and I love drawing women, all my pieces start with a face.
Ren Pidgeon: It's really strange that somehow Georgia illustrates the way I photograph. The mood of the way that women are in the photo or the way they're looking is exactly how I like to photograph.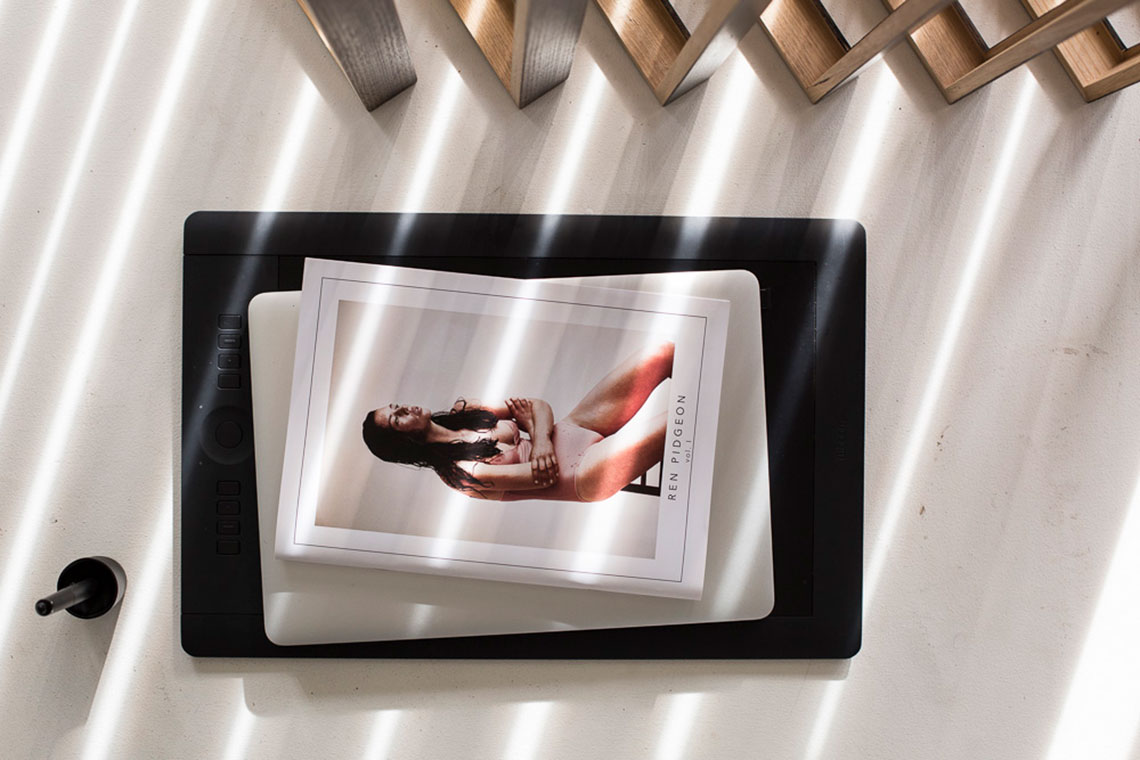 Have you worked together before and why did you want to collaborate together?
Georgia Harvey: Ren had taken some beautiful photographs of his girlfriend and asked me to do a drawing of one of his photographs. I choose one of Ren's images and I appropriated it into one of my drawings.
Ren Pidgeon: I sent a couple of photographic options to Georgia and then came in one day and her illustration was just sitting there. I was like, "Oh my God. This is perfect." She'd done it in like a couple hours.
Georgia Harvey: I'm always looking for new faces. Obviously sometimes I'll just make them up. It's kind of great. I want to start using more of Ren's photography to base some of my artwork on so I have some fresh work. I think we're going to start doing more things together.
Ren Pidgeon: Yeah I think there's going a lot of future collaborations for us.
You both capture women in your work. What do you love most about women as a subject matter?
Georgia Harvey: I love eyes. I'm really drawn to eyes. Whenever I start a piece I always focus on that and I think in all photography, especially in what I've noticed in Ren's work, the eyes are always really bright. I think we both focus on that.
Ren Pidgeon: For me it's about mood, with my photography I really love unposed. I hate it to feel like its a forced pose. That was one thing that drew me to Georgia's images was that her women always seems calm and natural. It seems like a moment, not something that's been set up and that's what I try to put across in my work.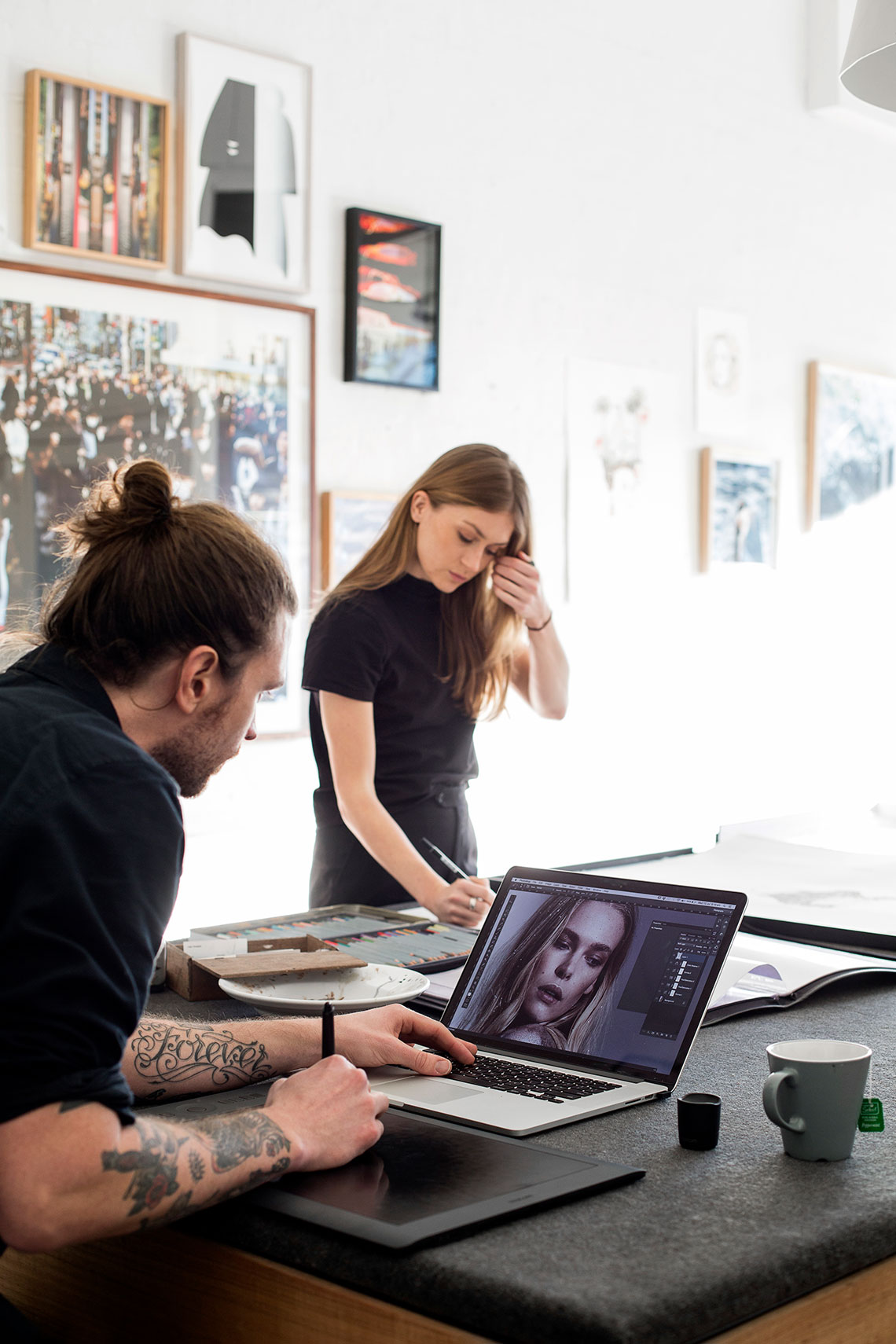 Can you describe the feeling you get when you're creating?
Ren Pidgeon: The feeling that I get when I'm creating is hard to explain because I think I just get really obsessed with what I'm doing. I kind of lose all sense of surround. Like when I'm shooting, everything around me is a bit of a mess because I'm so focused on getting that shot and I get hyped up and excited we're getting what we want. I always tell my assistants, "You're job is basically to stop me from breaking anything." I'll be shooting and I'll just walk back and walk back and knock everything over. I think its more after the fact that I've shot something that I'm like, "How the hell did we get to that point?" I find myself in the zone.
Georgia Harvey: I guess I'm quite similar in that sense where I don't do much planning whenever I draw or create. I just like to dive straight into it. It's almost as if once I've started a piece, I get in some sort of zone. It's really easy for me to shut out everything else that's around me. I guess the feeling that both of us get when we're creating is similar to a meditative state because you're just so involved with it.
Ren Pidgeon: And a little bit unplanned I think.
Georgia Harvey: Yeah, so unplanned. I think that's why both of us got on really well creatively because neither of us do much planning or prep before we just dive into it and I think that's why we both get so frustrated when it doesn't go well.
Ren Pidgeon: I often find that a concept comes in and I'm like, "Yep sounds good" and then it goes in a completely different direction. You just let whatever happens in the day guide itself, I guess.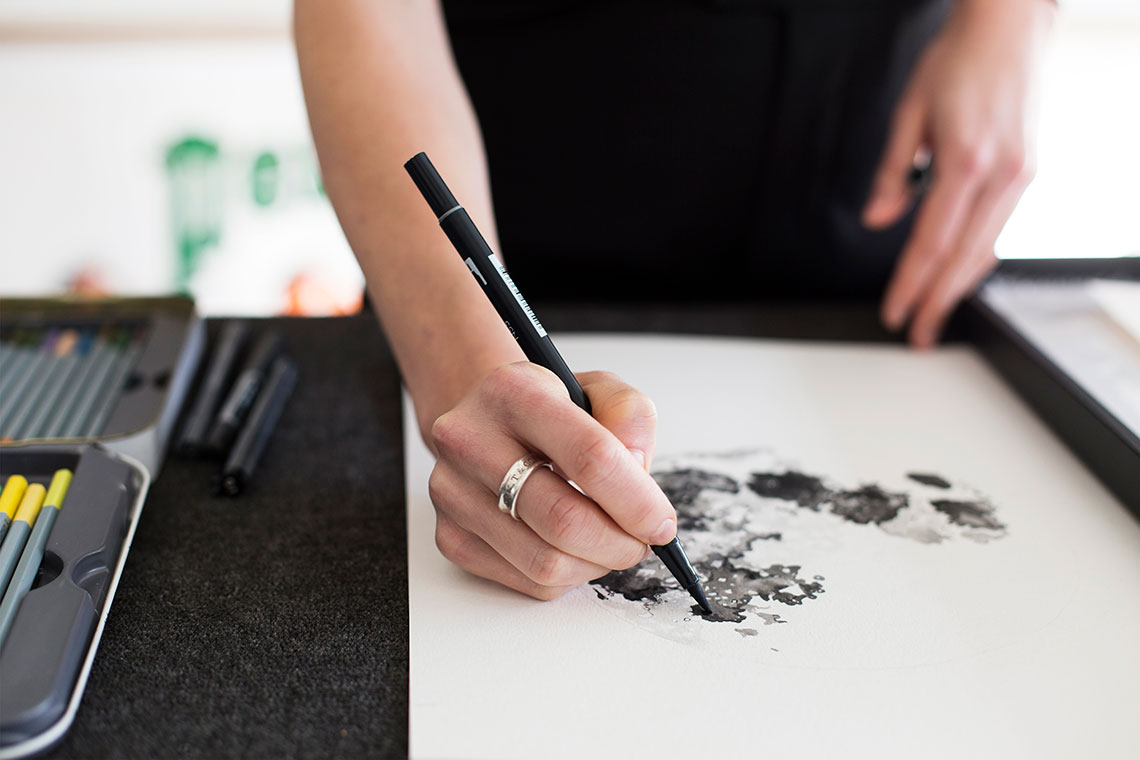 When did you realise you were creative?
Georgia Harvey: Well, probably when I was about five. My parents used to joke over a few gin and tonics in the afternoon that one day I'd be a famous artist and they'd live off of the money that I'd make.
Ren Pidgeon: How did that work out?
Georgia Harvey: Not very well. I'm living at their house. School started things for me. And for you?
Ren Pidgeon: Yeah through school. I came from a bit of a country background. I found that I was interested in things that a lot of people weren't. It took me until the end of high school to really embrace my creativity and realise that I had a talent in that field and to follow it. I realised that I just couldn't do anything else. I can't focus on anything that's not creative. I just can't sit still. I think that was a big sign.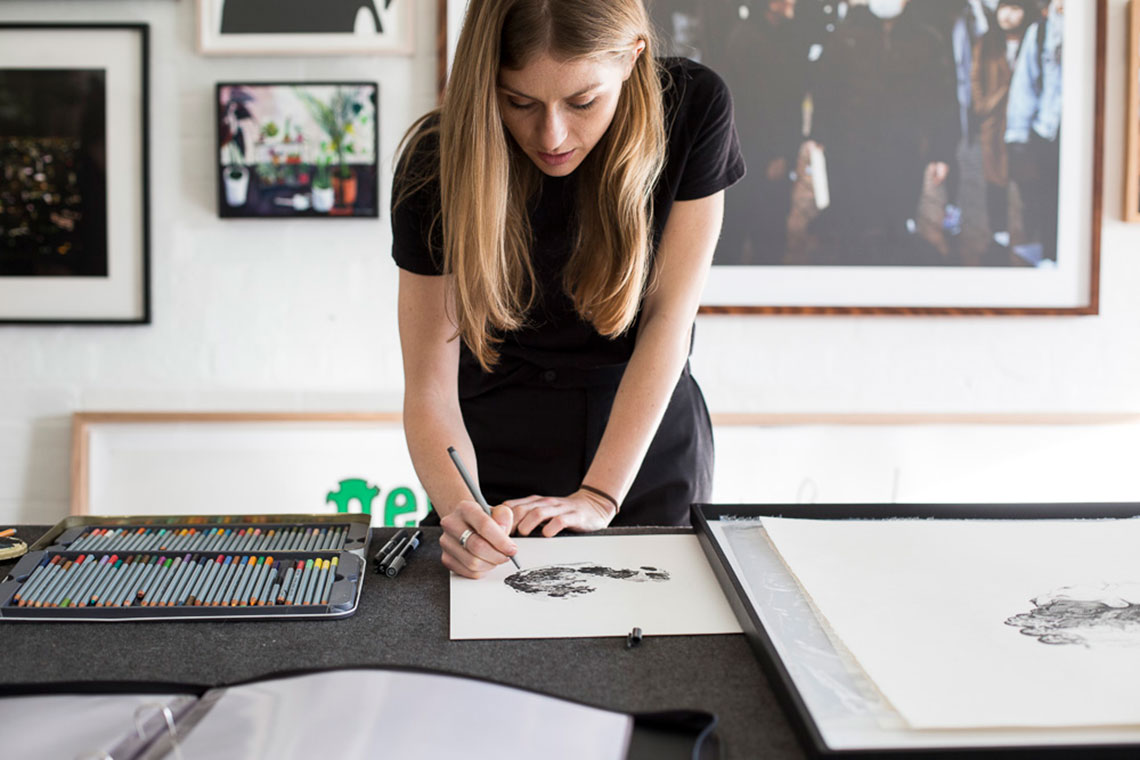 Where do you draw inspiration from?
Georgia Harvey: I would definitely draw a lot of my inspiration from faces. I also find inspiration in colour, nature, the moons. If I'm honest I'm constantly looking through fashion editorials and that sort of thing just to try and find a face I'm really drawn to. I might not always end up using that face exactly. It may just be an eye or an angle, but use that to start and just go from there and everything else just works in.
Ren Pidgeon: I draw inspiration from heaps of different areas. I'm always inspired by different light. Natural light especially. I love natural light like morning light. For some reason I'm most inspired when I see a reflection through a window then I'm like, "How can I make that in the studio? Or "How can I manipulate that and use it on a body? How can we twist light? How can we do something with it that not many other people are doing or know how to do?" That's what I'm constantly driven by. Natural light and how to recreate it, I guess.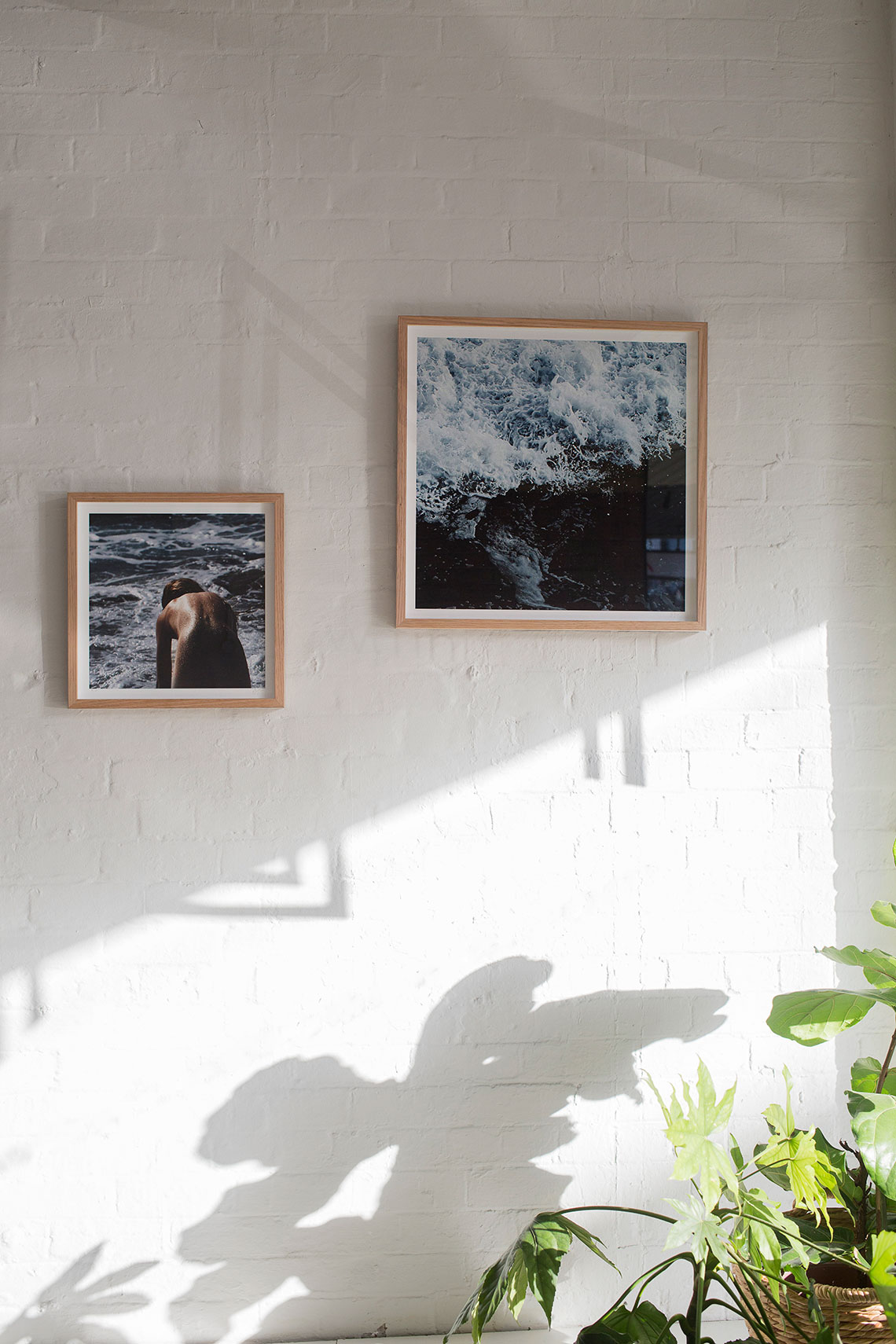 How would you describe each others work? 
Ren Pidgeon: I think I would describe Georgia's work as realistic and dream-like. What I love most about Georgia's work is she draws eyes so realistic that you can't even see where the light source comes from. That's what makes it feel really real to me. Then I like that there's a sense of the dream side, where it goes from that head and what's going on in that mind. That's what I love about it.
Georgia Harvey: When I see Ren's work, I always feel as though its unique, as if you haven't seen it anywhere else before. I like that Ren has a large body of work too, he does a lot of commercial fashion and editorial but they never feel like that. They are always artistic. I'd describe Ren's work as fashion with an artistic side.
Who or what has been a major influence in your work? 
Ren Pidgeon: I think what's driven me to get where I am in fashion photography has come from people saying that it's not possible, that you can never be successful that industry. That negativity has been a huge motivation from me and really inspired me to purse my career in fashion photography. I don't necessarily get inspiration from many other photographers. Whilst I do look at a lot of other photographic work, I never compare myself, I just want to be better. I'm just very focused on wanting to get to the top of a field that is a really hard mountain to climb.
Georgia Harvey: I think I'm driven by the artistic community. I think with the internet and platforms like Instagram, amateur artists like myself have been able to have a platform to showcase their work. I like getting online and looking at what other people are doing. Most of the time I won't even know the person, but I appreciate the work that they are doing. I would never feel like I was competing with or trying to be better than anyone else's work but I just like being involved in the community.
What is the most important part of your creative process?
Georgia Harvey: When I start a piece, I don't really have a plan in mind of how it's going to go. For me the most important part of the creative process is, and I can't tell you when I know that it's ready but, I have a really natural sense of balance. When I look at a piece and it finally feels balanced, tones in different areas and maybe I need to put another pen on top of illustration to make it feel more balanced at the bottom. I can just sort of tell and I never know when that's going to come. So I guess the most important part of the process for me is being aware of how balanced it is and knowing when to stop too. I don't have a plan. I can go over the top and you end up ruining something. I just try to keep things simple.
Ren Pidgeon: I think that I'm really similar when I start a creative process. It used to stress me out so much trying to plan for editorial. Now I just like to wait and see who we're shooting and what we're shooting and then from that, it always comes together. My ideas come from my surrounds. I thrive better on stress and the energy and spontaneity of a shoot. If I have too much of a plan when I go into a shoot it can sometimes ruin it.
Georgia Harvey: Being creative is meant to be spontaneous. It can be somewhat planned but I think if you have too much of a plan it kind of takes some of the fun out of it for you.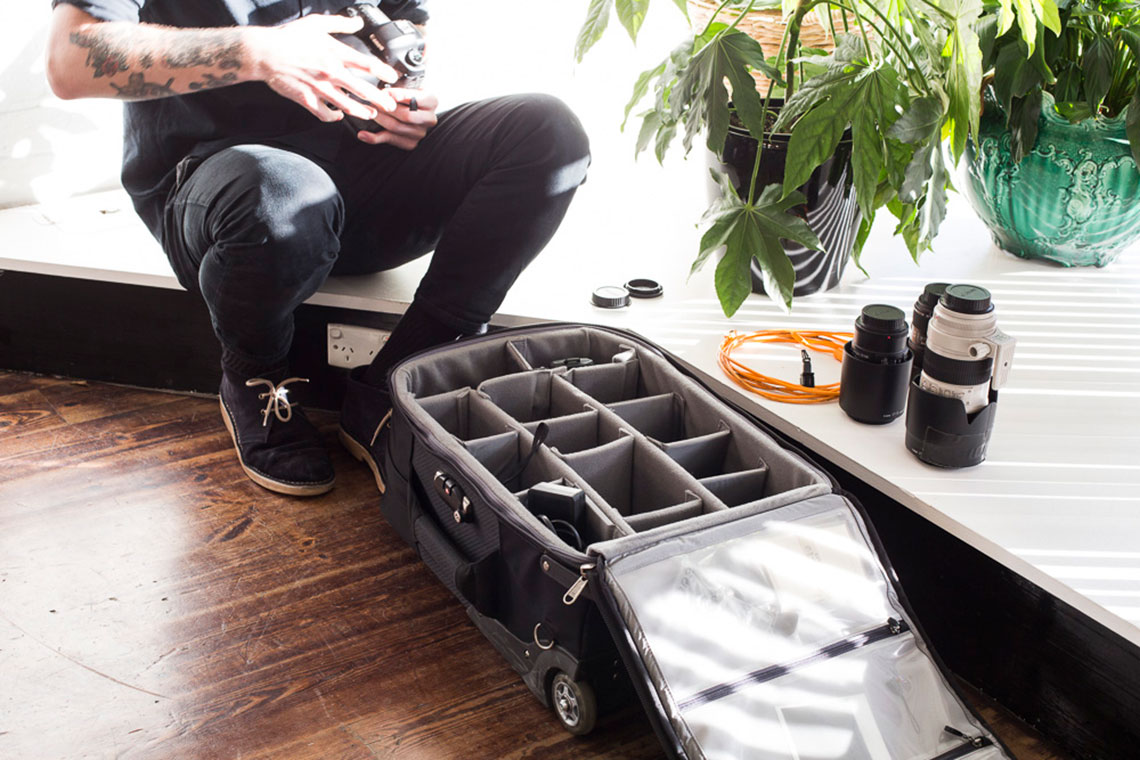 What's something that not many people know about you?
Georgia Harvey: I think the thing about Ren and I is that everyone knows everything because we talk so much.
Ren Pidgeon: I think that's our main problem, it's that everyone knows everything about us.
What are the similarities in your personalities?
Georgia Harvey: We're the loudest people at everything. It's so bad. We break a lot of stuff.
Ren Pidgeon: Yeah we break everything. No, I think that's the really weird thing about Georgia and I and why we got along so well from the start is that we're just so similar.
Georgia Harvey: We're usually the loudest ones generally carrying most of the conversations. Not because anyone wants us to. I think we just can't help ourselves.
Ren Pidgeon: It just becomes a competition. We get louder and louder until we start to shout.
What is the inspiration behind your clock?
Ren Pidgeon: When I was asked to collaborate on this project I knew I wanted to work with Georgia. So we worked together on this clock. We started by choosing one of my photographs. We really wanted an angelic face to work with.
Georgia Harvey: From there we began to look at my work. I use a lot of moons in my work which Ren was really drawn to, so we wanted to incorporate that. We wanted to 'wrap' the moon around the female form. We wanted keep her angelic face and hair, all covered in glitter. Our focus was to blend our work together so well that it transcended a photograph or illustration to become one image.
What type of person will be drawn to your clock?
Georgia Harvey: I think our clock is quite accessible to everyone really but expecially people with a love for fashion and editorial imagery.
What is it about fashion that people love so much? 
Ren Pidgeon: What I like about fashion photography is that I don't really care so much about the clothing. I don't really care so much about trying to sell the product. I love fashion photography because I love the people and I love the icons.
Georgia Harvey: I like how ridiculous fashion editorials can be. We look at them together sometimes and I guess similar to my style of artwork. You kind of look at it and you're like, "Why is that there? " You kind of look at some fashion shoots sometimes and you're like, "Why is she upside down?" And she's holding a tea cozy but it doesn't matter because it works and it looks great and it's really aesthetically pleasing.
Ren Pidgeon: Sometimes fashion is so ridiculous.
Georgia Harvey: I kind of like that. It's a bit crazy. It's kind of escapism. I think that's sort of similar to my style of art as well. It's escapism and it's sort of a bit of a fantasy land. It would just never exist in the real world but it just does in this little image. It's amazing.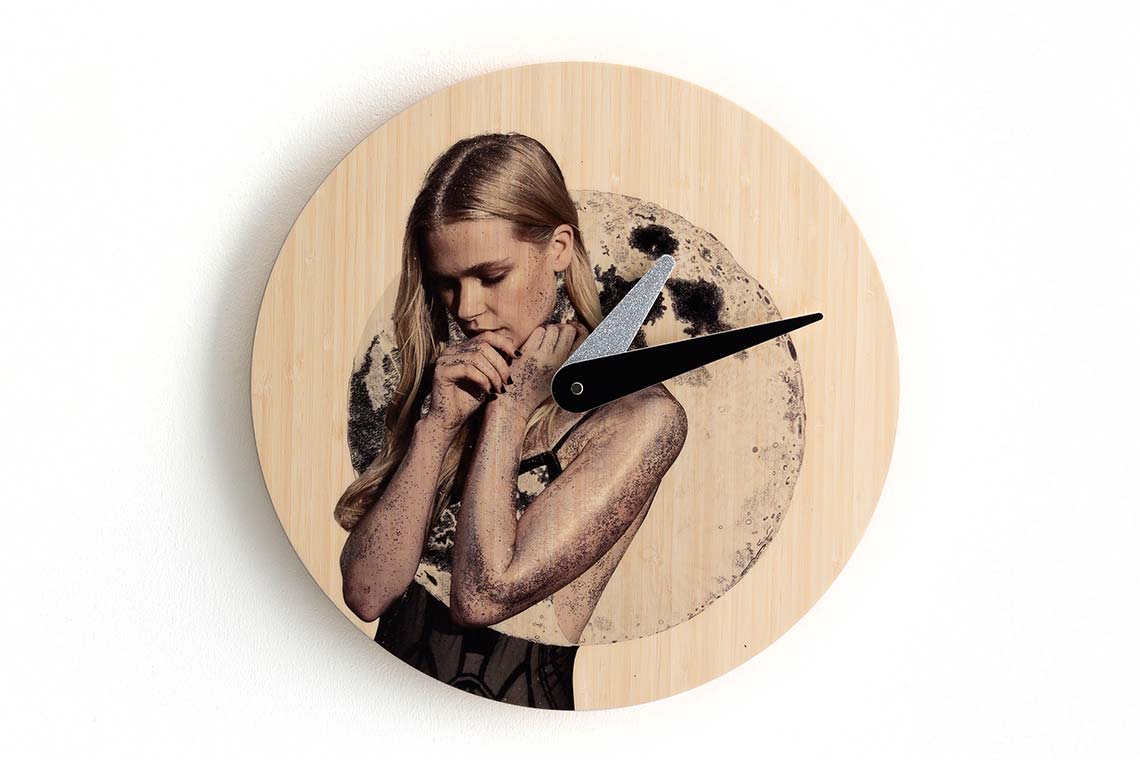 Ren Pidgeon and Georgia Harvey's Clock for the Hunting Collective 2016.
Ren and Georgia's clock is made with transparent photo paper, water colour, pencil, glitter, acrylic paint and resin. The clock is available via online auction. To bid, click here. Ren Pidgeon is a photographer and Georgia Harvey is an illustrator. Both based in Melbourne, Victoria they chose to collaborate together on this project merging their shared love of the female form, mood and light.
All photography by Martina Gemmola for Hunting for George