Sydney-based clients tapped Modscape to design and build a new modular home that follows the lay of the land and sited to enjoy dramatic views across the valley towards Mount Canobolas. Located near Orange, New South Wales, Project Kangaroobie is a stunning new 3-bedroom, 2-bathroom home that features a very efficient design from a modular point of view, utilising just three modules at 225sqm. Let's take a closer look…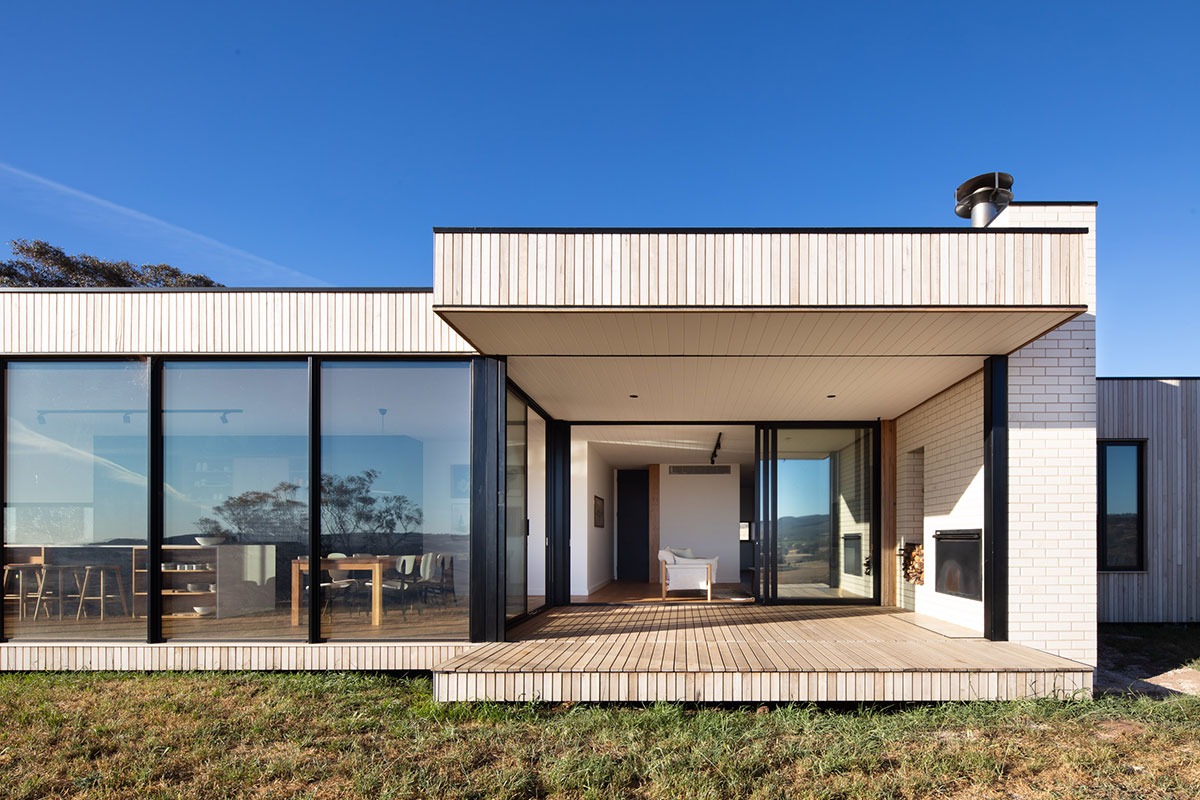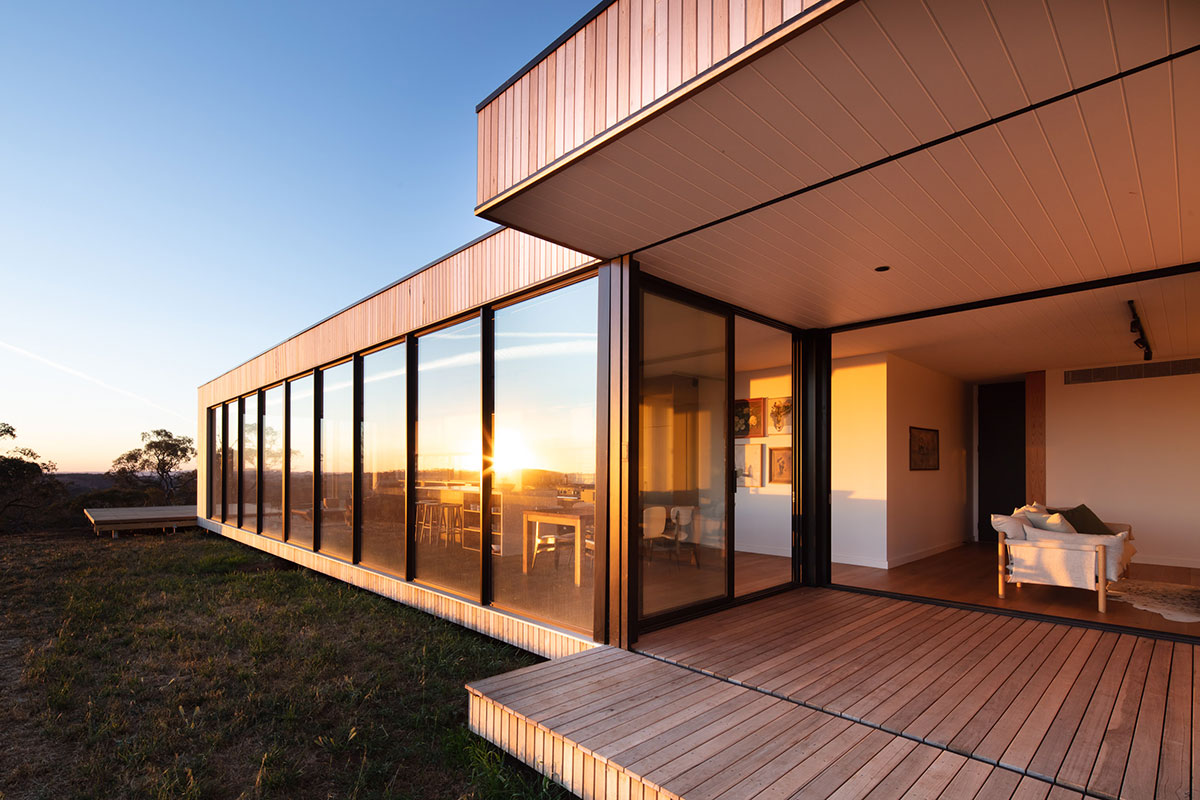 Situated in a 190-hectare working farm, the clients requested for an offsite construction to do away with potential weather delays and eliminate the job of arranging multiple trades which is difficult in a rural setting. The exterior of the home is fitted with vertical Silvertop Ash timber which will silver off and blend into the surroundings. The facade gives little away as to the interior design of the rest of the house, aside from small glimpses inside upon approach.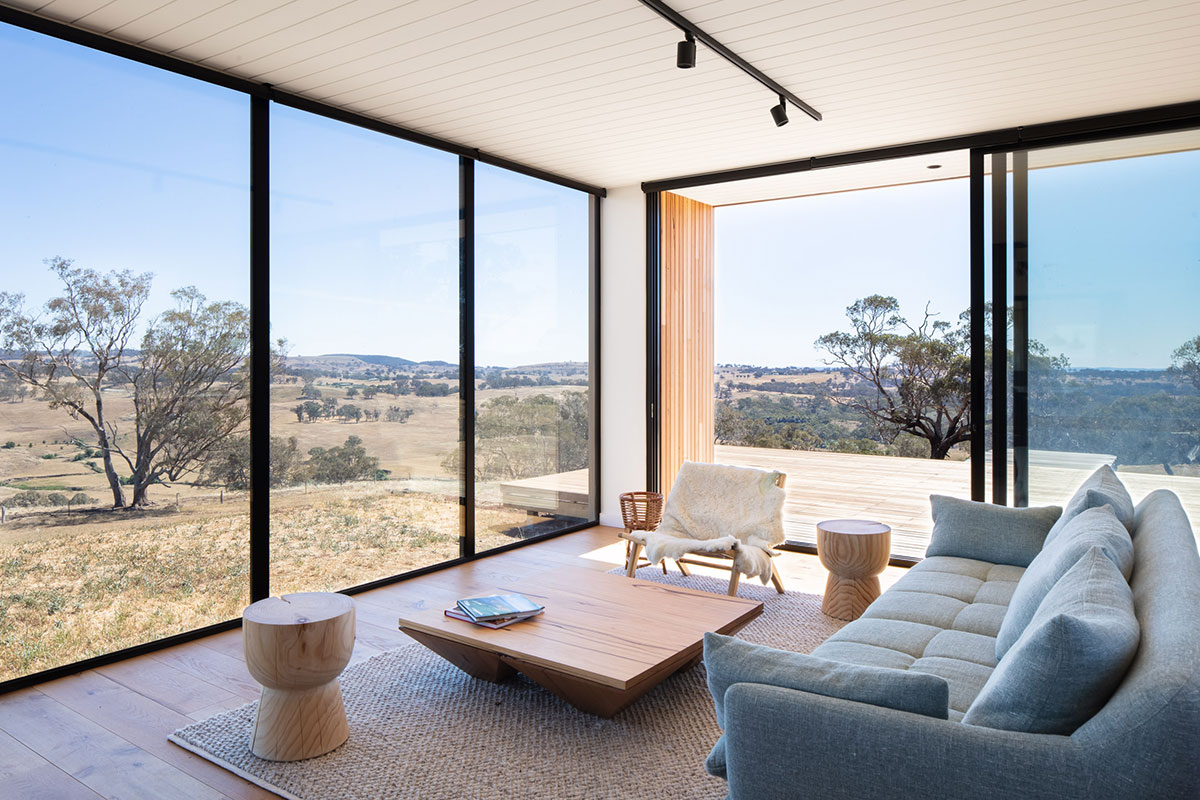 "The house's T-shaped plan creates separate wings for living, sleeping and utilities, and enables the house to open to its surroundings, taking in the valley views to the south. Windows and doors have been positioned to maximise their effect as frames to the landscape: the low wide window which, when seated, frames a view towards the tree line; the enclosed porch (complete with outdoor fireplace and hammock-hanging hooks) is a perfect vantage point for watching the weather roll up the valley; and the window in the living area perfectly captures the spectacular sunsets." – Modscape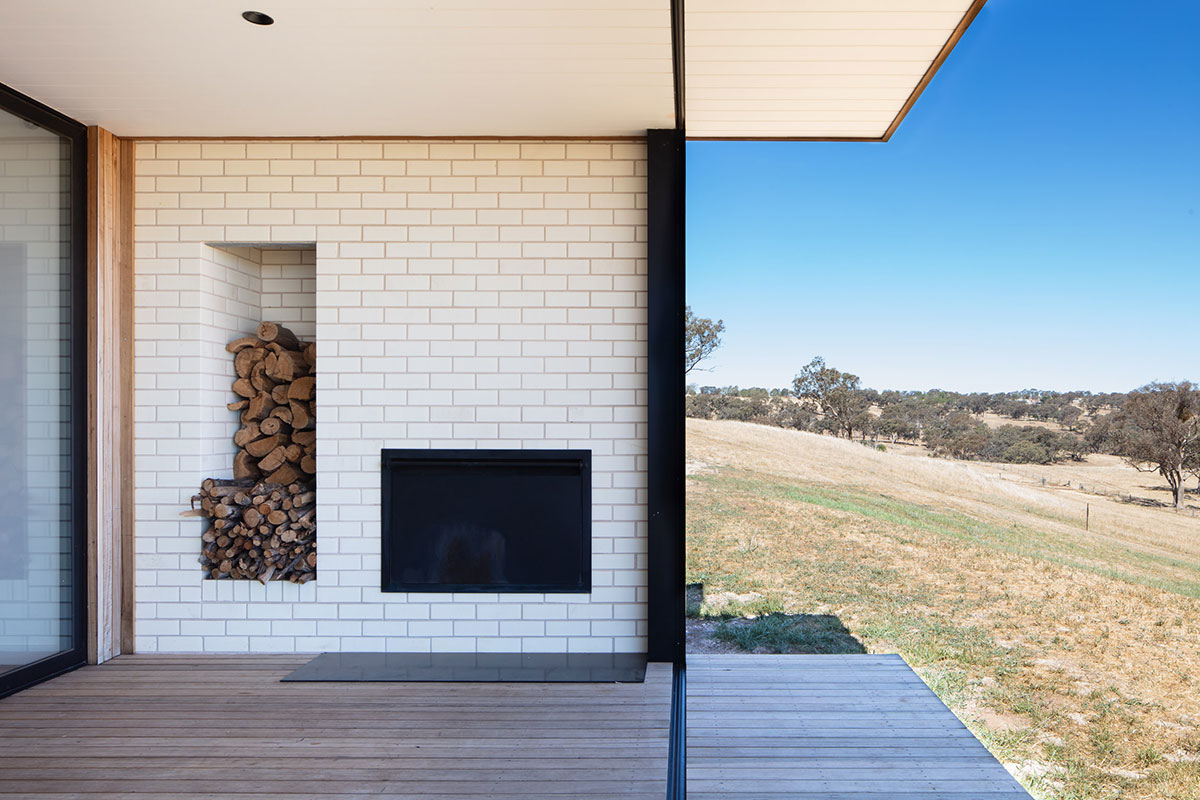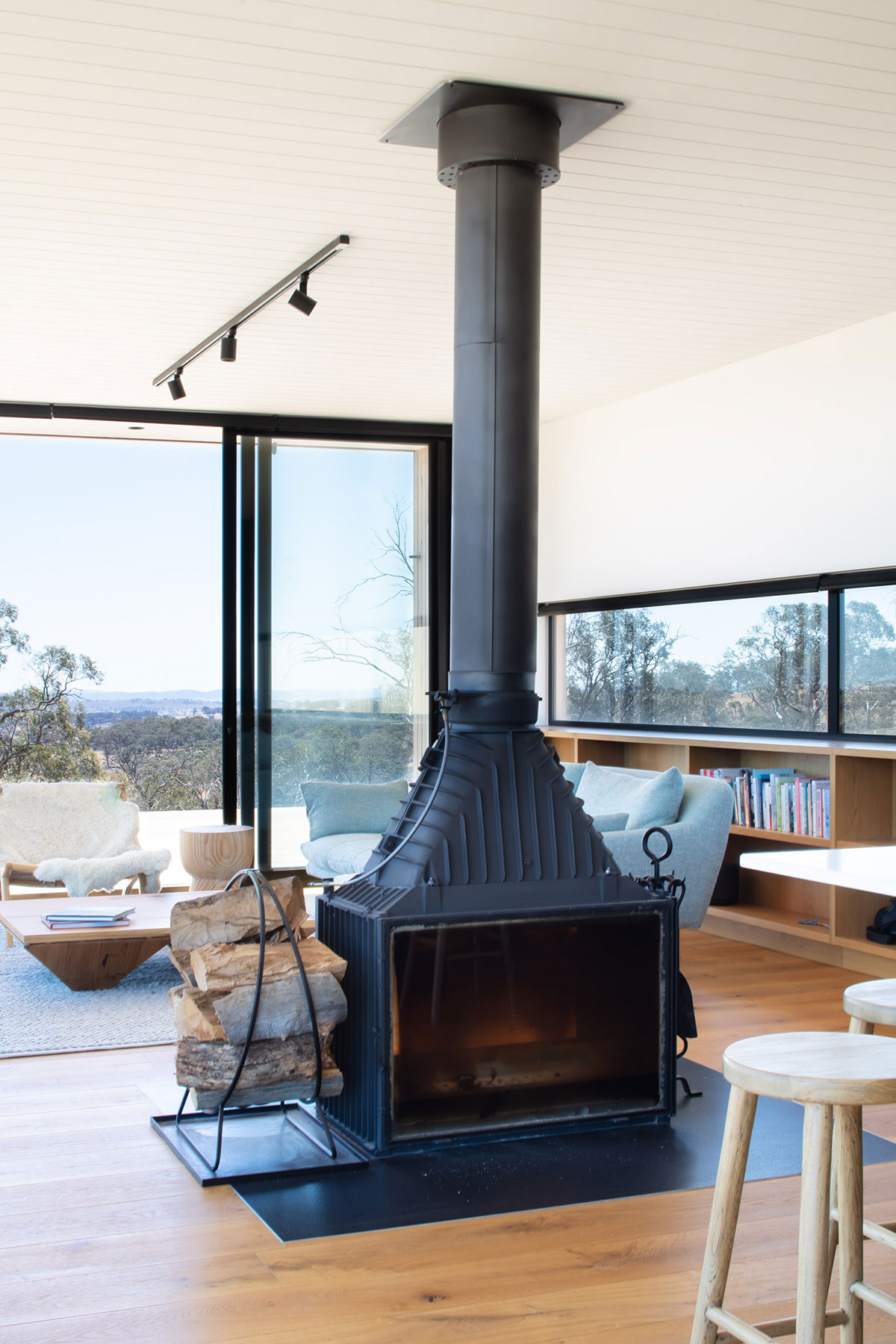 Internally, scyon-lined walls and ceramic tiles provide a nice flair of texture to the spaces, coupled with a hint of the country, featuring open timber shelves, and a large log fire. The overall palette is predominantly neutral and contemporary, with warm timber shelves and furniture creating a beautiful contrast to the dark kitchen joinery. Altogether, they create a stunning ensemble of elements which adds to the simplicity and carefree ambiance of the house.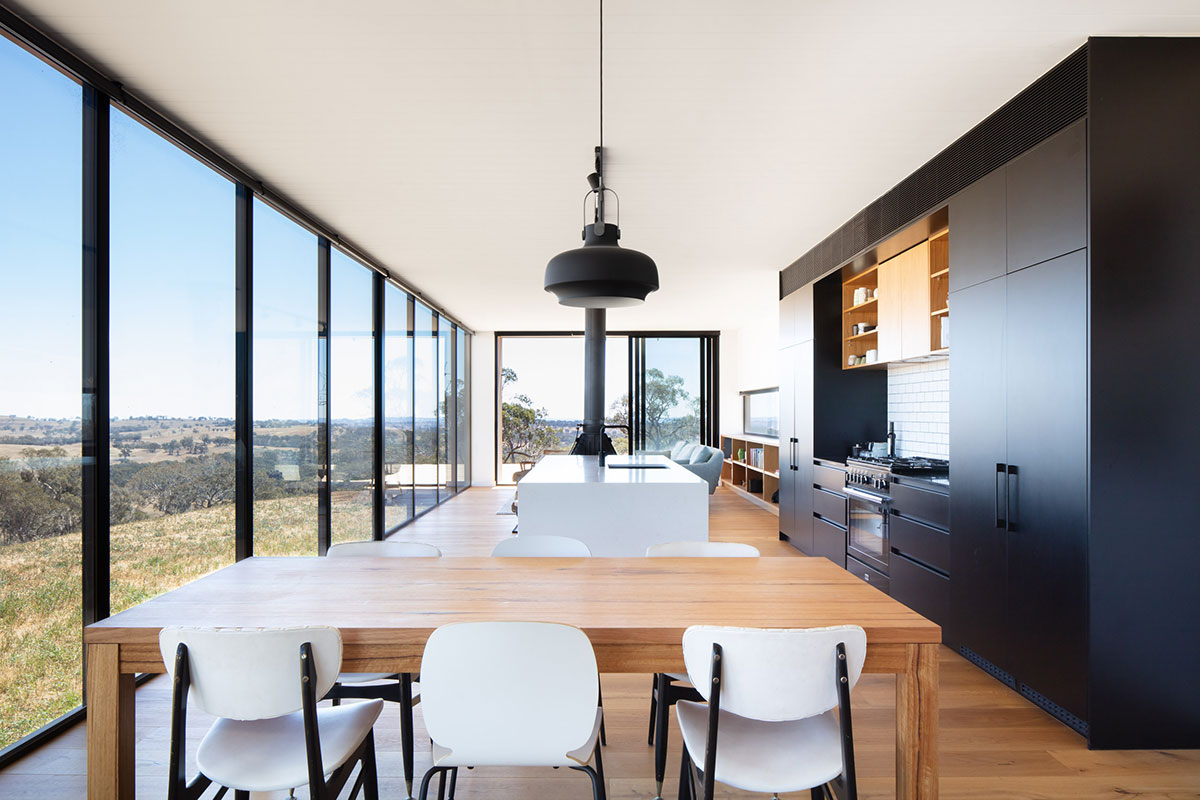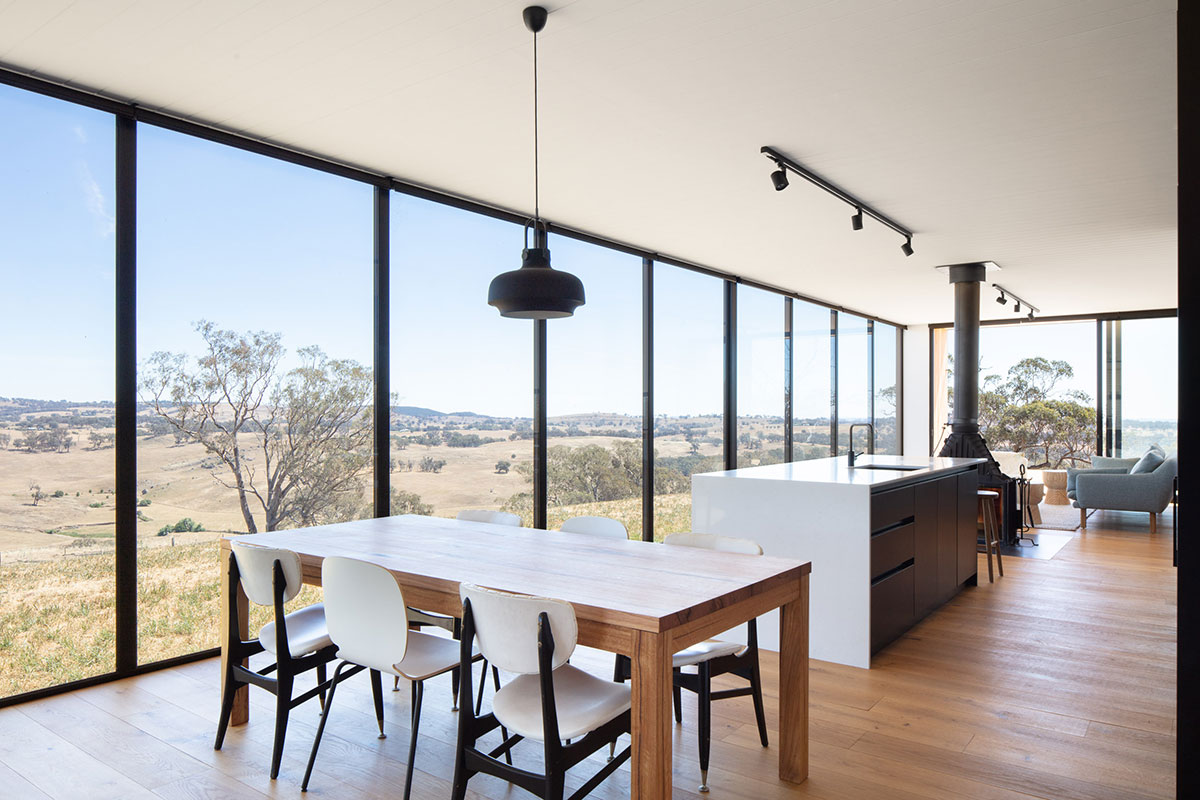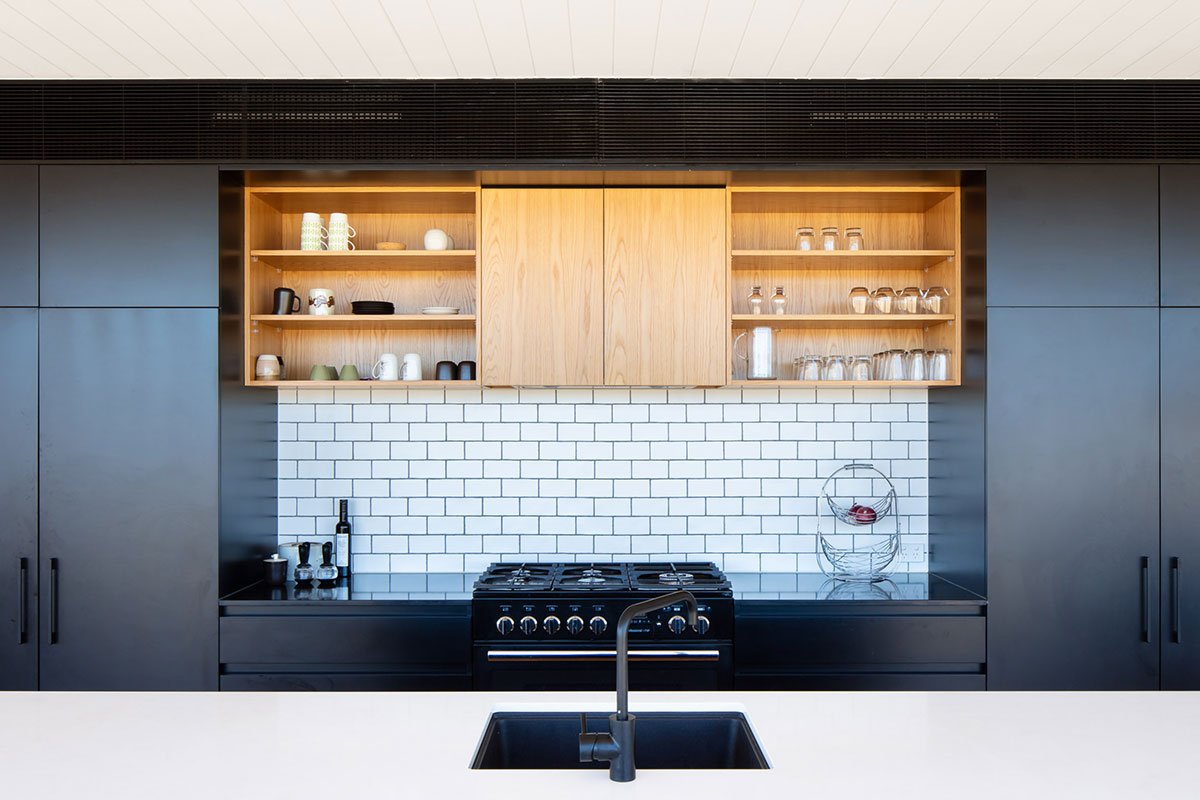 "Services, including the mudroom laundry – complete with ample storage for muddy boots and wet coats – family bathroom and powder room are located in one wing to ensure the living spaces remain clutter-free and open towards the view. Although there are gathering areas and fluid spaces, there are also intimate nooks, such as window seats in the bedrooms and a private deck for the master suite." – Modscape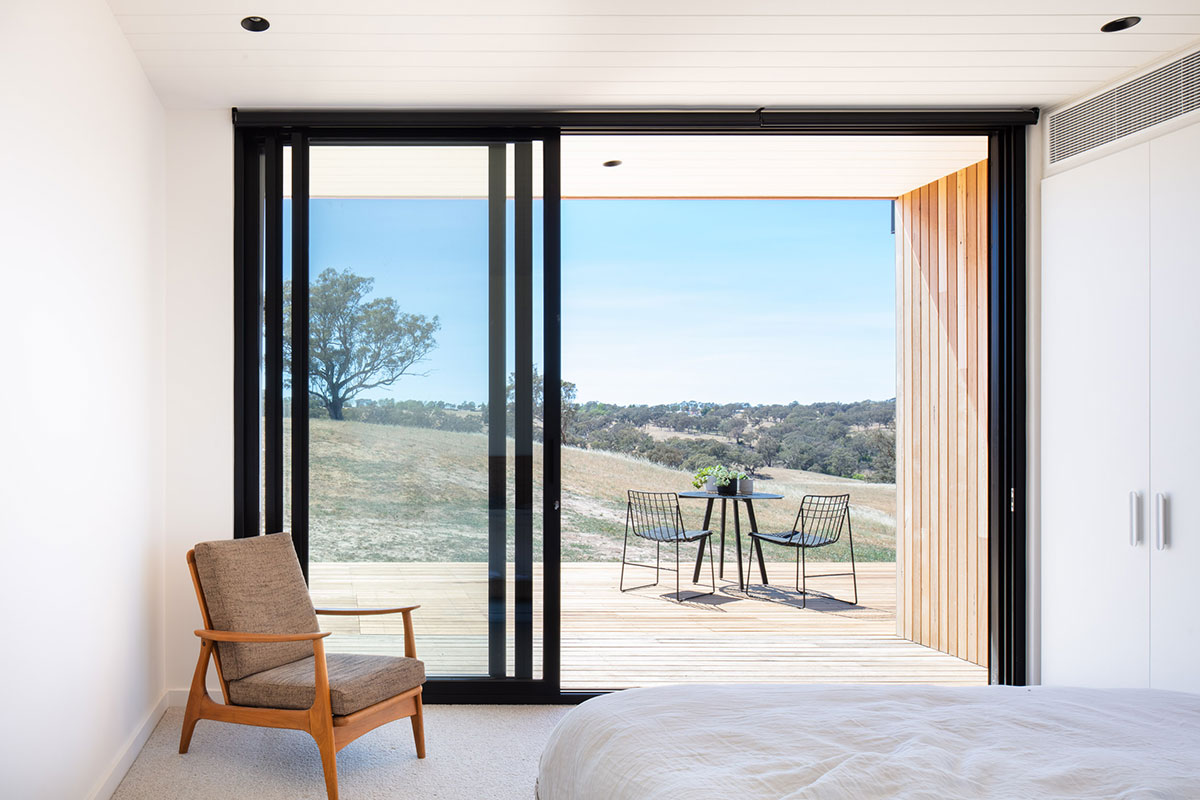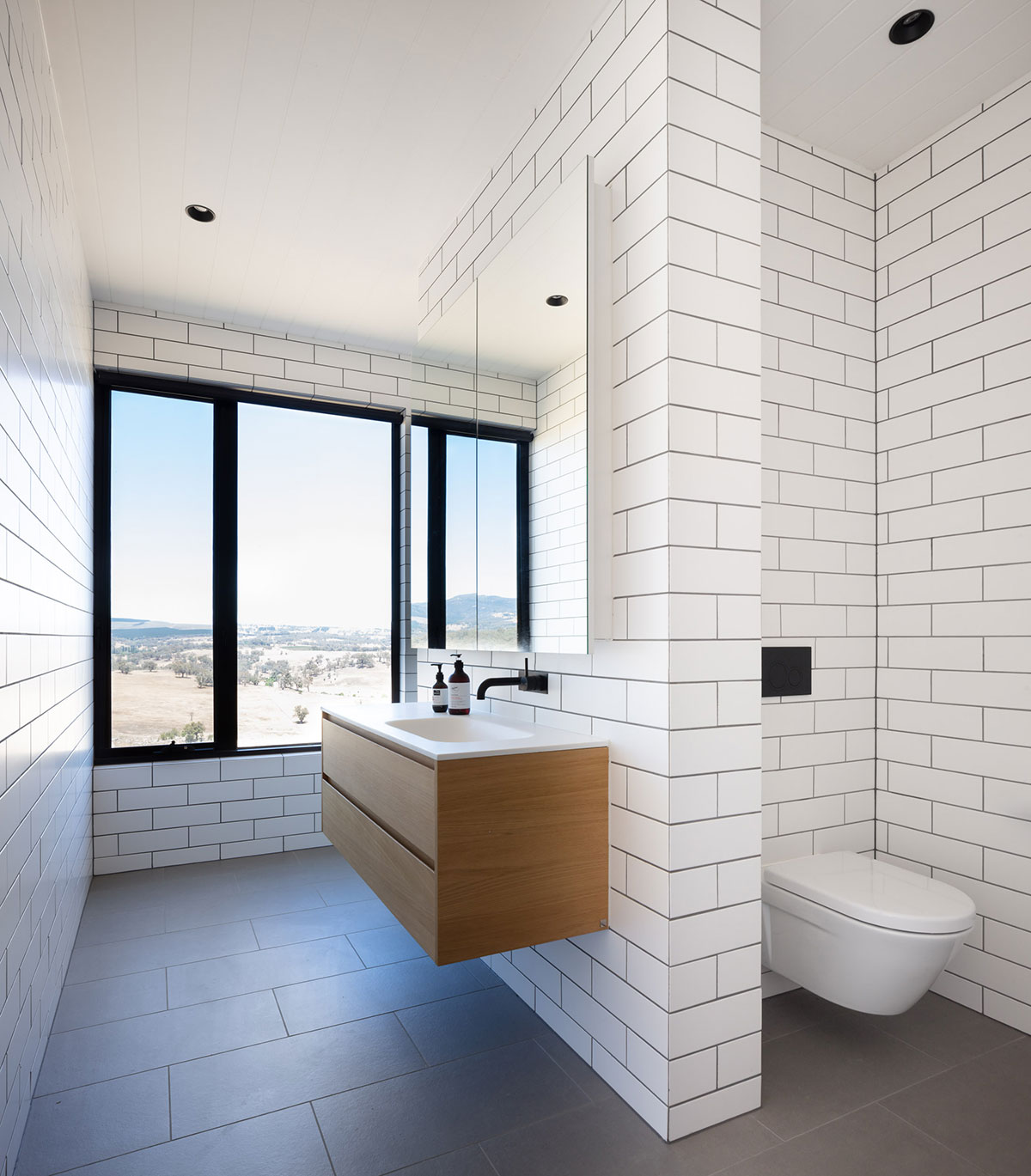 The overall design, the use of colour and texture throughout the home works incredibly well for this new modular house, providing clients with a highly functional abode that suits their lifestyle and needs.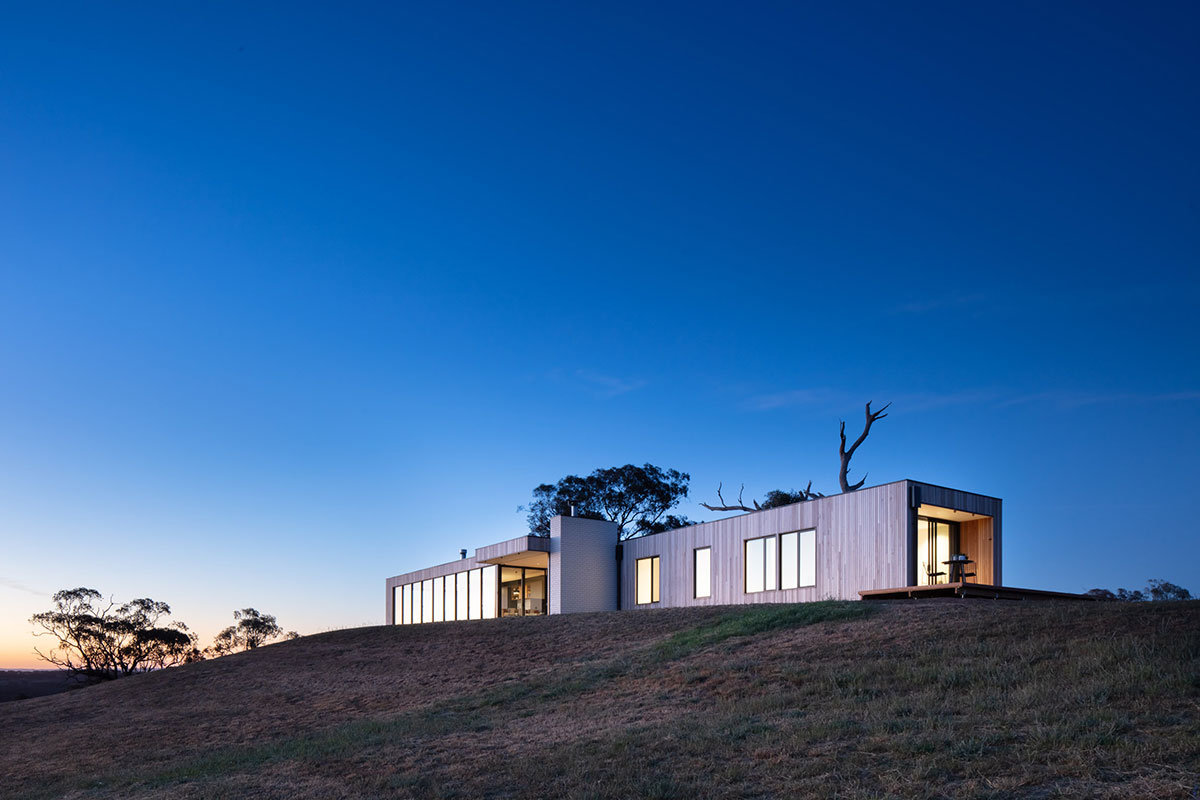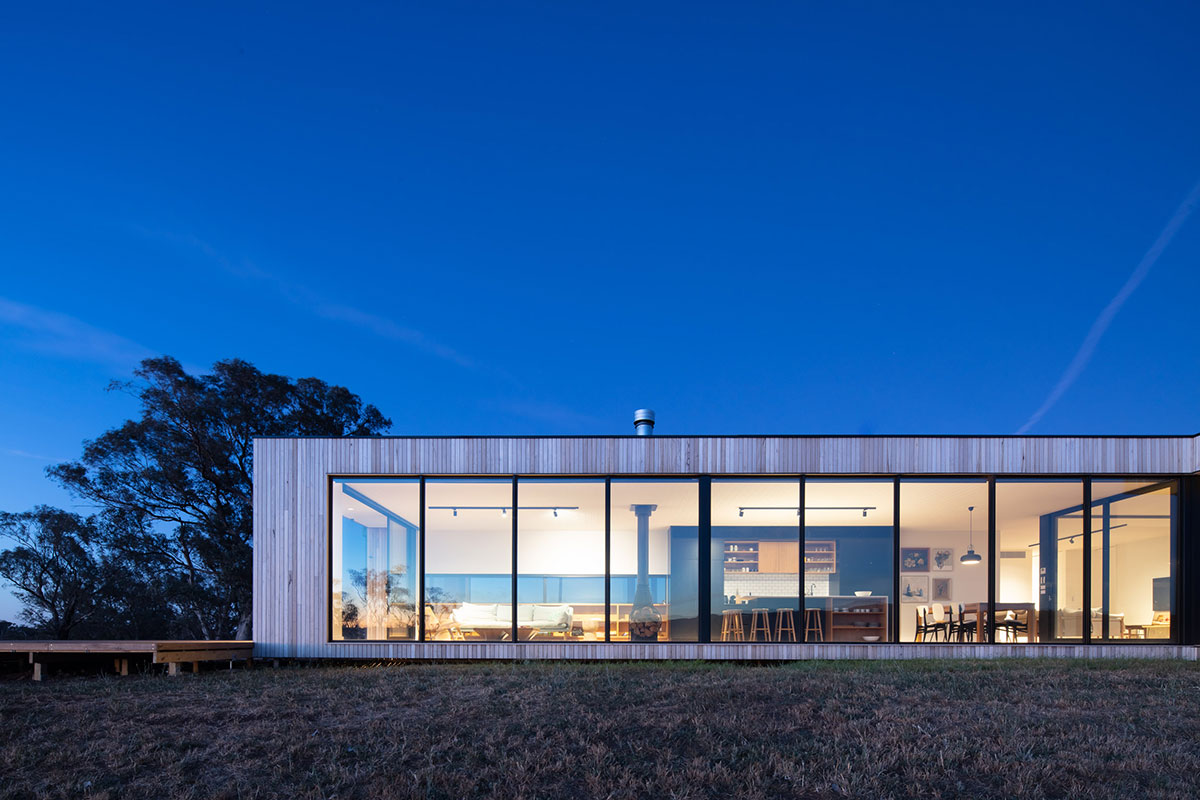 Project: Project Kangaroobie
Architect: Modscape
Location: Orange, Australia
Type: New Build
Photography: John Madden