Great design comes when you dare to think outside of the box and these bold new luxury apartments at No. 6 Sydney Street take that sentiment to a whole new level. Designed by Wood Marsh in collaboration with developer V-Leader and Eckersley Garden Architecture, No.6 Sydney Street brings futurism and modernism harmoniously together with its distinctive curvature aesthetic.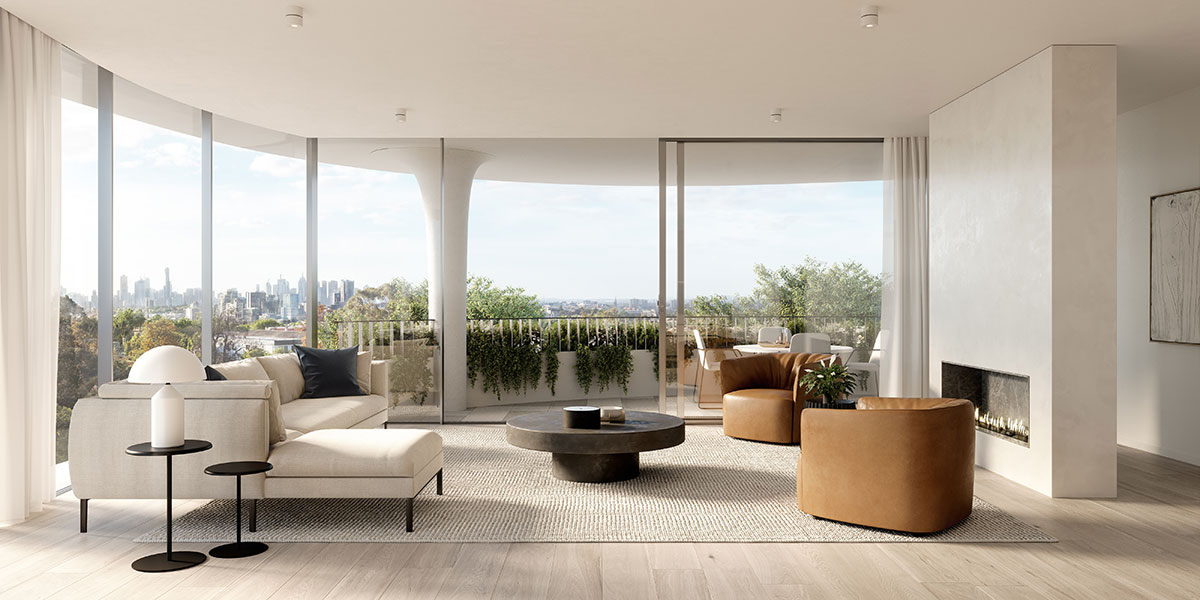 Conceived to look like a single mansion, there are only 16 distinct residences with each one designed as a standalone home. It was important to architects, Wood Marsh, to ensure that 'each apartment had its own sense of sense' as the design sought to challenge the stereotype of modern apartment living.
As Melbourne's population rises, there are more and more homeowners craving the convenience of inner city living, but don't want to compromise on space or quality. Apartment living and inspiring design projects such as Sydney Street are growing in popularity as they allow more homeowners to realise their inner-city aspirations.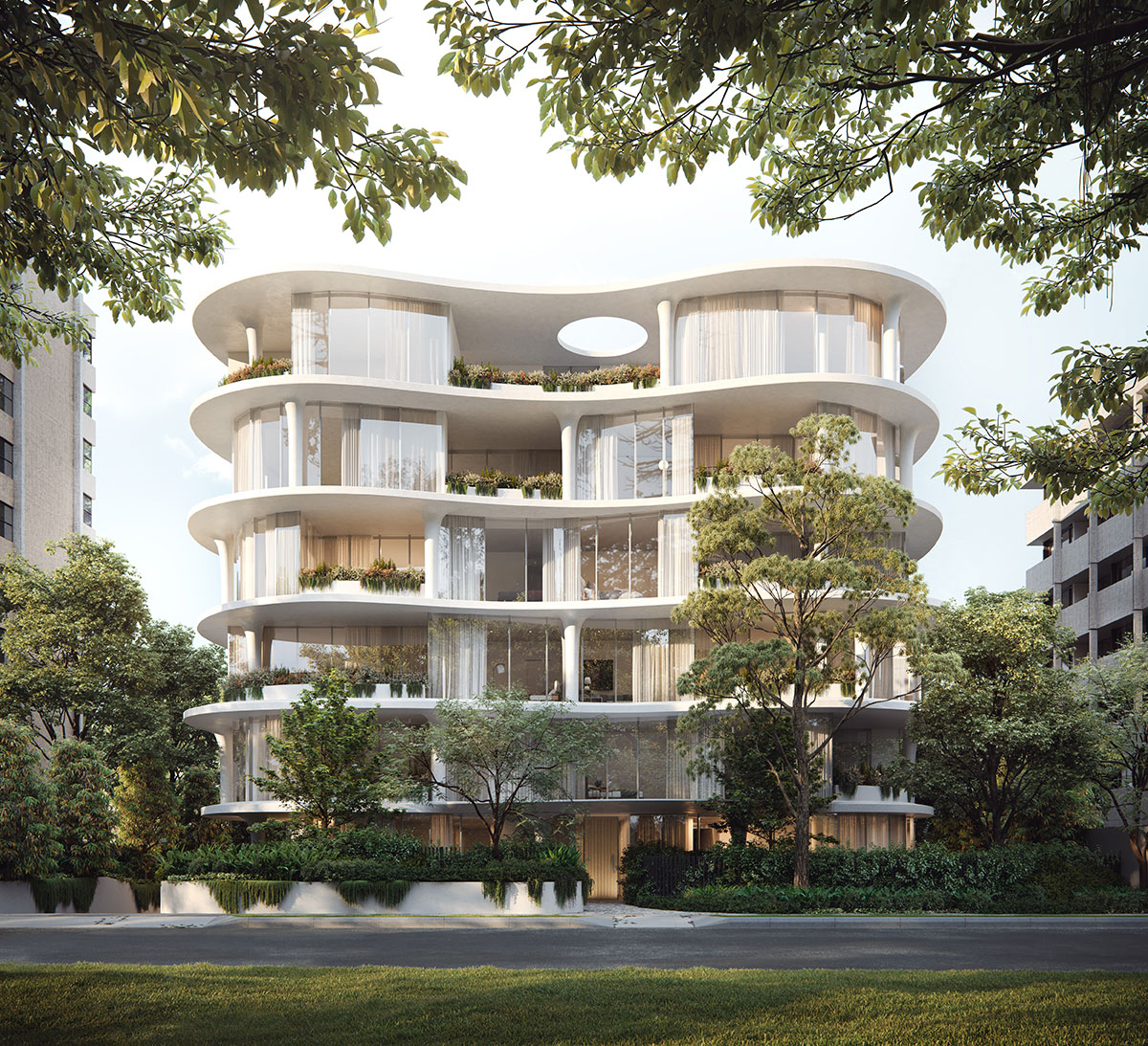 Not only the design, but the location of Sydney Street is what makes these residences truly special. Situated on a quiet residential street across from Orrong Romanis Reserve, it boasts never to be built out views to the city from its northern façade. This exclusive area of Hawksburn, Armadale and Toorak has much history with apartment living and is known for its Moderne Art Deco apartment blocks such as 'Granada Flats' that was designed in 1940 by Stuart Hall. In an area known for its elegant stately homes and mansions, the change to apartment living began during the interwar period when apartment buildings began to pop up in response to the increasing population. This change towards multi-residences brought about some criticism at first, so acclaimed architects such as Stuart Hall were employed to design exceptionally beautiful apartment buildings to counteract any criticism. These are now the renowned Moderne apartment designs more commonly known as Art Deco that were the first to mark a significant change to the architectural landscape.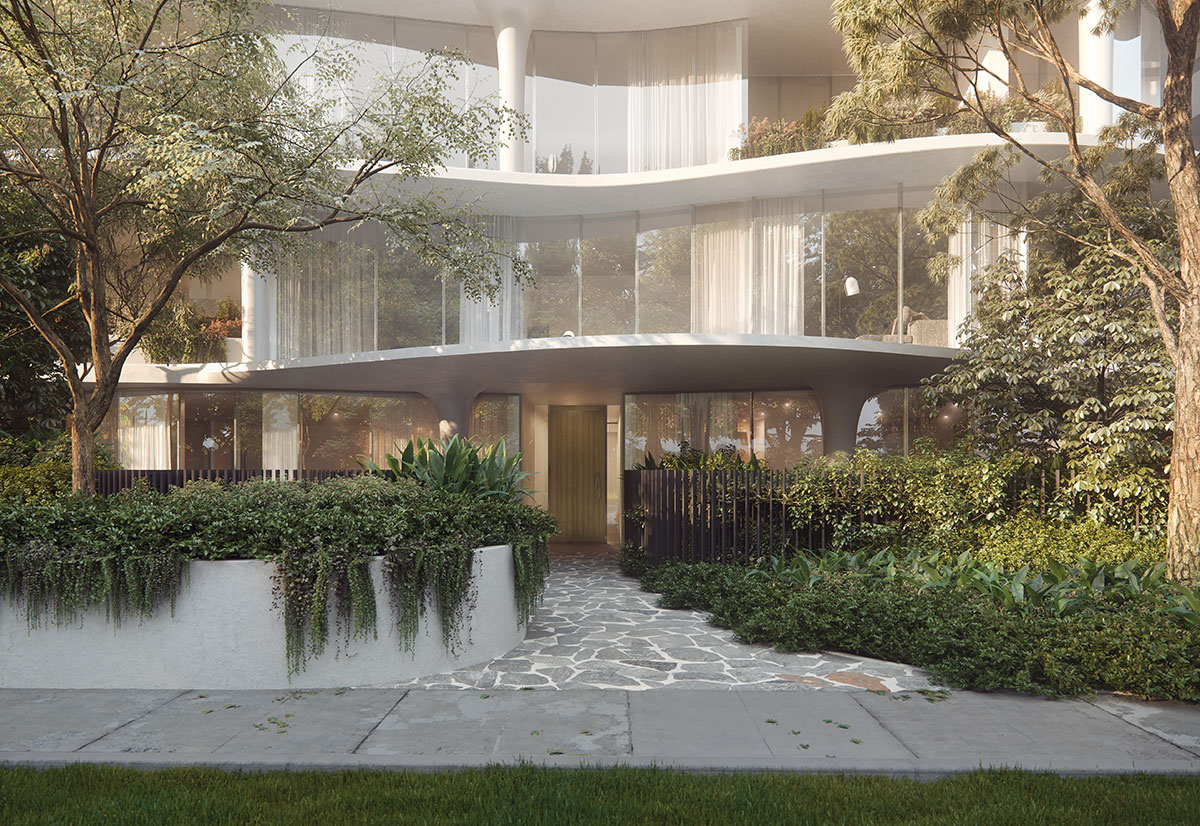 Forward thinking projects such as No. 6 Sydney Street continue this ever-evolving story of design within our growing landscape. This design reflects the Moderne history of the area whilst also merging harmoniously with future concepts. With a focus on protecting and respecting its existing landscape, something as unique as No.6 Sydney Street manages to look as if it were right at home.
Speaking of landscape, Wood Marsh took inspiration from its surrounds and created an organically layered and undulating round building that is as much sculpture as structure, ebbing and flowing to harmonise with its setting. External columns arch as if growing into the level above and recessed balconies form retreats around the perimeter. Two existing mature gum trees are embraced by the building's curves and integrated garden terraces create layered outlooks through to parklands and the leafy suburban surrounds.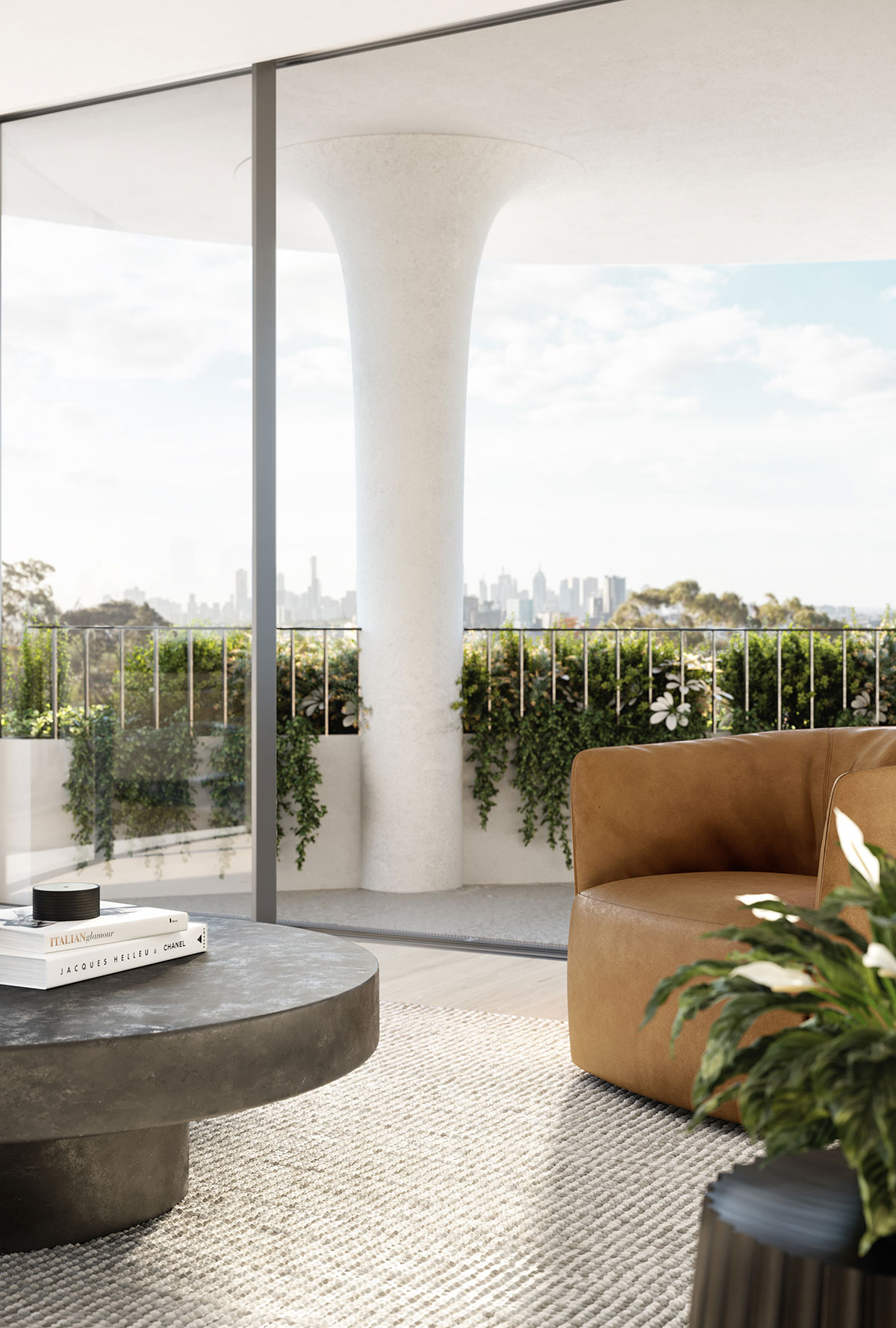 The curvature of the design allows different light to filter into the apartments. Aided by the generous floor-to-ceiling glass that follows the dynamic movement of the building, inviting natural light into living spaces with airy 2.8 to 2.9-metre ceilings.
There are 12 homes that offer three bedrooms and four featuring two bedrooms. Each with an extensive layout that includes second living areas, studies, sculleries and separate laundry. Generous and luxurious main bedrooms include walk-in robes and marble ensuites complete with double vanities and standalone baths (and you know I'm a sucker for a good-looking bath!).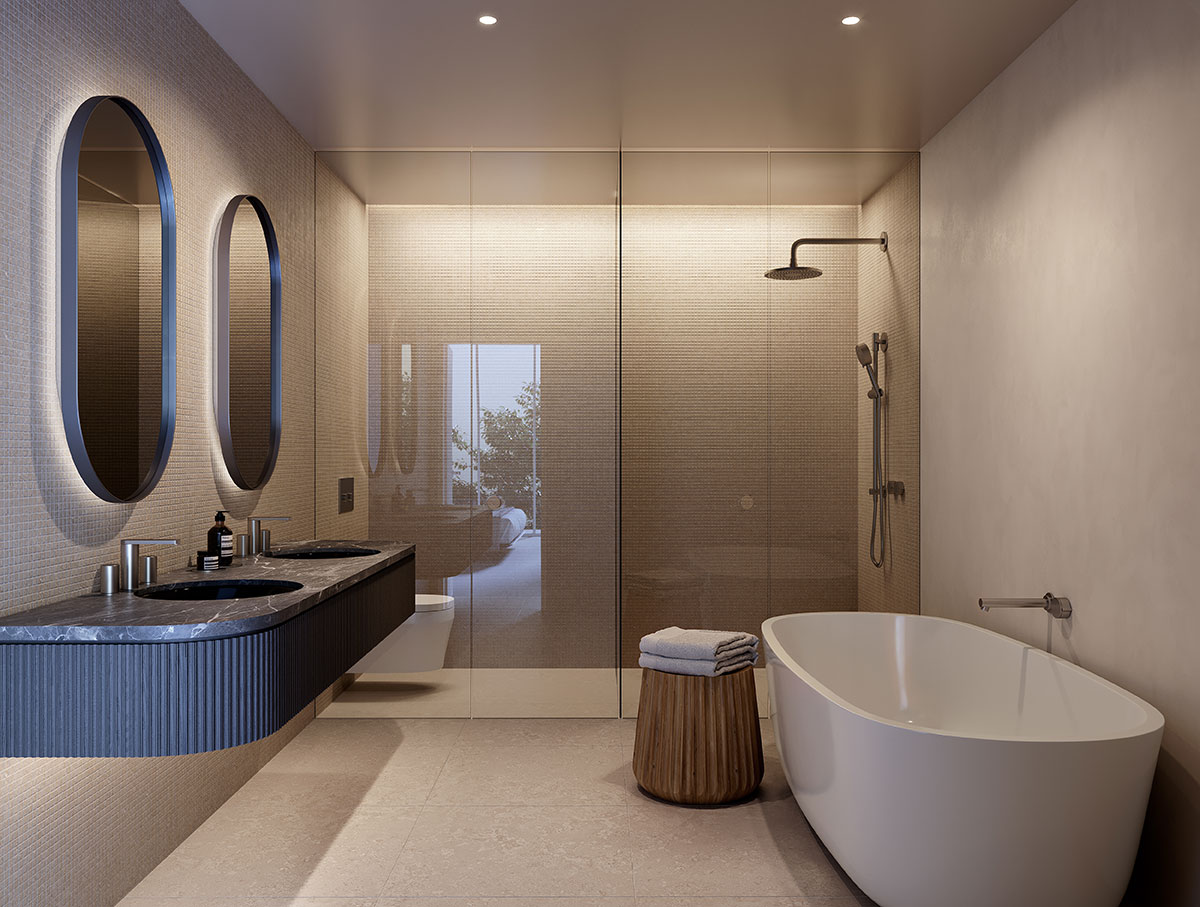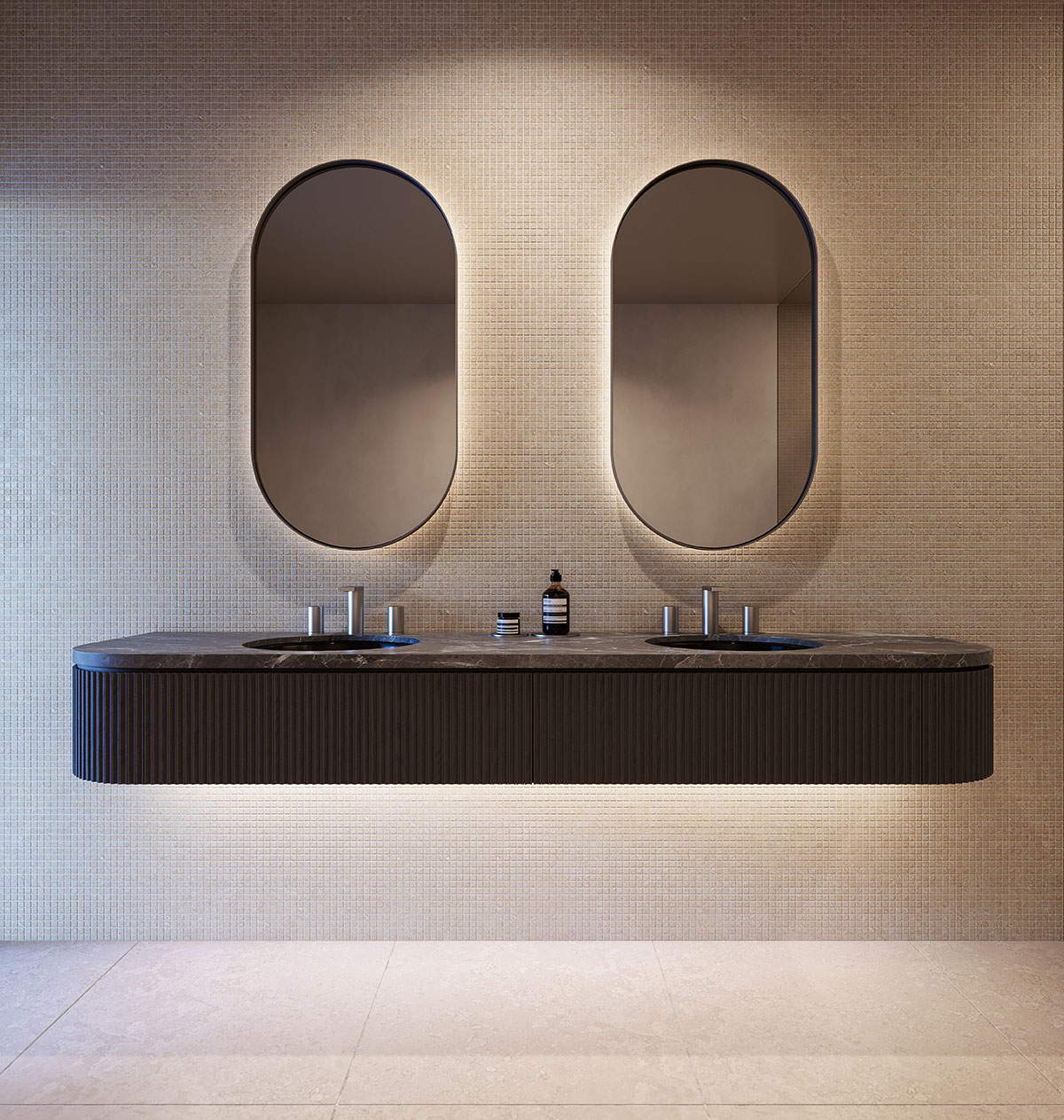 I had the pleasure of seeing these new designs up close and personal at a recent event at Sydney Street where I got to hear first-hand from Randal Marsh, on behalf of Wood Marsh architects whose passion for the design was evident.
"We want the future residents to be as blown away by the uniqueness of the architecture of their homes in 20 years as when they first move in." Randal Marsh, Wood Marsh Architects
V-Leader managing director Andy Zhang, says Sydney Street epitomises premium quality and introduces a new benchmark in Stonnington living, designed to enrich the lives of residents and the local community. "People are at the very heart of everything we do; our desire is to create places that deliver enduring value and a better future for all."
To discover more of No. 6 Sydney Street, head to sydneystresidences.com.au