Today is a very special house tour because I get to show you around my place! I have been incredibly lucky to call this gorgeous heritage listed 1940 Art Deco building my home for the last 10 years. Recently I've moved into new digs which meant that I needed to put this fine old dame on the market. In order to get my Art Deco pad ready for sale I took on an apartment makeover to get her looking her best. I'll be sharing this process with you over the coming weeks, but for now you get to see the finished results! Not only were the interiors of the building given an update but the exterior has recently undergone a major facelift. Together with our small owner's corporate I've been involved in the transformation of the building's exceptional exterior. We wanted to restore the building to its former glory and recently completed major paint work to update its colour scheme to be more in line with its original colour and we also commissioned a Palm Springs inspired landscaped garden to frame the building and complement its Art Deco detailing.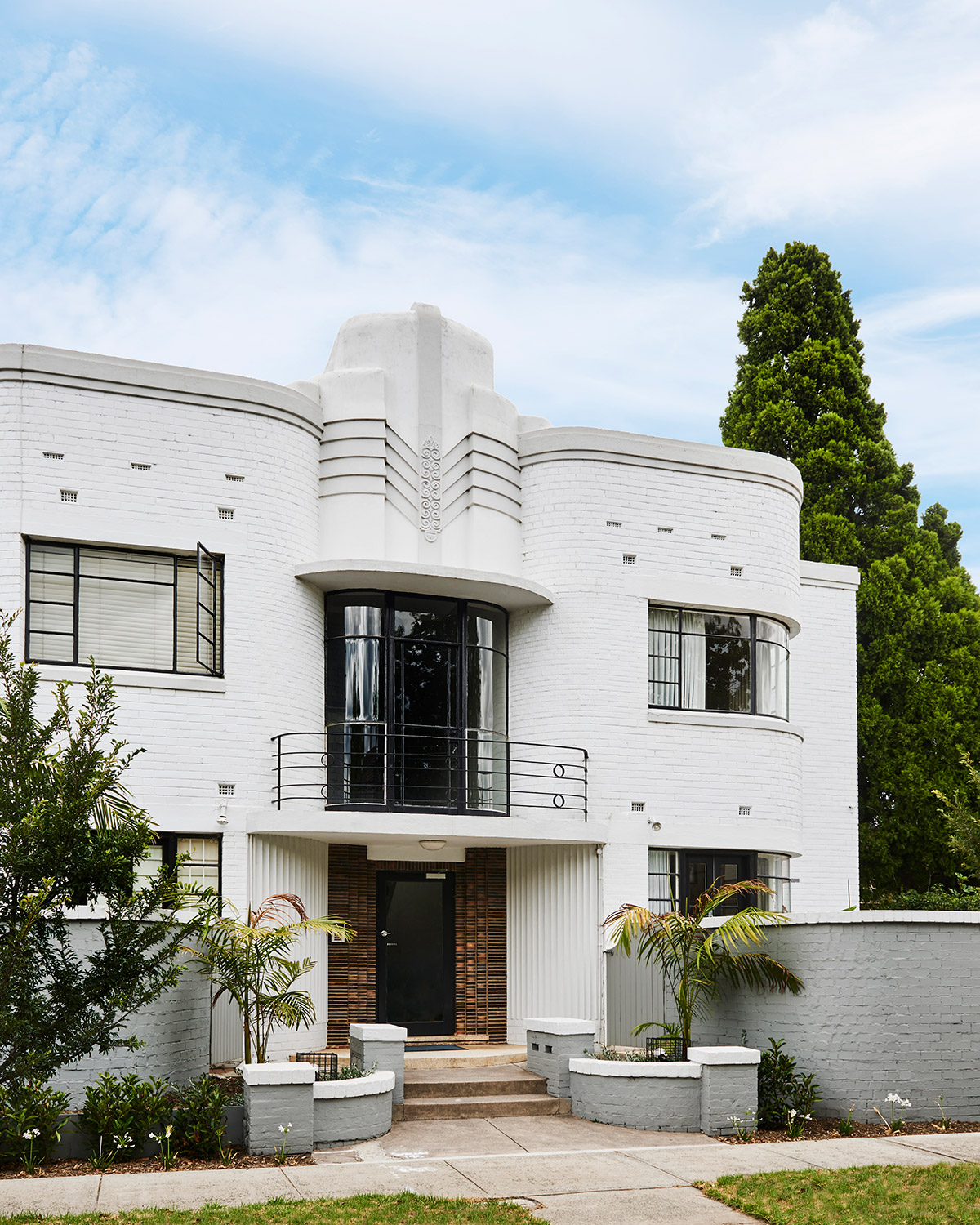 This particular building is a slice of Australian Architectural History. The land where the building now stands on Lalbert Crescent was once part of the extensive grounds of a mansion of the same name, that was built in 1880 for C.J. Ham. Following his death in 1909 the estate was progressively subdivided into suburban allotments. As the demand for housing became greater, the development of flats increased which was a huge shift from the large stately homes that predominantly occupied the areas of Armadale and Toorak at that time. The local residents were fearful that these residential flats were going to ruin the character of their tree-lined suburbs. So to counter the criticism, leading architects were employed to design these apartment blocks so as not to upset the local residents or ruin the charm of the area. Stuart Hall was employed to design this building which was completed in 1940. Stuart Hall designed quite a number of flat developments in St Kilda, South Yarra and Armadale during the inter-war period and is known for his designs are in the Moderne style, with either Jazz or Art Deco detailing.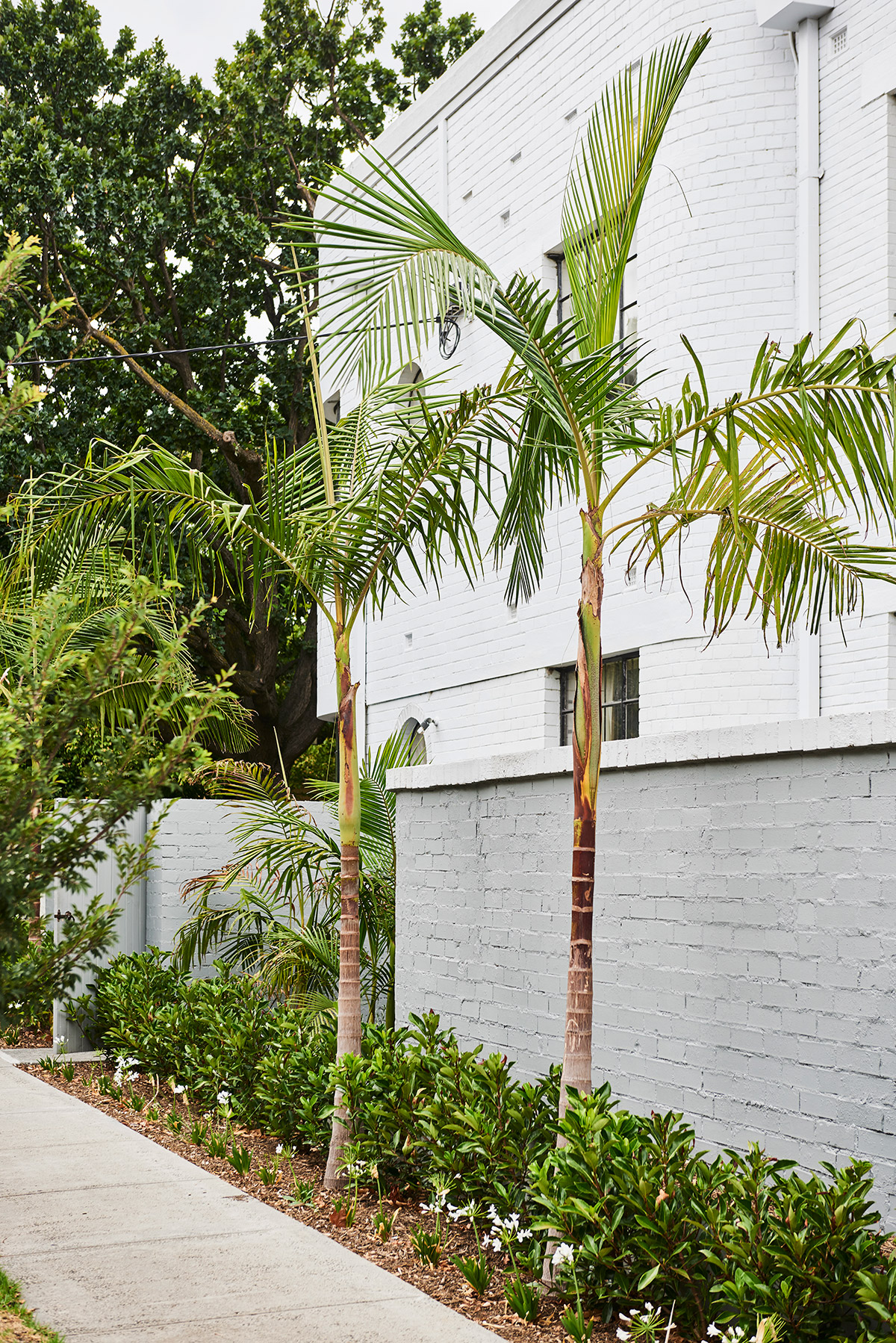 Before even stepping inside this home I immediately fell in love with its exterior. I've always been drawn to Art Deco buildings, they have a nostalgic romance to them that always makes me smile.
Over the years I've realised just how well known and loved this building is to others. Since restoring its exterior we received incredibly positive feedback from locals. People seem to feel a close attachment to this building, even those who don't live here. It's quite special in that way.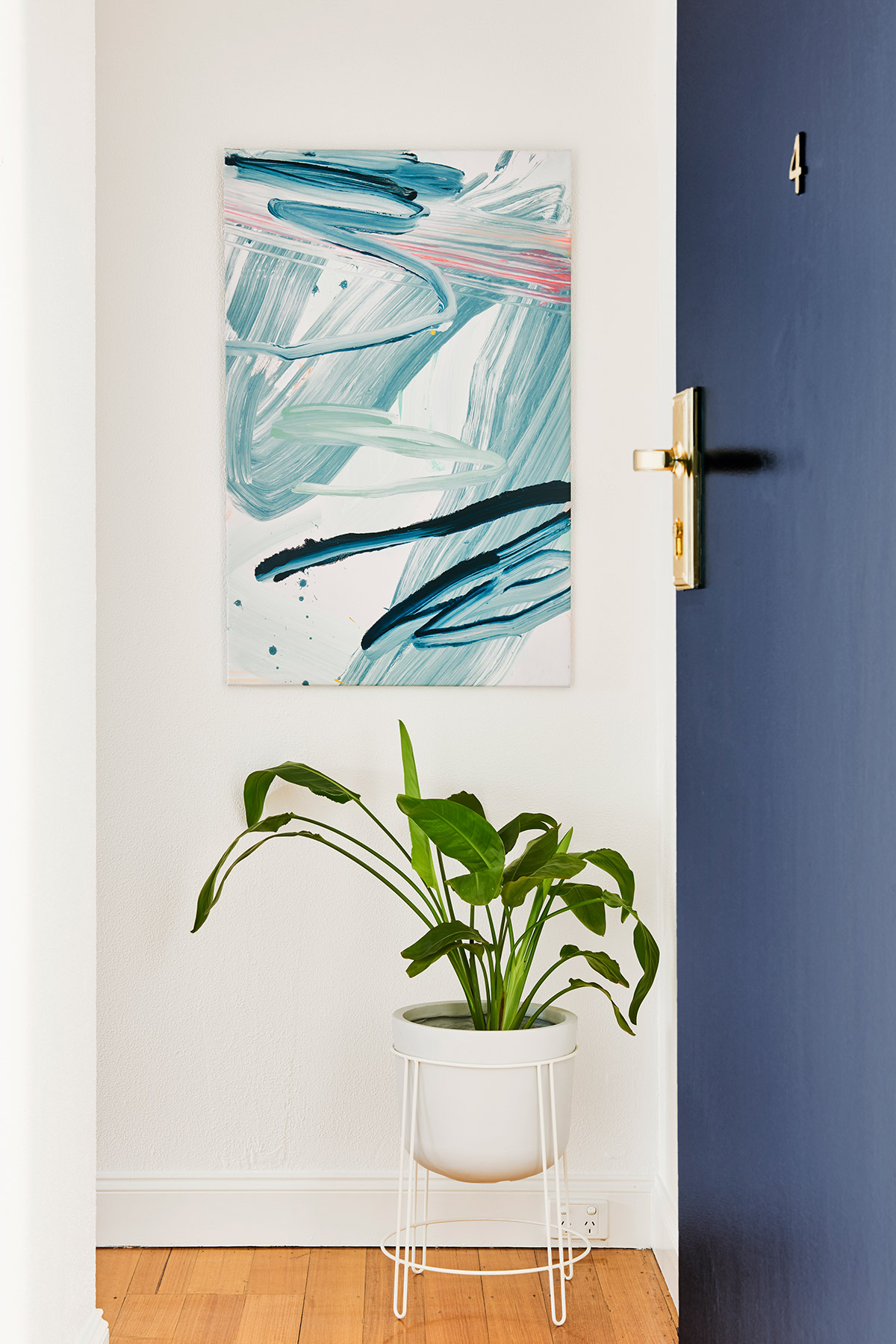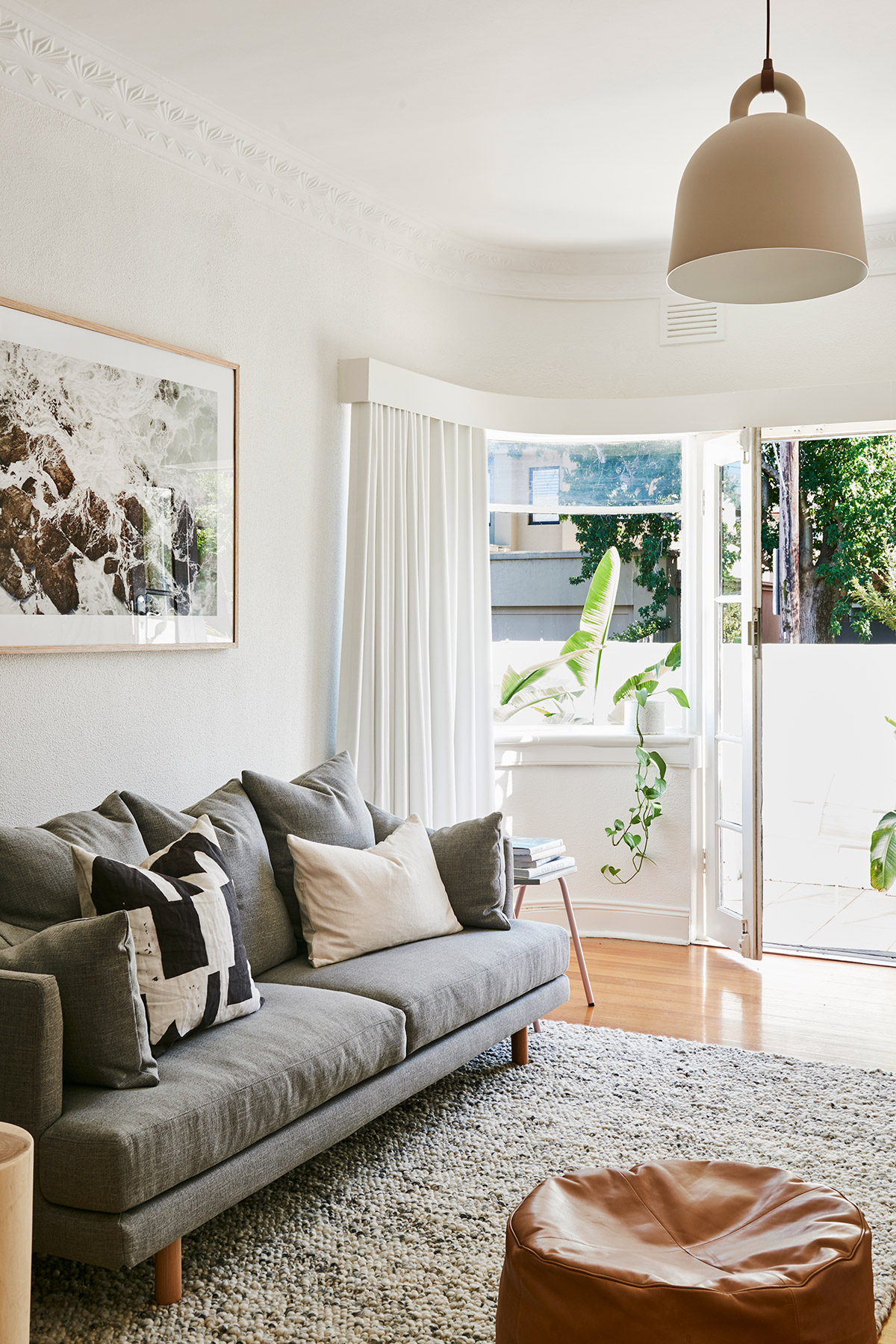 In interiors already had 'great bones' so there was little I needed to do to improve it structurally. Instead I focused on cosmetic changes namely installing new window furnishings with the help of DIY Blinds to accentuate the gorgeous curves of the building and enhance the light throughout. Also conscious of bringing more light into the apartment I painted all internal walls with Haymes Paint to lighten the interiors. Other small cosmetic changes included replacing all light fixtures and updating outdated handles and pulls with modern designs. I'm documenting this process for you so there will be info on how I achieved this look I promise!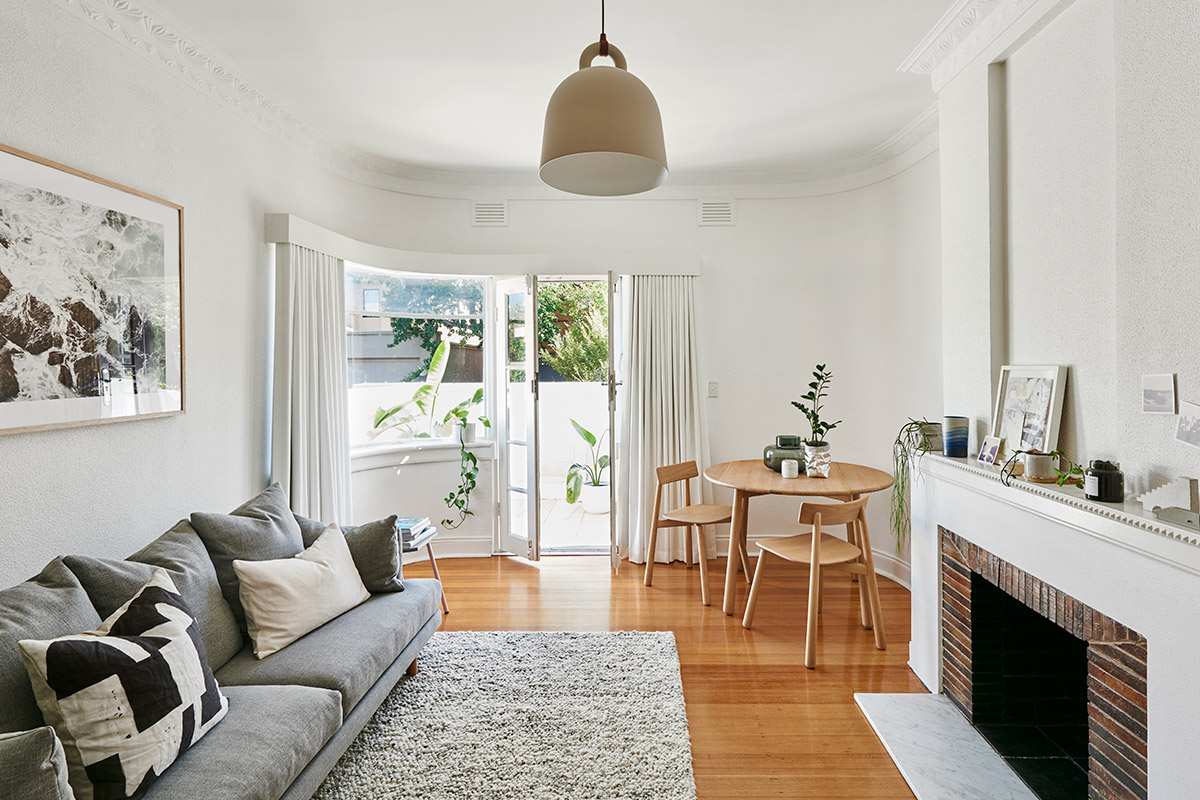 For the interiors I wanted to reflect the Palm Springs aesthetic of the garden so I opted for a relaxed, modern coastal vibe. I stripped it right back to allow the unique layout of the apartment speak for itself. I focused on neutral tones together with warm timber to accentuate the feeling of warmth and then layered texture and colour into the space. In terms of a colour palette I stuck to a cool palette to contrast the warmth of the timber boards and furniture. I'm very much drawn to blues and green, so I kept that consist throughout. 
The hub of the home is most definitely the living room as it connects you to the kitchen, courtyard and hallway. I wanted to centre this space around my favourite artwork, White Wash. This photographic print was taken by my partner, it was snapped at his favourite surf spot down the coast. I love everything about this artwork, its feeling, the colour and mostly my emotional connection to the subject matter. I knew it would set the tone for the interiors perfectly. In fact artwork is always my favourite and most important part of the home. I've collected a lot of art from talented friends and I love each piece in different ways. I choose to combine Hunting for George art prints alongside original artworks from Sarah Kelk, Rowena Martinich and Diana Ellinger. I also adore ceramic artwork so styled unique ceramic pieces around the space including my favourite Anchor Ceramics structures on the mantel.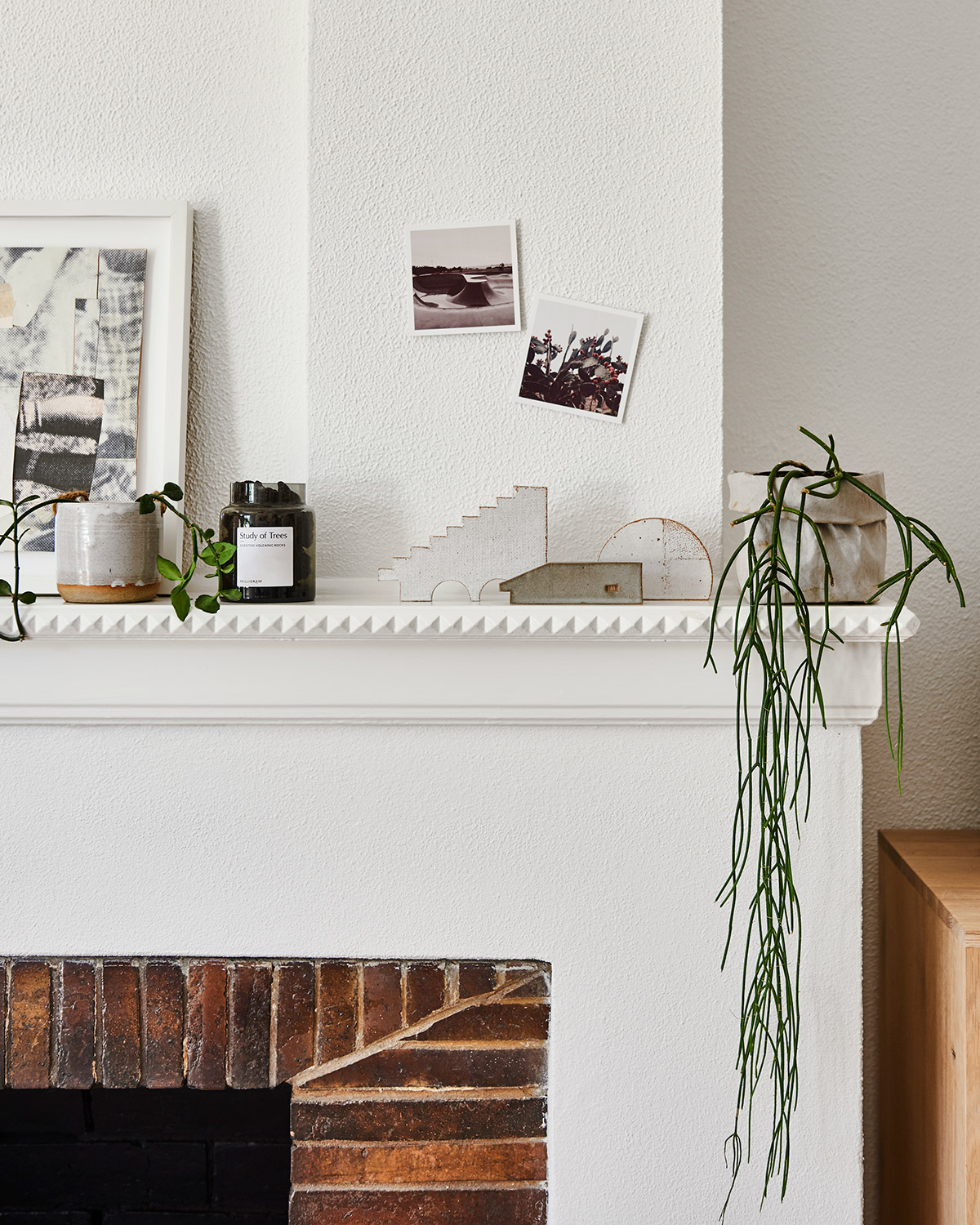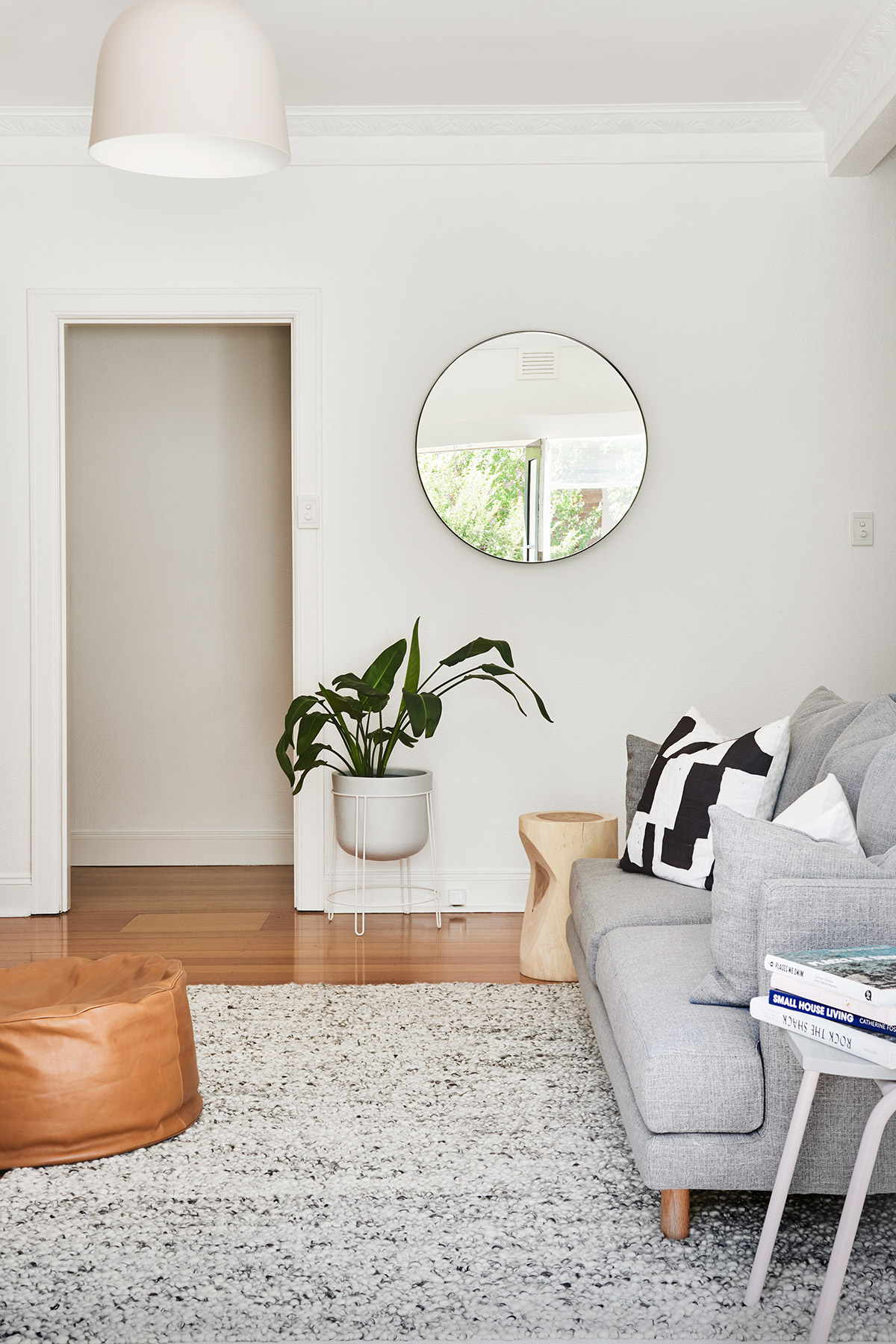 Given the small scale of the apartment, maximising space was of most importance to me whilst also choosing decor that would enhance the feeling of scale. I chose to hang a circular mirror in the living room to specifically act as a space enhancer. It bounces more light across the room and reflects the exterior gardens bringing them inside and allowing the space to open up.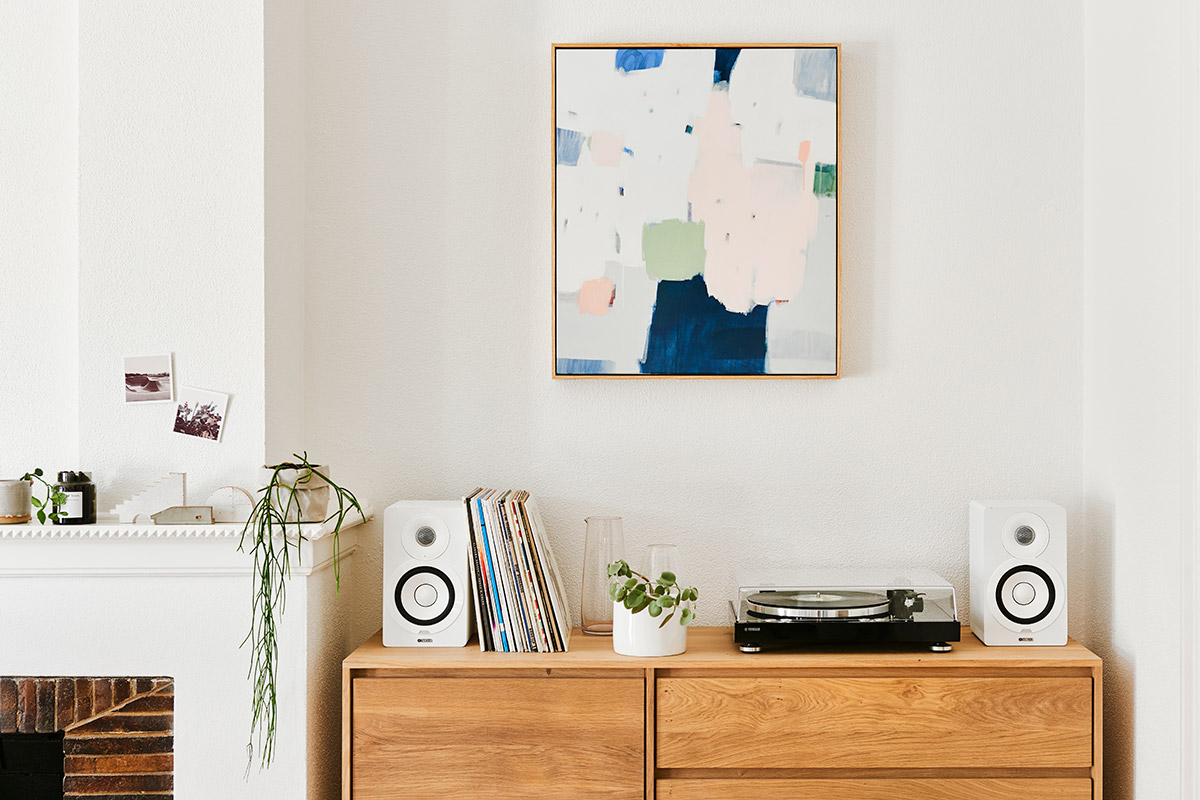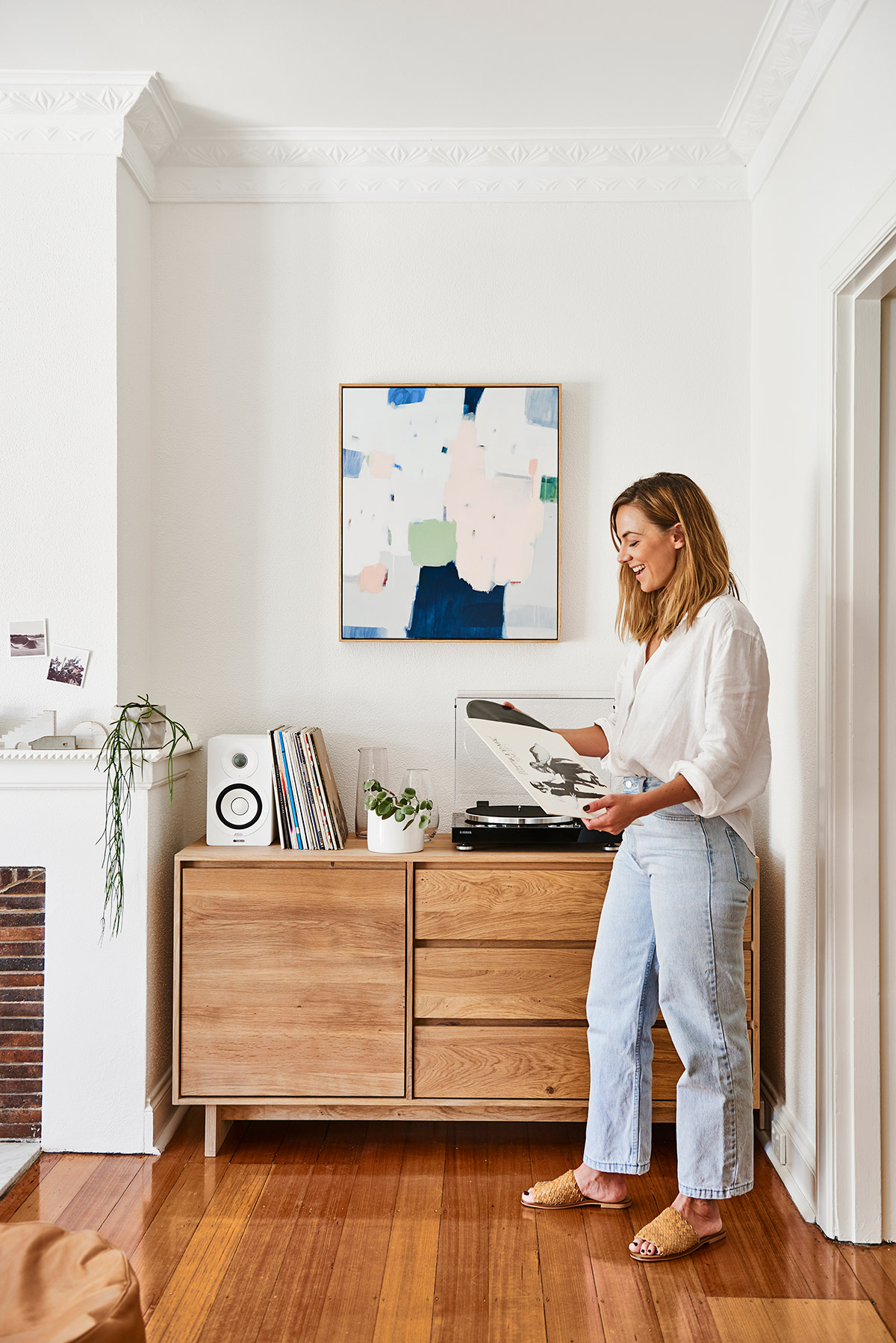 Anyone that knows me, knows that I love my vinyl and none of my interiors are complete with them. Instead of bringing in a tv I opted to create a home entertainment area with Yamaha speakers and turntable on top of a timber buffet that also provides additional storage. The stunning original artwork by Sarah Kelk is really what complete makes this corner! It brings just the right amount of colour into the space without overpowering the other elements. Again, I opted for primarily cool blue and green tones but there are subtle pops of pink that help to enhance the overall feeling of warmth.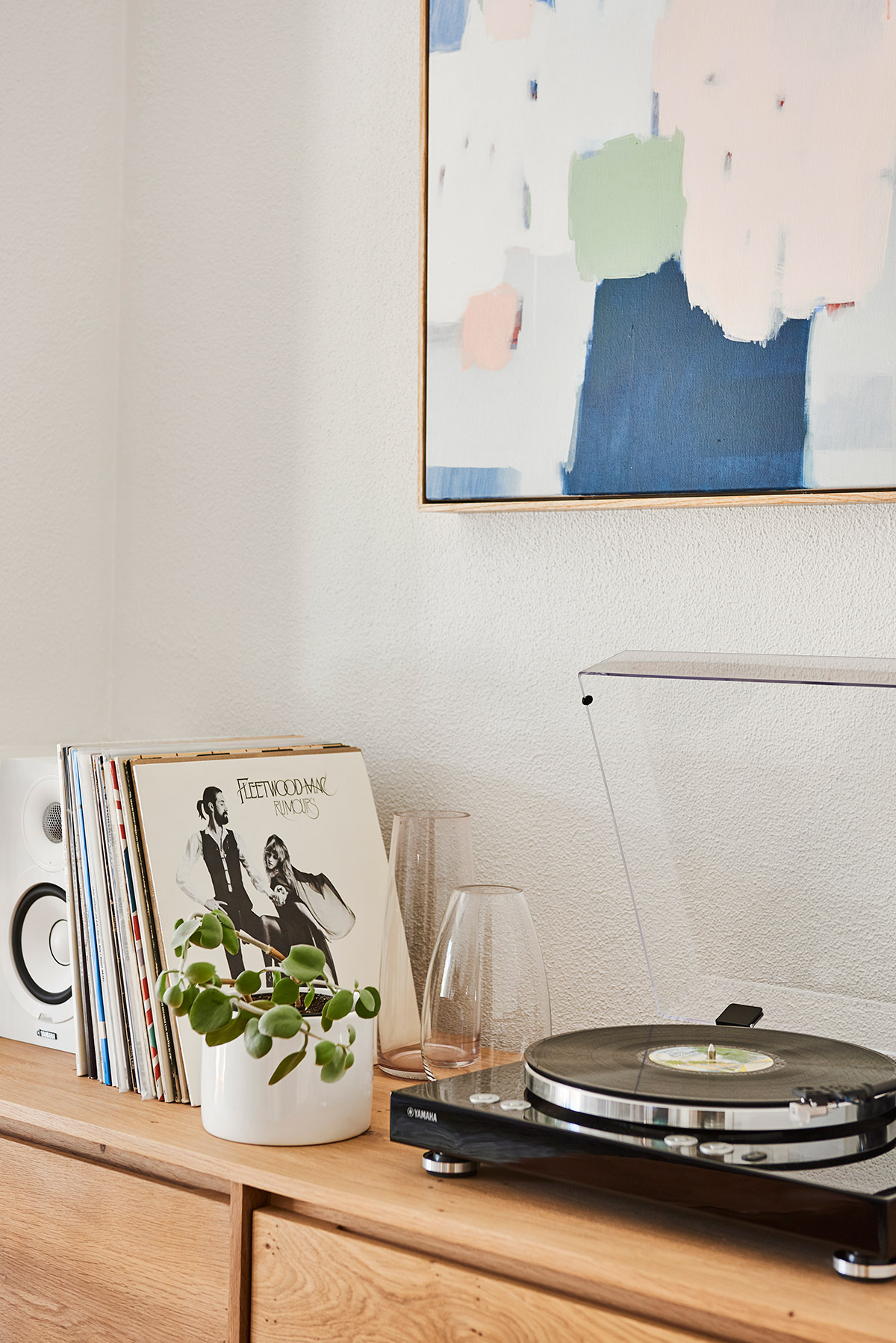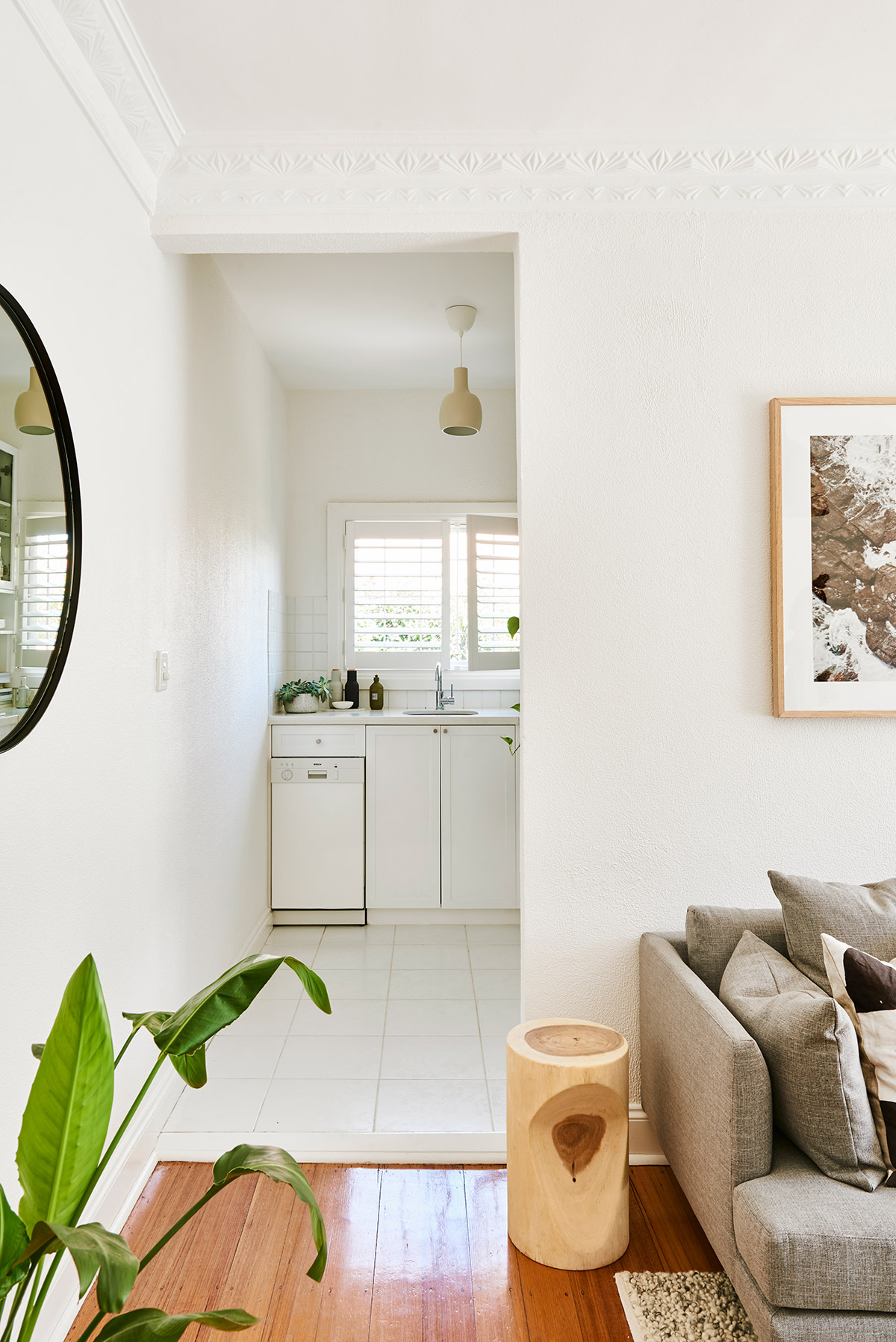 The open plan living and dining area connects through to the kitchen. My favourite thing about this space are the Polylux Shutters that DIY Blinds installed as they completely elevate this space. I kept styling to a minimum here to maximise the area of the stone counter tops and choose to feature my most used and favourite plates and mugs in the open storage nooks.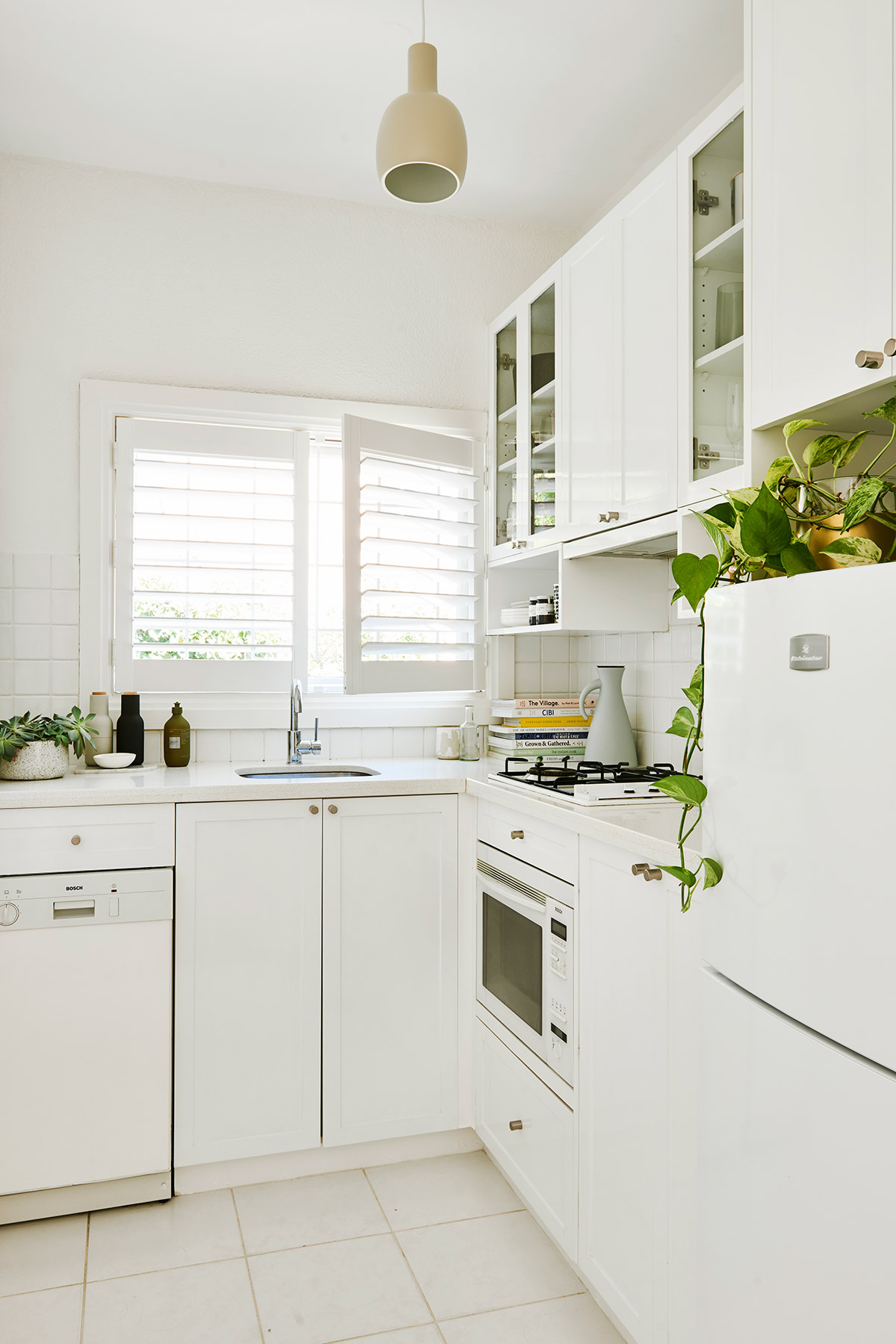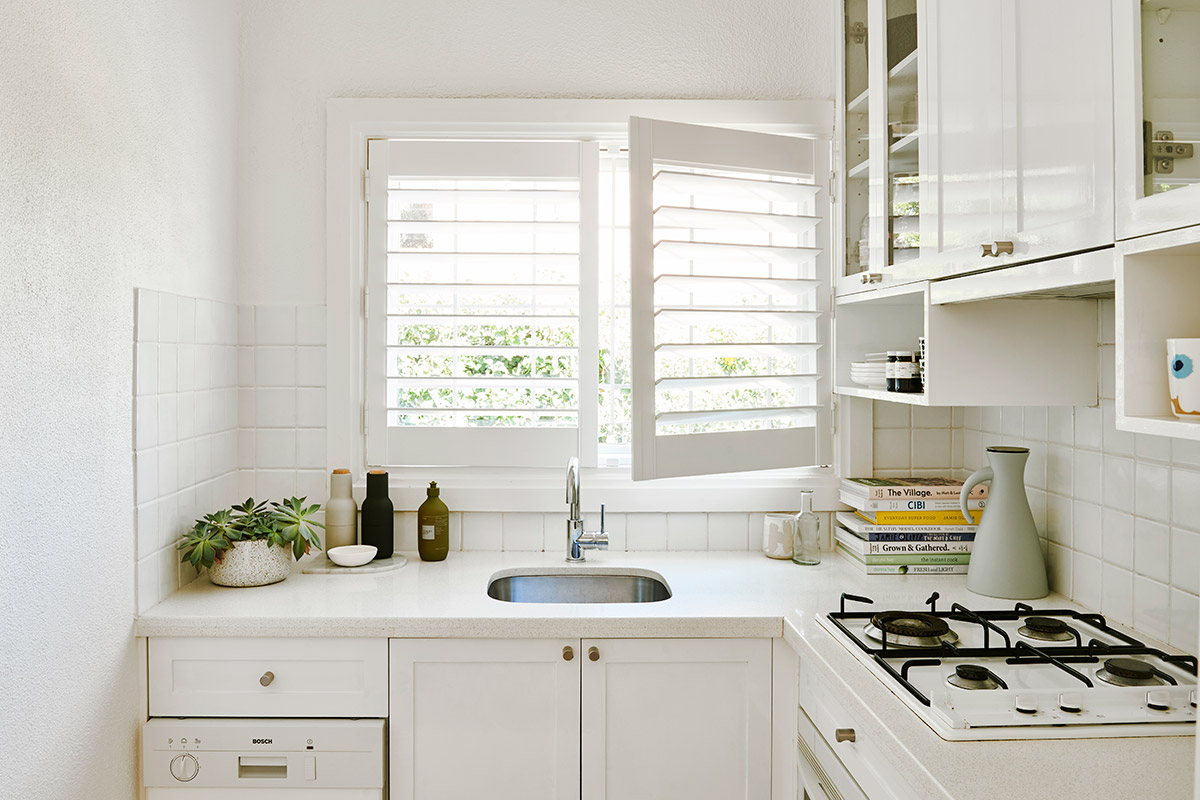 The living room also connects to the courtyard. Having a ground floor apartment with a courtyard was what I searching for and when I found this space I nearly screamed. I decided to paint the walls to match that of the exterior and opted for sand and white decor to try and create a tropical feel. When the sun is shining you feel like you could be in the middle of Greece it's just so white and bright!!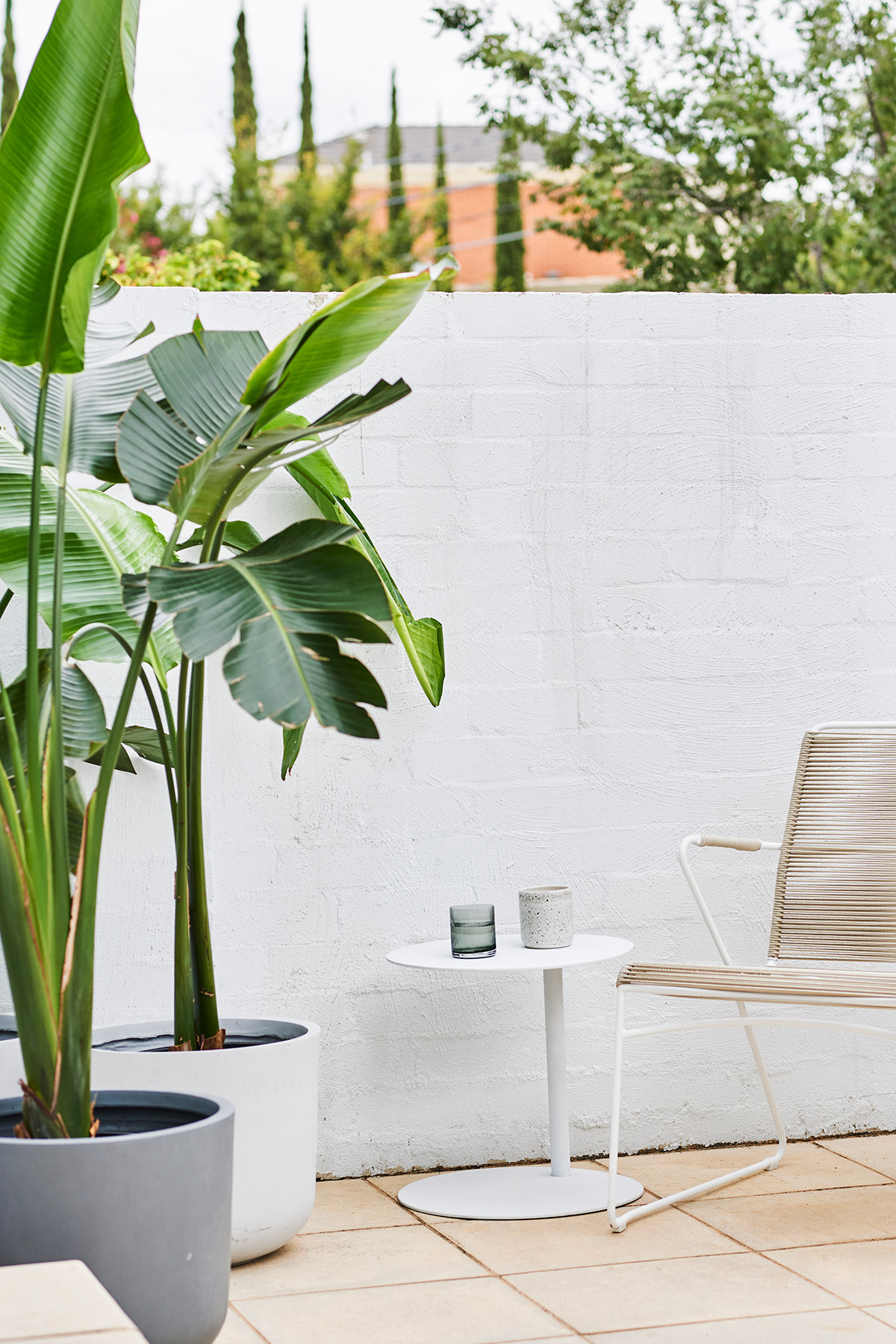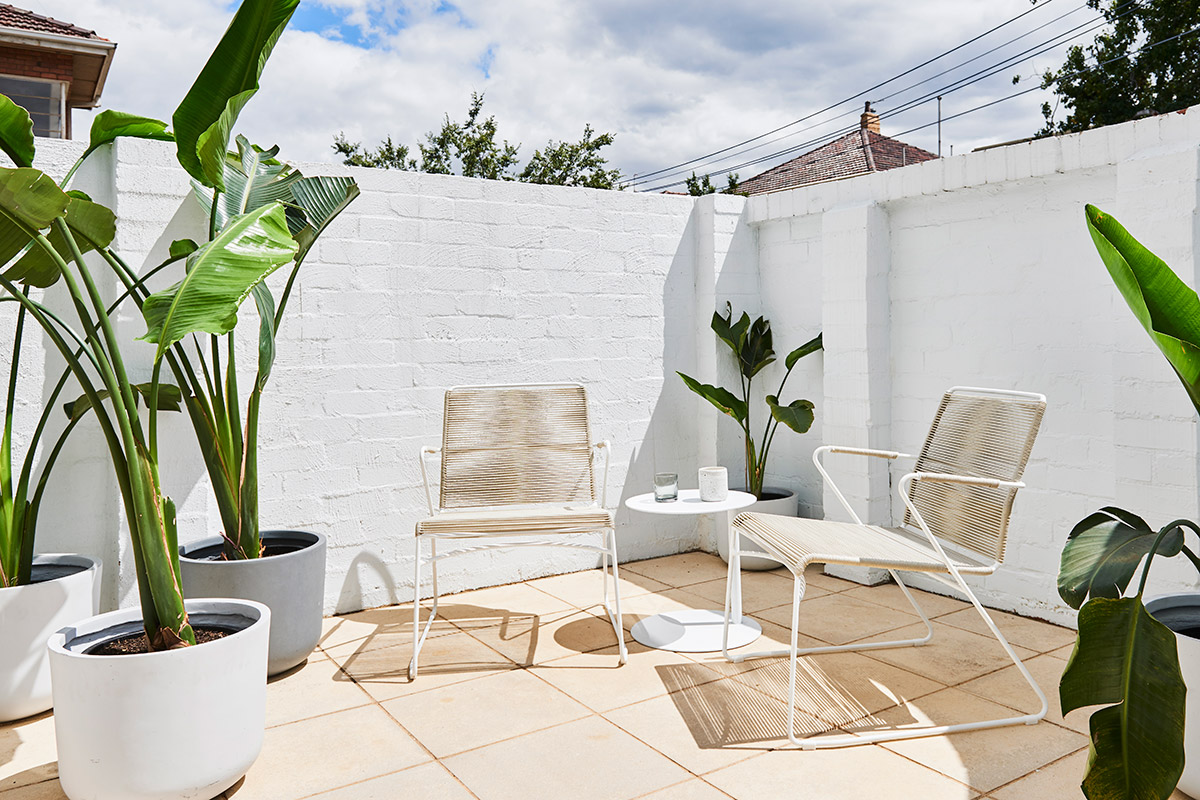 At the rear of the apartment sits the 2 bedrooms and bathroom that connect from the hallway. I have designed many, many bedrooms in my time so I was very comfortable creating these spaces. However what I decided to do (which is a little different for me) was style the master bedroom with two quilt covers as I wanted to create a really luxurious look. I combined linen and cotton, opting for the White Linen Quilt Cover as the hero and the Eskimo Shuffle Quilt Cover as the base. Together with Smoke Euro Pillowcases.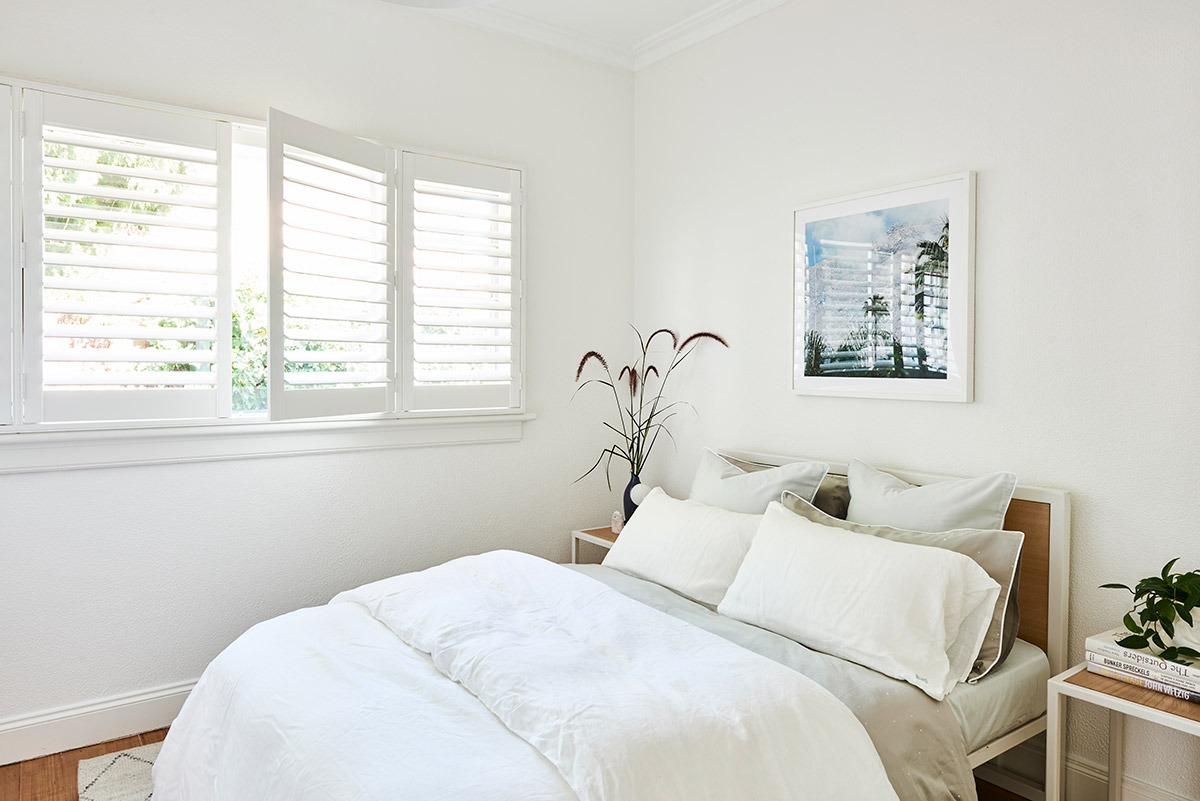 I kept the consistency of the Polylux Shutters throughout and they have the same impact as in the kitchen, instant sophistication! Also, for the bedroom specifically they are a great option as they can turn into a complete block out.
The bathroom underwent a major transformation which I'm excited to share in more detail with you later. I focused on creating more storage and enhancing its size. New fixtures, cabinetry and tiling were installed to achieve this.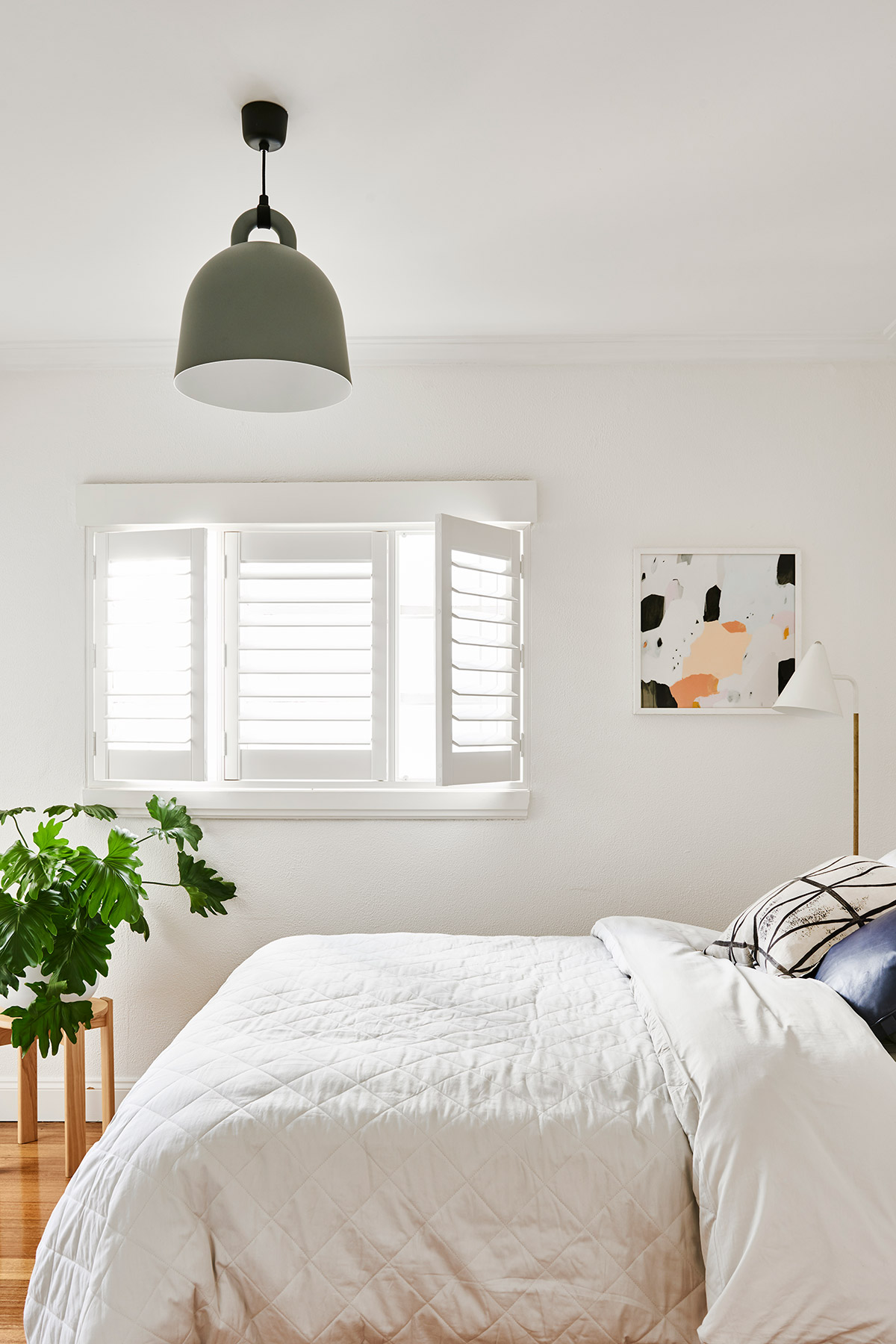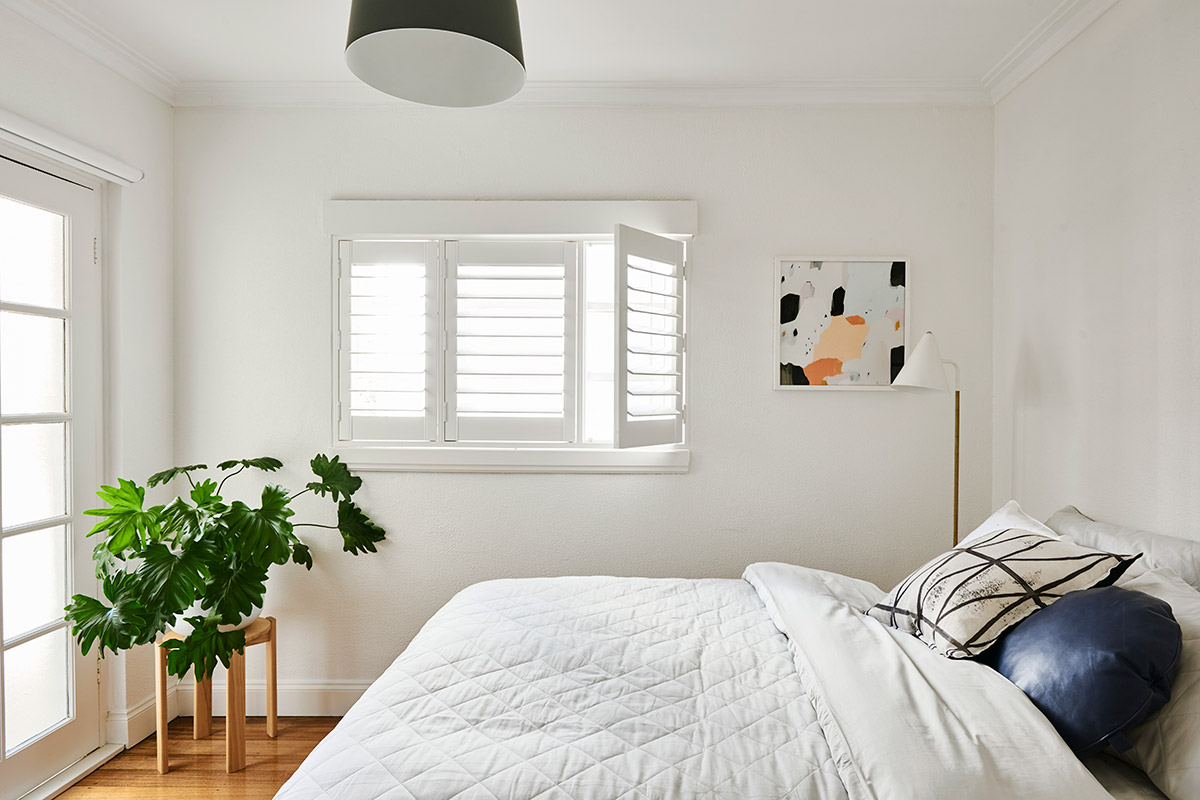 The second bedroom at the rear of the building also provides as access point to the rear of the block, because guys I haven't even got to the best bit yet…
Ehmerghed!! Yes, this apartment block boasts an epic rooftop with views of the city! The rooftop is my favourite thing about this apartment and also the main reason why I bought it. As you can imagine, being a 20-something obsessed with The Secret Life Of Us, I thought that I had clearly found real estate jackpot! I used to hang out here a lot, it is so incredibly peaceful. Whilst I thought I'd be having a ton of parties up there more often than not it was just me and a good book in the sun.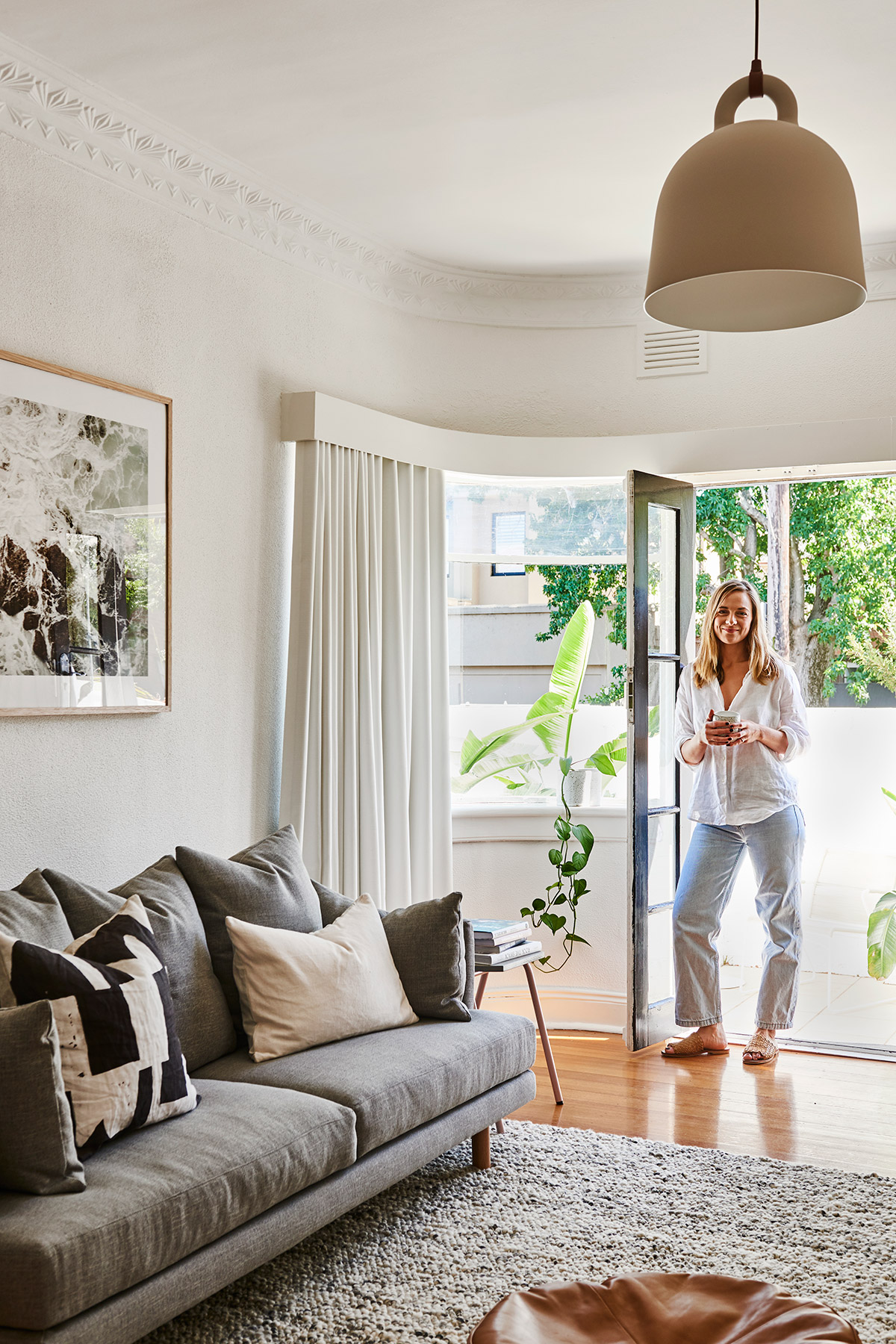 I have so much love for this apartment block and it is an absolute pleasure to share it with you! I have had many happy memories here and I hope that it finds itself a new owner who loves it as much as I do. If there are any Art Deco fans out there that would love to live in a piece of Australian architectural history, this is it! 
Art Direction & Styling: Lucy Glade-Wright
Photography: Nikole Ramsay
Location: Armadale, Victoria
Architect: Stuart J. Hall
Style: Moderne with Art Deco detail