Your bedroom is your castle; it's where you go to after a crazy day at the office to refresh and revitalise yourself. For these very reasons, it's important to fill your bedroom with bits and bobs that help you relax. Not only do they show your personal style, they bring character to the room and help with the overall atmosphere. A plush mattress, cosy bed linen, and a soft and scrumptious Bedroom rug are just a few of the essentials.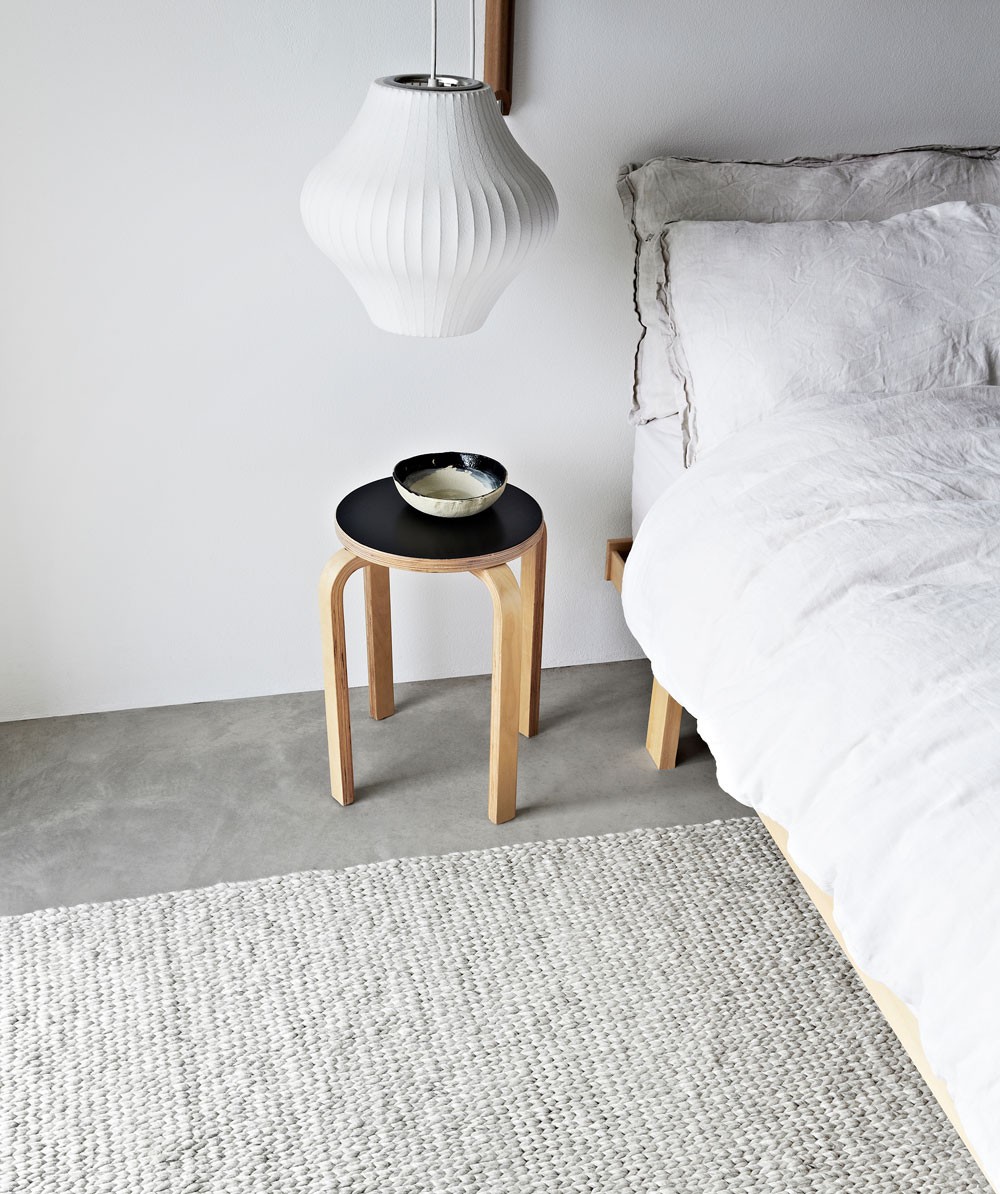 Let's face it, a cold wooden or tiled floor is not inviting first thing in the morning, but a softly textured rug certainly is! When choosing a bedroom rug it's important to remember it'll be the first thing your feet touch when you hop out of bed in the morning. There are a couple of things to consider when selecting a rug for your bedroom. Although there are guides to consider, it really comes down to your personal preferences. Here are some tips to help you find your way.
Size Matters
As a general rule of thumb, smaller rugs are often used in bedrooms. They can be placed on each or just one side of the bed, creating a soft, warm place from which to step in and out of bed. For a more luxurious look, place a large rug underneath the bed with a generous amount visible at the foot and sides. Keep bedside tables off the rug to highlight the floor and enhance the feeling of space. Armadillo & Co rugs are available in standard sizes to fit your desired space.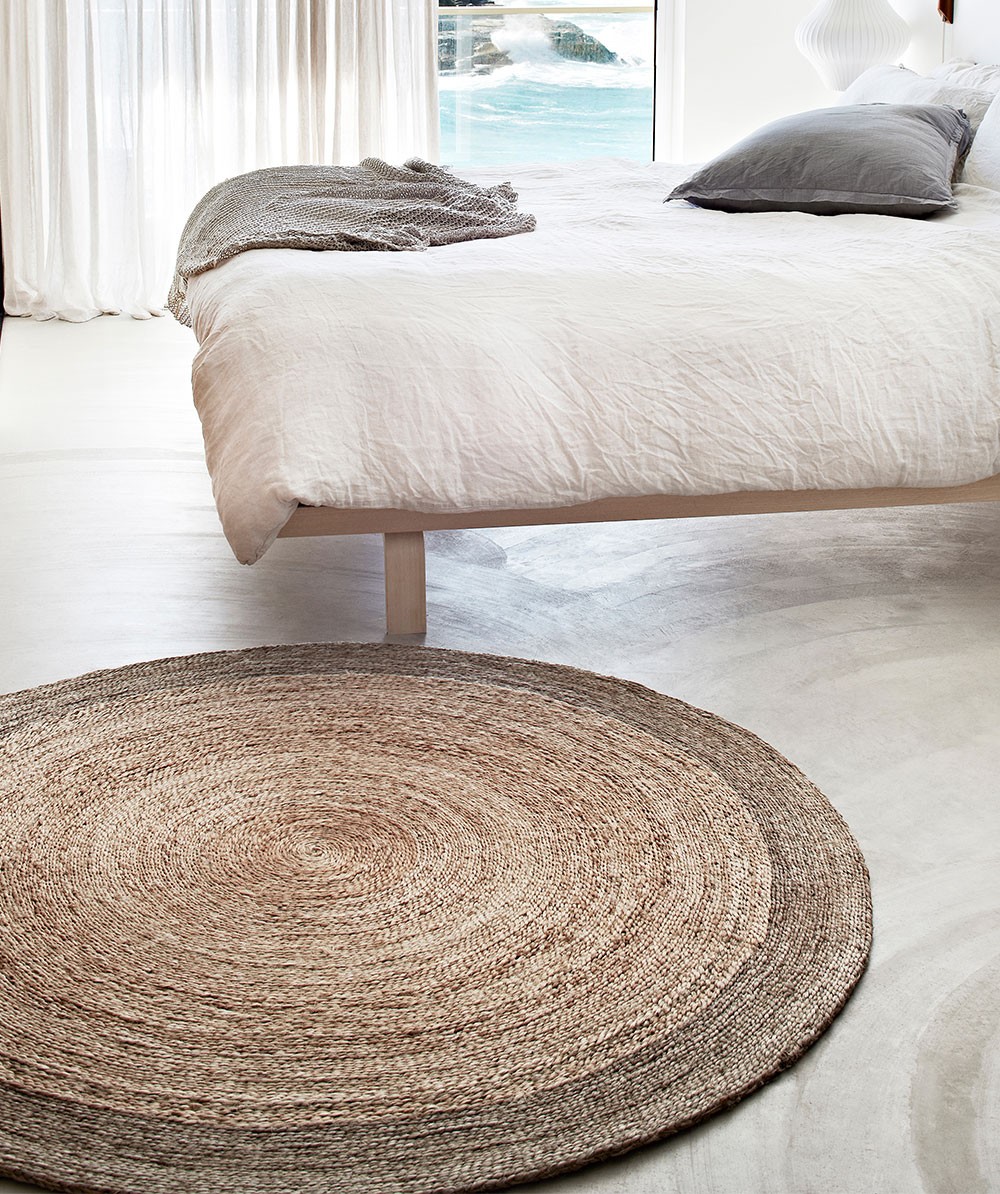 Colour Me Happy.
Ideally, you want your rug to flow well with your existing interiors and help anchor the bedroom. Your wall colour, furniture, art prints and general decor will therefore all play a role in helping you determine the colour of rug you choose. Generally speaking, your bedroom should be a peaceful place. Restful hues and neutral tones will always help lull you to sleep with their tranquil vibes. If you've got a lot going on in the bedroom, you might want to stick to a solid colour or neutral rug to bring things down to earth, like Armadillo & Co's Sierra Weave Rug. As it's a bedroom you won't be walking over the rug with shoes all that often, so you can afford to go a bit lighter with your colour choice, like the chalk or pumice Sierra Weave. If you want to choose a patterned rug it's generally easier to choose the rug first and add furniture and accessories that compliment the look. The Berber Knot Zulu Rug with its tribal patterns is great to soften concrete floors or enhance the warmth of timber floorboards.
Texture me up, Buttercup.
A room with a mix of different textures feels rich and layered and when it comes to rugs, there's so much more out there than wool. We have tendencies to fill our bedrooms with things that are silky, satiny, shimmering and luxurious. This works well for the sheets and curtains but for rugs, not so much! Armadillo & Co have an extensive range of beautifully soft, yet durable rugs that are super practical for low traffic areas such as the bedroom. A crowd favourite, the Sierra Weave Rug is the softest and most delicious rug going around! Sumptuously soft and comfortingly cosy, it's made from a luxurious wool blend in a 'jagged peak' design reminiscent of a chunky knit. And who doesn't love a chunky knit?!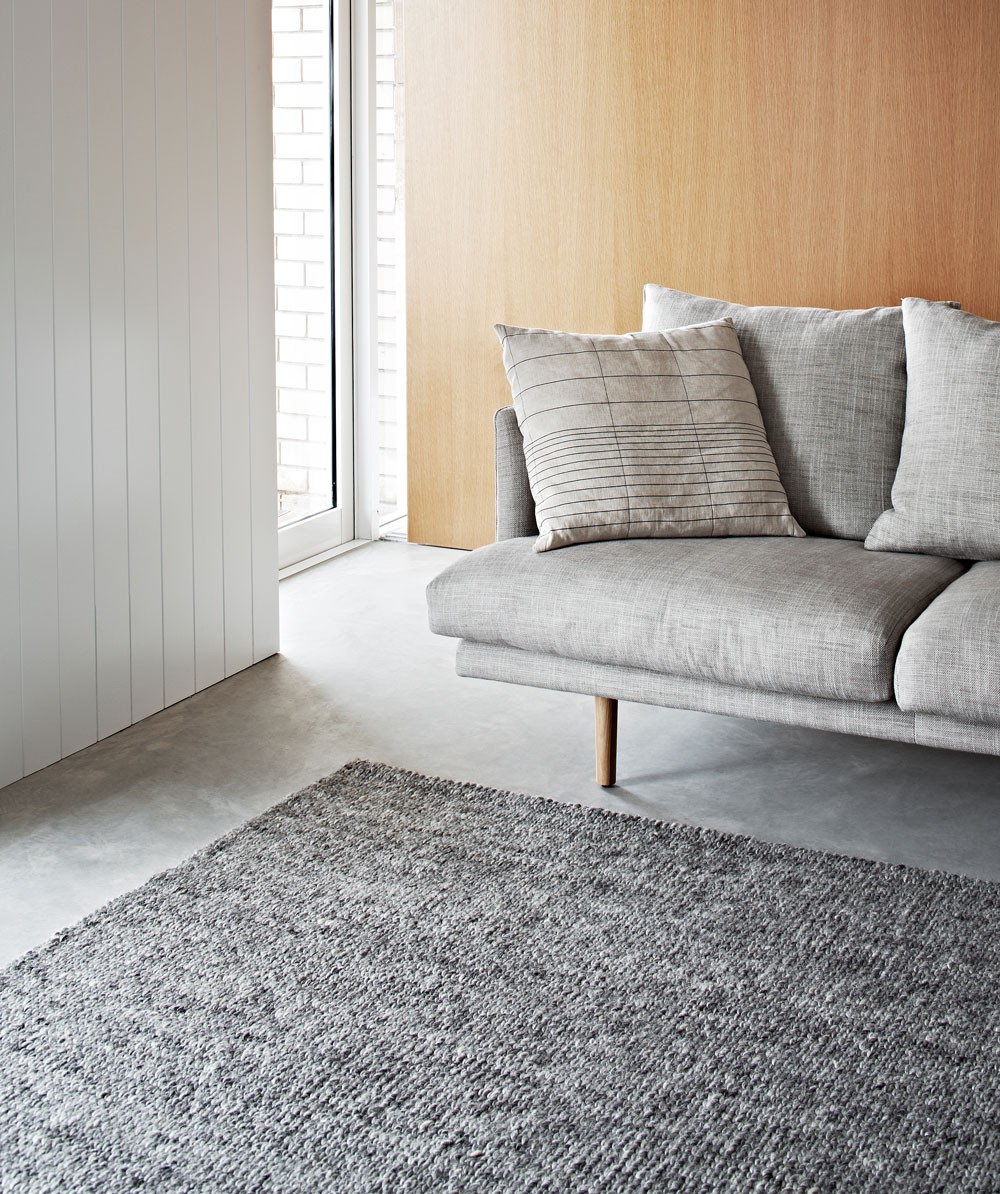 Another favourite of ours is the  Berber Knot Ghan Rug from the extension of their Latitude Collection launched in February. Reminiscent of ripples in the desert sand, Ghan's innovative design explores the possibilities offered by a monochromatic palette. Contrasting high pile with flat weave, its mesmerising ebb and flow pattern results from the combination of the classic Afghan rug techniques of soumak weaving and the Berber knot. Dense diamonds of high pile randomly punctuate the diagonal matrix to add visual interest. This intentional irregularity in pattern and texture is a fabulous addition to the bedroom, bringing sumptuous elegance to your space. You might also consider the Kalahari Weave Rug with its mixture of hemp and wool, which offers both softness and durability.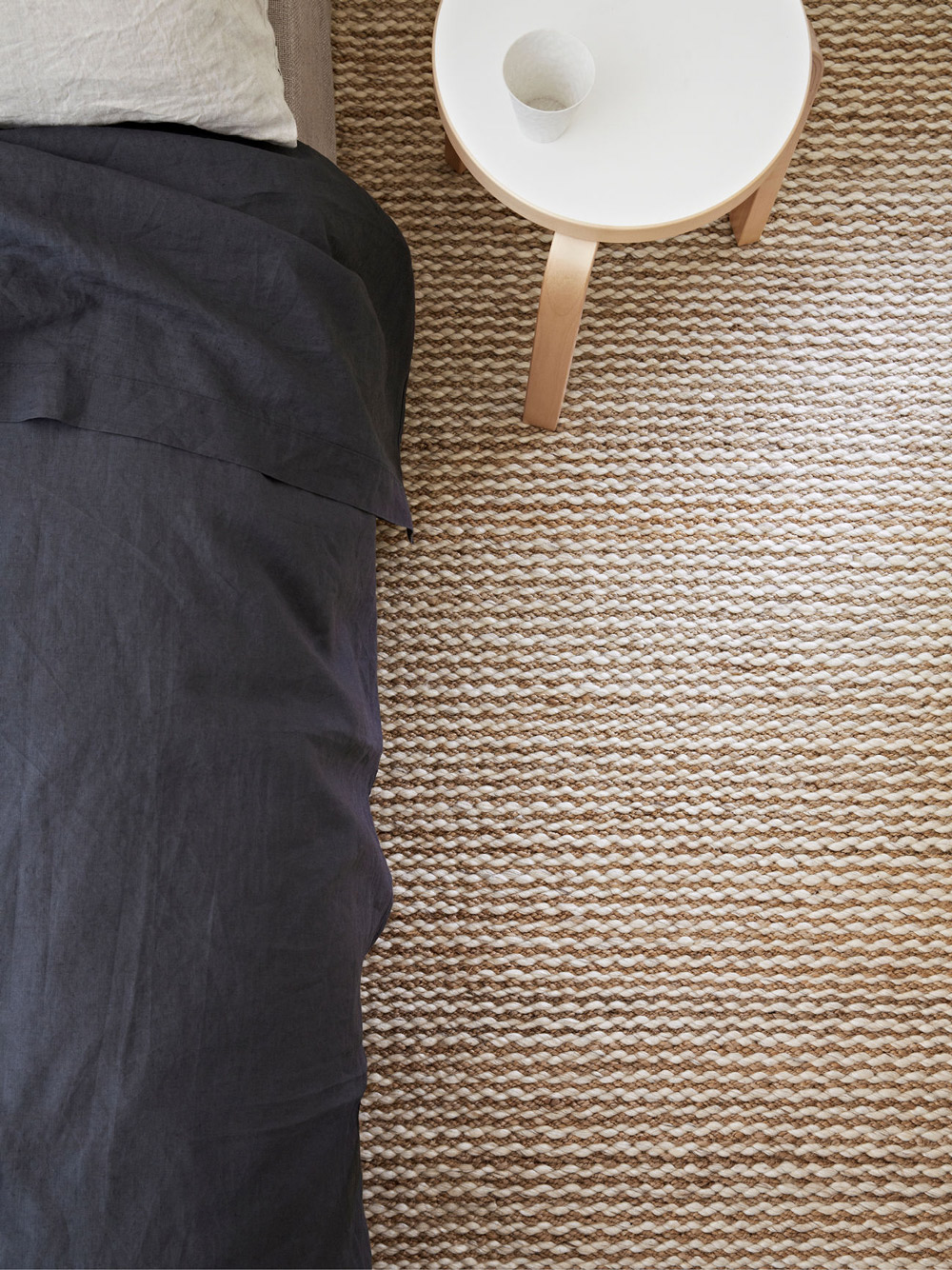 Underlay Underlay!
If your chosen rug is placed underneath your bed or heavy furniture, then there is no need for an underlay. However, if the rug is placed directly over a smooth surface, such as a wooden floor, then there may be a need for an underlay that will keep the rug in place and help avoid accidents. Not to mention they do a fine job at providing extra cushioning underfoot!
The Armadillo & Co Rug Underlay is a non-slip needlefelt underlay with light adhesive on both sides which can be used on both soft and hard floors (parquet, laminate, tiles, stone, marble, cork & PVC floor coverings) and on heated floors. It can also be used on carpets to prevent rugs from creeping, both sides have a light adhesive contact so it can be placed on either side. This underlay is highly recommended for all wool rugs as it will extend the life of your rug and makes vacuuming much easier. It can also easily be cut to your desired shape.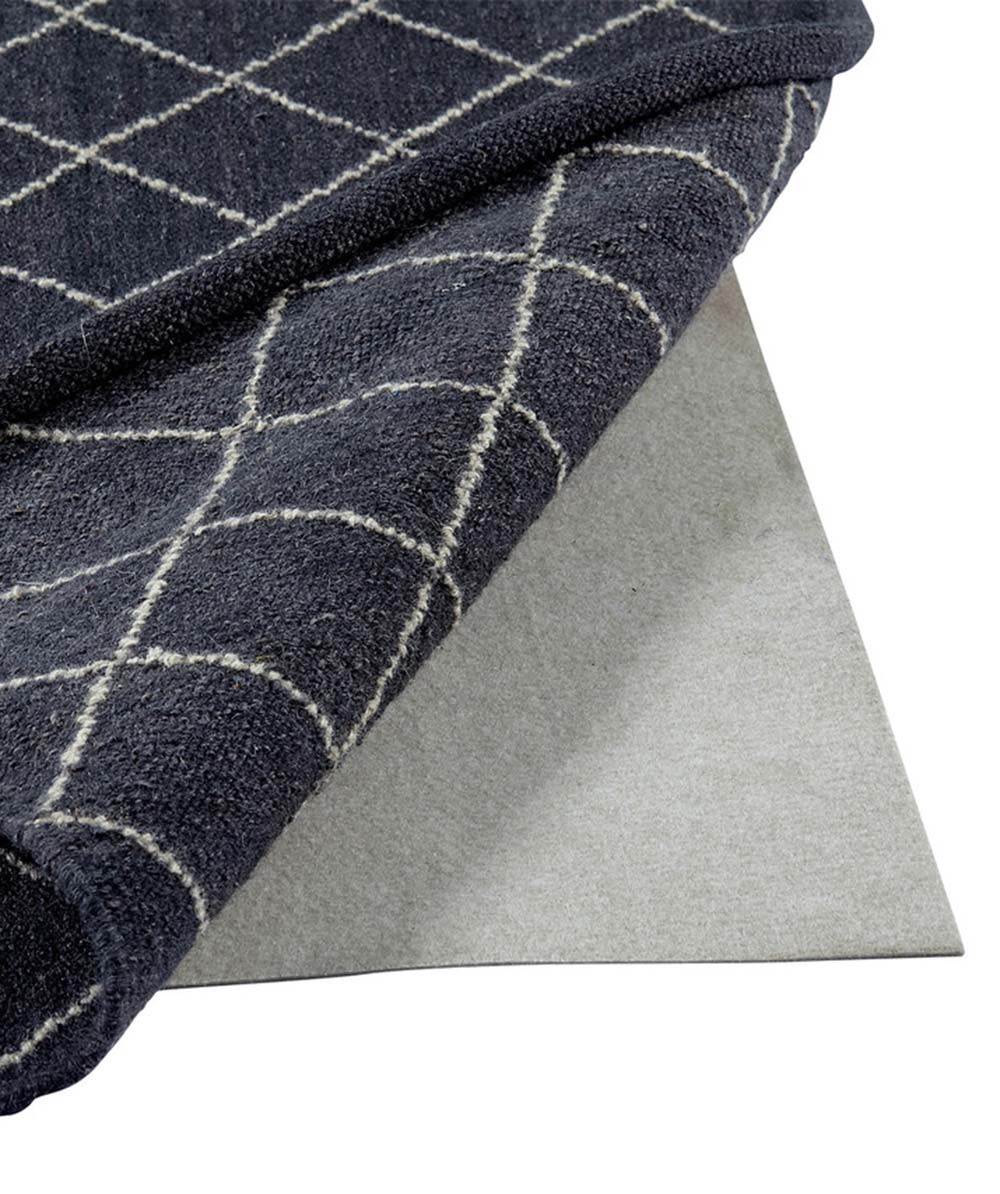 If you're unsure about which rug is right for you, we're happy to help you through the decision-making process in choosing your bedroom rug. Our shop is open on Fridays and Saturdays, and our staff would be thrilled to take a peek at photos of your space to help narrow down the options. We're also available online and over the phone for rug selection support, so give us a shout anytime.