There's a reason why the humble living room is named so – it's where so much of everyday life happens, after all. A place where you can put your feet up and relax with your family or entertain friends, a living room should be cosy and inviting. If you're looking to refresh your living room, swapping out your floor rug is an inexpensive way to update your space. A rug ties a room together, bringing texture and colour to an otherwise neutral or cold space. A rug on floorboards will provide warmth in the colder winter months, whilst a rug on carpet will add a stylish layer and break up the base texture and colour dominating the room.
We get it, not all living rooms are created equal. However, choosing a rug for your living room doesn't have to be a daunting task. Here are a couple of things to consider in your search for the perfect match.
Durability.
The living room floor endures the most traffic than any others part of the house. Not to mention the spilt food and drinks, dirty shoes and dust gathering. The foremost consideration is durability above anything else. A good quality and durable rug may cost a little bit more, but it's still cost efficient in the long run. You'll need something that can withstand the general wear and tear of a living room. What sort of material? Does the rug need to be hard-wearing (generally yes in the living room!)? Will there be a lot of foot traffic? Will it be partially covered with a sofa or coffee table? Do you have kids or pets?
A raised pile or shag rug can potentially be a tripping hazard for little feet. A soft rug for a low traffic area simply won't withstand the level of foot traffic. Something like the Kalahari Weave Rug is a great choice with its hemp, wool viscose blend. Thick and sturdy hemp set against luxurious wool, creating the perfect balance of textures. Perfect for high-traffic areas like the living room, as it wears the texture improves and softens a lot.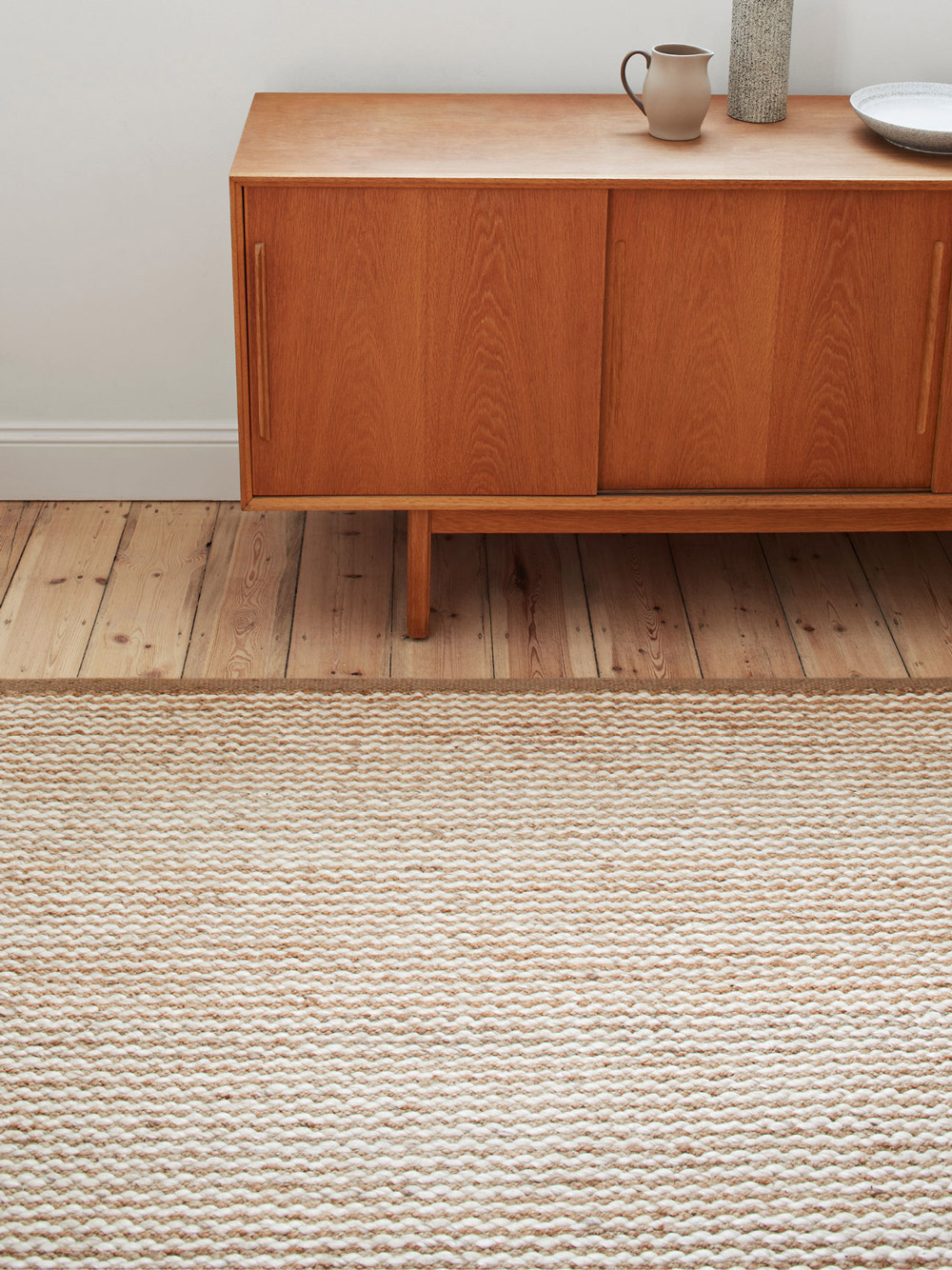 The Sherpa Rug is fantastic as it's very hard wearing and still has a beautiful texture to it and the flecks really compliment other colours in the room. Made from a wool viscose blend, the Sherpa will bring texture and warmth to your living room.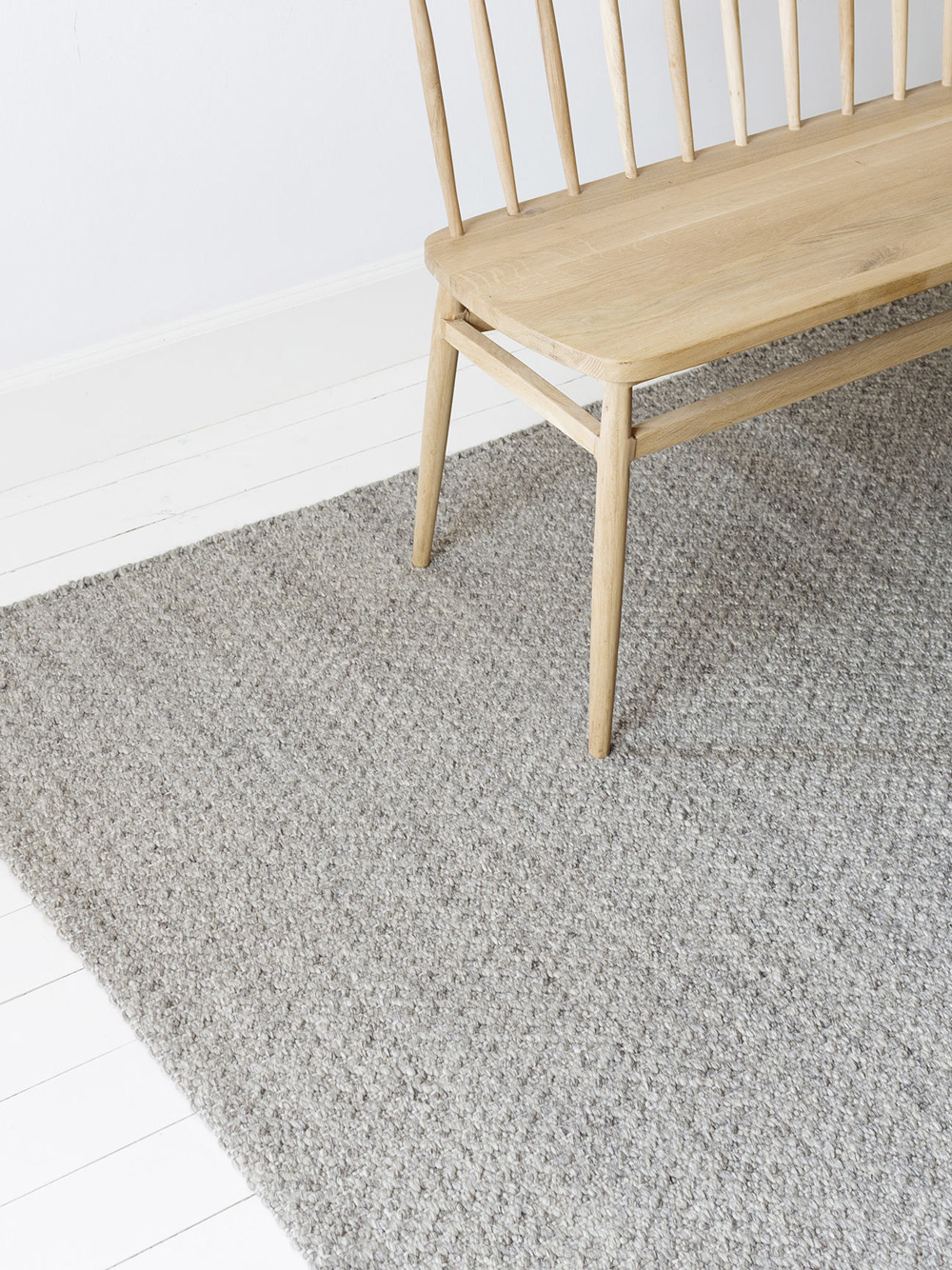 Comfort Factor.
Comfort is an important consideration when choosing a rug for your living room. How do you want your rug to feel underfoot? Is it soft and warm at the same time? Will it feel gentle to children who will be rolling around on the rug? How will it feel on a chilly winter night? Take into consideration where it will live and what purpose it will serve; whether it's purely functional or a touch of luxury in your space.
If it needs to be durable, look to wool blends or natural fibres which can take a lot of wear and tear. Think about whether you want your rug to be short pile or a longer, plusher pile. The Berber Knot Ghan Rug contrasts high pile with flat weave and it's ridiculously mesmerising. Dense diamonds of high pile randomly punctuate the diagonal matrix to add visual interest. Ghan is hand knotted from pure hand spun wool, with the naturally exceptional durability of the soumak weave makes it a fabulous addition to living areas.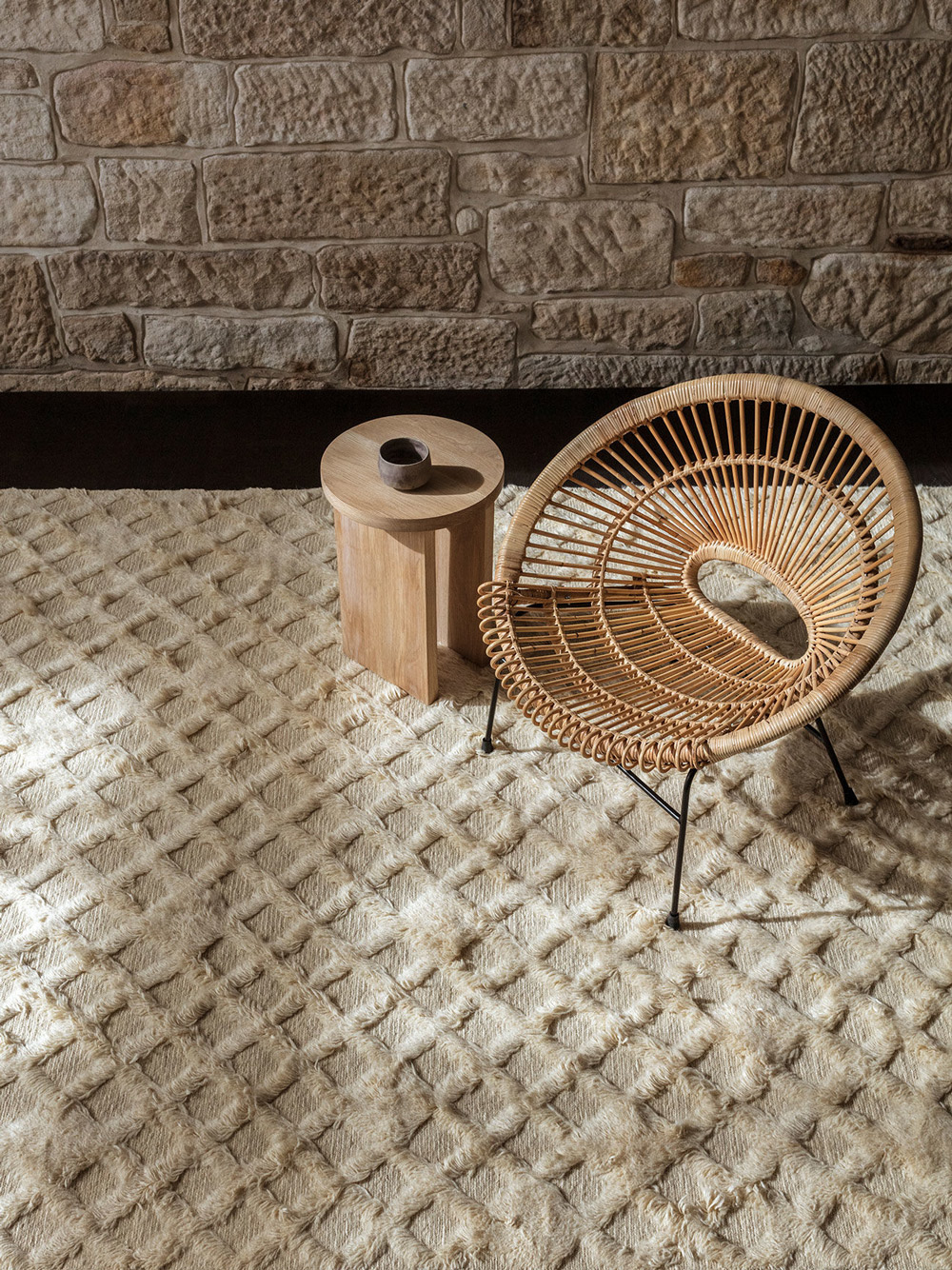 Styling.
Rugs play a major part in enhancing the overall ambiance of your living room. In fact, the rug is often the starting point when putting a room together, building upon the chosen palette with key furniture pieces, cushions, art prints and more. However, if you are selecting the rug after you have furnished the room, look for colours, textures and patterns that complement your existing furnishings.
When choosing a style of rug for your living room, it should always reflect your own personal taste and style. Do you want that WOW factor with a rug that stands out in its own right, or a classic rug that softens the overall aesthetic of the room? You can't go wrong with the Armadillo&Co. Berber Knot Atlas Rug, a crowd favourite and a popular choice for the living room with its simple diamond pattern. Hand knotted in pure wool in soft, natural tones, the Atlas Weave Rug sits perfectly atop light or warm floorboards, bringing character to the space without dominating.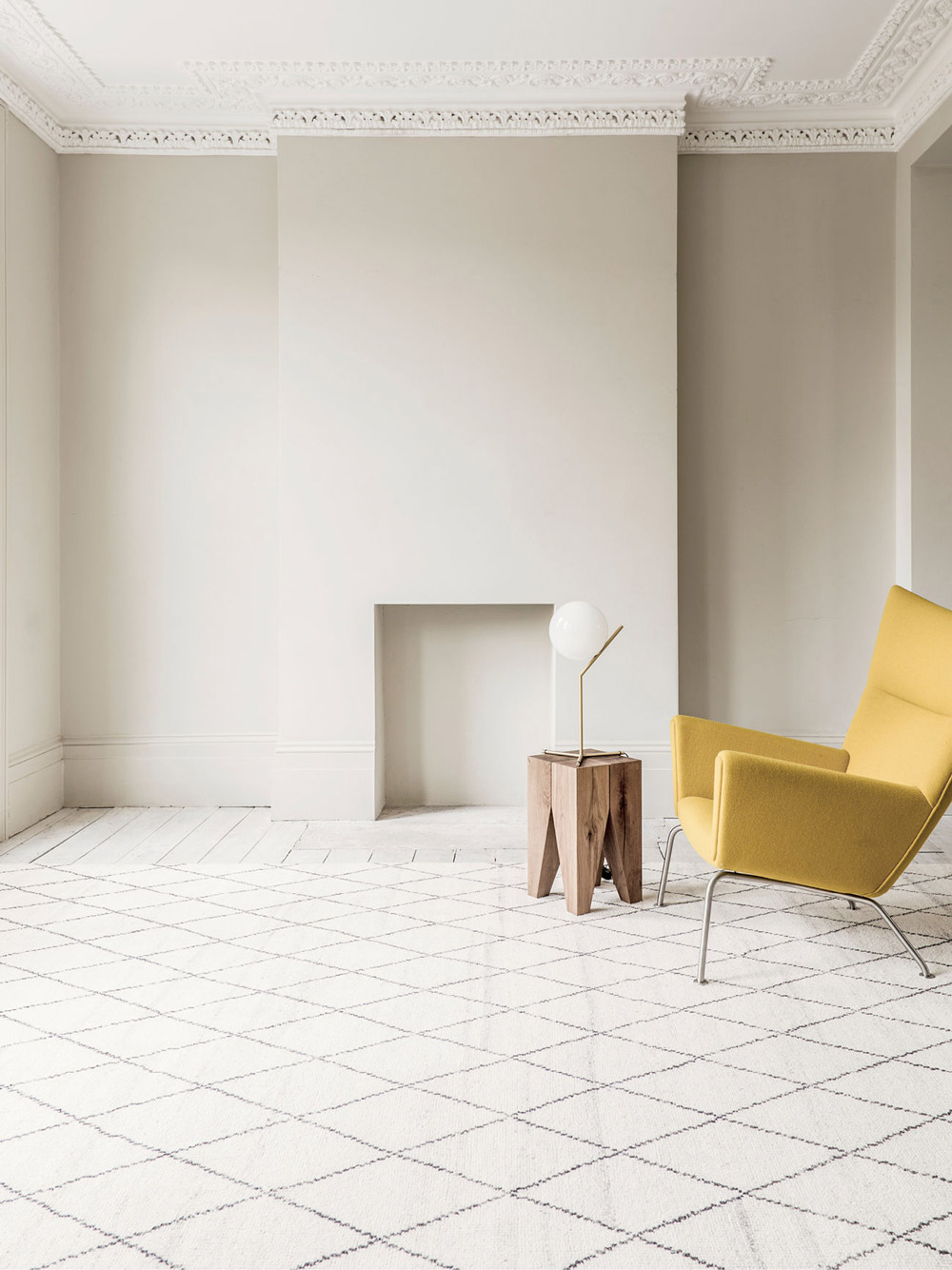 Make a statement with the Berber Knot Zulu Rug, possibly the most striking piece from the Armadillo&Co. collection! With its bold, animated tribal patterns, the Zulu Rug will be the centerpiece of your living room. It works well in both modern and eclectic interiors, softening concrete floors or enhancing the warmth of timber floorboards. If you like the look of the Zulu Rug but want a more subtle, pared back pattern, opt for its sibling the Berber Knot Nala Rug. It's muted grey palette and tribal pattern have an immediate impact on a space. It's etched high-low pile add warmth and interest and fits seamlessly into any contemporary interior.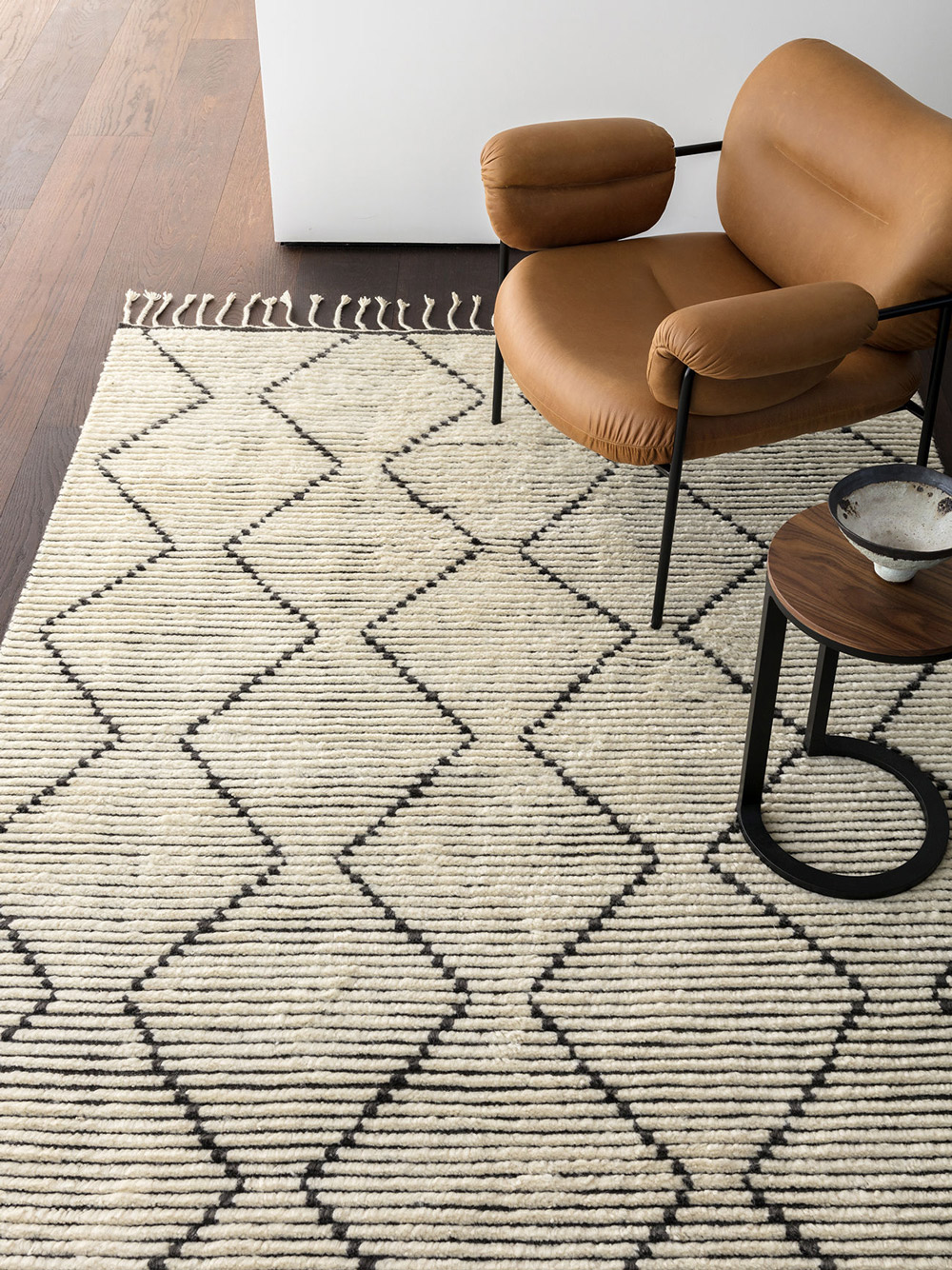 Size & Placement.
The correct rug placement really depends on how big your living room is. As a general rule of thumb, choosing the largest rug possible will make the room feel spacious, inviting and well-designed. To pull together a living area, choose a rug large enough to sit fully or halfway under couches with any side chairs sitting partially or fully on the rug. Modular seating looks best when placed entirely on a rug with at least 20cm of rug visible behind. Place furniture that backs against walls off the rug, to help make the room feel more spacious.
Don't discount smaller rugs though, they can be perfect for small spaces or a sitting room area. If you prefer to have a small rug, arrange the seating an even distance from it. This gives you visual separation between the sofa and the rug. Here's a placement guide to get you started.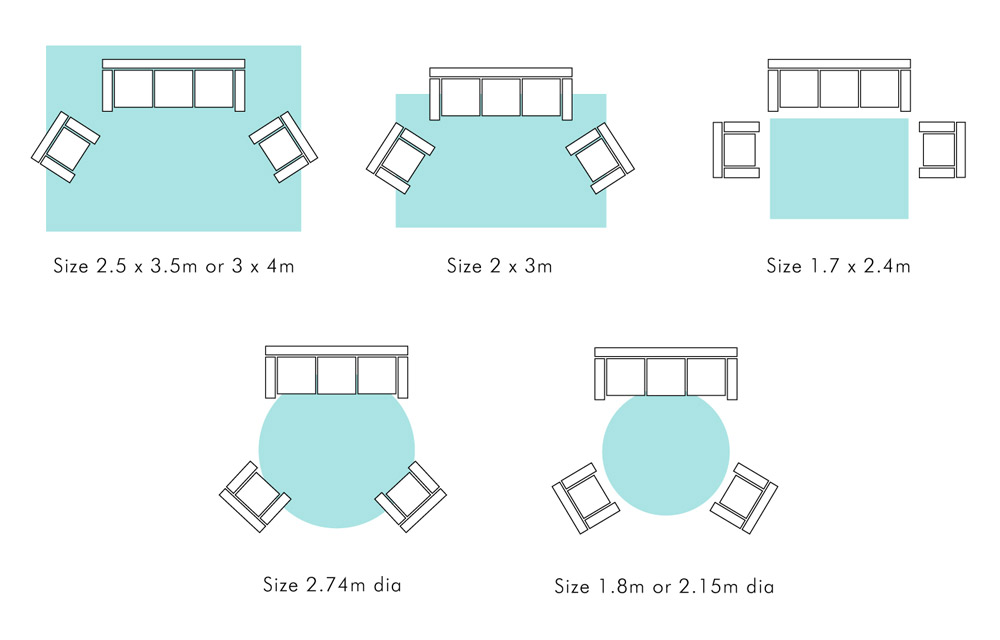 You can also use rugs to define different zones within your living space. If you are using multiple rugs, make sure they work harmoniously together. Try and mix up the shape of rugs if you can, as a circular rug is a great way to break up repetitive rectangular shapes. The Braid Weave Rug is a subtly textured circular rug adding understated elegance to any space. It's versatile round shape and very strong backing makes it ideal for high traffic areas like your living room. We suggest styling the Braid Weave as a gentle counterpoint to vibrant pops of colour.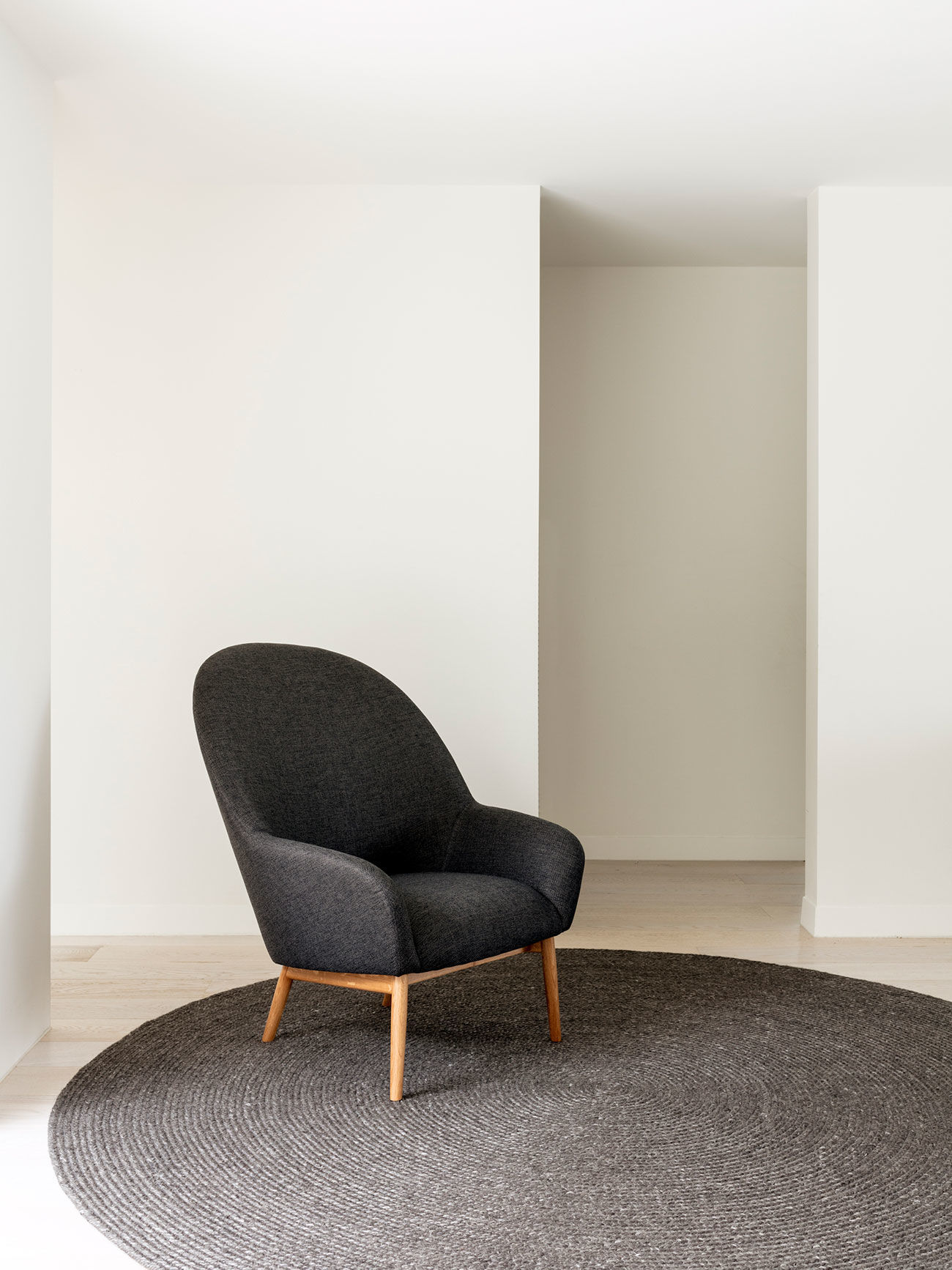 Still not sure on what rug to get? We're here to make sure you make the right choice with your new Armadillo&Co. rug for your home. Jump on live chat on our website to chat with our expert consultants, or send us an email to organise some samples to be posted out to you. Our Richmond Showroom is open on Fridays and Saturdays, and our staff would be thrilled to take a peek at photos of your space to help narrow down the options.