When designing a bedroom you want to create a calm and inviting interior but before you can decorate your dream bedroom you first need to understand some of the basics when it comes to interior design. These are my go-to Interior Design Tips for Designing and Styling a Bedroom.
1. Measure the Room
Whilst this might sound basic it's the first step for any interior project and you'd be surprised how many fail to do this important aspect. Be sure to measure not just the width of your walls but also the height of your ceilings. Once you understand your floor plan you are then able to make educated decisions when it comes to furniture.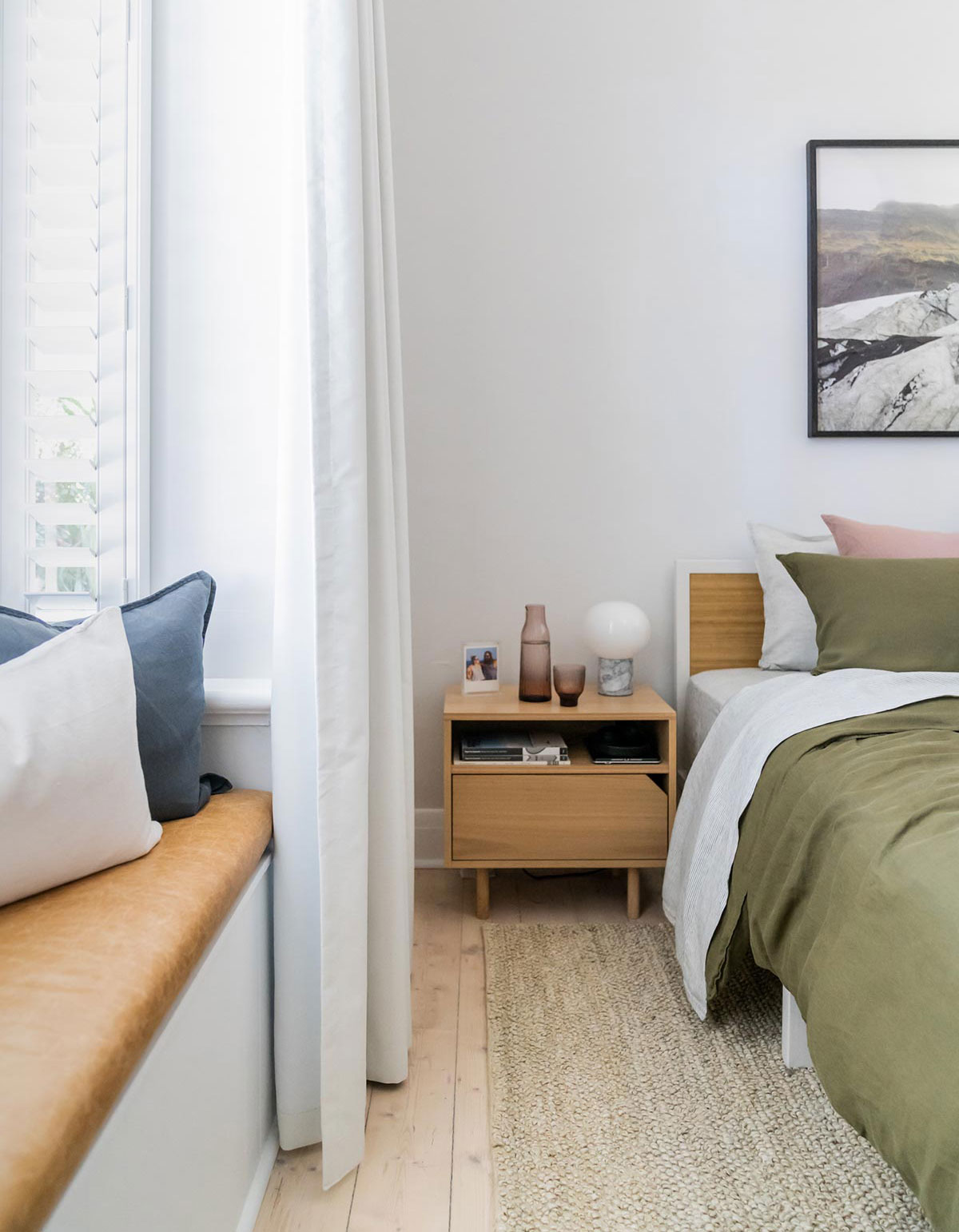 2. Choose the Right Furniture
If you've never designed a room before then a bedroom is a great place to start as it does not require too much furniture and you can follow a standard format. Firstly, you guessed it, you will need a bed. To accompany the bed you will need either stools or bedside tables. Then optional furniture might include things like a dresser and/or feature armchair if you have enough space (which is why Tip #1 is most important!).
"When it comes to choosing furniture there are many different styles, so it is a good idea to create a moodboard of all your desired items. Put them together so that visually you can decide if they 'match'. This does not mean they need to look the same, rather you want to ensure that they are similar in style and look harmonious together." Lucy Glade-Wright
3. Create the Perfect Bed Set Up
Your bed will be the central focal point in the bedroom and set the tone for the rest of the interiors, so it's important to decide what type of look you want to create. You have options when it comes to beds:
Feature Bed and Base. This is where you choose a complete bed that is visible, in which case you want to make sure the design suits the rest of your interiors.
Bed Base + Mattress. A simple and cost effective solution. Use a valance if you want to cover a not so attractive bed base. These come in a range of styles and colours, choose what will work best with your bedlinen.
Bed Head + Bed Base. Feature bed heads are a great way to create a visual focal point in your room without having to buy a complete bed. Bed heads are wider and taller than your bed base and often come upholstered in different fabrics, textures and materials.
Custom Design. If you have the time and the skills (or budget!), you may opt to create a custom solution for your bedroom. A nib wall behind the bed is a great solution to a 'bed head', the added surface area makes it a practical shelf for books, lighting and decor. Alternatively you might opt to make your own bed base for your mattress.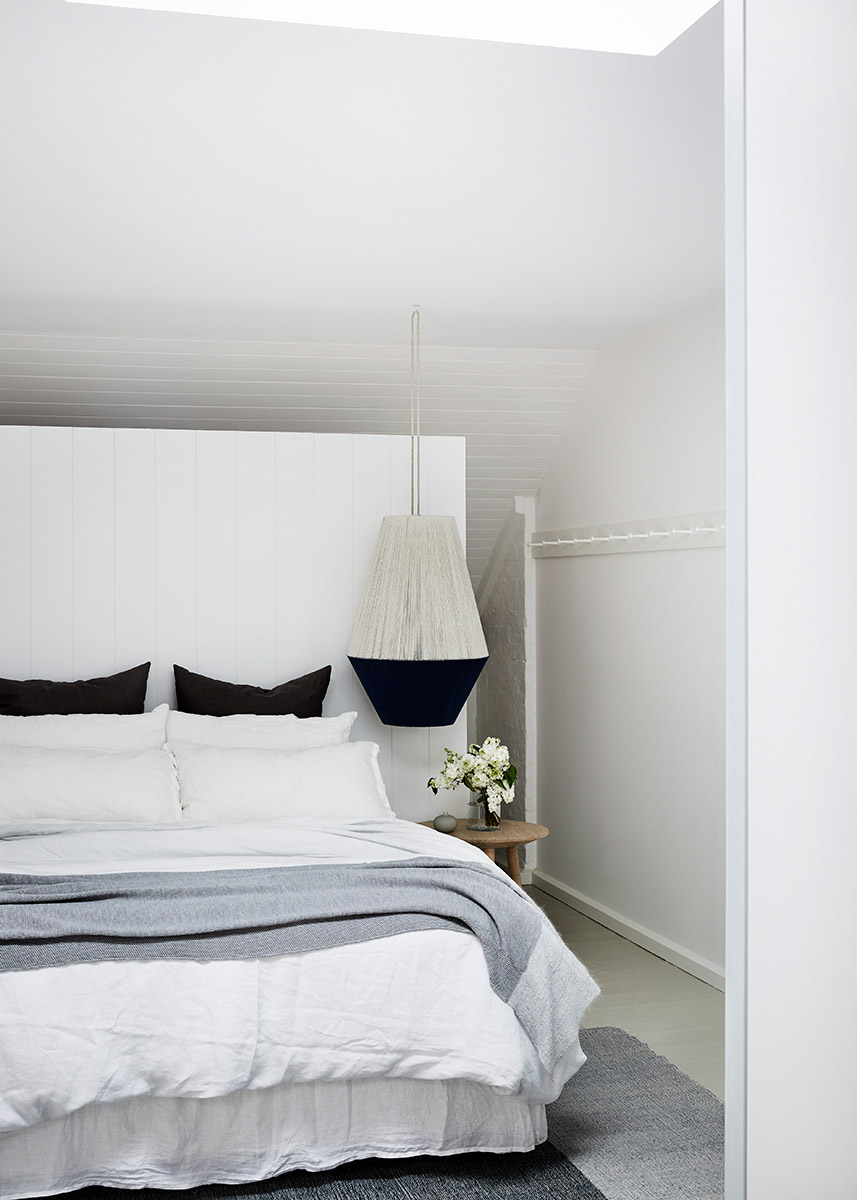 4. Before you Paint, Choose the Right Colour for Your Walls
When it comes to painting you need to make sure you choose the right colour for your interior. Colour is all about personal preference however you do want to ensure that you create a tranquil and calm interior. There's a reason why you don't see a lot of bright red bedrooms out there, as that colour sparks a very energetic and sometimes fearful reaction. Soft, calming colours are tones that invite a relaxed response. They do not need to be light, in fact you may choose a dark and moody shade, whatever colour you choose just make sure it will work with the rest of your finishings such as window furnishings, bedlinen, artwork, furniture and decor. If in doubt, stay closer to warm tones rather than cool.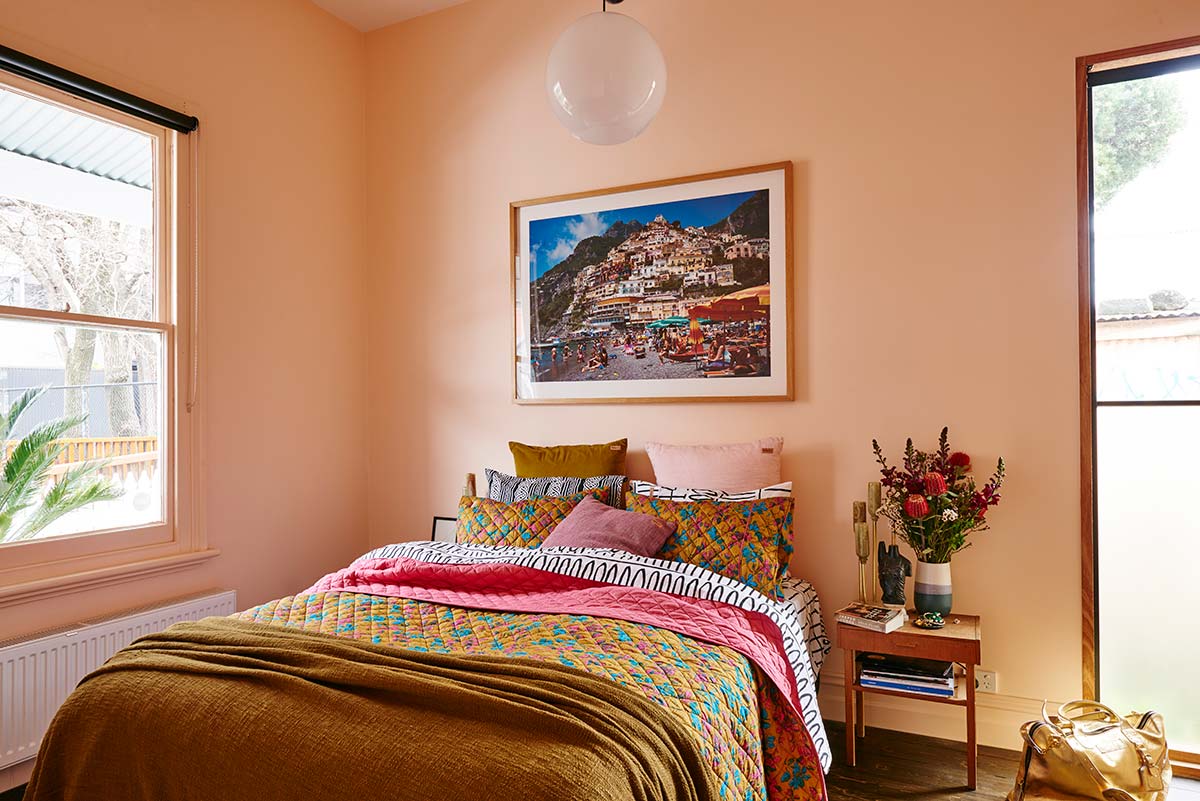 5. Window Furnishings
When it comes to the window furnishings in your bedroom you really need to make sure you add in a 'block out' solution. This means that you have the ability to completely shut out all natural light from coming into the room. As it's a bedroom it's important to have that privacy and allow sleep at any time of the day… After all, who doesn't love an afternoon nap. Some options when it comes to block out window furnishings are:
Blockout Curtains. Heavy weight fabric that has no transparency, you can opt for sheer fabric with a backing to ensure no light comes through. Velvet is also a great option. Curtains are my favourite in a bedroom as they bring a sense of comfort and cosy texture into your interior.
Blockout Roller Blinds, a simple and cost effective solution that has minimal impact on your interiors.
Shutters or Venetians. These blockout solutions bring texture into your bedroom. If you are needing to cover a small window I'd suggest venetians over shutters in order to allow a bit more light into the space when they are open.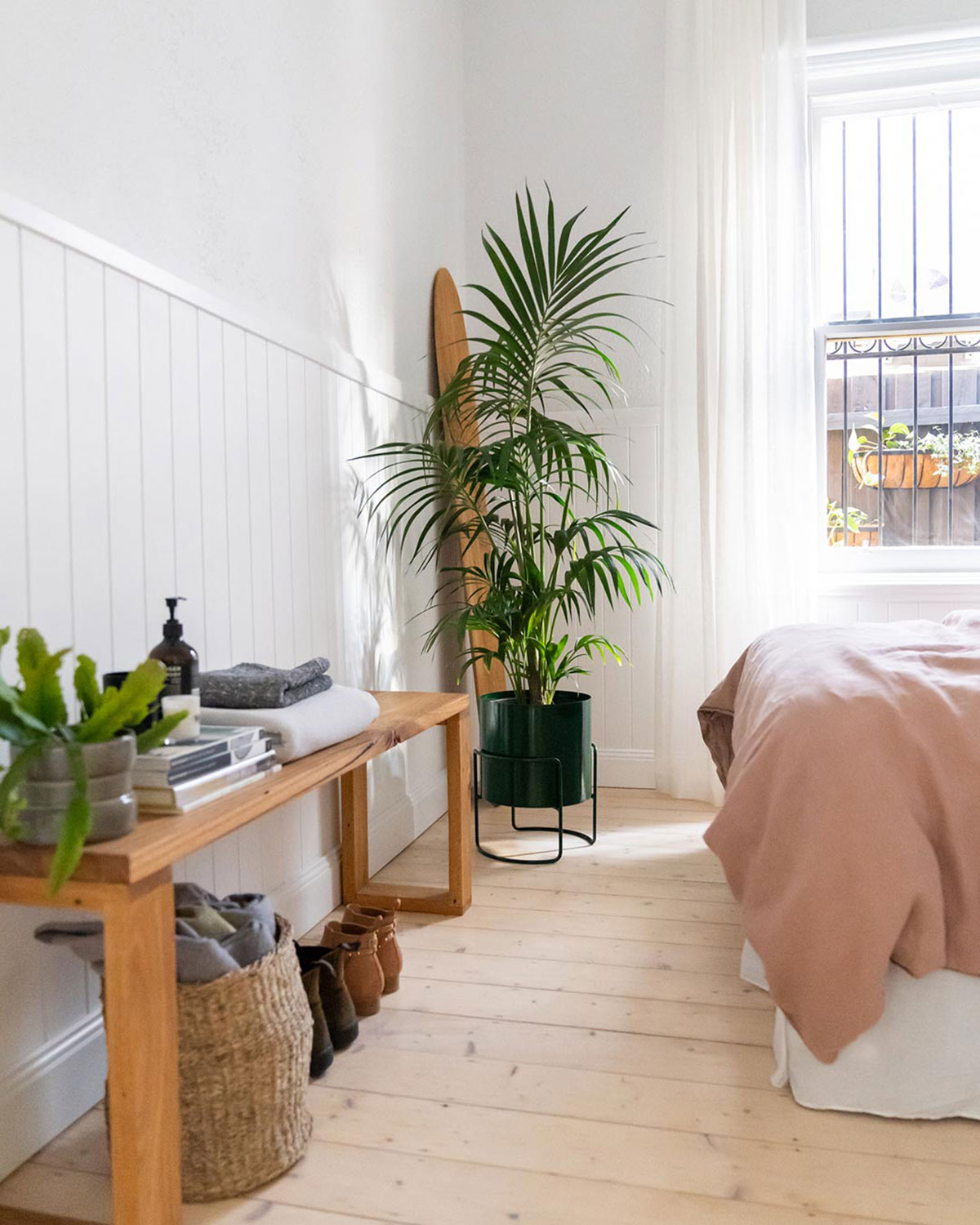 6. Flooring and How to Choose the Right Rug
The flooring of your bedroom is extremely important, you often walk around with bare feet in your bedroom so you want to make sure it's as cosy as possible. If you have carpet underfoot then you may not need to add a rug, however if you have timber floorboards, concrete or tiles then I would 100% recommend adding a rug to your bedroom. This helps to add texture, create a soft environment and ultimately help to create a cosy interior. Most importantly part of choosing a rug for your bedroom is making sure to select the right type and size. Two key things to note when it comes to selecting a rug for your bedroom:
Your bedroom is a low traffic area, meaning that few people walk over the rug and often in bare feet. This allows you to choose softer, loose weave rugs (that would not be suitable for a living room or hallway). Fibres like wool, hemp and larger knotted weaves look great, are very plush and perfect for a bedroom.
Choose the right size rug. My general rule when selecting a rug size is to go as big as your space permits. For example: A 1.6 x 2.4m rug fits a Queen Bed, however I would select a 2 x 3m rug if your floor plan permits, as this will help to enhance the scale of proportions in the room making it feel more generous.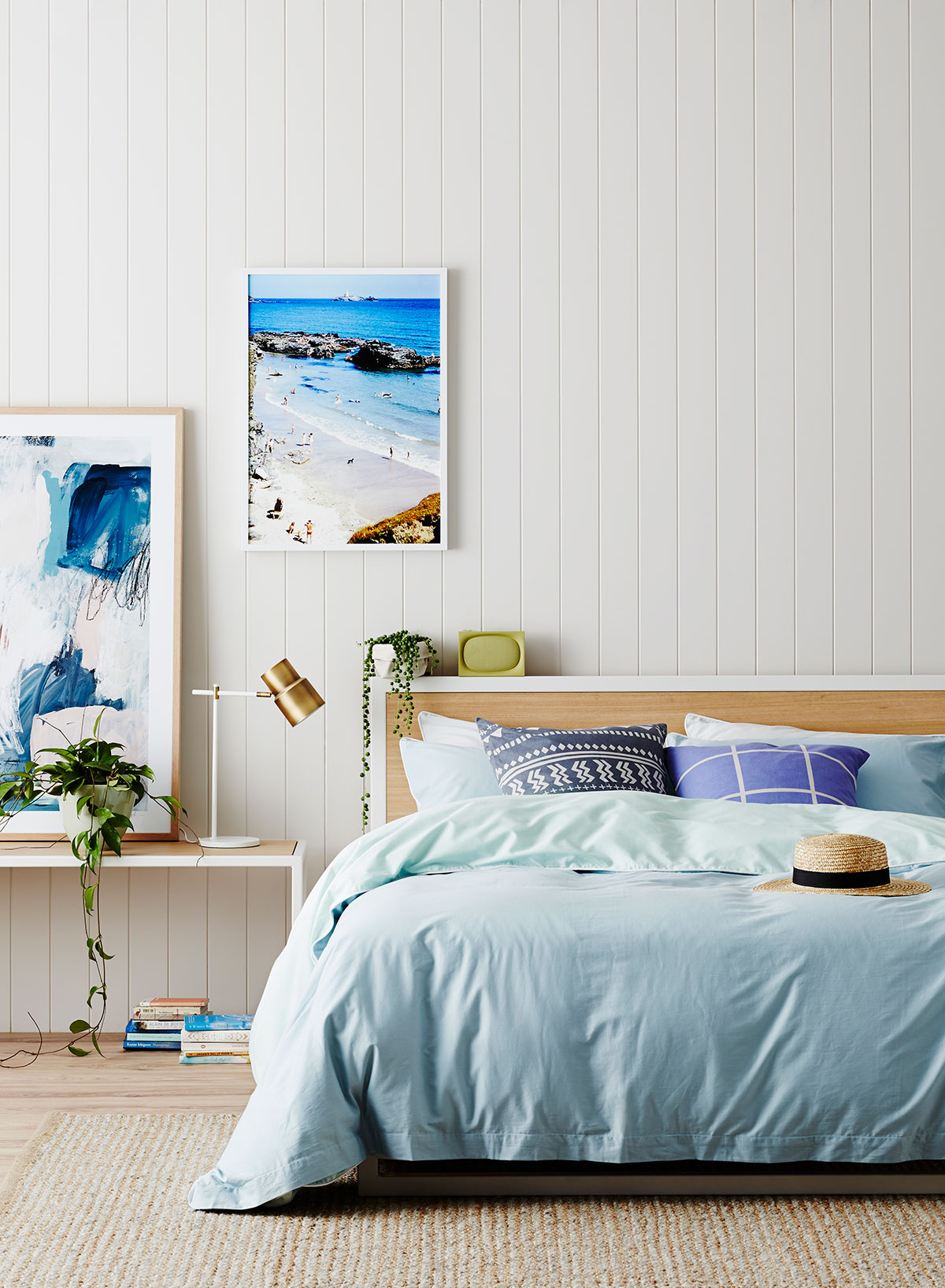 7. Lighting Plan
Lighting is a very important element to every interior and a bedroom is unique in that you are often working in a low light space. Each bedroom is unique and will have different levels of natural light given its position and size of windows. I also suggest embracing what you're working with, for example if you have quite a dark bedroom that lacks access to natural light, embrace that and create a moody, ambient interior. Accentuate smaller areas with table lamps and floor lamps to create moments within the room. You choice in lighting is the same as choosing furniture, make sure you opt for the right design and material to complement the rest of your interiors.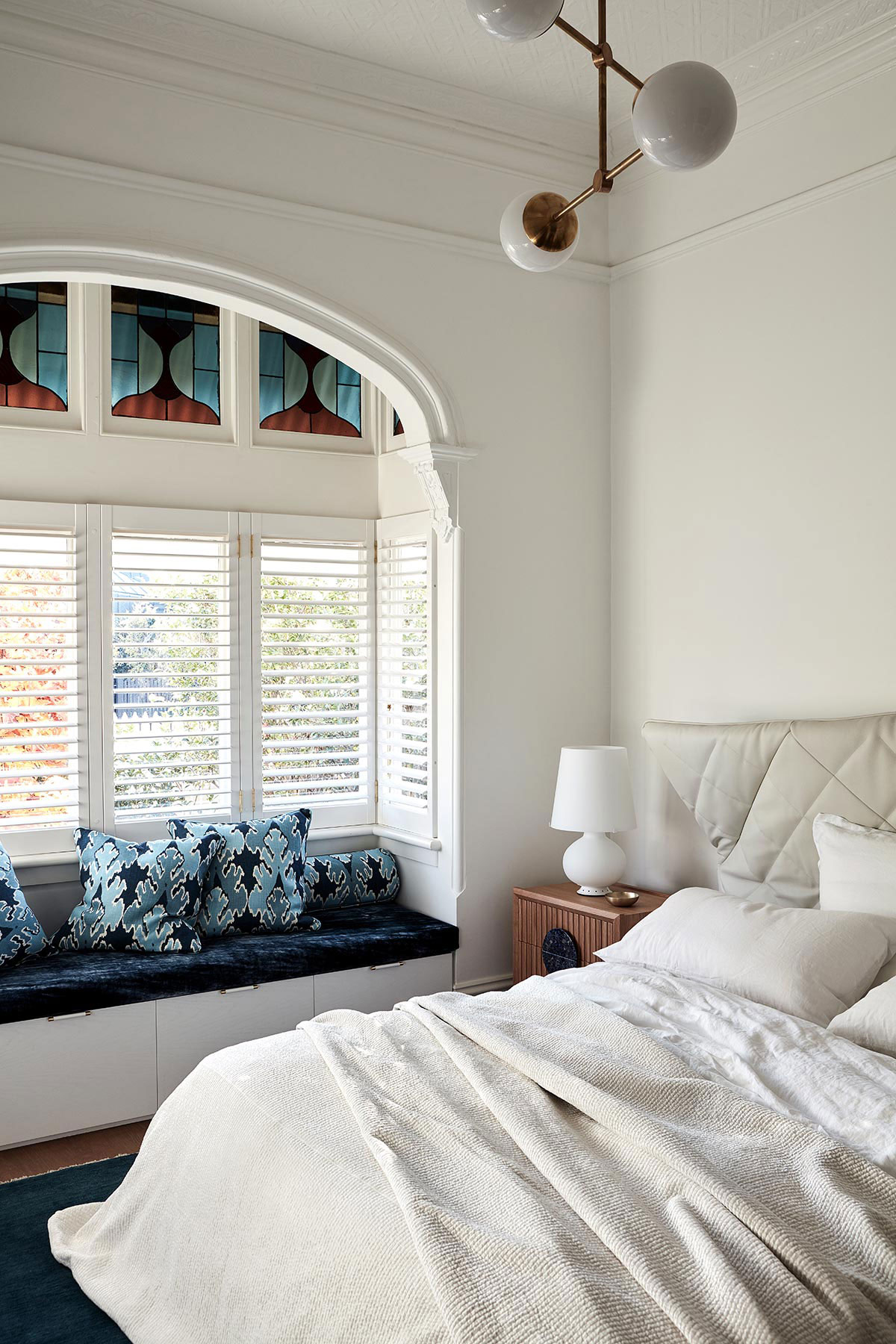 8. Decorate to Perfection
Now the fun part, you have created the perfect base for your bedroom and it's finally time to decorate. This is all about you and your personal style but there are a few items I'd strongly recommend integrating into your bedroom decor:
Artwork. A must for almost every room if I'm honest, this is a great way to bring colour to a room but also will help to amplify whatever mood you are trying to create. This is just like choosing paint colours, make sure you choose artwork with a tranquil quality that complements other elements in the room.
Mirror. I love having a mirror in a bedroom, not only for practical purposes but they look great. If you have a large room you may consider a leaning floor mirror. Alternatively smaller rooms might benefit from a wall hung mirror or a small portable mirror on a shelf or bedhead.
Bedlinen (obviously!) but there are so many options out there. Patterns, Colours, Textures all vary and will have a big impact on your overall aesthetic. I love subtle tones and styling with linen. Choose whatever bed linen makes you want to cuddle up next to it!
Vessels and Vases. A great styling tool and also helpful to bring form into your bedroom. Think about adding greenery or flowers to add a natural element to your space. These also help to either add height and lines that will move your eye around the room.
Books and Trinkets. Make it cosy but make it practical. Style items that you want to have in your bedroom to help personalise the space. If you love music, add a record player. If you love books, create a feature shelf of literature. When it comes to decorating this is your opportunity to show off your personality.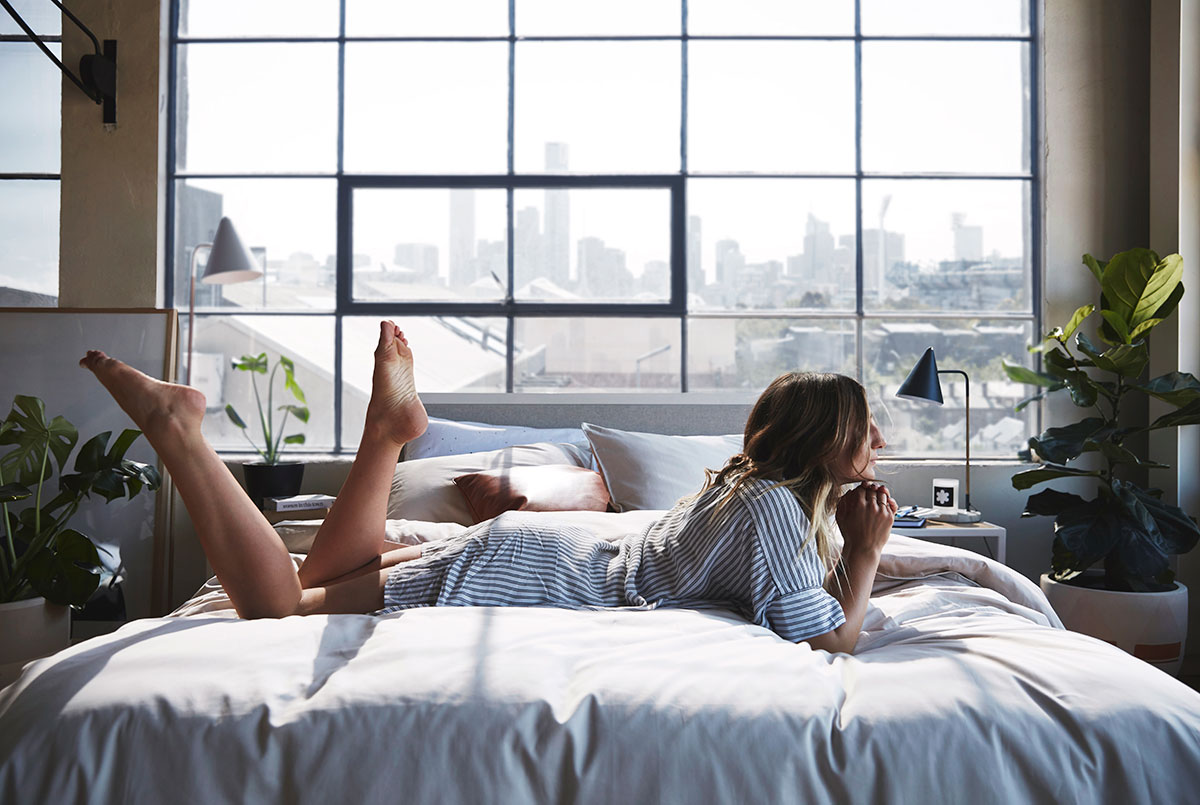 9. Keep it Simple
You can often become overwhelmed when styling and designing a bedroom but my best piece of advice is to keep it simple. Focus on your basics, once those are right, then add your layers. If your interior starts to 'feel busy' then it probably is. Remove items, move some around and work out the best composition.