Brace yourselves, this shed is unlike any other you've ever seen. Today we take you on a personal tour of the Über Shed 2 located in Red Hill, a small rural town in the hinterland of Victoria's Mornington Peninsula. Designed by Jost Architects, this shed is a renovation and addition to an existing shed. The main brief was to adequately house the home owner's impressive range of collectables such as an Airstream bus, WWII army jeep and model planes just to name a few. But aside from all that, the Über Shed 2 embraces more than just functional storage with the integration of luxurious open plan and private living spaces, challenging the utilitarian preconception of what a shed should be.
This structure is as confident as its interior, robust yet considered, however it's the home owner's passion for history, stories and objects that ultimately creates an overwhelming sense of energy. As you move through the space, interaction and play is encouraged (almost demanded!) which is an accurate reflection of the home owner's love for life and desire to share that with others.  I was completely blown away after visiting the Über Shed 2, it was an absolute treat for my senses and now it's your turn…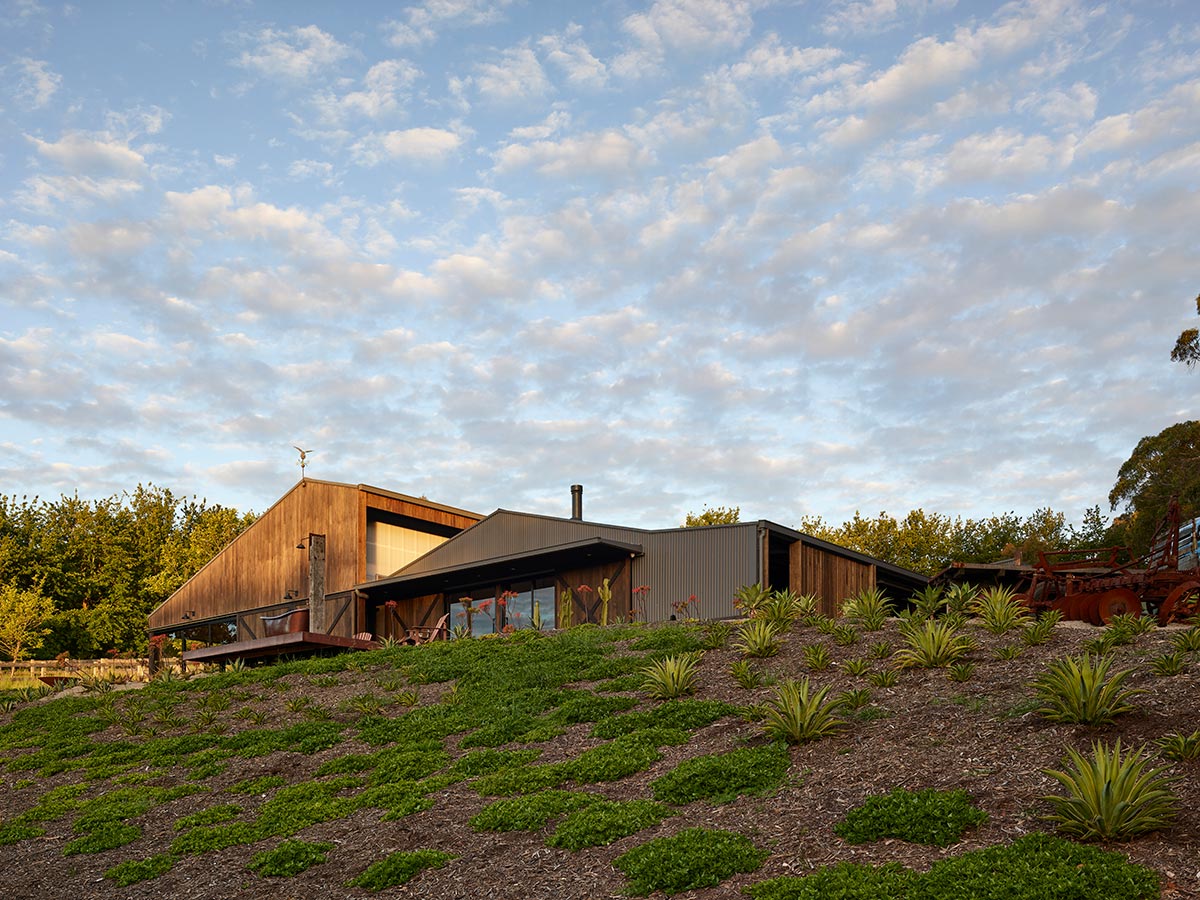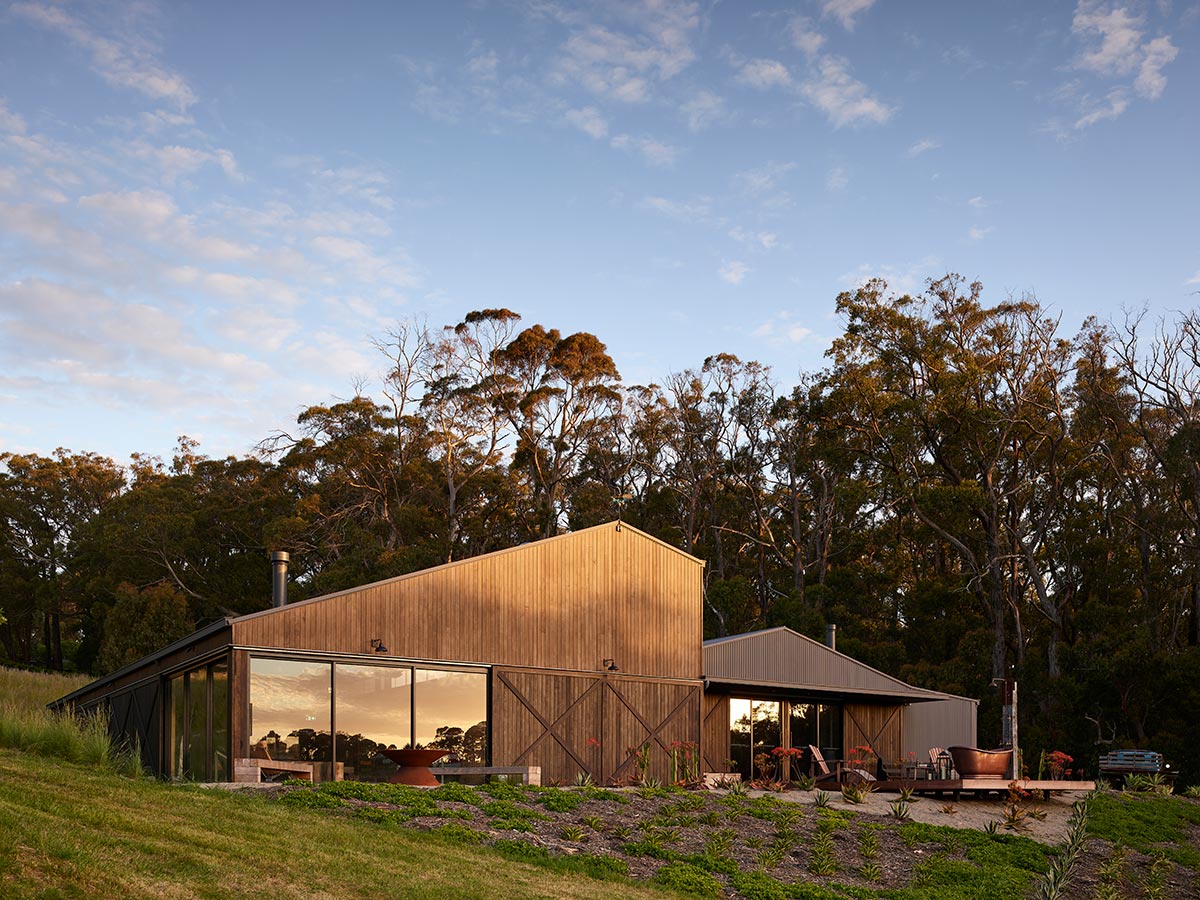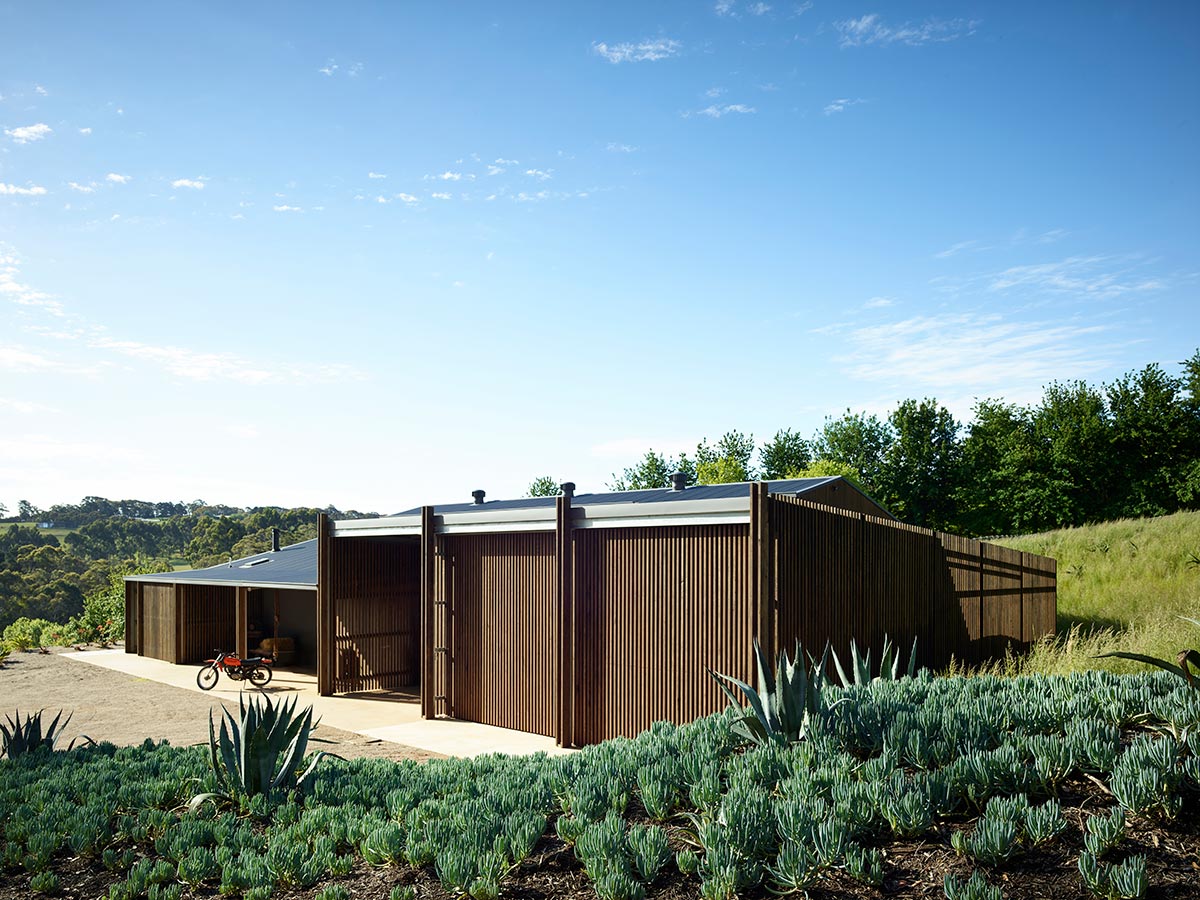 The project came about because the client had "a lot of stuff" and needed more space to store, display and enjoy all of it. The original shed was built only 4 years earlier and its limited functionality and lack of aesthetic appeal called for a rework and substantial expansion. The team believed that the existing structure was too new to be demolished, so they built an addition that meets the brief, yet is contemporary and provides greater functionality, resulting in a perfect rural retreat.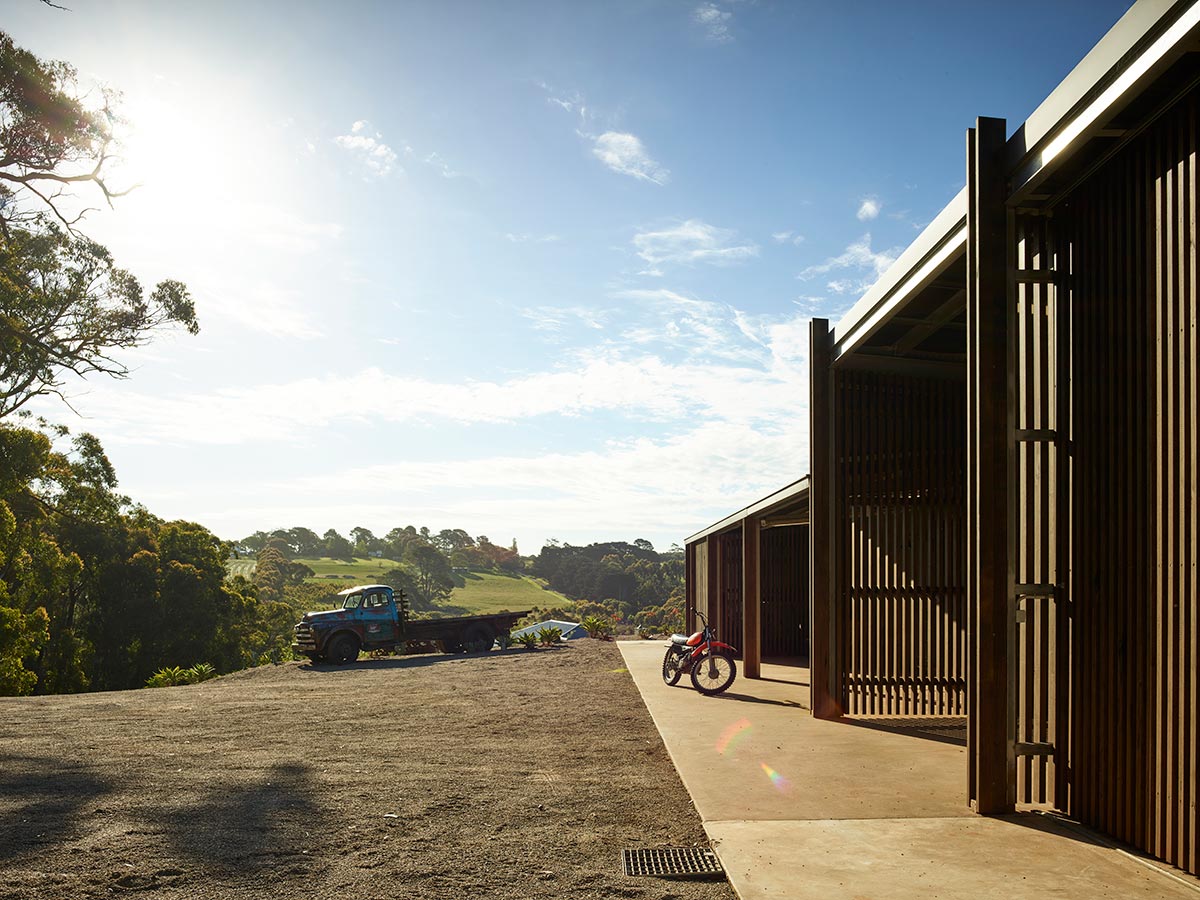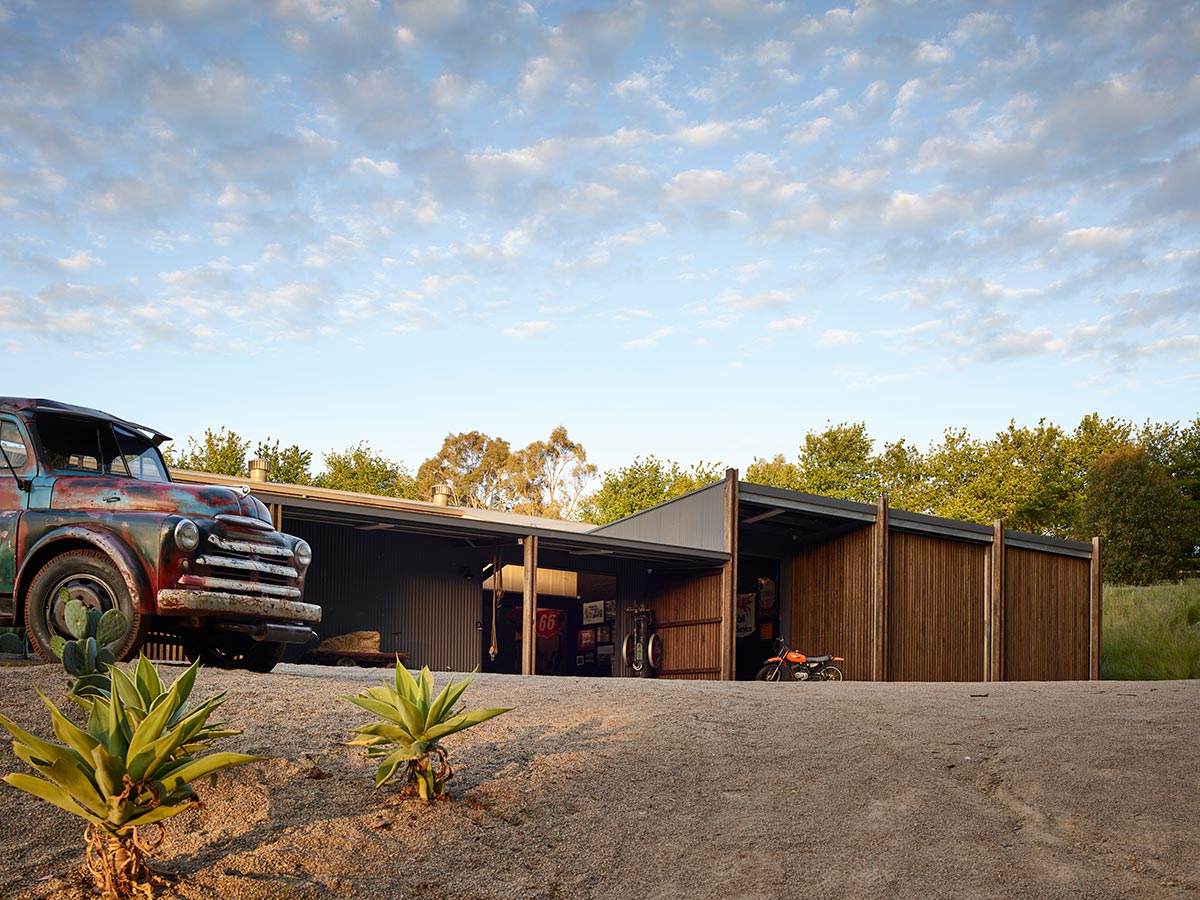 "There was an existing off the shelf blue corrugated shed which was only 4 years old with galvanised structural steel still shiny. The problem the client had apart from the need for more room was that he couldn't get his classic, stainless-steel Airstream bus in due to the access being too low in height and could just not see how keeping the existing shed was going to work. We convinced him that we had to keep the existing structure, adapt, reclad and add to the building to make it work both functionally and visually to look like it was always one building." – Patrick Jost, Jost Architects
This house sits in a valley on the Mornington Peninsula between a rural and native setting and is cut into the side of a hill. The appearance is obviously very industrial and doesn't shy away from that utilitarian aspect of what a shed should look like. The exterior is clad with timber that will weather over time and it gives you an idea of the height and scale of the structure, while the interior features different zoned areas that are meticulously curated and designed around timber as well to create a seamless flow of materials throughout.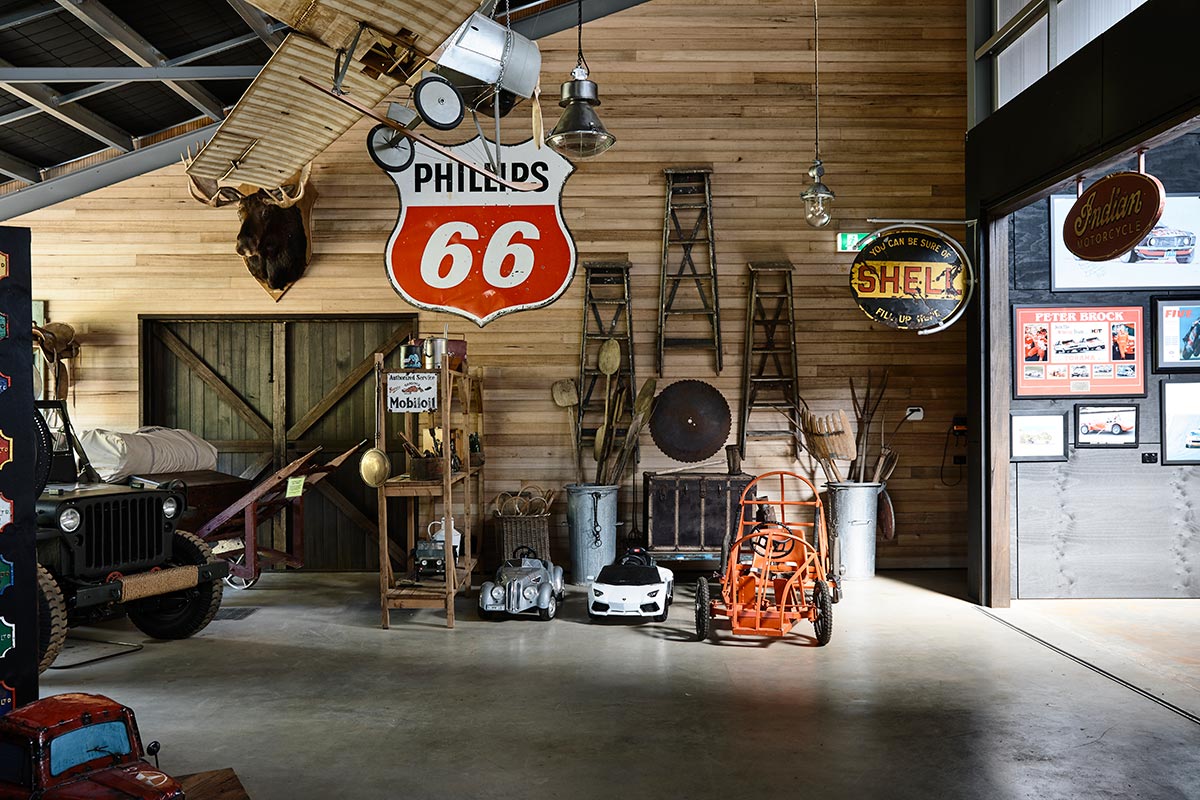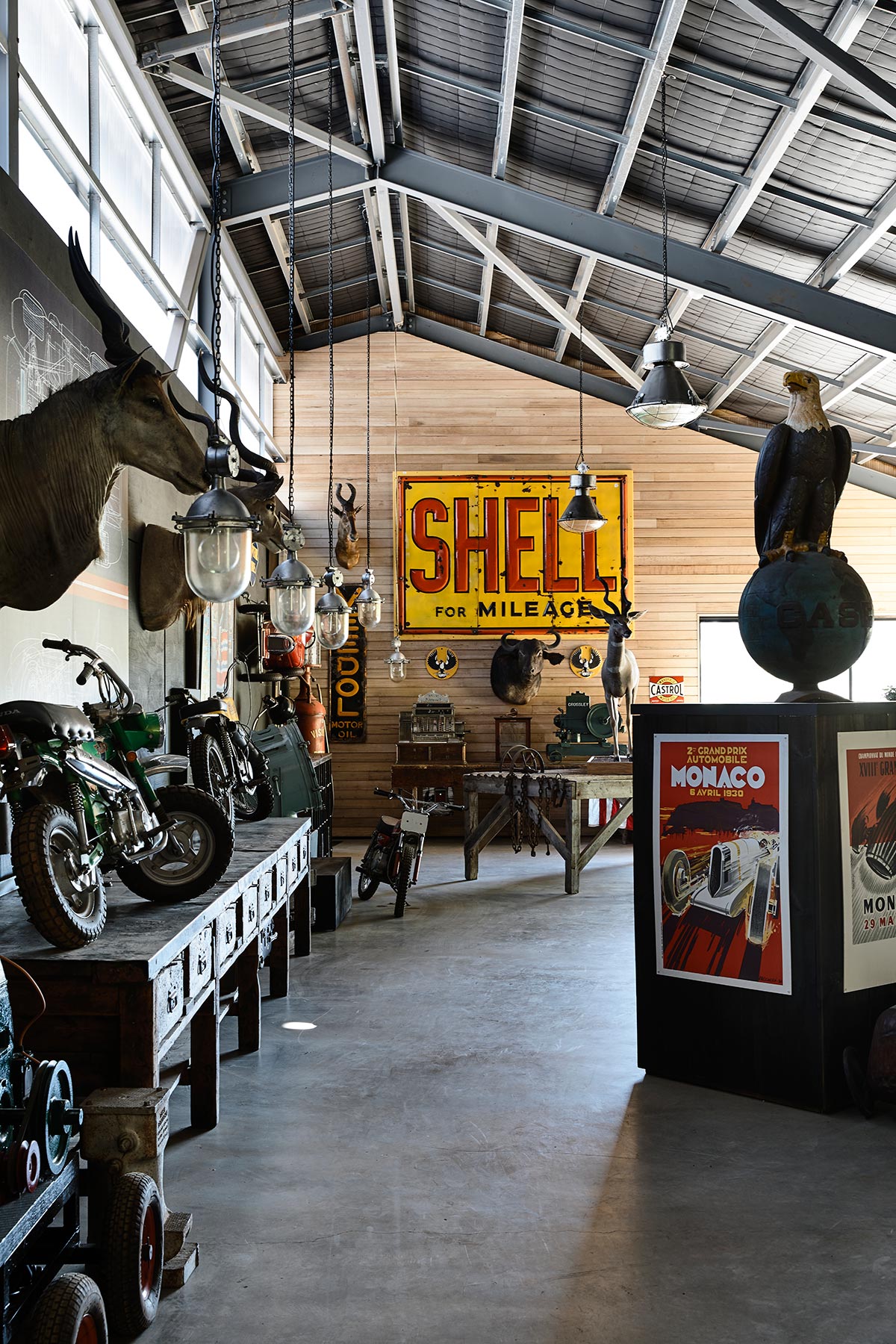 Going through inside the shed, you'll be greeted with a treasure trove of goods and exceptional vintage gems… it's basically like walking into a museum full of beautifully curated highlights of the past century! I guess it's safe to say that the owner is a collector — from antique furniture, a guitar signed by Bruce Springsteen, a Reg Mombassa painted corrugated surfboard, antique GI Joe, fully restored WWII US army jeep, antique farm equipment, motorbikes, antique toys, and a fleet of classic iconic cars, calling this home the perfect man cave would be an understatement.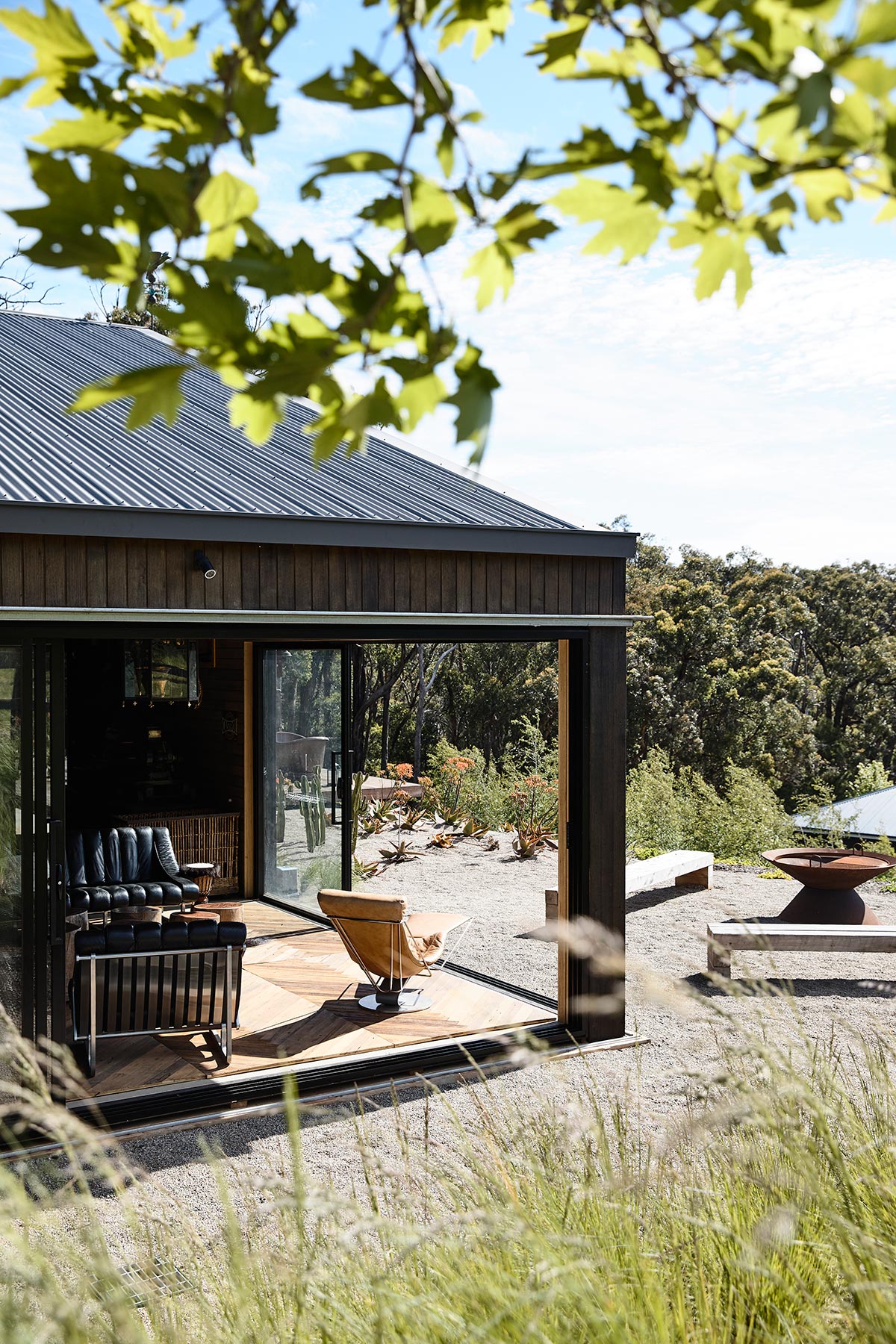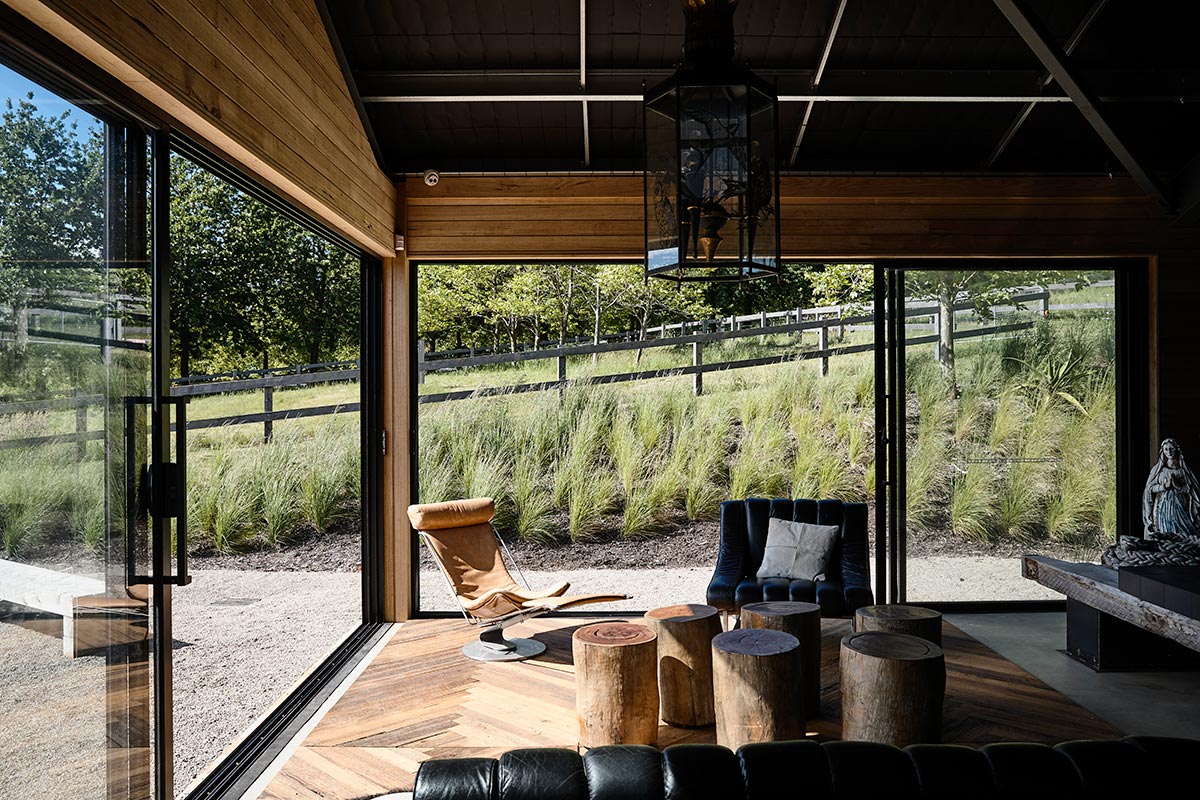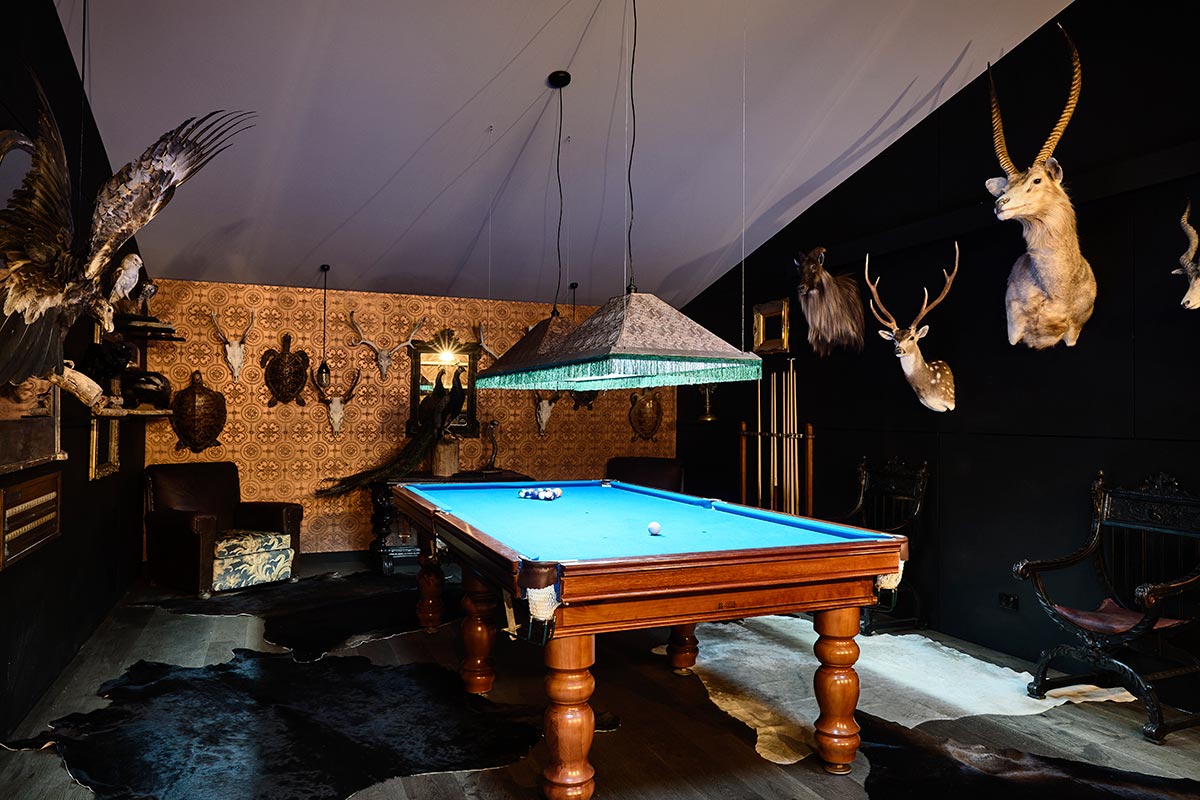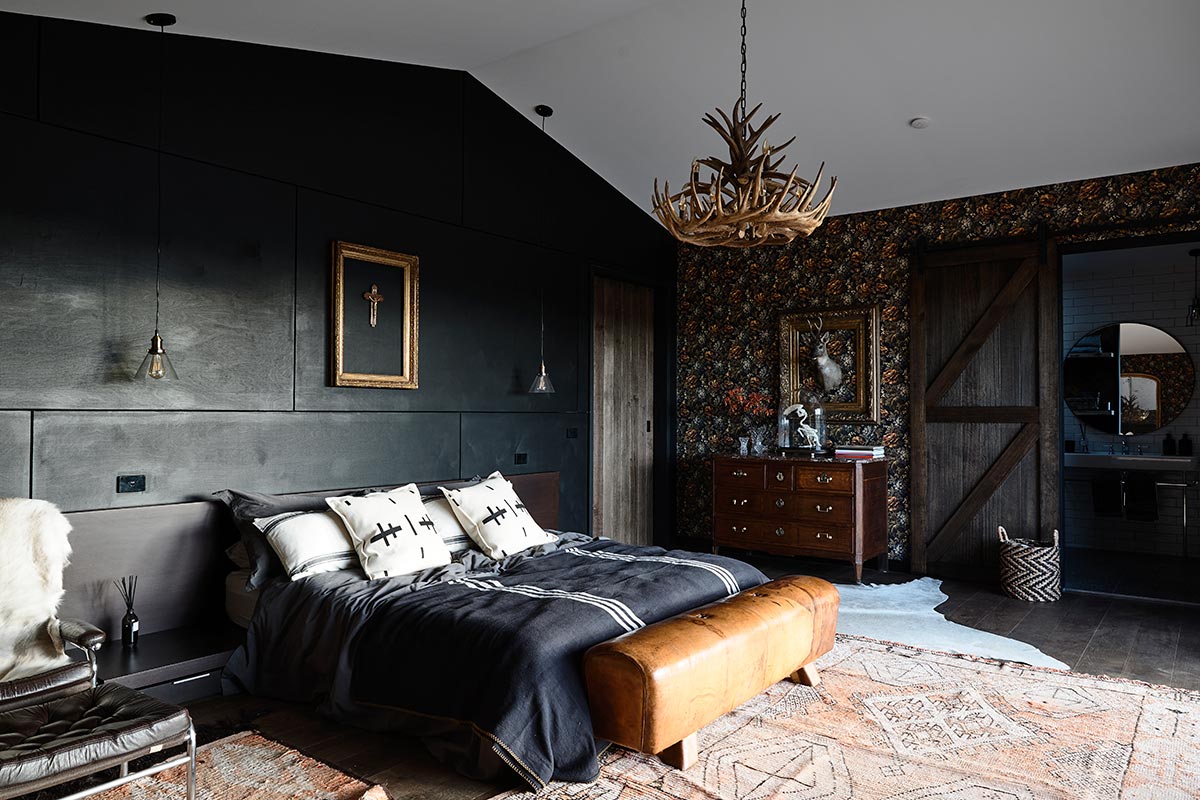 "I loved how it came together. The client loved the first schematic design submission and it pretty much did not change externally. The internal was an area that evolved through enthusiasm of the client and the builder. It's a pretty awesome spot and I really do like looking from the corner window at the bush to the left and the grass embankment on the other." – Patrick Jost, Jost Architects
The Über Shed 2 designed by Jost Architects is a spectacular representation of the personality and character of the people who live in it, and the massive collection of memorabilia and other awesome stuff that it houses. The alteration and addition made were sympathetic to the overall aesthetic and functionality of this home — a perfect expression of the familiar shed vernacular, clothed in a piece of sophisticated architecture set in an amazing setting.
House Project: The Über Shed 2
Architect: Jost Architects
Location: Mornington Peninsula, Victoria
Type: Renovation
Builder: Sunset Constructions
Interior Design: The History Vintage Antiques
Landscape Design: Colin Hyett
Photographer: Derek Swalwell
Video Host: Lucy Glade-Wright
Video: Jonno Rodd