If lentils aren't a staple ingredient in your pantry, they're about to be. For a healthy take on the traditional burger, try this delicious Lentil Burger recipe with Pomegranate, Mozzarella and Dukkah. It's a recipe that combines different tastes and textures; nutty Beluga lentil burgers and creamy mozzarella di bufala sprinkled with fragrant dukkah spice and nut mixture and juicy pomegranate. It's as vibrant, rich, and colourful as we all are. You can turn it into a sandwich, as seen here, but that's not even necessary.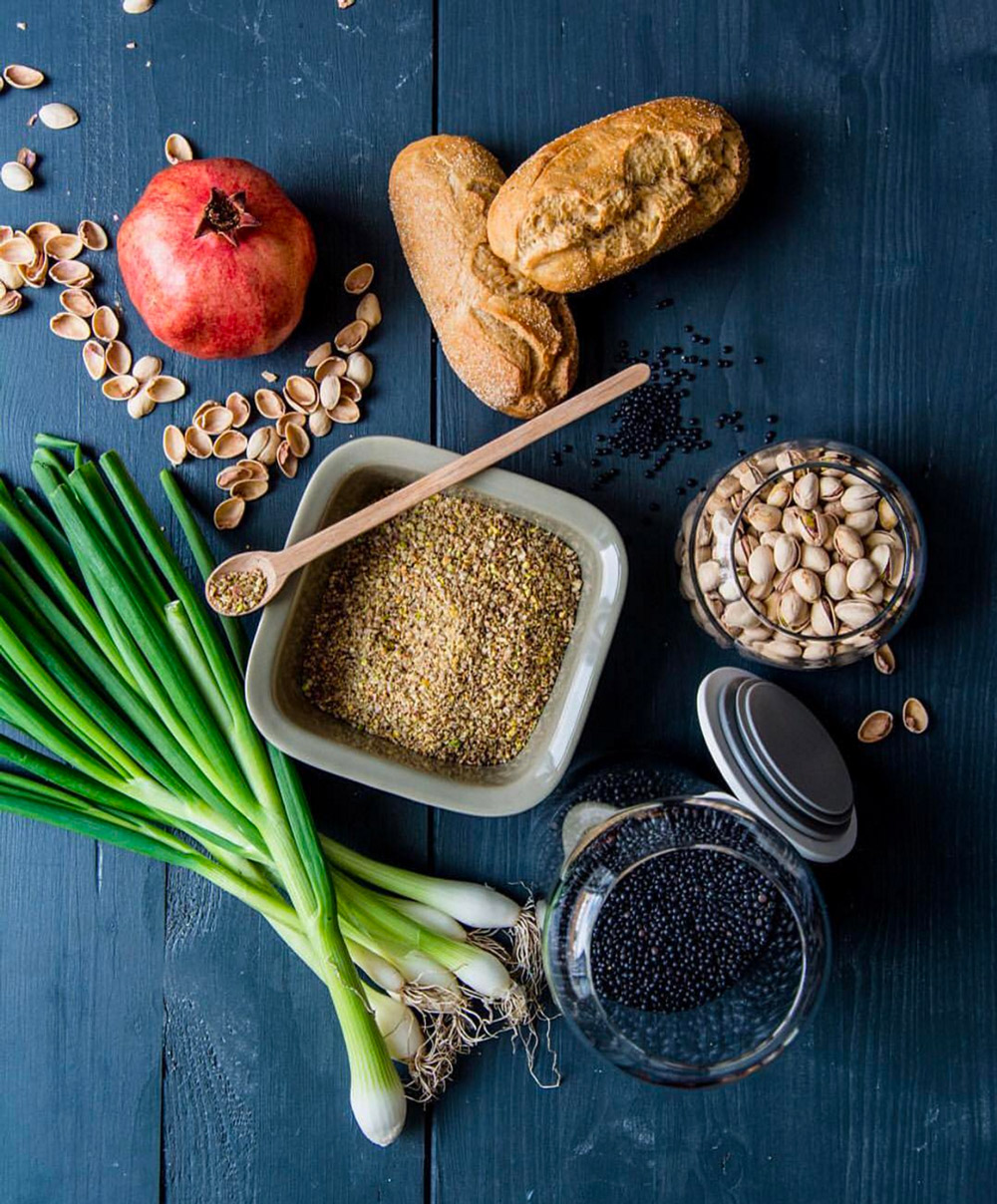 Ingredients
Serves 4 People
Dukkah
30g skin-on hazelnuts
30g salted pistachios
30g white sesame seeds
30g sunflower seeds
Seeds from 1⁄2 a pomegranate
1 teaspoon fennel seeds, crushed with a mortar and pestle
1 teaspoon coriander seeds, crushed with a mortar and pestle
½ teaspoon black peppercorns, crushed with a mortar and pestle
½ teaspoon coarse sea salt ¼ teaspoon ground cumin
The Lentil Burgers
1 bay leaf
2 small sprigs of fresh lemon thyme
60g beluga lentils (no soaking required)
40g drained canned cannellini beans, rinsed and roughly mashed with a fork
1 spring onion (green part only), thinly sliced
1 small clove garlic, crushed
1 large egg
40g Parmesan, finely grated
20g dry breadcrumbs
1 teaspoon freshly grated lemon zest
½ teaspoon fine sea salt
ground pepper
olive oil, to cook the burgers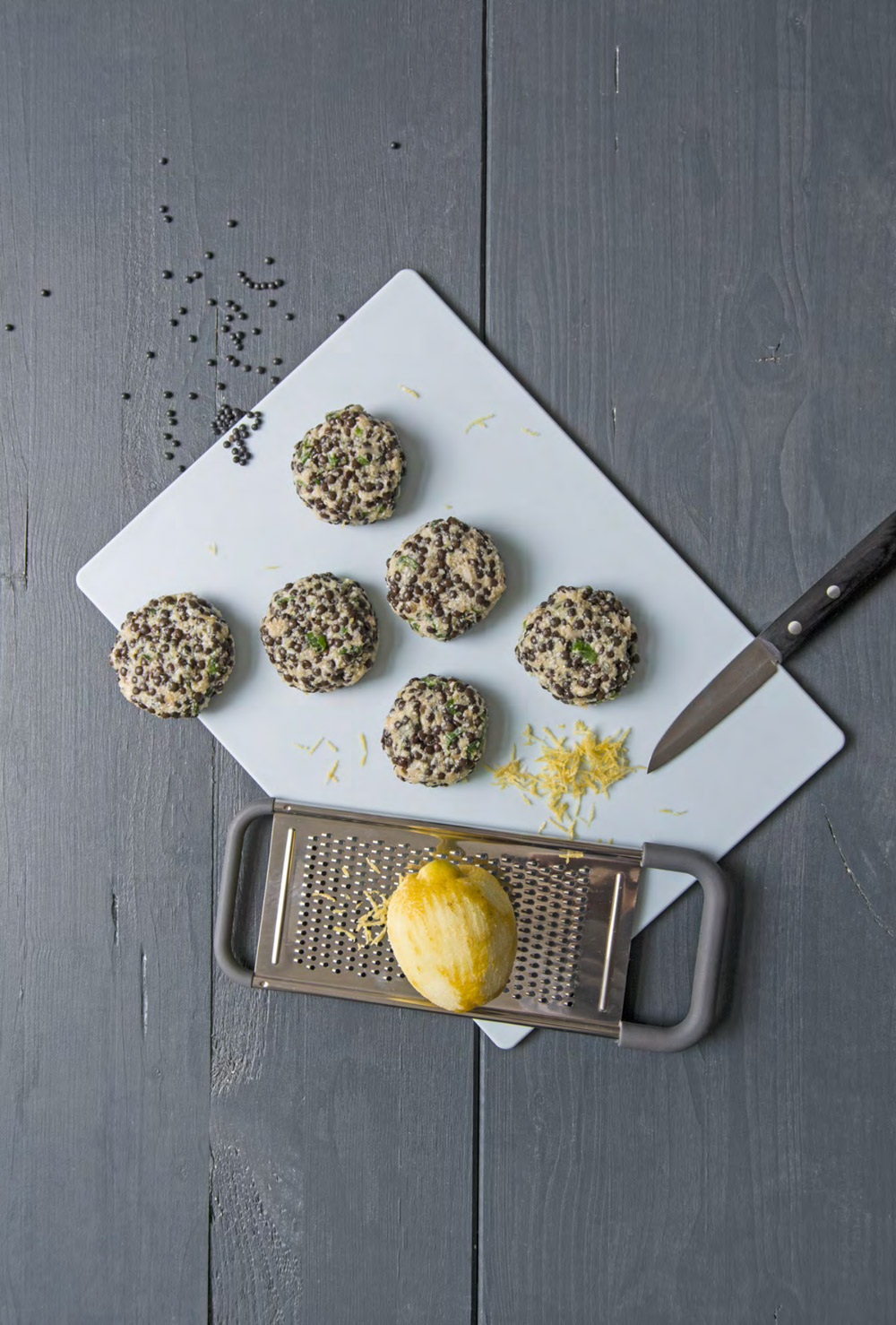 Sandwiches
2 rustic white buns, cut in half
4 lettuce leaves
125g mozzarella di bufala, torn into small pieces
olive oil
½ pomegranate
1–2 teaspoons freshly grated lemon zest
Method
For the dukkah
Pulse the ingredients in a food processor until crumbly—the mixture should be dry.
Transfer to a bowl or an airtight jar.
For the lentil burgers
Bring the bay leaf, and thyme and beluga to the boil and cook for about 18–20 minutes. The lentils should have some bite.
Remove and discard the herbs, drain the lentils, and let it cool completely.
Preheat the oven to 200°C.
In a large bowl, combine the lentils with the beans, ¾ of the spring onion, the garlic, egg, Parmesan, breadcrumbs, lemon zest, salt, and pepper. Use your hands or a large spoon. Wet your hands and form the mixture into 6 burgers.
Cook the burgers, flipping once, for 2 to 3 minutes per side or until golden brown and bake for 8 minutes in the oven.
Divide the lettuce leaves, lentil burgers, and mozzarella among the sandwiches and drizzle with olive oil. Sprinkle with the pomegranate seeds, fresh lemon zest, the remaining spring onion, and some dukkah*. Close the sandwiches and serve.
*Store leftover dukkah in an airtight container and use it in salads and soups.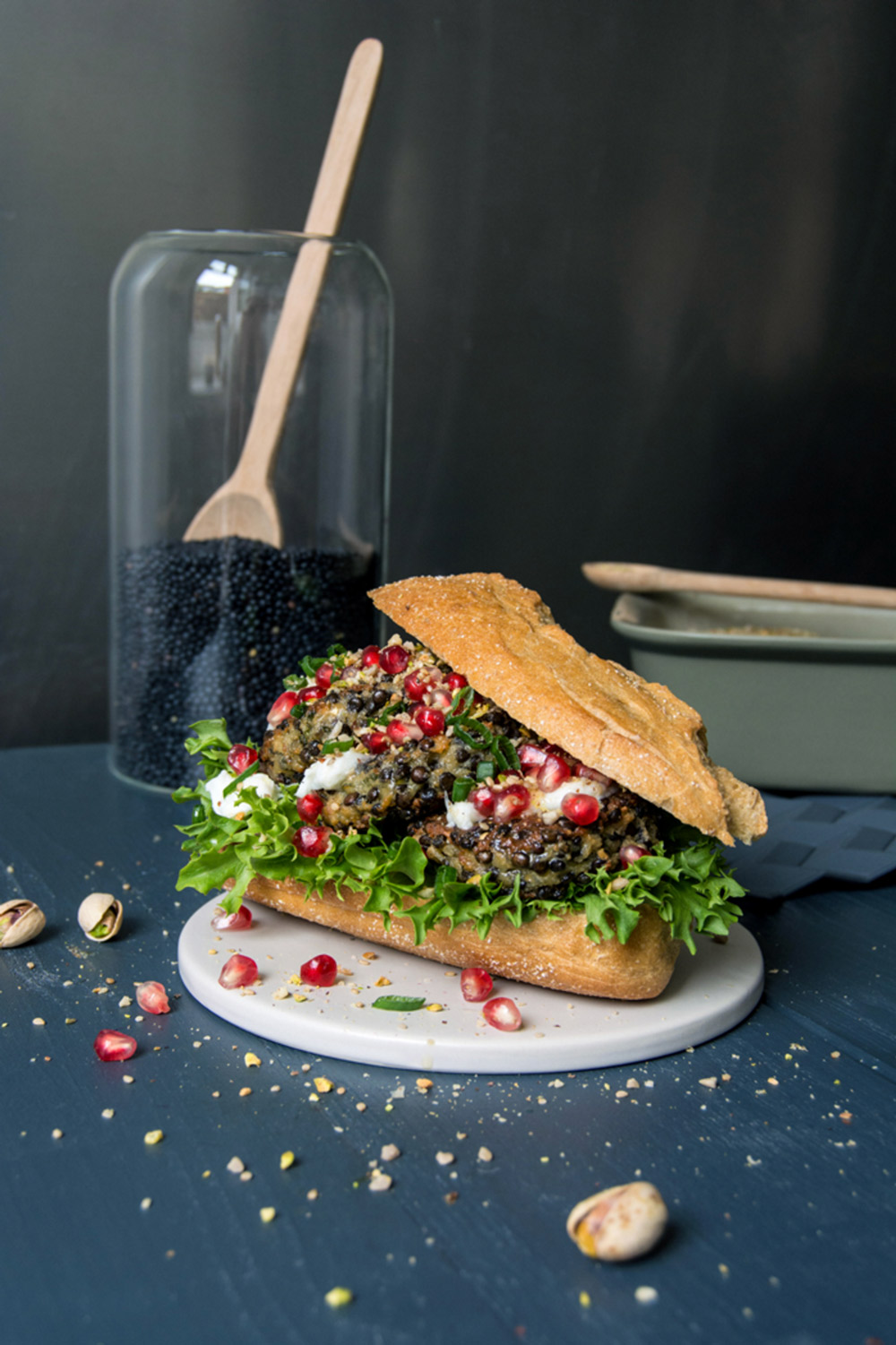 Recipe by Meike Peters
Hungry for more? Check out another delicious recipe by RIG-TIG, Pizza with Goats Cheese, Parma Ham & Rocket Salad.