We're all spending a lot more time at home right now, not to mention working from home! If you're anything like us then your home office will be in need of some attention. Fixing up our home office had been on our to-do list for a while now but it continued to be pushed aside for other projects. Turns out there's nothing like home isolation to shoot that home office makeover straight to the top of the priority list! Our goal was to create a more functional and inspiring work environment to allow us to be more productive and happier when working from home.
We teamed up with Suncorp to share this Home Office transformation with you, because we both decided that now would be a great time to be inspired at home! We will be talking all things 'Working from Home' this month, how we can inspire each other, be more productive at home and most importantly, how we can all stay happy and healthy during this time. So let's kick things off with a smile inducing makeover!!
5 Top Tips to Create a Productive & Inspiring Home Office
Declutter
A messy workspace is stressful, not productive, so start fresh. Clear away clutter to make space for a desk, whether it be in a spare room or in the corner of your living area.
Remove Distraction
Simplify your desk and only have the essentials that you need inorder to work. Try not to bring your phone to your desk to avoid distractions like scrolling through instagram. Noise cancelling headphones are a must for working from home, especially if you have a noisy home life to contend with!
Get comfy
Be kind to your back. Sit at a desk that is the right height and invest in an ergonomic chair if you can. Otherwise try adding a cushion in between your back and chair for added support.
Inspire Yourself
Create a mood board to style up with ideas, motivational quotes, things that inspire you. A foam pin board is a great way to do this. Also bring in touches of greenery. Adding an indoor plant or a small vase of cut flowers from the garden will bring life to your workspace and more importantly, make you smile when you get to your desk.
Visualise Your Goals
It's hard to stay motivated sometimes when you're working from home but you do have the benefit of privacy, use that to your advantage and display your goals loud and proud! The more you see it, the more you think about it, the more you work towards it.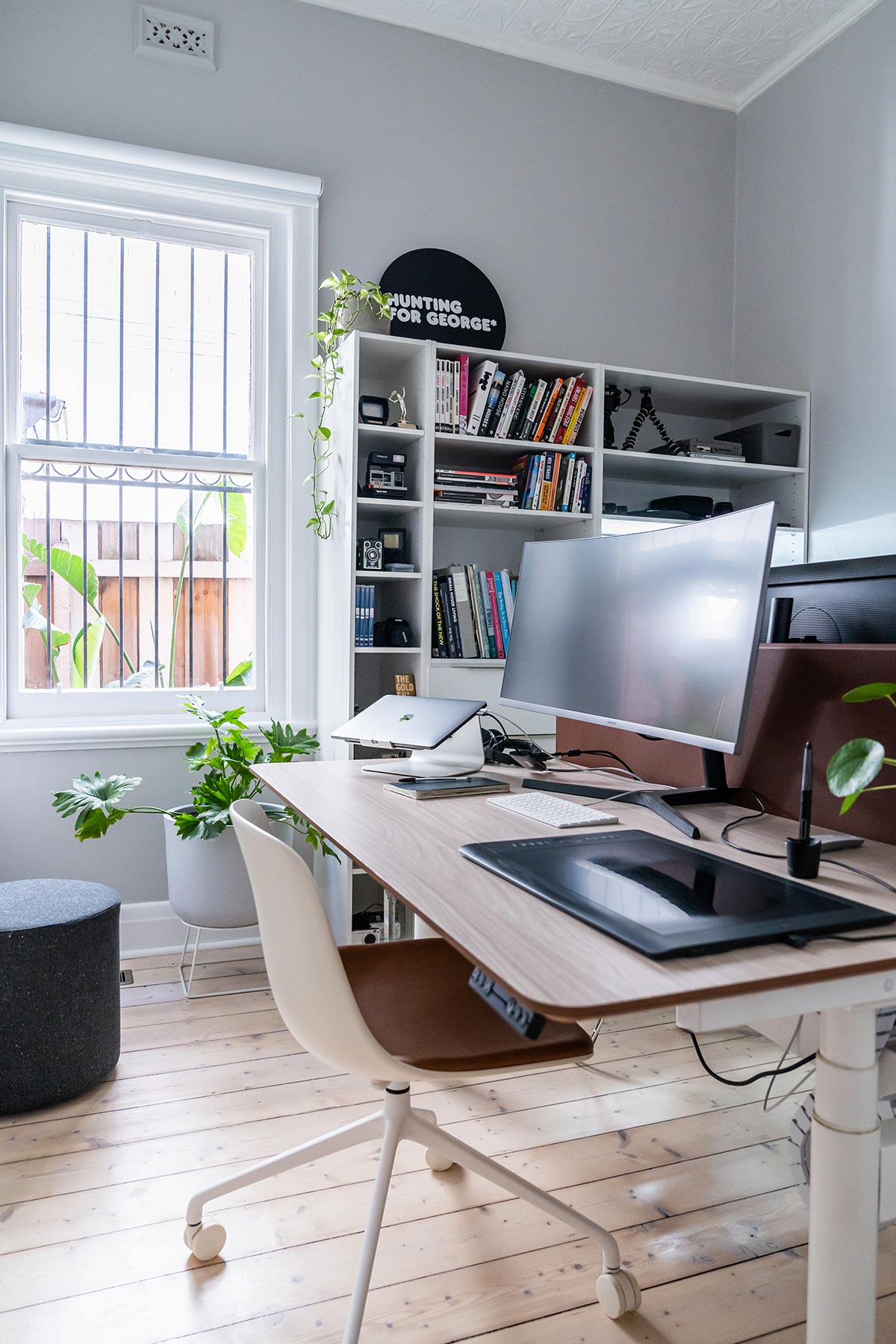 The first thing that we did in our office was declutter, we needed a clear space to start from scratch. We also decided to change the orientation of our room. Instead of having our desks at opposite sides of the room, we opted for a back to back desk solution. We were going to make these ourselves, but then we found Baseline Commercial Furniture on instagram and well, everything changed when we saw Rondo. The Rondo Electric back to back Workstation immediately gave our office a modern facelift. There were a lot of different configurations as well as style options to choose from, we opted for the woodgrain top with a leather wrap sandwich screen. To match the new desks we also chose the Scoop Maxi Chair from Baseline Commercial Furniture, this featured a leather upholstered seat pad and white powdercoat to match the Rondo workstation. And yes, it's electric, which means that we can mix it up and use it as a standing desk as well – this has changed the game!! It also provided hours of entertainment when it arrived. If you don't believe me, watch the video!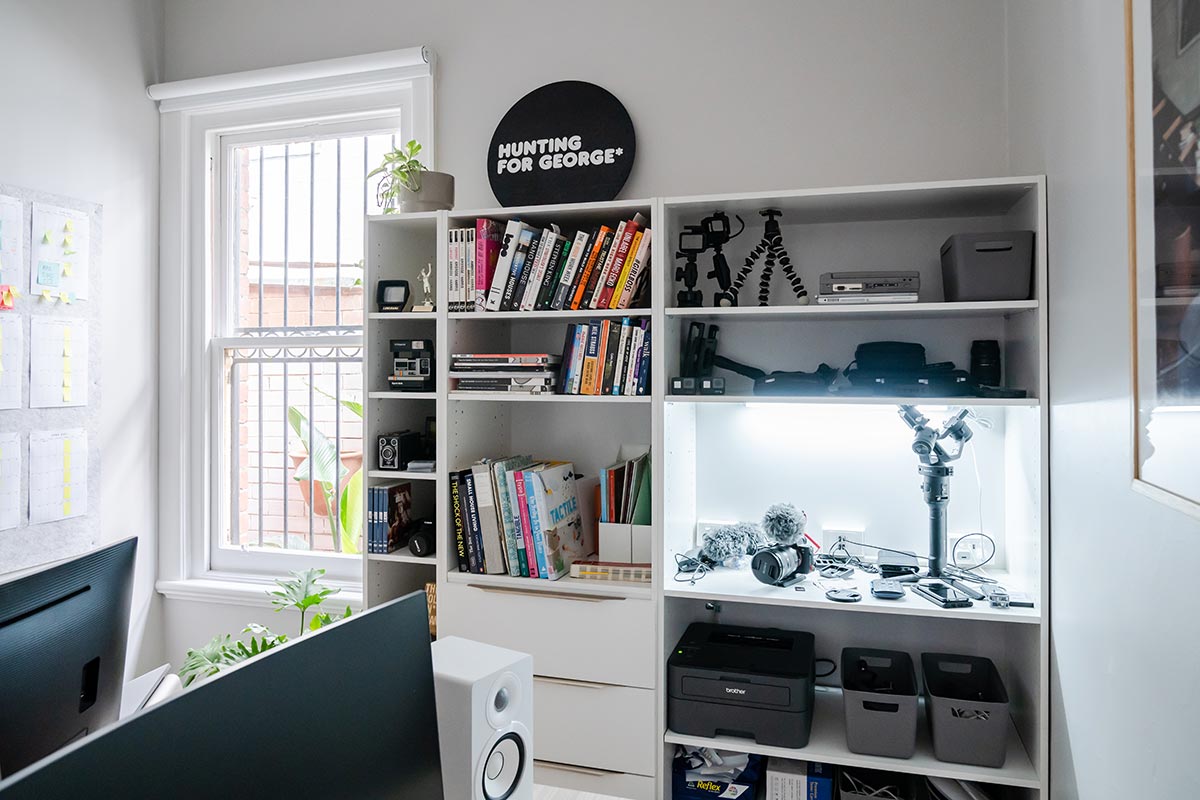 The other key change that we made in the Home Office transformation was storage. We needed a storage solution that would:
Store camera gear and create a charging station
House our design books, magazines and printer
Provide hidden storage for paperwork, pens and all the messy stuff
Look Good
Once I knew what I needed my storage 'to do' it was easier to select the configuration. I opted for 3 Multistore storage units that I picked up from Bunnings. These were a good height at 2m tall and I selected different widths and types for what we needed. I chose a narrow pigeonhole storage unit purely for me to have with styling up things that inspire us and make us happy. Open shelving and drawers enabled practical office storage and a wide (900mm) open shelf was the perfect base to create our camera charging station. We added double powerpoints with dual USB in order to streamline our charging bay and a LED light panel for additional light – as it's very easy to loose your SD cards if you can't see them clearly! For additional storage we used the Inabox storage containers (same as we used in our Kitchen & Pantry Makeover) to house cables, pens and other loose equipment.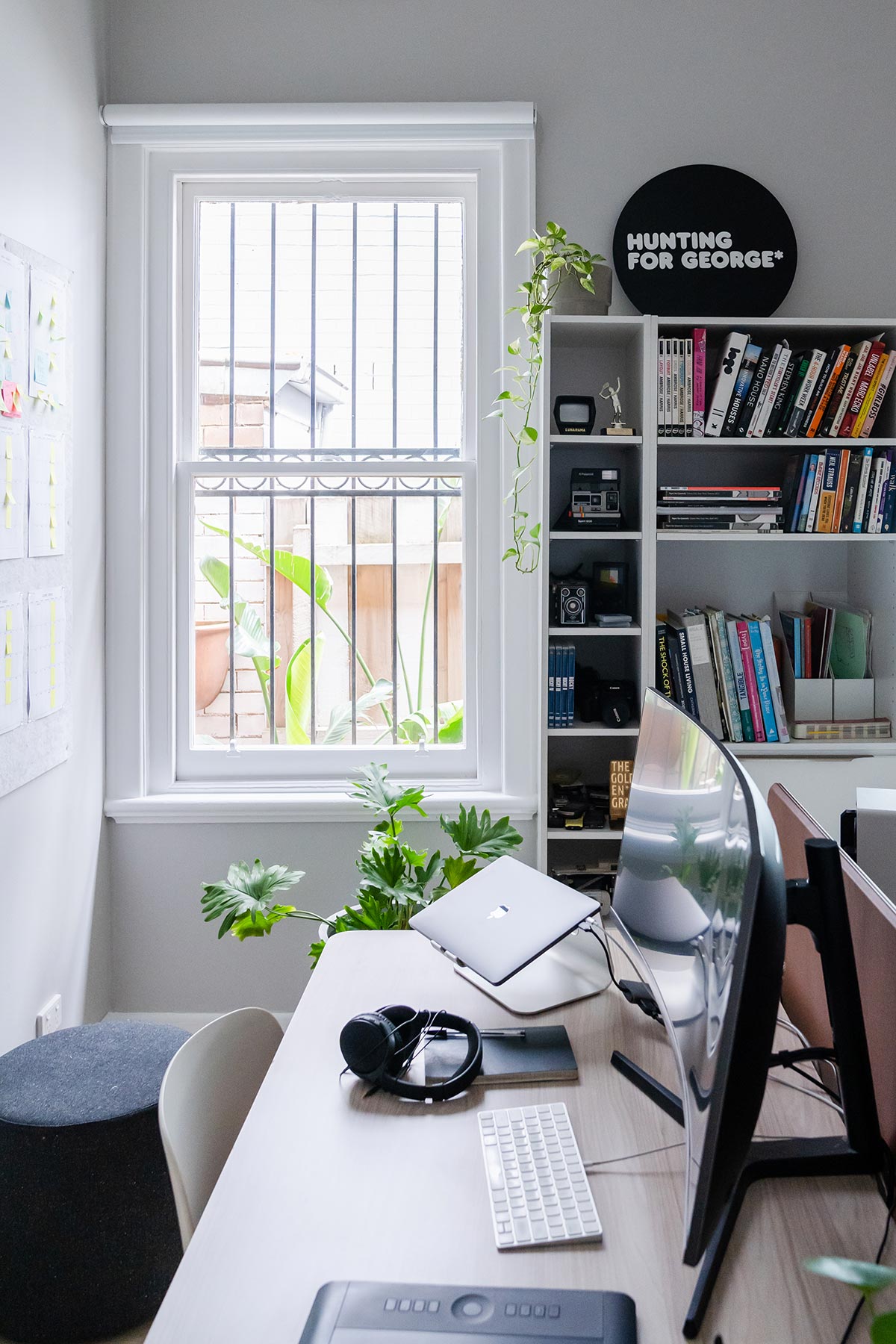 For the window furnishings we opted for a Motorised Roller Blind from DIY Blinds so we can control the light in the room through the click of a button. After all, our new desk now moves at our command… why not our blinds?! The Block Out Roller Blind is a good option in our office as it provides ultimate privacy when we need it, but for the majority of the day we have it open and I like how streamlined it is, so it feels like it's 'barely there' and doesn't complicate the space.
The paint we used in the Home Office was Dieskau Wash & Wear from Dulux on the walls and Lexicon Quarter Aquanamel Low Gloss on the trims. On the floors we applied the same treatment as the rest of our home, sanding back our floorboards and applying 3 coats of the Liming White Floor Finish from Feast & Watson.
I created what I refer to as our 'Motivation Station' which was just 4 foam pin boards fixed to the wall. I'm a visual person and I love to plan, so having my calender, goals and inspiration in front of me is really important. The motivation station can be seen as soon as you walk in the office and it pumps me up every time I sit at my desk.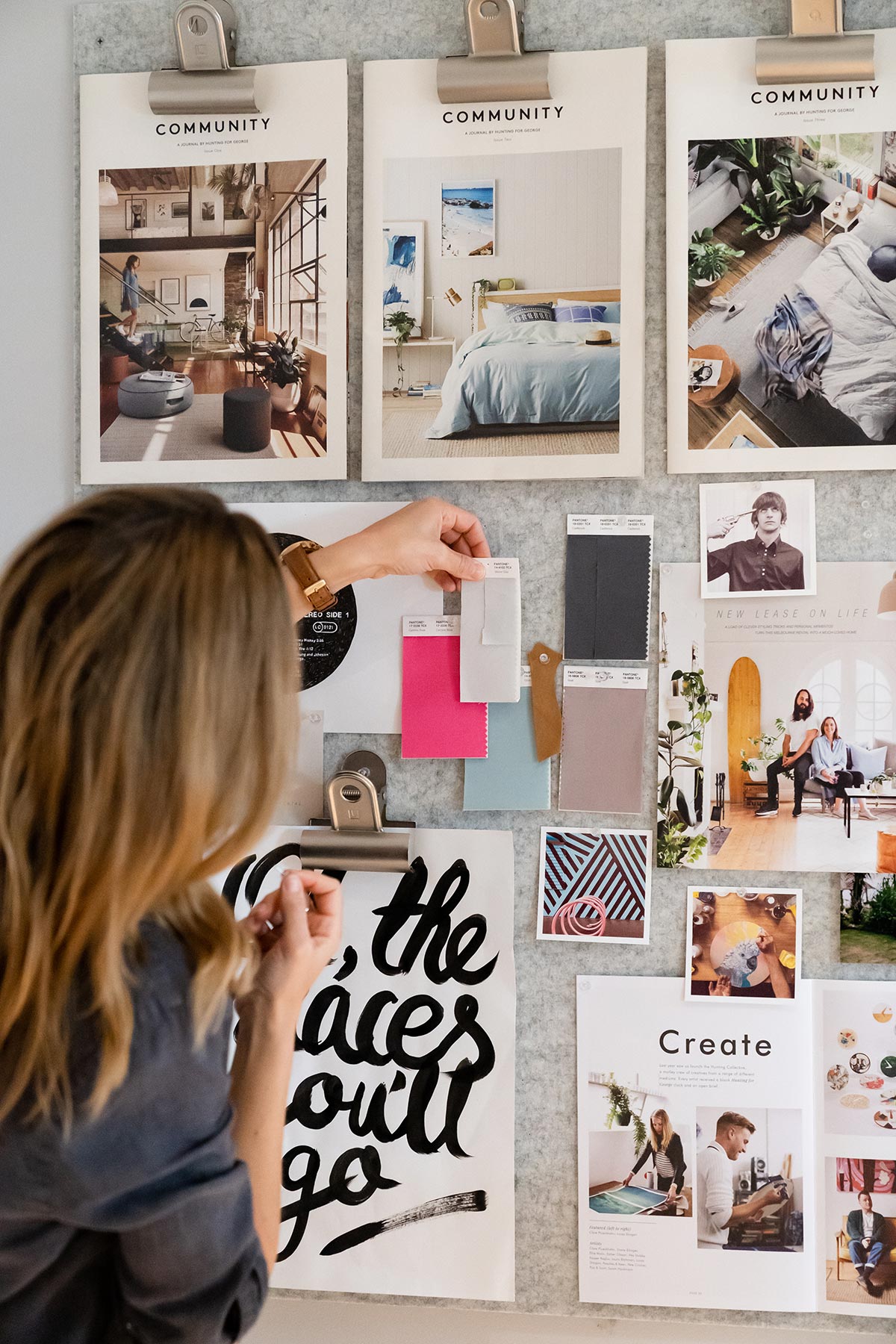 We definitely gave our Home Office the royal treatment when it came to this makeover. If you're fixing up your own work space at home you don't need to go as far as we did, but hopefully we've inspired a few ideas for you to think about in your space!
Remember to Declutter; Create storage; Set up a comfortable desk and chair to work from; Create your own motivation station; Add things that make you smile… after all, you can still have fun when you're working!
We have been working from home since before it was mandatory so next week we are going to be sharing our Daily Routine with you! Sharing our Top Tips on How to Be Productive When Working From Home (and what to avoid!)