Located in midtown Toronto, Canada, the Garden Circle House by Dubbeldam Architecture + Design is a four bedroom home that features a distinct biophilic design. The design is a response to the client's desire for a sustainable home inspired by nature, connected to the outdoors and awash in daylight. This home is more than just about bringing the outside in, it's about creating and maintaining a connection with many aspects of nature. Let's go inside…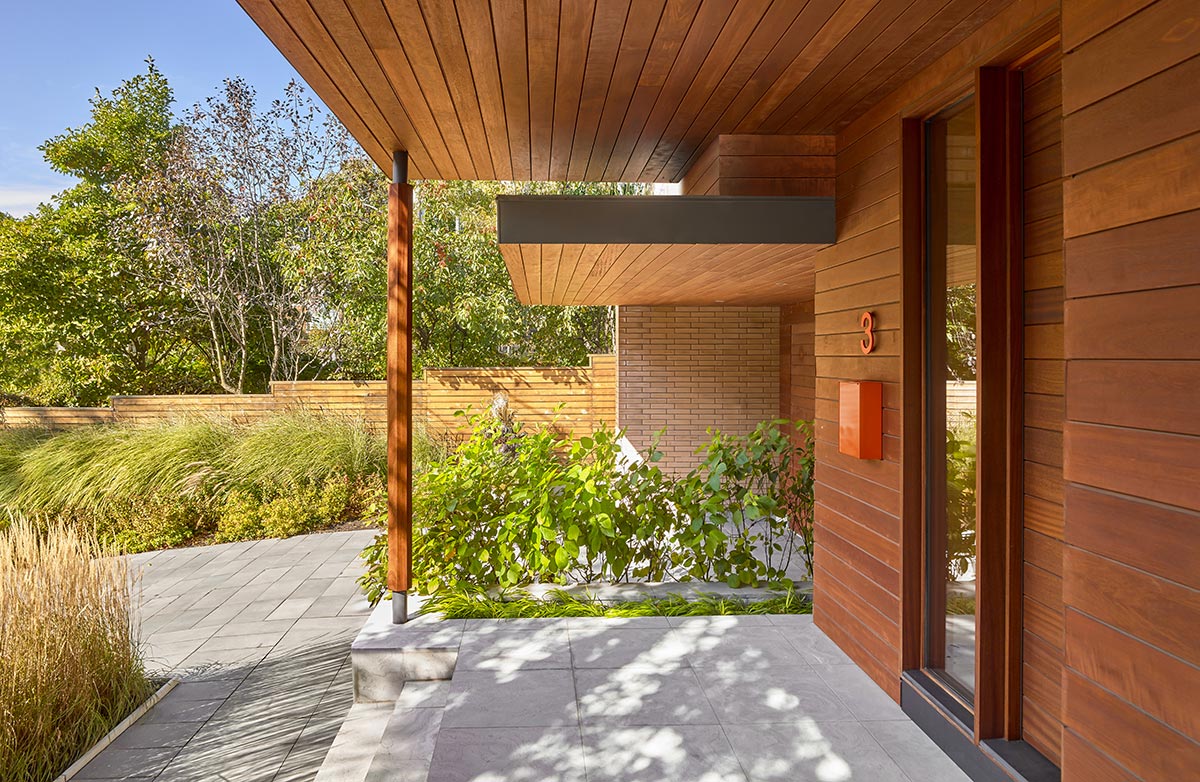 The growing wellness movement and greater desire to live and work in healthier interiors has become a huge factor in the growing trend of biophilic design. This movement focuses on architecture that brings nature into man-made spaces, creating strong visual and non visual connection with the outdoors through various sensory experiences.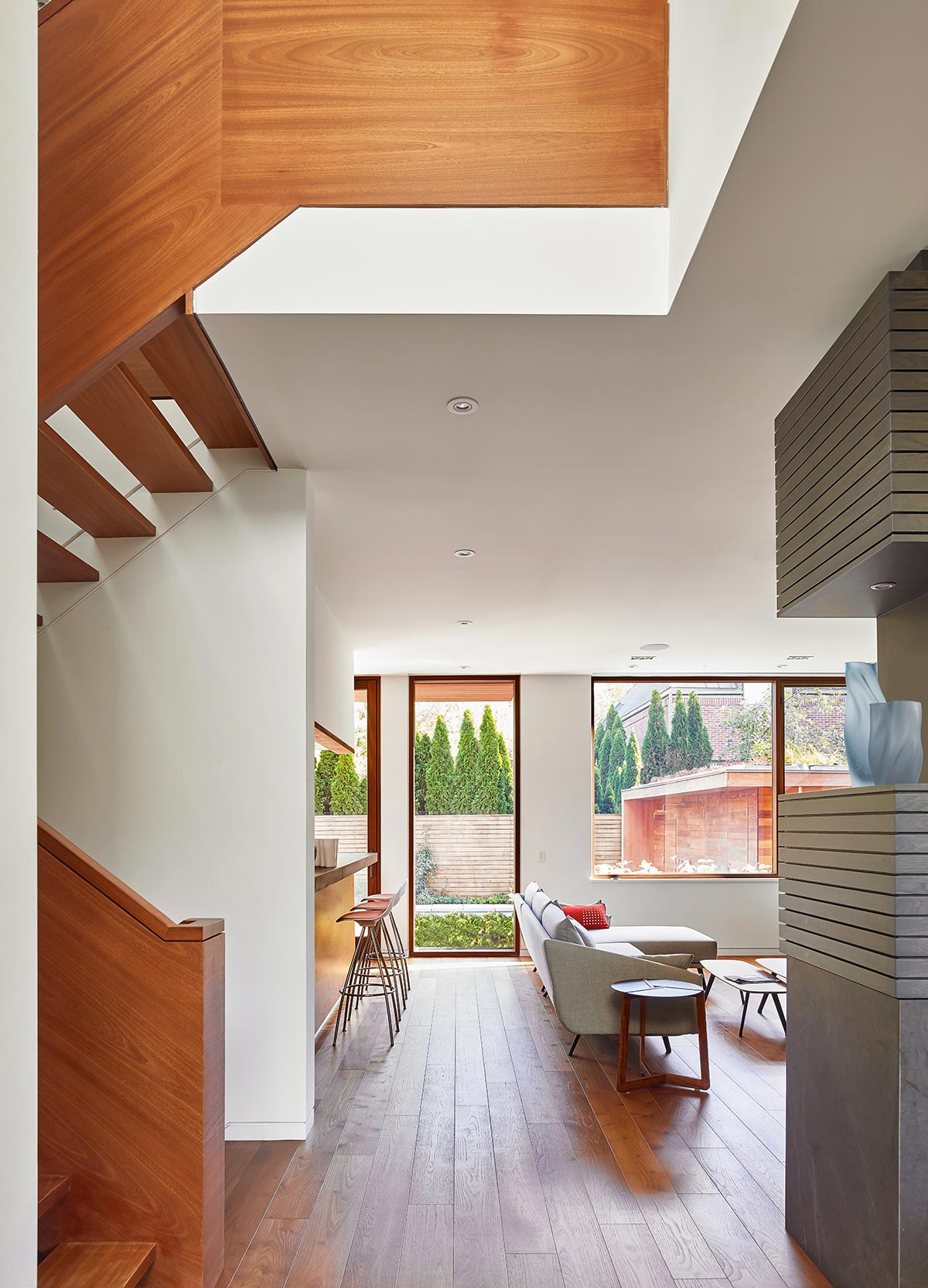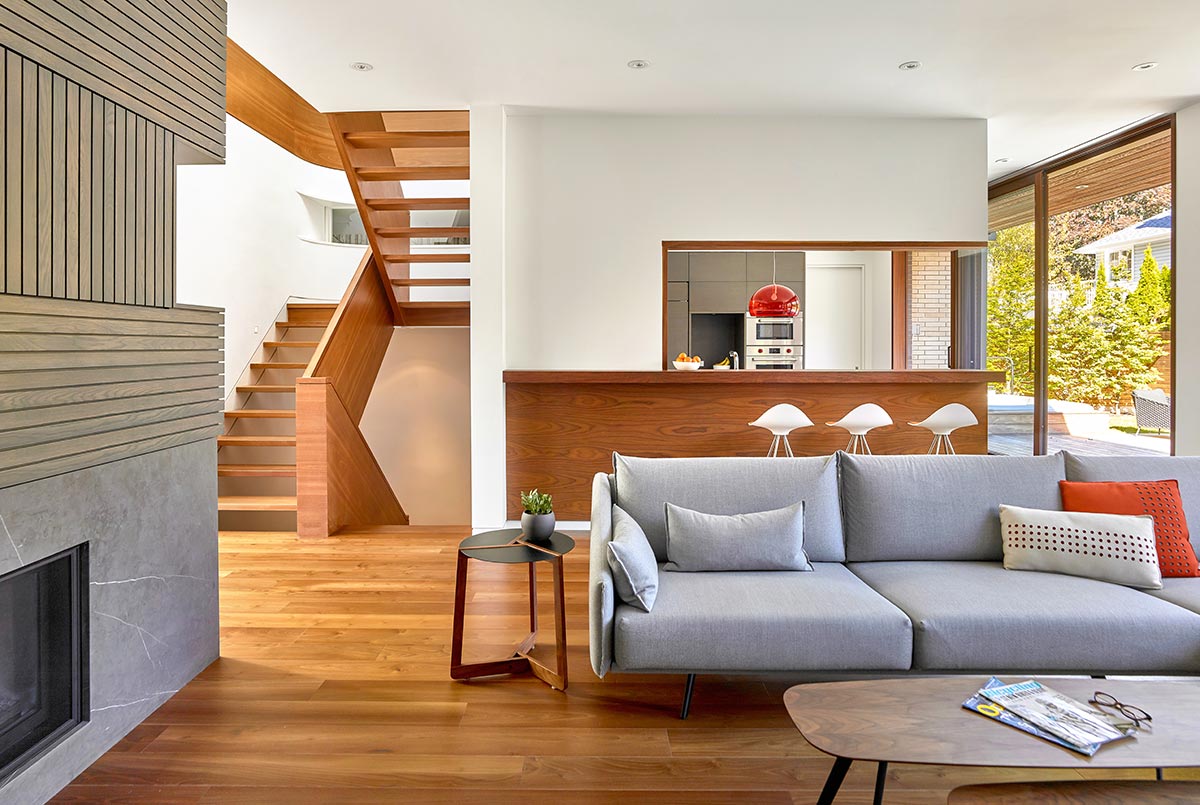 "Inspired by the client's love for Prairie Style architecture, the exterior of the house incorporates horizontal planes and overhangs, and an earthy, natural material palette of brick, wood and stone. Buff and grey-toned brick conveys a sense of solidity while Western red cedar boards and mahogany-framed windows complement the warmth of wood. Green roofs are integrated into each of the overlapping roof planes on the front and back of the house, while their soffits are detailed with Brazilian massaranduba. Integral to the front of the house is the pear tree that was retained on site; located in front of the large dining-room window, its foliage casts an animated play of shadow and light year-round, while the scent of blossoms in spring and ripe fruit in autumn wafts through the open window." – Dubbeldam Architecture + Design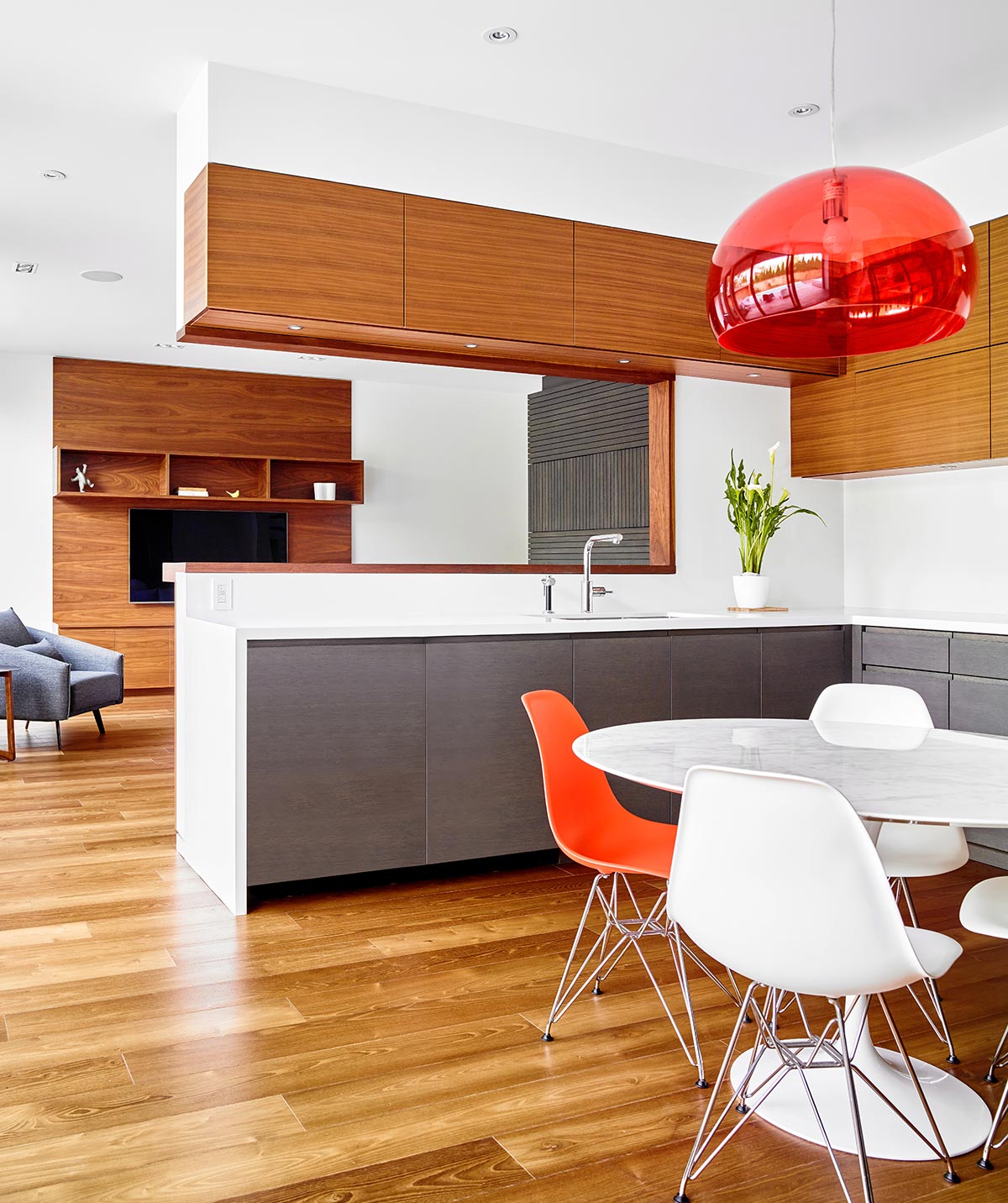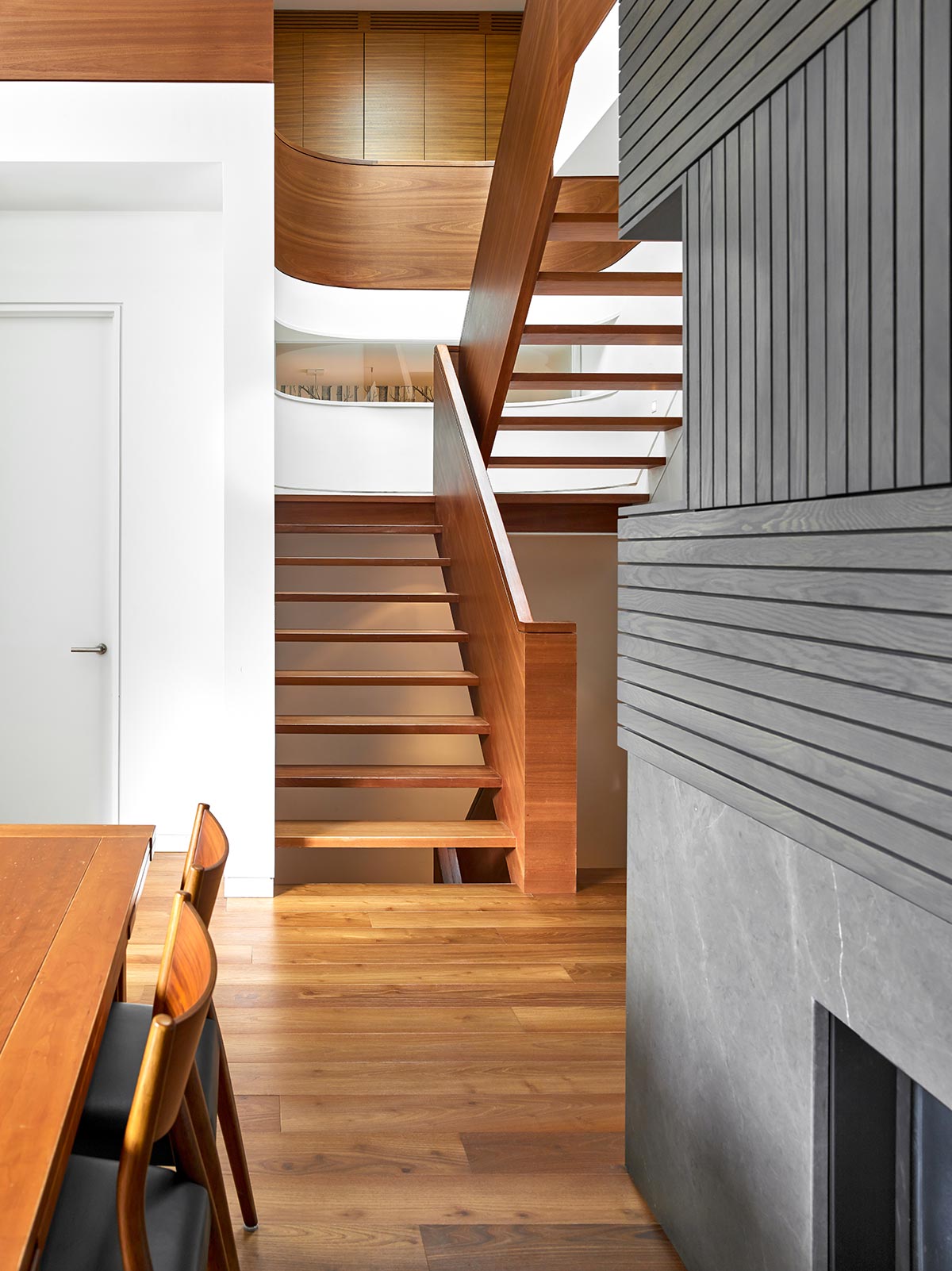 The Dubbledam team incorporated various wellness features into the design, including a palette of natural materials, lush landscaping and water features that offer both visual and auditory effects to enhance a sense of calmness. Through ample fenestration and elevated vantage points, the structure is able to take in more natural light and maintains a visual connection to the outdoors; while the simplicity and carefree ambiance of the indoor spaces creates a perfect synergy for the breathtaking home.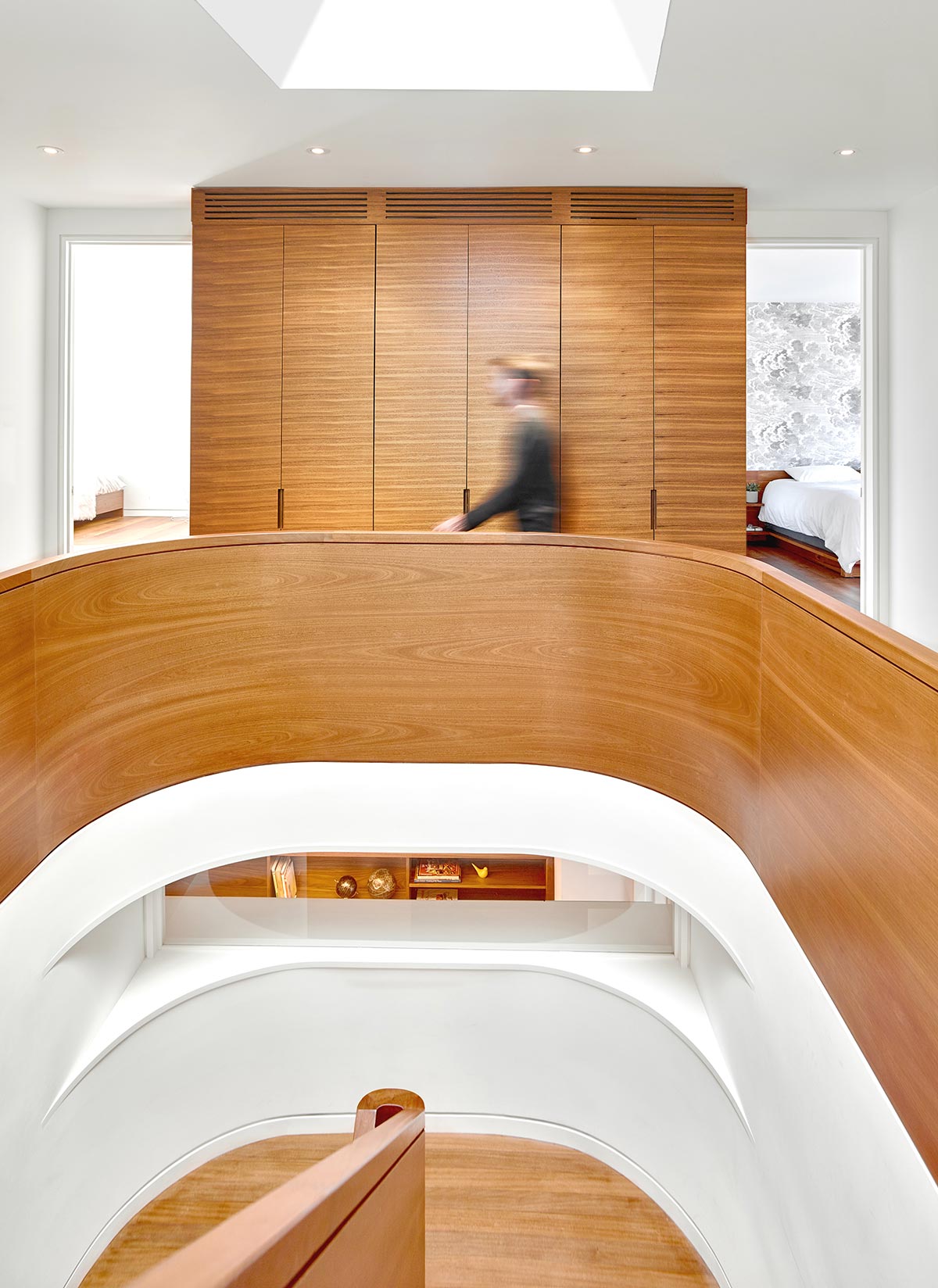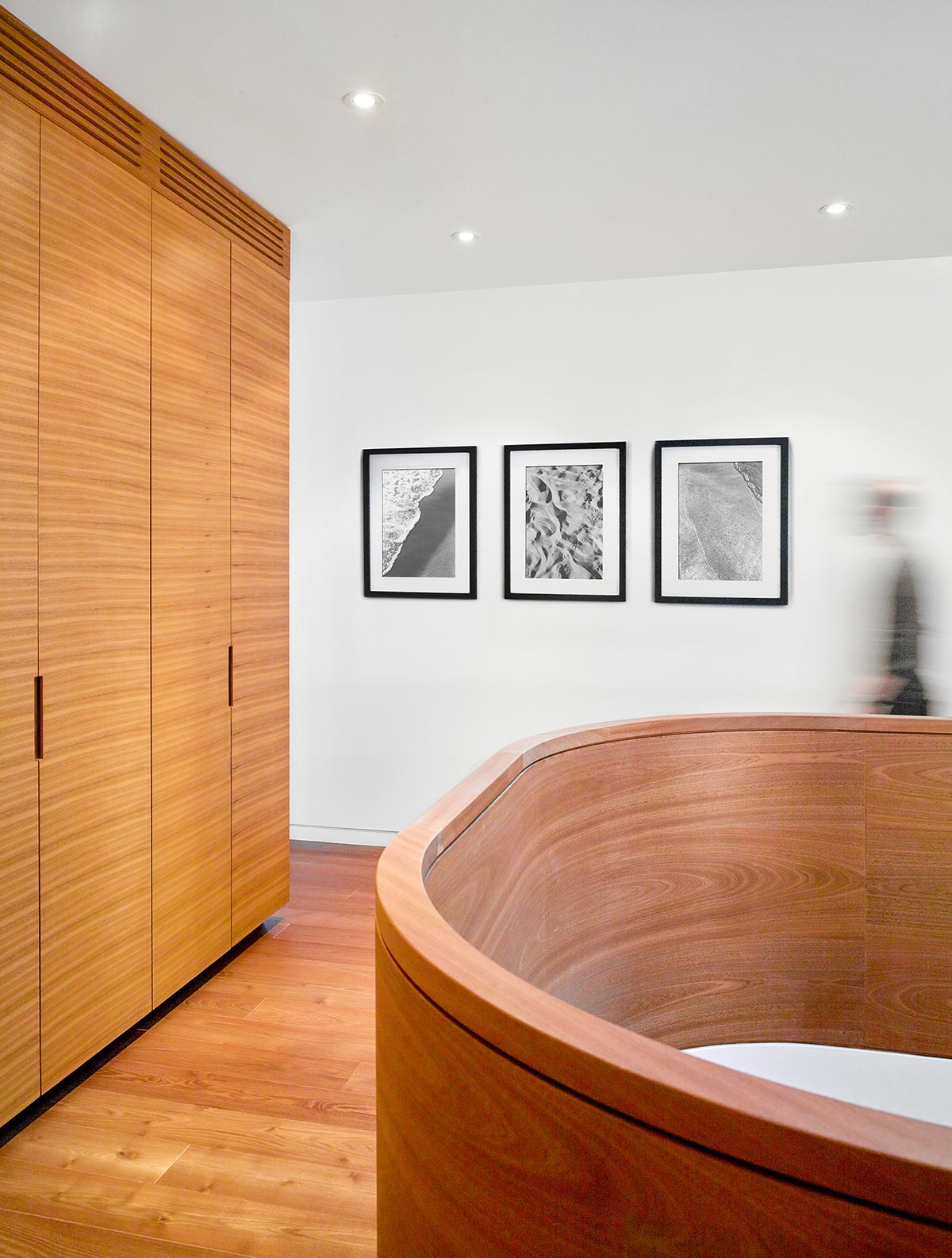 "A focal point of the interior is the central staircase crafted of solid mahogany and featuring open risers and a curved balustrade that emulates natural organic forms, inviting the hand to run along its sculptural contours. Light filters through an operable skylight, providing natural illumination and ventilation in the centre of the home, while simultaneously offering a view of the sky." – Dubbeldam Architecture + Design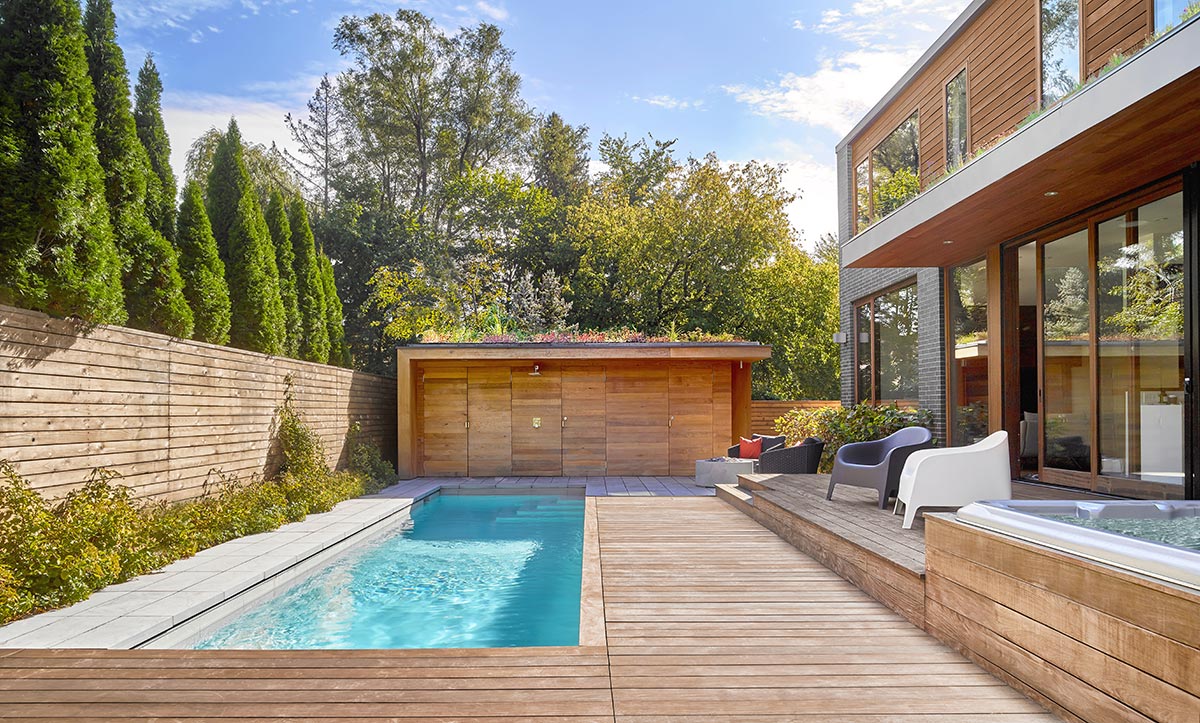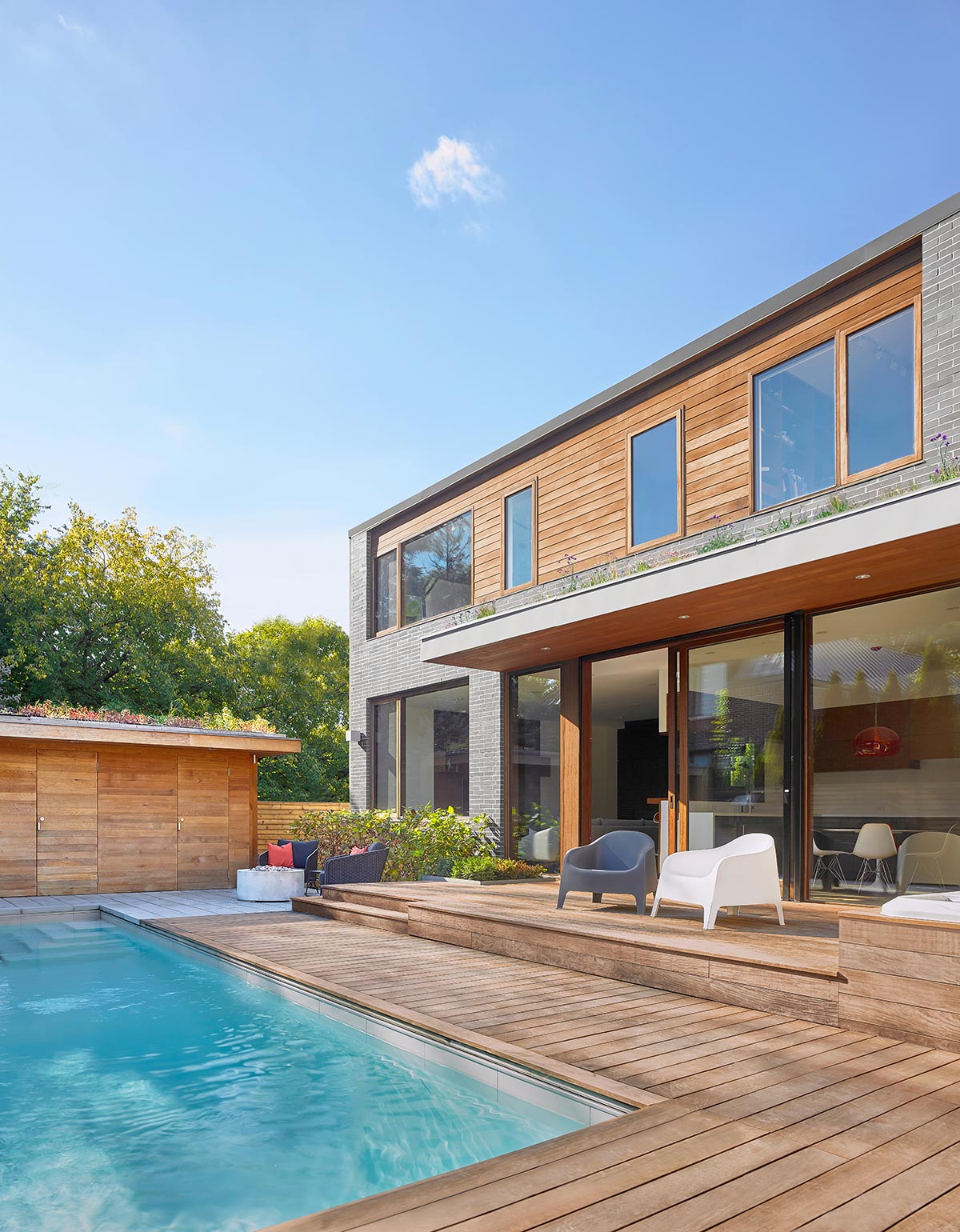 Utilising a biophilic design strategy, this beautifully raw and honest dwelling designed by Dubbeldam Architecture + Design presents a sustainable contemporary home that harmoniously connects with nature through considered architectural spaces.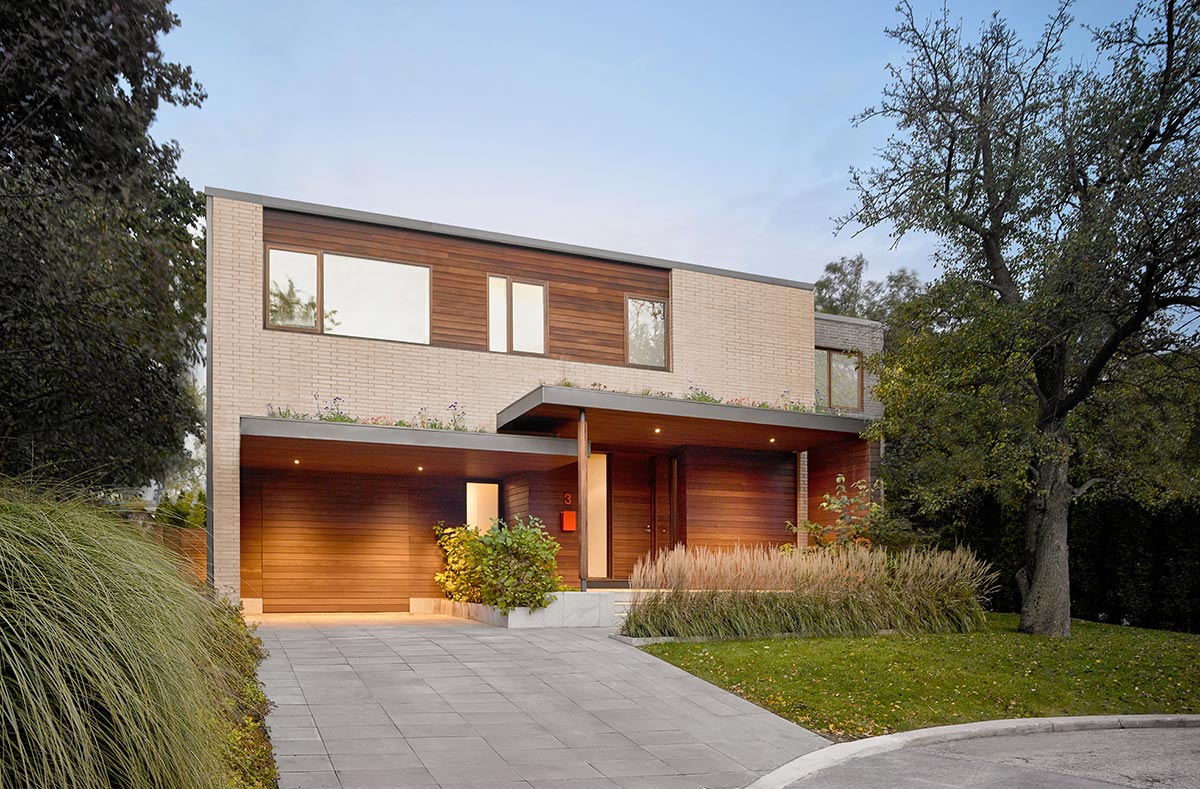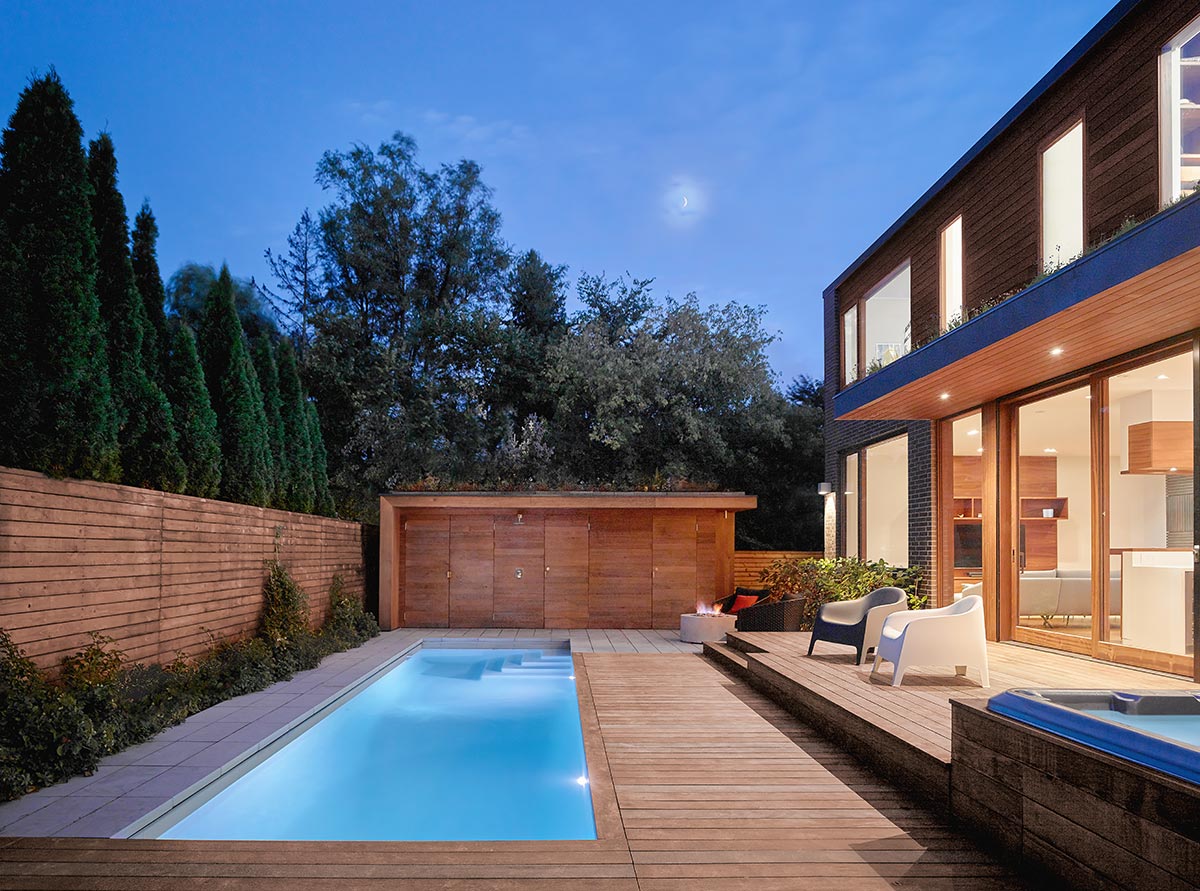 House Project: Garden Circle House
Architect: Dubbeldam Architecture + Design
Location: Toronto, Canada
Type: New Build
Interior Design: Dubbeldam Architecture + Design
Landscape Design: Dubbeldam Architecture + Design
Photography: Scott Norsworthy