It seems you absolutely loved our DIY Laundry Makeover as much as we did! Today we break down everything we used in our Laundry: from paint and plywood to soap and shutters. So if you're thinking it's time for your very own laundry transformation, we've got you. Get the look at your place with our complete Laundry Style Guide. Let's go shopping…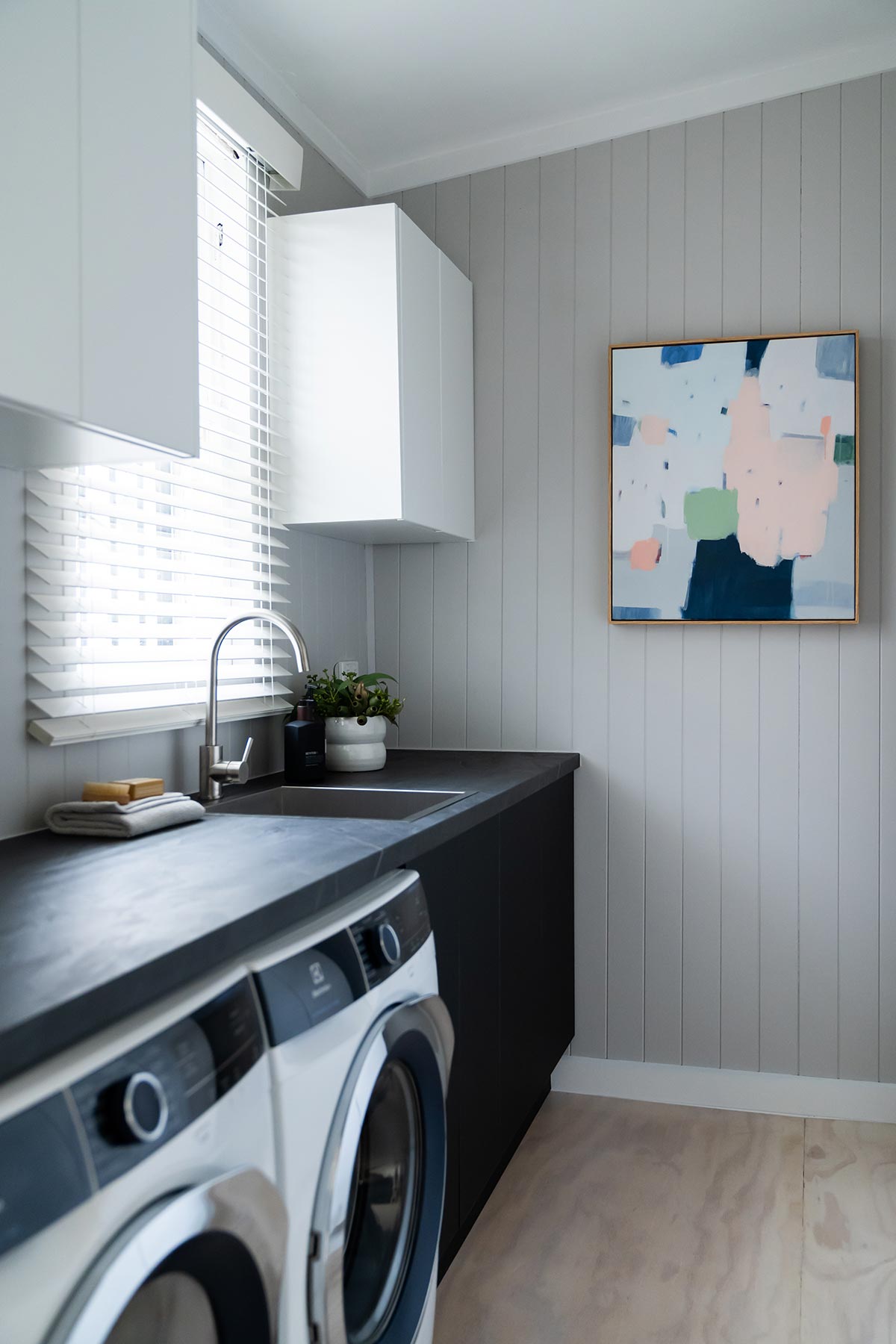 Appliances
First off we've decided to completely do away with the old washing machine and dryer and opted to upgrade to some more efficient Electrolux appliances. The washer and dryer units below have a much bigger capacity than our previous appliances and plenty more modern features, making laundry time easier, faster and somehow more enjoyable!
Cabinetry
After deciding on the appliances, we then worked out our options for cabinetry and chose Kaboodle using the Bunnings in-home service. Storage was one of our major 'wants' for this room so we brought in as much as we could, opting for standard white cabinetry in 'Macaroon'. We then opted to continue the cabinetry theme from the kitchen with 'Black pudding' bench tops and 'Molasses V' base cabinets.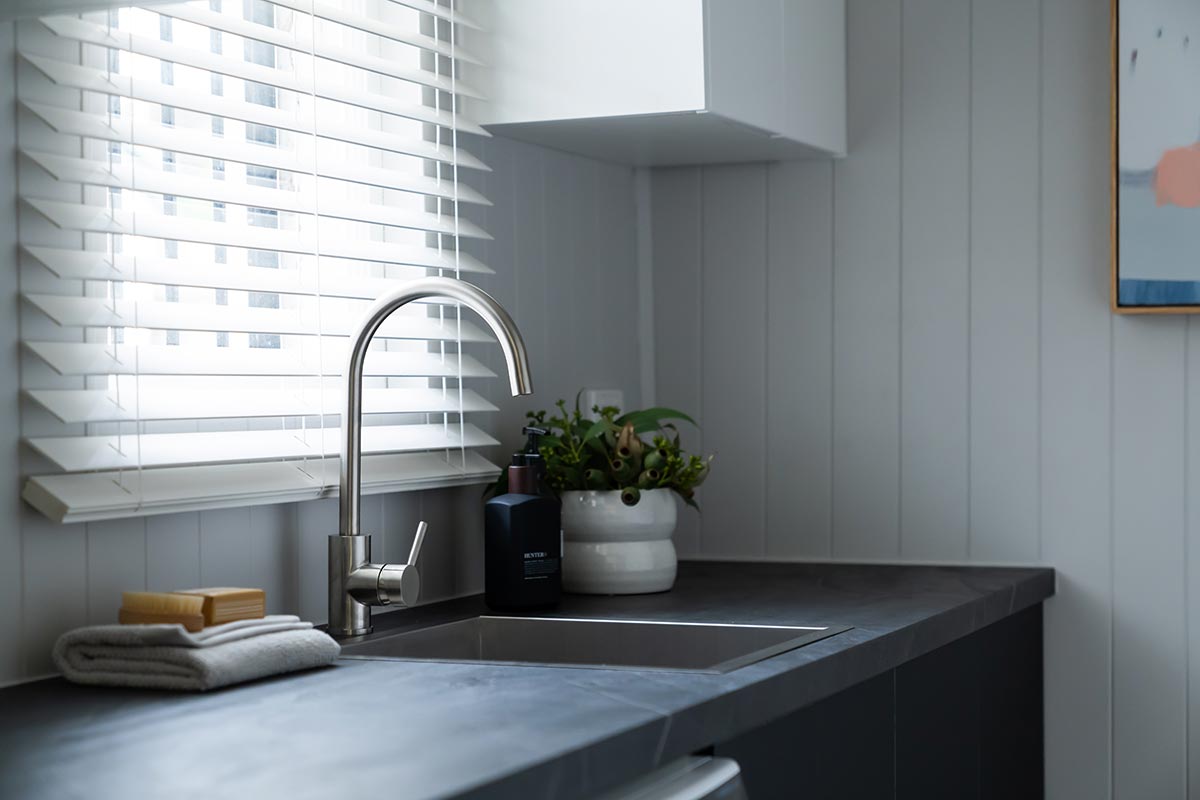 Fixtures, Fittings & Materials
Since this room went into a complete overhaul, all fixtures and fittings have been replaced including the problematic floor! We opted for structural plywood and applied whitewash finish to match the flooring to the rest of the home, and installed Easycraft EasyCLAD panels over the existing walls. For the windows, we chose wide timber venetian blinds from DIY Blinds which allows for an ample amount of natural light into the room. Replacing our standard door with a new barn door and door track was a massive space spacer and made a huge difference to this room. We also selected a stainless steel laundry sink and sink mixer giving it an industrial look and utilised the Kinetic Down Lights from Lights Lights Lights same as that of the kitchen and pantry.
Paint Colours
The walls were predominantly painted with a soft grey finish, coupled with lexicon quarter on the trims. On the outside, the feature wall was painted powdered gum and the barn door with black caviar, all from Dulux.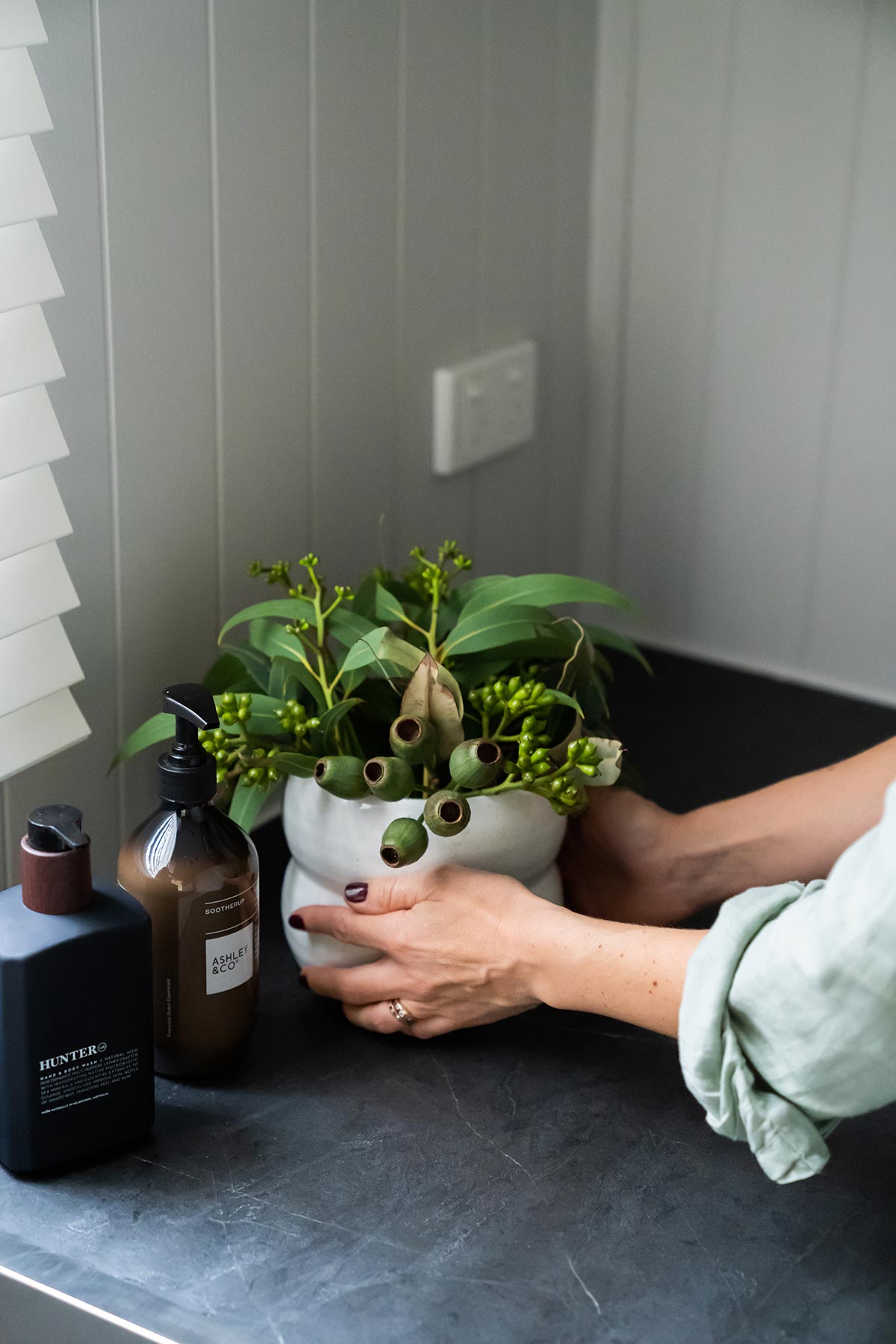 Decor
I kept styling to a minimum as I prefer practical, workable bench tops. However I brought in greenery with ceramics from Milk & Sugar and a very special abstract pop of colour from artist Sarah Kelk. I styled an original artwork, however Sarah has a range of art prints available as well.
Our home makeover series doesn't end here! Keep your eyes peeled and be sure to subscribe to our YouTube channel for the next one… there's plenty more to come.