Most of us can relate to having a 'problem' room in the house… you know the one. The room that makes you feel so overwhelmed that you decide it's easier to just ignore it… until one day you realise it has gone completely out of control!! The 'problem' room in our home was our laundry. An outhouse addition to an old home that had acquired a few bizarre embellishments over the years, meant that this room was a bag of all-sorts… and not the good kind. We definitely had our work cut out for us with this one and the problem room did not give up without a fight! But we conquered in the end and transformed our stress inducing problem child into a calm and luxurious laundry. Good looking enough to actually make us excited about doing the washing, which is a turn up for the books we can assure you.
The main issue we first had to deal was the floor situation as the problem room was the proud parent of three different kinds of flooring: concrete, timber boards and brick. Not to mention the walls also differed in materials and were not in a great shape. So we needed to fix the structure of the floor and walls first before we could tackle anything else in the room. We ripped/smashed up the existing floor only to find rotten timber beams and a leaking pipe. Whilst this put a spanner in our plans, we were pretty much expecting to find something like this considering the age of our home, so these were both replaced and we moved on our merry way. 
For the flooring we opted for structural plywood. We chose this option as it was an affordable option that looked good. We applied a whitewash finish to tie in with the rest of the flooring throughout the home. For the walls we decided to fasten timber beams to our existing walls and installed easycraft EasyCLAD panels over the top.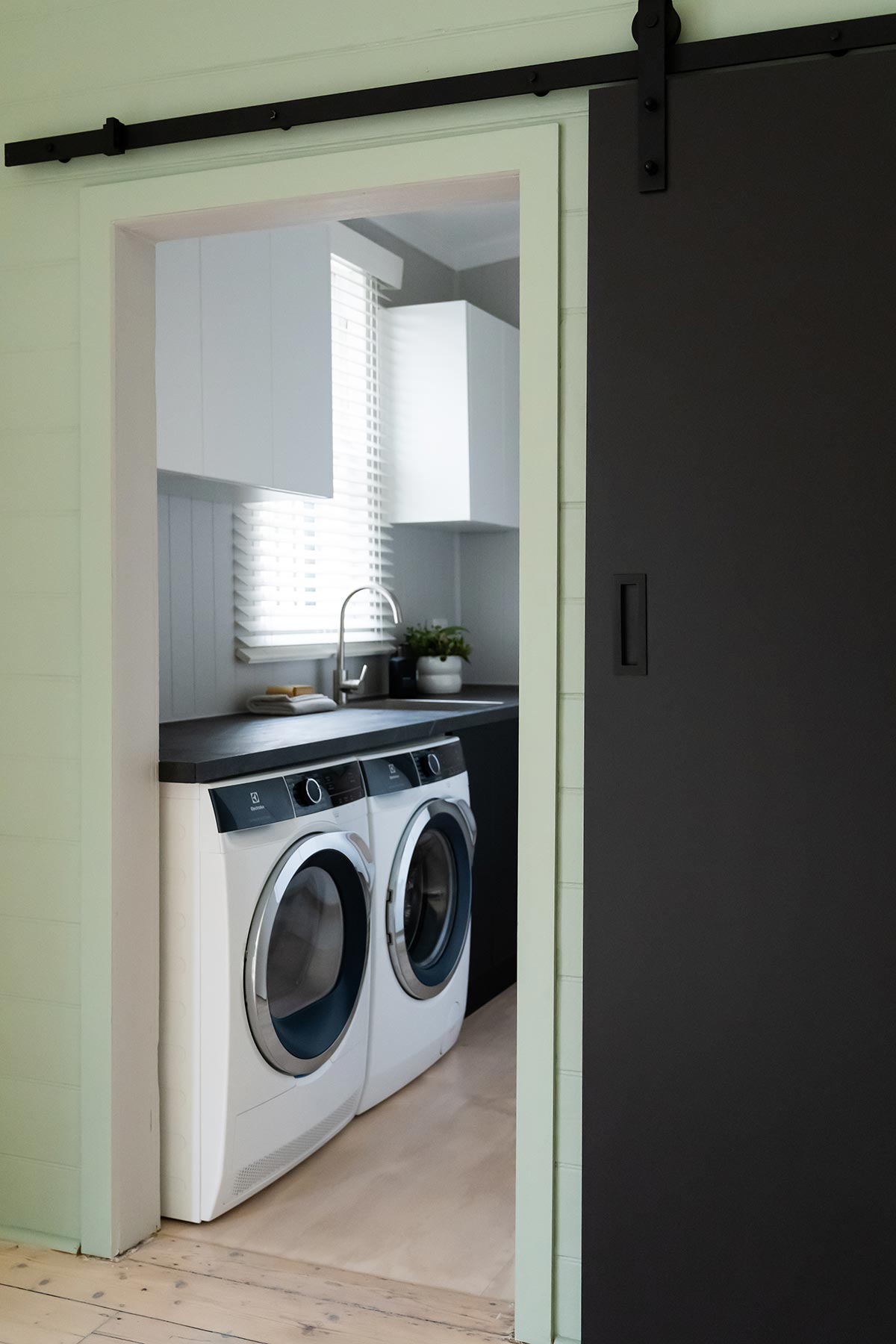 We selected our appliances first before deciding on any other elements in the room and we chose 10kg Front Load Washer and 9kg Heat Pump Dryer from Electrolux. Both a major upgrade from our previous appliances and we loved the efficiency of Electrolux appliances in the kitchen… so we wanted to keep the good times rolling.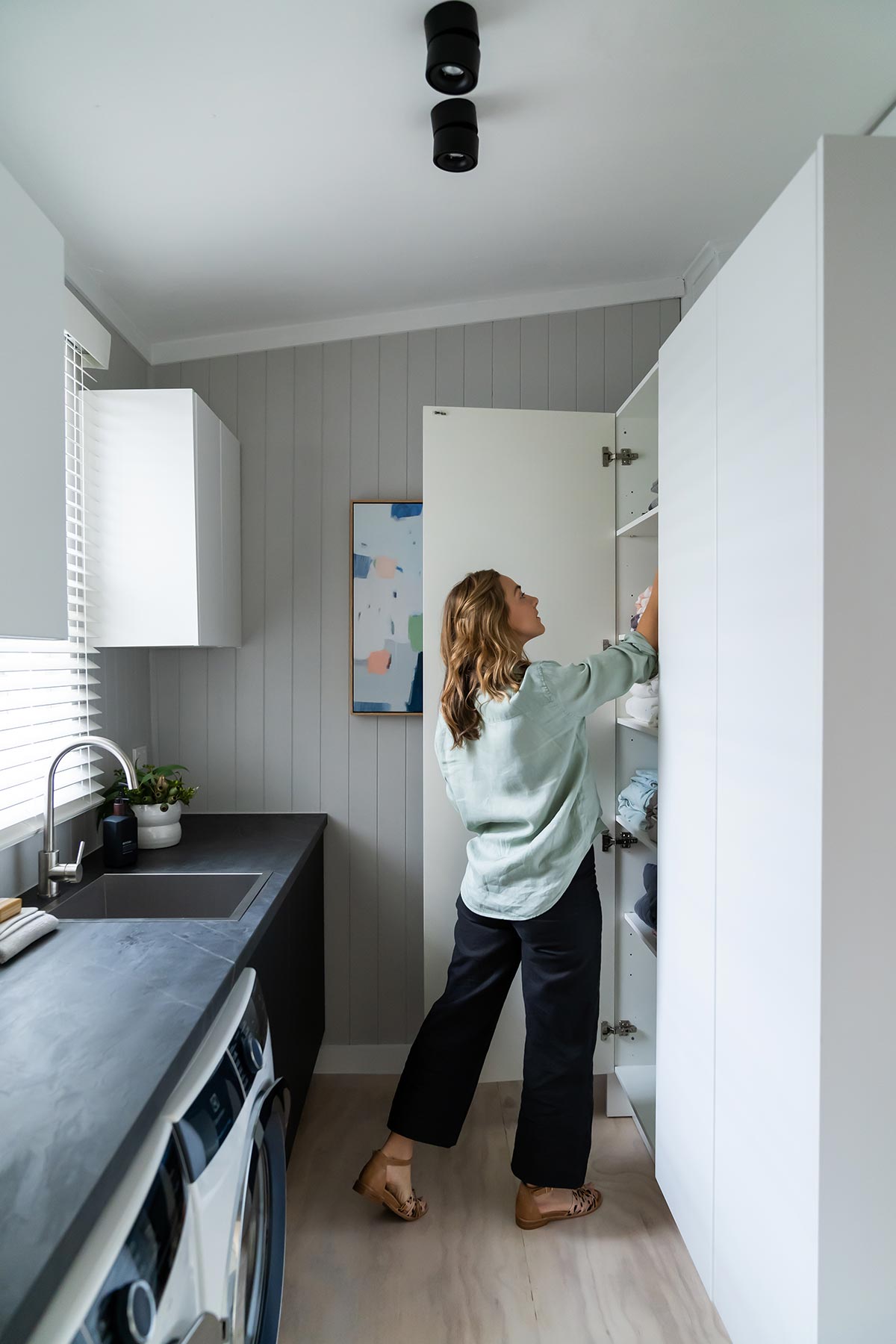 Once our appliances were ordered we then used those dimensions to help us design our cabinetry. We used the Bunnings in-home service and continued to use Kaboodle cabinetry, the same as the kitchen. However for this room we introduced white standard cabinetry to add more storage. The finish that we selected was called 'Macaroon' together with 'Black Pudding' benchtop and 'Molasses V' for the base cabinets.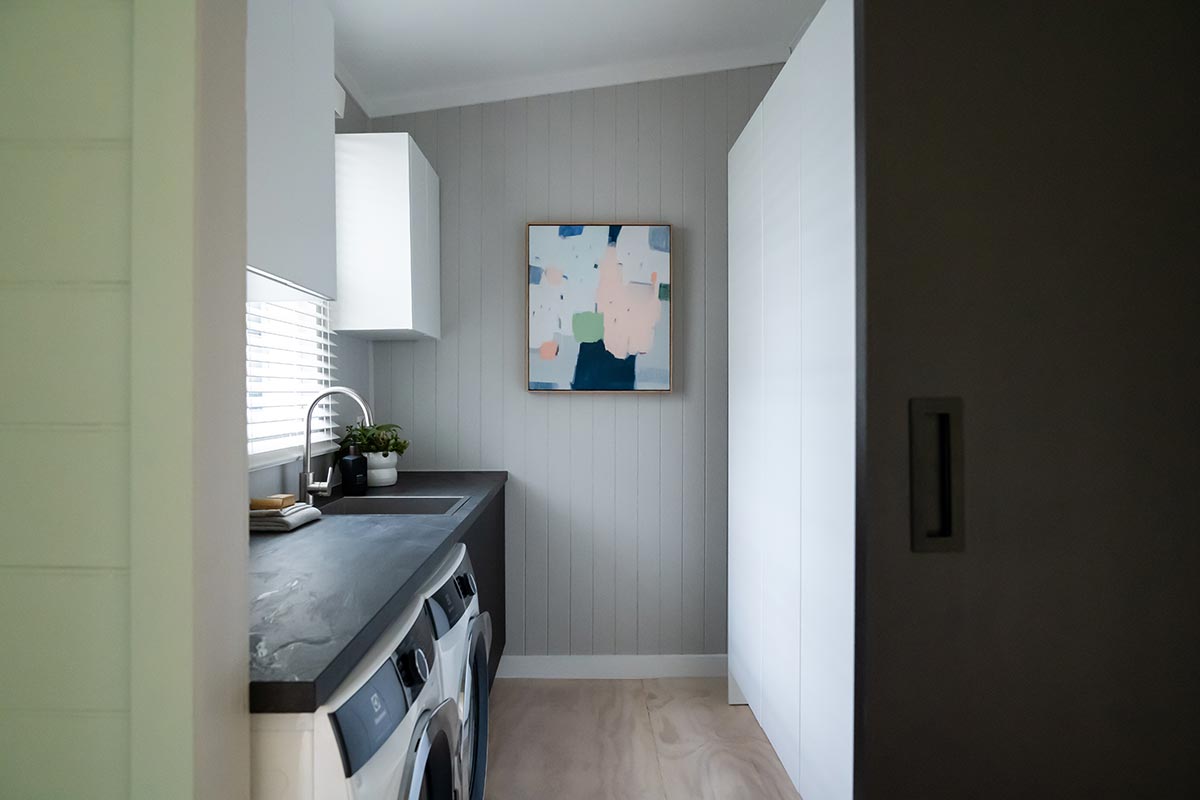 On the walls we painted Dieskau Wash & Wear from Dulux, a very soft grey. Together with Lexicon Quarter Aquanamel for the trims provided the perfect calming background for our laundry.  Outside we painted Powdered Gum Wash & Wear for the feature wall and Black Caviar Aquanamel on the barn door.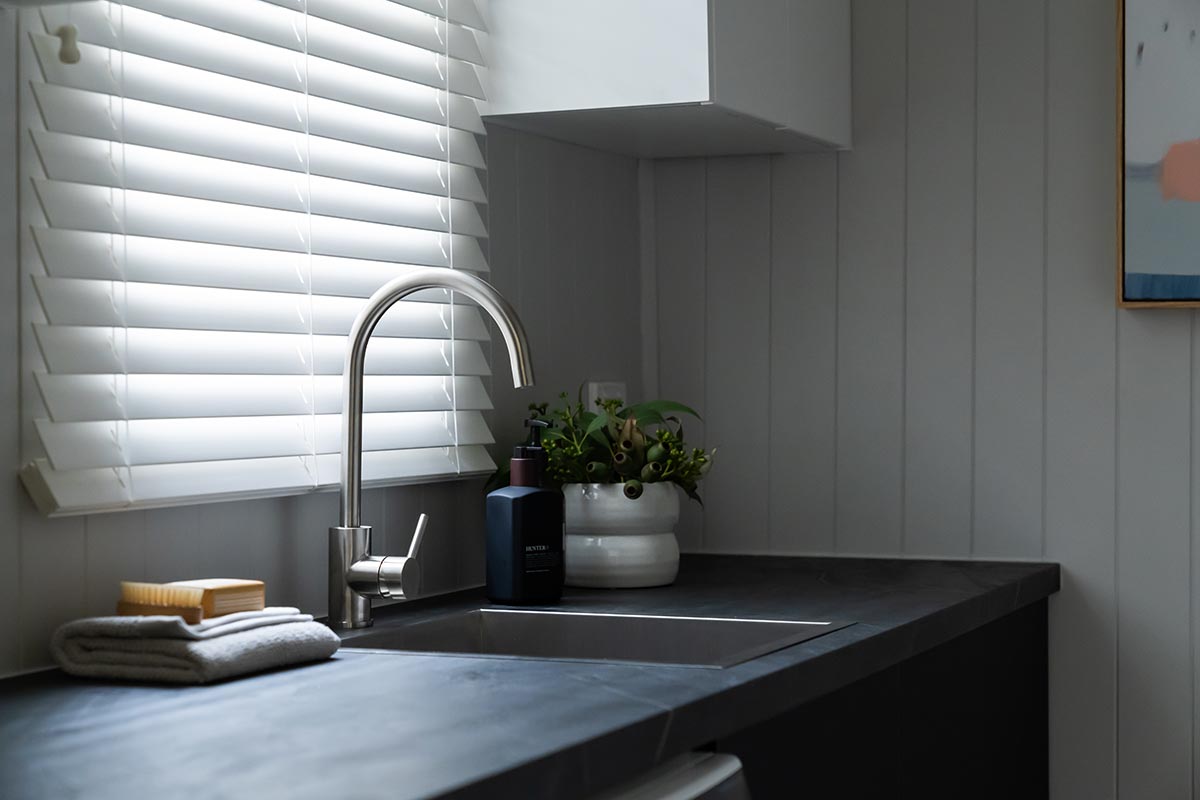 The windows were a bit of a nightmare but we were able to mask this by installing a wide timber venetian in bright white from DIY Blinds. These blinds create a very moody, ambient light and frame a lovely view out to the garden. 
For the lighting we continued with the theme from the kitchen with the Kinetic Down Lights from Lights Lights Lights. In this instance however we chose to use two lights and set them closer together to create a feature. We also made use of their pivoting ability and directed the light slightly towards the benchtop.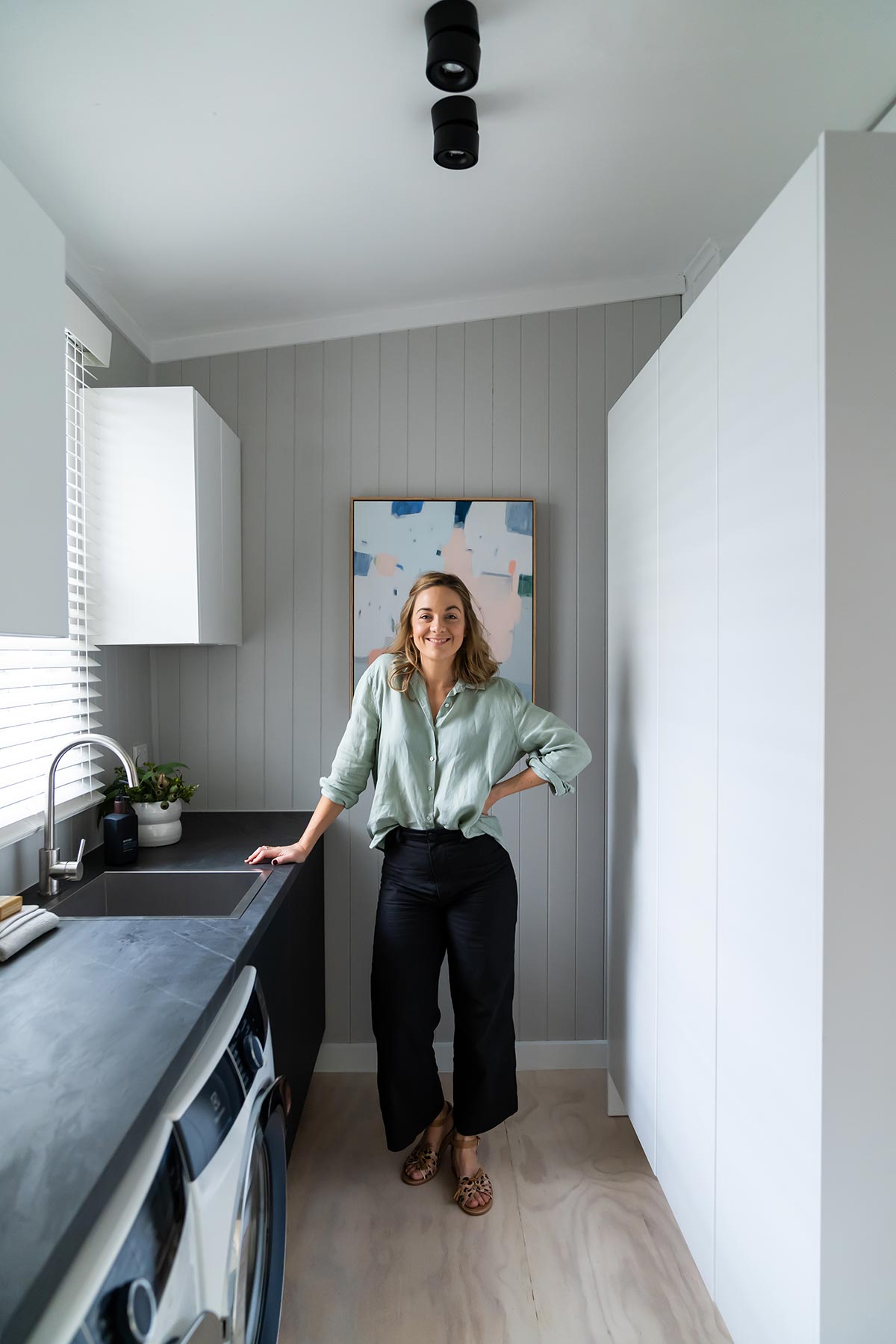 I kept styling to a minimum as I prefer practical, workable benchtops. However I added in some pops of greenery with Evergreen ceramics.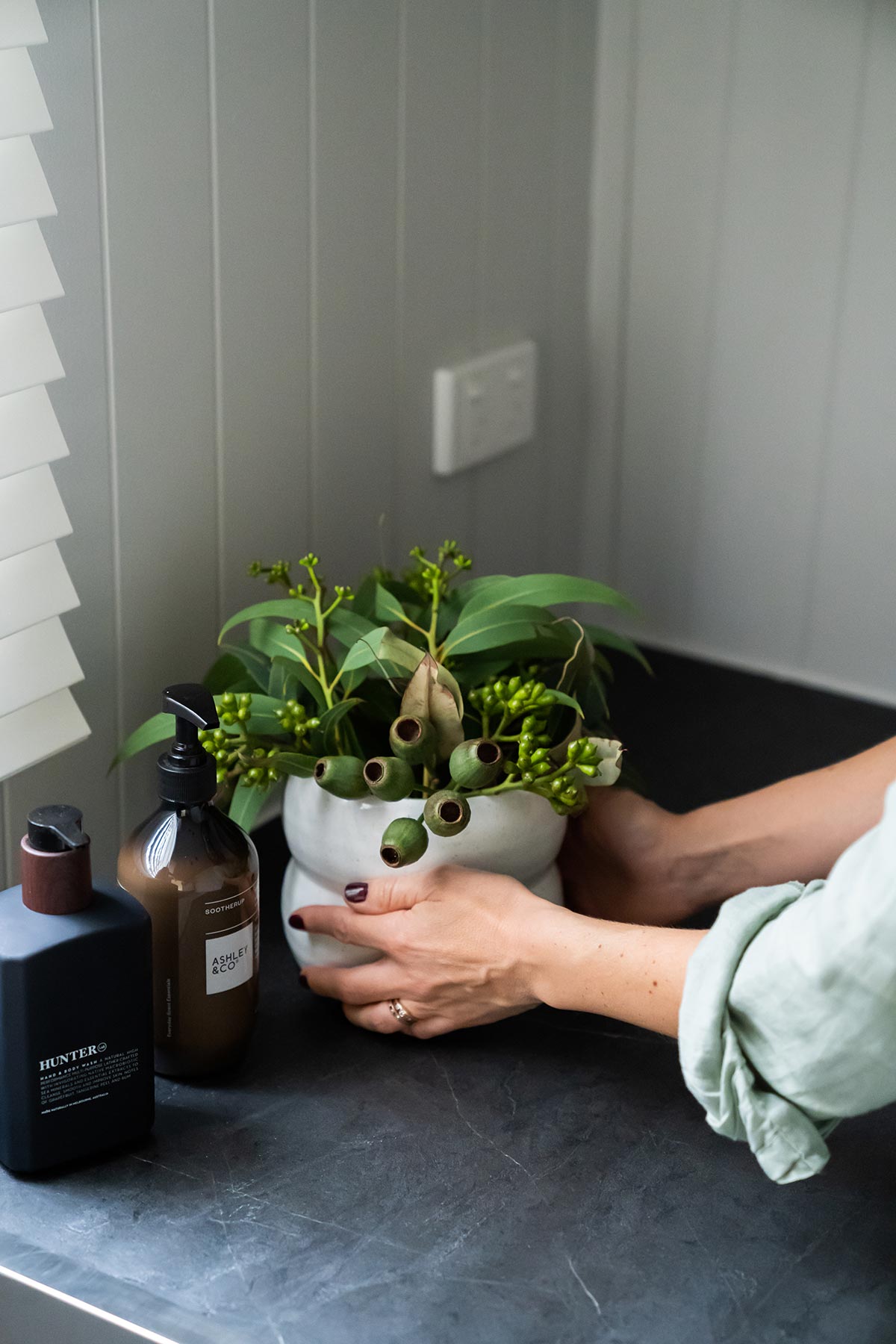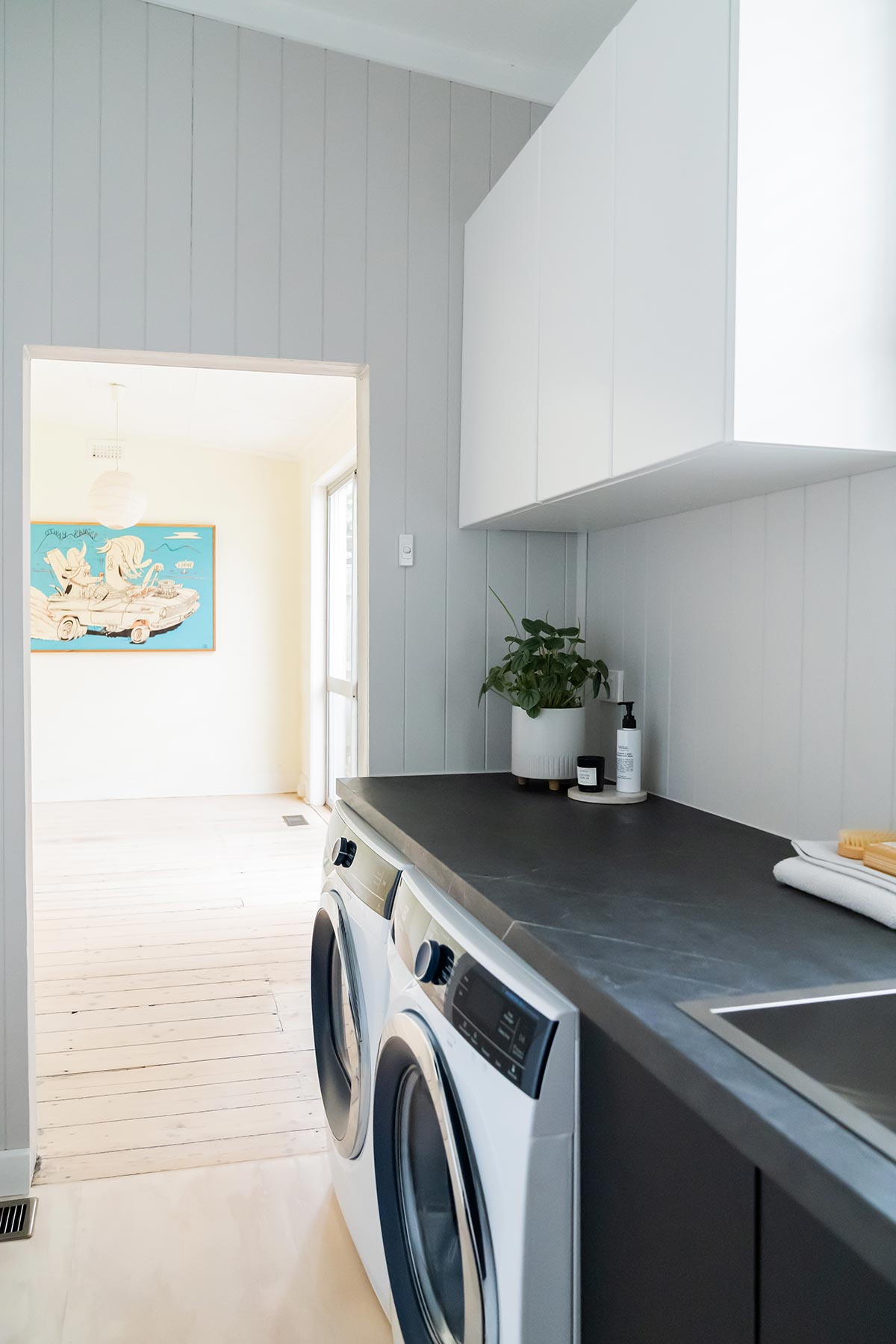 Next up on the home makeover agenda will be the rec room next to the laundry (which you can see above) but first, we'll be spending much more time at home so we're transforming our home office!! Be sure to subscribe to our YouTube channel so you don't miss it!