As far as I'm concerned, Dale Hardiman and Tom Skeehan are the patron Saints of Australian design and here's why… Not only are they well-renowned designers each with their own individual success, having exhibited their works across the globe including Milan Design Week and Australia's NGV to name a few; but they are also passionate about championing the next generation of Australian contemporary designers. Together the pair founded Friends & Associates, a platform to showcase some of the best new talent within Australian design across multiple disciplines.
Recently I caught up with Dale and Tom at their latest Friends & Associates hosted event, AGM Expo '19. AGM stands for Annual General Meeting but trust me when I say this is one AGM you actually want to attend! Dale and Tom acknowledge that it's the exhibitors that are the true stakeholders of this event, so this tongue in cheek AGM is considered the Annual Shareholder Meeting for the Australian design community. Now in its second year, AGM Expo '19 boasts 59 exhibitors and is steadily growing.
This exhibition is unique in that it brings together established, high-profile designers alongside emerging new talent, creating an equal playing field to blur the lines between generations of design. AGM is truly about collaboration and exists to bring designers together.
I was really quite inspired by just how passionate Tom and Dale are about design and working together to help support the next generation of Australian designers. "It was a design generational thing. We felt like we weren't the young designers anymore and we wanted to be doing something for the young designers." Dale Hardiman
Some of the works featured at AGM Expo '19 were featured earlier in Milan Design Week 2019. I asked Tom Skeehan how can a new designer get their work exhibited in Milan and he said that first and foremost it comes down to 'your work' but also the ability to be transparent. Go to different events, link in with conversations, build your profile and just be a human.
"This whole industry is built on collaboration and the people that have genuinely made it and cut through have been helped by someone above them." Tom Skeehan
This show is the true essence of what design is all about. Collaboration, coming together to talk, learn, share and experience. There is not one ounce of intimidation or elitism surrounding this event. "The show is for everyone. We have incredible architecture firms coming through, interior designers, but also for the general public to come through and see what is happening in contemporary Australian design." Dale Hardiman
AGM EXPO '19 represents such an honest and refreshing voice amongst the design community. It was an absolute pleasure for Hunting for George to support this an inspiring show and we can't wait to see what AGM EXPO 2020 will bring.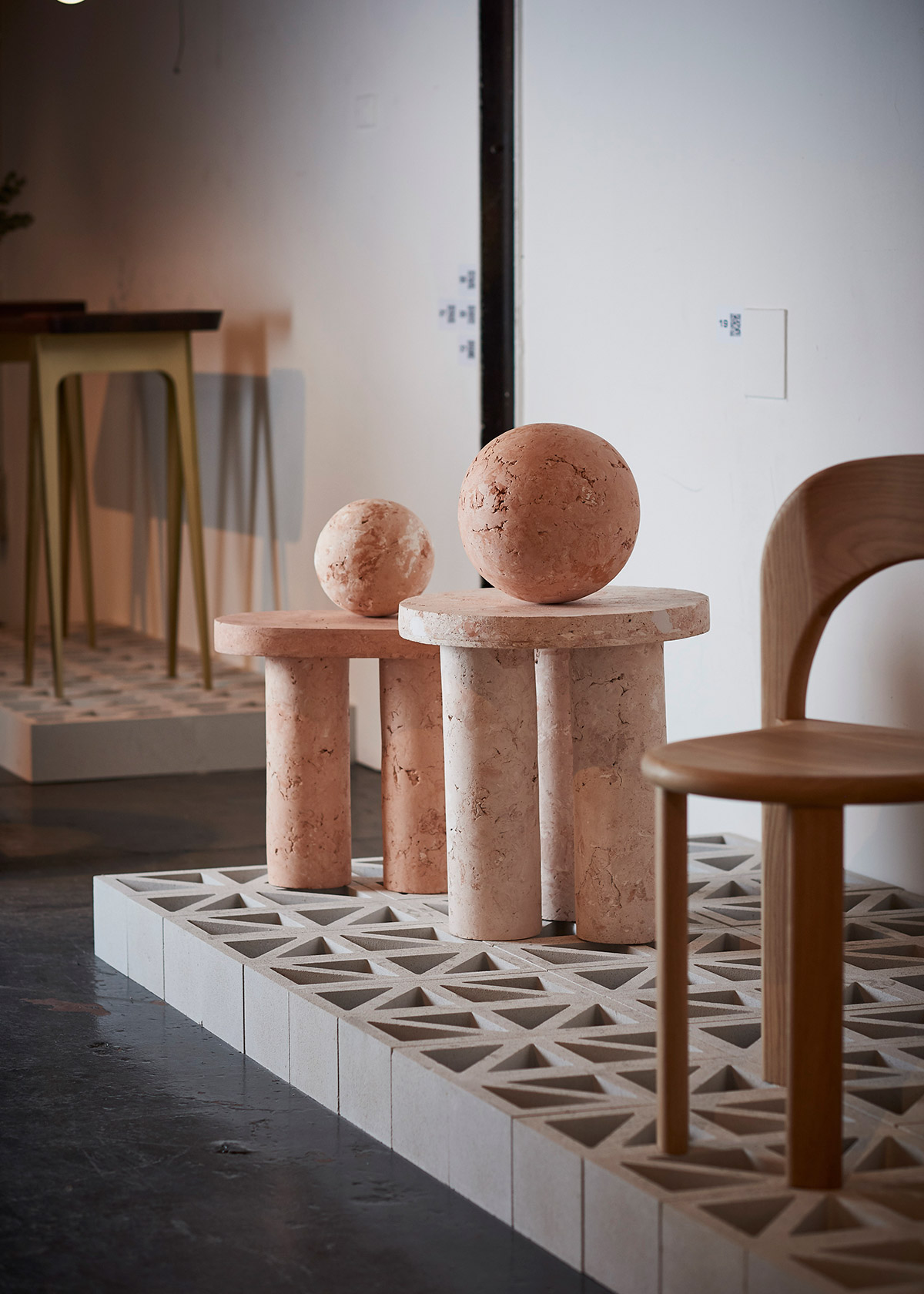 AGM EXPO '19 Exhibitors include:
Aaron Garlick
Adam & Arthur
Adam Goodrum Studio
Amy Simpson Glass
Andrew Carvolth
BARBERA
BMDO
Bricknell Design
Christopher Boots
CJ Anderson
Coco Flip
Convolo Design
COPPER DESIGN
Damon Moon
Danielle Brustman
Derlot
Dowel Jones
Duncan Meerding
Ebony Heidenreich
Emma Elizabeth Designs
Evie Group
Figgoscope Curates
Fomu Design
Fred Ganim
Inkster
James Lemon
Jon Goulder
Jonathan West
Kathleen Prentice
Liam Fleming
Loose Leaf
Luca Lettieri
Lumil
Makiko Ryujin
Markowitzdesign x Cone11 Ceramics
Molly Younger
Oliver Tanner
Phil Cuttance
Porcelain Bear
Rene Linssen
Rhys Cooper
Rolf Barfoed
Rosanna Ceravolo
Ross Gardam
Rye.
Shilo Engelbrecht x Lydia Pearson
Skeehan Studio
Skeehan x Stellen
Stephen Royce
Studio Ephebe
Thomas Coward x Nick Rennie
THOMAS MAXAM
Timothy Robertson
Tom Emmett
Tom Fereday x Studio Kyss
Volker Haug Studio
Wright Studios
YOS Studio
Zachary Hanna